RUST gets the exclusive world's first test of the brand new Honda Africa Twin. Read it and weep…
HOLY COW, my heart is thumping. Given the possession of a new Honda CRF1000L Africa Twin before the world launch by Honda – I've grasped the opportunity with both hands… Or at least with one hand twisted fully backwards. Yeah, I should maybe have taken those first kilometres easy, but no, at the first sign of gravel I've switched the traction control off and gone full gas. As many a test rider might tell you, it's the short cut method to understanding the character of a new motorcycle. And this new Africa Twin is sporting… Seriously sporting.
The pace it can set is certainly blistering, and fortunately it has the accuracy to go with the pace. And just as well, there were some lairy moments back there. It was as well that it stayed on the track because trees bloody well hurt if you challenge them, and there are plenty of trees here in Germany's Black Forest. But bottom line – yeah it's a missile.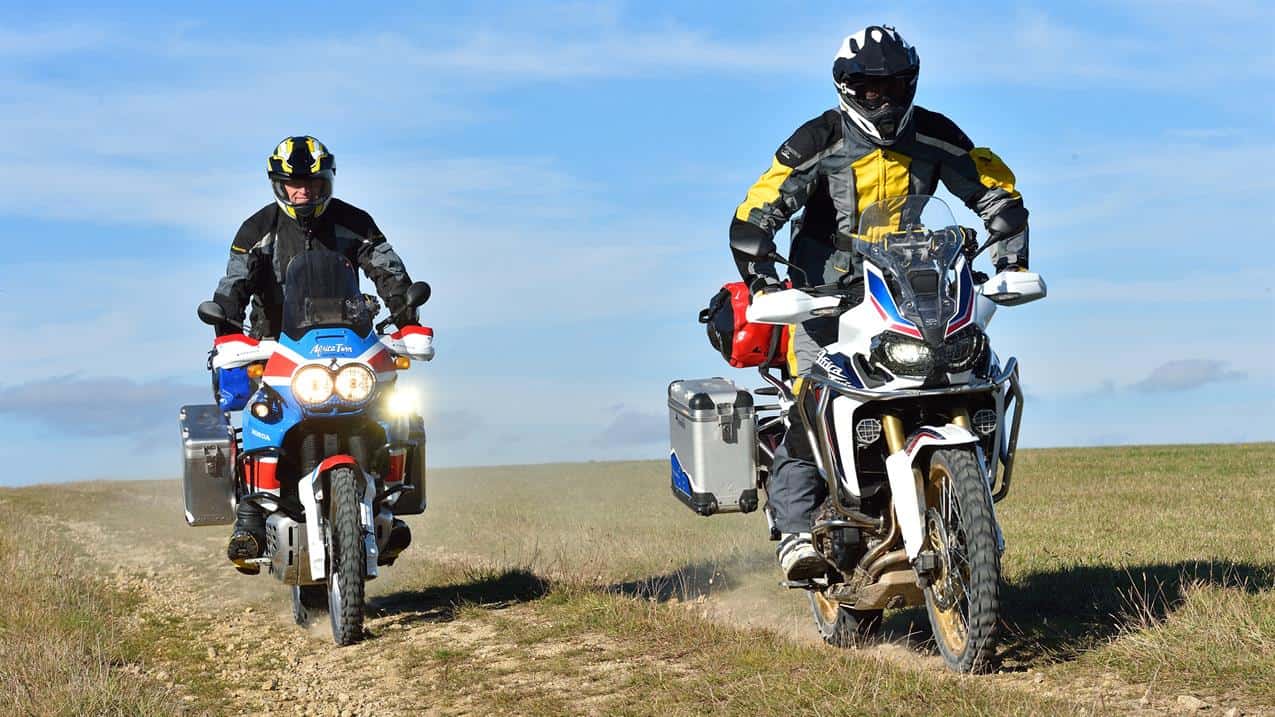 Long Time, No Speak
The return of the Africa Twin is long overdue. Seriously-seriously overdue in fact. Honda have been almost criminally negligent in their disregard for the adventure segment. BMW must have been laughing all these years; as amazed as the rest of us that Honda, the sleeping giant as it were, could pass by such a surefire growth sector in the motorcycle market. Okay, in the very last few years they've come at us with a revision on the Transalp, then the Crossdress… er, Crosstourer, and added an X suffix to any number of models in a half-hearted attempt to imply adventure capability. But really it's all been far from convincing.
Wind the clock back – and we could go nuts recalling ancient history like Honda's first dirt-forays with models like the CL250 Scrambler of 1962. But we won't. Instead, we can make a mark, literally in the sand, in 1988 when Honda first launched the Africa Twin, as the XRV650, a model that paid homage to Honda's mighty NRX750 Dakar racers (which won four consecutive Dakars between 1986-89). Despite an almost clone-like appearance the XRV650 wasn't a direct copy of the works racers, choosing the then new 52º vee-twin motor (as first seen in the VT500 roadster) over the hand-built 90º vee-twin beast of a lump found in the works racers. That 650 was fairly tame, making just 56bhp – but as most old racers who know their chops will tell you, off-road that's plenty.
Two years later came the XRV750. In many ways not quite as faithful to the racers as the 650, but it read the marketplace well. Big trailie riders back then – not yet known as adventure riders, that would come many years later – were keen for the look, but liked the performance to be decidedly 'touring'. Yeah, a bike that had a youthful cut to its jib, but allowed for comfort and convenience on a long ride. There was an update in 1993, again focusing on touring capability over off-road prowess. And that was pretty much the top and tail of it. The Africa Twin from then on went year to year with just graphics changes until in 2003 it was finally dropped – by then hopelessly outclassed by the GS models from bay-emm-vay. Think about it, 2003 is going on 13 years ago, 1993 is 23 years ago, that's way too long to go without any serious development in a segment. Why? Your guess is as good as ours.
CAN YOU DIG IT?
And so a whole lifetime has passed, but at last, like a time lord, the Africa Twin has returned. We're all older, with less hair, possibly fewer teeth – but the Africa Twin is again in a full flush of youth. It's not actually shed any pounds, the XRV750 was 207kg while the new CRF1000L is 208kg (that's claimed dry weight) – the latter number for the base model without fancy add-ons – but it's been to the gym and turned fat into muscle, so while the old vee-twin puffed out 62bhp, this new one pumps nearly a full hundred horses.
And 93bhp (to be exact) is more than enough. Yeah, KTM went nuts with a full 160bhp in their 1290 Super Adventure, BMW responded with a slightly less ridiculous 125hp in the water-boxer 1200GS, but actually 100bhp is still monster grunt when off-tarmac. Romain Febvre, this year's MX1 world motocross champion, took the world to task with just about 60bhp, so 100, even with all that excess poundage, is more than enough.
This is more than evident when riding on the gravel with the Honda's throttle pinned. And here's the thing, I was testing the third variation of the new Africa Twin – that is the automatic (DCT) version, complete with all the trimmings, like ABS and traction control – and so this one is the heaviest of the three variants, a full 242kg when wet, yet still it pulled like a chav's Pitbull terrier.
Sure, if you left it to the auto-box to do its thang it would do a nanny job of changing up early and bogging the revs. But Honda, showing some wisdom, also fitted the bike with a manual paddle-shift system for swapping gears, finger operated on the left handlebar. Use your index finger to change up, thumb to change down. So you could override the auto – and I guess we're talking semi-automatic shifting here, up and down – and let the parallel twin howl. And does it howl? Gloriously… right up to 10,000rpm or so. It's feisty and flippin' fast.
And an auto… Like we wanted that, eh? But actually it kind of works. I tried this system on the Crosstourer and honestly I'd sooner take to driving a car than repeat that experience. But this system on the Africa Twin is a serious barrel of laughs. I've read stuff from riders saying how they've struggled to adapt to the auto set-ups, that they were reaching for the gear lever, the clutch lever etc but on the Africa Twin I never once did either, it feels intuitive right from the off.
I should add there are evidently still six ratios in this auto-box, it's not one of those constantly variable set-ups as we know from scooters, so the auto aspect is the change-mechanism and very clever it must be too (if we had time to explain we would). There are incidentally two DCT modes, 'D' for economy (early up-shifts we dare say) and 'S' for 'sport performance'. I have to admit I was being pretty brutal with the poor Africa Twin so didn't fully investigate the D mode but given it'll allow you to hit 61.6mpg (say Honda) if you take it easy then you can see it has its uses.
All said, in full auto mode the DCT set-up made for a splendidly serene cruise, you could just glide along super-quiet, watching the scenery drift by. Then when the wind got up your tail, you could take off like an F-15. The auto still wouldn't be my first choice as I'd prefer to run without the 14kg weight penalty it comes with, but for some this will be a serious and worthwhile option. Oh yes, and it makes for almost foolproof feet-up full-lock turn capability, as it'll never stall.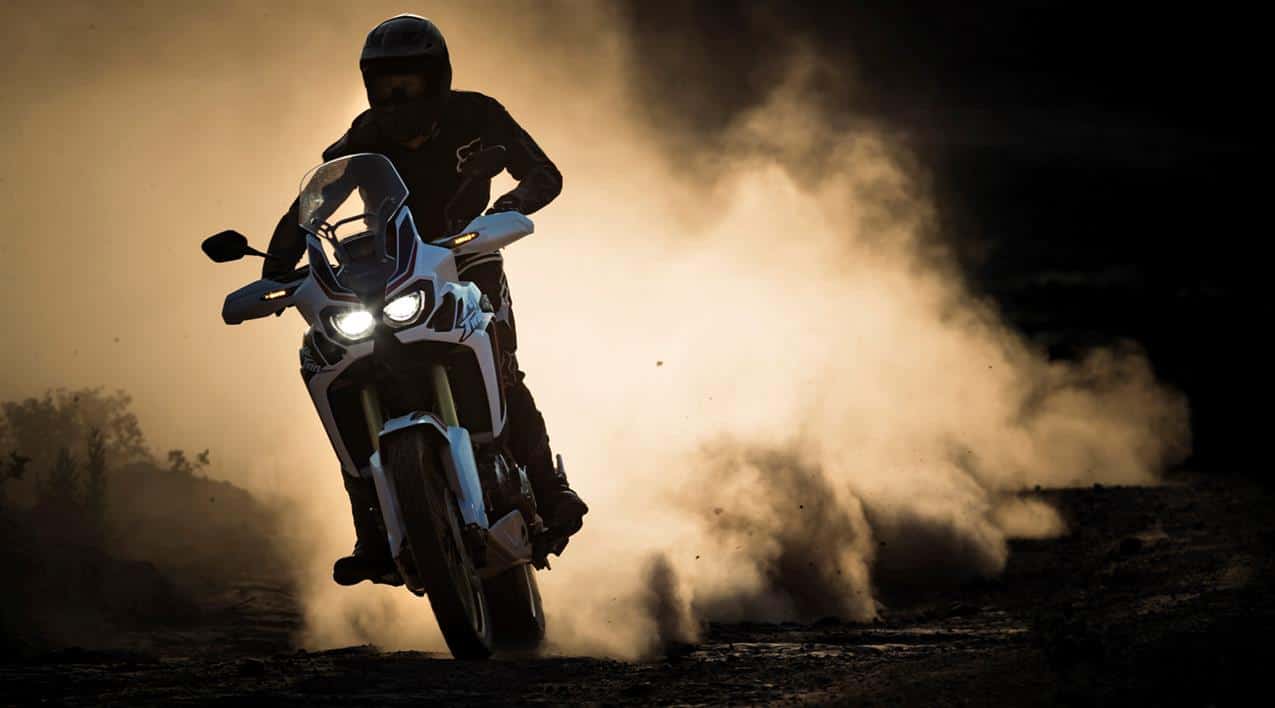 Ticking the Boxes
We are jumping around a bit here, but then that's how the ride was too, as I discovered each new feature. So let's talk traction control, or as Honda call it 'Honda Selectable Torque Control'. This is a fairly comprehensive set-up with three levels of control plus our favourite setting: 'Off'. You can choose between maximum intervention, medium intervention, very little intervention, or Off. Maximum control barely lets you accelerate on the dirt, honestly. Conversely on the least controlled setting I found it let you lose the back end in the biggest possible way possible short of a crash. I've used BMW's traction control on their 1200GS and you can almost dial-a-slide and it holds you safely in a certain attitude. The Honda almost caught me out, it'll let you go a fair deal further, so take it easy on those first tries.
There is also a G-button (not a G-spot, don't get confused there) which modifies the traction even more. When engaged it offers maximum traction (and machine control, say Honda) by limiting the clutch slip.
The ABS system is linked to the traction system and in the off mode you can lock the rear wheel, which we all know to be a good thing. The ABS, which Honda call ABS (hurrah), I found worked very well, allowing the tyres to easily cut through the loose gravel and find bite, without ever getting the feeling you were going to lock and lose it. I did on one occasion blow through a corner and ended up in the adjoining field, proving both that I can be a muppet and that no system, however excellent, should be relied upon as your sole safety strategy.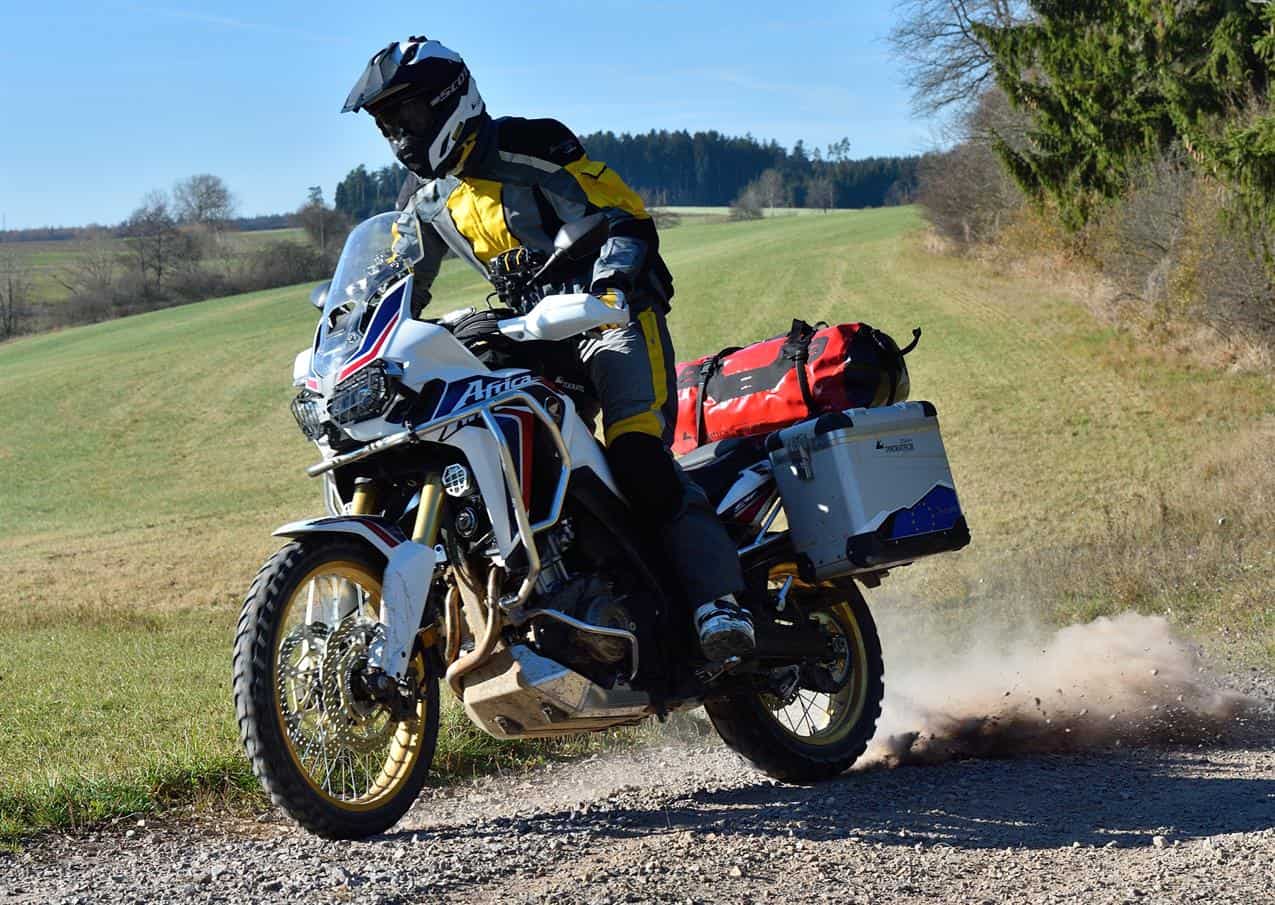 Character Witness
The parallel twin motor is, I have to say, something of a gem. By setting the crank to a 270º firing pattern Honda have fooled the bike, and us, into thinking we're riding a 90º vee-twin, like a Ducati motor – or perhaps more intentionally recalling the power characteristics of the 52º vee-twin motor in the old Africa Twin. Touratech had a fully upgraded old Africa Twin for me to ride alongside the new bike and jumping between the two there was indeed a similarity. They were not chalk and cheese, even if the new model is close to twice as powerful.
The important thing here is the engine has character. It didn't quite talk to me, but I liked the feel right from the start – even with auto engaged – and the more I rode it the more I liked it. Sometimes it said 'let's go explore', other times it said 'let's hustle' – that's a perfect duality. Given a suitably fruity exhaust note – from a silencer that looks much like the BMW water-boxer's – the hustle bit was suitably satisfying.
Of course hustling really shouldn't be a part of adventure riding and while I give into the dark side all too readily, to my shame, I must say the sport capability does at least help with creating a sure-footed and adept off-road experience. And so I should mention that the CRF designation is correct. In spirit yes, but also given the technological links to Honda's off-road competition range, it is part of the 1000L's DNA. The cylinder heads in the Africa Twin do, it turns out, feature the same SOHC Unicam valve train as Honda's CRF250/450s. This set-up allows for a tighter included angle between the valves and a better combustion chamber shape, while also being a more compact, lighter design – all of which helps performance.
Read full article in RUST – CRF1000L or download as a pdf here