I'd had a pretty shitty week, and was ill-prepared for a weekend riding Welsh trails mid-winter. But I was determined to put that behind me, and poking and prodding the spanking-new Norden 901 was a great first step toward this. I whipped it into my workshop and fitted a bar clamp with integral Garmin mount. Handily the spacing is the same as the enduro bikes, so the setup I used at Romaniacs to mount my Montana 600 was a simple bolt on job. Also handy was the provision, right where you want it, of a nice 12v feed, behind a slick and neat removable panel designed to allow a GPS to be bolted straight on. The great start continues. There's also a 12v cigarette lighter socket for my phone (which I'm planning on using as a sat nav to find Wales) another big plus. With the looming stormy weekend, the heated grips are also a big win. We're off to a cracker of start. Everything feels rock solid. The fit and finish is superb, and I've got stuff I need, where I need it. Last minute set up – big success. It's looking up.
I hastily pack the world's heaviest (when it's empty) rucksack, which is massively overbuilt and has no space to store a laptop. I'd been dismissive of it a year or so ago when I'd bought it. I paid my own money for it. On the recommendation of a well-travelled adventurer. It's about 5kg on its own, has awful straps and with the lack of laptop slot, pointless for me so far. It looks the part though, and it appears, and proves to be, totally waterproof. It's almost impossible to unzip too, so even if water had opposable thumbs, it'd struggle. I'm trying to travel light, so instead of shoes, I pack flip flops. I've limited civvie clothing, but this is an action-packed long weekender and we're planning on staying with Nick Sanders in one of his adventure huts, so woolly socks and flops is fine. Plus a 'softy' (down) jacket and my favourite woolly hat. This plus two pairs of duds is about all I can fit in my heavy bag. I squeeze in some tools. Just in case. They squash permanent indents into my flops.
I head straight out into Friday afternoon traffic in an ageing adventure suit, my moto/enduro lid and the world's heaviest (when it's empty) bag. Immediately I'm being BATTERED by a savage headwind, the funky looking bodywork doesn't seem to be aware of my shitty week, and is doing its best to annoy me. The little fairing does pretty much nothing. Great. We've four hours of getting my head boxed in. Wrong helmet choice for an essentially unfaired bike.
I'd planned on being on the road for lunchtime, so I'd casually cruise into our digs in daylight, have a relaxed pre ride chat about our bikes (JB is on his long term Ténéré, dripping in Touratech clobber) and find some fine cuisine in the locality. Lunchtime turns out to be about mid-afternoon and the low winter sun is firing right in my scratched goggles as I try to filter though the Friday commuter nonsense. Everything is shit. Everyone is determined to kill me. Why did I not wear my dual sport lid? And then the rain comes.
JB has the good manners to wait for me in the most successful of 'a la cartes', famous for tepid burgers and a pair of Golden Arches, about an hour out from our planned shady golf course B&B. He's keen to do a bike swap and given that the Ténéré has a heated jacket attached to it I'm very grateful. I instantly miss the heated grips of the Husky, though. We arrive at the Gower Peninsula, the start of our south to north, and go in search of fine dining. We find a one-fry-a-night chippy that's sucked the dreams out of the staff and the joy out of potatoes.
Next morning we're up and at 'em with the golfers. It's bloody freezing. As we arrive at our official start, right on the beach. There's a lady swimming in the sea. Man-up Keyworth, pull yourself together. There's level of cold, and you've just been called out by an elderly lady. Lovely view though, and the Norden looks quite at home next to the Ténéré in the sand. We're on an adventure.
I'm in follow mode mostly. JB having the posher and much more sat nav like Garmin makes light work of the direction finding. I'm left to mess about at the back, trying a few skids and (rubbish) wheelies. As we begin the day proper we start to find our way into the famous back lanes of Wales. Picking up a few stone lanes here and there, then gradually finding ourselves face-to-face with some local TRF riders at the head of our first proper trail. There's the enduro rider's equivalent of a raised eyebrow when they spy JB's panniers and the 901 – although the 901 draws an admiring glance – there's discussion of a downed tree and difficulties aboard a hard enduro prepped Beta. We ignore the warning, but only minutes later we're quite fabulously let down by our tyres, and our sensibility. We nip back and see our TRF mates for a chat, and a neat little demo of the Garmin's party trick of wirelessly swapping gpx routes trail side. Neat. 
A brief discussion ensues about our matching OEM Pirelli tyres. They look okay and behave on rock and shale, but in mud they're out of their depth almost instantly. It's going to scupper a good chunk of our route plan. Up or down on grass and we're passengers. The weather gets progressively worse as our day goes on, but we find some amusement in it. We do a piece to camera for comedic value, as waves whip over the top of our backdrop dam, and the bikes teeter precariously on their side stands.
We arrive with Nick and Caroline (Sanders) and I'm cold and ready for a hot shower and a decent feed. I spread my sopping wet gear about the hut and light a roaring fire, leaving the bikes in the dark to fend off the destructive Welsh valley wind and rain.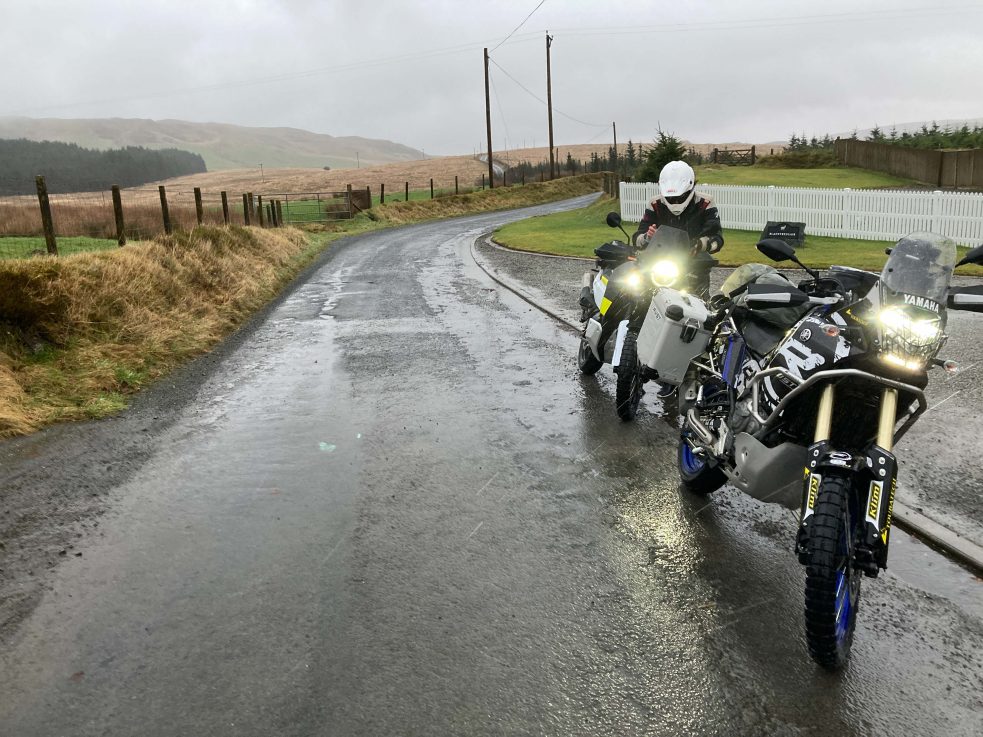 Day two of our on/off-road shenanigans sees me in all of my clothes, some wet, some dry. We try a few more trails, come up against a few more slick or slippery sections where once again we're defeated by wet grass and common sense. Conscious of the impending vicious wind and rainstorm, plus the undamaged and shiny state of the bike, we (okay, I) elect to pull the plug on the last few lanes that JB had planned. He continues, and very nearly comes unstuck, while I start my race against hyperthermia.
It was actually on the twistiest but quicker B roads of Welsh Wales that the Norden came alive for me. Remembering it was a soaking wet February I quite quickly managed to shave more than should be admitted off my ETA home. And the headlight is also a cracker, ably assisted by the driving/spotlights (we shan't call them fog lights). I like a spotlight on an adventure bike, anything that helps be seen on the approach to a junction, but these things work, too. Spots on a bike are actually quite mesmerising when you're using them properly and in the bends. They make you feel like you're piloting an X Wing fighter.
I'm home in time for tea – but I dine only after the world's longest shower, an attempt to drive warmth back into my limbs and core. A week later I'm still shivering. So yes, we had a little adventure. We saw the south coast of Wales, made a slip-and-slide way through the middle. Scared ourselves a bit on a couple of nasty climbs. Then whistled in awe as we rode among the steep-sided valleys of the Snowdonia National Park – possibly all the more impressive in the harsh weather. I was reminded that the best place for a waterproof layer is on the outside of your ride kit, not two layers down. I added my name to the list of ill-equipped trail riders saved by the emporium that is E.T.James (in Rhayader) – new goggles this time. But after everything, we got out there, and as ever, rain or shine, there's something energising about getting out there riding country trails. Just make sure you wear the right kit, eh?