Gas Gas's EC250 Racing is the hard-edged, sharper-focused model in the Spanish brand's enduro line-up. We took one to France to take part in a two-day enduro…
Our invite to the Grappe de Cyrano in Bergerac in southwest France should have been a fun break in early spring sunshine, but this French 'classic' actually turned out to be more like a tough Welsh enduro in winter, than a jaunt in the fine weather.
After a long drive down to Burgundy and some very late setting up of the 250 (we backed-off the front compression clickers all the way when it began raining and the forecast was for more rain still, and at the same time moved the bars forwards to the front of the two-position settings), but we had no time to even ride up and down the road to check that all was okay, before a very early start to get to the parc-ferme in the town centre.
A cold wind and increasingly heavy rain warned of worse to come as we unloaded the bikes next to the river and set off from the start to ride the 250km of the first day's going.
As is often the way in heavy rain, I struggled from the off to make out what was rapidly coming at me through my rain covered lenses as we shot through the tarmac streets of the initial few kilometers – and it was only after a very near miss with a white bollard in the middle of the road that my goggles came off. That was the last appearance they would make for nearly nine hours of riding.
Dirt bikes, and especially 250cc two-stroke dirt bikes are not generally the tool of choice for wet, greasy tarmac but the EC Racing is so firm and so tautly suspended you feel every little bump and ripple in the road and you can tell exactly what the tyres are up to and how much grip they've got.
The same goes for when we turned onto the dirt. Even though the first sections of track were only wet and slippery stone tracks, followed by rain-soaked clay, the Racing model ensures you feel every little imperfection and it gets fed back to the rider. This is not just a matter of stiff suspension, it's about transmitting information from the track to the rider and being able to manipulate that information to your advantage.
As I extended my total riding time on the bike from zero to 20 minutes, past half an hour and beyond, I settled into enjoying the usual Gas Gas sure-footed handling. I don't know who originally bottled this oh-so-special recipe all those years ago at the factory, but I'm glad they are still using it. This bike is bloody fantastic. Here is how it goes: point it, apply throttle, stick out foot or dab brake as appropriate and make rapid progress! Awesome…
Arrive at fast, off-camber muddy corner, dab the subtle and easy to feel rear brake, apply a touch of opposite-lock and drive up the inside of the bike in front of you as he runs wide. Pull ahead until the rear tyre starts to spin up, short-shift without clutch and regain instant grip. Make further progress. Overtake more bikes. Repeat.
As our pace gradually rose in order to keep up with the fast-moving field, the stakes were raised considerably. We were riding in a three-bike convoy and I'd been assigned the position of tail-end Charlie for the first couple of hours. Trying to ride three bikes back from the leader on unknown terrain (without goggles) in heavy rain and thick mud, whilst trying to keep your eyes from being filled-in by mud or poked-out by stones is a tricky business. Riding in top gear one-handed whilst holding your clutch hand in front of you face to stop yourself being blinded concentrates the mind somewhat. But throughout the morning the Gasser just kept on reassuring me with truly sublime, neutral handling, that put a massive grin on my face.
Hi-Juice
Our arrival at the first service point reminded me of one of the downsides to ownership of this type of bike, as we poured in nearly half a jerry-can of squirt! Blimey. But this engine is worth it. Boy is it worth it. Now, I'm not saying that this lump has the bottom end of a four-stroke, neither has it the instant stomp required when you arrive at something in the wrong gear, at the wrong speed and with the wrong angle of attack. It may be amazing but it can't turn a bad rider into a good one.
But what it does have is an impressive power delivery that even in 'rain' mode (there's an easy to use switchable ignition located under the tank), will reward the rider who concentrates. Make no mistake, this is not a lazy rider's lump that makes things easy. It's a solid, linear full-punch delivery that needs to be worked hard in the right gear, and that also has a massive power hit when required.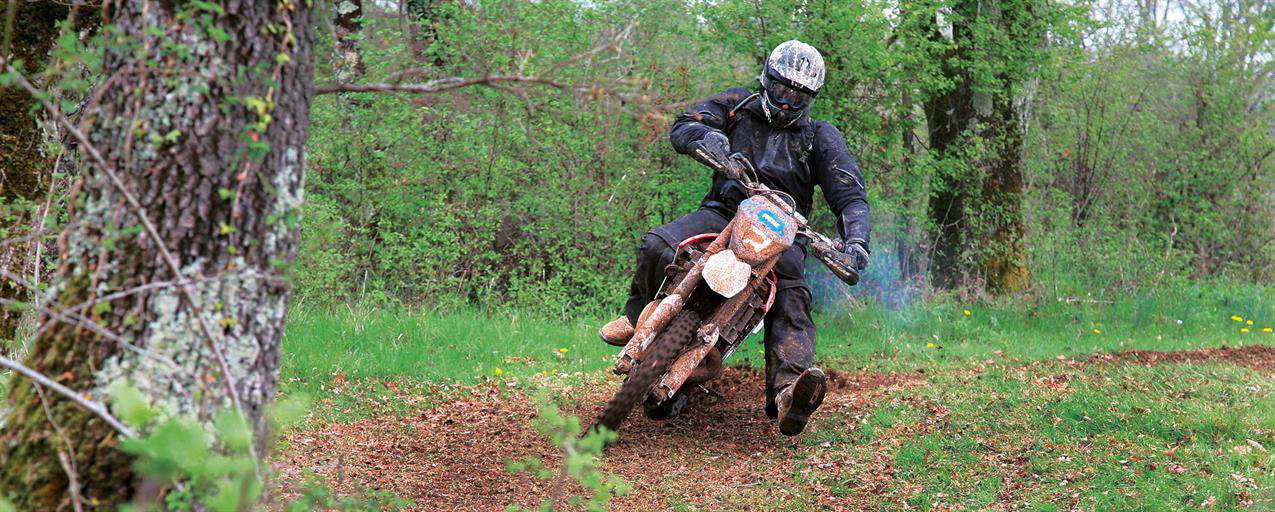 When ridden in this way, you are rewarded with that warm fuzzy feeling that only comes from a bike that makes you feel like you are doing everything right. Like it's a good day to be in the saddle. Like it's the most natural thing in the world to be flying along at high speed, not knowing which way the next corner is going to turn.
I spent a lot of time tailgating riders as they fought to wrestle their bikes around corners. Man, this thing turns like Bubba Stewart railing a berm! When you do need to scrub off some speed, those brakes are some of the best in the business, with tons of feel and a bite like an angry dog.
It's probably going too far to say that it's comfortable too – given that the suspension is among the firmest we've ever tried on an enduro bike and the seat is rock-hard too, but you never need the seat until the corners, and even then you can style-and-drift the bike standing-up into the turn if you feel like it. No it's comfortable because the riding position is spot-on – I never felt cramped – and apart from slow-speed work, rarely used the light clutch, as the gearbox is super-sweet, both up and down.
I couldn't believe the amount of crud that was coating the Gasser as we pulled into the second refueling point of the day, but then it had just made it through the mother-of-all-evil-smelling-bogs without digging in and getting stuck (none of the other bikes in our group managed that) and the weather was – if anything – getting worse.
So what about the Gasser build quality I hear you cry! Well here is a news flash. The factory is right back in the game. Good looking, good quality and super-stylee is the new GasGas default setting. Oh and almost all of the old niggles like mixed fasteners and dodgy plastics have gone. Okay the Racing Model's braced bars look a bit low-tech compared to the braceless ones on the standard bike and a few other minor things raised my eyebrows, like the fork rebound adjustment access that requires the bars to be removed first, but with one exception, this bike ticked all the boxes.
The exception? Where the hell is the electric starter? First prod most of the time is fine, but tip this baby upside down (which we did twice in two days), or stall on one of the mentally steep climbs over here with the kicker on the wrong side and it's: "Houston, we have a problem."
This is my only – repeat, only – issue with this bike. It takes a lot to stall it, but for heaven's sake, omitting the electric hoof is an irritant. Agreed, this is the Racing model, so there is the standard model with the magic button to choose from as well, but why would you want one WITHOUT the button?
Interestingly on our bike the kickstart lever (redesigned for 2012) ended up with a small bend in it where we had problems getting it going again after crashing – and we'd been hoofing away to try and get it started. It's precisely at times like this that that you need an electric-starter. Think of it as an investment – not in terms of money because the e-start models cost the same as the one's without the electric hoof, no it's an investment in your health, in your sanity, in your bike's resale value, and in terms of saving you on spares – because if nothing else it saves you the cost of replacing your kickstart lever when it gets bent like ours did. That is my only moan and it's a minor one really, because this truly is a superb bike.
Oh my Days
Day two was a mere 220km and thankfully the weather was a lot drier, but it was still cold. It was a day of playing with fire though, as we hammered along the course trying to stay ahead of the top riders who had started at the back of the field.
The Gasser's ignition was switched to "Git some!" and what a weapon this bike is. Stay awake, focus your mind on the job and this thing will put a proper grin on your face. It's really hard to describe a bike that finds grip, but also spins up when you need it and can be drifted through corners or bermed round them like a crosser…
It can lift the front when you need to, but will soak up the holes and ruts when you don't. It holds a line like a train, but will respond to immediate direction changes when you have a proper panic at what has just appeared in front of you, without spitting you down the track at high speed.
In fact in terms of riding experience I can't really see a way of improving on it as far as current technology goes. The bike handles, goes and stops as quick as your brain can realistically process, and works in your favour whatever the conditions.
I especially loved the long stony descents where you can let the Racing's awesome mix of demon brakes, good stability yet quick geometry work its magic, allowing you to pull yards on the heavier thumpers.
But do you really need the Racing version rather than the stocker? Hell yeah, why not? For me the firmer suspension up front (together with the nice and plush Ohlins shock), and the look of the white/red plastics are a notch up on the standard bike, even if I'd want to order one fitted with an electric-starter!
As we crossed the finishing line of the event I gave the bike a little pat on the tank because I really can't think of a better machine to achieve what we'd just done. Fair play to Gas Gas. They have taken on board all of the criticisms of the past and come out fighting with a truly special machine. Buy this bike as a real alternative to the other major makes – it's my new favourite thing! JK
Second Opinion
Gas Gas have not only put their house in order for 2012, but they've also gone a long way to convincing customers they're back on track. Don't just take my word for it… Aside from KTM two-strokes (of course), the 2012 Gas Gas EC250 was easily the most populous machine at this event – there were far more Gassers than Yamahas, which in France is incredible. There were two inside the top ten as well!
And like I said in my launch report earlier in the year, I can easily understand why. The bikes not only look a lot nicer than they used to, but they ride a whole lot better too. And they feel a lot more solidly constructed than before as well. And when all's said and done, I talk to a lot of riders who simply don't want to ride an orange bike… Not because they don't like KTMs, but because they simply don't want the same bike as everyone else. Fair enough. Well now there's a real alternative.
Climbing on the Racing model at the Grappe, I could see why JK was enjoying himself so much and didn't want to swap. This bike is like a blade scything through the French countryside. It's so quick and so urgent in its responsiveness that you feel like you're cheating!
Point it somewhere, open the throttle and hang on. Job done. In fact my only real complaint is do you really need the extra precision that the Racing model affords – especially when it comes at a £650 premium (in 2012) over the stock bike which still has the same power and build quality, but is slightly less tiring to ride.
I don't quite concur with JK concerning the suspension… for me the Racing model's front forks are just too firm to be pleasant for all day riding (though it does depend upon your speed and to some degree your weight!!); though I do agree that they offer an incredible amount of precision and feedback.
Personally I'd take the stocker fitted with the electric-start. To all intents and purposes it's the same bike underneath with the same lovely power and same fluid chassis, but it has the benefit of being kinder on well-used knees… Si Melber