2018 KTM TPI
If anything could define the might, the muscle, of KTM, then bringing the first fuel-injected two-stroke enduro to the market is it. But does it need muscle to ride it? With the launch taking place at the infamous Erzberg iron mine you just might think so…
THE KTM 300EXC TPI felt entirely normal. Press the start button, blip the throttle a few times, pull in the clutch, select first, ride away. First-second-third – brap, brap, brap – all normal. Wheelspin. Skid. Wheelie. Normal.
Normal, eh? Yet these TPI models are the big news of 2017. It's taken KTM 14 years to get here. Fuel injection in four-strokes was comparatively easy, for two-strokes it's taken over a decade longer to master. This is a remarkable feat that KTM have achieved – not quite putting man on the moon stuff, but for so long creating the fuel-injected two-stroke dirt bike been so near impossible. So it's a bit curious that the feeling is 'normal', yet I'm almost certain KTM are celebrating that very fact.
BECAUSE NORMAL IS EXTRAORDINARY
Erzberg, the launch venue, is of course not normal. It's something huge. A mountain eaten alive, rock-by-rock, given man's hunger for iron ore – to make steel, to make stuff like these KTMs. This is also a place of legend, only not for the prodigious quantities of iron ore extracted, but for its brutal reputation for crushing men and machines. In the form of the Erzberg Rodeo extreme enduro this giant mine wreaks its revenge – most of the world's population will at some point have seen film footage of enduro bikes, and riders, falling end-over-end down its precipitous slopes.
KTM have brought us to Erzberg because for all of its fearsomeness this is their playground, their two-stroke enduros have built a reputation based on being able to conquer this pitiless terrain. Prove that the TPI equipped EXCs can thrive here and we can pretty much be assured they'll be good anywhere.
Only I'm not sure, as a clubman level rider, I'm as well equipped.
Fortunately, as said, when it comes to this new fuel-injected EXC, I have something of a magic parachute. As ever the 300EXC can deal with stuff other enduros can't. The motor is amazing, the chassis just so well balanced. Normal 300EXC practice.
It's only when given time to breathe (between mind-buzzingly huge hill climbs and descents) that you get to realize this is the new normal not the old normal. For the KTM EXC TPI experience is the same as the old EXC experience, only a little bit better.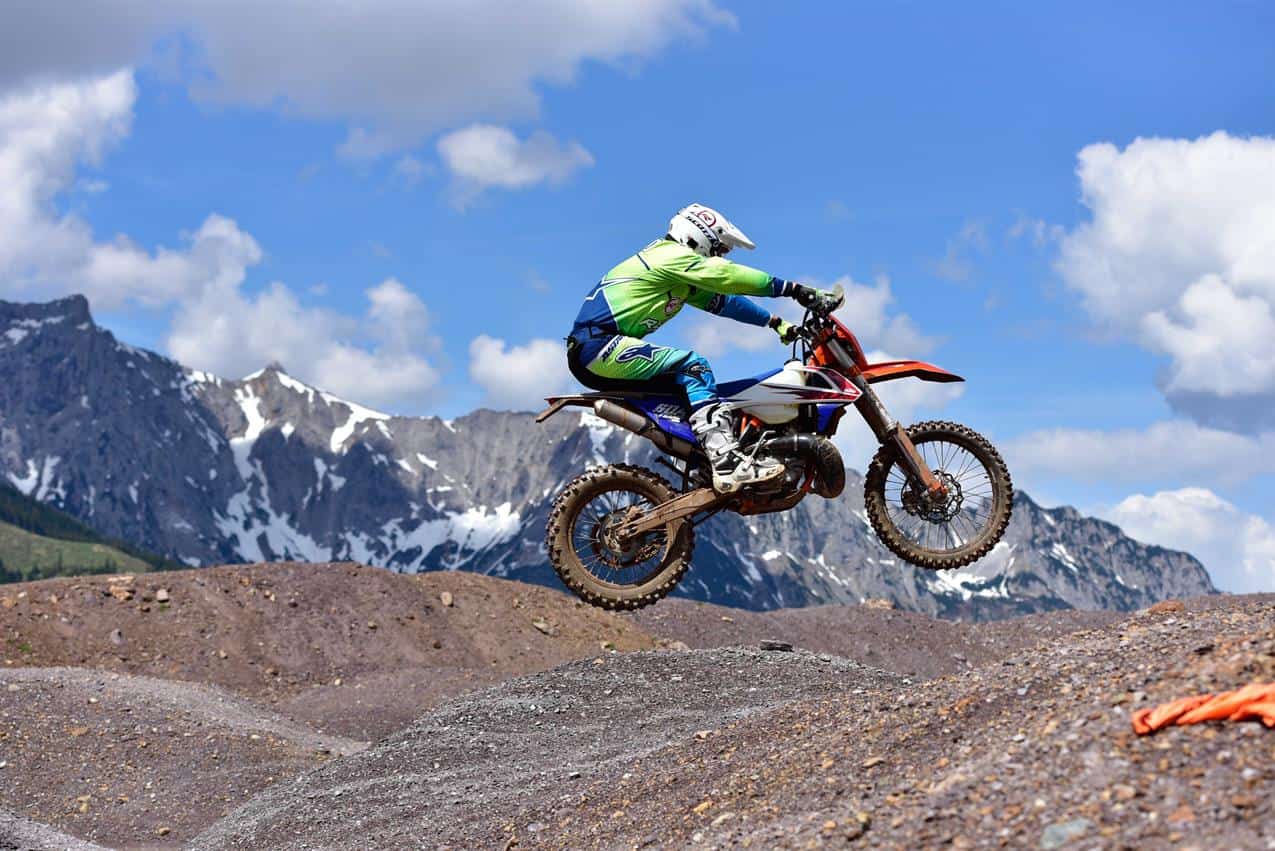 SMOOTH
For instance when you start a TPI model, it starts easy and it starts clean. From the off the fuelling is crisp, there's no blubbering until you clean it out with a few prolonged revs, you can just quietly give it a few blips of the throttle, allow the piston and rings and the cylinder bore to find their optimal interface temperature – and then go. And the ride – smooth is the adjective that comes to mind. Again and again.
The KTM EXCs found their smooth last year (2017MY) with the counter balancer. In fact at this launch KTM's Jochi Sauer described those 2017s as '2018 models without the TPI' – and that's fair comment as but-for a fork tube mod and radiator guards (aside from TPI) they are identical to this year's bikes (BNGs also aside). Only in the TPI bikes that smoothness feels even more apparent. Fuel injection makes for clean linear fuelling from start to finish, and that combined with the counter balancer makes the experience complete. These engines are smooth operators.
Being a clubman-level rider it was immediately apparent how easy to ride the TPI machines are. Neither the 250 nor the 300 want for extra power, but the delivery is certainly as tamed as I've ever found. The rev-build is even and predictable – you're never taken by surprise – so much so that the option of a soft map (the test bikes came with the optional engine mapping switch) felt superfluous, the ride was easy enough already. I'm sure expert riders will want for more bark, although I'm equally sure the engineers will argue that they don't actually need that – an easy-to-ride bike is a fast bike. But as the KTM engineers assured, if you want more snap in your ride you can still play with the power valve springs (three options as before).
IT'S NOT IN THE RIDING…
Riding the 2018 TPIs then, it's just like riding the 2017s only with better forks and even smoother power delivery. TPI is like a little honey over your favourite breakfast, it's just so, so sweet.
And that would be reason enough to buy a 2018 EXC TPI, but actually it's the rest of the TPI story that really tips the balance. I like that KTM have managed to totally complete the packaging. FI needs a fuel pump. And so KTM found they could just raid the EXC-F stores cupboard and there's a lovely unit, fully fail-tested, ready to go – just drop it into the bottom of the translucent fuel tank. FI also calls for oil injection, and again a neat little 750ml tank sits in an easy location under the backbone frame, again with a neat little fully integrated pump and easy filling via a filler cap just behind the headstock. The fuel injectors appear as a pair of modest plug-in units on each the side of the cylinder, with two short pipes and T-piece to the fuel pump.
It's all so super-tidy, neat little sub-systems that can be detached and reattached in just minutes, there's nothing that the reasonably competent home mechanic can't deal with. The worse case scenario is possibly having to take a sub-assembly to a dealer for checking out. If drawing a complete blank then the EMS unit allows a computer diagnostics check at the dealer, too.
But as well it's the ease of use in every way that is so impressive. Premixing is an arse of a job, and so doing away with that is cool by me. The fact that TPI has also vastly improved the fuel efficiency is another boon for the owner. It's ridiculous just how little these two bikes drink. And that goes for oil as well. KTM were talking 20-30% greater fuel range and that looked conservative when I was checking the fuel tanks after the morning and afternoon ride sessions, these bikes look to be approaching 250F fuel consumption rates. Cross-country racers especially are going to rave about this advantage, for sure.
BETTER
KTM stressed just how long and difficult a road it was to get to this point. For years they've teased us with 'maybe next year' to the eternal 'when?' question over FI. Now it is next year and it was worth the wait. KTM have made the switch, but not too soon. This is one thoroughly sorted product; tested, improved, simplified, right. And, as it turns out, better.