Holy cow. Inside a month I've sampled two of the biggest game changers to come to the adventure market in years. The KTM 790 Adventure R is a brilliant bike, I love it, it's a near perfect 10. Then just days after that test I'm introduced to the Yamaha Ténéré 700 – and I'm bowled over again. Can it be better than the KTM? Is that possible?
The answer is – while some folk are comparing the two – there is no comparison. They are very different offerings, and so each in its individual way is outstanding, each is extremely good. But being built to a different ethos and engineering plan means to directly compare them is erroneous, neither is better than the other.
So let's roll through another ten reasons why THIS bike is the best adventure bike to come to the market in 2019…
WHAT AN ENGINE!
This is almost awkward. I've praised KTM for making a brilliant motor in the 790 Adventure R. But equally this 'CP2' motor is just incredible. In fact it's got to be one of the most seminal engines to emerge from this new emissions-restricted post-Euro4 era. It's not got the fat 94hp power of the 790, but instead it has the most optimized 70hp motor I think I've ever encountered.
For a start it's just so smooth. There are practically zero vibrations. The transmission doesn't snatch and it slides through its six speeds effortlessly. That's a cable-operated clutch but it's light and so easy. Now pick a speed, from zero to what, 120mph? At all speeds this motor feels amazing. It creeps along at walking speed easy, rides 30mph urban congestion like a scooter, sit it on the motorway and it whooshes up to 85-90mph easy-as and will cruise all day at those speeds, even though it's pulling 6-7000rpm it's magic-carpet smooth. And if you want to wring its neck, boy-oh-boy, it hauls ass, revs like a 600cc supersport. It's seriously quick. In fact I found myself riding everywhere quicker than planned.
And it has character. It's got that cross-plane crank thing going on (as per Yamaha's R1), with a whacky firing order (at 270º and then 450º later) which, try as I might, I'll never be able to explain. But as well as making it feel something like a vee-twin, this was also the firing order that Yamaha apparently used in their XTZ850 Dakar racers back in the 1990s (claiming seven Dakar wins, no less).
IT'S HALF AND HALF
It looks like it rides. It's as overgrown as a trail bike can be before becoming a fully-fledged adventure bike. Despite being a twin it's narrowish, and Yamaha has definitely set out to create a slimming visage: the tail narrows, the headlight surround is clear plastic (Perspex?) and that headlight – two pairs of stacked LEDs – is taller than it is wide. The whole look is more trail-come-rally than standard adventure.
So it's a trail bike. But it's not. The motor is too big, too smooth, too versatile for a trail bike. And pushing over 200kg when fuelled, that's too heavy. Jump on a KTM 690 Enduro R and you'll know what a trail bike is. This, the Ténéré 700 is not. Oh, and the big expanse of tank that rises up in front of the rider, you're not getting around that, there's no pulling yourself up behind the headstock for a bar-dragging turn in the bush.
But it's lighter than an average adventure bike, and its minus lots of gubbins that make up a modern adventure bike. There's no computer weighed-down with sensors and a demand list of rider modes, no TFT screen offering a thousand different screen options. It's a bit bare bones – which is no criticism for the simplicity is one of its ace cards, freed from IT overload, you enjoy the bike all the more. But honestly, don't look at that saddle for too long, it'll make your arse bleed. No, it's not an adventure bike either.
It is, instead, its own breed, one of a kind (for now). And while no one has particularly had it in mind that a trail-adventure bike has been needed, with the possible exception of Chris Scott, who's been trying to home build one for years – trying, with admitted limited success – oh, and Rally Raid Products (with the RRP Honda CB500X), apart from them, have we been calling for this? Maybe we have, but Yamaha has for sure created something special and versatile in doing so.
SWEET HANDLING
Okay the 790 Adventure R was nice handling, real nice. But the Yamaha aces it; being lighter helps, but there's something about the speed and swiftness with which it cuts through the back lanes, through roundabouts, round long sweepers, that just makes you want to do it again and again. It handles on the road like a right little road racer. Even with the longish suspension you can push it. Actually you don't need to speed up to appreciate the handling, even going slow you appreciate how light and effortless it handles. It makes for carefree riding.
Off-road it's good, too. It feels planted and fairly unflustered, there's enough integrity for it to cope with most anything – speed and skill depending – and with that narrow rim 21"/18" wheel combination you can spec as aggressive a knobbly as you need. But as ever, in certain terrain types you're going to need to slow down sooner than say the guy on the KTM 690. But certainly, if you're game, you can run with the hell-raiser on his 790 Adventure R all you fancy.
SUSPENSION WORTHY OF THE NAME
Anyone who knows the old Ténéré 660, will know that Yamaha effectively issued that model with a couple of whittled sticks at either end. Long sticks, admittedly, but the understanding was that owners would upgrade those sticks if they felt at all picky about off-road performance. The dimensions were all good, just the lack of springing and damping was a major letdown.
With this new Ténéré 700 that's all changed, Kayaba has come to the party with real grown-ups suspension units. Those are 43mm USD units up front and there's a decent linkage-operated shock on the rear. All fully adjustable with a decent combo of 210/200mm of travel. They feel pretty good, too. I've not had the chance to fully test them in the dirt, but they're not collapsing under the bike's weight alone and the still hold up when near 100kg me is in the saddle. Night and day ahead of the old bike. One day soon we'll do a real off-road test, riding different speeds and terrains just to see for real how well these work.
RALLY-LIKE ERGOS
This point is something of an extension on those made above. As the Ténéré doesn't feel like a trail bike or an adventure bike, somewhere in between, it almost stands to reason that the Ténéré 700 feels like a rally model.
You do still sit on this bike, not in (same as the 790 Adventure R), but there's less bulk – everywhere! That neat screen and quasi-nav tower on the front set the tone. The low exhaust run and neat silencer looks fully rally-style too (wait 'til you've fitted an Akrapovic). It's not too fat through the mid-section, so your knees and feet aren't too far spread. The seat is slim, really slim, so it feels even more like a rally bike. The only limitation being how far forward you can sit –as said before that's where it falls down as an ultimate dirt bike, with that tank you just can't sit forward, instead you'll be standing and leaning forward – which is again rally style. In all, though, it's a setup that kind of says its ready, wherever you want to go pretty much it'll go (short of Romaniacs/Erzberg).
REMOVABLE DOWNTUBES
Well, it's an odd point to bring up, but there are a number – a lot – of adventure bikes running around with marginal under-engine protection. It comes from engines frequently being stressed members, and so the frame tubing only runs over the top of the engine. So when it comes to sump/skid plates there's nothing to fix them to, except the engine… Not always good; having once witnessed a German rider casing his GS on a rock and screaming 'scheisse!' repeatedly as he tried to stem the ensuing oil spillage, now I always go easy on rock steps, log hops and the likes. Yamaha, though, they know this issue and so they've gone the extra mile (and added ounces) by speccing two down tubes specifically to carry a decent sump plate. Leave nothing to chance.
GENTLE BRAKES
Not sure if this is a sales point, but having just jumped off KTM's 1290 Adventure R, the brakes on the Ténéré 700 were a surprise, for they're on the gentle side. Yamaha says this is intentional, at least in the initial take up, so the brakes aren't grabby, which can lead to a lock-up and fall when off-road – and reading their tech briefing notes you'll see they call these Brembo calipers 'lightweight'. The discs are smaller than average, too, at 282mm diameter. So you get that soft start, but they build well once you start squeezing the lever with conviction.
THERE'S NO EIGHT…?!
You know what – to hell with the ten. Let's stop here and change direction for a while.
THINGS WE DON'T LIKE WITH THE NEW TÉNÉRÉ
Are you ready for this?
8.1 Sidestand only. No centrestand! Ugh – you know where we stand (sorry) on this.
8.2 The seat – aka the Ténéré's instrument of torture. Time from start to excruciating pain: 30 minutes. Maybe longer, maybe not excruciating pain, just moderate discomfort. But one way or another this is not an all-day comfort saddle. For a travel-related bike this is one major misfire.
8.3 It's tall. As was the Ténéré 660. It's not massively tall (880mm), but small people need not apply.
8.4 Bug deflectors. I think Yamaha call them hand guards, but looking at the thin metal plate brackets connecting the deflectors to the mirror stalks these are not going to perform well in a fall.
8.5 Filament bulb indicators. What is this, 1976? LED should be industry standard.
SHORTCOMINGS YAMAHA HAS ALREADY ADDRESSED
Now we could get really pissy about those five 'fails'. But we're not because actually, being proper off-road dudes, Yamaha already know about them and have kit ready to solve the issues.
8.1. Centrestand – yes, Yamaha has a centrestand for the new Ténéré 700, check out their accessories range or 'Explorer Pack' you'll find one in there.
8.2 The seat – curiously Yamaha don't spec a comfort seat in their Explorer Pack but their rally seat in their 'Rally Pack' looks a whole deal deeper (+44mm) – go for that.
8.3 It's tall – yep, but there are height-lowering dog bones (suspension links) and a lower saddle (-35mm) available.
8.4 Bug deflectors – okay, Yamaha doesn't seem to list hand guards, but Barkbusters will see you sorted PDQ.
8.5 Filament bulbs – again check the accessories list, LED 'blinkers/flashers' are ready to plug-and-play.
RALLY VS EXPLORER
That brief look into a few shortcomings – and we're talking 'few' – does lead us into the duality of roles that Yamaha sees in the Ténéré's life to come. It looks well positioned to slide into either function. You can accessorise it in the hardcore direction and go rally, or add luggage and comfort items to go adventure touring (curiously there is a comfort saddle option for the pillion, but not for the rider). And with 43 listings in their accessories list they're close to matching KTM's hard parts for customer-pleasing bolt-ons. It's kind of clever (by either their engineers or marketeers) for they're hitting two market segments at once, with the one bike. And the way we see it, both sets of riders are going to find a lot of happiness.
THAT PRICE
Whatever country you're living in the price is still the talking point. It's cheap! Given the rampant inflation in adventure bike prices this is very welcome right now.
Of course to make it that cheap you have to expect a few compromises. You can see this in items like the front brake and clutch lever, even the front brake master cylinder – all of which wouldn't look out of place on a 1980s RD road bike. You see it in the footpegs, which while nifty, what with removable rubber inserts, are smallish and visibly budget. There's no computer with a selection of the now regular 'modes', no traction control. There's precious little saddle (I'm still sore about that, literally). But what there is with this bike is all solid gold. On balance it looks like Yamaha has done something of an IKEA on us, where they give you the last little bit for yourself to complete (in this case the final selection of parts to nuance the bike to what you want).
Looking through Yamaha's accessories we quickly added a £1000 to the list price on bringing the Ténéré up to our desired spec (half rally, half adventure as it goes) but then at least it's almost fully fettled. And we're still talking £2-3000 below the price of an Africa Twin or 790 Adventure R, and there'll be a few add-ons and tune-ups needed for both of those, too, so the price gap is maintained.
We're not talking like for like, though. You see the Yamaha Ténéré 700 is definitely in its own class, with it's own mix of capabilities, and you either desire that or you don't. To ask 'do I want the Ténéré or the Africa Twin or the Adventure R?' that's shouldn't happen unless you're really uneducated as to what you want from adventure motorcycling.
A WINNER
As it stands this is one solid winner from Yamaha, it hits the desired mix for the kind of riding that you'll commonly find here in Europe. In an idea world, with this bike it would be used (by RUST!) for a whole range of purposes: posing through town (it looks super-trick), commuting, green lanes, ATRC rallying, Gibraltar Race type rally-touring, plus TET and ACT. And, if we were Stateside, it would be fine for BDR, too. We're not going to ride more than five minutes two-up though. Yeah, we'd take a Super Ténéré for that ride.
Bottom line: Yamaha, please hear this – we love it!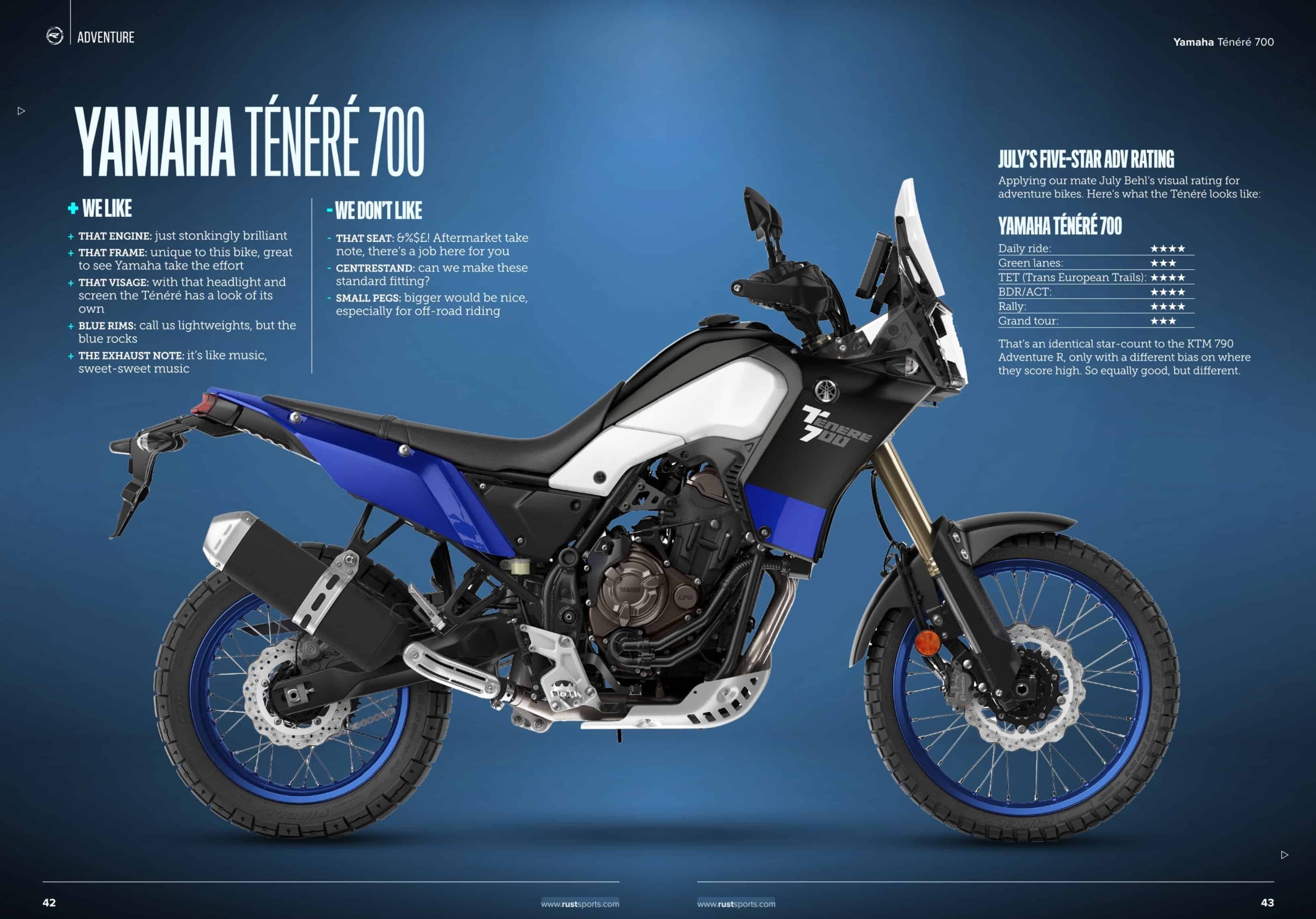 SPECIFICATION
Yamaha Ténéré 700
Engine: liquid cooled DOHC four-valve twin cylinder four-stroke
Displacement: 689cc
Bore & stroke: 80 x 68.6mm
Max Power: 54kW (70bhp) @ 9000rpm
Max Torque: 68Nm @ 6500rpm
Fueling: EFI
Starter: Electric
Transmission: Six-speed gearbox, wet multi-plate clutch
Frame: double cradle steel tube
Front suspension: 43mm USD Kayaba forks, fully adjustable, 210mm travel
Rear suspension: Kayaba monoshock, fully adjustable, 200mm travel
Wheels / Tyres: 90/90-21", 150/70-18" – wire spoke wheels
Brakes: Two front discs 282mm twin-piston Brembo calipers, Rear disc 245mm single piston Brembo caliper; ABS (with off function!)
Seat height: 880mm
Wheelbase: 1590mm
Ground clearance: 240mm
Weight: 187kg (dry)
Fuel capacity: 16 litres
Contact: www.yamaha-motor.com
Price: UK £9147, US $9999, EU €9699