PHOTOS: Vanessa Blankenagel, Markus Jahn & Amelie Mesecke
OFF THE RECORD…
The glamour of GS Trophy meant a night in a 1960s prefab four-bed bunkhouse, sharing with the social media team, who, true to form, were scrolling through pages on their mobile phones deep into the night. However, in fairness they allowed me the biggest bunk bed on account of my crocked knee, so on balance, yes, good guys!
In the morning, Driver Susan – by now very aware of my tender condition – met me at the bunkhouse and drove me the 200 yards to breakfast! She was certainly my rock, always looking out for me. Breakfast over, we three (Susan, Vanessa and me) jumped in (or were craned into) the Land Cruiser and drove… 200 more yards to the first test! So soon…
After that we attempted to drive the bike trail, but as this was following something of a cliff top path with gnarly turns, steep inclines and 100-foot drops, we had to abandon after about a mile. Susan had grown increasingly nervous and this was relaying into serious edginess for Vanessa and I. I think we were all breathing easier after we backtracked and took the alternative 4×4 route.
White Rock was a highlight, the ocean was pumping seriously huge waves onto the black sand beach – you would not want to fall into it. Another highlight was the town of Martinborough, which held an old world charm, with weatherboard buildings dating back over 100 years – such old buildings are a rare sight in New Zealand (generally the borer beetle claim them). It had been a long morning when we sprung upon Martinborough and every one of the 140-odd F 850 GSs stopped there for some top quality coffee (and of course cookies/cake). It's quite a (unique) sight, 140-odd identical motorcycles all parked in a town centre.
The evening bivouac (fancy word for camp site!) was a stunner, set in a native bush reserve. The guys rode a trials section, or at least one rider from each team did while his teammates scampered behind him (ready to help should he fall). GS riders scampering here and there through the vegetation became a regular sight in this GS Trophy.
JB's BMW REPORT… Wainui, New Zealand.
There was a concerted push south today as the 2020 BMW Motorrad International GS Trophy looked to finish the day within striking distance of the Cook Strait, ready for a leap onto the South Island tomorrow. Only first there was nearly 350km of mixed trail and highway, through the never ending hills of the Wairarapa, diving into native woodlands, crossing pastoral flatlands then a return to the spectacular east coast before finally crossing the Rimutaka Range to make camp in the bush on the edge of Wellington, New Zealand's capital city.
The GS riders again responded to a pre-dawn 5:30am call to breakfast, yet again finding wonder in the incredible sunrise over the Pacific Ocean, this time seen over the reef at Castlepoint. Less than a kilometre from the start they stopped for the first challenge of the day, Beach Drift. Here one rider from each team rode against the clock over a deep sand section, then crossed back and forth across flatter sands before making a precision stop in a defined box. The deep sand claimed many victims, either tipping over or sinking deep, including the hitherto infallible Team South Korea.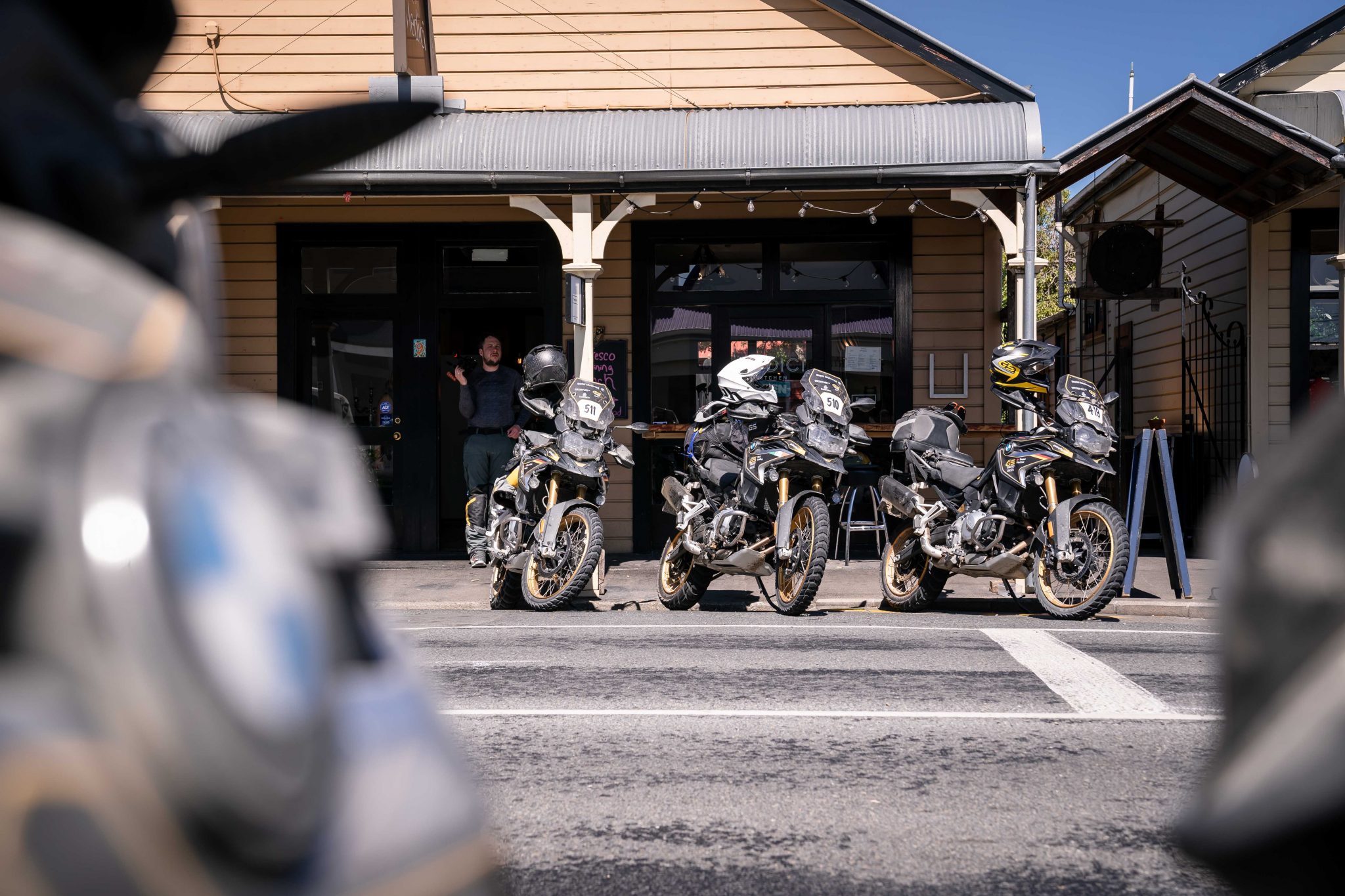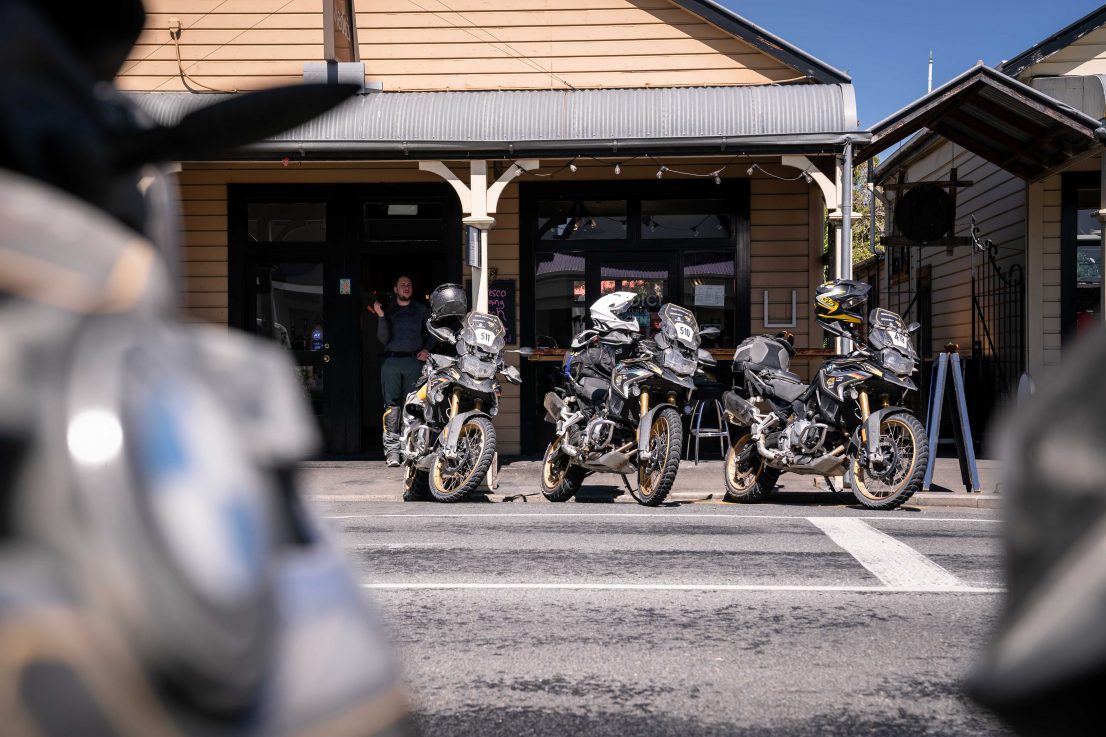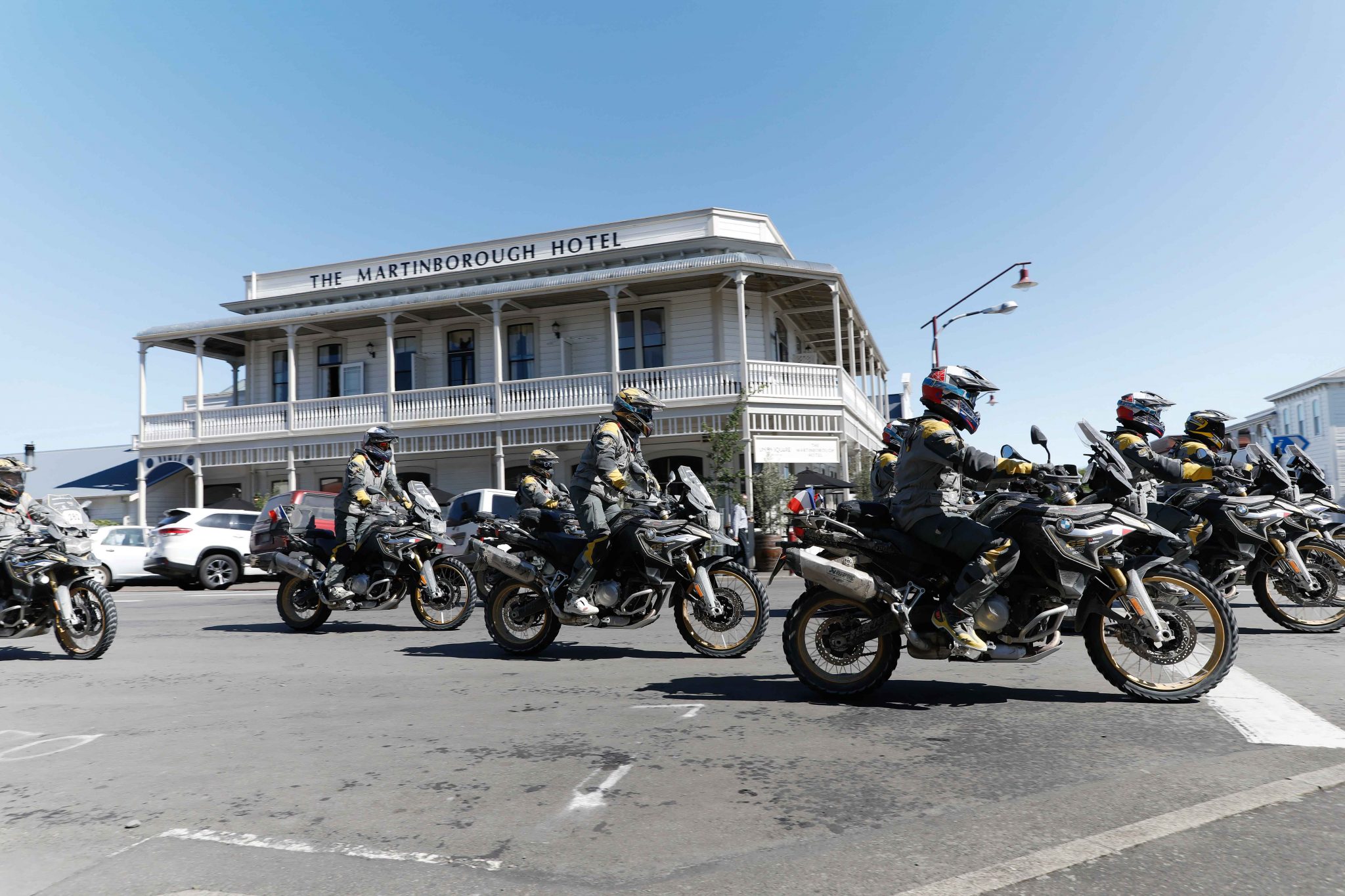 From here the riders enjoyed riding a hard pack farmer's trail over spectacular cliffs to Waimimi – just another small name on the map marking the location of a handful of farming homesteads. Here the riders turned inland toward Masterton, the Wairarapa's market town. A mix of flowing roads and twisting gravel tracks, much of it through native forest sections, took the riders east and as they crossed the highpoint of 536m at Pariwhariki they could see in the distance the impressive, brooding Tararau Range that divides the southern half of the North Island, with peaks reaching 1300 metres.
After a refuel and coffee break in the quaint historic town of Martinborough the riders then headed east again – not south! – on the gravel tracks that lead to the iconic White Rock at Pahaoa. The beach here is black sand which contrasts starkly with the solitary white rock that somehow holds steady in the immense raging surf – this is no swimming spot! Here the GS riders were entertained by the Leatt Neck Brace Challenge, hurling their gloves up the beach into the neck braces in something resembling target practice!
The final leg of today's journey saw the GS riders swoop over the Rimutakas on the biker-famous Rimutaka Hill Road – a favourite weekend haunt of Wellington's bike riders. The curves are entertaining, but either side of the road (which peaks at 725m) is a vast dense native bush with manuka, beech, cabbage trees, hebe and ferns. New Zealand almost as it was when Captain Cook first arrived.
Only the action didn't end here as the teams again had to elect a rider to ride the final challenge of the day: the Trial, a weaving track that led through the trees and through a stream on the edge of the bush that borders the campground for tonight. Of course this was set against the clock, with time deductions for footing and stalls.
While it was a typically late end to the riding day it was an early turn-in for sleep as tomorrow the GS Trophy makes a very early pre-dawn start for the inter-island ferry to the South Island.
Andrea Padovani, Journalist, Team Italy:
"It's been a very hard and beautiful spirit riding the GS Trophy, we are every day riding hard to make our goals. Sometimes it is difficult, sometimes easy, but we go on and see what each day brings. The days are hard because we ride for many hours, but we are enjoying it because the landscape is beautiful – New Zealand is something amazing, different to all we know. We have enjoyed the Sena communications; riding with the Australians today they talk so much! But yesterday we rode with the first female team and they said we speak a lot. The Sena is a challenge to us, though, for being Italians we speak not just with our voice, but with our hands and our faces!"
Brandon Grimsted, Team South Africa:
"The event has been thrilling, lots of excitement, so we've experienced lots of nerves. We've had a lot of supportive feedback from our fans and friends back at home, and placed fourth we're in a good position in the competition, so we will put these past days behind us and push on. Today we had a shaky start – BJ (Vosloo) was maybe too aggressive in the first test, but Cobus (Theron) likes his technical riding and so scored us a clean ride in the trial. A good day. But New Zealand – it leaves me speechless, it's an incredible country!"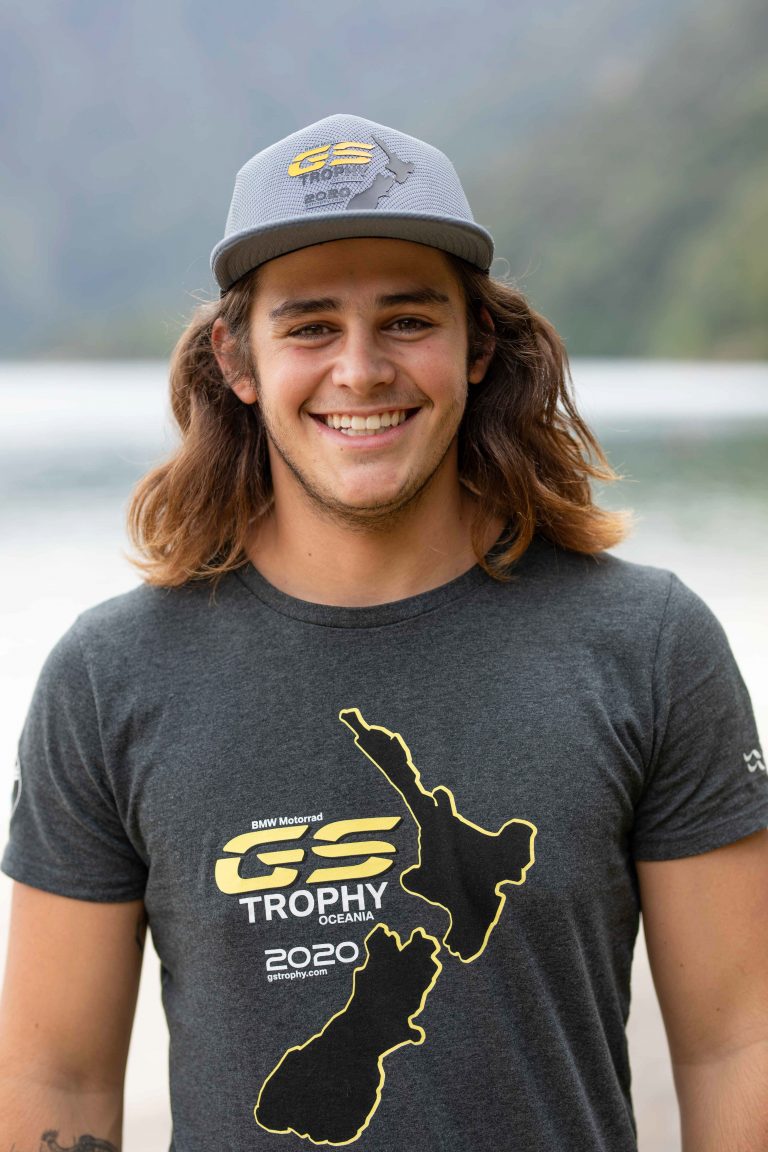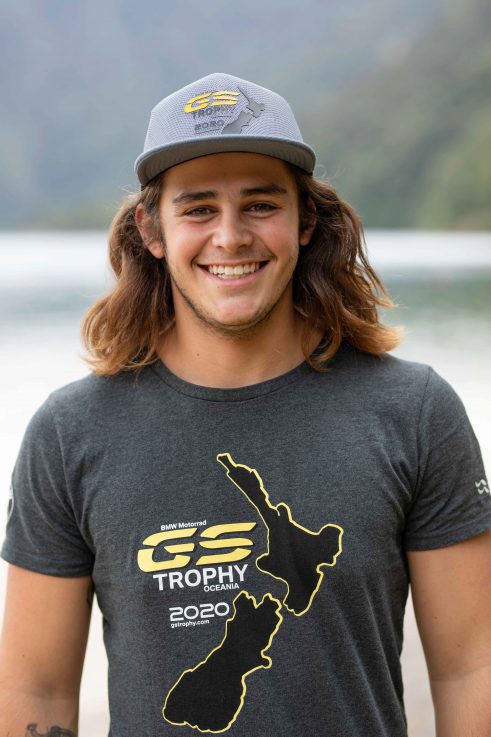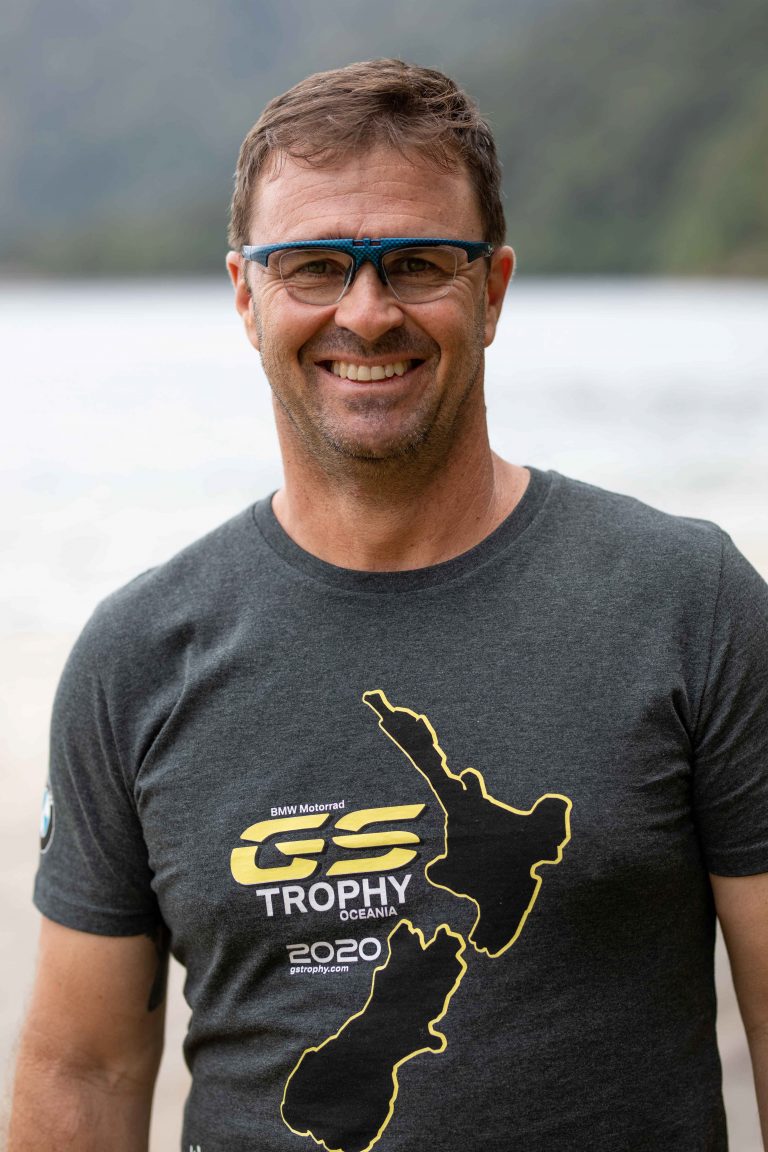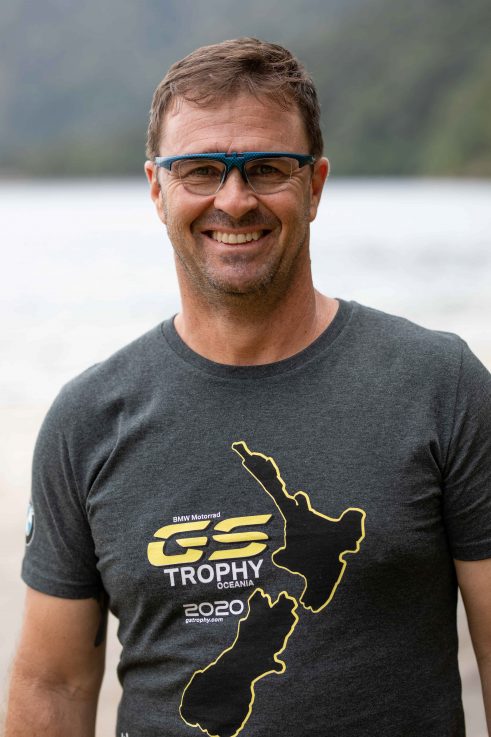 Cleuci Ronzella, Team Brazil:
"This is some event! The views are amazing, the route is amazing – but we need to rest, there's been so much riding in the last three days. All the same, we simply don't have the words to explain how we feel, this is an incredible experience. We hope to go better in the next days, we will find our strength."
BMW Motorrad International GS Trophy 2020
Oceania.
Day Three overall standings:
1 South Korea 157 points
2 South Africa 146  
3 Netherlands 145  
4 France 142
5 Italy 133  
6 USA 124
7 Australia 122
8 Russia 114  
9 Latin America 111  
10 Brazil 109  
11 Mexico 105  
12 Argentina 101
13 Middle East 93  
14 UK 79
15 India 78
16 Nordic 77
17 Malaysia 67
18 Japan 62
19 North Africa 62
20 Thailand 62
21 Int. Female Team I 43
22 Int. Female Team II 30 
THE VIDEOS
A quick explainer. These film clips were shot randomly by me, JB. That's not entirely true – having taken something of a heavy impact in transit to NZ, the wee Garmin Virb mini-cam in fact chose the random moments, as for much of the time it chose not to film! For days I persisted, wiggling batteries and cards to make it work. It probably worked for 30% of the time. Then after the fifth day it as good as stopped altogether. However, it remained useful as the extension stick doubled as both a walking stick and person-prodder (mostly photographers).
The films are cut in a succession of two-second clips, no commentary, no music, just ambient sound. It's not an original concept, but like all the best ideas, borrowed/stolen…