The hotly anticipated 2018 AMA Monster Energy Supercross season got underway at the legendary Anaheim I on January 6. The Angel Stadium saw 45,000 SX fans witness an exhilarating, unpredictable season opener, which included the much-awaited return of Ken Roczen. But was it a classic?
Monday 8th January 2018
RUST's analysis:
Supercross is too tough and too random to permit fairytales. It punishes the weak and every so often it ambushes the strong. No one man is bigger than the sport. And it doesn't matter whether it's the first round or the last, the dangers are always there.
And so Supercross's self-proclaimed 'Alpha Dog' got forced-fed his medicine at Anaheim I. Ken Roczen might be angry, he might be fast, he might be ready to make the biggest comeback the sport has ever seen, but he's not yet match-fit. So he bobbled his start in the 450 main, badly, then nearly ate dirt trying to force his way back into the game, and while he regrouped impressively, he finished off the podium. At least he finished. Eli Tomac was cruising to victory when one small mistake saw him down, saw his pants come down for that matter, then between stalling his Kawasaki and concern for a possible shoulder injury he was out. So Marvin Musquin took the win – Vive la France. For Roczen and Tomac it's clear there's another tough season ahead. For Honda and Kawasaki, yeah, that KTM team always seems to have the last laugh…
In the 250s: McElrath, Martin, Cianciarulo, Hill, Savatgy, Plessinger… Yep, the usual suspects. And one from every colour. Question is, do we care?
450 Main: Marvellous Musquin
Racing fans across the globe were thrilled to see the return of Ken Roczen at Anaheim I. The young German suffered a horrific crash at the very same stadium one year ago, which resulted in an arm injury so severe it would see him out for the rest of 2017. Roczen, who had just switched to Honda from KTM, was by his own admission "in a very dark place". His recovery required a complete restructure of his arm using 11 different surgical procedures, and for a time there was a very real possibility that he would need an amputation. But Roczen is back, and ready to face the fear of returning to the scene of the accident – evidenced by the words 'Bleed for This' written on his gear.
Right from the start of the race there was barely time to miss the smooth and precise riding of freshly-retired champion Ryan Dungey, as Eli Tomac shot to the front and began trying to ride defensively in front of a charging pack led by Justin Barcia, Jason Anderson, Weston Peick and Marvin Musquin.
Roczen, meanwhile, having messed-up his start, began to push his way through the mid-pack, only to have a huge moment and very nearly crash. Then, just as race leader Eli Tomac was beginning to look odds-on for the opening victory, the Kawasaki rider went down in a big crash. Last year's vice-champion initially looked to be fine, but after remounting he pulled to the side of the track, stalling his engine as he tried to adjust his race pants. A few laps later he had pulled into the pits, having seemingly aggravated his shoulder.
The loss of Tomac left the race win open, and it was Barcia who benefitted first. However, Musquin quickly made his way to the head of the field. Shortly afterwards, Anderson began to battle with Barcia and while Anderson eventually prevailed, the battle let Musquin run free to a comfortable win.
The drama wasn't over, for in the closing moments of the race there was more excitement as Roczen fought back from his earlier scare, seemingly determined to stand on the podium in his comeback. Only there was too much distance to regain; nonetheless Roczen was able to make his way up to and past Peick to snatch an impressive fourth place. Yeah, no fairytale comeback, but wait a week…
So Marvin Musquin celebrated his impressive victory with a perfect heel clicker over the finish line. Good work.
250 Main: McElrath's muscle
KTM's Shane McElrathmade a rocket-like start to snatch the holeshot. McElrath's teammate, Alex Martin, and Honda's Christian Craig initially followed in his wheel tracks and looked to be strong challengers, but Yamaha's Aaron Plessinger had other ideas and quickly over-powered his rivals. As the race settled in to its rhythm Adam Cianciarulo moved swiftly up the order following a poor start. This meant that on the early laps we saw four different manufacturers in the top four positions.
Kawasaki's Joey Savatgy then put on a burst of speed to bring himself into fourth, just behind his teammate. As the race drew on second-placed Martin crashed, allowing several riders through and putting paid to his early race form. The battle for fourth-to-eighth places then became the most exciting on the track as last year's 250SX West champion Justin Hill engaged in battle with not only Savatgy but also Mitchell Oldenburg, Chase Sexton, and Craig. The fans enjoyed watching the five riders swop positions throughout the remainder of the race.
Hill looked to be the strongest of the group, seemingly enjoying his switch to Suzuki. But Oldenburg was determined to beat the reigning champ and managed to make a pass stick in the final moments of the race.
At the head of the field, McElrath was never headed, leading from start to finish, Plessinger and Cianciarulo completing the podium.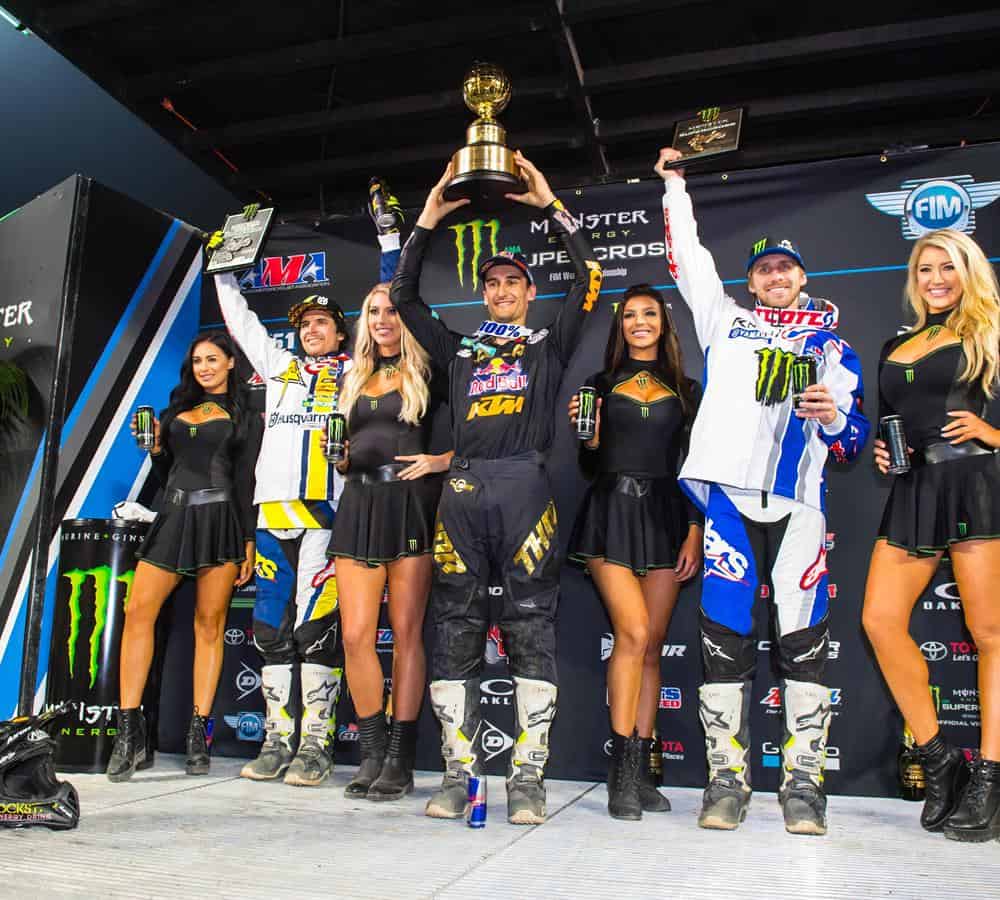 Results/Standings
Anaheim I 2018
450SX
1. Marvin Musquin KTM  26
2. Jason Anderson Husqvarna 23
3. Justin Barcia Yamaha 21
4. Ken Roczen Honda 19
5. Weston Peick Suzuki 18
6. Cole Sealey Honda 17
7. Justin Brayton Honda 16
8. Broc Tickle KTM 15
9. Joshua Grant Kawasaki 14
10. Cooper Webb Yamaha 13