The penultimate round of the championship – what a moment for Marvin Musquin to attack, as Jason Anderson falters for the first time…
Wednesday 2nd May 2018
2018 AMA SUPERCROSS, ROUND 16 REPORT.
SALT LAKE CITY, UT. APRIL 28th.
As the old saying goes: it ain't over until it's over. So, as it nearly always is with Supercross, while heading into Salt Lake City Rockstar Energy Husqvarna's Jason Anderson looked to have a very fair chance of sewing up the championship a round early, so fate decided otherwise – while contrarily dealing his closest rival, Red Bull KTM's Marvin Musquin the best hand possible. Likewise in the 250s, Yamalube Yamaha's Aaron Plessinger could have also mathematically taken the title a round early, but instead there too, the points have closed up. Nothing in this game is for certain.
450 Main
It kind of all happened in the first turn. Storming into the first corner, Anderson was half a bike length back when he needed to be bar-to-bar and as the gaps closed up it would seem the footrest on Eli Tomac's Monster Energy Kawasaki went into Anderson's front wheel, causing Anderson to fall, while ripping several spokes from his wheel. Anderson had to pit for a wheel change, losing virtually two laps, then started a fight back. There was too much to do, but Anderson fought nonetheless and – all credit to the man – eventually caught the backmarkers and made the passes to pull in six points for 17th. Every one of those points being so important.
Meanwhile at the front, Blake Baggett (Rocky Mountain ATV KTM) was allowed three laps in the lead before Musquin powered past to take a lead he that never relinquished. Behind Baggett, Christian Craig (Geico Honda), Justin Barcia (Monster Energy Yamaha) and Justin Brayton (SmarTop Honda) filled the lower leaderboard, creating something of a mobile chicane for not-so-fast-starting Tomac to weave through. Chicane or minefield? Passing can get tricky, but it wasn't until Tomac finally reached Baggett that he came unstuck, losing the front just as he was making the pass. He lost five seconds there, and a place, so it was all work in that last five-plus-two for Tomac to take second at the flag, never having got close to challenging Musquin.
Musquin summed it up: "What happened to Anderson – that's racing. I was looking for Eli, but sometimes it's not the fastest guy who wins the race, I went out to be consistent and get the job done. It was tough for me tonight, but being tough it's made me stronger."
Yeah, Anderson doesn't need Musquin to be any stronger right now. The championship lead has more than halved, down from 34 to just 14.

250 Main
Yamalube Yamaha's Aaron Plessinger has been the on-form man in the 250 West SX chase this season and he could potentially have put the title away in Salt Lake City – if he could have built on his 17-point advantage. But, again the race didn't go the way the main man needed. It looked possible at the start when Plessinger shadowed Monster Energy Kawasaki's Joey Savatgy for the opening laps. But instead of Plessinger attacking, as expected, instead he was attacked as Kawasaki's Adam Cianciarulo and TLD Red Bull KTM's Shane McElrath swept past him in short order. Plessinger tailed these guys but looked to weigh up the pros and cons and seemed to decide it better to bag decent points rather than risk disaster.
McElrath, though, will have become Plessinger's newest best friend as the KTM rider pulled-off a sweet two-for-one pass on the Kawasaki teammates with around eight minutes to go, then proceeded to pull a gap for the win. So Cianciarulo – Plessinger's nearest rival – was denied three vital points. As it is, Plessinger takes a 13-point lead to Las Vegas.
RUST analysis
Analysis? Hmmm, there's not much to say. What a time for Anderson to get his one bit of bad luck of the season? He still has a handsome points lead and he's easily a top-three finisher, being the equal of Musquin and Tomac for sure, but still he won't sleep easy and as Musquin said, you just gotta get the job done. For Plessinger it's almost an identical job, with a 13-point advantage he's just gotta avoid any carnage and bring it home. And for that matter, same goes, too, for Zach Osborne (Rockstar Energy Husqvarna) in the 250 East SX championship, being 15 points to the good. So, come Vegas this weekend a lotta riders are going to play defensive… or will they? After all, another old axiom here: the best form of defense is attack…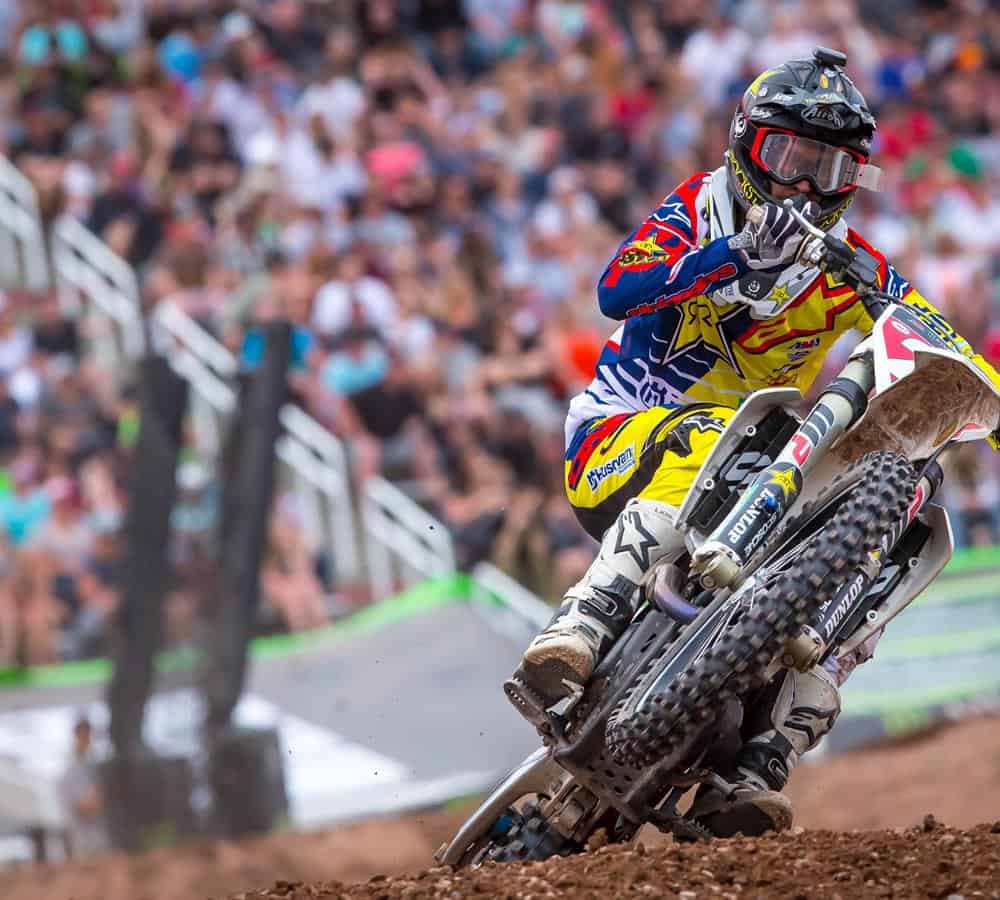 2018 Monster Energy AMA Supercross Championship
450SX championship standings
1 Jason Anderson Husqvarna 338
2 Marvin Musquin KTM 224
3 Eli Tomac Kawasaki 292
4 Justin Brayton Honda 264
5 Blake Bagget KTM 264
6 Weston Peick Suzuki 235
7 Dean Wilson Kawasaki 193
8 Broc Tickle KTM 184
9 Cooper Webb Yamaha 181
10 Justin Barcia Yamaha 163
250SX West Coast championship standings
1 Aaron Plessinger Yamaha 196
2 Adam Cianciarulo Kawasaki 183
3 Joey Savatgy Kawasaki 174
4 Shane McElrath KTM 172
5 Chase Sexton Honda 150
6 Justin Hill Suzuki 128
7 Kyle Chisholm Yamaha 124
8 Mitchell Harrison Husqvarna 115
9 Christian Craig KTM 106
10 Phillip Nicoletti Suzuki 94