Back in 2007 it was the world's most powerful, and most expensive, enduro bike and the winner of the Koenigsklasse at the '07 Erzberg Rodeo. But just how special was BMW's 'factory' HP2?
BMW's HP2 was, at the time of launch, without question the most powerful production enduro bike money could buy. With its twin-cylinder, 1200cc boxer engine pumping out an impressive 86hp at the back wheel (BMW claimed 105hp at the crank!) it producesd well over twice as much power as your average mid-size enduro thumper and was as big and heavy as it was fast and manoeuvrable. The HP2, it's fair to say, was unlike all other enduro bikes.
Tipping the scales at 175kg and capable of speeds in excess of 200kmh the bike was as beautiful as it was unusual. Designed by BMW for serious off-road use, the idea of taking such a big, powerful, and expensive bike off-road was something most riders would certainly think twice about. But for the BMW Motorrad Motorsport team using the HP2 in serious off-road competition was exactly what they did. True to their word they entered the world's most powerful and dynamic off-road bike into various different events during over a two-and-a-half year period with victory in the '07 Erzberg twin-cylinder class their most noteworthy result.
But as well as using the HP2 in events well suited to bigger, more powerful machines – races like the Koenigsclass at Erzberg in Austria and Pikes Peak in the States – for two seasons, BMW campaigned the regular German Cross Country series with their HP2.
Now this series comprised of typical hare & hounds-type racing. With shortish tracks more suited to 250 two-strokes than 1200cc twins, BMW were nevertheless keen to show that the HP2 was not just a dirt bike in name only. So when we were invited to try out one of their monster Boxer twins at one of the rounds… well, how could we refuse?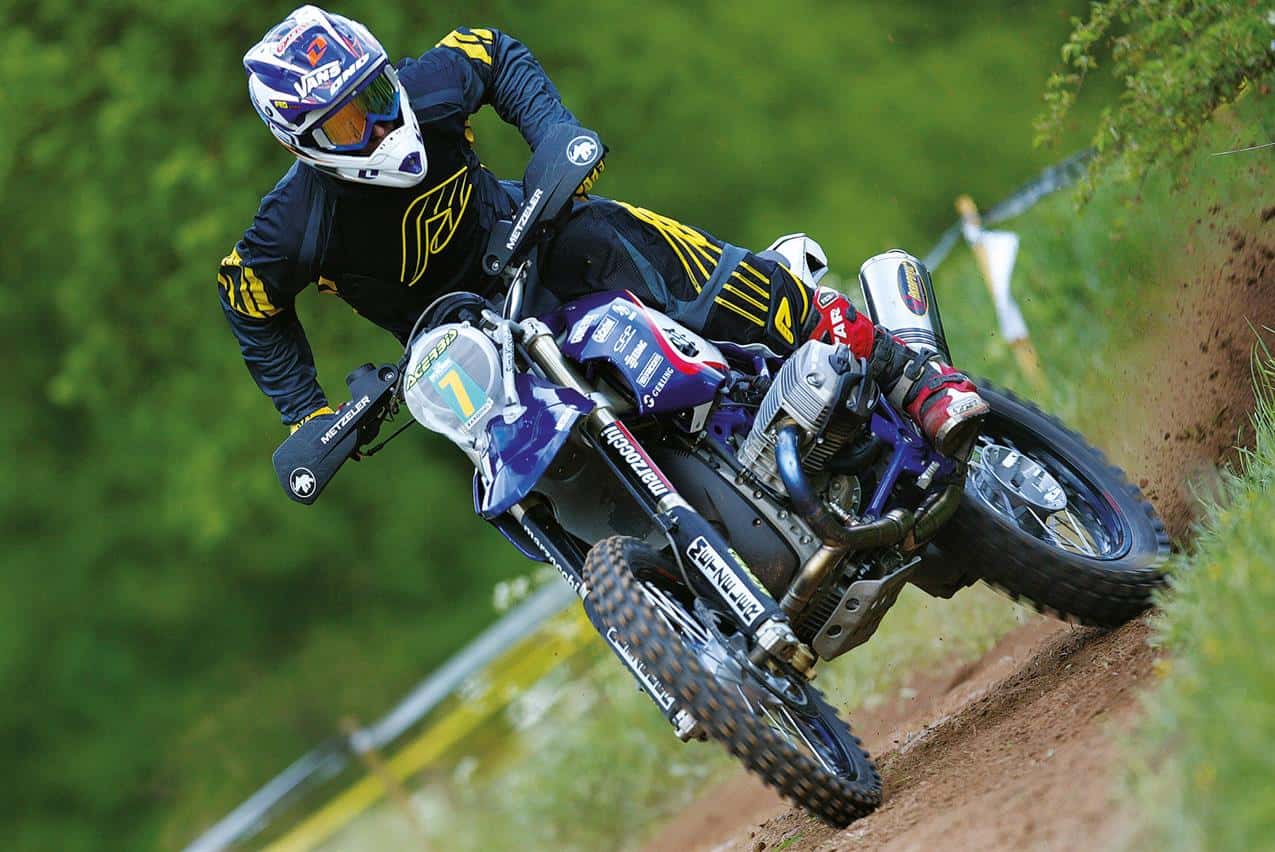 Watching the kilos
The differences between a standard HP2 and the machines used by the official BMW Motorrad Motorsport team weren't as numerous, or as 'factory', as you might think. Fitted as standard with that monster motor, it goes without saying that even in standard trim an HP2 certainly wasn't short of performance. Truth is the stocker would have been more than fast enough for any rider including BMW's flying Finn Simo Kirssi.
Also true was the fact that BMW were no longer as focused on building a competitive all-singing, all-dancing HP2 racer as they once were – due to the imminent arrival of the production model 450cc sports enduro bike (which sadly turned out to be a bit of a white elephant…). While only the previous year the HP2 was viewed as BMW's flagship enduro machine, the development of what was hoped would be a genuinely competitive enduro machine, together with the fact that BMW, at the time owned Husqvarna, had resulted in the Munich company doing much less to prepare their HP2 for battle than they once had.
'There won't be any more development focused on the HP2, not at the moment anyway,' confirmed BMW's Markus Theobald, who now had his hands full fine-tuning the new 450 enduro bike. 'We have some new ideas [for the HP2], some that we have tested in races, but we are not sure if we will bring them to market.'
Although a bike 'tailored in every respect to the needs and preferences of the ambitious enduro rider' thanks largely to its size and sizeable price tag the HP2 was, and still remains, a bit of an unusual all-rounder rather than the uncompromising and sporting off-road bike it was originally designed to be.
'From the beginning we knew that the HP2 would be an expensive bike that only a limited number of people could afford, and an even smaller number of those riders would actually want to risk destroying it by using it off-road,' added Theobald. 'Obviously you don't normally take a 16,000 euro bike off-road, but we have been astonished by how many people have used them off-road, which is great to see.'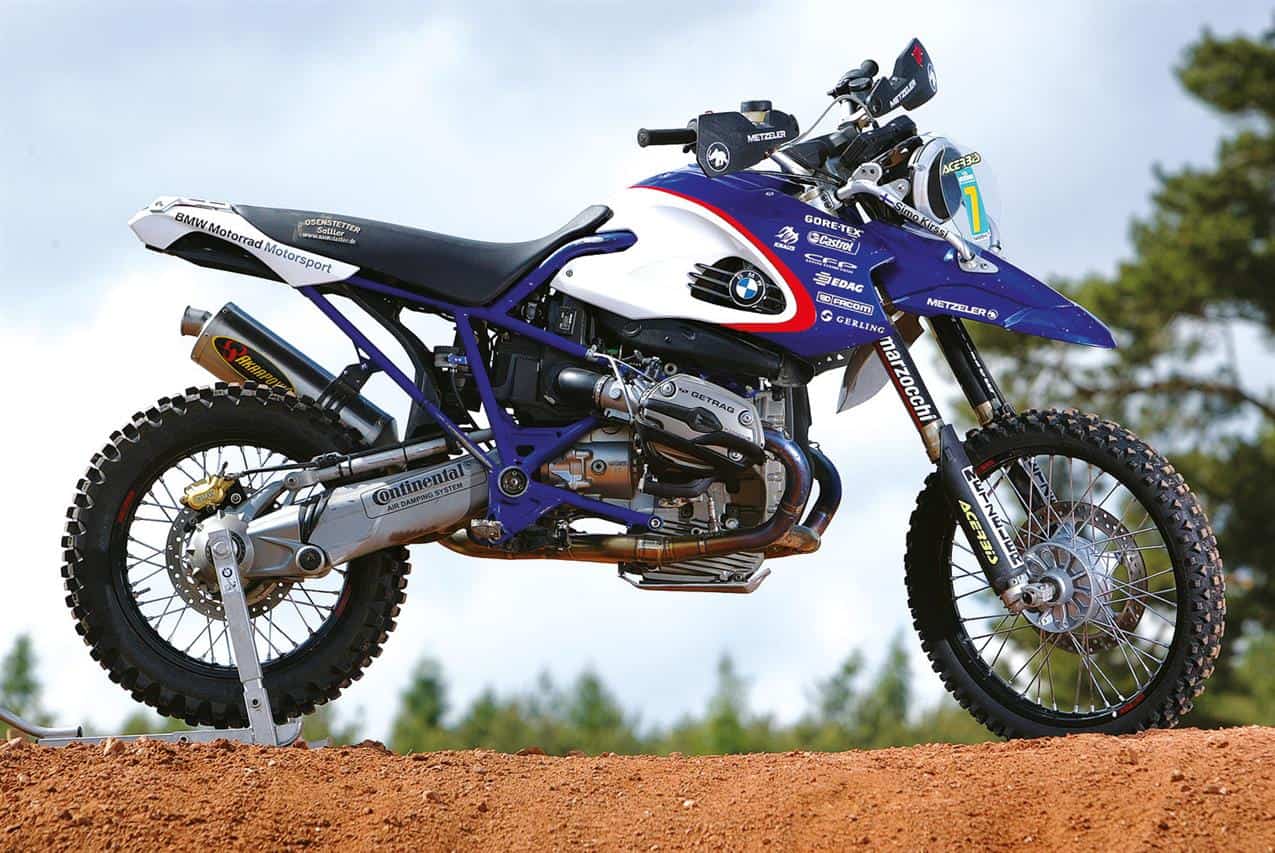 As anyone that has tried riding an HP2 seriously off-road will tell you, the suspension simply isn't up to the job of racing. Despite the rear air shock being extremely effective at soaking up smaller bumps, in the unpredictable and often unforgiving environment of a race, it's not reliable or robust enough and is therefore removed and replaced with a more tradition oil and gas unit.
At the front of the bike the forks get 'a lot more damping' in order to try and stop them crashing through their stroke as they do on the standard bike when tackling even mildly rough terrain. Ultimately, with the bike capable of such high speeds finding a balance between suspension that gave the rider positive track feedback and suspension that could soak up square edged bumps at 80kmh was difficult balancing act. The suspension fitted to BMW's factory HP2's was as a consequence notably firmer than standard.
When used as a serious off-road bike the HP2 did have several clear disadvantages. Firstly, due to the two large cylinders that stick out on either side of the bike it required an altogether different riding technique, while it was much, much heavier than most 'proper' enduro bikes. So it wasn't a surprise to find out that reducing the bike's considerable weight was of utmost importance to the BMW Motorrad Motorsport team.
'Nothing was done to the engines now except fitting an Akrapovic exhaust system, which gave a little more power and saved some weight,' explained Theobald. 'That along with the fitting of an 18in rear wheel and suspension that had more damping. Together these changes saved about five or six kilos.
'We made engines that were lighter, that had a lighter crank, and lighter pistons, but we didn't often use them'. Those engines were about two kilograms lighter than standard. Eventually they used what was basically a stock engine because BMW's focus was on the new 450 sports enduro bike. 'Also, we knew that there was no problem with the engine – it produced all the power that was needed. We just tried to reduce the weight of the bike as much as possible for serious off-road competition. The weight of the bike could be reduced further by about 10 kilos if needed.'
Being much heavier than most enduro bikes it was understandable that BMW also had to reinforce the bike's frames in places – specifically around the steering head and the footpegs. 'We strengthened the original frames by fitting some metal parts internally,' explained Theobald simply.
Spotting the remaining differences isn't easy, but look beyond the red, white and blue colourscheme and sponsor stickers and there are a few other tell-tale signs of the competition department's work. 'We added some simple metal protectors around the fuel-injection units so that the riders don't kill them with their boots,' added Markus. 'We could use a sintered clutch, but only for riders that we knew were hard on the clutch. We had more than enough stopping power from the standard brake system but we also used the Megamoto twin-disc set-up if we needed to. We also used a smaller, lighter (thinner wall-thickness) fuel tank at times. Along with a carbon-fibre airbox, which was 1kg lighter than standard, we also used some titanium bolts.
The sumpguard was also a little different to standard because we did have some problems with it, not with the faster riders but with the average riders who were jumping and landing heavily on the sump with little forward motion.'
Wide Open
If there was one thing that was needed to really extract the very best from an HP2, it was wide open spaces and flowing gravel tracks. Riders were then able to use the bike's considerable power without being hampered by its sizeable weight, it was when speeds were lower and tracks rougher that the bike got a lot harder to ride.
The venue for the second round of the '07 German Cross Country series – the place chosen to ride the bike – was everything we'd hoped it WOULDN'T be: rough, rutted and with countless 180-degree corners to negotiate. Choosing to ride the bike in a GCC race meant we'd get to experience exactly what team rider Simo Kirssi did during his two year campaign of the series, though I confess there was a great deal of anxiety about it.
While the fitting of an Akrapovic exhaust system was used primarily to reduce weight, it also gave BMW's official HP2 the most amazing exhaust note of any off-road motorcycle I had ever heard. Sounding more like a WRC rally car than a dirt bike, the noise it emitted was truly exquisite. A deep, rich and lively sound, it set the heart racing and reminded you just how much power this bike had.
The riding position of the 'official' bike felt exactly the same as that of a standard bike – the only difference being the slightly higher rear end thanks to the altered shock. With the standard clutch and front brake system as well as the original instrument panel still in place, the view forwards was the same as on any HP2.
What WAS different however, was the bike's power characteristics. Despite being assured that the engine wasn't a 'special build', the BMW Motorrad Motorsport team bike certainly didn't have the gentle bottom-end power delivery of the standard bike. It was noticeably stronger throughout, with a solid start to the power, which built progressively into a monster midrange and finished in a final flourish of terrifying top-end. The truth is that the HP2's power delivery wasn't really an issue – let's just say that power was always 'sufficient'. If you wanted more, you were definitely in the wrong sport.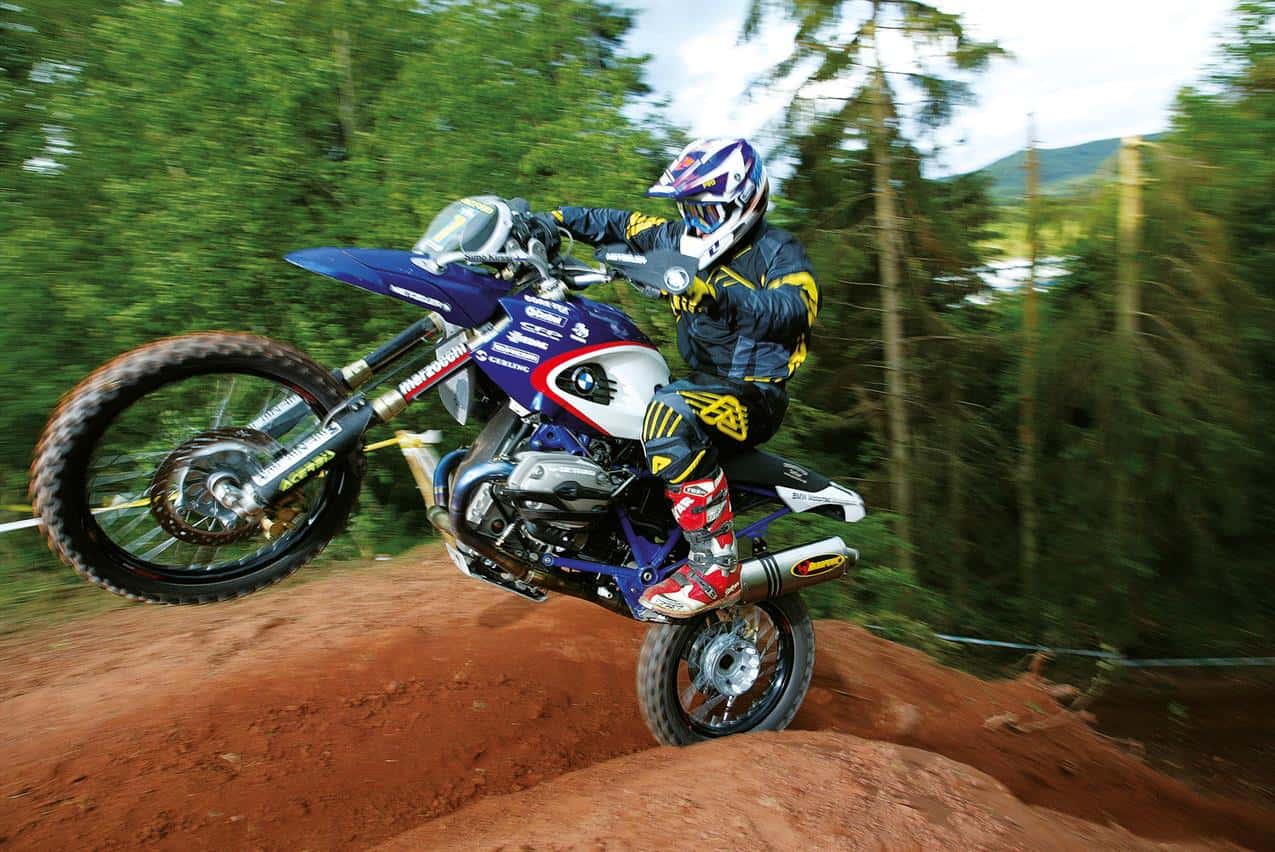 On the few occasions I was able to point the bike in a straight line and open the throttle, the motor's performance was simply astounding. It didn't matter what other machinery was around you at the time – 525 KTMs, 650 Bergs, 450 Yamahas, 300 TMs – they all ended up going backwards out of your frame of view. But the problem come when trying to press home the bike's straight-line advantage – especially when the typical course involved dozens of slow-speed twists and turns.
It's not just the HP2's weight which affected the handling, but also the fact that you couldn't move up the seat and stick an inside leg forward in the turns. That's because there was a damn great 'pot' in the way – exactly where you wanted your leg to be. Instead you'd find yourself heading to the outside of corners in order to find enough space to turn standing up. And with a great deal of body English, a dollop of opposite lock and a big handful of throttle, the brutal Beemer would exit the turn trailing a thirty-foot flurry of roost. You really did't want to get in the way of this baby when she was on full steam on the way out of a turn otherwise you'd find yourself becoming the equivalent of a fragile little ice-cube, with the full force of the Titanic Beemer bearing down on you.
Maybe it's for this reason that Simo Kirssi managed an incredible seventh place in the 2006 GCC series, because opponents simply got out of his way. Whatever the reason, it was a remarkable achievement. To be honest I expected a bike like the HP2 to be challenging to ride around a cross-country course, but I'd also expected BMW to have somehow waved their magic wand and turned their race bike into an easy to manage gentle giant. Finding out that in reality it's nothing of the sort only goes to make Kirssi's achievements that much more magnificent.
On the suspension front the action of forks and shock felt firmer than standard, although not quite as firm as I'd expected. While the shock felt much more progressive and much better suited to the sort of hammering it was getting (keeping the rear end of the bike high), the forks still felt surprisingly plush for a bike of this size.
And while dealing with short sections of rough and rutted terrain wasn't a massive problem on the HP2, continually having to deal with braking bumps, rutted turns and acceleration bumps required a whole lot more effort and concentration on the part of the rider. And although the bike can get up all but the most technical climbs, it is again the size and weight of the HP2 that limited what it was capable of. With the factory bike weighing-in around 160kg dry, suddenly I understood why BMW tried to reduce the bike's weight by as much as possible.
BMW's factory HP2 racer was – like the standard HP2 – an incredible machine to ride on the dirt. Whether you consider it a powerful symbol of a manufacturer's prowess or little more than an evolutionary cul-de-sac is really a matter of opinion. But there's no doubt that the factory HP2 has earned its place in the off-road firmament.
With the imminent arrival of the new 450cc sports enduro bike, the HP2 was no longer considered BMW's flagship off-roader. Reserved only for 'big bike' events and special occasions the imposing flat-twin had reached a state of semi-retirement. But I'll say this for it… it was one hell of a ride…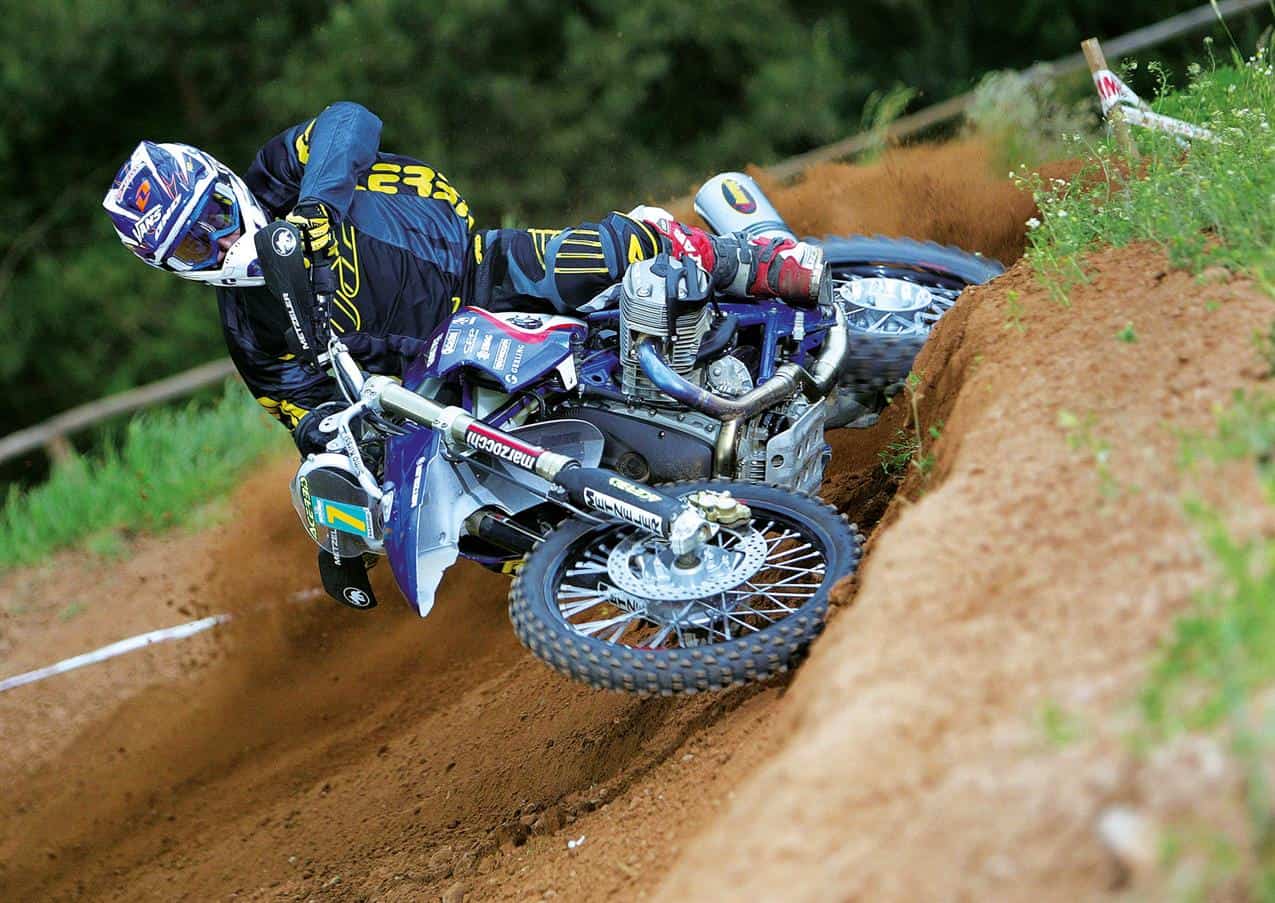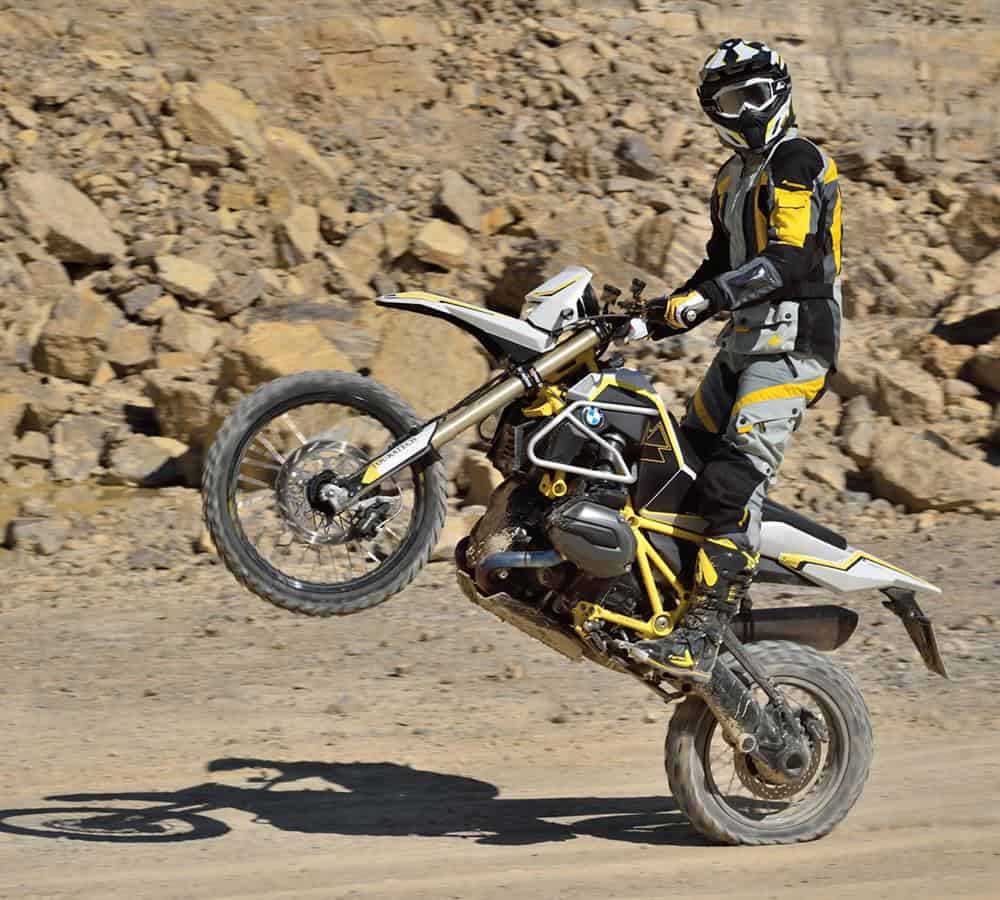 Jump ahead a decade and Touratech had a similar idea when they created the Touratech BMW R1200GS Rambler. Although not a serious racer, the 'Rambler' followed a similar ethos, take a full-on GS and strip it down to it's bare essentials. Read all about it in the Rust Magazine Rambler Special… Click on the link… https://rustsports.com/metal/touratech-bmw-r1200gs-rambler_1638.html