EICMA '17: MOTO GUZZI are back in the adventure market. Of course they'd only just left, the Stelvio only recently killed off by the latest Euro 4 regulations, but they're back again with an all-new 850cc vee-twin, the V85 'classic enduro'. They're calling it a homage to the Quintessence of Travel. We love their romanticism…
There's not much by way of detail as yet, while the press release is instead long on prose. So we'll try our best to interpret their press release as follows…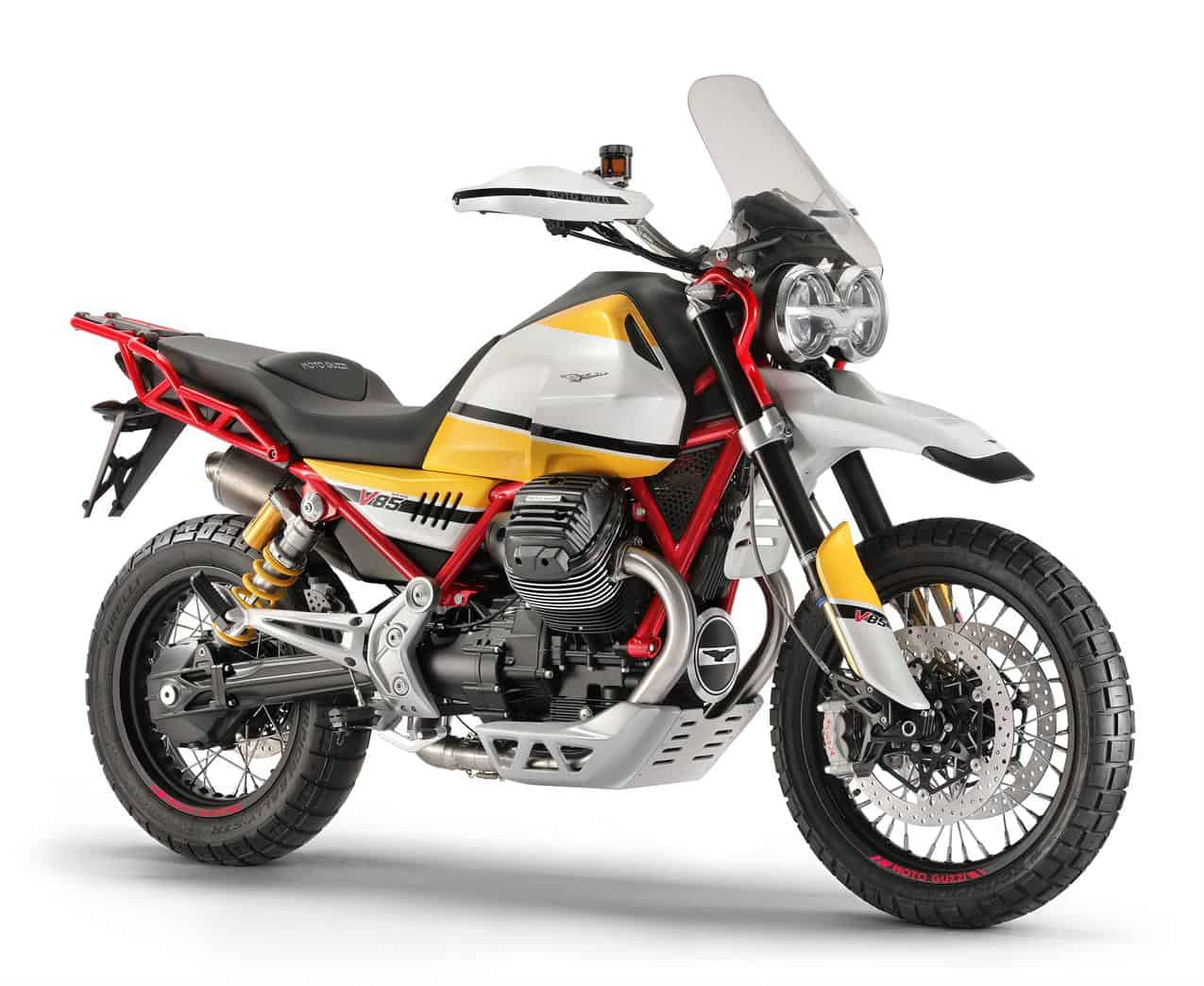 Travelling to live, the V85 is an adventure every day
Moto Guzzi boasts a solid off-road tradition: the first proof of this arrived at the Six Day Reliability Trial in 1939, which took place in Austria, where Moto Guzzi participated with the GT 20, winning four gold medals. The true season of reliability continued in 1957, with the Lodola Regolarità, and then with the Stornello Regolarità in 1962. With this tradition, Moto Guzzi took on the Paris-Dakar in 1985 with the V65 Baja and the following year with the V75 Baja, strictly based on the standard models, appreciated for their lightness and the characteristics of their engine, which was robust and reliable.
The V85 is dedicated to those who, while never ceasing to dream of Dakar, yearn for a bike that revives the spirit of adventure on their daily journeys. The Moto Guzzi prefigures a modern motorcycle, fully equipped and with a strong character, but also a pure and essential motorcycle with its shapes that originate directly from Moto Guzzi's own history.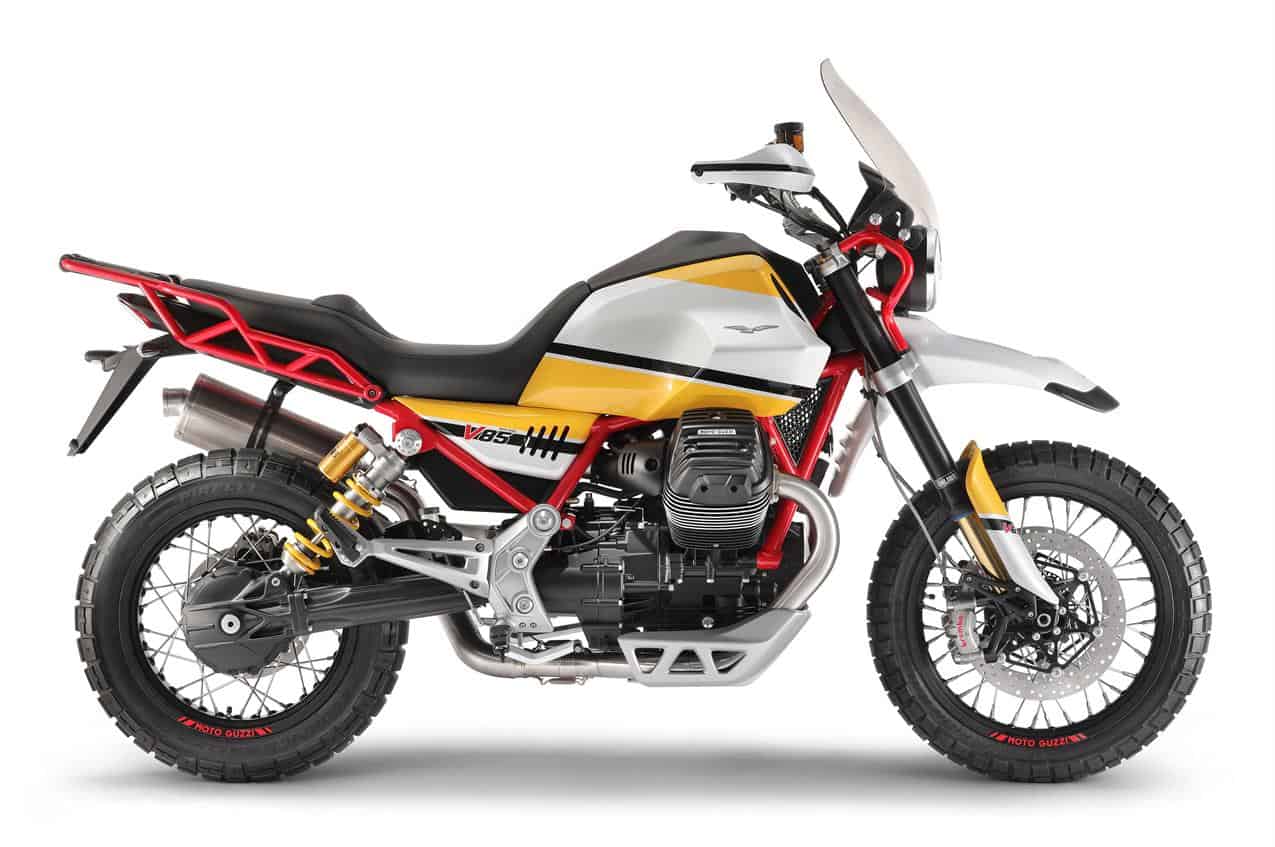 Style: The V85 is the first Classic Enduro
The design is the meeting point between technology and functionality with a classic Moto Guzzi style, designed to remain timeless as well as defining the first Classic Enduro to be dedicated to tourism.
No compromises have been made to the detriment of comfort and usability, resulting in a comfortable bike for two, with bags installed on the chassis frame. The fuel tank design harks back to the tradition of the Moto Guzzi models set up for the African rally raids. In line with the Guzzi story, there is also the high front mudguard and the beautiful double front headlight, stylistic and functional solutions already present on the NTX 650 from 1996 and the Quota 1000 from 1989. Modern technology elements – such as the fully digital instrumentation and the front LED DRL light series on the front headlight – combine classic styling with the off-road world.
Character, lightness and ease of use
The frame is tubular steel. The asymmetric aluminium swingarm has a curved shape on the left side, while the right arm houses the new shaft drive transmission. The shock absorber directly connects the chassis to the right arm of the swingarm, thus allowing free space for the exhaust system layout. The suspension offers generous wheel travel for optimal off-road use.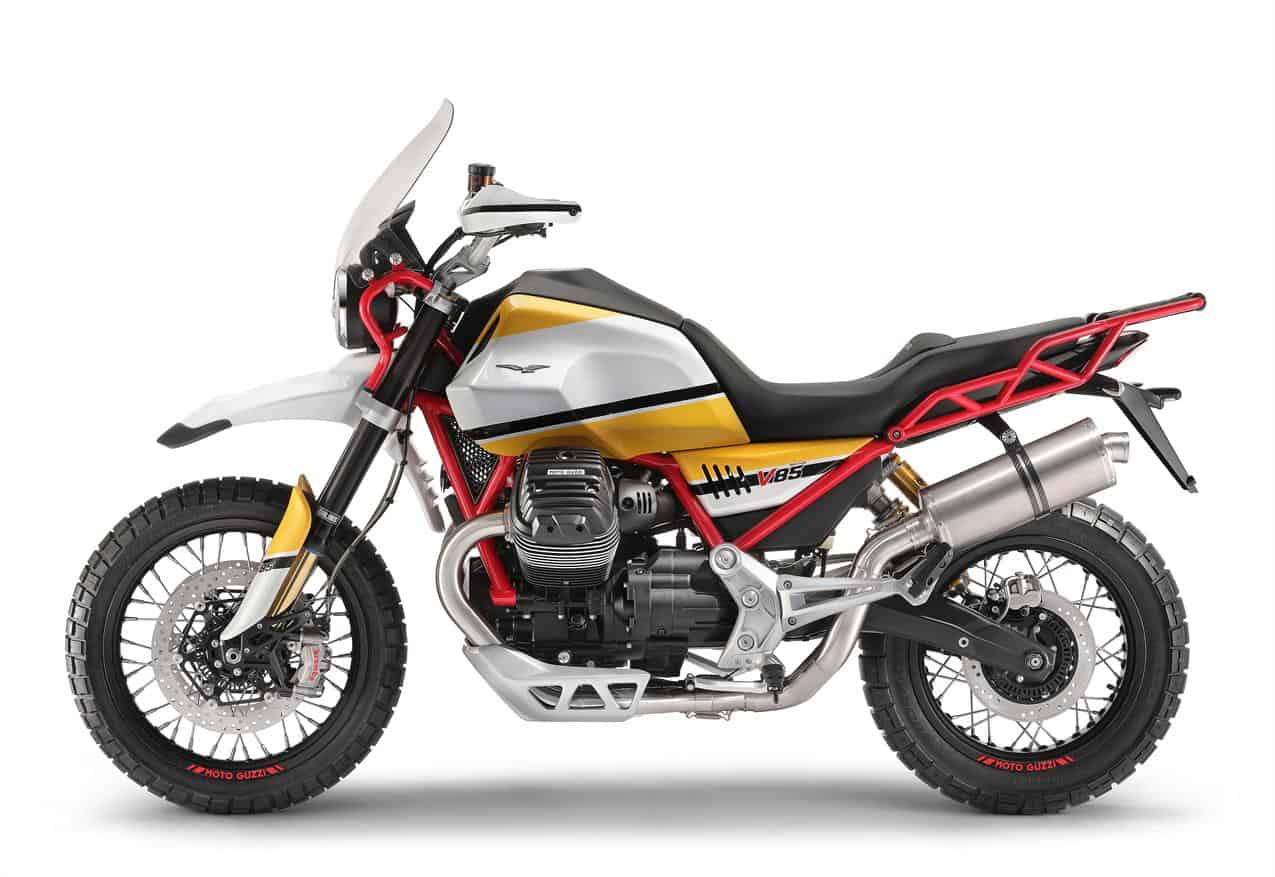 A new engine, a classic of the future
A new engine is launched in the V85. It is a two-cylinder 90° transverse air-cooled 850cc producing 80HP.
The technical platform of the V85, including its mechanics will form the technical basis for the development of a series of new motorcycles. It will be a family of medium-sized cylinder bikes, from different intended uses, combined with strong character, generous performance and a style which is typically Moto Guzzi.