Blending sleek flat-tracker lines with chunky street-scrambler good looks, Guy Allen's Honda is the epitome of home-build cool. Which is little short of astonishing when you find out what bike it's been built from…
'One guy ran after me and, before I'd even stopped, asked if he could buy it' exclaimed Guy Allen as we stood looking at his bike, chatting about the attention it receives at the local bike meets. 'No-one's guessed what it is, though. A lot of people think that it was built like this by Honda!' This confusion speaks volumes about the quality of the build and the über-cool styling of the bike. Everything about Guy's Honda looks 'just right', and there isn't a bad angle to view it from. Which is all the more amazing when you learn that it originally rolled out of the factory in 1991 as a 650 Dominator! Yes, this achingly-stylish machine was a 'cooking' dual sport trailie…
Despite being very much in tune with contemporary design and retro style – his day job is designing watches for a high-end French brand – Guy can't lay claim to being responsible for the way the 650 looks. The man behind this bike was Andy Greenland…
The Cooler King
Hailing from south Wales, Andy's a refrigeration/air conditioning engineer by trade and has been into dirtbikes from a very young age. 'They were usually Hondas. I just like the way they do things. Dirtbikes; Hondas; Four-strokes, that's my biking history. I've had a few roadbikes as a brief excursion from the dirt but I always went back. I've had a few Dommies in the past too, but never kept them for long as they were no good off-road.'
So what was it that Andy saw in the 650 Dominator that made him think he could turn it into something like this?
'I took a chance. I wanted something '70s – I love that era, it was when I first fell in love with bikes. Everyone wants something from their childhood but I didn't want to spend big money on one and have something with '70s problems. I admire people who buy XT500s with no 12v electrics or electric start.'
So instead of buying something almost 40 years old, Andy figured that he could take a more recent air-cooled Honda and give it the old skool look. Setting himself a build-budget of just £1000 he picked up an old Dommie from a bloke in Swansea for just £300. It was rough, and the engine had a top-end rattle, but he knew that he'd be able to get it sorted.
Andy got the project underway by chopping the subframe clean off the back of the Honda and replacing it with a loop of electrical conduit! 'It was the only thing I could find in the right size and shape. And I had some spare in the back of the van…' he explained.
Wanting a seat height to suit his 5'7" build, Andy then set about losing some height from the suspension. Chopping the subframe had accounted for a reasonable drop at the rear, so he lost a little bit more by simply adjusting the preload on the rear shock. And much to his surprise, the front-end was almost as easy. 'I took the caps off the forks and found they had two-inch spacers inside. So I removed 'em. It was that easy.' With the seat 4in lower than stock, the forks needed to drop a little more so Andy simply pushed them up through the yokes.
The wheels are original Honda parts, though only the 17in rear is from the Dominator. The 19in front came from the Dominator's commuter-scrambler sibling, the SLR650. Why change it? Well Andy wanted the fat-tyred, chunky look that a smaller rim would give, though the swap did bring about a new, and unforeseen, problem.
As you might imagine, the SLR wheel fits very nicely in the Dommie forks. A larger disc on the SLR wheel, however, meant it wasn't a straight swap and Andy would've had to space-out the bike's standard caliper to suit the new brake. So instead he simply purchased a new Brembo caliper with the correct mounting plate to suit the bigger disc. This was then plumbed-in to the standard master cylinder using a braided Goodridge hose.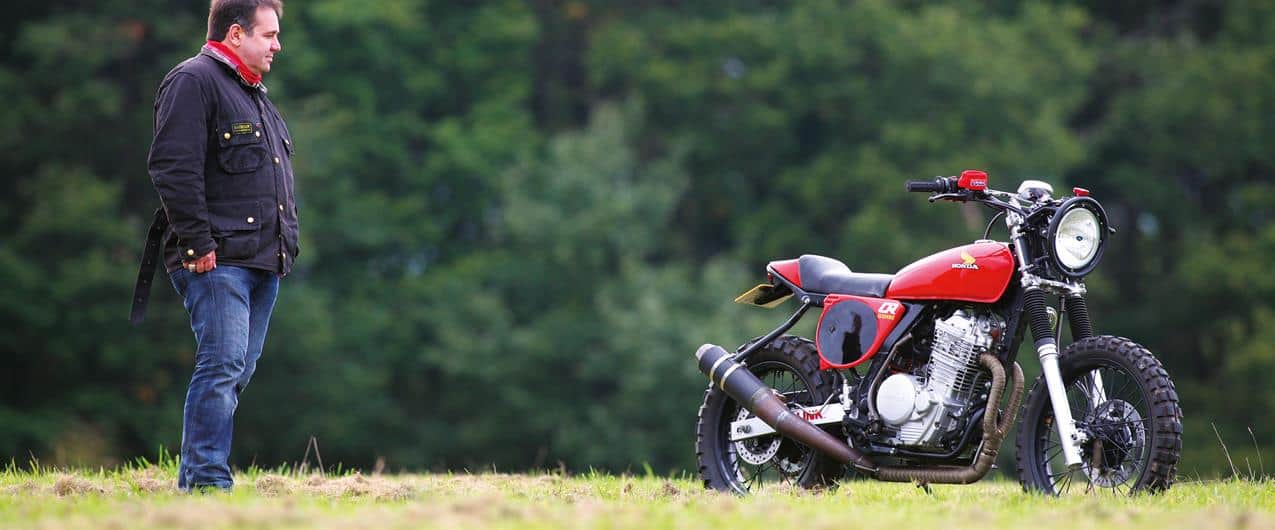 Pipe Lines
With the Honda losing all of its original bodywork and some of its frame, Andy knew that the power-to-weight ratio would increase nicely, so he wasn't too worried about tuning the motor. However, he did have it bored-out 0.02mm oversize while he was rebuilding it. 'I went through the motor and freshened it up, replaced the cam chain, that kind of thing. There was a little mark on the bore – it didn't really need reboring but I thought I'd do it properly. The motor now displaces approximately 657cc, and other than intake and exhaust mods, that's really the only performance enhancement.
Slicing the back off the frame meant that there was nowhere for the airbox to live so Andy had to find a cone filter to fit onto the back of the standard carb. A search for the correct sized part eventually turned up something suitably cheap, and ordinarily destined for a Fiat 500! The carb was then jetted to suit the filter and the exhaust…
The pipe is one of the key areas of this bike, Andy could so easily have fitted a regular Dommie system and aftermarket silencer but then that wouldn't have given the bike 'the look'. 'I loved those old downswept pipes', enthused Andy. 'I came across a picture of a flat-tracker with this exhaust. So I Googled it and found out what it was.'
What 'it was' was a Jemco exhaust made by John Easton in Houston, Texas. Andy emailed John and asked if he'd made similar pipes for a Honda before. 'Sure', came the reply, 'a CRF'. Clearly that wouldn't work so Andy pressed John to see what else he'd built the exhausts for. The closest to the air-cooled 650 was a 1992 XR600R. 'That'll do', thought Andy, reasoning that the XR lump has very similar dimensions to the Dommie motor. And so he took a chance and ordered a pipe from John.
'It took four months to arrive', explained Andy. 'But it is very good. John's a real craftsman. It wasn't that expensive either. But the import duty was…' A craftsman John may be, but the exhaust still needed some fine-tuning before it could be slotted into the 650 head and wrapped around the Dominator frame. 'I just had to make a few brackets etc', mentioned Andy, before casually dropping in a snippet of information which may explain why he wasn't daunted at the prospect of making a 'custom' Dommie. 'I was a fabricator/welder for ten years so it wasn't a problem!' Still, this was his first ever bike build…
Style it Up
When it came to the 'bodywork', again Andy knew exactly what he wanted – 'I had a picture in my head and from that just made it up as I went along.' Still, knowing the look you want is one thing, finding the parts to achieve it is something else.
Having looked at numerous fuel tanks Andy found one from a CG125 at a breakers in Somerset. It cost him a tenner and required a certain amount of 'restoration' to bring it up to snuff. But that was nothing compared to the work required in order to make it fit the 650's frame. 'I cut the tank underneath using an angle grinder and lots of swearing!' laughed Andy. With a bracket welded-up, the tank sat in place like it had always been there. Part of the reason Andy chose a CG125 tank is that it's a great shape but also because the little 125 was his first ever road bike. So there's a nice little bit of sentimentality attached to it.
Once the tank was fitted Andy reckons that 'the bike began to almost build itself'. The sidepanels are reproduction parts intended to adorn a 1975 CR250, which he ordered from the Netherlands, having spent a long time looking at pictures of them on the web and working out the angles with the 650's frame. 'Lo and behold, they were perfect. But it was more by luck than judgement,' he admitted.
The seat was, and I quote, 'an absolute nightmare.' Andy bought loads of different ones from eBay in order to find something that would fit, ending up with something that cost a fiver. However, he can't remember what it came from!
Once in place there was a gap between the back of the seat and the kicked-up sub-frame loop which needed filling. So that's just what Andy did, using fibreglass and car body filler. 'I'd never done fibreglassing before', stated Andy, 'it's horrible stuff.' The back-end took a week to achieve the correct flat-track look but it was worth the effort, not least in saving money on buying and adapting a ready-made flat-track seat unit.
Spraying the traditional Honda red paintwork was another first for Andy, and he achieved a fantastic finish with just a number of 'rattle-cans' from his local paint factors.
It's a Wrap
The Trail Tech headlight is one part which really polarises opinion -some people wonder why a desert racing lamp adorns the front of the 'flat-tracker' and others love the chunky 'light. Personally, I reckon it's a stroke of genius – throwing into the mix something just that little bit different yet retaining the old skool style. 'I've always liked desert racers,' explained Andy. 'Some of my mates said it wouldn't work but I simply did my own thing. Besides, it was a practical option. When you're blasting the lanes at 2am you need a good light!'
The lamp came with a halogen bulb fitted, though Andy upgraded it to HID with a kit he bought online. The ballast and associated wiring sit on a flat panel atop the light unit but don't really detract from the overall look. In fact, they're the only electrical components and sections of wiring on the entire bike that Andy hasn't hidden away from view!
Another Trail Tech part is the digital speedo. 'It's fantastic', enthused Andy. 'It shows the oil temperature and that's crucial on an air-cooled four-stroke.' Helping keep the engine temperature down, Andy also covered the headers in exhaust wrap. 'The reason for it was a 50-50 split between the custom look and keeping the heat down. You can just imagine the bike sat in traffic with the heat rising off the pipe, especially where it runs under the engine.'
Add the heat-stopping fabric to almost any exhaust system and you'll make it instantly, and you'll have to excuse the pun here, 'cooler'. It also meant that Andy didn't have to worry about painting then headers. But it wasn't a straightforward purchase… 'When I looked into it I found that you could get it in thousands of colours. And of course, the one I wanted, the one that looked the best, was the most money. But by then the budget was out the window so I thought "what the hell!"'
Of course, there are also a number of little details which add the finishing touches to the bike but are oh-so critical. Take the filler cap, for instance. Andy wanted a neat chromed item to fit the CG tank, but it had to have a breather hose running from it. Could he find something to suit? After hours of searching the web he struck upon an old XR100 part. '£22 it cost me', he revealed, clearly happy with his purchase. 'And you can still get them from Honda!'
Andy also chose the tyres as much for their looks as for their performance. 'I wanted something that looked like knobblies, but then not quite so aggressive as the bike would never see the dirt.' What he plumped for are Continental Twinduros, which give a chunky look yet, as Andy reports, offer fantastic grip on the backroads.
Elsewhere Andy has completely reconditioned the bike, replacing components such as the cables and footpegs rubbers with OE parts used wherever possible, in order to give the bike an as-new finish. The stock bars were swapped for Renthals and the top of the original ignition key was trimmed down so that it slots neatly into the barrel tucked away beneath the speedo.
The entire build took Andy six months, and he only put a few hundred miles on the bike before moving it on. 'I was really surprised by the interest it generated. People kept telling me it was worth so much', he admitted, 'but I didn't believe them. I've never kept bikes for too long and I was almost starting to enjoy the building as much as riding. I'd had it for a while so I thought I'd test the waters and put it up for sale…'
Look Sharp
Andy's in south Wales, Guy's in Surrey, so how did Guy come to own this fantastic creation? Via eBay, of course. People have sold everything from their private jet to their virginity on the internet auction site, and with such a wide audience Andy figured that it was the best place to advertise the bike.
'When I saw the listing I thought it was too cheap', laughs Guy. 'I thought "he's got the price wrong". So I didn't think too much of it and went to bed. In the morning I thought "what the heck" and enquired about the bike. I was on the phone about an hour!'
Learning that the price was indeed correct, Guy hit the 'Buy It Now' button and arranged collection. Within a day or two he'd borrowed a mate's van and run down to Wales to collect the Honda. 'It was the rainiest day of the year. Originally I was going to ride. I'm glad I didn't.'
Since then Guy has done little in the way of modifying the bike, with the exception of fitting a new 'tail-tidy' to the rear-end. 'It'd eat two back-ends in a week', Guy stated, before describing how the numberplate would catch on the rear tyre when the suspension compressed and tear itself from the fibreglass panel. So he welded a bracket onto the subframe to hold the aftermarket tail-light and numberplate firmly in place.
Aside from that minor modification very little needed doing – the attention the bike receives everywhere it goes is proof of that – so Guy turned his attention to his riding kit. 'I had an old Davida stars 'n' stripes lid so I had it sprayed in Steve McQueen Le Mans colours…'
Chill Out
It turns out that Guy bought the bike just one day after the advert went online, and this somewhat surprised Andy. Does he regret selling it? 'I didn't think that anyone would ever want to see it, let alone buy it', he joked. 'When Guy bought it I was a bit gutted to be honest. It really tested me, that bloody bike, as I've got no patience. If things don't fit then I start to lose interest. But as Guy was driving away I thought to myself "I've gotta do another one." And in five minutes I was building it in my head.'
That bike isn't just in Andy's mind's eye, as very soon after finishing version one, he finished off version two, having spent an incredible six weeks transforming another Dominator into something far cooler than Honda ever intended. This time Andy may have spent less time on the build, but he's splashed out far more money, and speaking with him I get the impression that he may hang onto it a little longer than the first one. But if he ever does sell it then, well, form an orderly queue..!