'It's made of old milkbottle tops'.  Eh? Did I really hear that right? If so, it could be the most bizarre self-deprecating business statement since Gerald Ratner declared his gaudy tat to be, well, gaudy tat. Has Kriega's co-owner, Dom Longman, really just told me that the CNC-machined mounting plates of their new 'ADV Platform'  pannier system are hewn from the lids of old lactose containers? Well no, not quite… Instead what he's explained is that the material they've used is a recycled Low-Density Poly-Ethylene (LDPE)  plastic that happens to contain milk cartons, and that if you look close enough you can see the tiniest sparkles glinting in the dark grey material where fragments of foil lids remained stuck to them. But don't, for one second, think that that makes it a second-rate product. Because the plastic in question is the Captain Scarlett of the polymer world – it's nigh-on indestructible!
Dom demonstrates this by repeatedly folding the 'plate'  back and forth. I fully expect it to shatter, or at the every least crease with a big white mark like those you see on the fenders of battle-scarred Yamaha WR-Fs. It does neither. Each time it simply returns to its original shape…
That's not something you'd ordinarily put your panniers through, it merely highlights the strength and resilience of the materials Kriega have chosen for their latest product (you need something sturdy if you offer a ten-year guarantee).  A much better test is to take 'em riding and see how you get on with them. Which is exactly what we did, on the trails of southern Spain…
Lock and Load
A brand new KTM 990 Adventure has been kitted out with pannier frames, onto which we mount the ADV Platform. I forget which brand they are, but as the Kriega kit is designed to mount to the 'industry standard'  18mm tubing that most company's employ, it matters not. Four chunky alloy clamps lock over the tubes and are fastened down with the same type of 'cam-lever'  quick-release you find on many bicycle wheels and seat posts.
'These panniers aren't really intended for people commuting into city centres',  explains Dom. The way that the packs mount to the backing plate, makes it far easier to remove the whole plate rather than individual bags, and they're not designed to be carried around with you. You wouldn't really want to leave them in place all day in a city centre bike bay, either. No, they're really aimed at those who are heading off to far-flung places.
Heading into the Spanish hills, on trails as wide as a dual carriageway, everything stays resolutely in place. The view ahead is unobstructed, so the pace rises until we're doing dual carriageway speeds. On the smooth dirt this isn't a worry. It becomes more of an issue when faced with a spider's web of rain ruts, turning the route ahead into an evil section of kidney-clanging stutter bumps. What better way to test the security of the mountings? Exactly.
Once back on smooth going we spin around and ride back 'n' forth through the bumps. It won't replicate a day spent riding the washboard roads of Australia or the African wilderness, but it's a good short-term test, and one which the Platform passes with flying colours. There's no rattling mountings or broken fixings: everything's just as it was when we fitted it.
The ADV Platform is designed to hold Kriega's 15L Dry-Bags and/or Rotopax. Roto-what? I'd never heard of them either, but they look to be a great product – super-tough polyethylene containers, with a hole through the middle for the mounting spindle. They're then tightened down onto the spindle by what look very much like giant wingnuts. Those available through Kriega carry 3.8-litres (which equates to one US gallon)  and come coloured white (for water)  or red (for fuel).
The fuel version looks to be built slightly tougher than the water carrier (though both are seriously robust),  and features a built-in pouring spout. Tough, simple, and efficient – they're a brilliant alternative to lashing a hefty jerry can to the back of your bike; tieing on a flimsy plastic fuel jug; or carrying lots of bottles. The availability of fuel and drinking water might not be an issue if you're taking a scenic tour of the cathedrals of Europe, but if you're heading for the desert they're ideal.
The packs themselves are typically Kriega – constructed from tough 1000D Cordura, double-stitched, with reinforced sides and roll tops – held to the mountings with five fasteners and a pair of compression straps. Inside they feature an easily removed dry-bag, which makes them completely waterproof, and they fasten with a roll-top. If you manage to hole the packs, you really only need to replace the dry-bag to retain their integrity.
Bought as a package, the bags and the mounting plate are known as the Overlander 60, referring to the 60-litre capacity you get with four 15L bags.
Pack Horses
Loaded up with clothing (purely to pack it out for this test),  with the roll-tops folded over and clipped shut, and the compression straps pulled tight, the luggage treads the fine line between not sticking out TOO far, yet being sufficiently far enough away from the hot exhausts. Of course, if you don't pack the bags to capacity, then they don't protrude out particularly far. Any loose straps are neatly tucked away with little plastic clips.
The luggage certainly doesn't interfere with the riding position, and it really only makes its presence felt when swinging through the turns or bouncing over the bumps – then you notice the extra weight over the rear-end. Try to remember it's there when you go for small gaps…
There's some debate as to whether soft luggage is better than aluminium boxes, and both have their pros and cons. Metal cases offer greater security as they're generally lockable, plus they can double-up as seats, stands etc when you take them off the bike. And there's no need to worry about items within – such as tools or a camp stove – damaging them. Soft luggage is lighter, generally slimmer, and isn't so incongruous. Clang a metal pannier into something – be it a mud bank, small tree or the side of a 3-series Beemer – and things can get nasty. Toppling over and getting pinned under them doesn't bare thinking about. Whereas fabric panniers are that bit more forgiving…
The biggest disadvantage of the Kriegas looks to be the security. The clip-fastened roll-tops are easy to access – great when you're searching for stuff, less so when otherwise engaged at busy border crossings. The four-bag design does, however, allow you to distribute your kit so that you can easily stow things you rarely need, whilst keeping certain items close-to-hand.
The Overlander 60's biggest selling point must surely be its versatility – the way that you can choose between mounting the bags or the Rotopax, or combine the two. (A pair of Rotopax takes up the space of one bag.)  If you opt for fitting all four bags then the 60-litre capacity is more than most soft luggage and on a par with the smaller end of the hard luggage market.
Dirt Bags
Kriega's smaller Overlander 30 panniers are designed to be mounted on a regular dirtbike, without the need for pannier frames or too much modification. The only change you need to make to your bike is the fitment of four of Kriega's Rack Loops, which necessitate drilling some small holes in your rear bodywork. The Loops employ T6 alloy mounting discs, which are low profile enough so that they won't interfere with you when riding without luggage, and can also be used on bikes with rear tanks, such as modern 'Bergs and KTM 690s.
A pair of Kriega's 15-litre Overland 15 packs can then be hooked to these loops – one bag on each side of the bike (be sure not to leave it touching the exhaust)  – and fastened to a point lower on the subframe near the footpegs. They're also joined together with one of Kriega's CAM straps. These are a similar 'pull-tight'  design to the infamous 'Beemer straps' that BMW use to fasten their bikes into shipping crates. However, Kriega found that most of the sample straps they received didn't fasten firmly enough so as not to slip when the webbing got wet. Eventually they found one with teeth sharp enough to grip the strap in the middle of a British summertime…
Ups and Downs
Throwing a leg over the bike, you have to cock your leg and give it a wide swing so as not to leave yourself precariously balanced, like a ballet dancer, with one boot on the bag on the far side and the other flat on the floor. You soon get used to it. Once you're rolling the bags sit snugly on each side, without wobbling or flapping around. After a couple of miles on the dirt it's worth giving the straps a quick check, to ensure they haven't settled and loosened off slightly. After that, I found they didn't budge all day…
Riding sat down I didn't notice them at all. It was when I stood up that they made their presence felt. Leaning back a touch, you could just feel them against the back of your boots. Not a problem, until you came across a very steep descent…
Trying to lean right back, it simply wasn't possible to keep my legs straight and get my weight low and as far back as possible. I had to keep my arms outstretched, bend my legs and essentially sit on the back of the seat.
It may have been most noticeable on the hills – and we certainly took in some steep inclines – but it was really on short sharp drops that it hindered the ride, and although the bags' weight is held low (much lower than a tailpack or rucksack)  not being able to get right back over the rear fender meant I sometimes suffered that 'floaty'  feeling you get as you approach the balance point, when you know the bike could go one way… or the other.
The flipside of this (if you'll excuse the pun)  is that the packs certainly aid traction. And as one wag put it, having disappeared over the brow of a hill with the front wheel lofted high, they make great wheelie aids. Because not only do they add some extra weight to the back-end, but if you lean back slightly you can rest your legs against them and lock yourself into position. Fantastic!
It is incredibly hard to carry 30-litres of luggage on an enduro bike without it either interfering with your legs or having it mounted over the rear-end, where it stops you from getting over the back of the seat. They simply aren't designed with it in mind. And using a rucksack? Well as someone who carries a large camera bag on almost every ride, there are definitely times when I'd rather have the weight held on the bike than strapped to my back, especially for long days in the saddle.
Moving around on the bike when riding stood up, my boots or the backs of my legs frequently came into contact with the bags. The hard-wearing material Kriega use should mean that your boots don't fret away at it too much, and rather than make me feel cramped the sensation instead reminded me a little of the Leg Pegs we ran on our long-term Suzuki RMX450Z, which were designed to keep you in the correct position on the bike so that you didn't slip backwards when conditions turned tough or you began to tire.
The packs certainly aren't any wider than the bars, and they barely stick out past your legs when riding. Which proved useful when trying to negotiate a singletrack lined with trees. Anything wider, and they'd have snagged on every last trunk, potentially knocking me off the trail and into the shrubbery. When they did make contact with a tree the bags glanced off it, leaving a lichen-green scuff on the black material. A quick dust-off with a gloved hand and it was gone…
In all other respects, I didn't have any issues with the bags hindering my riding. As we were on the trails, not racing, a smidgen more weight at the rear wasn't a particularly big deal. You merely allowed for a little more weight at the rear when cornering (the weight tipped the bike into corners a little faster than normal and had a great effect when the back-end steeped out),  and when tackling anything technical.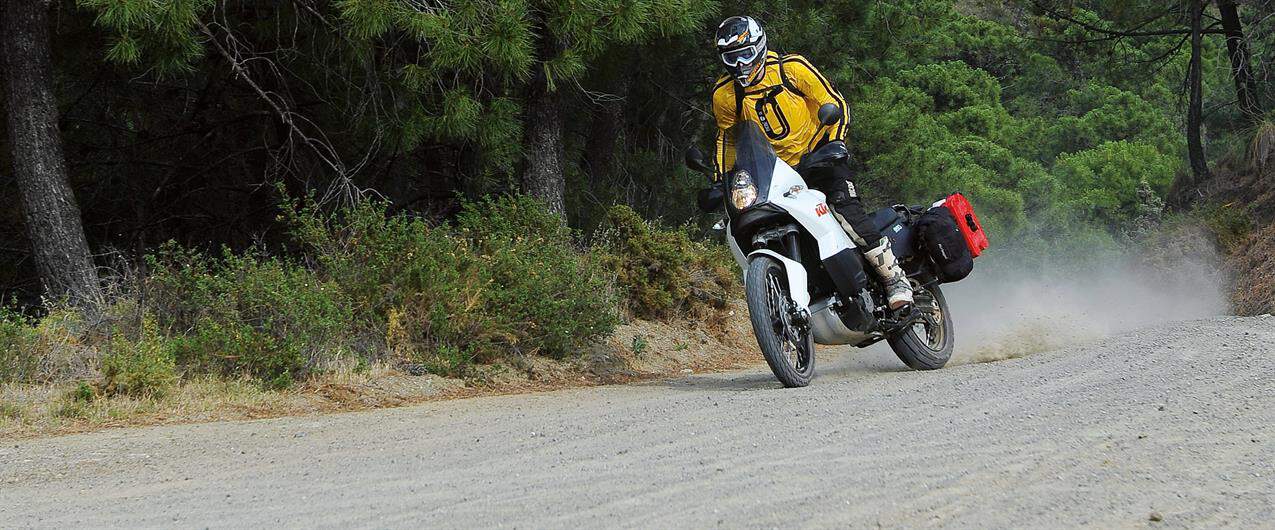 Over and Out
Nowadays we're often looking for different ways to use our dirtbikes, and because many of us ride modern enduro models rather than old skool trailies with sturdy metal racks, carrying luggage can prove a real issue. The Overlander 30 solves this problem with the minimum of compromise. You do notice they're there, and they do require you to rethink how you ride steep descents. I'd still have no hesitation in recommending them for anyone looking to go exploring on their dirtbike.
And as for the Overlander 60s, well it'd take many thousands of miles, continually packing and repacking, crashing and bashing 'em to give them a thorough test. But as a first impression they're incredibly versatile. They look great. They're well priced compared to 'adventure'  specification metal cases. And the build quality is top notch. They're certainly NOT 'made from old milk bottle tops'…
Contact: Kriega on 01829 770767/ www.kriega.com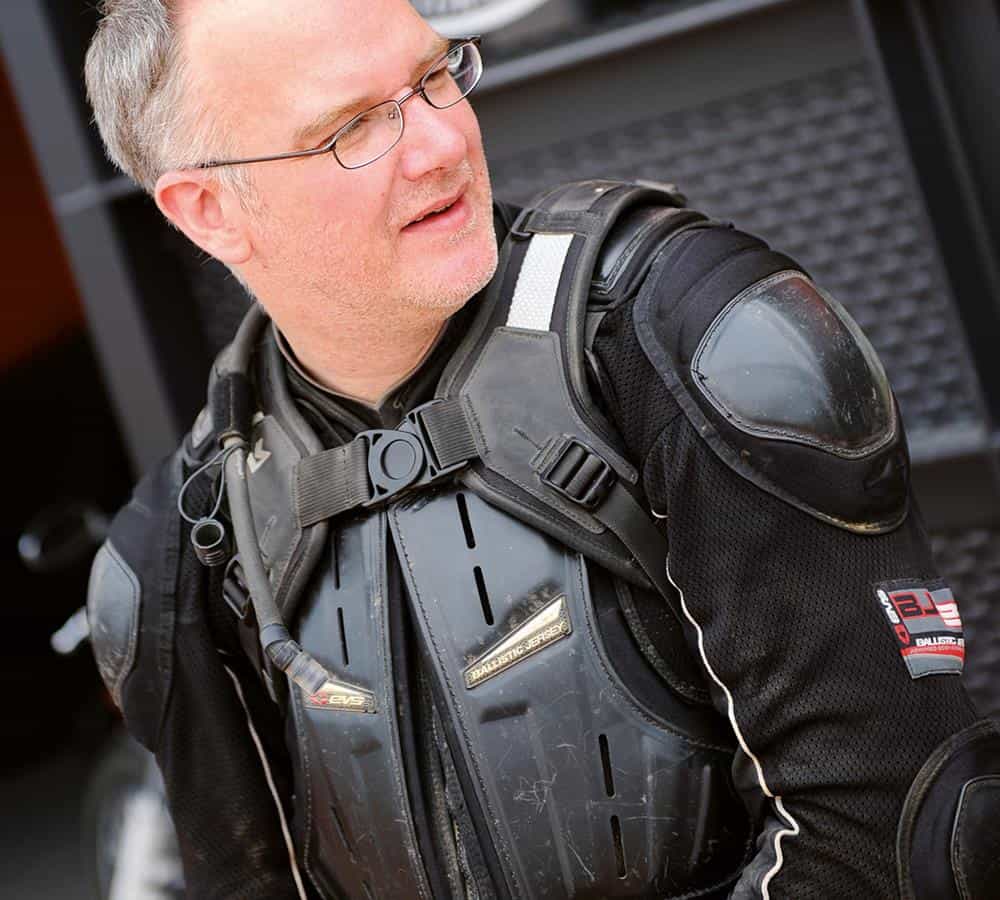 What's in a Name?
British brand Kriega was started back in the 1999 by product designers Dom Longman and Michael Cottam, who met whilst working for 'outdoors'  company Karrimor in the late '90s.
The brand was initially called Krug, the name being taken from a character in the Wes Craven video-nasty 'The Last House on the Left'.  Coincidentally, it's also the name of a champagne 'house',  and whilst the fizzy plonk people didn't own the trademark to cover the name in the luggage sector, they weren't too happy with Dom and Michael using 'Krug'.  The business was only six months old, and the first production bags had just landed, when the French brand made their position perfectly clear. 'One of my design mates' father-in-law was their lawyer,'  laughs Dom, remembering the saga. 'So we knew they'd pursue us… forever.'  At the time he thought that they were sunk before they'd even started…
Once it was all ironed-out they were given a year to sell off the 'Krug'  stock. There was even a time when 'Krug'  bags selling on eBay commanded a higher price than the newer Kriega equivalent!