We're flat-out working on new projects here at RUST, but we simply had to take five minutes out to share this news flash with you. KTM have an all-new Rally Replica for the 2019 season – and boy it looks stunning. Just 75 being made and they'll cost a cool €26,000 plus taxes – but that's probably just about at cost, there's a lot in this bike. Anyway, here's what KTM have to say about it…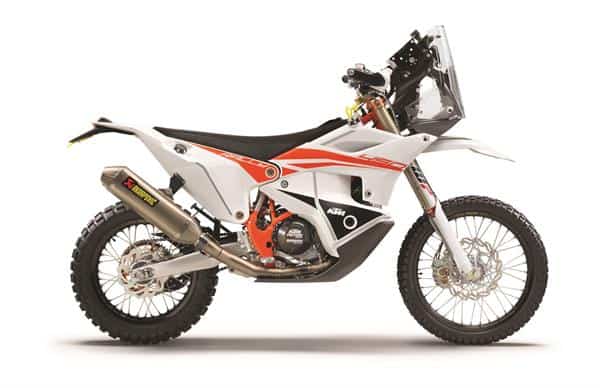 The KTM 450 RALLY REPLICA has been transformed from the ground up and specifically developed for rally racing. The 450cc SOHC fuel-injection engine now provides increased engine power, with a redesigned cylinder head delivering extended durability. An improved transmission system is complemented by a new engine management system and throttle body. The enhanced air filter box offers more room for the battery and electronic components while enhancing the centralization of mass – a key focus in the development of this machine. The 2019 KTM 450 RALLY REPLICA boasts a brand-new chassis, tested and developed by factory riders. It combines improved agility with enhanced straight-line and braking stability, which all KTM rally machines are renowned for.
The KTM 450 RALLY REPLICA employs a new swingarm in conjunction with a reworked linkage and shock absorber. This, along with WP XACT PRO 48mm closed cartridge suspension using sophisticated Cone Valve technology, provides improved traction when accelerating, as well as improving ground clearance. Aerodynamic bodywork aids rider comfort while improving visibility past the innovative carbon tower, which houses the bike's navigational systems. A softer seat, revised fuel tanks and honed Akrapovič exhaust system also contribute to better mass centralization and improved weight distribution. 
Stefan Huber (KTM Factory Rally Team Leader): "The all-new KTM 450 RALLY REPLICA is based on our already-successful factory machine that we began racing at the end of last year, which was specifically developed to win the Dakar. With this latest generation, our goal and focus was to develop a bike around the style of our current factory riders, who required something with more comfort, more agility and improved stability. We looked for an improvement in handling, a lower weight, as well as a bike that also meets the demands of the conditions and intensity that we now find at Dakar. The KTM 450 RALLY REPLICA machine is almost identical to those raced by our athletes, and is available for customers to get the opportunity to own and ride a really premium, purpose-developed rally machine with high-quality components and maximum innovation. It's been truly revised from the ground up, and we are looking forward to seeing these bikes being raced by our customers."
The limited 75 unit production of the KTM 450 RALLY REPLICA has been reserved at a price of EUR 26,000 (plus VAT). A service and support package is available at the Dakar Rally at an additional cost for all models of KTM rally bikes. For more information contact your local KTM dealer.