There's a lot to like about the Leatt 5.5 Pro – I love the wrap-around rib protection and the integrated neck brace slots which both work a treat. The core of the body armour is comfortable, well ventilated and although it looks bulky is virtually unnoticeable when riding. I've had a few offs and the armour has done its job well, remaining in position on impact, and on that score I could not be happier.
However, not everything was to my liking with this kit. The triangular clips and sliding adjustment system on the shoulder cups just doesn't work and I've resorted to making a few modifications to make it wearable over the longer term. The foam extension pads that attach to the shoulder cups are in my opinion a waste of time and could be binned entirely. In fact the whole shoulder cup clip system is pants! They came loose on every ride, and riding with the shoulder cups halfway down your sleeve and impeding your arm movement is dangerous, so I've had to resort to securing the shoulder cups with zip ties threaded through the triangular clips. Only that means the neck brace securing straps can't be used properly… Then there's the velcro adjustment that your arms go through to secure the shoulder cups – they're just way to small. I've had to fashion a homemade Velcro extension to both straps so that I could comfortably extend the adjustment to fit around my arms to prevent cutting off the blood flow! I'm not an oversized guy with huge arms so I can only imagine that this is a widespread issue for anyone over 160 pounds (c.80kg).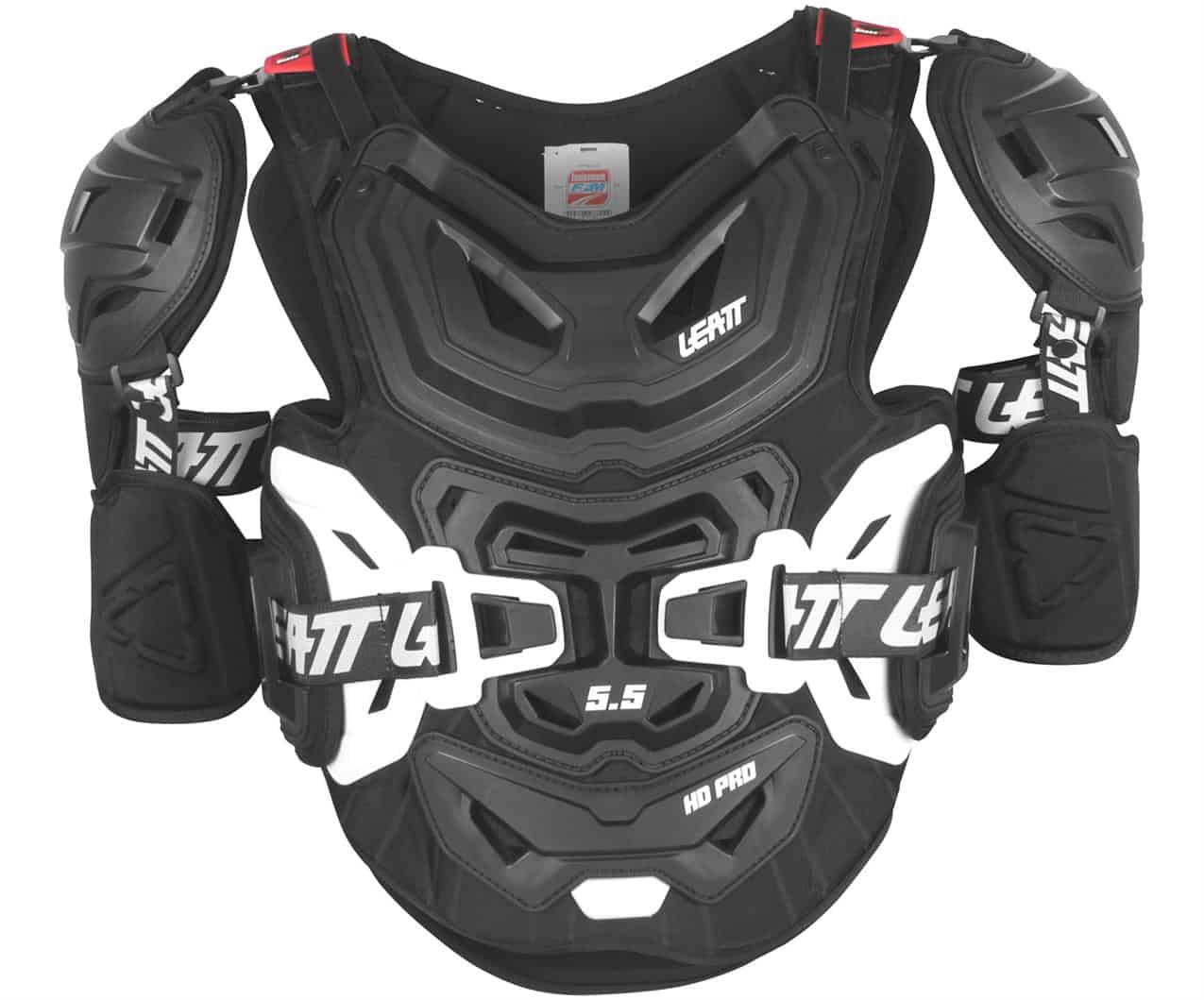 So I would rate the 5.5 Pro for the core protection a 9/10 but a lowly 2/10 for extremity protection. Only here's the thing, it turns out Leatt have already updated the 5.5 Pro and rectified exactly those shortcomings I've identified. The shoulder cups are now sewn into position so cannot detach and the elbow protection – which you can zip off if you don't like (many riders suffer arm pump when wearing elbow pads)– is also nicely secured. I'm impressed that they've addressed those shortcomings so quickly. So now I think the revised 5.5 Pro is worth a solid 9/10 all round. Just make sure you're buying the latest version when you shop!
So I would rate the 5.5 Pro for the core protection a 9/10 but a lowly 2/10 for extremity protection. Only here's the thing, it turns out Leatt have already updated the 5.5 Pro and rectified exactly those shortcomings I've identified. The shoulder cups are now sewn into position so cannot detach and the elbow protection – which you can zip off if you don't like (many riders suffer arm pump when wearing elbow pads) – is also nicely secured. I'm impressed that they've addressed those shortcomings so quickly. So now I think the revised 5.5 Pro is worth a solid 9/10 all round. Just make sure you're buying the latest version when you shop! WM