You might think you've seen it all. Then you walk into a race paddock and you'll see something like this. A full-cream rally bike, only with a modest 27hp…
Back in the day there was a giant of a bloke that used to do all the UK rally events. Known affectionately as Big Bri, aside from being a huge great bear of a man (tall and decidedly bulky), the thing that distinguished Bri from everyone one else was his choice of bike. Whilst other people were equipping themselves with powerful 640 KTMs, 600 XRs and 604 CCMs, Bri would turn up on a modest little Yamaha TTR-250 – all 18+ stone of him – and proceed to thrash the lot of them.
No matter what people rode, no matter how fast their bikes, and no matter that Big Bri looked preposterous sat atop this diminutive trailie, he would show up on the day and beat all-comers on a bike with half the power. And if he had an off day and he didn't win the overall, he was never outside of the top three. That taught me a lot about dirt biking…
Star Trekking
It's a rally bike, Jim – but not as we know it. Of course you can identify it as a rally bike because of the silhouette, the way the navigation instruments hang over the handlebars, the way the exhaust runs low, not mid-height, as it traces its route front-to-back across the bike. But after that, well 250cc sounds a bit small, and if you place this bike up against anything of scale – then yes, it's a bit smaller all round, a 9/10ths scale model almost.
It is then an AJP PR5 that's been given the rally once-over by specialist firm Rallymoto. Portuguese built AJPs are more commonly known as trail bikes or soft enduros for easy riders. They also do a few what we could call three-quarter size models to suit those of a smaller frame. And power-wise a typical AJP is a fair few horses behind the latest competition – intentionally so, these are bikes to get you started, or for those who don't want a cutting edge enduro racer but would like a solid off-road easy to ride machine. So as a basis of a rally racer it's an unlikely starting point.
'I just wanted to do something different', says its creator, Mark Molineux. Mark's probably better known as Moly, half of the Burt & Moly double-act who are the driving force behind the UK's All Terrain Rally Challenge (formerly known as the Big Bike Rally Challenge). A rally series that brings the spirit of Baja and other big cross-country rally events to the UK. Burt & Moly are heavily into the rally scene so they have the Rallymoto business too, which specialises in rally bike preparation. Not just for their own ATRC but for the big internationals too, including Dakar. So this AJP rally bike is their interpretation of 'something different'.
'I've done the big bikes, the 1200s, I've done the 450s, so I wanted to try something else, and I figured doing this might add some interest to the trail bike class for which it qualifies' continues Moly. 'So much of dirt biking is KTM orange that I wanted to try a different brand. AJP came to mind and when I spoke to them they were interested straight away… and definitely up for it!'
The Works
So what turns a trail bike into a rally weapon?
'You need fuel range, and the standard seven-litre tank isn't doing that. The AJP has its fuel tank located under the seat so we fabricated a new sub-frame using box section alloy and with sheet alloy, gusseted for strength; infilled it to create a 15 litre tank, although we could make that up to 19 litres if we wanted. But with a 250cc motor we've already achieved a massive range.'
Fabrications such as rear tanks applied to enduro bikes typically require a re-routing of the exhaust and that's been the case here. So now the AJP has a hand-fabricated under-slung rally type exhaust with massive Doma rally muffler – massive but still louder than stock. But as Moly explained, being able to use a bigger diameter pipe and making that pipe longer helped boost the AJP's power. Which is needed, as with about 27bhp (claimed) it's a fair few horses short of the likes of a KTM 250EXC-F.
Next comes the panel of navigation aids, known in the business as the 'rally tree'. It looks big and bulky but Moly assures us it weighs little more than a kilo or two so has almost no effect on the handling. The bracketry attaches to a couple of lugs welded onto the headstock and holds the road book, an ICO (electronic computer, speedo, trip meter etc) and a CAP repeater (an electronic compass). Despite all the extra electronics the AJP needs no upgrade on its electrical output; the lights are LED and so draw very little current and the rest of the kit draws barely much more – the wonders of modern technology. To keep things simple the AJP has three switches: one for the ignition, another for the navigational equipment and a third for the lighting.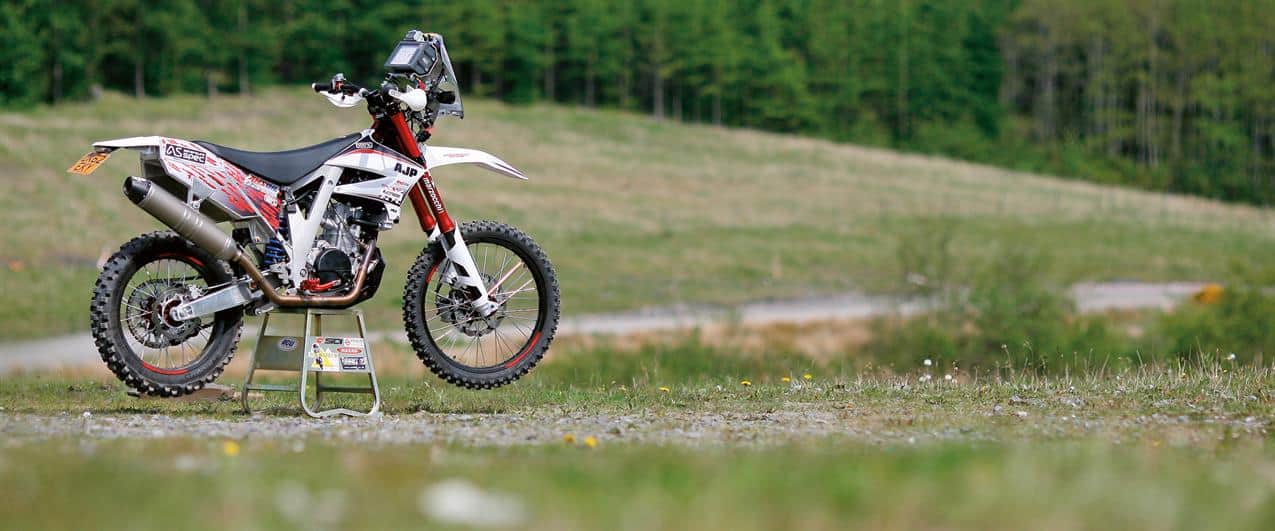 The bike only required a minor tweak to the suspension – a Wilbers spring fitted to the standard Sachs shock to deal with the extra weight of the fuel tank. The Marzocchi USD forks are completely standard.
'That's all it needs' says Moly, 'everything else is more than up to scratch. And I love riding it', he adds. 'With so little power available you pin it everywhere really – but it goes quick enough to surprise quite a few riders. And it handles so well, it's stunning. The bike is quite short so it can steer really quickly, yet it's stable enough to go full speed without the need for a steering damper. I think the extra weight of the rally kit plants it better.
'As you see it, it's not quite finished. I was going to run like it is with just a screen, but now it's done I'm not satisfied, so I'll have a full rally fairing fitted on it soon.'
The Riding
Moly's not kidding, you need to pin it everywhere. This is a small, modestly-powered 250F, there's very little torque, so don't even ask about 'plonk' just nail the throttle. At first you feel a little uncomfortable with the idea of on-the-stop throttle. But once you get your head around the fact that it's got a modern, reliable engine that can take this sort of punishment, you do get used to it. Every time you get it on gravel your ears are assaulted by the sound of a high-revving four-stroke being held to within an inch of its limiter, gear after gear…
For a six-footer like myself it is a tiny bit cramped. I'm not sure I fit the AJP frame, or indeed am part of the design parameters of these bikes, and I was put in mind of the time I was asked to test a (brilliant but miniature) Honda RS125 road racer – I could do it, but 'it wasn't me'. I probably need just a bit more space between the pegs and the bars to be comfortable. But I couldn't deny what Moly said about the handling, it is quick. Sometimes quick the way a racing go-kart can be, sort of twitchy-quick. But also, like he said, quick yet stable.
The AJP does though, call for the application of the rider. I'll not call it hard work, but you DO need to keep on top of the rev range – need to be on top of the handling, to get the most out of it. Just as in a kart, or on that RS125 road racer, if you're lazy, then you're going backwards. And of course I'm lazy – or just plain slow – so I'm not really the best pilot of this mini rally-racer. But I can see that (essentially) a smaller, keener, and yes, probably younger, rider will get a lot more from this bike. In the right terrain I can see it embarrassing a lot of much bigger, supposedly faster, machinery.
Going Home
By the time you read this Moly will have given his AJP its first competitive outing at the Baja 300 in Portugal – that's the country where AJP's come from. But you'll see it competing on home soil soon, too, for Moly plans to take it out in a few ATRC rounds this year. The original plan was to add some spice to the trail bike class but given the fact this bike looks every inch the rally racer – rather than a DT175MX – and actually qualifies for the rally classes he's now quite taken with the idea of pitching up against the full-size rally bikes. Now that should be something to see – and given the wail from that Doma… something to hear as well.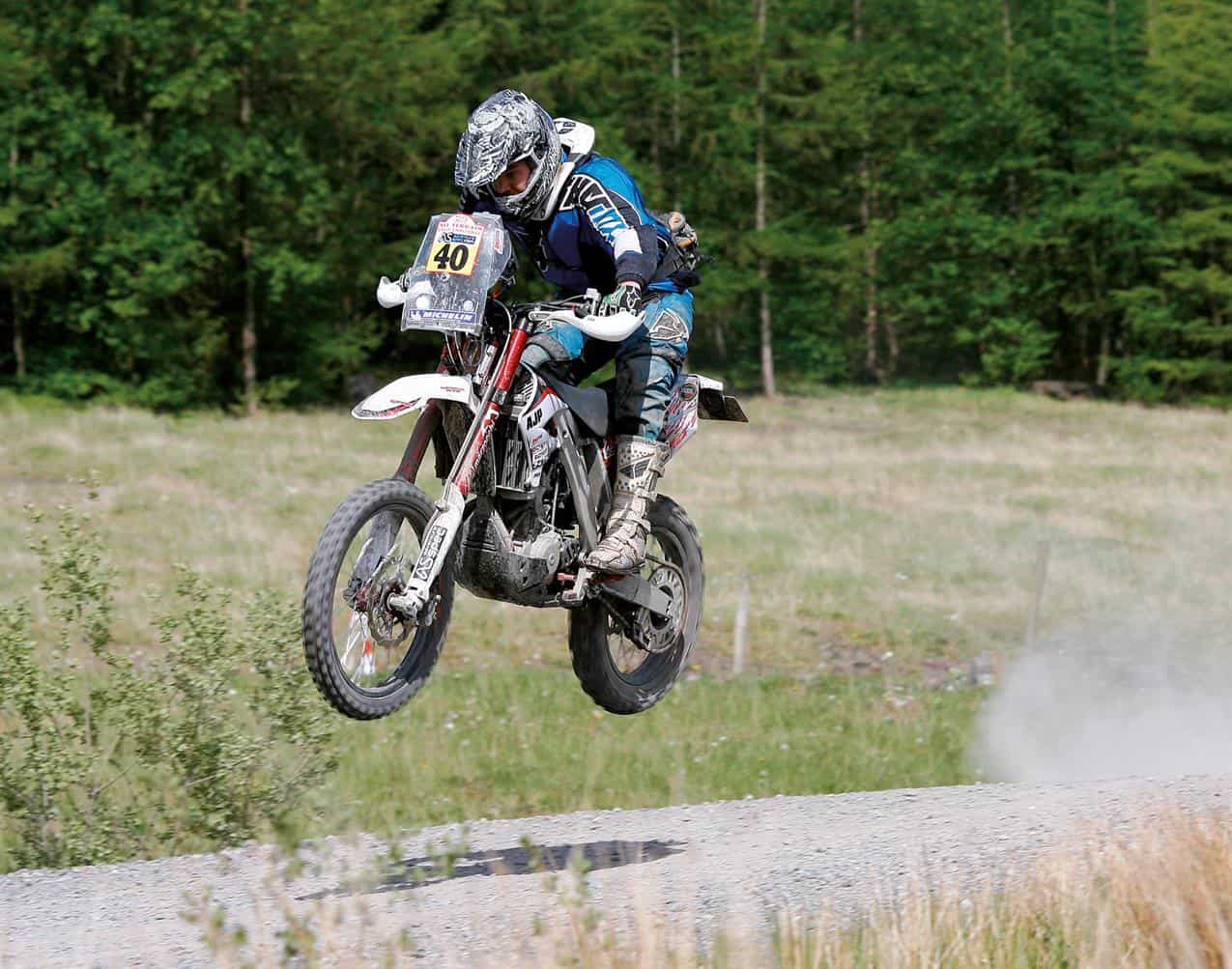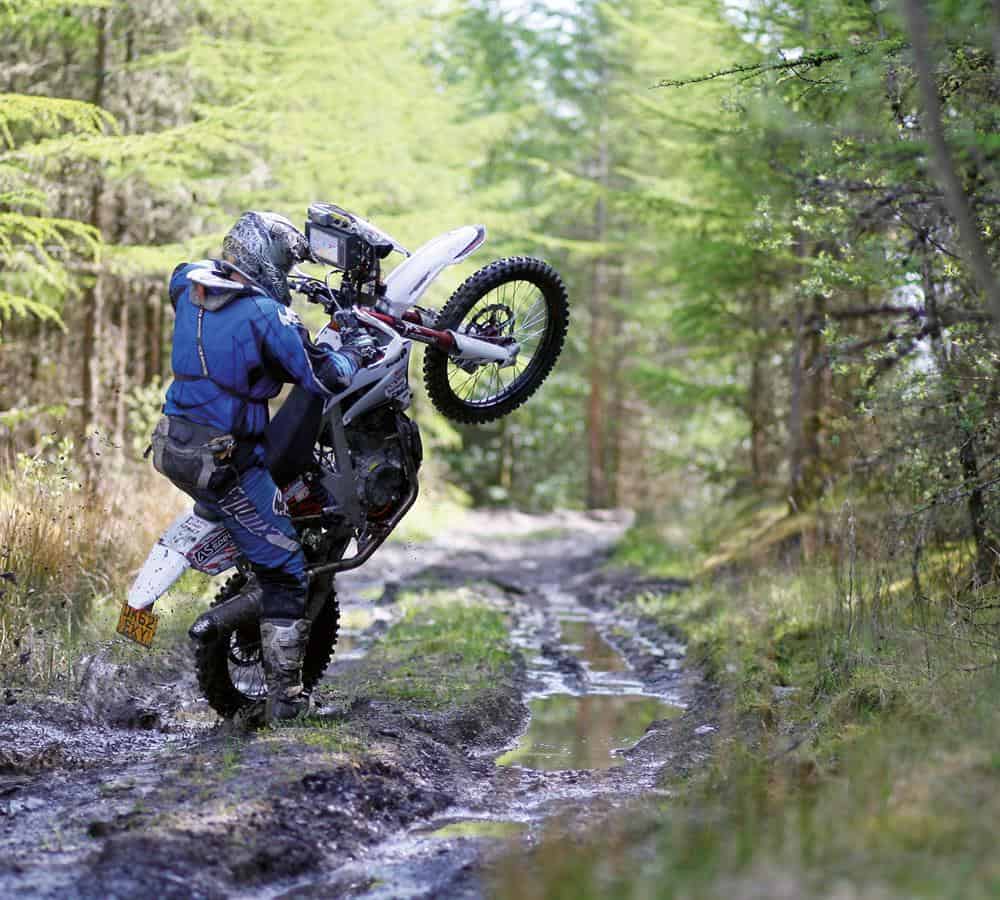 All Terrain Rally Championship
TBM sporadically competes in the ATRC (and its forerunner, the BBRC – Big Bike Rally Challenge) and we're looking to have a go this year too. It's an enjoyable day out – getting to ride a long off-road course, something you can't really enjoy any other way over here, with the unrivaled land access Burt & Moly and their co-organisers negotiate you can have a proper all day off-road adventure. There's a time schedule and then there are special tests (timed to the split-second) so you can exercise your racing spirit if you like. All sorts of bikes turn up, from ancient Honda XR250s to the latest BMW R1200GS Adventures – and then there are the keen rally types with full-on Dakar racers (in fact some of them are bona fide Dakar entrants). But don't feel intimidated there's room enough for all capabilities and the courses are designed to be ridden by big bikes so are not overly technical. At the time of writing there are still five rounds to go. To find out more got to www.allterrainrallychallenge.co.uk (you'll find Rallymoto contacts there too).