DUAL SPORTS – SPORT CAMPS BULGARIA
If you're a sport fanatic like myself and you fancy skiing/snowboarding and trail riding, don't despair, you can do both!
Some time ago we received a call at the office from someone claiming he had a setup whereby you could go snowboarding in the morning and trail riding in the afternoon. Wow, this seemed like my ideal combination of extreme sports, so I immediately volunteered my services to check it out…
Arriving in the capital Sofia late on a Monday night I have absolutely no idea what to expect. My previous knowledge of Bulgaria was limited to its difficult political past as part of the old Soviet-run Eastern Bloc, and of course a furry character from the Wombles.
Waiting for me at the airport was Bogomil Kasabov; enduro nut, skiing fanatic, whisky aficionado and the man behind Sport Camps Bulgaria. Being a couple of hours ahead of us it was already gone 11pm by the time I was chucking my bag in the back of his car and after a quick detour via my hotel we dropped into a local bar to drink a toast to his best mate and fellow dirtbiker who was at the end of a fairly heavy day's celebrations to mark the birth of his first son.
It had started drizzling the moment I walked out of the airport and by now it was absolutely tipping it down. The rain wasn't dampening the spirits of the group however, and as we left after a quick beer (and an obligatory whisky chaser) they were still going strong as it continued to pour. We however, had an early start and a 160km drive to Bankso in the southwestern part of the country. It's the most mountainous area and where our combined riding of dirt and snow would take place.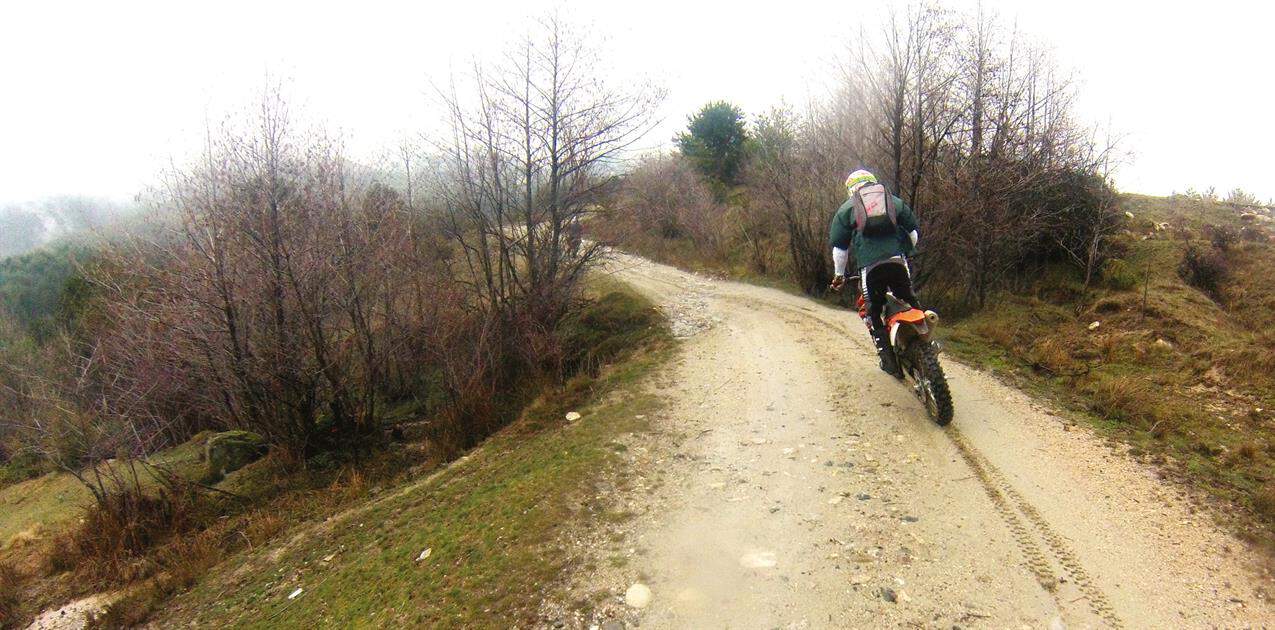 Great (Uncle) Bulgaria
For those that aren't familiar with it, Bulgaria is a country about the size of Iceland located in south east Europe. With a population of around 7 million people it shares its borders with five other countries and has a coastline on the Black Sea. Its former economy was (until recently) chiefly state run machinery and pharmaceutical factories as well as exporting fruit and vegetables. But Bulgaria had its first democratic election in 1990 and became a member of the EU in 2007 and recently it has come to rely more heavily on tourism.
Rain Man
The morning briefly brought better weather but as we cleared Sofia and hit the main road it started to rain once again. March is apparently an unpredictable time of year in this part of the world, but we had chosen this month as it coincided with the end of the ski season and the start of the bike riding months.
The first thing you notice driving through Bulgaria is the amount of indigenousforest – nearly half the country is wooded including virtually the entire width from Sofia in the west to the Black Sea in the east. Much of this is also mountainous making it the perfect country for getting out and about on two wheels of the knobbly variety.
As we climbed up between the national parks towards the mountains of Pirin and Rilski, Pine forests either side of the road promised much in terms of fantastic riding terrain. Approaching Bankso we peeled off and completed the last part of our journey to Godlevo, a small village where the tours start. 
This provides the perfect base for trail riding; here there is a hotel alongside the guesthouse, a garage to store bikes and kit and being a small village they are more bike-friendly than the more commercialised ski resort of nearby Bankso. The trails start metres from the front door so there is little or no asphalt to contend with before heading into the hills.
First things first however, after a short drive into Bankso itself we hooked up with a mate of Bogomils, Rori, a teacher at the local ski school who sorts me out with a board and boots and we head on up further into the mountains. The rain that soaked us the night before in Sofia has redeemed itself by falling as snow further up in the hills and we are also treated to a rare five minutes of sunshine as we catch the first chairlift up. Late season conditions have been poor Rori informs us, and we are lucky enough to get a few inches of fresh powder up at the top.
As I take in the first couple of runs it is weird to think that in a few hours time I will be blatting around the same area on a dirtbike, in fact Bogomil tells me that in the summer a good enough rider can actually make it up to the same altitude on a bike as the highest point in the ski resort at 2600m!
For me this is not the only parallel between these two activities. I am looking forward to both parts of the day equally as they are essentially two different ways of achieving the same thing, getting out into the countryside and exploring the backcountry and surroundings. You could also do it on a mountain bike if that was your thing (although in my opinion that wouldn't be quite as much fun). 

Bogomils local knowledge of the pistes and backcountry of the ski area is thorough and we drop into some steep tree runs under the chairlift, here the  advantage of an experienced guide is invaluable – as you simply wouldn't know these runs existed, or have the confidence to take them on without someone knowing the area. Much the same could be said of trail riding but that at least comes without the risk of causing an avalanche. After a few good runs the cloud descends and wet snow makes the visibility very poor indeed so with one of the days activities duly completed we head back down out of Bankso to Godlevo for part two!
Guerillas in the mist
We unload the bikes and get kitted out in full wet weather gear as ominous looking clouds threaten to make it a wet afternoon's riding. My steed is a 2013 KTM 350EXC-F, factory fresh with protection still on the plastics! It is worth noting that all of the fleet are 2013 bikes, Bogomil is mates with Bulgaria's one-and-only KTM dealer and his philosophy is simple – new bikes every season means trouble-free tours for punters and low maintenance costs for him.
Enduro and trail riding being a fairly niche activity in Bulgaria, the dealer also helps out as a guide when there are larger groups out riding. As it's a month or so before the new season starts, this is as much a reconnaissance mission to see how the trails have faired over winter, as an opportunity to show me the extent and quality of riding available.
We head out of the village and onto the tracks and start passing patches of snow a fair bit lower down than Bogomil expects. We carry on up the tracks and soon start hitting not only heavier patches of snow but fallen trees that look like the victims of a serious storm. He's a little disappointed that he can't show me the exact trails he has in mind, but there are plenty more routes to explore and we carry on into the mist. The going is soft but the light, sandy soil in the pine forests means there is plenty of traction to be found even with the snow melt and overall wet conditions.
Bogomil sets a fairly leisurely pace but it is obvious that he is a solid rider as he skips around snow patches and fallen branches whilst constantly looking around the terrain like a farmer checking his crops after a hard winter. As he has explained to me on the drive over, he is not really about super fast technical riding but loves to get up in the hills and show off the seemingly endless trails and routes in his home country.
He has been riding bikes and skiing in these hills since he was a child and his knowledge of the area is second to none. After a couple of hours the rain really sets in and we stop off for lunch at what looks to be someone's house but actually turns out to be a restaurant!
I have told Bogomil before coming out that I want to sample as much of the local food and drink as possible and he doesn't disappoint. We are just next to a river and lunch consists of some trout expertly plucked from the water and grilled in front of us as we put away a local beer. This for me is an ideal riding lunch, we simply park up and sit down – no faffing about, a stunning view down the valley and fresh local food on tap.
We are fairly damp and cold after the riding but a roaring wood burner and excellent noodle soup soon sorts us out. In the summer months when the season has kicked in it would be an even more special spot to stop.
Lights, Camera, Action
Lunch done with and the rain having eased up a bit my attention turns to a steep, technical looking climb that I had spotted just before we stopped. The wide-angle lenses we use to shoot with in many situations have a tendency to 'flatten off' these climbs but with the mist hanging over the trees at the top it certainly was an imposing looking hill. But I knew just the man to take it on…
I should at this stage introduce Bogomil's right hand man, a certain Nicolay Kumanov: eight times Bulgarian national MX Champ and 11th in the FIM world standings a few years ago. At the ripe old age of 30 having lived out of his camper for 17 years and having had enough of this nomadic lifestyle, Kumanov met Bogamil in late 2012 who – as it turned out – was looking for a 'sweeper' and general helper for his bike tours. Considering this is only his fifth outing on an enduro bike you could say he has made the transition rather easily, and his eyes light up when I pointed at the climb and then at my camera…
Not to be outdone Bogomil had a couple of runs at it but the top is littered with loose rocks, stumps and branches making the last bit really tough and he can't quite make the climb. Nicolay gives it the beans and nails it on his second attempt, his 350EX-C howling in protest as he finally reaches the summit. It feels like a small victory for us all and we head back down out of the misty hills to sample some more of the trails. Even this early in the season with snow restricting some of our routes and the cloud reducing what we can see around us you really do get the feeling of the sheer expanse of the riding out here.
We head into some more open countryside and pick up the pace a bit before starting to climb up the other side of the valley. We start hitting more snow covered sections of track and downed trees and stop to make a decision – either drop down again and head back onto the lower trails and tarmac or keep heading up and over and hope the snow drifts and pine tree shaped obstacles don't become completely impassable, we chose the latter…
All was going well for 20 minutes or so bar Nico's slightly ambitious detour to avoid lugging his bike over yet another tree that ended in a three-man recovery of his stricken machine back onto the track. But just as we approached the top and the trail started to flatten out before the descent back down into Godlevo, there was a particularly long snow drift with multiple branches over it that proved to be a real challenge.
As we were all fairly knackered and the light was fading, we opted to head back down the way we had come. Gravity ensured this was a lot less effort than the way up and we had our tracks through the snow from the ascent to follow and we soon got back to where we had started.
Miraculously under the mist it was like a different weather system. It felt about 5 degrees warmer and I got to see one of the clearest views of the entire day. The lower trails and more open woodland were superb and the last hour or so really made my day, the variation of riding is quite extraordinary, it is like being in a different country to the snow filled tracks and when we reach the guesthouse I would happily have carried on for another hour if the light had permitted.
This is the essence of riding in Bulgaria, there are literally no restrictions to where you can or can't ride except the National Parks. Combine that with the fact that everyone we met throughout the day gives us a wave or a smile and it makes me wonder how things have got so bad back in the UK. We don't feel like the bad guys out here, just three blokes out for a day's riding, not upsetting the locals or getting frowned at for being out enjoying the countryside in the way we choose. Or as Bogomil puts it, it's a huge playground to go out and explore, as long as you don't do something REALLY stupid no-one gives a monkeys!
That night we head to Bankso to sample some more of the local cuisine and take in some après ski – Bulgarian style! The platters of food we're confronted with would make a hungry lion think twice before attempting the lot in one sitting. The usual salad 'starter' is traditionally accompanied with a small jug of Rakia – Bulgaria's own take on Italian Grappa – something I would usually only consider sampling after the meal, but hey, when in Bulgaria….
After narrowly avoiding falling into some sort of meat-induced-coma and being deafened by a traditional local band (including an extended clarinet solo about three inches from my right lughole!) we head to another bar in search of more entertainment of the alcoholic and musical type. Although it is late in the ski season we come across a heaving venue full of British seasonaires sharing the dance floor with locals and punters alike, it puts the nightlife on a recent trip to Austria to shame and it's still going strong when we stumble out a couple of hours later on.
The next day we drag one of the bikes onto the edge of a green run at the bottom of the resort for a photo, but Nico declines my request to give it a quick run up and down the piste for the purposes of an opening shot for the article. Which in hindsight was probably a good decision as I suspect most people's ski insurance probably doesn't cover them colliding with a KTM mid-run. Shame 'tho – it would have made a cracking photo, especially as the sun has finally decided to make an appearance just as we finish up our day of riding!
Bikes loaded we head back to Sofia as my whistle-stop tour is sadly coming to an end and the improved visibility gives me my first really clear view of the country since I have been there. For most of my short visit you would have no idea of the troubles that have faced this small country in the not too distant past. Barely 25 years ago it was still under communist rule but lurking between the seemingly endless valleys and mountains lurks the odd reminder of darker days. The town of Dupnica with its monstrous rows of crumbling housing blocks, factories and bleak surroundings stands as a reminder to its soviet past.
Bogomil's wife explains to me later that evening that Sofia itself was a beautiful city only ten years ago, although it has now fallen victim to the dreaded grey Lego box flats that dominate the skyline. But as with everywhere else the draw of the mountains in the distance is never far away and if there is no time to head over to Bankso, there is still good riding to be had just 15 minutes drive from the city centre – if only the same could be said of London my riding would be a lot tidier!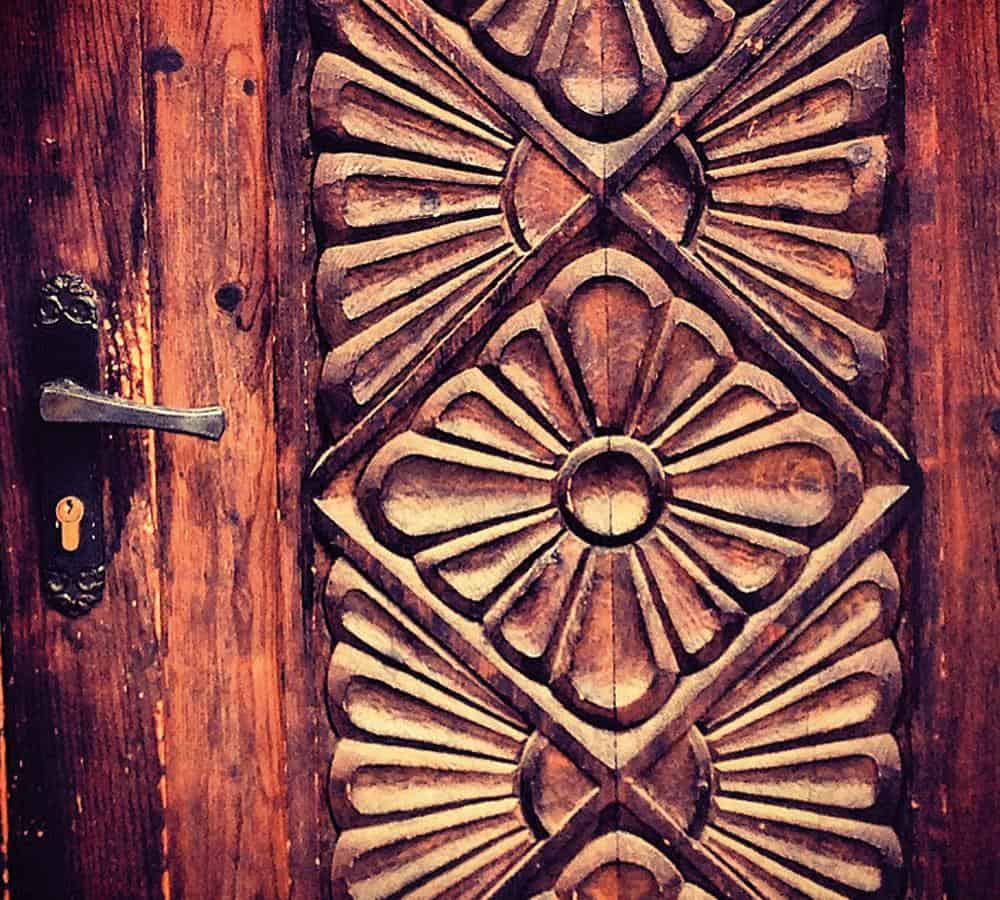 Flight of Fantasy
Less than three hours away by plane, this relatively unknown trail biking haven is easily accessible and flights leave Luton every day via Wizzair. Bogomil can tailor your week's riding around what you want to do, there are various accommodation options including the 'House of Assen' guesthouse we stayed in with neighbouring hotel or for more family orientated groups there is nearby Banya, another village with direct access to the hills and thermal pools to kick back in after a tough day on the trails.
As a host he excels in all areas, his emphasis is on sharing his passion about all that Bulgaria has to offer from trail riding to local beers and skiing to kite surfing. He is also looking at organising a 10-day epic trip across the width of the country from Sofia to the Black Sea and expanding his operation into neighbouring Albania and Greece. But for the meantime there is more than enough quality riding to be had on the current routes.
If I was spending my own hard-earned on a bike tour I really would be looking closely at Bulgaria, it just offers something a bit different from Western Europe and in the evenings you get a bit more bang for your buck when its time for a beer or two. Combine this with a new bike, quality accommodation and clinical organisation and you are onto a winner in my opinion. The 2013 tour dates are getting booked up and numbers are limited so if you fancy something a bit different then get in touch with him ASAP, you won't be disappointed…
Thanks to:
Bogomil and Nico at Sport Camps Bulgaria: www.sportcamps.bg
Rori at Bankso Ski School: www.bulgariaski.com
David at H-C Travel: www.hctravel.com
Su at Buff: www.buffwear.co.uk