ROOF OF AFRICA RALLY
More a story of survival than a race report, adventure enthusiast Chris Salt took on the mighty Roof of Africa Rally and lived to tell the tale…
I felt weak and dizzy. As I staggered off my bike I realised I was at my limit. I put the bike on a big rock slab in the middle of the small stream (the sidestand had long since broken), and rested for a moment. It was the first place for miles that the track was flat enough or even wide enough to stop without causing a log-jam of riders.
I took off my helmet and dipped my head in the water. It felt good. I could almost feel my brain cooling down and starting to work again.
I thought back over the last few hours – I had been in first gear for at least the last hour edging precariously along the off-camber sheep track that wound its way around the profile of the mountains.
The scenery was stunning – utterly awe-inspiring – though you hardly dared look in case you missed a marker or strayed off-course. A little while back I had made the mistake of glancing at a huge waterfall way off in the distance, my footpeg clipped a rock, nudging the bike 6in to the left. That was all it needed to leave the safety of the track and begin to slip down the steep, boulder-strewn hillside. I threw myself and the bike to the ground before the situation worsened, and lucky for me I was going so slow it was still retrievable with a bit of pulling at the front strap on the fork yokes. In the 32-degree heat, these were the things that sapped your limited reserves of energy the most.
A few minutes earlier as I crept along the 'trail' I had noticed something bright green off to my left. I stopped and looked down the steep embankment. There was a Kawasaki – upside down – about ten metres away in the rocks, almost at the edge of where the cliff disappeared vertically down to the river below.
I shouted to see if the rider was okay, but there was no sound, other than the burble of my bike on tickover. I dared not turn it off as kicking it over again at this altitude was more effort than I could manage right now…
All these things started to play on my mind as my head heated up again. I laid myself down in the cold water and let it soak through all my riding gear and fill my boots. I crawled into the shade under a bush, took off my bum-bag and looked for any food I had with me. A pack of Jelly Tots had all melted into one gelatinous lump and mixed themselves with half a pack of peanuts.
I put them all in my mouth anyway but had no energy left to chew them with, so I filled my mouth with energy drink from my hydration pack, lay down and waited for it all to dissolve.
The rock felt strangely comfortable and though I desperately wanted to sleep, I knew I had to stay awake if I was to stand any chance of finishing the Roof of Africa Rally.
Knee Trembler
In early 2006, whilst recovering from knee reconstruction surgery, I watched a lot of motorsport on TV. One thing stood out for me: Romaniacs, and I decided I had better have a go at this crazy race. I asked around at a few events and found a good team-mate in the form of a bloke called Matt Hall.
We went and rode the race that year and had a fantastic time with some awesomely tough riding. Better still though were the friends we met from all over the world.
Dom was a good rider from South Africa who was competing in the Pro Class and Ant was his mate that had gone to support him. They told me how great 'The Roof' was and what a stunning place the country of Lesotho is.
2008 was my third Romaniacs and I met up with Ant again who was there spectating with his son. I had my best result – seventh in the expert singles – and decided to look for a new challenge.
I mentioned to Ant I was interested in doing the 'Roof' and a year later texted him to find out the dates for the 2009 event. A flood of texts and calls came back saying: these are the dates; I'll book your hotel for you; you'll come and stay with me and my family beforehand; I'll arrange your transport, fuel, pit crew; and would you like to go on safari afterwards.
And all this, combined with the fact that my good friends and main sponsor at Kriega, said they would help with the cost of getting my bike there meant it was an opportunity not to be missed. Game on!
Flying High
Gatwick's departure lounge can be a lonely place at the best of times. Sitting there drinking coffee having just said goodbye to my other half, Tamsin – she had a bike to get ready for her Dakar attempt this year – I was feeling slightly apprehensive at the thought of flying half-way around the world to take part in such an extreme race on my own. But also excited at the prospect of what lay in store…
Africa looked very big from the small window of the plane and it went on for hours. As I tucked into complimentary peanuts I just hoped that my bike had made it there already. It had gone by air-freight the week before.
Ant and his son met me at arrivals and we drove fast through the centre of Durban, back to their house where I was made very welcome. After dinner Dom came round and told me stories of his many finishes at the Roof. I listened carefully to his advice.
The golden rules were: keep moving – you can never make the time back. Look for ways around people. Ride over the big rocks that don't move. Avoid the bushes – they're harder than the rocks. Look after your Boney (bike!). Look after yourself. Go as fast as you can in the prologue (Round the Houses). Go as fast as you can in the trail time. Go as fast as you can to the first checkpoint. Never ride on the lush green grass on the mountain-tops – here lie deep bogs that can swallow a bike whole. Don't stop and help people – unless they are dying! And definitely don't eat the seafood at the hotel – Lesotho is a long way from the sea!
That night as I was sleeping the advice washed around my head all night! Remember… don't eat the seafood… don't eat the seafood… That's alright, I thought to myself next morning… I don't eat seafood, anyway!
The next few days were spent trying to get my bike back from SA customs where it was impounded in Cape Town, and the whole process was running on 'African Time'. So I took the opportunity to go up-country and pay a visit to the Umfalozi wildlife park where I saw more hippos, zebras and giraffes than you could shake a snake at. But bad weather kept most of the big cats away, and I couldn't help wondering what the weather would be like high up in the Drakensberg Mountains. The Drakensbergs are a very harsh environment and if the weather's bad it can turn from picture postcard to life-threatening in a matter of minutes!
Back in Durban and the news was good. Well good-ish. The bike was going through customs checks and would be cleared that day and then put on a two-day road freight service to Durban. The earliest I could collect it was Monday morning. As we were due to leave first thing on Wednesday this didn't leave a lot of time for fettling. Nor to fit the super-tough SA-style exhaust cage, to sort out any other little problems and go out practicing on it.
I managed to borrow a bike – another 200 – and head out for a ride on the Saturday. We went to the local riding spot – which Ant and his mate Paul were desperate to show me – called The Valley of a Thousand Hills. This place was aptly named.
What a location to have on your doorstep. I'm sure you could have run the whole of the BEC in that ONE area. Steep climbs and descents, rivers and rocks, even a little bit of mud thanks to the recent weather. It was good to get a ride, but I didn't feel that great, the bike was a bit tired and didn't feel anything like my own, plus the brakes didn't work all that well which was a bit scary on a couple of downhills.
Still a couple of hours out riding did the trick – blew away the cobwebs and I came back unscathed which was a bonus. I was feeling confident that on my own bike with the suspension how I like it and the power tuned to be smooth, things could only feel better.
Sunday was spent watching a local MX race for kids and adults sponsored by a well-known brand of MX clothing. The winners of the race won prize money and were then asked to go to a roulette wheel and gamble to increase their winnings. Bizarre!
Crate Stuff
At last I got the bike from the road haulage company. I uncrated it at Ant's workshop and spent most of the day trying – unsuccessfully – to fit the bespoke exhaust cage around the new FMF Gnarly pipe I took with me. But it wasn't even close. Eventually I tried it around the old bent and dented FMF I took as a spare and it went on a treat with just a bit of welding on one bracket done by Paul. A thick plastic bashplate made by Hyde was bought from Alfie Cox KTM – trimmed a little and fitted that night.
The five-hour drive to Lesotho meant an early start on the Wednesday, and even from a long way out, the roads were incredibly busy. The Roof is a big event in this part of the world, everyone seemed to be heading there and the excitement in the air was palpable
All the way there the weather got hotter, the mountains got bigger and the terrain got rougher. Now and again Ant would stop the van and point out the window: 'That's the sort of thing you'll ride up!' I looked but couldn't see any trails – just rocks and damn big mountains. Lesotho is known as the Mountain Kingdom…
By the time we got to the border I was feeling quite nervous. There were bikes on trailers everywhere, and these bikes looked seriously tough. As we went through customs Ant kept introducing me to other riders he knew. Most were big, strong-looking guys who looked like they could carry their bike up the side of a mountain if they had to. And most said the same thing to me: 'All the way from England, eh? Do you get rocks like this over there?' This worried me slightly, but when they heard I'd done Romaniacs three times this seemed to impress them, as the Romaniacs is another race with a fearsome reputation.
We set up the pits, sorted out signing on, up-loaded the GPS tracks and fitted race numbers. Sorting out fuel proved to be a real hassle: I had seven 10L plastic containers all spray-painted, numbered and filled with fuel. Then we had to work out how many to send in the different fuel trucks to different refuelling points for the three days. It's a bit like the Welsh 2-Day but far more complicated, with no guarantee they'll be there when you need them. Luckily one of my helpers took over this job for me and seemed to have it all in hand.
So I went to the pits and started my bike. It ran like sh!t. Time for a re-jet methinks. The altitude and heat meant there was a severe lack of oxygen. Even when we dropped the needle two positions, went down one pilot jet size and turned out the air-screw a turn to what we hoped was a safe compromise for the flat out race Round the Houses the bike felt very underpowered compared to normal.
The cocktail party/riders briefing was spent mainly telling us how the Roof was going to become the jewel in the crown of the newly announced World Extreme Series. Tougher than anything else anywhere in the world they seemed genuinely excited that international riders were at their event – 30 of us in total from all over Europe, NZ and America.
The organisers talked through the route for the next three days, but all I heard was a jumble of names of different high passes including: Bushmans, Welcome, Baboons, Slide Your Arse, Mad Cow, and Pig Pass to name but a few.
It all meant nothing to me but some of the local riders looked worried. I looked round to see who was eating the seafood. 'Ha ha' I thought, 'you're not getting rid of me that easily'.
Cooling Off
I opened my eyes and looked around. It was about three in the afternoon, the sun was still beating down and I felt much better for the short rest and chance to chill out. Or maybe it was the peanut-and-Jelly-Tot combo taking effect. Either way I was back from the brink of exhaustion and ready to carry on. It had to get better.
At my last pit stop 20km back, my pit crew had assured me I was through the worst. That's what a good pit crew do – encourage you or lie to you if necessary. I think they could see how close to my limit I was as I arrived at the last refuelling.
It had been a tough morning. Up at 4am, shovel down as much breakfast as possible. Drive to Roma for my allotted 6.30am start time. I wasn't nervous anymore, just ready for business.
Not like the morning before – back then I had felt nervous. All riders had to be down on the startline of the local sports-field for 9am so they could close the roads for the famous Round the Houses sprint. This consisted of one sighting lap followed by a three-lap sprint around a 5km street loop in Maseru city centre.
The streets were lined with people waiting to see what carnage would unfold. Riders crashing, bikes seizing – it was the usual fare.
I was lucky, my group – 125s, 200s and 250 4Ts – was first away so the wait wasn't too painful. I was on the inside line, second row from the front. I chatted briefly with the Kawasaki rider next to me – this was his second Roof, he'd done it a few years before when it was a slightly different event: more long distance and still tough but not quite so technical. Now he was hoping to try and finish the new style event.
I put my goggles on and the nerves dissolved into concentration. I ran through the sighting lap in my mind: fast straight, stay to the right, avoid the diesel, blip the throttle so bike doesn't seize, tight left at traffic lights, flat out left kink, tight left and cut corner on gravel, right kink up hill, over three speed bumps, left turn on gravel, up the pavement and then under the start-finish. No problem.
The flag dropped and at last we were racing. Fifth for most of the race, I got fourth along the main straight as my bike would still pull about 80mph flat out, just enough to crawl past the guy on the Kawasaki 250F, but on the next corner he could be smoother on the power as my bike squirmed and wiggled on its fresh Metzelers. Then on the last lap suddenly two bikes in front of me slowed down and I shot past. They didn't want to be up front for the forthcoming time trial. I knew no better so I finished third.
A 20km trek behind a police bike up to the mountains at Lances Gap. A quick refuel and a few words of encouragement from my pit crew and I was off – the third bike on to a very fresh course. It took some time to adjust to the terrain as it was like nothing I've ever ridden over before. Extremely hard and rocky with many a hidden trap, I made a mistake early on when I misjudged a rock ledge and went over the bars.
Luckily there was no damage to me or the bike. Even so, I decided to go steady and as the odd bike went past, I tagged on to them for a while to help read the course. This helped a bit but I was out of my depth in this terrain as many riders were quite a bit faster than me and I was riding in their dust.
The course had a few challenging sections – both up and down. Most consisted of loose rocks and tricky rock-steps, but all were quite short
In between there were fast open sections – this was where I had most problems as my GPS kept turning itself off and I wasted a lot of time slowing and trying to get it back on to reassure myself. The riders with local knowledge didn't worry too much as they sort of knew where they were going.
Towards the end there was a sting in the tail as we dropped down a very steep, rocky and loose mountainside with numerous switchbacks. Turns out this was just a taster of what was in store the following day!
I was happy to reach the end. My time was nothing special, but it was enough to start me mid-pack the following day. Plus I was in one-piece and the bike wasn't damaged, so that was a result in itself.
Back at the hotel by about 3pm the pits were a hive of activity as riders raced to repair broken clutch master cylinders, smashed casings, damaged radiators and seized engines. We changed the oil, filter and front tyre and were all sorted in time for dinner.
Let's Go
Ready for business I thought to myself as I rolled down the start line the following morning. I glanced down at my GPS expecting to see a little man walking towards the black line that indicated the track. But nothing… The screen had frozen up.
Last time this happened was in the Isle of Man and I could do nothing with it until the battery went completely flat, then charged it again and it unlocked itself. This was not a good time for this to happen – ten minutes before the start of a 220km day in the wilderness of the Drakensberg Mountains.
I quickly asked around but drew a blank. Then I saw a guy I knew from Romaniacs – Craig Sharp – originally South African, but now living in Australia and riding as an international rider with the same initials as me: CS1 and CS2.
'Craig, any idea what to do with this?' I said to him, hopefully. He looked but wasn't sure. 'Ask my mate' he replied. What a stroke of luck, his mate knew exactly which combination of buttons to hold down to reset the little Garmin. Phew. Stress over!
On the line and due to leave 20sec behind me was Factory BMW rider Andreas Lettenbichler. I chatted to him asking him what had gone wrong on the time trial to put him so far back in the standings. He told me a navigational error had resulted in him missing a 20min loop, so he'd been given a large time penalty. Shame really as he seemed to be the only rider there with the raw pace to challenge last year's winner Chris Birch.
The start time rolled around and things were good. The GPS was working and I could easily stay with the riders around me. In fact I started to catch a few of the ones in front, though of course Letti went by me like a BMW-guided missile.
The first hour was great – flowing technical rocky trails in the lowlands. But then we started to climb. Huge eroded white rock slabs lined the side of the mountain. They were smooth, but grippy and lying at an angle of between 30-40 degrees it felt a bit like uphill surfing. But just as I neared the crest of one of the climbs I dropped into a deep rain gully cut in the track. A loud clonk made me look down and when I did I saw red fluid running down the rock. The same red fluid I put in the gearbox the day before. Oh sh!t.
I turned off the fuel and lay the bike on its side to stem the flow of oil out of the motor. The billet clutch casing was bent in at the bottom and it had torn through the gasket leaving a 3mm gap to the casing behind. I removed the clutch casing and bent it back as carefully as I dared with a pair of pliers. It was still early in the day so there was a steady stream of bikes passing me.
I struggled to get the case to line up properly, but with a bit of care and plenty of chemical metal it sealed up and I was off again, albeit 30 minutes and a lot of places down on where I had been.
By the time I got to Bushmans Pass there was a long stream of bikes and riders littering the steep and narrow rocky ascent for as far as I could see up the mountain. It's hard for UK riders to really appreciate the scale of these climbs. It's not like a steep hillclimb in Wales that maybe go on for ten minutes or more, these things go up relentlessly for three or four kilometres. Many of the riders I passed were in the class below me and this compounded my problems as they were very often stuck in the most awkward places, and passing them became a real nightmare.
After at least an hour of struggling I arrived at the refuel to be greeted by a worried looking service crew. I was way down on time, so with petrol, water and a top-up of gearbox oil I was away as quickly as I could be.
On I went, slowly picking my way past stranded riders through endless ups and downs with no flowing trail in-between to allow me to catch my breath. Surely it couldn't all be like this?
I just kept slogging on remembering what Dom had told me a few days before: 'Don't moan about the Roof on Thursday or Friday (the first two riding days) because you should be at work. Save your moaning for if you get to Saturday because you could be at the beach!'
I felt better at the thought of this. After all no-one was making me do this, I had entered knowing it was gonna' be tough, and it was supposed to be fun.
Then I turned a sharp corner to see three bikes waiting at a tight rocky gulley with a stream running through it. Two guys stood on a rock with water bottles pouring cold water down the necks of the passing riders. As I made my way quickly past them, one of the guys with water said to me: 'Hey, take your time, man. It's a long way up there.'
I looked down and there written on a large rock it said 'Welcome'. This is one pass I had heard was a real killer. I thought London traffic was slow, but the combination of midday sun, broken bikes, broken bodies, broken spirits of strong men, the smell of boiling engines, tyre smoke and burning clutches hung in the air. It was gonna' be a fight from start to finish. I took a long drink from my drink system, flicked the button to turn on the cooling fan and started the assault.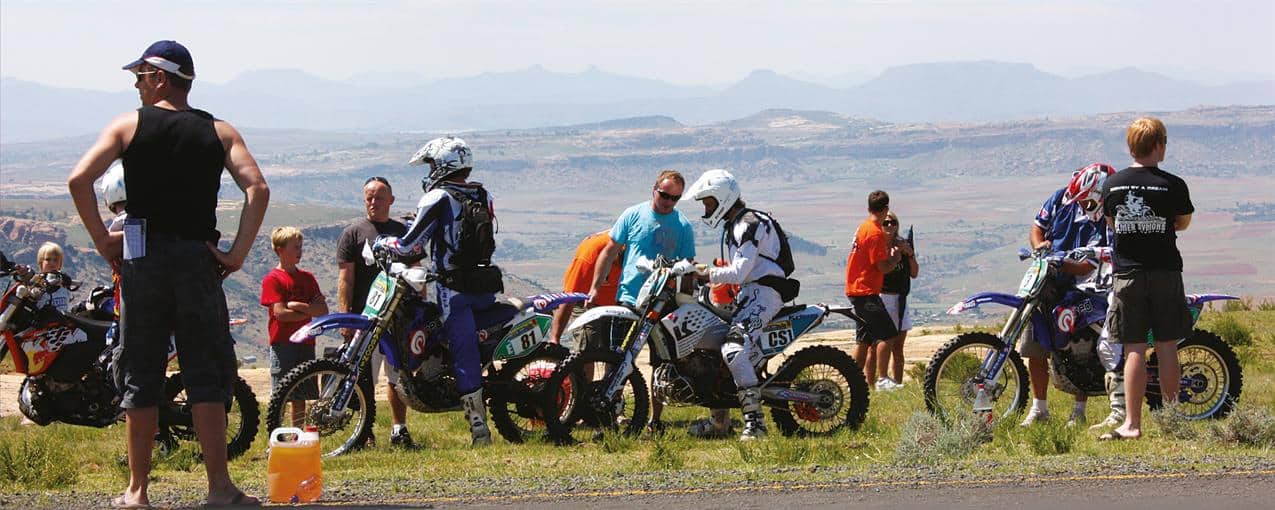 Walk on By
I began the long, slow grind up the erroneously named Welcome Pass. It was all rideable of a sort, but you could've walked it quicker. In fact that's one of the maddest things about this whole race is that the entire route is laid out on foot by (mainly) one guy during the months before.
Now fair play to him for walking it all, but surely this is what had lead to such a huge underestimation in how difficult it was to ride – and how long it would take, as no-one had actually pre-ridden the track in its entirety.
After about the first ten 180-degree switchbacks with 20-30m boulder-strewn straights in-between, the clutch started to fail. A bike came towards me with the rider pushing. His bike had boiled dry and the motor had seized. He said he'd been up at least 20 more switchbacks and there was still no end in sight.
My bike stalled again but as I pulled in the clutch to kick it over there was no clutch resistance. Out with the tools once more and I took the top off the master cylinder to find the clutch fluid bubbling. It was actually boiling in the reservoir!
Fortunately I was carrying spare clutch fluid and a syringe. I loosened the nipple at the bottom and pumped in fresh clutch fluid until it over-flowed at the top then tried to reassemble everything as best I could but the heat was making it hard to think straight.
Keep drinking fluids I thought to myself as I put everything back together, but I was sure I'd lost some bits. Nevertheless it all seemed to work so I set off again. I picked my way past some more stuck riders and as I finally neared the top I looked down at the clutch slave cylinder and saw it was all there and working fine. The heat was really getting to me. Then as I dropped down the steep trail and turned the corner I was so glad to see my service crew.
I flopped into a chair whilst the team poured cold water over me, and fed me high energy snacks and more Jelly Tots! 'Is this the rest point?' I asked, hopefully. 'No' they said 'two more unaided fuel points and then the rest point is at the DSP at Ramabanta. That's the next time we'll see you… In about 100km!' My heat sank.
'Don't worry' they said 'the worst is over. It'll flow nicely from here.' And sure enough they were right. Well… for the first four kilometres at least, then as I arrived at the next steep uphill I could see three riders being helped uphill by some locals.
I worked hard and made it up to that point without assistance, the locals looked impressed: 'very good, very good. Where you from?' they asked. 'England' I replied. 'Very good, money please.'
I wasn't about to stop to get my wallet out so I kept moving and eventually made it to the top of the pass unaided. I passed a bunch of guys flaked out at the side of the trail, which gave me a small boost of energy. At least I knew I wasn't dead last!
Coming Round
I climbed out of the stream from my cooling off and fastened up the broken side-stand. My boots and clothes were sopping wet and I began to feel cool again for the first time since I'd set off. The path got a little better – I even got into second gear – then I heard the unmistakeable sound of bikes being revved hard. It could only mean one thing: another virtually impossible climb.
One bike lay on its side at the bottom and three guys were working together to get one of the bikes up the large rock steps that had dug out the hill-side – one pulling on a rope, one sitting on the bike and one pushing.
I rode up to where they were. They'd just undone the rope and the guy set off from where they got him to. 'We've pulled up about eight bikes, so far' one very tall guy said to me. 'Yeah, and nobody's come back down to help us', added his friend, 'and my bike's still down there.' He gestured at the bike that was lying on its side.
They both looked shattered. In this type of event only one thing knackers you out more than heaving your bike up an unrideable hill, and that's heaving someone else's bike up an unrideable hill.
'Help me up and I guarantee I'll come and help you' I said. 'Okay' tall guy said 'but we know who you are because your name is on the side of your helmet, so you'd better. Anyway let's all stick together until we get off this damned mountain. We must be timed out by now, anyway.'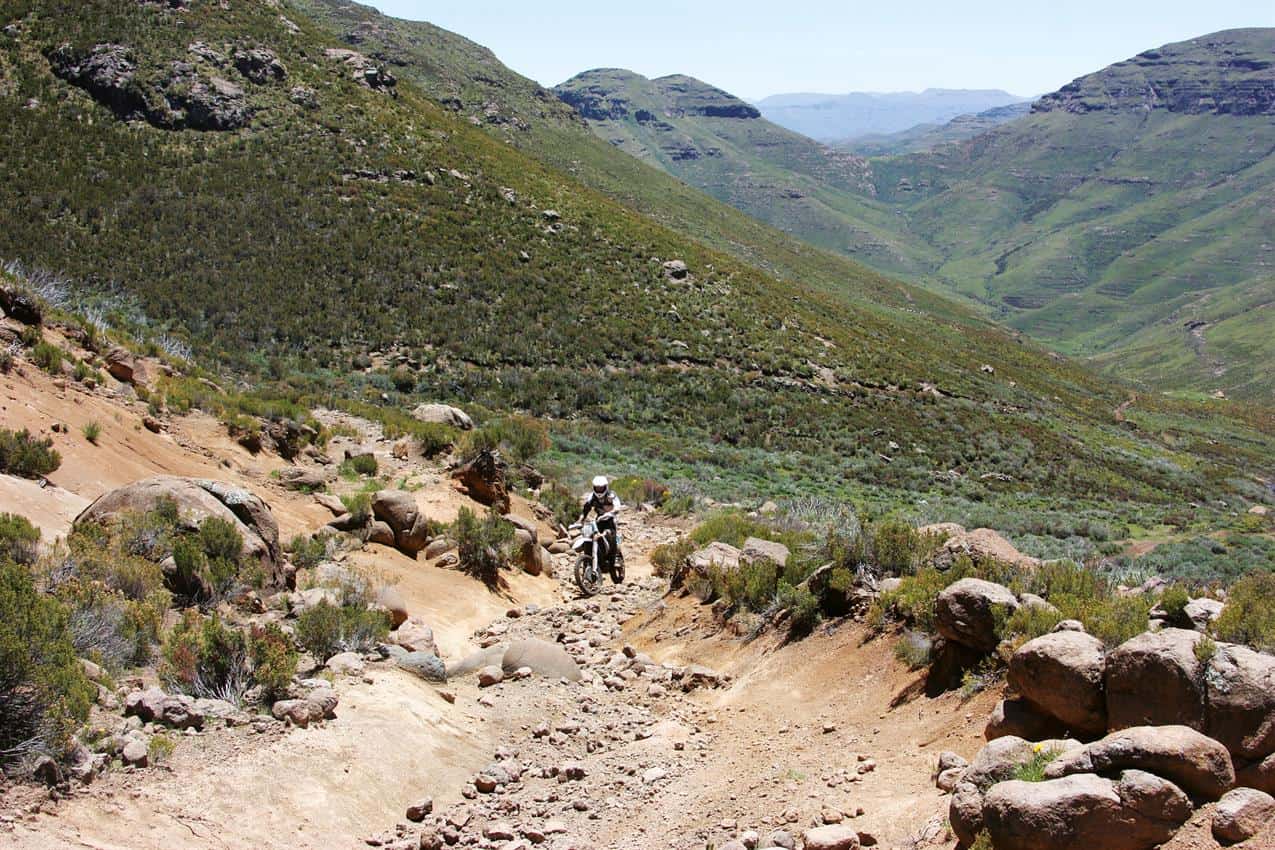 There was a look of desperation in their eyes, like they'd also been having a tough time of it. We got my bike up the hill then returned for the other guy's bike. In the distance we saw more bikes approaching. 'Quick' said tall guy, 'let's get going before anyone else asks us to pull them up.'
We headed off, hoping that we were nearly at the checkpoint, but the trail just kept going and going, through one rock-field after another. Eventually, after what seemed like an eternity we arrived at the mountain-top, with patches of lush green grass everywhere. The tall guy headed straight for one such patch of grass and BAM! The bike stopped dead, and he was flung over the bars. We worked together and pulled out the buried front wheel.
Another two of Ant and Dom's golden rules broken – helping people and riding on the grass. But now it didn't seem to matter. Right now it was all about survival. You could tell how worn out we were by the mistakes we were making, but we simply had to keep on going. In a place as remote as this there was no other way out.
I could see the level of fuel in my clear tank and there wasn't a lot left. We'd been told that this loop was 40km between fuel stops – which ought to be easy with 11L on board. Normally you could do twice that distance, but this was going to be close.
We caught up with a Yamaha rider who had broken both footpegs off his bike. It was one of the riders the other guys had pulled up the hill earlier, only to watch him ride off without helping them. He was looking the worse for wear and was on the verge of passing out – unable to pick his bike up or even stand. The guys took pity on him – again – and gave him some energy drink and then got his bike to the top of the pass for him.
The sun was getting low in the sky as we set off once more, and there was less than a litre of fuel left in my tank now. A few minutes later we came across a rider lying in the rocks with a suspected broken hip. It was one of the local hot-shots and the medi-copter had just arrived. He'd been waiting for three hours in the scorching sun, unable to move. It was a sobering thought.
At last we began heading down off the mountain and could see the refuelling point. As we rolled to a stop they told us we had houred-out. Many riders were in the same situation. Nobody complained – we were all too tired to ride on. So after 11 hours hard riding and just over HALFWAY around the proposed route of the 2009 Roof of Africa, my race was over!
As it turned out, further ahead the riders had all been stopped at the checkpoint at Rambanta. Just five riders made it to this point – still only two-thirds of the way round the course.
The organisers had expected the leaders to complete the entire course in seven hours, but New Zealander Chris Birch was the first to appear at the two-thirds waypoint after ten solid hours of riding. And he was 40mins over the original cut-off time. Just four more riders rolled in after him.
Quiet Night In
The restaurant was quiet that night. In some ways I was lucky I was back at the hotel. Many riders simply ran out of fuel, energy or daylight and spent a very cold night out on the mountain. A friend of ours – Laurie – told us that he'd abandoned all hope of making it back in the daylight and was picked up by locals who showed him real hospitality: homemade beer, fresh bread, and warm blankets.
Riders continued to trickle into the fuel stop prior to Ramabanta and were sent back by road – arriving back at the hotel long past midnight. Among these was former three-times winner of the Roof, Lawrens Mahoney, who retired due to exhaustion.
Back at the hotel, stories continued to circulate about injury and hardship. Three bikes had been lost, falling off the mountain, including one which tumbled all the way to the river below. The rider of the Kawasaki I had seen wedged in the rocks earlier in the day had only managed to save himself from further injury by clinging perilously to a small bush. And another rider came back the following day to rescue his bike after a five-hour trek by donkey, which he'd traded for his boots and helmet.
Were they really going to start the final day with just five riders? I went to bed exhausted but slept very little and got up at 4am to check the official notice board – still hopeful of starting the final day.
But it was not to be. At midnight the organisers had taken the decision to shorten the next day's route and allow back into the race anyone who had made it as far as the petrol stop before Ramabanta – ie the one after where I'd been stopped. Oh well, no need to hurry breakfast then.
Monkey Business
So later on that day three of my pit crew and I went riding – just for fun. We went up the famous Baboons Pass – about an hour on a bike, but several days in a 4×4, apparently. The top, at nearly 3000m, offered awesome views. It didn't seem too hard, but there again I hadn't had to do the other 150km that went with it that day.
40 riders started the Saturday but few would make it all the way to the end of this epic race. We drove to the finish at Roma Bridge and waited late into the afternoon for the leaders to arrive.
Chris Birch had started first that morning, but with the amended route not having been correctly programmed into his GPS, had been forced to follow route markers. Unfortunately for him he had arrived at a crucial junction before the marshal who was supposed to be directing him on the shorter route could get there. As a consequence he went the wrong way up Bushman's Pass. By the time he realised his mistake and returned to the start he was over an hour late and had used crucial reserves of energy.
The organisers – realising their mistake – allowed him a new start time, and off he headed once more, to tackle the course again! At the finish, news was reaching us that factory BMW star Andreas Lettenbichler was leading on the course, but that his BMW had cracked a case and was on borrowed time. And sure enough, less than 10km from the finish line, the German's luck ran out when his Beemer cried enough, robbing him of a podium finish.
More than ten hours after they set off, the first bike came into sight at the finish line. Top South African rider Jade Gutzeit on another BMW was leading on the course, closely followed by Kiwi Rory Mead. But then to everyone's surprise a 300 KTM came wheelying down the track, crossing the line with a rolling stoppie. It was Chris Birch, who, despite having started over an hour after everyone else, and having also ridden an extra part of the course, had overtaken everyone up to third place!
Results were sorted and on corrected time after 20hrs of racing, third place was awarded to Jade Gutzeit (BMW), second to Rory Mead (Yamaha), but in first place – a full two hours and 13mins ahead of his nearest rival, was defending champ Chris Birch (KTM).
After three days of rocks and pain only 26 riders were classified as finishers in one of the most gruelling Roofs in the event's long history. It's certainly one of the most amazing and unhinged races I've ever entered. But would I do it all again?
You bet I would. Because despite the mayhem and difficulty of this year's race, I'd be the first one to go rushing back if I had the chance. It's a bonkers race and the organising left a bit to be desired this year, but as an event it's one I've just got to go back and finish…
Without Whom…
Thanks to all the people that made this adventure possible: Kriega, Docklands Riders, Pro-Carbon Racing, Paul Green Tyres, Jim Aim Motorcycles, Acerbis, Dr Shox, to my daughter Jemima for the lucky pictures she made me. And a special thanks to Anthony and his family, Paul, Dom, and all the others who made me feel so welcome and supported. Without them it would have been impossible!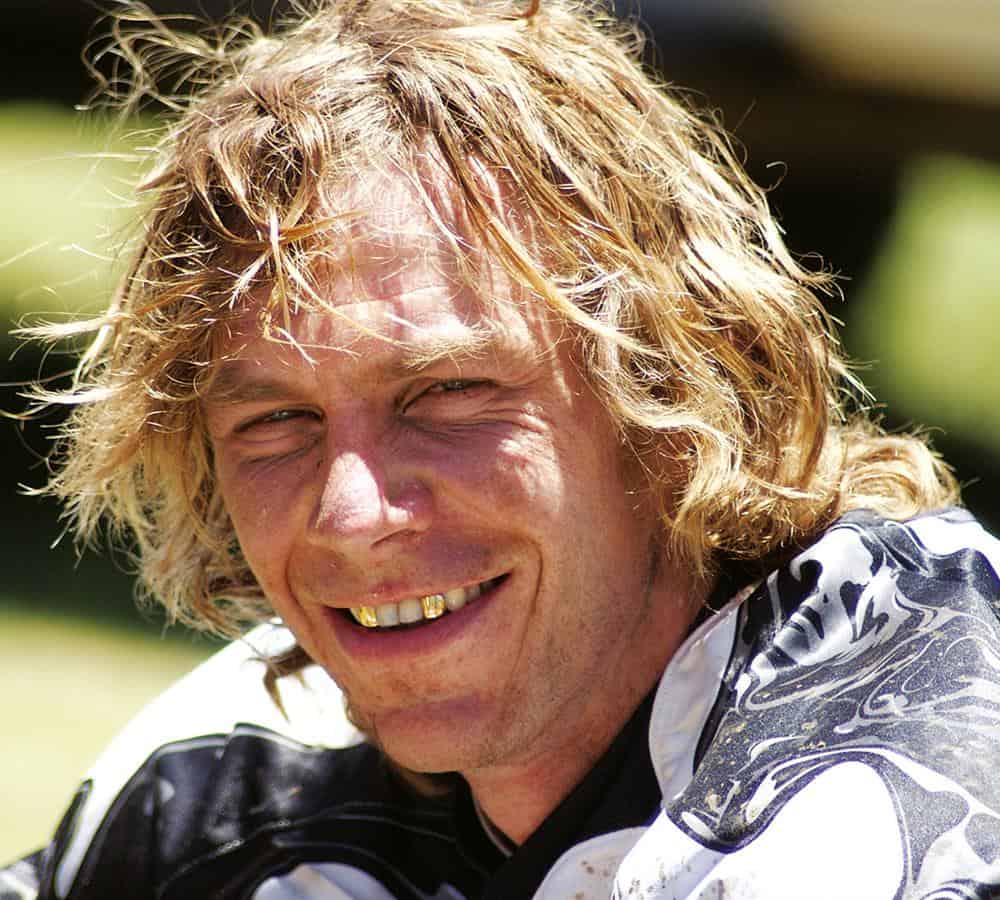 Salty Rode
40-yr old expert rider Chris Salt is a true dirtbiking enthusiast. Originally from Buxton, the distinctive gold-toothed and tattoed racer now finds himself at the centre of the Metropolis where he co-runs the Docklands Riders 'Project' which features the world's first inner-city extreme enduro track!
A two-time finisher of Romaniacs and the Tough One, he also lists finishes at Weston Beach Race, Le Touquet and La Course Infernale on his riding CV. Partner to Dakar racer Tamsin Jones as well as father to Jemima, he's best known to Team RUST as an infectiously enthusiastic extreme rider and all-round good bloke…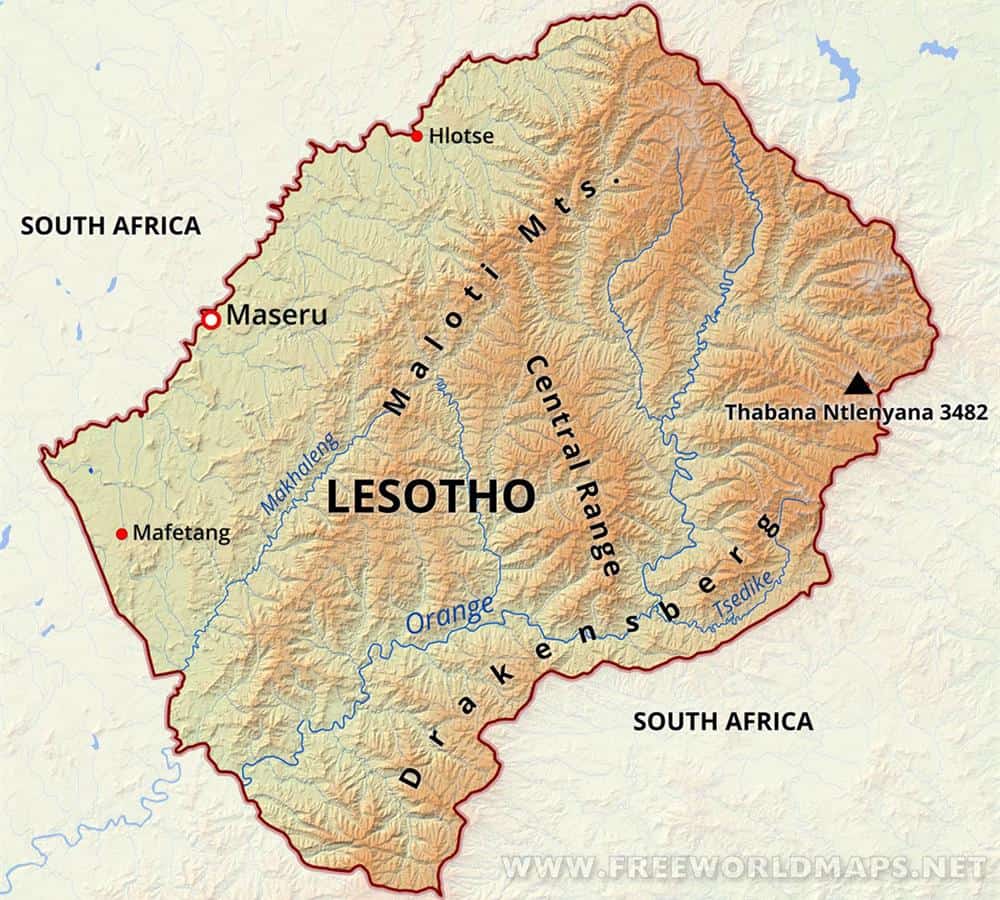 Where is Lesotho?
Once a British colony, Lesotho (pronounced Les-su-tu) is known as 'The Mountain Kingdom' owing to its elevation (even its LOWEST point is a heady 1400 metres above sea level) and its many peaks. Some 30,300 square kilometres in size, it's a land-locked country completely surrounded by South Africa, with SA's Eastern Cape and Kwazulu-Natal regions on the south and east, and the more central Free State region on its north and western side.
Although the populations of cities such as the capital, Maseru, are growing there's little doubt that Lesotho is a particularly rural country, with the majority of its two million citizens living in outlying villages. Sadly, poverty is rife, as is HIV with one of the highest rates of infection in the world.
Thanks to its mountainous location, Lesotho isn't ideally suited to agriculture, and its main exports are diamonds and textiles. However, its biggest money earner is water – or 'white gold' as it's become known locally – with the huge Lesotho Highlands Water Project set-up in order to supply South Africa with water, generate hydro-electric power, and help the country to develop. Oh and it's also home to the world's toughest enduro… The famous Roof of Africa!