RIDE, RUN, ROUND-THE-WORLD
words & images: Andy Dukes
THE MARATHON RIDE
RUST has been following Brit desk-jockey-turned-adventurer Andy Dukes as he's taken a year out from work, family and everything to take on his Big Ride – a round the world ride of a lifetime. Andy set off in March 2017 with the intention to ride six continents and to run a marathon in each. His story has unfolded in RUST issues 18,19,20, 22, 26 and 28. Now we catch up with Andy just as he's come home, journey complete. Question is: did he hit six from six? Did he see the world?
How time flies. The last time we caught up with Andy Dukes on The Marathon Ride was in late summer 2017 (Rust#28) where he was just about to arrive on the Australian stage of his round-the-world riding and marathon running odyssey. Well, he's already made it the 'long way' back home via the USA and is back at his desk in the UK, from where he brings us up to speed with his trip of a lifetime…
It's hard to believe that this time last year I was sitting in this same chair in my cosy little office, literally crapping myself about the global overland journey that lay ahead – and how completely unprepared for it I was. And yet here I am, some 40,000 kilometres, 25 countries, five continents (not six!) and 10 months later, safely back home with no money and no job but enough memories to last a lifetime. I've seen so much I could write a book (I won't) and learnt a thing or two along the way, too much for a simple feature. So instead I'm condensing my experiences into little nuggets of traveller-wisdom so if any of you out there are planning a similar adventure, I'm hoping that you can benefit from reading about where I went wrong – and occasionally got it right…
SLOW DOWN BOY… Not that I'm going to get this chance again… but if I ever did, then I would take a lot longer to do a ride of this magnitude. In hindsight, I guess it was a little ambi – tious to attempt to compete in six mara – thons on six continents – and ride to them all – but in the end I did five on five, so I'm pretty happy with that anyway, and the South American stage will just have to wait.
As a journalist my life revolves around deadlines (we need them to function – just ask editor JB) and true to form, I gave myself plenty of deadlines on this journey, which certainly made it a tad frenetic at times.
In brief, I left home last March, turned out of my drive and headed east, knowing that my first deadline would be at the end of May – the Kuala Lumpur marathon – some 11 weeks, 18 countries and 18,000 kilometres in front of me. Following that was the Australian Outback marathon in July, the South African Mandela Marathon in August, Berlin (my 'European' mara – thon) in September and then Las Vegas, USA, in November. These deadlines meant that I had serious distances to cover and something to aim for each day, week and month; however I often wondered what I was missing by not taking an interesting looking turn, or staying an extra night in a crazy town or just pitching my tent and enjoying a rest day. 
That said, how many of us can afford to take three or more years out of our lives to do a trip like this, because that's at least how long you'd need to really get a deep feel for most of the places you're passing through. When I look back at photos from countries like Iran, Bhutan, Laos and Vietnam, I'll never forget those tough miles and incredible people – but when I look back to India, then you'd have to pay me a lot of money to stay a day longer than I did!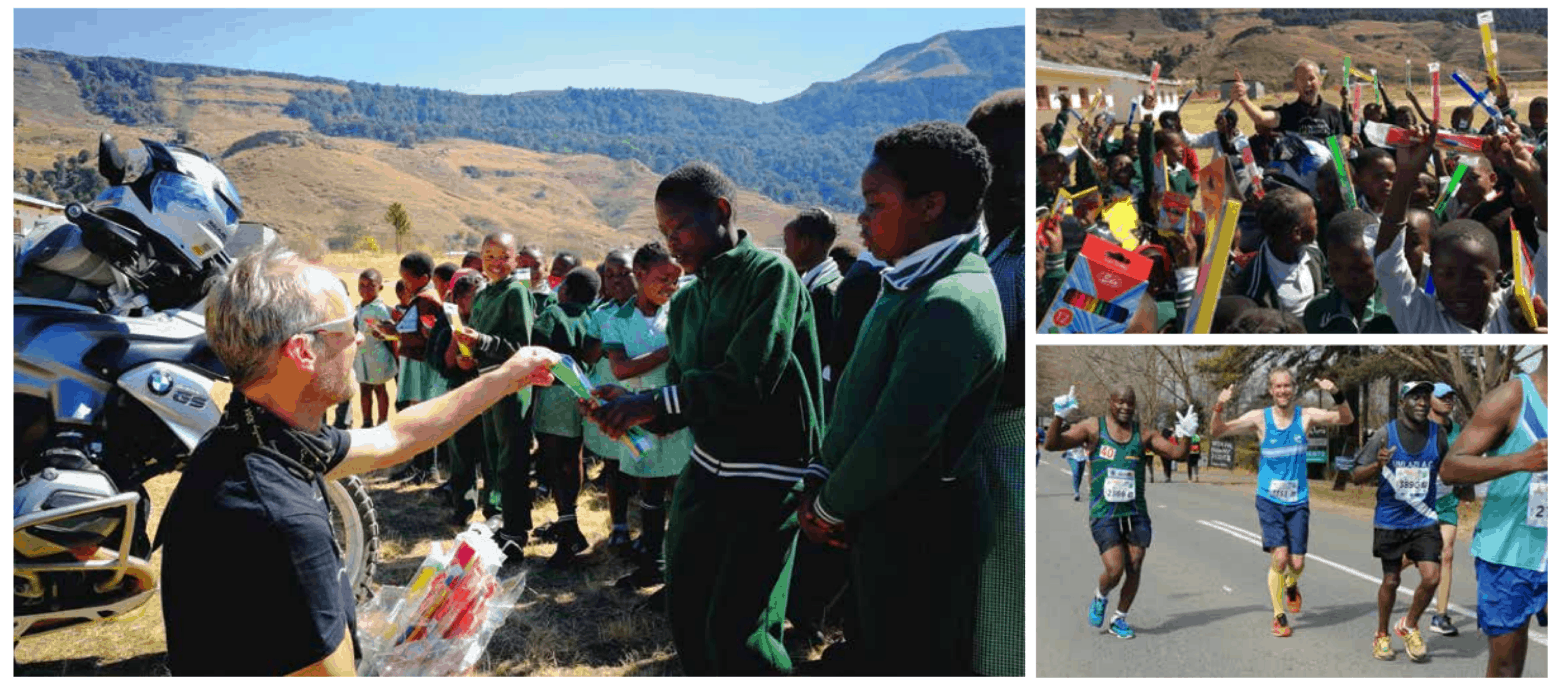 IT DOESN'T HAVE TO COST THE EARTH I've just tallied up approximately what it cost me to do this round-the-world ride and it has come in at somewhere around the £25,000 mark. This includes all the equipment I needed to buy (apart from the bike and rider clothing), several flights home to my family, some extortionate shipping and 
logistical costs but also fuel, food and lodging. For sure, this is a lot of money when taken in isolation but I be – lieve it's incredible value for money when you consider that you can actually ride around the world for the same amount you could lose in depreciation in a single year buying a posh car. To put this in perspec – tive, a new Land Rover Discovery costs from £46,000 to £65,000 and that's be – fore you've put any 'extras' on it. A decade ago, I handed back a company BMW X3 to my employers, spent £1800 on a beatup 11-year-old Discovery and vowed to put the money I saved annually on company car tax into my travel fund. Fast forward 10 years and those yearly savings went a long way towards paying for this trip.
YOU DON'T HAVE TO DO IT ALL IN ONE GO… I know I've been lucky to wangle a year out to escape on this ride, but if a long trip's not possible due to financial or family commitments, then why not attempt a RTW journey over several years, or even longer? 
You could conceivably ride from Europe to Asia in a few weeks, then ship your bike home and return to work to raise more funds for the next stage of your trav – els. In Asia, with it becoming increasingly difficult (and expensive) to ride overland through certain countries on foreign regis – tered bikes, there's definitely an argument for buying or hiring something locally and travelling as light as possible anyway. 
Australia and the USA have plenty of flyride options, as do South and North Africa (although not the huge bit in-between!). Who knows, maybe there's a great story there somewhere – 'around the world in 25 years on 25 bikes'?
COULDN'T DO WITHOUT… For sure, I met some motorcyclists on the road who had 'all the gear and no idea' but there were some items and accessories that I found indispensable to my trip and well worth mentioning.
Airhawk Seat I can't tell you how good this comfort seat is, with its dry flotation technology that minimizes numbness and painful pressure points on long rides. I don't have much natural padding on my backside so always suffer if I'm in the saddle for a while. But the Airhawk allowed me to just keep riding and I also used it underneath a towel as a pillow when camping, as well as on longhaul flights, because those economy class seats are just bad news for me. The Airhawk folds up to nothing when deflated but put some air in, strap it to your seat and it can literally double the distance you can ride.
Cruz roll-up BMW toolkit Having a bunch of pro-grade tools designed for BMW bikes and fitting in such a small roll-up pouch was a godsend,
especially when putting the bike back together after it had been partly dismantled and crated for shipping. This RoadTech B1 toolkit also includes tools to deal with many of the non-standard fasteners that are found on BeeMers, such as female star bolts and hex keys. I couldn't have done without it – and not just me either, as it was used several times to help others in need.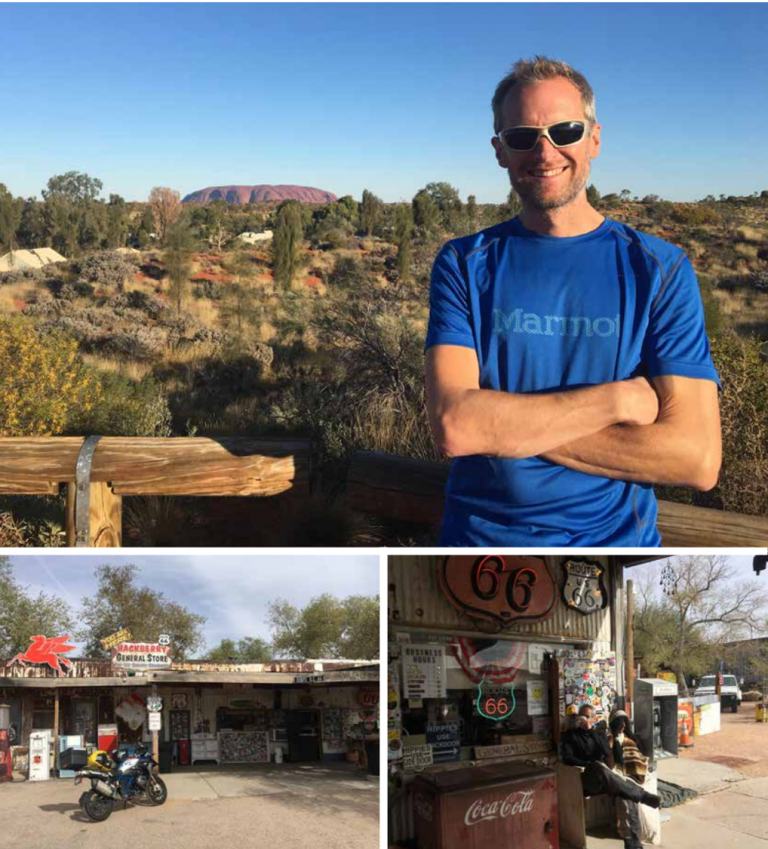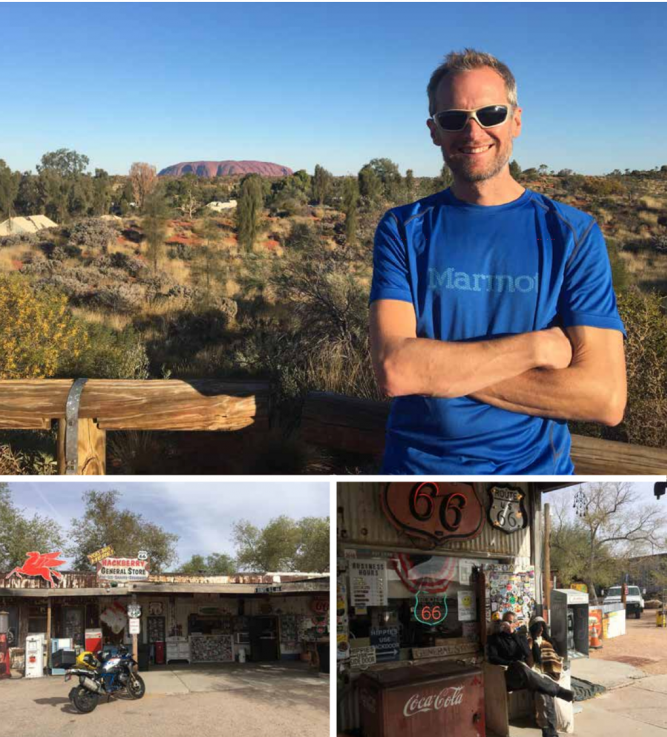 Micro-start battery/mini tyre inflator I wanted to camp as often as possible and get out into the back of beyond so having this small personal power supply gave me a lot of confidence. Small enough to fit in a large pocket, it was not only able to charge my electronics and be used as a torch inside a tent, but it is also capable of jump-starting a vehicle and – with the mini-compressor accessory – inflate your tyres after a puncture or if you've let the pressures down for off-road riding. For the space it takes up, it can save your arse, big time.
SENA 10C Bluetooth camera and com – munication system I spent a lot of money on a GoPro Hero5, but the SENA was the camera I used most, simply because it was attached to my helmet and so easy to operate while on the move. I was able to quickly grab video whenever something interesting was happening, as well as take photos while simultaneously filming and not having to stop the bike to access my cameras. I never used its four-way intercom function or FM radio, but it was very good for Blue – tooth-ing tunes and voice directions from my iphone. The video quality is excellent and the photos are acceptable too.
Wunderlich handlebar muffs They ain't the prettiest but I wouldn't be without them on a global ride. If you can't keep your hands dry and warm then you're in trouble, and heated grips just don't work well enough for me. These waterproof muffs completely en – case your gloves – whatever their size – meaning that no moisture or wind-chill can penetrate. Anyone who has ever tried to put wet gloves back on, for example at a fuel station, will know that as soon as the lining comes away, they're ruined. These all but eliminate that problem and make your gloves last a lot longer too.
Wunderlich screen spoiler I had no idea what a big difference such a small piece of plastic can make. I'm a tall guy and frequently suffer from wind-buffeting but this bolt-on piece of German genius allowed me to sit co – cooned in still air on my F 800 GSA at around 75mph (120km/h), thus elim – inating the need to even wear earplugs. An added bonus was that it also kept most of the nasty flying insects off your visor too. I forgot to pack this item for my USA stage of The Marathon Ride and I really missed it, as the wind roar increased, I felt colder and I had to frequently clean big bugs off my visor. Well worth the modest investment.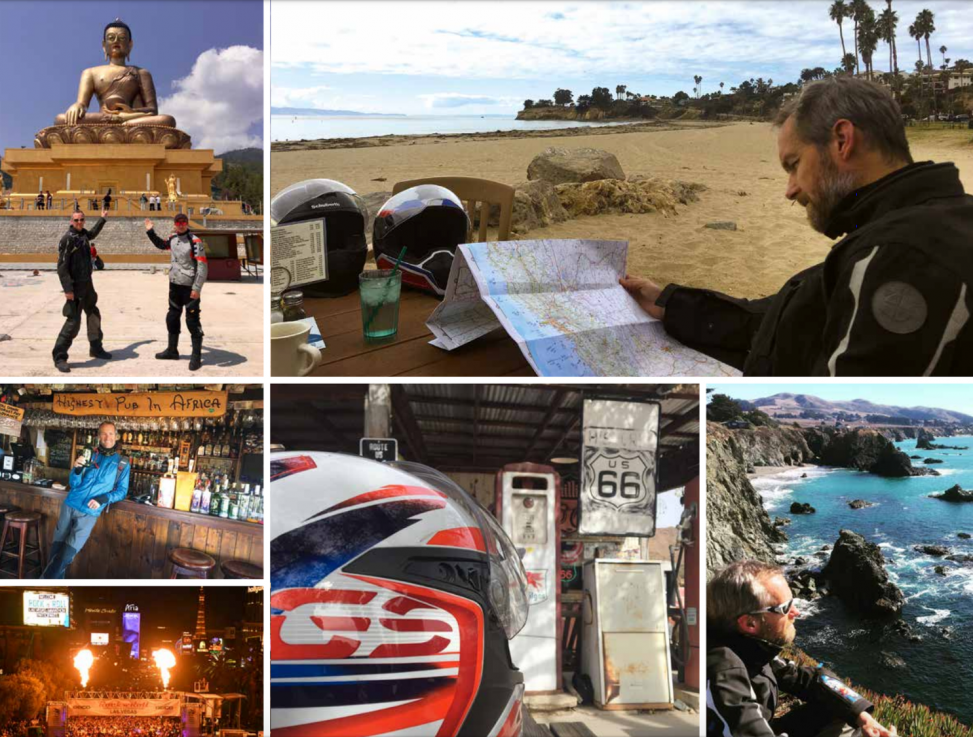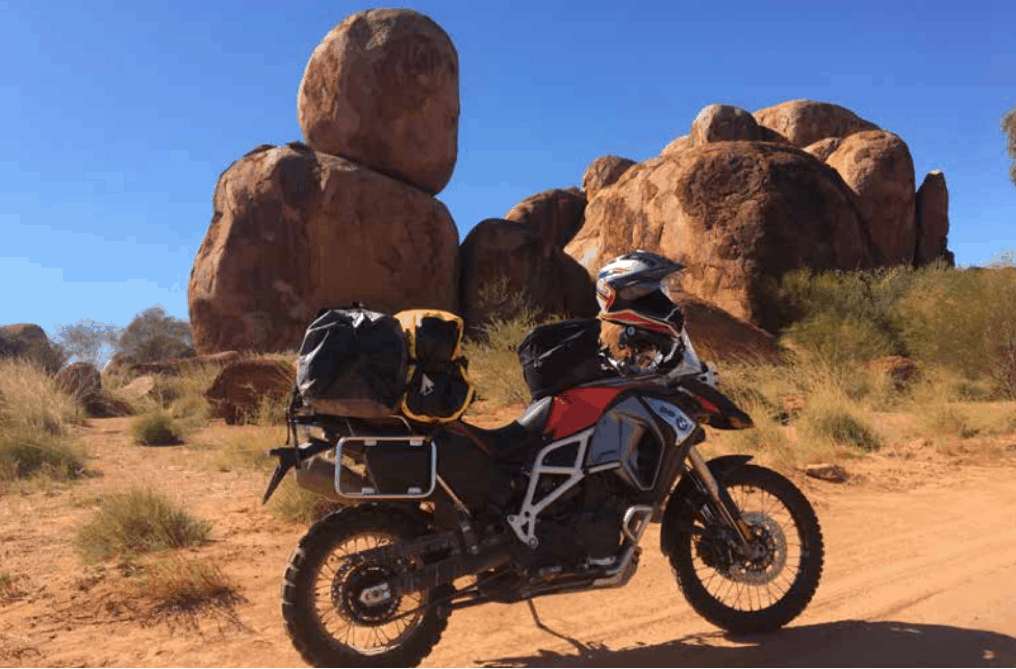 Keis heated clothing If you've ever been really cold on a bike, there's just no way to get warm properly while riding, so you have to avoid getting chilled in the first place. Because I've very little body fat (due to the marathon run – ning) I had to be really careful about this so invested in a heated jacket and gloves from Keis. Connect a cable to your bike's battery, simply plug-in and you're ready to go. With adjustable heat settings on the fly, the feeling of warmth flooding around the upper body, hands and feet is incredible. Let me tell you, there's no need to stop riding for winter if you use this kit – and I used it throughout Europe and even into Iran, in southern Australia and northern USA. When you're warm you can keep riding for much longer and your concen – tration levels remain high because you're not distracted by the shivers and shakes. A no-brainer, in my opinion.
Waterproof bags These dry bags are indispensable for round-the-world travel, camping, canoeing or any kind of activity where you are living outdoors all of the time. I actually took two on this trip (one from SW-Motech and one from Touratech) and they kept all the kit inside dry, clean and secure, which is all you can ask really. They are not the eas – iest to lug through airports, but tie one on your pillion seat and they'll not only keep your kit moisture-free in the worst tropical storm, but also serve as a pretty decent backrest too.
Marmot Bolt tent Apart from in Asia (which was dirt cheap) I camped wherever possible so having a decent tent was paramount. This excel – lent 2-person tent from Marmot weighs in at just over one kilo, can be erected in a few minutes and folds down to almostnothing. It was just large enough for me, my sleeping bag, roll mat, rider equipment and bags. Furthermore, it never leaked and still looks like new even after nearly a year's worth of abuse.
Don't try to save money by buying a cheap tent, sleeping bag or roll mat because a decent night's sleep is priceless when daily riding conditions are long and tough.
EnduroGuard rider gear:  This adventure touring suit ain't cheap but like most things in motorcycling, you get what you pay for and BMW Motorrad has certainly come up trumps here because the quality is outstanding. I've lived in this suit for nine months and while it doesn't smell too good, it's never let in any water, has been incredibly comfortable and robust, and is showing no signs of wear and tear. In truth, it was too heavy and hot to wear in the tropics, but I was so glad of its warmth, protection and weather-beating qualities in the rest of the world. One suit can't do everything perfectly, but the EnduroGuard came pretty close I can tell you.
WHAT I COULD HAVE LEFT AT HOME? It's easy to say this now but there is a long list of items I carried around the world but never used. However, if circumstances had been different, they could have become absolutely indispensable to the trip's continuation, but I was fortunate in that I didn't have any mechanical breakdowns, punctures or serious crashes.
Put another way, the BMW GS bikes I rode never let me down, used any oil or had any parts that needed replacing. Here's the list anyway. Spindle tool, Bead-Pro bead breakers, tyre levers, axle wrench, rim shields, radiator repair, Baja no-pinch tyre tool, puncture repair kit, brake and clutch levers, clutch cable, brake pads, engine oil, spare inner tubes, epoxy metal repair compound, air filter, sterile first aid kit, cable lock, camping chair, umbrella.
WOULD I DO IT AGAIN? In an instant! I've got a feeling it's going to be quite tough to adapt to 'normal' life again, whatever that is, but there's no doubt that a RTW journey is life-changing. I began this trip with a healthy thirst for travel and put my faith in the BMW GS I was riding and in friends and contacts in various places along the route, whom I could ask for help if I needed. And you know what, it worked! There were so many things that could have gone wrong, but they didn't, even though I now know for sure that I couldn't have done it without the kindness of strangers. But when I look at the big map of the world in my kitchen — decorated with photos and red pins from the UK all the way to Indonesia, through Australia and Africa and America — I feel a great sense of pride in the journey I've made. Make no mistake, riding a motorcycle around the world is physically and mentally exhausting, and this takes its toll as the months go by. The marathons would have been a hell of a lot easier in my mid-twenties than at the tender age of 47, but I completed them all and in pretty good times too. I might never run competitively again, but I know I'll always ride