When a small piece of heaven broke off and landed on earth, they called it Tuscany. Richard Bott went there, rode dirt bikes and ate his own body weight in awesome Italian food…
The phone went… It was the Editor ringing me his secret bunker deep in the heart of the Metropolis. I could only just hear him over the slap of massage oil, the rattle of cocktail shakers and the sound of what appeared to be females giggling in the background.
It was good news… and not just for him. I was to catch that Sunday evening's flight to Pisa. Hire a car and make my way to Gaiole in Chianti. There I would meet Augustin De Chassy, a Frenchman who runs dirt bike tours in Tuscany. Augustin would supply me with a bike and spend two days showing me the best that the region has to offer. Fired up with enthusiasm I hit the phone and cleared tedious work commitments from my diary. My brother who had to cover some of my commitments was almost very understanding about it. He did however ask me to bring him back a truffle.
And so late on Sunday night I met up with Augustin in the Gaiole petrol station and followed him out of town and up a gravel track to the Pozze Di Lecchi hotel. He unloaded the bike I was to ride from his van and arranged to meet me at 9am the next day.
Morning revealed the Pozze de Lecchi to be a beautifully situated restored watermill. Breakfast included four types of bread, a choice of six different salamis and an innocent-looking-but-hand-shakingly-strong coffee. In the car park I could see the Beta 400 just waiting for me. With its sexy Italian-styling and triangulated red frame it seemed the perfect machine for a Tuscan adventure.
A rattle of two-stroke announced the arrival of Augustin on his Gas Gas. Tall, enviably slim, and wearing full motocross rig he loped into the dining room and joined me for breakfast. Some of the non-Italian guests gave us sideways glances, observing our muddy boots and bike kit, but the locals were unconcerned. I imagine they would've been much more bothered by something that was tasteless or of poor fit.
Augustin explained the characteristics of the different types of bread. This was to be the first of many conversations we were going to have about food. I asked about truffles but was told it was still too early in the year. My poor brother was going to be disappointed. After breakfast our guide Valtez Giovanuzzi came up the hill on his KTM thumper. Valtez was introduced as Popeye which was pronounced 'Popi' in an Italian (and French) accent. We all hit it off straight away.
The first trail of the day led up the hill behind the hotel through terraces of fruit and olive trees. At the top we joined a short stretch of connecting tarmac. I noticed Popi's bike was weaving merrily up the road. The rear tyre was doing its best to leave the rim. And at any speed over 40kmh the back of his bike started hopping up and down.
Whilst I was observing this from a prudent distance and wondering what effect it was going to have on the day's riding, Popi suddenly dived left onto another trail and set off downhill like a lizard down a wall. By taking a few risks I just about managed to keep up. The track was rocky with randomly placed lumps of limestone. Any mistakes were going to hurt.
Bursting through a mass of brambles we arrived in a wooded valley with a stream running through the bottom and then further along was a picturesque river crossing. Climbing back out of the valley onto more stony trails we eventually arrived at a vineyard and Popi pulled off the track and rode up between the rows of vines.
It was pretty much harvest time and each vine had immaculate bunches of grapes hanging at perfectly spaced intervals. We stopped to try a few and (being French) Augustin explained to me the different varieties of grapes; and which wines each was used to make. The grapes were delicious. And the local farmers were obviously pretty relaxed about motorcyclists riding into their vineyard and guzzling the crop. I could only wince as I imagined the reaction of an English vineyard owner to a group of dirt bikers appearing on his land and sampling the produce. Presumably the same reaction an Italian vineyard owner has to English wine, I guess…
More varied riding followed before we came to San Gusme where Augustin had organised our lunch stop. As a pasty-skinned Englishman who had been in rain-swept Hertfordshire the day before, it seemed almost magical to be sitting in the sun on a Tuscan hilltop.
A gentle breeze rattled the fig tree behind me and lifted the sweat off my face. I leant back in my chair and had a few affectionate thoughts about the rain pouring out of the gutters at home… 'Hmmmmmmm'.
I was just explaining to Popi how I could no longer drink at lunchtime when a large beer arrived. I contemplated the drips of moisture beading the glass… the golden colour… the perfectly proportioned foamy head; and started to drink it. A carafe of wine and several plates of locally produced food arrived. Each of them was delicious.
All the while Augustin and Popi kept up an informative commentary about the origins and merits of everything we were eating. The starter or Antipasti included white beans on Bruschetta. Popi began to run through the merits of beans. His depth of knowledge was so extensive that half way through I began to take notes:
Zolfini. These have their skins removed and are an excellent bean with a lot of taste.
Cocchini. Small round and cheap. Not for best.
Borlotti. A bean of no account. Okay for feeding to prisoners.
Cannelini. A noble bean. Large and with a floury texture.
Faggolini Verde. A fine bean. Best prepared simply as a salad with a good oil and vinegar.
Next came the Primo Platte. This was a choice of two pastas: one made with cheese and one with meat. As well as his native French, Augustin speaks excellent English and Italian. Using this ability he takes care to include everyone in the conversation. It was fascinating to be able to access Popi's vast store of knowledge on Tuscan food, motorbikes, farming and building. Talk ranged from how to regenerate oak forests to why Italians are so good at bathrooms, and ten on to the different walks of mules and horses. A horse will place his feet very carefully 'precismo', whereas mules on the other hand trundle along like a wobbly toy and plonk their feet down anywhere. This day was turning out to be as surreal as it was enjoyable.
At one point we were discussing how, unlike the French, the Italians hardly ever demonstrate. I asked when was the last time something had caused them to take to the streets? 'Berlusconi' came the reply.
Trying to be funny I said: I liked his injection-moulded hair. The comment caused uproar. I think it must have been mis-translated as 'I like Berlusconi' There was a tirade of invective about Berlusconi and his corrupt government. Augustin leant over and said 'Don't get him started on Berlusconi.' I managed to lower the temperature by concluding that his hair was ridiculous, his behaviour unspeakable, and the quicker he ended up in prison on a diet of Borlotti beans, the better.
Having finished the Primo it was explained that it was considered normal to have a secondo or meat dish. I looked at Augustin in horror. I was stuffed. Luckily it seems that on a riding day it was considered prudent to have a 'light' lunch and so we concluded with cheese and coffee.
The riding in the afternoon was through ever more beautiful and varied terrain. At one point we scaled a long and technical climb up the side of a mountain towards a huge radio mast. There was a bar at the top where we were going to have a drink. Popi told a story of how a group of riders had taken refuge there during a storm. The building was hit by lightning and the zinc topped bar became a fireball. By sheer chance no one was touching it at the time.
Sadly (or perhaps luckily) the bar was closed when we got there so we set off down the other side to a village with a winery. No one seemed to be around but Popi found some cans of orange and we sat outside the church enjoying the view. A tractor and trailer arrived laden with grapes, followed by a four-door pickup containing of the rest of the family. Popi and Augustin were warmly greeted and everyone – myself included – began unloading the crates of grapes.
Amid much laughter and banter we began carrying them through the courtyard into the winery. There the grapes were unloaded into a stainless steel machine that pumped grape juice out of one end and sqeezed the pips, skins and stalks out of the other. The juice ran through a four-inch pipe down into a headily fragrant cellar lined with wooden barrels.
Refreshed and slightly high from the fumes, we finally left the village and took a trail into another valley. Popi had promised us a notorious downhill known as the Pian di Lecconi. At first it appeared fairly easy. But just as I was getting complacent the track corkscrewed around a rock and began to drop at about 45 degrees. Rain had washed parts of the track into a deep groove so there was no escape. Popi disappeared downhill leaving me to foot my way down.
Eventually I caught up with him at the bottom smiling happily and enjoying a cigarette. We began the climb back up the other side and pretty soon the track degenerated into shattered sandstone bedrock. Some of the unavoidable steps were perhaps 18in high. Popi and Augustin were able to maintain traction and vanished uphill, but I resorted to hopping off the bike and shoving on the handlebars.
This would have been fine in the UK where most inclines are pretty short. This one was immense and I was soon exhausted. Poppi and Augustin reappeared, insouciantly riding back down the hill, to see what I was up to. Whilst I fought for breath under the shade of a bush I'm ashamed to say Augustin rode my bike up the next hard section whilst I climbed after him on hands and knees.
For a while the track got easier and I began to hope we had escaped the worst. Then it got worse. There was a discussion about going back which raised my spirits, but Popi explained that it was either this way out or back up the Pian di Lecconi. Slumped over the handlebars I gloomily noticed it was late afternoon and showing signs of getting dark. I prepared to dig deep.
Augustin sidled up and explained that my technique could be improved. There was actually plenty of grip on the sandstone, particularly if I got my weight over the back wheel. He also told me to stop pushing. With a hill this size I would only wear myself out. Taking Augustin's advice I found I could make progress. It was still tough and I was not as fast as the others, but I got to the top feeling pretty pleased with myself.
We headed back on easier tracks to Popi's house in Barbischio. There we left the bikes and Augustin drove me back to the hotel and we assembled for supper later in the evening. The meal included a primitive grain that had been found in Etruscan tombs, apparently, followed by a fabulous pasta with truffle oil. This had come about because I had been asking about truffles all morning.
The third course was steak prepared simply and then we finished with Tiramasu. Each course was accompanied by a carefully chosen wine. At that time and place it was one of the best meals I have ever eaten. Most of the ingredients were simple in nature, but had been prepared with such tremendous care and thought as to make them truly memorable. Great trail riding days are made of this.
Secondi Platte
The following day we started in good time and rode steadily through beautiful scenery on a variety of trails: some fast and flowing and some tight and technical. The previous day's efforts having forced me out of my comfort zone, my riding was far better and I was finding it much easier to keep up. We stopped for a drink in Volpaia – another postcard pretty fortified hill top village. Paula the attractively-shaped owner of the bar was welcoming and caught up with events with Popi and Augustin in loud Italian, punctuated with gusts of laughter. When it was time to leave she refused payment. More laughter, expressions of gratitude and hugs and kisses all round. As a fully paid up Englishman I don't really do physical contact, but to my happy surprise I found I was able to access my inner Italian and just go with it. It all felt rather good thanks to Paula.
We followed Popi out of Volpaia and along more trails to what he promised was a notorious climb called Sala – presumably named after the Italian multi-time world enduro champ Gio Sala. After the usual innocent looking start, things soon got pretty serious. However, using all that I had learnt over the previous days I never felt that the climb was going to defeat me and emerged at the top, knackered but triumphant. It was cheering to see that the others were lying on the ground in suitable attitudes of fatigue, and had presumably also found it rather testing. I leant the Beta on a tree and joined them in the leaf mould.
Returning to Gaiole we stopped at some mineral springs above the Pozzi de Lecci. Emerging directly from the hillside the stream descended downhill in a series of picturesque pools. I decided to get in. Popi said the water came from the depths of the mountain and was far too cold for swimming. I stripped off and jumped in anyway. Followed by Augustin. To anyone used to the English seaside the water was actually very pleasant. Having spent two days being comprehensively out ridden by Popi it was gratifying to wallow in the water and enjoy his shouts of horror from the bank.
Lunch was back in Barbischio. After a clean up at Popi's house we walked down the hill to the restaurant. Again great care had been taken over the ingredients and their preparation. Over lunch Popi told us how he had made his Forno or wood-fired oven. Apparently, as well as many other culinary uses, it makes perfect pizza.
He described how to make the dough for a pizza base. If I understood him right it takes about three hours. I commented that in England we would just buy one from the freezer section in the supermarket. This heresy was greeted with disbelief. Just in case I have failed to make the point: food is central to everything in Tuscany.
Replete after another sensational meal Augustin philosophised that for him his trips were as much about the food and wine as the riding (how he manages to maintain his racing-snake physique is beyond me). And that his next ambition was to persuade his customers to bring along their partners.
Whilst his customers went trail riding there was plenty for their other halves to do. As well as enjoying the glorious hotels and food there was walking and horse riding for the energetic, and serious shopping for the brand orientated. And World Heritage culture throughout the region. This includes Sienna and Florence which are both a short drive away.
Although I was just there to sample the flavour of a tour, Austin's normal holiday package is a five day event which includes four days riding and a rest day in the middle. However a look at his website www.augustin-de-chassy.com will show that there are a number of other options and in different parts of Europe too.
The riding can be as hard or as easy as you want it to be. Personally I enjoyed having my envelope stretched, but there is no need to do that if you don't want to. All this obviously costs more than a trip to Wales. However if you are feeling flush… want to include your partner, and love your food then this has to be an ultimate dirt bike holiday.
If you really want to tick ALL those boxes then it is possibly the only way to do it. Just don't go asking for truffles out of season…
Thanks to: Augustin de Chassy, for his boundless enthusiasm, generous nature and for making me feel right at home. www.augustin-de-chassy.com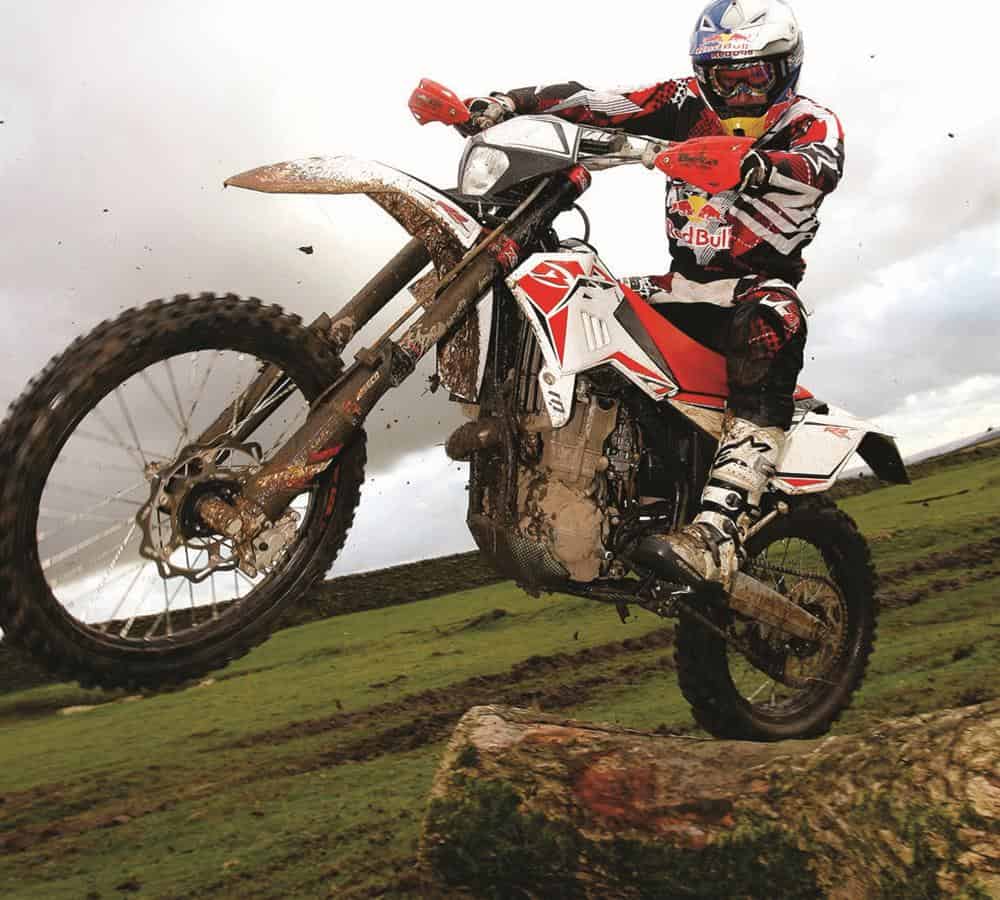 Beta 400
Augustin had arranged the loan of a Beta 400 from a local bike shop for me. Beta are based in Rignano just south of Florence. Long involved in trials bikes they started making a range of enduro bikes a few years ago using their own engines. Augustin explained that whilst out riding he would often come across the factory development riders testing the new bikes around Gaiole.
Apparently an ex-KTM engineer was involved in the engine design. The 400 motor is a peach. Fitted with a conventional carburettor it had tremendous pulling power and could find grip in impossible situations. On occasion I would find myself having to roll off on steep climbs in second gear, unable to knock it down into first, (left leg otherwise engaged) I would despairingly open up the throttle again from a standstill expecting it to 'Phutt out'. There would a brief rattle of detonation from the motor and off it would go again hauling up the hill.
On faster going there was also an awesome top end. When we had one of our short forays onto tarmac I took the opportunity to open it up in the higher gears and my guess is that it would show 38 to 40 hp on a dyno. Sadly the designers also seem to have taken inspiration from KTM in the form of the concrete seat.
I am sure if you are an expert, with an arse you can bounce a golf ball off, giving your all in a special test, it may make some sense. But when you are an unfit 50 year old (whose arse can pretty much envelop a golf ball) out for a day's trail riding, then a seat with all the give of a plank of teak starts to spoil the fun. Seat aside, I really enjoyed riding the Beta it's a lovely balanced package…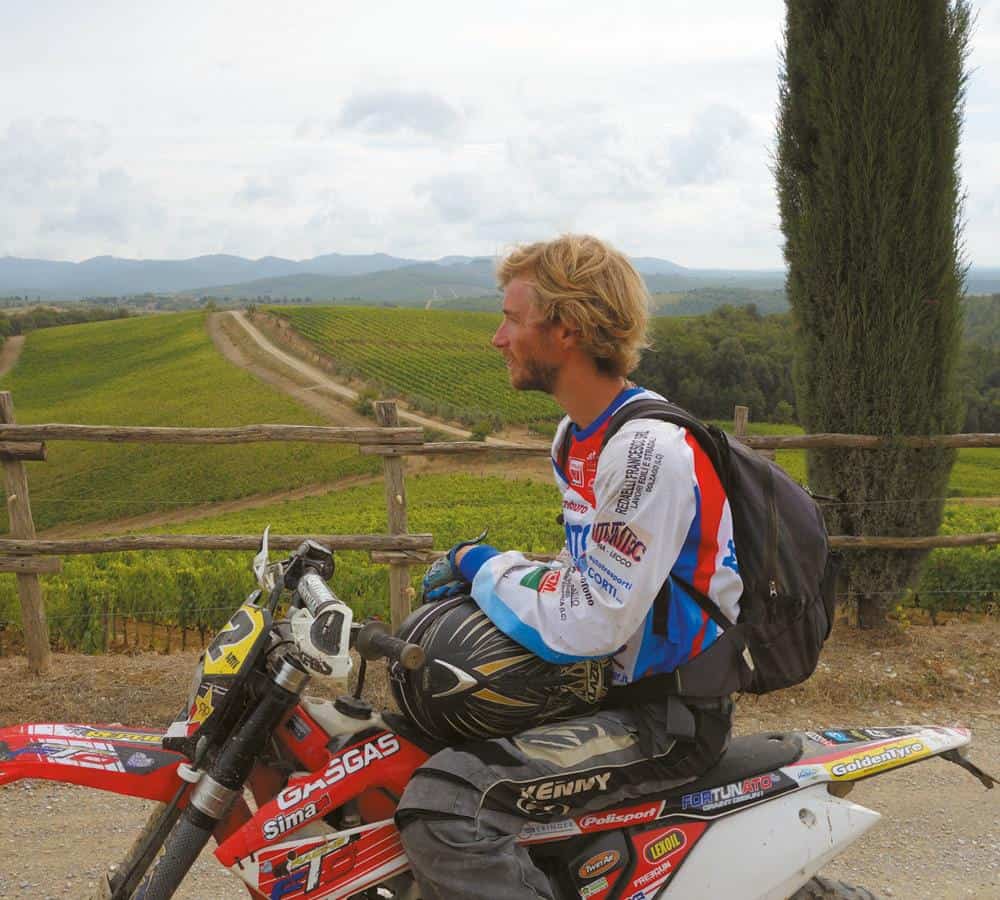 Augustin de Chassy
Augustin comes from Burgundy in France. Some years ago he interned with a wine maker in Chianti. During the initial interview he noticed the abundance of inviting tracks in the area and when he came down to start work he brought his dirt bike with him. Pretty soon he met the locals including Popi and started riding with them. Fluent in Italian, Augustin appears to have become an honary local. Everywhere we went he was greeted warmly and his depth of knowledge about the region its wine, food and inhabitants is extensive. He clearly loves Tuscany and goes out of his way to communicate this with his customers. As well as trail tours he also does road bike trips. There are even short 60km Vespa tours which are more about eating your way from town to town, before hopping back on your scooter and loping pleasantly along enjoying all that the Italian countryside has to offer….