The VW Amarok has been out for a few years now. All the more reason why it would make a good dirtbike hauler. If you're in the market for what our American cousins call a Sport Utility Vehicle, read on…
Well it took a little while to arrive, but Volkswagen's chunky-looking Amarok has finally joined the ranks of the Sport Utility Vehicle market, with their own take on the four-door, king-cab pick-up.
As you would expect the Amarok brings VeeDub's design principles and brand values to this ever-expanding marketplace, although the new vehicle isn't manufactured in Germany as such, but actually built in one of VW's more cost-friendly plants in South America.
Like most of the SUVs on sale in the UK (new-style Mitsubishi L200 excepted), the Amarok is a handsome beast in a solid, square-jawed type of way with just the right balance of friendly face to offset its testosterone-pumped profile, thereby allowing builders up and down the land the opportunity to 'sell' its appeal to their missus'. "Honest love, it's just like your Golf, only bigger."
And bigger (than other SUVs) it most definitely is – at least in the rear bed: Dubya are claiming the new Amarok has a 'best-in-class' cargo area of 2.5 square metres and that it's the first SUV to be able to accommodate a Euro pallet (sideways) between the rear arches. Handy if you're into parallel importing your bikes direct from the factory. From our point of view it's certainly got a useful-looking cargo deck which – on the one we tried – came with an excellent anti-slip coating along with floor anchor loops – perfect for strapping down a pair of muddy dirt bikes. Good work.
In common with the latest range of Transporter vans, VW has equipped the Amarok with their all-new 2.0L common-rail TDI engine offering a choice of either 120 (single turbo) or 160hp (on the biturbo lump). Whereas most SUVs rely on fairly old-fashioned, slow-revving 2.5L and 3.0L units to do the lugging, the smaller, punchier and much more free-er-revving (but also more efficient) VW motor offers equivalent amounts of power and torque (on the twin blower model at least) but vastly improved fuel economy and emissions, which given the cost of diesel and road tax in the UK, is bound to be an important factor.
And certainly the Amarok feels as sprightly as the best performer in this class (the 171hp Nissan Navara), though you wouldn't call any of them nippy. It can't quite match the Navara for its towing ability though (2.7tons as opposed to the Nav's 3.0t), but interestingly the twin-turbo 2.0L Amarok has both greater torque and a higher towing capacity than the THREE litre Toyota Hilux – not to mention better fuel economy.
Naturally enough the VW comes with switchable 2/4WD (hi and lo ratio), but its trump card off-road is a plethora of clever goodies such as Hill Hold Assist, Hill Descent Control, switchable anti-lock braking and other neat stability features, more commonly found in upmarket SUVs like the Discovery etc.
Underpinning all this cleverness is a conventional ladder chassis and bolt on body, with independent suspension up front, whilst at the rear there's a solid (live) rear axle supported by old-fashioned, rugged, leaf-springs (the same as all SUVs). This doubtless aids its off-roadability (more about which later); helps make the Amarok easier to repair in out of the way places and also keeps the price down for cash-strapped consumers.
It does NOT however, help its ride quality, and means that like all SUVs, the best way of taking your mind off the unladen ride quality would be to imagine giving a lift to someone like Imogen Thomas, and picturing the benefits! Don't expect it to ride like your family car because while your Zafira can carry the dog and two bicycles, it can't carry two dirt bikes and all the kit needed for a weekend of dirty fun!
Interestingly there is an alternative. Because if you happen to be a private individual that wants to purchase one of these vehicles as a family car – as opposed to either a company owner or self-employed individual seeking to purchase one (partly) for the tax benefits (commercial vehicles are taxed differently), then you can opt for the permanent 4WD model which comes with softer springs. This brings the vehicle's carrying capability down to 750kg rather than just over a ton (more than enough to carry dirt bikes and kit). And whilst you won't be able to claim commercial vehicle rates of tax (because of the lower carrying capacity), you will at least save on dry cleaning bills as you won't spill half as much coffee over your passenger's clothes.
And so we come to a vital part of VW ownership… the interior. Generally speaking commercial VeeDubs are a cut above the rest of the fleet vehicles out there thanks to higher grade plastics, better build tolerances and smarter dials. Furthermore the Japanese (who build most of the 4×4 pick-ups to rival the 'Rok) aren't really reknowned for their car interiors, so the Amarok should score highly here. And in truth it does: the dials are beautiful, the switchgear good and the plastics relatively high quality, whilst still maintaining that wipe-clean feel of a commercial pick-up.
I say 'relatively high quality' because although you feel like you're getting your money's worth, this vehicle isn't really an 'upmarket' pick-up in the sense of off-roaders like the Volvo XC range – it's far more utilitarian and low-spec than that, and whilst air-con comes as standard across the range, what you're really getting is a better appointed version of what's already available, as opposed to a truly well-appointed pick-up.
I don't mean to be rude to the Amarok, it's a nice place to spend time amid the countless dials and soft-damped switches, and it's WAY better than most of the existing SUVs in terms of its interior, but only because the bar hasn't been set very high. It doesn't break new ground in terms of interior styling and it isn't special in the way a modern car (costing less money) can make you feel; you don't feel spoilt, merely content with what's around you. I'm sure that's because, mindful of its role as a workhorse, VW have avoided using softer plastics and buttons that might trap dust, and instead built it out of washable smooth materials. It's way better than the recycled lego brick interiors of all the Jap opposition, but it's no Audi.
The driving experience is typical of any of these SUVs: big, slightly unwieldy, more truck-like than car-like thanks to rolling around on giant wheels, tyres, heavyweight springs and long-travel suspension, though it is easy to handle once you get used to its size. That new four-cylinder VeeDub lump is nicely refined though – smooth, quite willing and extremely quiet. But there's a fairly notchy gearbox to contend with (something that may be addressed in future I understand), a firm clutch and slightly lifeless controls. It's easy to drive, park and steer thanks to hugely assisted power steering, but that does make it feel slightly remote from the road at times.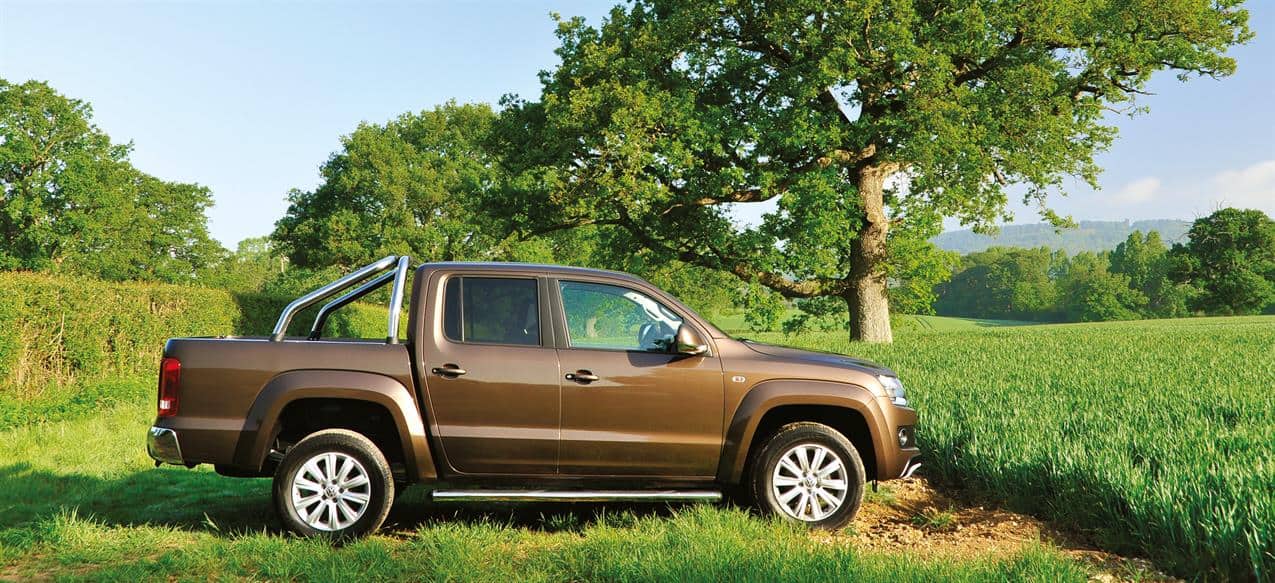 Nevertheless the Amarok is pleasant enough to drive – there's six gears to choose from (so-far no automatic) – and all the while you can be reminded of how sensible your choice thanks to the digital econometer that illuminates the dash. If I'm honest then I'd have to say the Amarok felt a bit unremarkable on the road – comfortable and refined yes, but not particularly memorable. But on the other hand that already makes it a full step ahead of the opposition which is mostly remarkable for all the wrong reasons (sluggish, noisy, thirsty, unwieldy, uncomfortable – Navara excepted). Don't misunderstand me, I love these chunky Tonka Toy pick-ups, but you don't buy them for their on-road dynamics.
Which neatly segues into the Amarok's off-road versatility. Now for the most part this is something we rarely get chance to try out on these machines – not least because most owners never use them to their full potential. In fact as long as we can get our dirt bike into a muddy field and then out again when it rains then we're happy bunnies. The beauty of vehicles like these is that unlike a van (or car with trailer) they have the ability to lug a bike across a ploughed field without losing their propshaft. As a bonus you'll still be able to take the wife to work whenever they close Heathrow because of a sharp frost. And of course it means you'll never be forced to sleep in the spare room because you borrowed the wife's car to get you and your bike to a day's riding and returned it minus its exhaust system.
But should you decide you want to explore further off-track, it's nice to know the Amarok can handle it. We tried out a few steep, rutted off-road climbs, some serious descents and bombholes and was amazed at the Amarok's capabilities. Believe it or not you can select off-road mode (low ratio), point the 'Rok up a 1-in-1 climb and then take your feet off the controls and provided there's grip, the car will climb without stalling; sophisticated electronics ensures that the engine maintains sufficient torque to carry it up. Amazing.
Descending is the same – take your feet off the controls and simply concentrate on steering and the Amarok will handle the descent – no matter how vertical. It'll even do the same thing in neutral… and then if you give it a few more revs, it goes faster… in neutral (!), and then slows down again when you release the throttle. Stall on a steep slope and there's a hill assist that holds the car for a few seconds whilst you get it into gear and release the clutch – you don't have to touch the brake or handbrake! All frighteningly clever stuff.
Of course it works like a normal off-roader too, and no doubt there'll be people who baulk at the sophisticated electronics taking away too much control. I can't really comment on that except to say that I drove it both ways and it simply worked whatever you did. Oh and if you really need it, an optional locking diff is available as a (low cost) extra.
There are three trim levels to choose from: the Startline from £16,995 (plus VAT, or a grand more for the beefier motor) which includes electric windows, body coloured bumpers and all the off-road gizmology, plus a rubber floor in the cab. The Trendline from £18,995 (plus VAT) includes the more powerful motor but adds 17in alloys, body-coloured mirrors and handles, extended arches, fog lights, extra speakers, cruise control, leather steering wheel, uprated air-con, trip computer and carpets. And finally the EssexLine (sorry, Highline) which gives you chrome mirrors and a chromed rear bumper, 18in alloys, privacy glass, leather, heated front seats and a newly laid driveway – all from £21,575 (plus VAT).
As usual there's a whole raft of options available to customise your truck from chrome/stainless styling bars, hard and soft tonneau covers, hard top, sat-nav, load liners, tow ball, gearbox guard, lockable toolbox, iPod adaptors, you name it…
I liked the Amarok. A lot. It raises the bar in the SUV field and adds a dash of German desirability to the conservative pick-up market. That desireability comes in the form of not just solid engineering (Japanese manufacturers already have that base covered), but a trustworthy name with broad (classless) appeal – not to mention dealers up and down the country. I'll own up to a tiny bit of disappointment that VW didn't push the boat out and move the vehicle even further upmarket in the way that's happened with SUVs, because it would have distanced the Amarok even further from its utilitarian brethren.
In the end though VW have chosen to go with a solid 'me too' product that simply improves on the existing breed, and I can't say I blame them. Whichever spec you choose (provided it's got the more powerful motor), you won't be disappointed, because the Amarok is a great-looking, well equipped and extremely sturdy 4×4 pick-up, which while it doesn't really push the boundaries, is comfortably the new 'best in class'…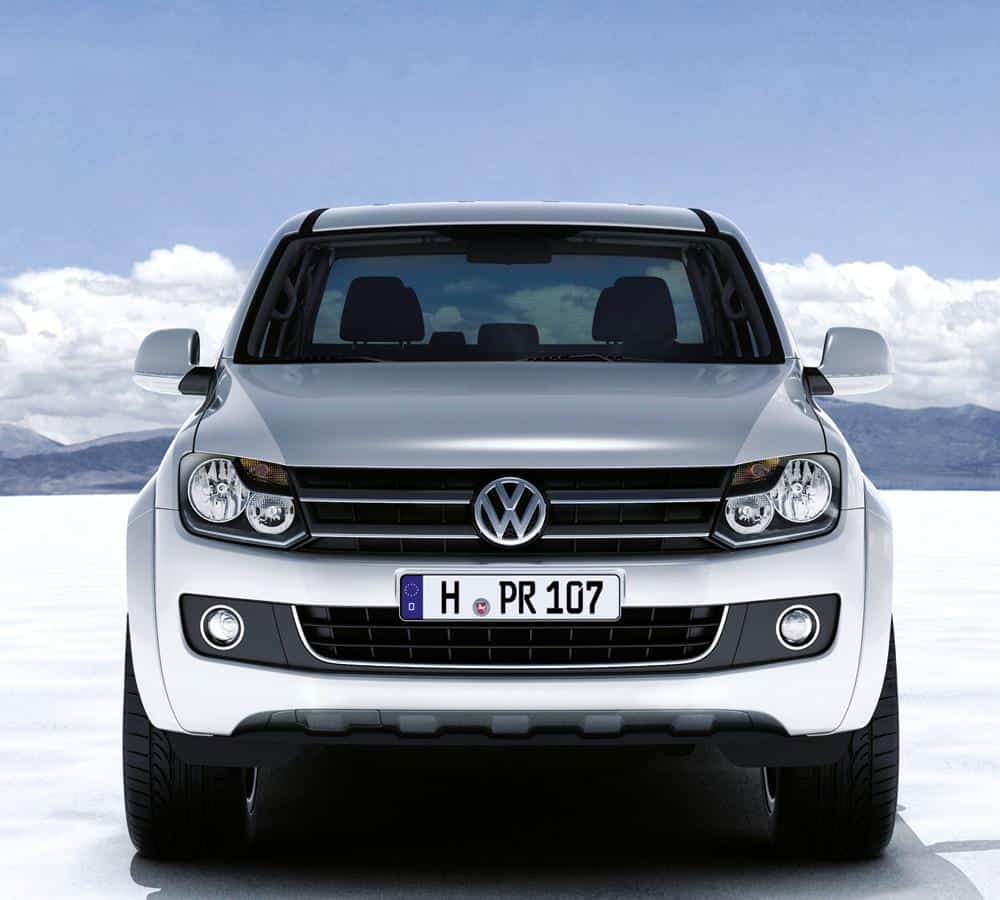 VW Amarok 4Motion (biturbo model in brackets)
Price: £21343 – £26839 OTR (At time of going to press)
Engine: 4-cyl common-rail, direct injection, diesel, turbo (& biturbo)
Capacity: 1998cc
Transmission: 6-speed manual with 2WD, 4WD & 4WD low-ratio
Power/torque: 120hp (160hp), 250lb-ft (295lb-ft)
Performance: 0-62mph 13.7s (11.1s), 100mph (112mph)
Fuel cap/range: 80L/600 miles
Emissions: Euro-V compliant, 199g/km, (209g/km)
Insurance rating: 7E (8E)
Unladen weight: 2065kg