Like the idea of riding an adventure bike off-road but put off by the thought of chucking thousands of pounds down the trail? Well there is another way. Follow RUST's guide to building a budget big trailie and you can get your dirt kicks dirt cheap…
Riding big trailies off-road is great fun. Why? Well firstly there's the perverse enjoyment of piloting a slightly improbable machine on the dirt. Which is inexorably linked to the second reason: that they make trails that bit more challenging. If you're becoming a little bit jaded riding the same old lanes on a 120kg bike with 12 inches of suspension travel then try 'em on a bike with 50 percent more weight, half the suspension and a full complement of bodywork. You might be surprised at just how good a big trailie can be on the dirt. In fairness, you might not think so when you've wedged 180-kilos of bike in a three-foot deep rut or sunk up to your waist in a wet bog, but in all other respects they really are a hoot.
But, and it's a 'but' that's as big as the bikes themselves, when you've shelled out the thick end of ten grand do you really want it scuffed and scarred from battling through the backlanes? Quite understandably, there's the resale value to think about…
All is not lost, however, as you can get your big trailie kicks for far less than a five figure sum. In fact, if you're shrewd and buy sensibly you can bag yourself a dirt-ready adventure sports bike for the price of a ten year-old enduro machine. Here's how…
The Small Budget
We're talking sub-£2000 here, maybe even under a grand, so modern Boxer Beemers and LC8 Adventures are right out. The XRV750 Africa Twin is a lovely looking 'rally rep' bike and would be a good candidate but they hold their money unbelievably well. You might just scrape a high mileage early 750 for two grand but most sellers seem to be asking nearer 3k for something that hasn't been to the moon and back. We even found one 20,000 mile, seven year old bike for almost five thousand. Ouch! And many of these bikes have lived their lives purely on tarmac so are going to be pretty tidy. You'll see some hefty depreciation if you start scraping those big panels!
Don't fear buying a bike with damaged cosmetics. You're going to drop the thing off-road at some point, so if you can save some money by buying a pre-scuffed bike then why not? Cracked plastics and scraped cases don't look good in glitzy showrooms so it's rare to find these bikes mingling on the polished tiles with the latest tackle – dealers will often either have them 'out back', sell them on to those traders who deal in the budget end of the market, or move them on quickly. Ask at your local bike shop, though you're more likely to pick up a cheap bike if you're buying privately.
More about this bike, above left, at the end of the feature…
Whatever you buy, don't pay over the odds for the popular colourscheme. There were some pretty funky paintjobs back in the '80s and '90s but no-one's gonna see it when it's clarted in mud, so you need to look past the bodywork, metaphorically… and physically of course. Check that the panels aren't hiding cracked, bent or rusted frame tubes!
There are a small number of dealers around who specialise in bringing secondhand big trailies into the UK from countries such as Italy and Greece, where big trailies are hugely popular and are used to bimble up the mountain to a hilltop bar with a svelte latin lovely perched on the back. Most have never seen mud, many feature pristine bodywork and low mileages, and as such you'll likely pay a hefty premium for what could potentially be considered a 'modern classic'. Still, there's no harm in asking if they've got something a little more 'weathered'.
Finally, there's the usual internet auction sites and online ad listings. You might just bag yourself a bargain, so regularly checking these websites is worthwhile.
As many big trailies have never seen dirt then you'll likely want to save a few hundred quid for some much needed upgrades. On top of that there's every chance that you'll need to replace a few consumables too. After all, we are dealing with bikes that are likely to be at least ten years old. So which bike do you buy..?
The Big Bike
Unless you find one 'pre-scuffed' or ready modded for the dirt then the 750 Africa Twin probably isn't the best option for a budget big trailie – they're just too pricey. However, the older 650 version can be had within our budget and should leave a few quid for some much needed upgrades. Or, sticking with Hondas, there's the less pretty early '90s Transalp or the dependable single-cylinder NX650 Dominator.
As we're talking about 'bodyworked' big trailies then Kawasaki and Suzuki have little to offer within our budget. Maybe a DR650RS, or a DR750/800? You could easily pick up a single-cylinder XF650 Freewind within budget but we'd suggest that you don't!
Similarly, the market isn't awash with European options. Anything too old or rare means that parts are likely to be an issue, and that's not just OE bits but upgrades too. Buying accessories for an old Transalp isn't TOO hard if you know where to look, whereas getting hold of stuff for an Aprilia Tuareg or Gilera RC600 might be! So if you fancy a Euro bike then there's always an early single cylinder BMW F650GS – tough and dependable if a little heavy – or the Aprilia Pegaso which shared essentially the same Rotax motor. If you've a little more to spend then 1100GSs can be had for around two grand.
And then there's Yamaha's air-cooled XT600Z Tenere or its water-cooled successor, the XTZ660 Tenere (not to be confused with the latest XT660Z, you understand). The third generation 3AJ is the 600 to have as it's the prettiest of the air-cooled Yams and also featured a number of engine modifications over the earlier bikes. Finding a decent one within budget might prove a tall order but it's well worth the effort.
And who could forget the Tenere's bigger brother, the 750 Super Tenere? The parallel twin 750 is more or less 'Yamaha's Africa Twin', though on the whole they are less desirable than the Hondas and therefore far more affordable. Buy one cheap enough and you might even forgive it its clunky gearbox!
The 660 could well be the bike to go for though, thanks to its (dated) good looks and super-strong motor. The liquid-cooled lump was the basis for a number of Yamaha rally bikes and also made its way into many single-cylinder road racers. It's tough and tuneable. In terms of value, the bike has also reached that point where it's not really going to get any cheaper and may even start going up in value soon, so unless you buy a lemon, blow it up, or completely trash it you're unlikely to lose too much money.
The Many Bits
The plan here is not to build a Dakar replica (though go for it if you want to spend that much) but create something that's much more suited to the trails than the standard bike. And that requires a few choice modifications…
The XTZ660 Tenere in the pictures belongs to Boyd Emmerich of trail company Overland Trail Tours. Boyd snapped up the Yam for a bargain £800 and spent a further 700 quid on getting it up to snuff and ready for the dirt. And the most important modification he made was?
'Tyres. And certainly a decent front tyre.' Running an aggressive knobbly front instead of a cat's paw trail tyre has a huge bearing on how a big trailie handles on the dirt. An enduro front tyre is best, but if you're looking for a compromise between off-road grip, tarmac traction and longevity then Dunlop's 908RR or 606 hoops are a good bet, along with the Michelin Desert or T63. For a little more road-bias, Continental's block patterned TKC80 takes some beating. Whatever you choose, make sure you fit a rear rimlock (you'll probably need to drill the rim in the process).
Take a look at the wheels themselves. Ideally, a tough set of aftermarket rims and hubs would be on the shopping list but that'd blow most of the budget in one go. So, assuming your wheels look pretty serviceable then get them re-laced with heavy duty spokes. 'My standard rear wheel started to fall to bits after just a couple of days off-roading,' remembered Boyd. They simply weren't built to cope with clanging such a hefty machine into Derbyshire rocksteps…
A suspension service is money well spent on such old units, and heavier forks springs will go some way to making the front-end a bit more suited to the rigours of off-roading. 'I fitted heavier progressive springs from Hagon', commented Boyd. Of course, you can look into swapping-out the suspension for that from an enduro machine – you might be surprised at what you can get to fit with the minimum of machining – but this can be a costly path to travel. So make the best of what you've got and, if they're not already on there, protect the forks with some plastic or neoprene gaiters.
Where you really notice many older trailies' road bias is in those areas where you make contact with the bike: the bars – often horribly low, made from steel, and running huge levers; the seat – heavily sculpted; and the pegs – small and gripless. At least two of the three need addressing.
If you're over, say, 5' 10" then you'll find that a set of risers are required to lift the bars from street settings to off-road readiness. Most dirtbike shops will be able to supply them and we'd suggest going for at least a one-inch rise. While you're at it get hold of a new set of alloy bars and some off-road grips.
Unless you can find some shorty levers or safely shorten the originals then a set of alloy-reinforced handguards are a worthwhile insurance against snapped levers. If you can't find any that'll fit around those monster standard levers then cut a small notch in the levers, about an inch or so from the end, with a hacksaw. You need to do just enough to weaken them so that they snap where you want, rather than right up by the perch.
Small pegs hurt your feet on a long day's ride and gripless pegs hurt your plums when your feet slip and you slam groin-first into the fuel tank. Dirtbike-spec pegs are a must! Sadly, you're unlikely to find too many people listing aftermarket footpegs for mid-90s trail bikes. But all is not lost. You'd be amazed at the level of parts 'interchangeability' between bikes of the same manufacturer, and even between different brands. Boyd upgraded the pegs on his Tenere with a pair he had kicking around in his garage. 'They're off a CCM 604', he reported, 'yet they bolted straight on.'
This approach does require a little bit of research, and unlike Boyd, we'd suggest that you start with bikes from the same manufacturer. But don't underestimate the benefits of decent pegs. A bit of work here is money well spent…
If all else fails, don't leave them standard. Universal weld-on footpeg extensions are available to give your feet much more purchase and a far bigger platform to stand on.
One of the crucial aspects to riding a heavy bike like a big trailie is being able to get your feet down. And on the whole, thanks to their deeply sculpted seats, this isn't a problem. Yet, if your inside leg allows, it's worth adding some extra foam to make the seat flatter and more dirtbike-like. 'Take it to your local car upholsterer and get them to give it a flatter profile and recover it', reckoned Boyd. 'It makes for easier sat-down cornering and only cost me £60 in total.'
Engine-bars are a wise investment to prevent damage when the bike hits the deck, and a headlight guard is also worth fitting so that you don't have to replace the glass lens when it invariably gets smashed by a stone. With a bit of web trawling or a phone around you should find one for most bikes, but if not a piece of clear Perspex or some metal mesh can easily be turned into a DIY cover. If your bike doesn't come with a bashplate fitted then, yep, you'll want one of those too. Just make sure it's heavy duty enough to withstand plenty of abuse because it'll be touching down regularly.
If the gear lever doesn't have a folding tip then swap it for one that does. The lever's far less likely to bend if the tip doesn't dig into ruts or take a hefty blow when the bike goes down. It'll help save damage to the gear shaft too. Once again, Boyd used a little 'cross-company' parts sharing and employed a steel folding lever from an XR600 Honda. 'It cost me 20 quid, and being steel means that it can be bent to fit if necessary [and back into shape when damaged]'.
While we're talking gears, it's well worth dropping the gearing if it hasn't been done already. Work on going at least one tooth down on the front sprocket if the bike is on road gearing to give a far more useable spread of ratios on the trails.
Right, that's most of the bolt-ons out of the way, now it's time to shed some weight. Many of these old bikes are simply 'built heavy' with over-engineered motors and hefty frames. Back then weight loss meant a 'shake for breakfast and one for lunch' not clever engineering or fancy materials. So ditch anything you don't need: pillion pegs, the plastic trim surrounding the cockpit, that kinda thing.
OE endcans often weigh as much as the Titanic's anchor and can be just as rusty. There are great weight savings to be made here but don't opt for anything noisy if you are going to junk the original. Boyd replaced the 'industrial smoke stack' on his Tenere with an aftermarket Arrow pipe bought from XT guru David Lambeth 01205 871945 www.davidlambeth.co.uk and the 660 burbles along with a lovely muted exhaust note.
Before you ditch the rear rack and pillion grab handles consider how handy they'd be, not just for strapping things to but also to use for hauling your bike out of the mire when it does get stuck. If it's a really hefty hunk of metal can you get away with a little light trimming?
Finally, as we touched on earlier, you may well need to do some general servicing too. Rusty bolt heads, chewed screws, sticky cables, tired brakes and notchy bearings are all par for the course on an old trailie so replace where necessary. 'Watch the wheel bearings,' advised Boyd. 'They're the first things to go once you start using them off-road…'
The Big Ride
Engines such as Yamaha's single cylinder 660, Rotax's old 650 and KTM's previous generation LC4 are great old skool dirt motors, blessed with the kind of thudding power delivery which digs into the dirt and finds traction where even modern enduro bikes will light-up their tyres. Power-to-weight ratios are generally pretty miserly, so don't expect off-the-throttle wheelies in third gear, yet there's still enough mumbo to cruise comfortably at motorway speeds or grunt up big climbs.
If the mellow power delivery is easy to appreciate on the trails, the lack of ground clearance and the lowly suspension travel require you to readjust your riding if you've just jumped off an enduro weapon. Whilst awkward in deep ruts, perhaps the biggest stumbling block on a big trailie is ascending or descending rock- or root-steps. Sometimes you simply can't drop off a boulder like you can on a competition bike without bringing the sumpguard down with a resounding 'clang'!
You soon learn to live with, or ride around, these foibles and adapt to a new riding style. Depending on which bike you opt for, the front-end geometry may take some getting used to and feel a little vague on the dirt compared with a smaller dirtbike. This, and the physical size and weight of the machine, means that when things start to get tricky steering with the rear can be an easier option than putting all of your faith in the front tyre. Riding big bikes on the dirt is fun, picking them up isn't!
So if you're up for some light tinkering and like the idea of an adventure bike which doesn't cost a fortune (who knows, you might even make some money on it!) then a bargain big trailie is worth searching out. It might just open up a whole new world of dirtbiking…
Thanks to: Boyd Emmerich at Overlander Trail Tours in the Peak District for his help with the feature. Alongside their usual green lane tours OTT run dedicated big trailie rides, as well as the occasional foray into North Africa. For more info call Boyd on 01298 83748 www.overlandertrailtours.co.uk
There are also many more issues of RUST Magazine for your perusal just click on the link and enjoy! https://rustsports.com/issues/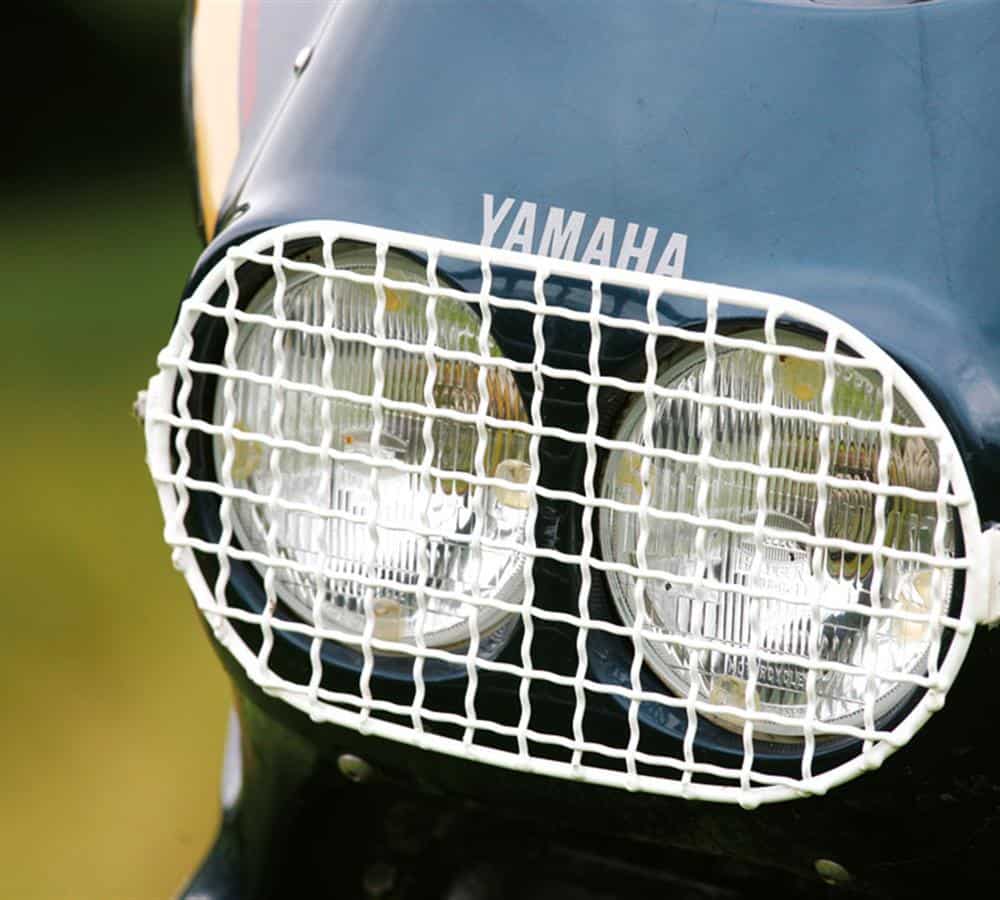 The Ultimate All-Rounders?
One of the great things about big trailies is that they really do fulfil the dual sport role. More civilised on the road than most enduro machines or small-bore trail bikes, you don't need to trailer your bike to the trails, even if they're the other end of the country. Plus they're great on the lanes, for UK rallies, road trials or even the odd gentle hare 'n' hounds if you're feeling brave!
The bodywork gives some protection from the elements (which is why we didn't suggest unfaired bikes such as the TTR600 or XR650L), making them ideal for overland excursions, and the often rugged 'n' simple build means that if they do go wrong they're straightforward to spanner. 'With a good service I'd ride it to Morocco without hesitation', stated Boyd of his Yamaha, whilst thinking ahead to his forthcoming trip to North Africa. And having spent a couple of hours riding it around the Peaks the bike does have that unburstable and unhurried quality that makes it feel like it'll go on forever.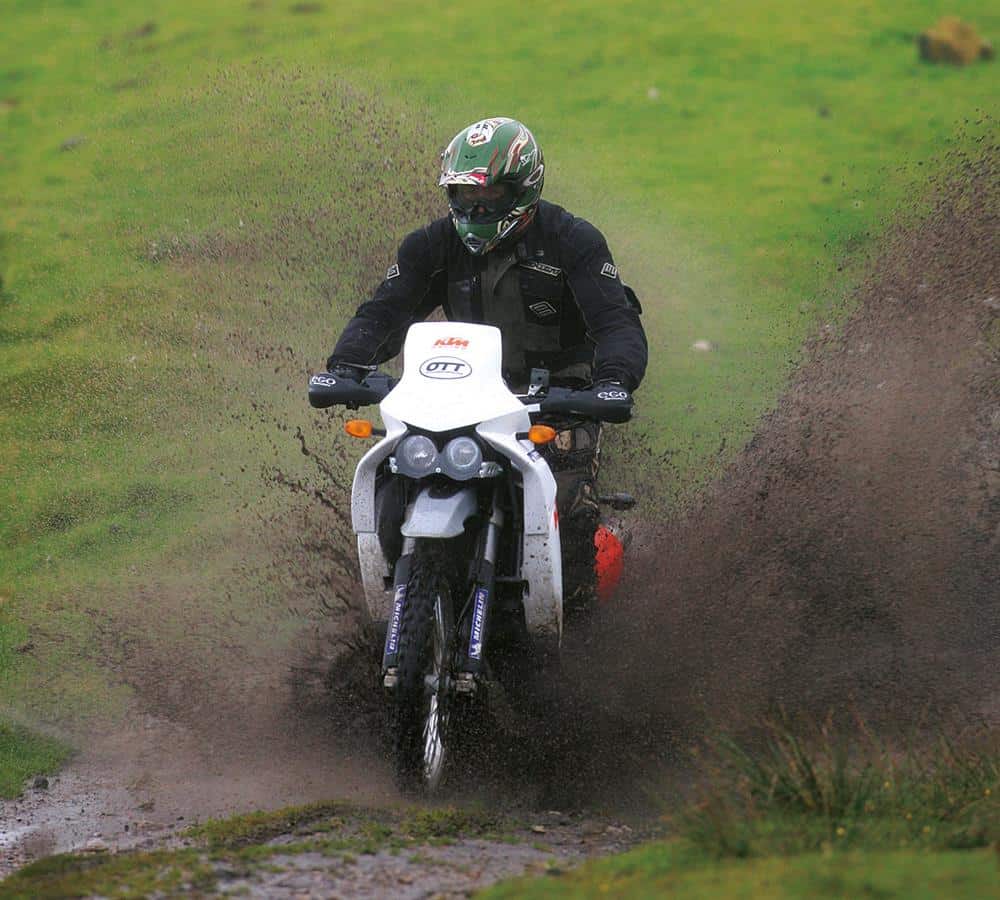 If You're Lucky
… you'll pick up one of these cheap – a KTM 640 Adventure. It's essentially a factory built version of what we're trying to achieve – an off-road ready, big-bore big trailie. And now for the bad news… Very few were brought into the UK, and barely saw the showroom floors. So they command decent money.
There's no denying that the old LC4 motor (as opposed to the latest version) is rough and vibey, but it's a well specced bike (WP suspension, huge tank etc), there's plenty of knowledge out there about how to fettle them, and they exude a rugged (if a little quirky) rallybike cool.
Boyd quickly snapped up this example to replace the Tenere as it's the bike he was original looking for, but at the time found that they were all too expensive. The bike is currently in the midst of a 'cosmetic upgrade' – having lived much of its recent life unwashed and largely unloved in a London bikepark – though the sweet-running KTM is in generally fair condition and was purchased for just £1500 – the same money he spent on getting the Tenere to where it is today! Keep your eyes peeled, because there are big trailie bargains out there!
If you're also interested in something bigger, check out the 2003-2012 KTM 950/990 Adventure Buyer's Guide https://rustsports.com/metal/2003-2012-ktm-950990-adventure-buyers-guide_3968.html