Back in 2015 Gas Gas faced financial ruin. But with a new owner and a new enduro model for 2018, Gas Gas is back in the game. However, back stories mean nothing in this business, the question is: is it good enough?
Let's not beat around the bush, Gas Gas has purposely played centrefield with their new EC/XC300. There's nothing radical to find here, no new innovations – this is tried and tested technology combined with top spec components to make a very efficient, very effective racing motorcycle.
And arguably that is a good thing. This is the rebirth of Gas Gas, brought back from the dead, in very short time, by a highly successful young entrepreneur. The future promises exciting developments, but first the phoenix from the flames that is the Gas Gas team (not just this bike) are putting down solid foundations, creating a new EC that most certainly will work, will please and hopefully will win – on the track and in the showrooms.
LIKE THE OLD, BUT NOT…
We rather liked the last of the old Gassers, the last EC300 with the perimeter frame was a sharp looking tool and while it gave best to KTM in the showrooms, in the right hands – for instance Danny McCanney in EWC – it could ace the Austrian favourite on the track. It must have been tempting to simply remanufacture that bike, stick on an attractive price tag, throw in a few tempting accessories and see how the sales worked out.
But the dynamism of the new CEO, Ivan Contreras, and the probable desire of the leader of the new enduro's development, Miki Arpa (a former European Enduro Champion), to see his own ideas made real, resulted in an all-new machine. And created in just eighteen months – drawing board to production line – you can but imagine how intense the development work must have been.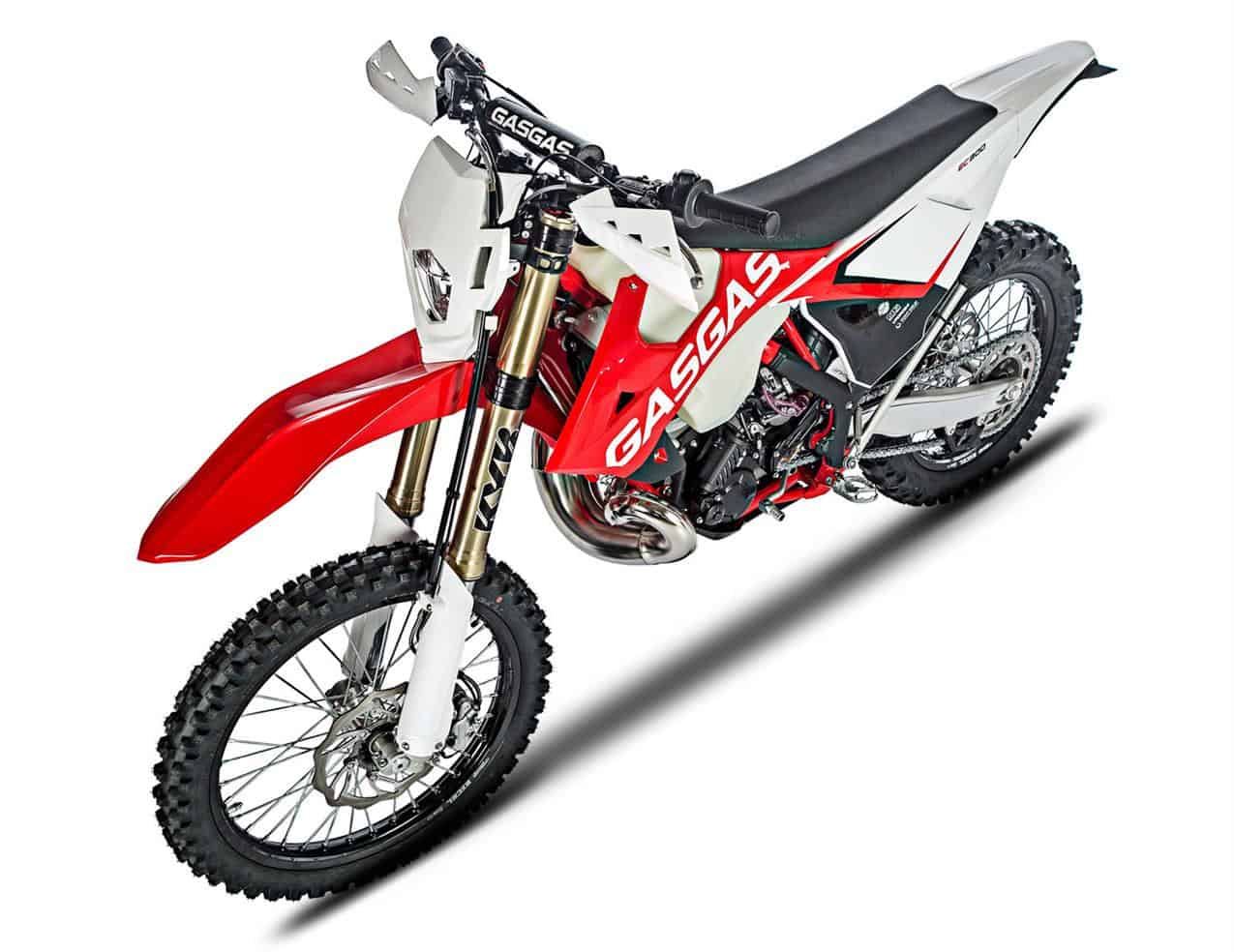 So while Gas Gas had for a long time gone their own way on chassis design, with said perimeter frame, this time around Gas Gas have resorted to the tried and tested central backbone type frame, in traditional 25CrMo4 chro-moly steel – a material Arpa says suits enduro better than aluminum. In the process they made a substantial 20% saving on the weight of the frame. Aluminum is used for the sub-frame, though, and here too Gasser have made significant savings, dropping 15% off the previous weight, while also creating a bigger airbox (with a no-tool cover/panel removal). The swingarm is new too, this one being 7% lighter than its predecessor. These weight savings contribute significantly to the now superlight 102kg that's claimed for the XC300 (the EC300 weighs 105kg).
What you'll notice fairly readily is how the frame and swingarm now resemble that of a well-known Austrian brand, particularly the crossbrace to the top mount of the shock and the swingarm. We mentioned this to the commercial manager of Gas Gas and he smiled coyly. Yeah, this is no bad thing, this gentle nuance of familiarity – especially to such a quality brand. And just as KTM needed to return to linkage suspension to crack the US motocross market, so in toeing the line on frame technology puts Gas Gas right back in the enduro game.
K-Y-B
Never have three letters meant so much. KYB – Kayaba – is one top shelf suspension manufacturer; for years the Japanese brand has helped make Yamaha YZs and WRs great. It's super-rare you ever hear a journalist, let alone an owner, bitch about them. Kayabas work well and they last. And so fitted to the new EC300 the cartridge type Kayabas (with air and oil separation) really do help elevate the product.
In the past Gas Gas have played around with all manner of suspension kit, fitting lesser-favoured (being polite here) Sachs and Marzocchi suspension on their base EC models, reserving better-quality Öhlins components for their higher-spec'ed EC-Racing models. Only Öhlins have been so peripheral to enduro for such a long time it's debatable how much attraction that brand retained. Choosing Kayaba for the new model is then something of a masterstroke, both in terms of performance and caché.
BOOSTED MOTOR
The EC motor also is much changed, but retains enough of its architecture and layout as to be recognisable as to be the old motor warmed over. It would, we're sure, be a task too far, to create a whole new engine within the development period, but the work they have done in that time is nonetheless impressive.
A new cylinder and cylinder head, creating what Gas Gas call new thermodynamics (they supply no specifics on this), have created a sizeable boost to the power and torque, right through the rev range. The EC250 now steps up from just over 40 to a full 50hp, while the EC300 has jumped 10hp from 45 to 55hp – those are big gains.
We should note – and this is consistent across the industry – that this performance only comes in derestricted 'closed course competition' set-up. To meet the stringent Euro 4 emission regulations the EC will leave the factory with a diminutive Del 'Orto carburetor, a full-on plumber's nightmare of emissions paraphernalia plus a strangling exhaust pipe – a bunch of expensive stuff that's all destined for immediate disposal. Yeah, sometimes bureaucracy is hypocrisy… Full power comes with the fitting of the ubiquitous Keihin PWK38 carb (you'll be supplied one on purchase of the machine) and the FMF expansion chamber. The XC model sidesteps all such issues and is full power from the get-go.
TIDY
Around this engine and chassis Gas Gas designed a neat new layout. There's new ergonomics (called 'kinematics' by Gas Gas), with a slimmer but more cavernous translucent fuel tank (now 10-litres), an agreeably tall and flat saddle, very tidy 'low profile' footpegs and a set of Renthal 7/8" handlebars. There's a Spartan simplicity to it all.
Excel rims can be added to the list of premium brand component suppliers, along with Nissin brakes and NG discs (in standard 260/220mm sizes). Oh, and there's a Magura hydraulic clutch system. Alas the trick louvered headlight and number plate seen on the prototype at the Milan Show in 2016 clearly didn't make it through Type Approval (it would be a cool accessory for 'closed course competition use', though…).
LATERAL THINKING
Overall, there's very probably a lot of forward thinking in the conversely lateral direction that Gas Gas have taken. Gas Gas use the word 'innovations' in their briefing notes, but the reality is they've almost done the opposite. The new EC/XC300 is almost deliberately more conservative, applying industry standard rather than industry-leading technologies. And why not? It works in the field, and given that us dirt bikers are actually instinctively super conservative, there's a fair chance this approach will also work in the showrooms.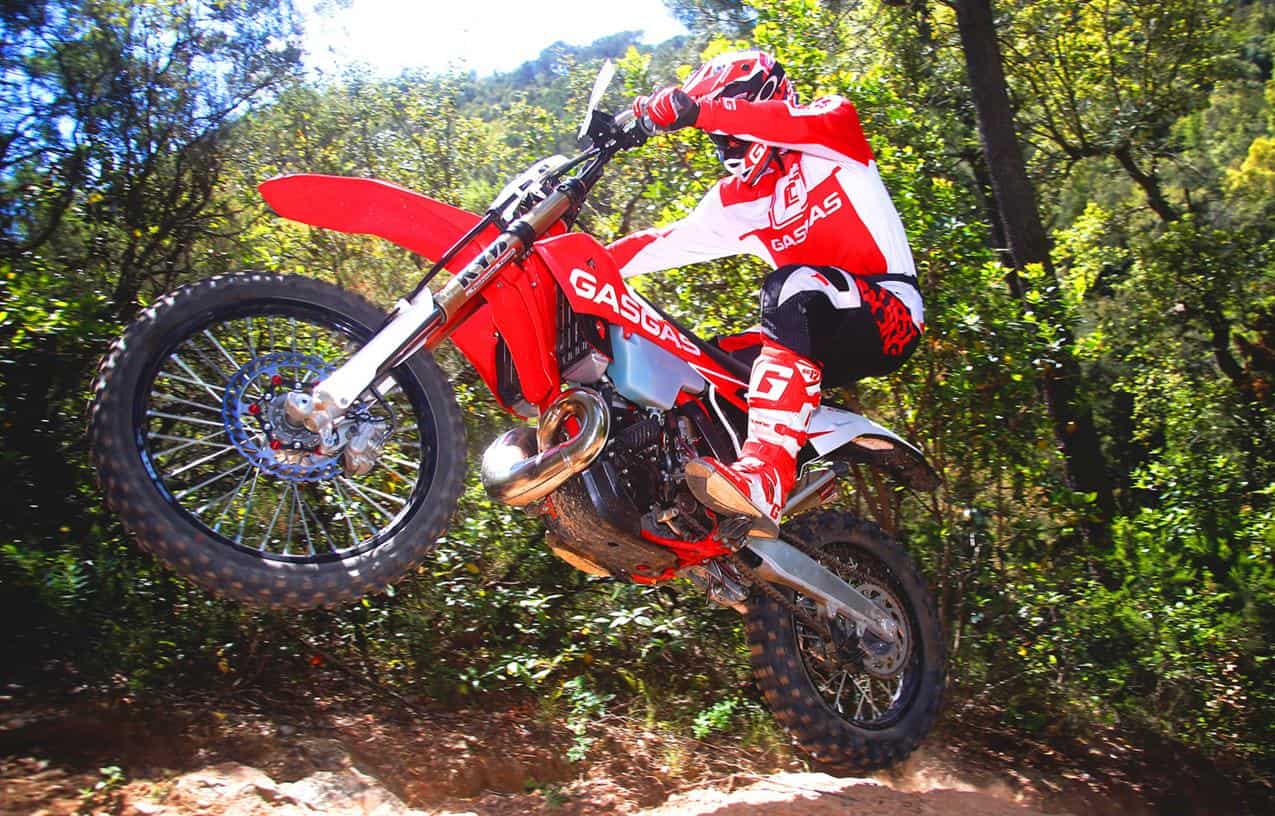 THE RIDE
'Balanced'. That's the word I used to describe the new EC300 after the first ride, and I was still repeating it after the end of the second and final test (in all we had an hour in the saddle – yes, more would have been preferable). Gas Gas have certainly been able to create a very complete package and there's a sense, a feeling – I dare say a reality – that the engine and chassis are working in harmony.
The engine does not immediately feel any more powerful than its earlier incarnations. The power is fairly linear and while there is a powerband as such, the progression into it is very gradual and controllable. Word is the gearing is longer than the predecessor, 13:48, and so this probably softens the delivery – shorten this up and the extra kick will be much more obvious. There were no detectable holes or glitches in the carburation either, and shifting through the neat six-speed gearbox you could really keep the Gas Gas flying along. Being a 300 it's a brave, no, talented, man who keeps it full-gas. But it'll need a back-to-back test of old and new to reveal the true extent of the performance enhancement. All of which at least tells us that Gas Gas have done a sterling job on the management of that power.
The chassis meanwhile was equally competent. After a concerted rain shower we had a slick track to start with and this was leading to two-wheel slides as well as the more usual lurid power slides exiting the corners. But throughout there was an excellent sense of balance in the bike, and with the front able to seek out corner ruts like a regular pathfinder (and staying dutifully in them even on a gentle throttle) you could ride with a sense of ease. Even when the rear did let go big time a chopped throttle saw it snap straight back in line. The front meanwhile never tucked.
The Kayaba suspension also felt well balanced, meaning the bike felt to ride on an even trim front-to-back without excessive dive or squat, and whether this is true or not, it felt to stay mid-to-high in the stroke leaving plenty of reserve for big impacts. We didn't have any rocky or woody terrain to see how the suspension would work on short sharp stuff, so for now we'll have to hold back on a full evaluation, but first feedback is reasonably plush action and a good match front to back.
The ergos also felt good. The bike feels tallish (claimed seat height is 960mm) and the flat seat and lowish handlebars made for a sat-on rather than sat-in feeling. Yet it felt comfortable at that, you can command the bike and the tall feeling to the seat made standing to seated transition feel agreeably shortish. And again the flat seat and the narrowish tank and radiator shrouds meant you could get your weight well forward for the tight turns. All the levers felt to be the right distance so it was instantly comfortable on that account too. And the saddle was firm without being hard, just right.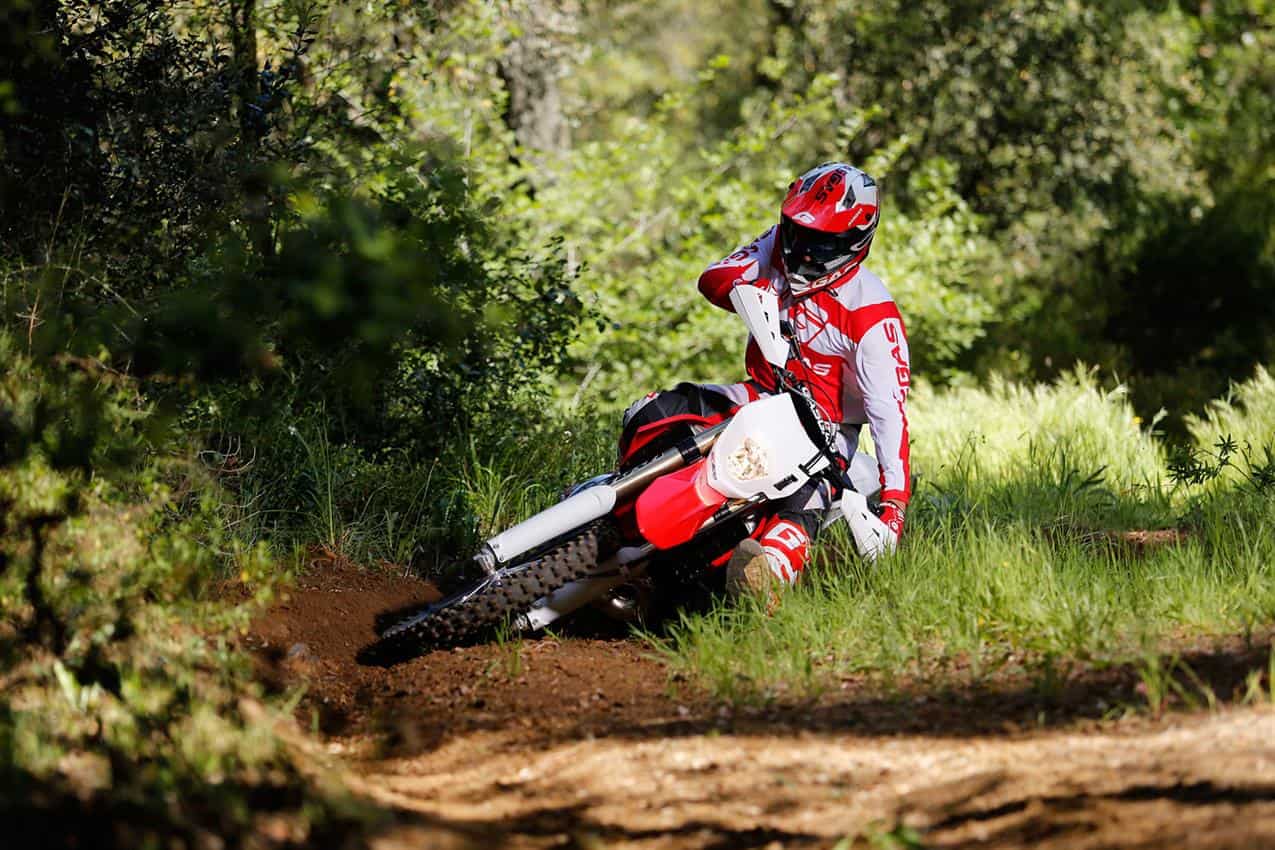 THE SKINNY
It's an easy bike to like, this new EC300. It's potent without being wild and will for sure make a decent race bike; an even, predictable set of steering and handling responses is something racers (clubman and expert alike) can exploit. The KTM-esque line of development has led to some real world benefits. The no-tools access to the air filter is spot on, the clean lines should make for easy cleaning and hopefully some longevity for the bodywork.
It is though missing some of the niceties that KTM (and others) have brought since Gas Gas exited the market back at the end of 2014. There's a head steady that's said to reduce vibrations (it does) but that's not the same as the counter-balancer KTM/Husky brought to their 250/300s in 2017 – that truly transforms the ride. That's not something that's going to make a difference to race results, but for comfort it's a nice add. As well, the electric start is still sitting there above the crankcase, not neatly concealed under the engine the way Sherco pioneered and KTM have followed with. And it would be neat to have the luxury, that is now almost OEM in all models, of an engine mapping switch, so we could choose a traction map for slick conditions. And hey subliminated (you know, in-mould) graphics should be standard!
But these will probably come in the forthcoming annual updates and don't seriously impact on the performance of the bike. And while we can probably rely on Gas Gas to come up with some very keen pricing that will undercut the opposition, its fair to say this is still a premium product and given the quality of the suspension it has that ready-to-race (maybe we should say 'straight-from-the-crate race-ability') attitude.
For sure Gas Gas has a long road ahead of it, and it's never an overnight thing getting back on a level with market leaders (Gas Gas are, after all, a small concern) but for a first step this is an excellent piece of work.
For much more information and a brief history of the company click the link below: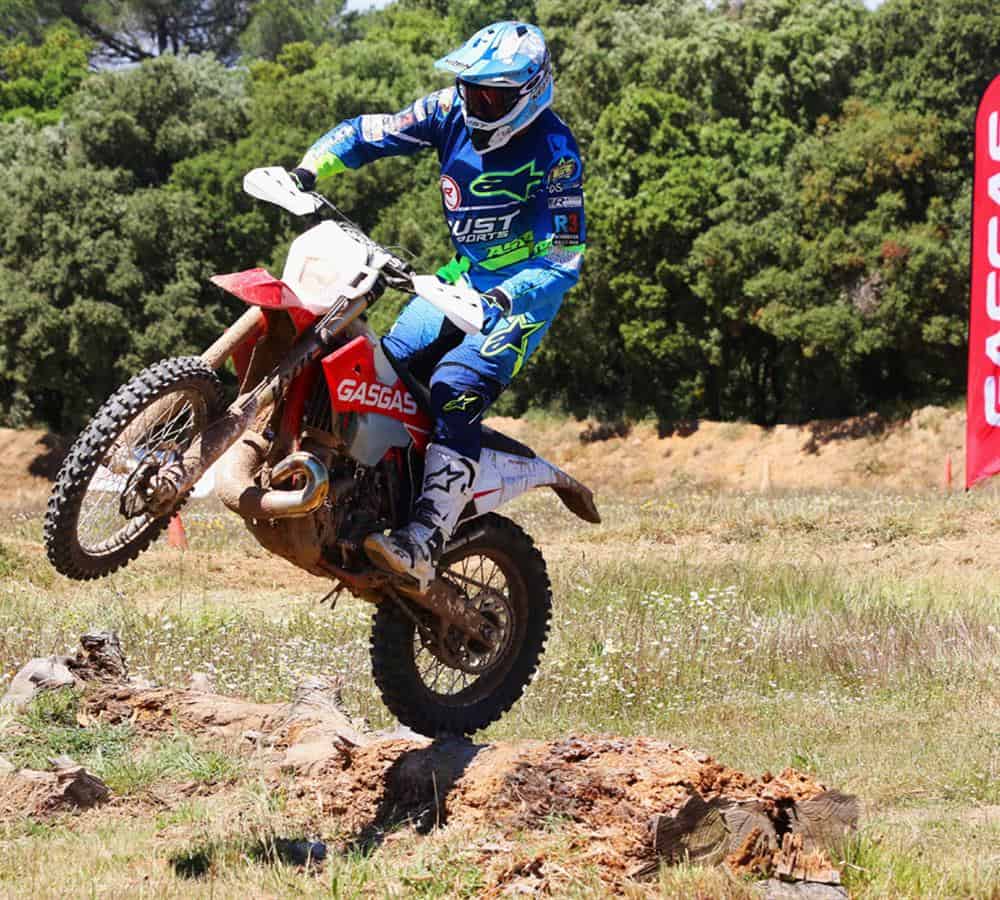 2018 GAS GAS EC/XC300 (250)
Specification
Engine: 299.3cc (249.3), liquid-cooled single-cylinder two-stroke
Bore & stroke: 72x72mm (64x72mm)
Fuelling: Keihin PWK38
Starting: Electric and kick
Transmission: Six-speed gearbox, wet multi-plate clutch, hydraulically operated
Chassis: Central tube chrome-moly steel frame, alloy sub-frame
Front suspension: 48mm Kayaba forks, closed cartridge, AOS, fully adjustable, 300mm travel
Rear suspension: Kayaba shock, fully adjustable
Front brake: 260mm disc, Nissin twin-piston caliper
Wheelbase: 1480mm
Seat height: 960mm
Dry weight: 105kg (112kg)
Fuel capacity: 10-litres
Price TBA
Contact:  www.gasgas.com