John May bought a BMW of questionable history back in 1985. It's morphed twice since then and travelled the world – but the mystery of its early years still haunt it… words & images: JB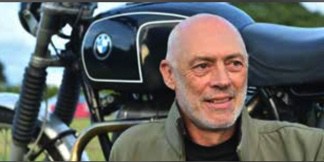 J ohn May, a retired teacher from Wiltshire (in the UK), was resting in the gentle morning sun – post-breakfast – in the camping field at the Overland Event in Oxfordshire. His BMW sat next to him, clearly a machine of the 1970s, but such were the modifications – BMW didn't make GSs back then – we couldn't tell specifically what it was.
"You'll struggle," said John, "because even when I bought it in 1985 I couldn't tell what it was! The story I was told by the vendor was it was a oneoff built by BMW to test the market reaction to the new 900s. At the time I thought that was just a lot of nonsense, it's just a bitza I said to myself. As it stood, it had the look a /5 but had the R90S engine in it, and gearbox, bevel box and twin discs. But when I saw the logbook and read that the previous owner was Park Lane BMW I gave the man the benefit of the doubt. To me it didn't matter anyway as having paid just £500 for it – back then they weren't worth anything – I was going to make an off-roader of it."
Which he did. As John put it, he 'cut it up' to make a Dakar replica with long travel suspension, even painting it white to match the racers. "I rode enduros on it, toured the US, it did a lot of stuff. But then I got w 1971 BMW R90S TRAILIE bored with that sort of 80s look and I thought what I really wanted was a 1970s ISDT look, so I took it apart again and it's been like this for some time."
Then just a couple of years back an incredible sequence of events unfolded. "A friend of mine bought a house in Gloucestershire, it was a deceased estate sale the previous owner having died at the age of 93. Now when my friend was tidying up the garage, under the bench in the garage he found an old leather briefcase and inside was a single copy of Penthouse from 1973. In that moment my girlfriend arrived, he said take a look what I just found and when she started leafing through it she found an article on BMWs by LJK Setright. Given my bike and interest they both thought I should have it.
"So a weekend later my girlfriend hands me this old briefcase, says have a look. And I find the Penthouse – slightly bemused at that – but she says look inside. And there's this article about BMWs, and in a picture of the journal – ist riding a BMW is my bike, with that number plate, RGO 721L! So it looks very much like that story told all those years ago by the seller was true.
"And that puts me in a bit of a spot – the truth could be that I cut up the first R90S there ever was! So I'm not sure whether I should now leave it as is or put it back to how it first was." We have to say, we like it just the way it is.
There's a lot of one-off work that John's put into the bike, work that's 'therapy' John said given the day job. And given in this form he's won three gold medals on it in Long Distance Trials, travelled with it to Russia, even road raced it at a track called Hunsrückring in Germany, then the modern history outweighs the old. It's a fine bike with an amazing history, with a twist!