Not every orange dirtbike is a KTM, as this immaculate and carefully restored classic Laverda LH4 250 proves…
When it comes to dirtbike cosmetics, each manufacturer has their own colour with which they've become intrinsically linked. Red? Well that's Honda. Yellow? Suzuki, of course. Pink? TM once tried it, but we'd best not dwell on that. And, of course, anything orange is immediately thought of as Austrian. But before KTM made the colour their own there was another brand painting bikes that deep citrus-y hue. And that was Laverda…
Orange Crush
The now-defunct Italian brand weren't particularly renowned for their off-road machines – far more so for their road' and racebikes and especially the infamous '70s Jota. However, they did build a small number of two-stroke dirtbikes in the late Seventies (plus some pretty big-trailies the following decade) and the bike here is a fine example of one of those – a 1978 LH4 250.
The Laverda's owner, 48 year-old Andy Laverton, has been into bikes since he was 16. Originally from Cornwall, he explains that there was a Jota parked-up in the West Country village where he grew up, and the sight of the big orange beast had a real effect on him. Of course, back then the Jota was making a huge impact on Europe's hedgerows as well as on the minds of impressionable youngsters, and the 1000cc machine would've been way too much for him to handle. Aged 16, Andy's first bike was the equally evocative, though for very different reasons, Yamaha FS1E.
Despite subsequent dalliances with roadbikes, including a YPVS Yam', Andy was far more into MX than riding on tarmac, making his first forays on the track aboard a 1978 RM400! 'It's where my love of torque comes from', he laughs.
Andy continued to nurture this love when, in 1986, he bought himself an '85 CR500. 'It was just unbelievable', he remarks. 'If you could hang onto it you'd win.' But then other things – a young family; work; relocating – took priority and dirtbikes were put on the backburner…
Ten years ago his interest was rekindled. 'There were four of us [who hung around together] where we grew up,' Andy explains, 'and we bought bikes together.' Having stayed in touch with his old friends there was a certain inevitability that when one of them bought himself a bike again it would lead to bigger things, and sure enough… 'Paul got a bike, and I thought "yeah, let's do it!"' Andy laughs.
After the purchase of an '89 YZ250 a friend at work got Andy into enduros. He describes them as 'so much fun', but Andy's not really into racing modern machinery. Which is as good a point as any to segue onto the Laverda…
Going Dutch
'Why a Laverda though?' I ask Andy, when there are all manner of other marques out there that are better catered for. It turns out that that old Jota back in Cornwall has a lot to answer for…
Like so many classic motorcycle purchases, Andy spotted the LH4 whilst browsing the web in Autumn 2011. Rather than the original orange, the bike had been painted white and although the change of colour didn't show it in the best light – especially as the orange underneath was visible in places – there was just something about it which piqued his interest. The devil was in the details, and the details in question pointed to a very original and little used machine. Andy made contact with the seller…
Everything sounded good so he arranged to go and see the bike. The only problem? It was in Holland and Andy lives in the west of England! Undeterred he booked a van and a channel crossing, and having left home at 'stupid o'clock' he arrived at the vendors at 09:30. They were barely out of bed!
Following a breakfast with the Dutch family Andy sealed the deal and loaded the bike into the van for the return leg. 'I could tell from the pictures that it was so original', he remembers, with an air that suggests the purchase was a foregone conclusion. 'I didn't even start it in Holland. I didn't care if the engine needed a rebuild as it's a Husky engine so I knew I could get bits for it.' Andy arrived back home at 17:00…
Swede as a Nut
Andy launched into the bike straight away, and as it transpired the CR-model Husky engine didn't really need a thing. A precautionary delve into the top-end saw a new set of rings fitted, along with a new small-end bearing but aside from a light re-honing of the barrel that's as far as the engine work went.
The Corte & Cosso rear shocks were sent away to Falcon to be rebuilt, and were kitted-out with thicker shafts, new valves and fresh seals. The shock bodies were then taken down to the local paintshop, where Andy had them colour-match the original paint so that he could redo them in the original graphite grey colour, and along with parts such as the frame, centre-stand, and fork lowers, the springs were sent off to be powder-coated in a deep, zinging orange – bringing the bike back to its original colourscheme. Naturally, the forks were given fresh oil and seals when they were rebuilt.
So far everything sounds pretty straightforward. But that didn't last… Aside from its coat of non-standard white paint, the bodywork wasn't in the finest fettle and the front fender had been hacked about. The problem was, as you might imagine, new Laverda panels aren't available from your nearest Acerbis stockist!
Yet, as with most marques, if you search hard enough you can unearth a band of enthusiasts who are willing to keep their bikes rolling no matter what, and if parts aren't readily available then they make them. And that's just the case with the 250's bodywork. (The term 'plastics' would be slightly misleading as the panels are actually Glass-Reinforced Plastic, or fibreglass if you like, and far more brittle than the bodywork we're familiar with on modern dirtbikes.)
The 'Sands Product' branding on the front fender might lead classic aficionados to think that it's a New Old Stock part, as it was Sands who originally supplied the factory. But it isn't. Instead the enterprising Italian who sold Andy the fenders (as well as the headlight) had simply taken a mould from an original part and was merrily producing reproductions. The sidepanels and 'Laverda' branded seat cover came from another enthusiast in Belgium, whilst the Laverda stickers on the tank were the result of Andy scouring internet pictures of other LH4s for reference and making up a set…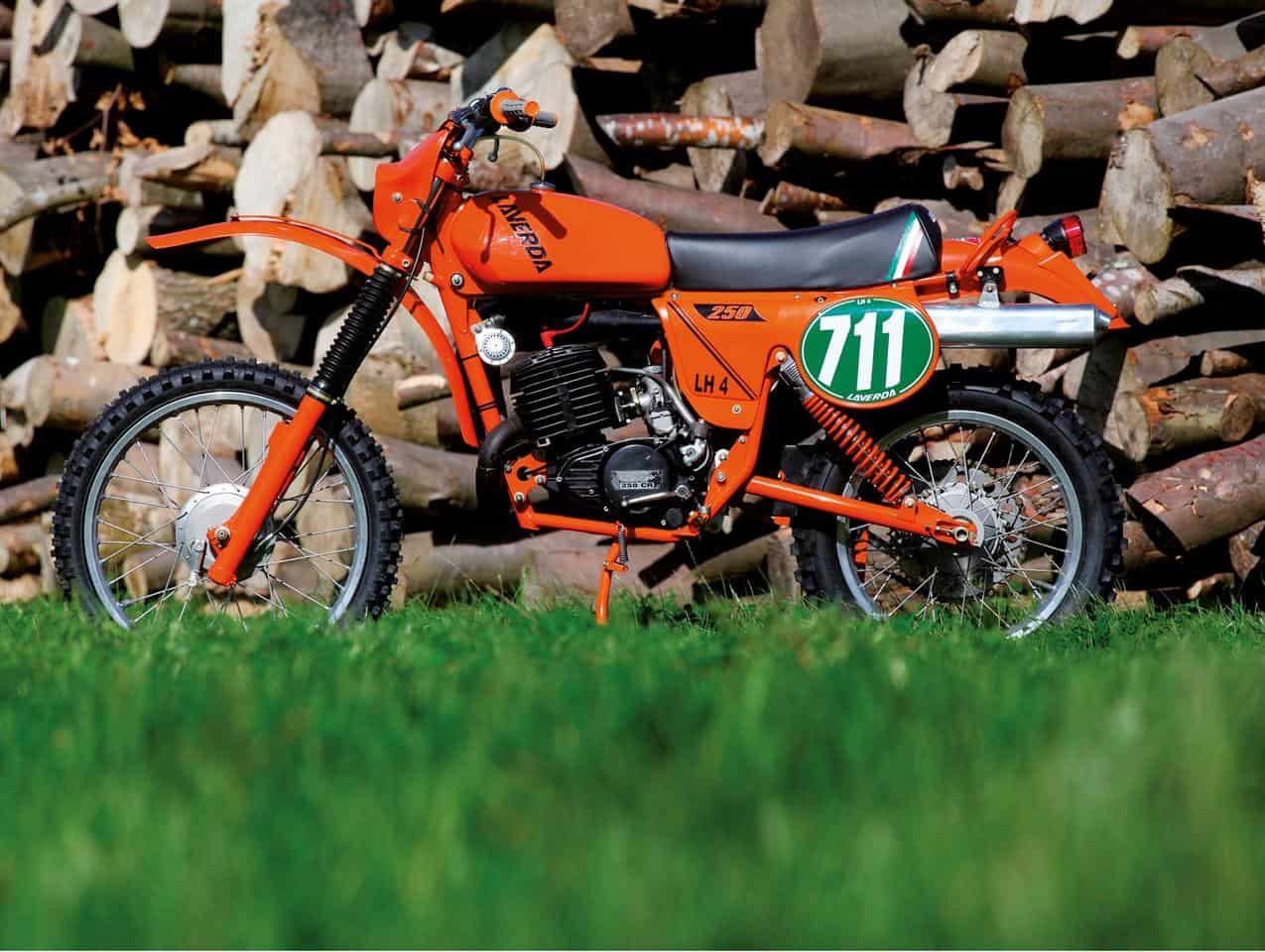 Spokey Dokey
From a short distance the Laverda looks absolutely immaculate, and indeed those parts that have been renewed or repainted have a better-than-factory finish to them. It's when you look a little closer that you start to notice those areas where Andy opted to maintain originality and leave some of the patina in place rather than going for the ultra-shiny, almost OVER-restored look.
The wheels are a prime example of this. Other than sealed bearings to replace the old parts, and a quick wipe over with some Autosol, they've received little attention. Andy's happy to live with some slight pitting on the spokes, because it means that those same spokes wear the old lead wheel weights and the rims feature the original '70s 'Akront' stickers.
The brake and clutch levers look to be the originals too, still shrouded by the Magura-branded rubber gaiters they left the factory with, and just check-out the switchgear! The small, grey, CEV-logo'd button on the left-side of the bars is the original killswitch and beside it sits the OE switchgear – all in remarkably good, working condition having survived for 34 years completely unscathed.
Cold Play
Items such as the cables, various chassis bearings and seals, were all replaced with new upspecced parts, whilst a pair of KTM grips (the only obviously modern parts on the 250) were added to the chromed 'cowhorn' bars. The Laverda isn't just a show-pony – Andy built it with competition in mind – so it needs to be reliable and as easy as possible to ride.
This year's Welsh was set to be its race debut, though one look at a weather report the week before and Andy was giving up his entry. We don't blame him…
Two weeks later and the 250 made its debut at the two-day 'King of the Castle' twin-shock scrambles event at the legendary Farleigh Castle. Mind you, the weather didn't play ball then either. The bike (and rider..!) finished each race with mud packed into every crevice, and conditions were so bad that the sticky Zummerzet soil clogged the front wheels of bikes with low fenders to the point that they couldn't turn!
Andy had kitted-out his sons with 'Laverda' T-shirts made especially for the event, but the weather was so bad that they had to be covered-up with jumpers and jackets. And just to add to his woes one of the boys came down with the flu!
The one ray of light in an otherwise grey race meeting was that the scrutineers asked Andy if he'd take the bike along for the concours competition that evening. And he came away with not only the award for 'best two-stroke' but 'best overall' too!
Fruit Salad
Ordinarily Andy's trophies would make a nice little ending to the story, and as far as the 250's concerned, I guess they do. But that's not where the Laverton story ends…
Arriving at Andy's house to photograph the Laverda, the bright orange bike is sitting out-front on the driveway, acting as a homing beacon to guide me to my destination. After giving the 250 a visual once-over Andy suggests a quick cuppa. Throwing open the garage door to briefly tuck the Italian bike out of sight reveals yet more retro machinery. On the right sits a 1981 Yamaha YZ465. It's yellow, not the blue of Yamaha off-roaders we're used to now, and it's incredibly tidy, with the patina of a bike that's been used but not abused. The big, aftermarket DG expansion chamber has turned a wonderful golden hue and, being an American import, the left-hand forkleg still bears the Californian 'Green Sticker' to show that it can be used off-road within the state.
To the left of the YZ is a CR500. Not just any old CR5, this one's a 1985 model – the first of the liquid-cooled bikes – and it's mint. Andy's restored the bike, though like the Laverda he's not overdone it and sacrificed too much of the originality. The OE silencer is lightly dinged and if you look close enough at the (original!) plastics you can just make out some light scratches – a sign that the bike has lived a very easy life for a 27-year-old MXer!
As Andy regales me with the aforementioned tale of the Laverda Jota he casually mentions that he's got one tucked away, currently in pieces and undergoing a complete rebuild. And if you look closely at the garage picture, you should spot a red 'n' white Yamaha RD350 YPVS. Another eBay purchase, the bike's 'Buy It Now' price of £600 was too tempting for Andy to pass-up, not least because it came with a mint set of Allspeed pipes.
When it came to collecting the bike, its condition became abundantly clear as at some point a tin of gold paint had fallen and disgorged its contents over a large portion of the bike. Not that you'd know it now, of course, as Andy has returned the bike to showroom condition!
Spotting a downloaded-from-the-web picture of a slab-sided '80s GSX-R stuck to the back wall of his garage, I steer the conversation towards classic Suzooks. Yet it's only when we're halfway through shooting the 250 that Andy fills me in on his most downright jammy piece of classic bike buying…
A work colleague was explaining to Andy how one of his neighbours had an old GSX-R sat underneath a tarp in his back garden. Unfortunately he'd recently had a high-end mountain bike stolen from his shed and was concerned that the Suzook would meet a similar fate. As he wasn't using it he'd rather it went to a good home than be purloined by the local scrotes so he opted to sell it. Upon hearing this Andy tasked his workmate with finding out what model of GSX-R it was, and learning that it was a 1987 slabside he immediately bagged it for himself. And the price for this very original (naturally…) and genuinely appreciating classic? A mere £300!
You probably won't be surprised to learn that Andy has already started planning his next project. And, as with the CR500, the Jota, and the RD, this one's another blast from the past. 'Everything's nostalgia', he laughs, when talking about restoring a '78 RM400 – the bike he started-out riding MX on.
No doubt the Suzook will be as immaculate, yet original, as the other bikes in Andy's garage. And with such a fine and varied collection of classics, it's clear that oranges aren't the only fruit in the Laverton fruitbowl…
Andy would like to thank Steve Baker at Chosen Engineering for his help with the Laverda.