Salzburg. October 18, 2017: KTM reveal a new Freeride E model, but also discuss an electric-powered two-wheeled future…
KTM launched their update of their Freeride E this week, now known as the Freeride E-XC. As you may imagine, that's E for Electric and XC for Cross Country. The big news with the Freeride E-XC is the increase in battery 'capacity', which has been boosted by 50%.
In fact the Freeride, which first became available in 2014, has been given quite a makeover. The suspension is all-new, with WP 43mm Xplor forks and a WP PDS Xplor shock. The bodywork has been revised too, with new mudguards and styling, new graphics, there's a new dashboard and a repositioned steering lock.
With a peak power output of 18kW (24.5hp) the E-XC complies with Euro A1 licensing laws, while the new battery offers a longer ride per charge – now estimated at 1.5 hours. Added to that is a new energy recuperation system which in some circumstances could add up to 30 minutes more ride time.
The likely retail price is around €7500 with a lease deal on the battery and charger at around €50/month.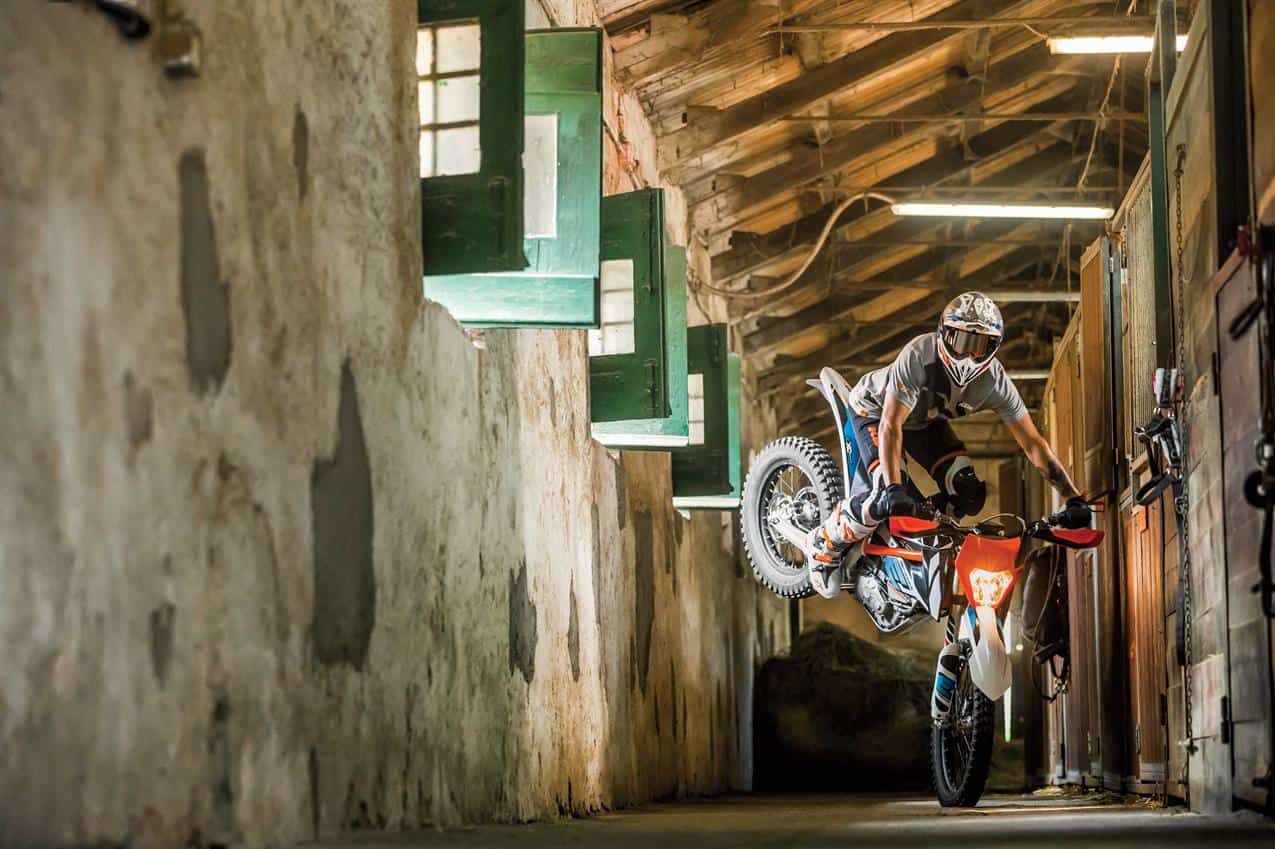 An electric future
KTM's CEO Stefan Pierer was at the launch, commenting on the direction of development he said:
"We are proud to present the new KTM FREERIDE E-XC, which marks the next step in development of e-mobility within KTM and is a continuation of our commitment to this segment."
He suggested the next most likely orange e-model would be an electric alternative to KTM's successful 50SX mini-motocrosser, probably due in one to two years time. More e-models will come but Pierer said he envisaged the Freeride E-XC to be the top of the range, their premium offering, and further development would most likely be in the 3-4kW range – this suggestion supported by an image of an electric mountainbike, sporting not KTM but Husqvarna livery.
"We know that e-mobility will change the landscape of travel in the future, and our vision is very clear," said Pierer. "Looking ahead to 2025 we expect to have a wider range of models available with a focus in the commuting arena. We also plan crossover machines with our collaboration with PEXCO, as well as using our e-mobility expertise in other applications."
Pierer – supported at the presentation by KTM Group executive board member Hubert Trunkenpolz and Gerald Kiska of Kiska GmbH (KTM's design and product planning consultants) – spoke at length on the concept of urban e-mobility and the probability that future e-models would most likely see a merging of bicycle and motorcycle engineering. He stopped short of discussing KTM developing specific urban e-models. KTM's first advances into this field would, for now, appear to be in the recreational off-road sector.
We have more on the KTM Freeride E-XC in RUST magazine issue 31.
https://www.yumpu.com/en/document/view/59514266/rust-magazine-rust31