One of the prettiest of all the '70s trailies, you'd never describe the XT500 as an ugly duckling. But that didn't stop reader Dave Newitt hatching a plan to turn his classic Yamaha into a beautiful swan…
As twitchers go, Dave Newitt's a pretty unlikely looking specimen. Thick-set, shaven-headed and with the words LOVE and HATE tattooed across his knuckles, his hands look more than capable of strangling a fully grown ostrich. And he's built like he eats more than one whole chicken at a sitting. But you won't find Dave stuffing his face with the Colonel's secret recipe: 'I don't really like eating birds'  he says with a shrug. 'I like protecting birds… I'm really into birds'  he confesses with a churlish grin.
'Yeah, I'm really into birds too'  I add frivolously, 'though not the avian variety'.  Dave smiles in a way which implies he's heard that line countless times before?' We move on.
Dave's not kidding when he says he's into birds either. His living room houses one of the largest birdcages I've ever seen, inside sits a stunning white cockatoo named Cookie, and in his kitchen you'll find collared doves. Beautiful specimens both, but you won't be surprised to learn that I'm not here to talk turkey of the feathered variety. Because the Yellow Hammer I've travelled up to the Midlands to see and photograph – well let's just say, you won't find it in any birdwatcher's handbook.
For there, among the aviaries in the back garden of his semi-detached home in Leicestershire, lies a very special 'hide'.  Walk past the chickens, the bantams, the rescue ducks – oh, and the pet crow – and you'll find the home of the Yellow Hammer – Dave Newitt's prize specimen – the latest creation from Mr XT500. And let me tell you it's a real Bird of Paradise…
Big Bird
For those that don't already know, Dave is the UK's foremost authority on Yamaha XT500s, he looks after the UK's official XT archive and has built a business around restoring, modifying and generally preserving what he considers to be Japan's finest creation – the quintessential Nipponese thumper – Yamaha's XT500. And despite the fact that the earliest examples have long since celebrated their 30th anniversary, Dave reckons there's still plenty of life in the old bird yet.
'An XT500 can still be highly competitive in single-cylinder racing'  claims Dave in between drawing away on cigarettes. 'The engine is so over-engineered and so well designed that it's possible to get really decent performance out of one if you know what you're doing. On the road they still make excellent street bikes.'
Okay, confession time: this is not the first of Dave's creations we've seen, nor even the second for that matter. Because Dave's already designed and built two previous supermoto versions of XT500s, both of which have graced the pages of our Supermoto Magazine (Anyone remeber that?).  But we felt justified in featuring this third machine – easily the finest version of Dave's handiwork – because, well frankly you only have to look at the bike to realise why. When we interviewed Dave (just after he'd built his second creation)  we asked him the question 'so will we see a phase-three XT-SM?' And Dave replied: 'It's unlikely, I've gone as far as I want to with the XT.'
Early Birds
Clearly Dave changed his mind and frankly we're pretty glad he did so because the result of that decision is right here. 'So what prompted the change of heart', I enquire?
'I suppose I wasn't fully satisfied with the results last time around'  replies Dave with absolute honestly. 'I knew that the look of the bike could be improved. Both those earlier examples appeared slightly unbalanced because of the long front forks'  he confesses. 'I knew I could make it look much better, and that's what I've done with this one. Shortening the front forks has made the bike sit down a lot more and that's the look I've been after.'
And he's not kidding either – we think the latest creation looks absolutely stunning, with its blend of old and new, modern and retro, Dave has achieved the perfect look for anyone of a certain age for whom the magical XT500 conjures up a rose-tinted nostalgia. But I think the real reason this bike works so well is that it blends the best of two quite distinct looks – the fat-tyred, muscular-haunched, modern supermoto look, with a timelessly elegant classic-looking machine complete with simple swingarm, pretty finned air-cooled motor, polished alloy tank and elegant proportions.
As an admirer of classic machinery myself, I reckon that most vehicles (though I admit not all)  look better for having been given the modern wheels and tyres treatment. Not to mention the improvement in roadholding and handling this creates thanks to wider rubber, modern suspension and efficient brakes. And that's not the half of it because Dave has also added modern braceless bars at the front end and a hand-fabricated under-seat silencer at the rear, to complete that contemporary look.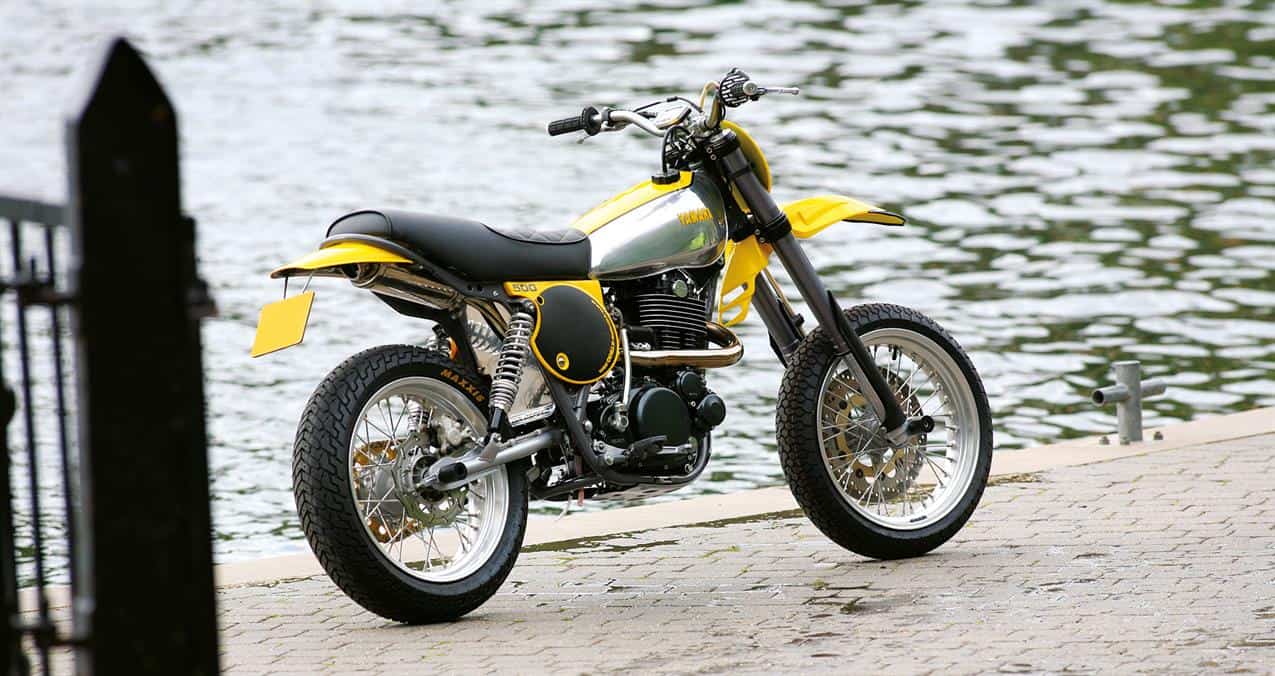 Bird Cage
So how has Dave gone about creating the look of his latest bike? 'In the past I built the bikes around an XT frame'  says Dave, 'but for this one I decided to build my own frame. So the front downtube and engine mounts are from an XT500, but…'  he says in a matter-of-fact way, 'pretty much everything else I fabricated myself. That includes bending and welding the frame rails, and making the swingarm and footpegs from scratch. In fact about the only thing I didn't do myself was the powder-coating.'
Bloody slacker, mate!
And when you see the quality of Dave's work up close and first hand, you begin to realise why his machinery has attracted customers from all over Europe. 'The Germans seem to go mad for my creations'  confesses Dave, revealing that one guy offered him '11 grand'  for his previous one!
But while Dave makes his living from building and restoring bikes like these, it's easy to tell just from talking to him that he takes an enormous amount of pride in his work. And he's not just passionate about XTs, but also the art and craftsmanship of the restorer and the cottage industry which supports that activity. Driving around in the van looking for a photo location, Dave talks passionately about the skill-drain from the surrounding area of the West Midlands – the one-time manufacturing heart of the country.
'It used to be that virtually all cars and bikes built in this country came from within 50 miles of here'  he recounts, 'but now…'  he laments, 'there's nothing built here except for the modern Triumphs, which of course are effectively Japanese anyway. You can't get anything built as a one-off. Nobody does it any more. The skills have been lost and won't ever be replaced. For instance when I needed an exhaust building I couldn't find anyone to do it for me locally, so I ended up buying some inch-and-three-quarter pipe and making it myself.'
And when you see the finished result, it's a work of art. It curves out of the head, over the right side crankcases and around the back of the engine before ducking through a polished stainless-steel plate (behind the air-filter)  and exits in an oval silencer under the seat. But it's the attention to detail which makes Dave's work really stand out. The endcan is actually a modified Scorpion oval race can with removable baffle, but Dave's shortened it and added a little curved peak to direct hot exhaust gasses away from the plastic rear fender. But just in case, he's given the fender and seat base a heat-proof layer.
There are countless other clever little details – far too many to list here – but here's just a few little examples. The rear brake pedal has a grease nipple to keep the bush lubricated and Dave has incorporated the rear master cylinder into the right side of the frame, then run the reservoir up high so that he can check it through the sight window located in the original TT sidepanel. Neat!
The plastic front number board is an original '70s item Dave sourced from the US, likewise the rear plastic mudguard which is from the TT500 (The XT of course had chromed steel guards!).  These items were given a coating of Jaune Lumineux yellow paint along with the top of the alloy fuel tank, which, naturally enough, retains the polished look on both sides. The front guard is a modern universal SM fender in keeping with the contemporary look of the front-end.
The custom-made rear swingarm (all fabricated by Dave himself)  not only has room to accommodate a 4.25in wide Morad rear rim and sticky 160-section Maxxis SM tyre, but also a wave rear disc and Brembo caliper. And it features a gorgeous little spring-loaded chain tensioner and laid-down shocks (at more of an angle than standard to help lift the rear end – providing extra travel and a more modern SM look).
At the sharp end Dave has lifted the front off a brand new CCM (which is all KTM anyway),  so you have 48mm WP USD forks which he's shortened to be three inches lower than standard, and now reside within custom-made clamps and use a specially made head-race. The 3.5in Morad rim (with Maxxis 120-section tyre)  is slowed by a whopping great 320mm front rotor and Brembo calliper, and the Renthal Fatbars bars have forged, span-adjustable Brembo controls fitted, while the Domino throttle has been converted to a single-pull cable and houses an on/off switch to kill the motor.
But what I especially liked about Dave's bike was the fact that he's thought through the implications of fitting modern USD forks to an old machine. Even on full lock there's enough clearance between the pretty alloy tank and the fork tops to prevent fouling – I've ridden bikes straight from the showroom which can't match this! And put the bars onto full left lock and you'll find a little Dave Newitt trademark: for there on the headstock is a little metallicised sticker telling you who built the bike and when, the frame number and registration. It's only a small detail, but it makes the bike seem much more hand-crafted than simply stamping the numbers into the headstock.
It's these little details, along with the quality of the finishing, which mark Dave's bikes out from homebuilt specials. The wiring loom is perfect – neat, functional and completely hidden from view – naturally enough Dave built it himself. Oh, and of course the bike runs 12V electrics. XTs were all six volts originally!
Wired into this system is a Trail Tech Vapor digital speedo sitting on a custom-made facia mounting bracket, there's a built-in gear-change/rev limiter/engine temperature sensor etc – all of which function and of course Dave's wired the bikes for lights, but prefers the stripped down racer look for daytime use. And I can't say I blame him.
Puffin Billy
So far we haven't even touched on the most important part of the bike – the motor. Dave's pretty clear about this – he reckons most of the hard work on this bike has gone into the lump, which began life as a 1984 engine which Dave imported from Germany. And it goes without saying that he's fully rebuilt the powerplant utilising all the well-known XT mods including adding a dual oil-feed conversion. The cylinder head has been ported and polished and now breathes (via an opened up inlet tract)  through a 36mm Mikuni VM carburettor with a K&N air filter feeding it. On the outside Dave's given the crankcases a modern shade of metallic grey and added a K&N crankcase filter as well as a custom-made oil cooler and hoses, plus and a billet inspection cover and a camshaft chain adjuster.
According to Dave his XT pumps out low-40s horsepower and peak torque arrives at just over 2,200rpm – a little different to most of today's high revving thumpers! Dave claims it's not too hard to significantly improve the XTs power output. 'They're horribly restricted as standard'  he says, 'both on the inlet and exhaust side, and dealing with these two elements can almost double the XT's standard power output.'
In general we make it a rule not to ride specials, but when Dave offered me a quick spin on his bike, well how could I resist? So helmetless, I climbed aboard and took it for a quick spin. And you know what… it rides as well as it looks. It feels beautiful, all the controls are light and easy to operate like a modern bike, but the engine feels so different – so torquey and corpulent low down, it just grunts you forwards with that kind of effortless shove – all the while accompanied by a gorgeously rich soundtrack which could only ever come from an XT500 lump.
You know, I really understand why so many people have fond memories of the XT500, the engine looks beautiful, sounds wonderful and provides the RIGHT sort of shove. And married up with modern components it feels so gorgeous to use, that I confess I was tempted to make Dave an offer for the bike there and then.
Because a bike like this would be just perfect for tooling around London. Because on the grim city streets this bright yellow canary would definitely put the cat amongst the pigeons…