Paul Stanislas' bike is surely unique. So it's unsurprising that few people can figure out what this 1000cc 'monstermoto' is based upon…
Paul Stanislas' big-bore creation really is something quite different. Give up? Okay, what if I let on that Paul's a bit of a Suzuki man (though you may have already guessed that from the 'Schwantz 34'  on the sidepanels and the Yoshimura logos). Still not got it? Well, you're not the only one. Almost everywhere the bike goes Paul's asked what it is, and on more than one occasion he's faced this line of questioning whilst parked up next to an original example of the donor bike.
Being a Suzuki aficionado and a fan of supermotos you'd expect Paul to be scooting about on a DR-Z SM. And indeed he does, for we featured his modified 400 in issue 25 of our sister title, Supermoto Magazine, and he still owns the white 'n' red single. Only for his next project Paul wanted something with a bit more oomph. 'Why not an RM-Z450?'  you might ask, after all that'd have way more go than a DR-Z. And you'd be right. But Paul wanted more…
When I photographed the 400 Paul explained that he was toying with the idea of converting a Suzuki 650 V-Strom into an SM. But 650cc is still a little bit wussy – if you're going to build a V-twin 'monstermoto'  you might as well build a big 'un. And as luck would have it, Paul came across a crash damaged 1000cc twin that'd be just the ticket. Yep, Paul's bike started out as a 2005 DL1000 V-Strom big trailie..!
Monster Mash
The Suzuki had been languishing at his local dealers for some time before Paul got his spanners on it back in '06. The V-twin's odo had just clicked round to show 352 miles when a car pulled out of a side-road in front of it, righting-it-off in an instant. 'The only parts undamaged were the rear wheel, the clocks and [bizarrely] the tank',  remembered Paul.
It was really only when he got a peak under the bodywork of another example of the Suzook in the dealer's workshop that Paul realised the DL would work for what he had it mind. Though before handing over the £1000 he agreed to pay for the mangled Strom, Paul took the bike home to check that the frame was straight. Modifying a DR-Z front-end he happened to have to hand, and slotting it into the big bike's frame, he established that the chassis was still inline so set to work on the project…
When the DL had hit the car, the impact had been so severe that the left-hand front brake caliper had smashed through the front cambox and damaged one of the cam journal caps. Ouch! And d'ya think these caps were available as separate parts, or was Paul looking at the expense of buying a complete new cylinder head..? Thankfully he's a welder/fabricator, so avoided paying almost a grand for a new top-end and repaired the damaged parts himself in order to get the motor up 'n' running.
Think Tank
With the DR-Z front-end in the bike, Paul realised that with a few modifications the forks would probably be up to the job on the front of the big bike. A new set of yokes were designed to hold the Showa legs, and these were machined by a local firm (who subsequently needed to be reminded that the drawing he'd supplied featured holes for the bar mounts!)  before Paul added some final detailing, a set of risers, and an ally bracket purely to hold the fuel cap breather hose!
His attention then switched to the other end of the bike, to the rear fender. With such a huge build ahead of him, it was clear that things were going to have to be done in a certain order, and to fabricate a new rear subframe the bodywork needed to be mocked-up beforehand. A KTM single-piece fender/sidepanels was used, with the left-hand-side heated and pulled out in order to incorporate one of the twin silencers Paul'd envisaged using.
Getting a seat to fit caused Paul much head-scratching. Clearly a dirtbike style part was required for 'the look',  but getting something which'd be roughly the right size and shape wasn't going to be easy. So, tape measure in hand, he took a trip up to the bike show at the NEC. And there, amongst the lycra-clad lovelies, shiny new bikes and pamphlet-pickers sat just the perch for Paul. Unfortunately, it was atop KTM's 690 and at the time the bike had only just been released – they (along with their spares)  weren't due in the showrooms for some time.
It turned out to be four months before Paul could obtain the seat, and in the meantime he tinkered with some of the more bolt-on parts – the big Motomaster front brakes and the chunky Fastway pegs (designed to fit an XR400)  etc. Trying to save some time, Paul also fabricated a new airbox out of alloy, only to find once the seat arrived that it didn't even come close to fitting!
With the new sub-frame sitting at a far sharper angle than the long, laid-down original, an undertray was designed and a new battery box fitted. With the seat to hand, Paul could finally work on producing another airbox (which now contains a Pipercross filter intended for a Triumph)  and then sorting out a fuel tank.
'One two, three, four… 19, 20, 21,'  counted Paul, before finally exclaiming, 'there's at least 22 separate pieces of ally in that',  having mentally worked his way around the tank. 'I had real issues fitting the fuel pump and getting the clearance around the shock,'  he continued as we stood looking at an alloy sculpture which crams itself into every available space within the DL's frame spars. Having produced the tank Paul was more than a little concerned at its capacity. 'It looked tiny',  he commented. 'But we kept pouring in water from milk bottles and in they went.'  Eleven litres isn't much for a thirsty 1000cc motor, but it's not bad considering the space there was to work with. And it gives a tank range which just about borders on acceptable.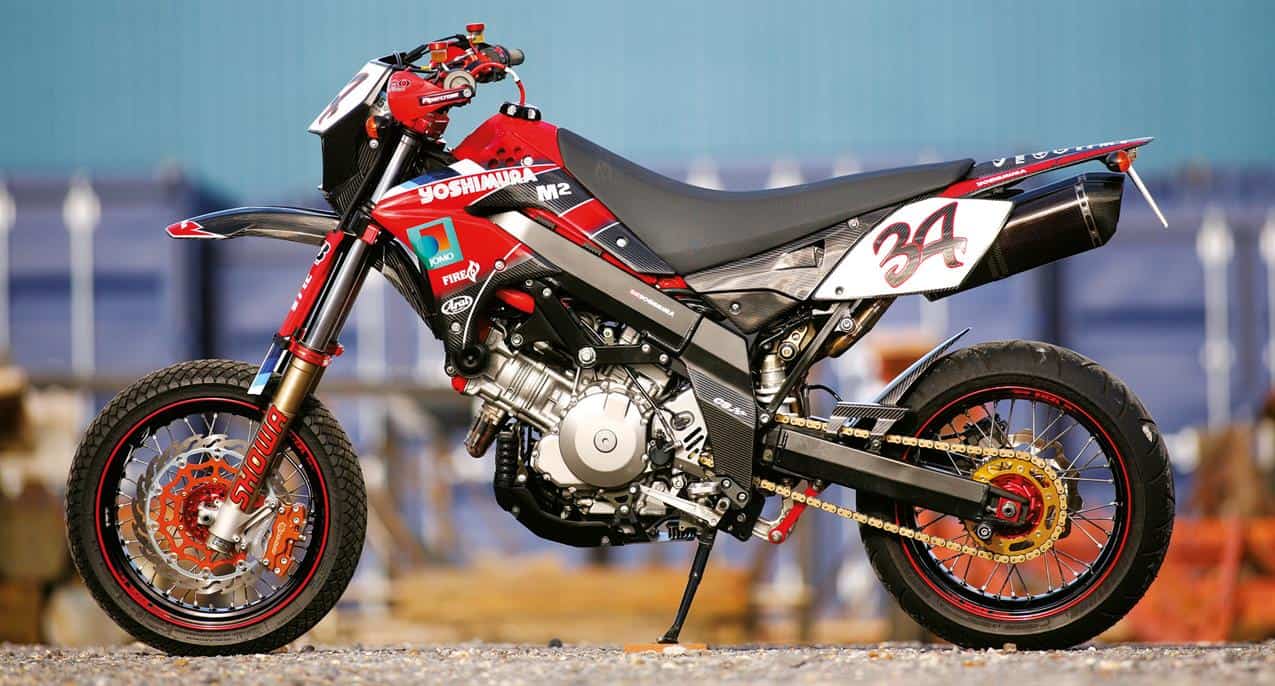 Electric Shock
The tank and airbox could be described as a labour of love, whereas the electrics were nothing but a royal pain in the ass. Luckily Paul could call upon the services of his friend Sean to help out, and Sean cut, spliced and soldered until the wiring loom was comprehensively modified. A Power Commander was added to help fine-tune the fuelling and a Timing Retard Eliminator (TRE)  modification was carried out in order to obtain maximum performance in each gear. (As standard the timing isn't quite so advanced in the lower gears in order to smooth out the power delivery for everyday riding.)  The regulator/rectifier was repositioned (two feet away from it's original mounting),  a DR-Z ignition barrel adapted to suit, and the oxygen sensors and emissions 'pear valve' were taken care of.
Although the original clocks were salvageable, their huge dials and chrome trim didn't really fit with the overall design. And so, sticking with Suzuki parts, Sean wired in the digi display (with analogue tacho) from a GSX-R1000. 'And everything works on them,'  he commented with a mix of pride and exasperation, 'the needle even does its diagnostic sweep'.
Hoops and Dreams
When it came to the wheels, Paul initially tried to get hold of a pair of super-lightweight forged hoops, only to be told that the suppliers wouldn't split two pairs (for the DR-Z front-end and a GSX-R part that he knew would fit the rear)  so he'd have to buy four wheels – at a cost of more than £2000! This clearly wasn't an option and as he prefers his supermotos with spoked wheels Paul instead looked at getting some laced-up. The DR-Z front wasn't going to be a problem, though getting a hub that'd fit between the wide swingarm could've proved an issue had Talon Engineering not come up trumps with a three-piece part intended for an Aprilia SXV. This arrived at Paul's door with all of the spindle spacers he needed and slipped straight in, no worries. Well, except that as the hub clearly wasn't intended for a V-Strom the disc (a GSX1400 part)  needed to be spaced out in order to get it running between the pads of the rear caliper. And talking of parts not intended for the DL, Paul somehow knew that a GSX-R600 shock would bolt straight into place so he bought a WP unit to replace the 'crap looking',  and somewhat less well specced, standard part.
The exhaust system is a mix of homebuilt pipework and off-the-shelf parts. The end cans are Akrapovic – bought secondhand from a Kawasaki ZX10R owner who no longer wanted them – and save 16kg over the Strom's heavy cat silencers. The original headers Paul made himself as he wanted them to run within the confines of the frame and under the seat, rather than exiting up the sides of the bike. This part of the build was nearly scuppered when Paul found that the bends of stainless pipe he required weren't available in the right size at a sensible price, so he had to make do with slightly narrower diameter tubing. This was then welded and slotted together, and held with a total of 16 Akrapovic exhaust springs (the ones with the fancy, logo'd rubber sleeve over them)!
Although virtually every part has been altered in some way, there are more than a few components which appear factory-finished. The rad, for instance, looks quite unassuming until Paul points out that it's actually a one-off from GMX, painted black to blend in with the rest of the bike and fitted with a DR-Z fan. And the subtle header tank he knocked up, which nestles down beside the oil cooler, also looks like it's always lived there.
Dream Weaver
With the exception of the plastic Husqvarna forkguards, the bodywork is all carbon-fibre. 'Fibreglass just wouldn't have looked right'.  Paul handed over £2800 for the panels and the moulds – a serious amount of money, I think you'll agree. Still, the quality is utterly fantastic and, naturally, the job wasn't quite as straightforward as lifting new panels from standard plastics.
Okay, the headlight is a reproduction of a stock DR-Z lamp, the front fender's from a UFO design and the hugger should be on a 2005 'Blade. Everything else Paul had to design as one-offs. The undertray, chainguards and heelplate on the rear master cylinder were all mocked-up in aluminium before being laid as weave. Likewise the neat frameguards and the infill panels below the seat. The aforementioned KTM rear-end was widened slightly and a pair of KX-F radshrouds were chopped in two – the 'drilled'  top half being mated to a new lower section to provide a large enough panel.
Having spent so much money on the carbon, you could excuse Paul for wanting it on show and simply having it lacquered. 'Someone suggested that I leave it plain. They thought I was daft to have carbon bodywork and then get it painted. But I thought it'd be too boring…'  And he's absolutely spot-on. Dream Machine were employed to spray on the Suzuka eight-hour replica paintwork, and as Paul's a big fan of legendary GP racer Kevin Schwantz the bike wears the infamous '34'. 'Actually, the endurance bike ran number 34',  corrected Paul, when I asked him about the graphics. 'It's just a coincidence that it's Schwantz's number'.  A wry smile gave away the fact that he'd probably have added the number anyway..!
In between the paint, the carbon's been left on show, and when the sun catches it the light really picks out the weave. The result is stunning, and far more appealing than a simple coat of lacquer.
Away from the paintjob, the Yoshimura detailing was completed with a few well-placed stickers and a logo'd engine casing. Yoshi may make these parts for more sporty machines, but the DL doesn't get quite the same aftermarket treatment. So Paul filled the embossed 'Suzuki'  on the OE case with Araldite, painted it and individually cut the Yoshimura characters out of ally before sticking them in place, again with Araldite.
I could list any number of one-off parts to further emphasise the attention to detail on Paul's Suzuki, but one thing stands out above all else – the numberplate. Sure, it's simply a yellow Perspex rectangle bolted to the rear fender. And it's not even a part Paul had a hand in making. But when you realise what he's done you see just how much thought went into the build. So what makes it so special? Well Paul bought himself a private registration for no other reason than to get a legal-ish plate to fit between the end cans: 'A seven figure plate wouldn't work. So I chose a number that would fit into as small a space as possible.'  The plate doesn't mean anything, there's no clever anagram or well-positioned screws to change how you read it. But the five-digit reg slots perfectly between the Akros' carbon end-caps…
It's Alive!
When the bike was run-up on Crescent Suzuki's dyno it became clear that the smaller airbox (and no doubt the narrower headers)  were holding back a little top-end power, tho' Paul doesn't think the bike really needs it. 'It weighs at least 30 kilos less than a standard V-Strom',  he explained, 'and you don't need to rev it hard'.  Having had such a large input in the build, his friend Sean took a spin out on the Suzuki and returned proclaiming that he didn't want to get off it..!
After a two-year build, there are a few things Paul's left to address. It's to be expected of such a monumental project. Some of the parts he took to a local company to be anodised red – the yokes, a few brackets and spacers – have started to fade; the gear lever needs lengthening to account for the huge pegs; and the forks could do with some fine adjustment. But you get the feeling he's more than happy with the way the project's gone. 'The attention it gets makes it worth it,'  Paul commented, just after revealing that the bike owed him a whopping £11,000!
Take the thumping heart of a litre-bike and the body of a supermoto, mixed together by the brain of a crazed scientist (well, fabricator!)  and the result is a fantastically finished example of monstermoto madness. It's always nice having something which really stands out from the norm. Especially when no-one knows what it is..!
Paul would like to thank: Sean, Tony and all at Crescent Southampton. Perv at Crescent Verwood. Allen at Carbon Specialities. And Talon Engineering.
Thanks to: Kemps Quay for the photo location, and to Crescent Southampton for their help.