The year was 2006, and Aprilia's gorgeous and ground-breaking RXV450/550 V-twin enduro bikes were finally revealed to the press in Sicily. Naturally enough Rust was there to try them out…
Aprilia's latest marketing campaign is a clever little visual pun. The image used to promote the company's new V-twin dirtbike shows an X-ray of a human chest with seemingly two hearts beating within. The symbolism is clear – two hearts are better than one… On the face of it a lightweight in-line V-twin has much to offer the trail and enduro rider. No wider than a conventional single, but more powerful, smoother and with the promise of greater performance, economy and reliability for an equivalent capacity. It all sounds so promising… Camel Too Slotting a V-twin into a dirtbike chassis isn't wholly original thinking. In the past, manufacturers such as Brough, AJS and Harley Davidson can all lay claim to building V-twin off-roaders of one sort or another. And of course Honda and Cagiva have been dropping Vees into big trailies for years, while KTM and Highland have recently joined the party. But it was another Italian manufacturer – Moto Morini – who back in 1981 launched the first mid-sized V-twin trail bike of the modern-era in the form of their 500cc Camel trailie. And then followed it up a few years later with the 350cc Kanguro. The difference with the Aprilia V-twin of course, is that it's been pitched squarely at the competition sector (the growing 'enduro' market) together with the much larger leisure market which supports it. And you've got to admit that it's a brave move on Aprilia's behalf, taking on the likes of KTM's well-established EXC, Honda's CRF-X and Yamaha's WR-F in the 450 (and open) class with a new – and as yet unproven – product. Sensibly, the first thing Aprilia have done is to single-out their twin(!) by making it appear totally different from the competition. You can't help but be impressed by the way the RXV looks in the metal. From its sexy cross-braced swingarm to the unique slash-cut underseat pipes and LED rear light, from any angle the thing just looks sensational. Turn up on one of these babies at your local ride-out, and people are going to want to know you. Aprilia should be applauded for thumbing their nose at conventional design and opting instead for a radical and innovative re-think of the basic dirtbike appearance. There's no doubt in my mind that the RXV's looks will influence future design of other dirtbikes from other manufacturers – sending one or two designers scurrying back to their cad-cam systems.
But although individual design (some might even call it quirky) is a bit of an Aprilia trademark, it remains to be seen exactly how practical the RXV turns out to be. Particularly in a muddy country like our own. Cast your eye over the photos and you'll see that there are an awful lot of exposed nooks and crannies on the RXV (not least of which is the valley of the 'V' itself) which look like they might potentially shelter a whole heap of crud. And at least one area (just forward of the silencer box) where you won't be able to use open cell foam for fear of it melting. And while we're at it I have one or two other issues concerning the Aprilia's practicality as a serious off-roader. First-off there's no kickstart as a back-up to the electric-start. The RXV's not unique in that respect I know, but remember we're talking about an Italian motorcycle fitted with Italian electrics. On at least three occasions a couple of the press bikes failed to fire up on the button and had to be bump-started. This behaviour is not exclusive to Aprilias (many Italian bikes suffer the same symptoms), but I know for a fact that punters hate it. It's one of the reasons they cite for buying Japanese, and Aprilia will have to address this problem, if (as they claim) they want to be considered serious players in the global market. When I spoke with the RXV's Project Manager Mariano Roman he told me that they'd twice upped the spec of the battery (to 8amp-hours) which was now 'sufficient'. I have to disagree. Perhaps in future Aprilia will adjust the engine mapping to allow the ignition to be retarded slightly more (helping improve the hot/cold starting), but clearly a little look at the area of starting wouldn't go amiss. And one other point which no-one at the brief press launch seemed to pick up on, is the fact that the Aprilia's innovative and complex frame design – which mates extruded aluminium side spars with a steel trellis structure – hangs the V-twin motor from the chassis without the need for lower frame rails. This neat design works fine in terms of handling, but suggests to me that the fragile engine cases might be vulnerable in certain situations. For example extreme care will have to be taken when riding up and down large rock steps, to avoid clouting the motor. Because the stock plastic bashplate is only going to be able to fend off so much attention. And the way I see it, even an aftermarket alloy or carbon guard will have to mount to the bottom of the engine rather than the frame – compromising its effectiveness.
Hearts of the Matter But let's ignore such issues for the moment and simply revel in the fact that what we have here is a 'competition' off-roader powered by a super-smooth V-twin engine. Which let's face it is enough of a novelty to bring a smile to the visage of even the most jaded bike hack. Certainly you can appreciate the Aprilia's fuel-injected smoothness, its lack of any real vibes and its innate flexibility, when you get the bike on tarmac. I can see a lot of riders (particularly road riders new to off-roading) really going for this particular benefit of the Aprilia. And you can almost see the RXV defining a new sub-category of 'mid-trailies'. With the exception of its twin cylinders and compact dimensions, there's nothing particularly revolutionary about the 77 degree, dry-sumped, liquid-cooled, fuel injected, SOHC, eight-valve motor which powers the RXV. But Aprilia are no strangers to building great V-twins and it's clear that they've worked hard at minimising the size and weight of their powerplant. To that end they opted for a single-crank design and like other manufacturers, have specified lightweight materials (titanium for the valves and magnesium for the case covers) to keep weight down to a minimum. And certainly when you ride the bike it feels no heavier than a single. Aprilia are claiming a dry weight of 118kg which is ballpark for a bike like the WR450F, say, and I'd bet that once the 7.8L tank has been brimmed it's gonna be somewhere near the 125-127kg figure. But frankly that's where comparisons with a single begin and end, because the RXV's engine feels unlike any single I've ever ridden… Nor does it feel like any V-twin I've ever ridden, for that matter. The thing about using a V-twin in this sort of application is that although it restricts the design of the bike in one sense (you have to package your frame around two cylinders, two exhausts etc), it also opens up a host of possibilities. Possibilities like greater power, smoother running, less noise, increased efficiency, prolonged service intervals, improved reliability (thanks to longer clutch and gearbox life) etc. And that's what makes the RXV potentially so exciting.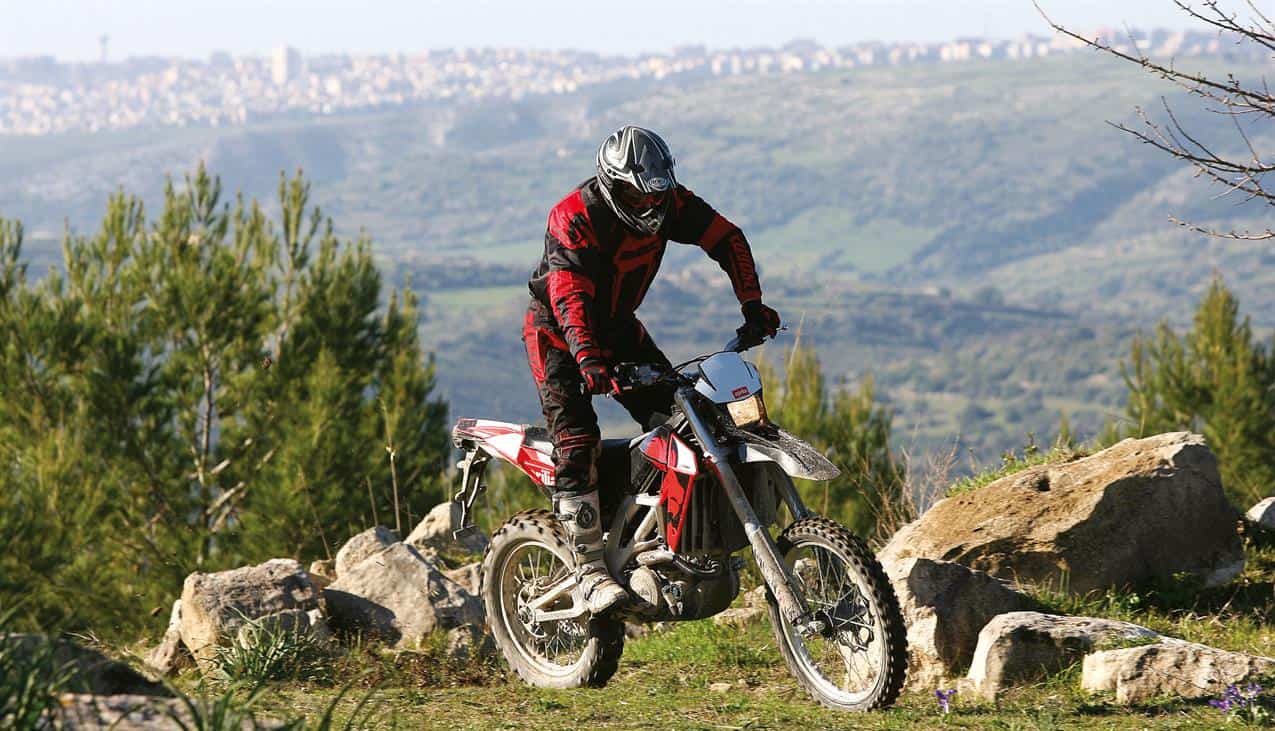 However if you're expecting this particular V-twin to be characterised by great gobs of torque and cobby, almost lazy power, then think again. Aprilia have used the natural 'balance' of the V-twin to allow them to run an absurdly light flywheel. Which in turn has made for an incredibly free-revving and responsive engine. Such is the RXV's propensity to rev that it sounds like a sort of mini-Ferrari when you twist the throttle. And because the Aprilia lump has been designed with both off-road and supermoto in mind (the SXV model was also at the launch), the engine has been tuned to produce oodles of power. Now depending upon your point of view this is either a good or a bad thing. My own opinion is that this sort of power delivery works far better on a supermoto bike than it does on a dirt bike. On the rough the RXV's engine is inclined to spin-up very quickly which promotes wheelspin at the expense of grip. Disappointingly, despite travelling thousands of miles to get to the launch, we didn't have very long to ride either of the bikes, so I'm reserving judgement until we can get an RXV onto UK soil. But my overriding impression was that here we had bikes which had been built to silence the competition in their respective classes in terms of out-and-out power, but which didn't have the benefit of the surging torque you find (and need) in an equivalent dirt-oriented single. In some ways the 450 was better in this respect. Its power output was milder and felt slightly torquier than the fearsome 550 thanks to slightly different cylinder dimensions and a higher compression ratio. And when it came to putting that power to the ground it was much more effective and (I found), far easier to pilot around the excellent special test which Aprilia had laid on for us.
But the other problem with having such a revvy engine is that although revs rise very rapidly, they also die-back just as swiftly. Shut the throttle on the RXV on the way into a corner and you can find that the engine can occasionally stall, locking the back wheel on a loose surface. To be fair this was a problem I only found when riding the 550, but in truth the combination of a rapid-fire power delivery, high power output and very little flywheel effect, made the bike extraordinarily difficult to pilot at walking pace – particularly over the smooth rocks they found for us where the photos were taken. In terms of chassis, suspension, brakes, riding position and all the other important details, again it's pretty hard to come up with definitive answers because of a lack of time on the machine. What I can tell you though is that the chassis feels very neutral and fairly stable – more Honda than KTM. The suspension felt well damped but on the stiffer side of things (more KTM than Honda). And the brakes were typical Brembos – the same as KTM – 270mm on the front, 240mm on the rear. Riding position was fine and well thought out (though the seat height at 996mm is pretty high): you sit behind a set of braceless bars and in terms of the cockpit the RXV is well appointed with large digi dials, and modern switchgear (with the exception of an old-fashioned cable clutch). Oh and it's particularly quiet. A peculiar advantage of the V-twin, apparently. Living With It As with any new bike, there's always the 'what if' fear which comes with ownership of an 'untested' new model. One of the points Aprilia wanted to stress at the press briefing was their determination to ensure that no such worries occur with these new models. They are claiming that the RXV and SXV will have a dedicated warehouse with specific logistics and spares delivery available anywhere in Europe within 24hrs. Furthermore particularly close attention will be paid to the customer/dealer relationship with plenty of factory support available in the unlikely event of problems coming to light. This is extremely encouraging to hear, and shows a sensible commitment to their new product. What's more Aprilia claim to have designed the bike with access in mind so that all the usual servicing and maintenance routines (such as valve-adjustment, plug changes etc) can be carried out easily. Not something you can say about all other dirt bikes, that's for sure. And servicing should cost no more than with the equivalent single.
Nevertheless I can't see too many serious enduro racers queueing up to invest six grand on an RXV. It's too unusual, too expensive, too different in my opinion – and though racers love 'an edge' over the competition, they're also a fairly conservative bunch at heart. So who is going to be the RXV's customer? Well, I can see this bike appealing to the slightly more adventurous and well-heeled trail rider/occasional competitor. The sort of person who runs their own company, has a few quid behind them, and can afford to splash out on something really spectacular. These guys (and they are generally male, usually in their late 40s and can afford to pamper themselves), they like to look good. They'll use their bikes not just for trail riding on at home but also on overseas holidays, and they'll probably enter the odd rally or enduro event – partly, just to be seen on it. For them the Aprilia is just the ticket. It has the wow-factor like no other machine out there. It's well built, well specified and well trick. And it's fast – and that'll simply add to the bike's kudos. Because unlike oddball bikes from the likes of Vertemati or VOR say, while the Aprilia may be unusual, it's not quirky. Much more importantly it's built by a mainstream manufacturer with a reputation for building some of the best loved V-twins in the world. The first batch is already sold out and frankly demand is expected to exceed supply for a while yet. Yep, I can certainly see how owning a bike like this would make your heart – or even BOTH your hearts – beat a little faster. Despite some reservations, I reckon the Aprilia makes a welcome addition to the off-road marketplace. It's a little different but that's precisely the reason why some people will love it – with all their hearts…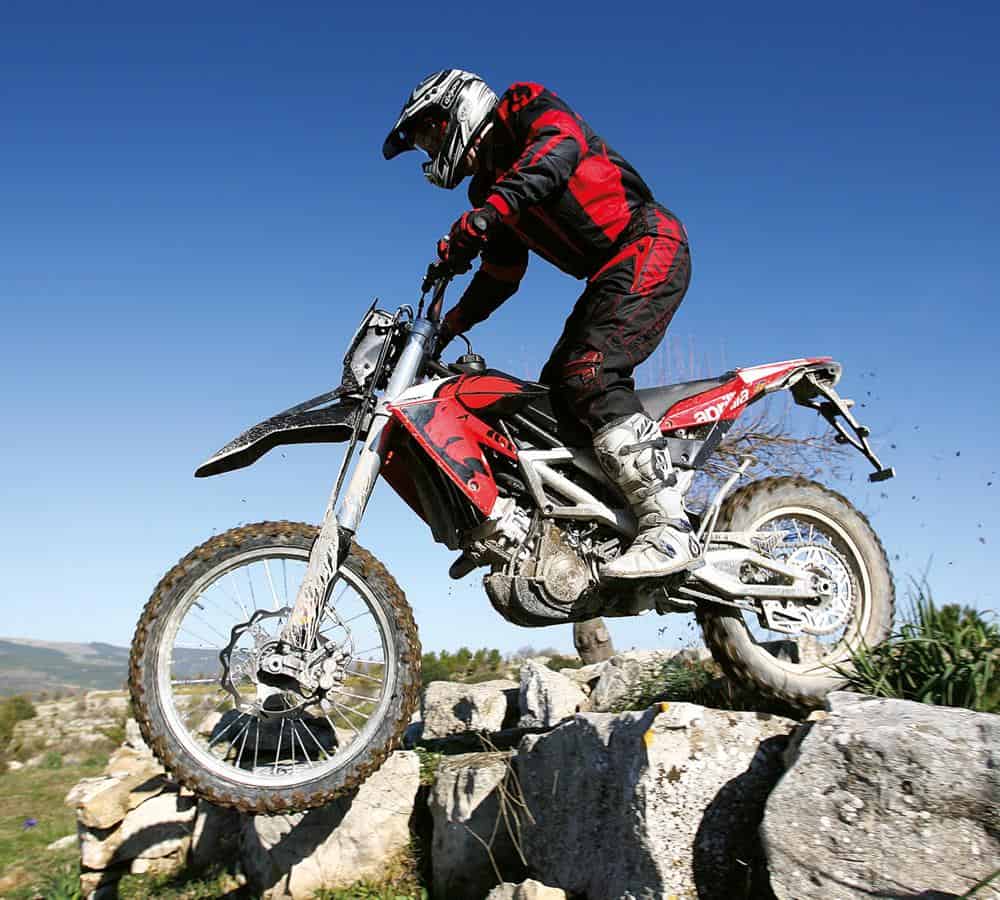 Aprilia RXV450/550
Price: £6050 / £6150 (in 2006) Engine: Liquid-cooled, dry-sumped, SOHC, 8-valve, 77º V-twin Displacement: 449cc / 549cc Bore x stroke: 76 x 49.5mm / 80 x 55mm Comp ratio: 12.5:1 / 12:1 Fuel system: EFI 38mm / 40mm bodies Clutch: Wet, multiplate, cable Gearbox: 5-speed Frame: Steel trellis with alloy spars Front susp: 45mm USD forks Rear susp: single shock with linkage Fuel capacity: 7.8L Seat height: 918mm Wheelbase: 1495mm Colours: Aprilia Black/Fluo Red