Honda's CRF250X was not only one of the best 250 thumpers available, it was, at the time, also one of the cheapest. RUST revisits the winter fun…
BRAAAAAARRRRRRPPPP….. FFFWWOOOOOOOOOOOOOOSSSHHHH!
It took precisely four seconds to remind myself exactly why I love the Honda CRF250X. Because four seconds was all it took to accelerate away from a standstill – in snow – change into second gear and then stick the Honda into an outrageously huuuuuuuuge powerslide – the result of which left a massive grin on my face for a whole week. And we're not talking heroics here… this was me getting my off-road kicks at sub-25mph speeds. The TRF would've been proud!
Bulk Buy
A couple of years back I turned up to race at our local enduro in the van with a test bike in the back, and parked up next to a bunch of lads (in their mid-forties) whose pick-up and trailer contained three brand new, identical CRF250Xs. One of the guys sidled up to me before the race for a quick chat and it turns out they were three buddies (all RUST readers) who were returning to dirtbikes after a brief (four or five year) layoff from the sport whilst they each had kids/ took out mortgages/ got married etc.
I asked him about the bikes and how come they'd all purchased identical machinery and – so the story goes – having just returned to the sport they loved, they felt they were all a bit out of touch with the very latest machinery and didn't want to risk getting their fingers burned with something too specialised or new to them.
And so after a get-together in the pub (it's where all the best ideas are born), they decided to jointly invest in the product they already knew and loved. And of course a brand they trusted! So the very next weekend they all went into a Honda dealer in Bucks and slapped down an order for three brand new CRF250Xs!
Because as clubmen riders they reasoned they needed something that was capable of going racing without needing setting up, strong enough to take the knocks week-in and week-out, reliable enough to not need constant maintenance, and yet small and light enough to allow them to dominate the bike without feeling intimidated.
I couldn't really argue with any of their reasoning, least of all when he summed up their thoughts with one final inescapable truism delivered with a shrug of the shoulders: 'at the end of the day… it's a Honda!' He said. Matter-of-factly.
I've thought quite a lot about those guys since then, and the choice they made. Because although I remember sailing past one of them in the race, I can't for the life of me remember what the hell I was riding. And yet I still remember their three bikes!
It says a lot about the good old Honda CRF250X that years after it was launched, and despite barely changing in all that time, when I hopped back on board one this last week, it still felt good to me – the kind of bike I would buy if I was one of their riding group.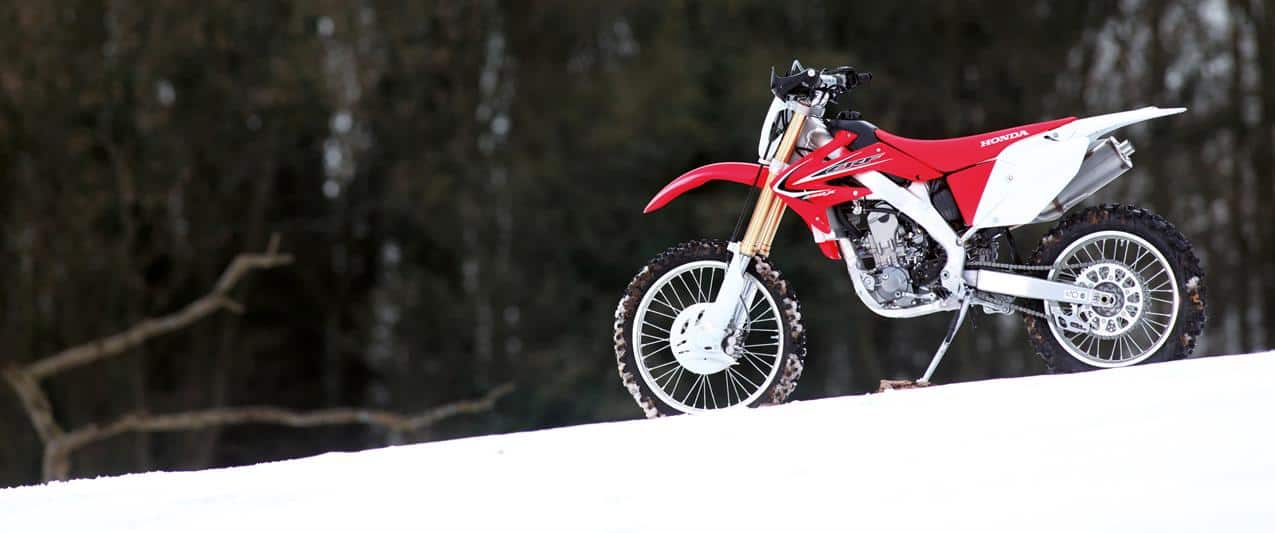 Rock of Ages
Say what you like about the CRF250X: that it hasn't kept pace with opposition development, that it's nothing more than a soft little trailie that is outpaced by most of its rivals, that it doesn't sell in the same kind of numbers as it did back in 2004 and I'll agree with all of it. But you know what? I wouldn't change a damn thing!
Because you don't get to be the largest, greatest and most successful bike manufacturer in the world without knowing a thing or two about building motorcycles. Nor do you get ranked number one in the world without employing some of the most exceptionally gifted and far-sighted engineers within your workforce. As a motorcycle journalist of more than 20yrs standing (and occasionally tumbling), one of the things I most admire about Honda products is how they stand the test of time.
Unlike other manufacturers, Honda tends to invest a considerable amount of time and money developing its core products, and then in order to ensure a return on their investment, it guarantees the product a long model life. Okay, that may mean there's not the same kind of rapid turnover of new models and trendy development that you get with other brands, but from the customer's point of view it ensures continuity of spares, reliability, dependability and best of all… resale value! I guarantee nothing p155es off a customer more than a bike which no-one wants to buy, the second you wheel it out of the showroom!
Granted there will be those of you who will point out that the CRF had some well-reported reliability/quality issues in its first couple of years. True enough, and these issues have been detailed within these pages countless times. But Honda quickly ironed these problems out (they were material issues rather than design faults), and now the bike is as strong as a meteorite.
Budget Buy
So it's a sturdy, yet lightweight performer with a well-founded reputation for reliability, and though it lacks the outright sucker punch of the very latest machinery, what it loses out in ultimate performance it quickly makes up for in terms of ease-of-use – arguably a much more valuable asset. So that for MOST riders on MOST tracks and trails the CRF-X is every bit as quick as anything else out there. In some cases…. it's actually quicker.
And yet, thanks to that extended model life; thanks to the fact that its development costs have long since been recouped; and because it's no longer the sexiest thing you can have parked atop the deck of your 'Warrior' pick-up, the Honda is now one of the cheapest dirt bikes available brand new.
How cheap? Well cheaper than a KTM 250EXC by about 20 percent! Cheaper than a Husqvarna TE250, considerably cheaper than a Yamaha WR250F, and cheaper even than the latest Gas Gas EC250F. In fact we can't think of a mainstream 250F that undercuts it.
And yet despite its affordability you are getting an alloy beam frame with supple Showa suspension giving the bike lovely neutral handling. You're getting an amazingly compact 'Unicam' Honda engine with more grunt, midrange and hook-up than pretty much every other 250 thumper out there. You're buying an electric-start motor with the reliability of the sunrise, and the build quality of the rising sun. All this… and it's still the cheapest 250 thumper on the market. Do we need to spell out further why it's our pick of the Budget Bikes in this special Budget issue?
Sure it makes about 26hp compared with the 30-odd put out by the KTM and Husky quarter-litre thumpers, all of which is relevant for the entire time that you are doing in excess of 10,000rpm on either of those bikes. What's that…? You only ever max-out your bike once or twice a lap when you're racing? Well who'd have thought!
Through the trees however where it feels particularly nimble, and especially in the slop, around the twisties and on the climbs, well in all these places the Honda excels. Oh and when it comes to frugality, tank range and conserving the energy of the rider, well once again the X scores very highly. And whilst it might not be quite as fast on the opening laps of a race as other machinery, believe me when I say that CRF riders are ALWAYS quick towards the end of an event. I know this from bitter experience!
Division Bell
I should point out that office opinion on the CRF250X is divided down the middle. Because whilst editor Barni appreciates the X's build integrity, its sexy design and its downright Honda-ness, he's firmly of the opinion that the lack of outright power leaves you wanting more. And ultimately – he argues – you'll eventually get bored of the little Honda. Possibly sooner, rather than later.
My retort however, has always been to point out that it's precisely BECAUSE of the Honda's easy-to-ride nature due to that incredibly flexible motor and a neutral-handling chassis, which make it feel like you can exploit every single ounce of power.
Even just fooling about in the snow for some photos for this article I'm aware of how absurdly easy the Honda is to ride – despite the slick conditions. Start her up on the button (always works). Pull away in the snow (simple, thanks to the engine's uncanny ability to find grip), click up through the gears (effortless), turn into a corner (easy), wind on the power and the Honda responds precisely the way you'd expect it to. More throttle equals more extreme angle in the turns, with a wider slide and broader grin on your face. Back off a touch and it still hangs the tail out – just a smidgeon less so.
It's this control and linearity of response that makes the X so beguiling to ride. Landowner Richard (who's ridden nearly every one of our test bikes over the past 15 years) jumped on board for a quick spin and commented: 'Have Honda done some work to this, because I can't believe how good it feels? It feels quite quick too – for a 250F!'
In fact the bike we'd been lent was box fresh, having never even turned a wheel in anger before, yet it idled quietly, started easily and worked perfectly. Very Honda-like, in fact.
Given the conditions we were riding in – a mixture of snow, mud and exceedingly slippery farmland – it's easy to see how the terrain might favour the little Honda. Had it been drier, faster or bumpier perhaps, we might have approached the X's limits sooner. It's a fair point but one which doesn't really tell the whole story.
Good riders will always be able to reach the limits of a 250 thumper – even a much faster 250F than the Honda. But rarely is the sort of riding we do all about top speed. Besides, part of the enjoyment I take from off-roading is trying to extract the 'maximum' from any given machine. In other words you don't buy a 250 four-stroke if you're looking for ultimate performance. You buy it for it's all-round ease-of-use and fun-factor. Small-bore bikes can be just as fun as more powerful ones, you just have to look at getting your kicks in a slightly different way. On the brakes perhaps, through the trees, or in the ruts, these are all areas where the little X works exceptionally well, even if it doesn't offer arm-stretching acceleration.
I really can't stress this last point enough without sounding like some kind of stuck record. The old adage that power is nothing without control is never more apt than when riding off-road, in slippery conditions.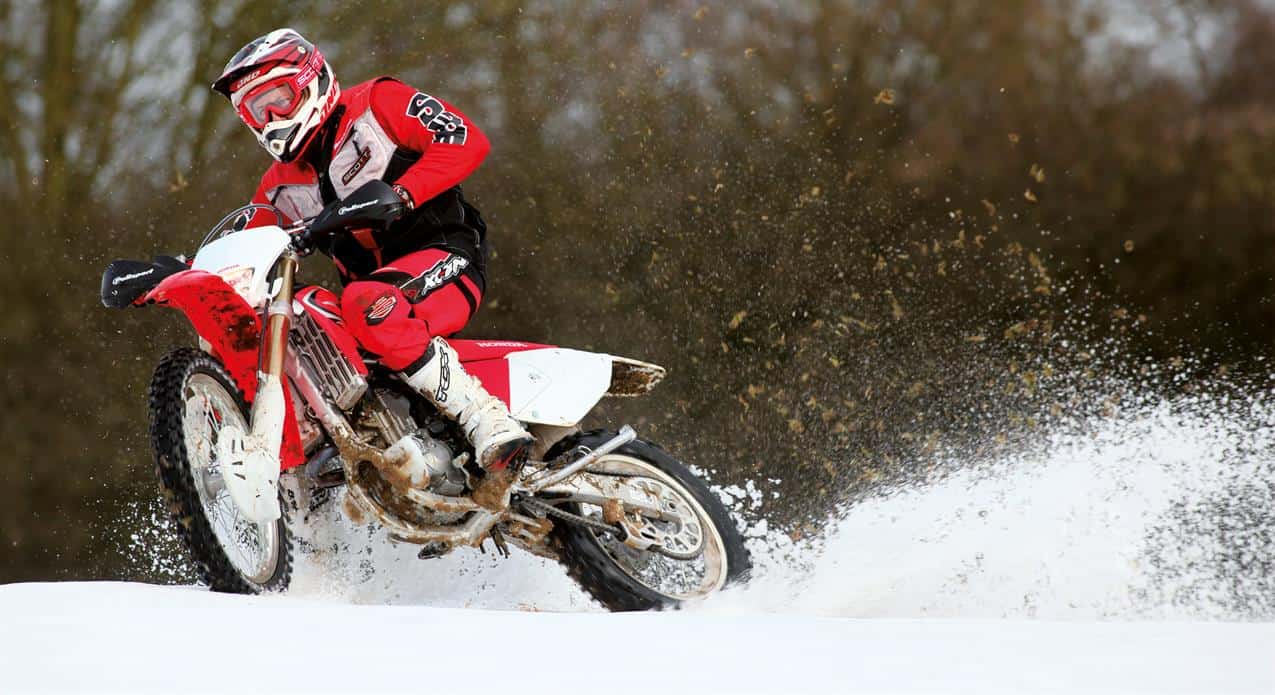 Quality Street
Here at RUST we also bang on about build quality, design integrity, styling and pride of ownership and once again the 250X comes up trumps. Take a look at the plastics on the Honda – the way they fit together properly, the way they maintain their shape and shine, and you won't find another dirt bike to match it. Not even out of Austria.
Same goes for the clever hinged airbox design which opens and shuts using just a single captive Dzus fastener. It's all about simplicity and smart design – likewise the light built into the rear mudguard which is a simple, stylish and effective solution to protecting it in the event of a spill.
It's a small but important part of the ownership experience that makes choosing the Honda that bit easier. Well, that and the fact it's considerably cheaper than most other four-stroke enduro bikes. True it doesn't come fully equipped for the road, that is an expense Honda requires an owner to bear, but nevertheless you can forgive this oversight given the bike's relatively modest price.
So are there any aspects of the bike we don't like? Of course… chief amongst them is that horrible looking silencer. Yes it's effective and it'll look good resting on a shelf in your garage, ready to slip back on when you sell the bike. But it really wants replacing with something smaller, lighter and more modern.
Of course there are compromises to owning an all-rounder like the 250F. The seat whilst good and flat and extremely comfortable for trail riding, is by no means the narrowest in class, and the riding position is definitely aimed more at trail and race use than the other way round. No big deal though.
Likewise the suspension which is beautifully supple at trail speeds and perfectly good enough for racing once firmed up a touch, will not be sufficiently stiff enough for faster and/or heavier riders. But in fairness these are all part of the bike's design brief to work well in a variety of uses and conditions. It's not a cutting-edge racer and nor does it feel like it.
On the other hand it doesn't exhibit some of the traits that goes with buying such a single-purpose machine. For instance last year we took a Husky TE310 on a long overseas trail ride and found it to be twitchy to handle, extremely 'cammy' and abrupt in terms of power delivery, and generally just unpleasant to use on the trail. On the other hand, put it on a racetrack and it's devastatingly potent. That's because it's been designed to do one particular job very well.
The 250X is not like that at all, it can do both jobs with ease and without taxing its rider to any great degree, and whilst the Husky TE will undoubtedly be quicker to race, it's nowhere near as easy to ride, nor anything like as competent on the trail. And it's not so much faster either!
Budget Buy
Generally speaking, budget products usually mean making compromises in terms of quality or ability in order to slot under a certain price-point. But that's simply not the case with the CRF250X. The Honda has found itself positioned favourably at this stage of its model life, thanks to a rising market and other manufacturer's greater costs due to continuous model-swapping.
Revisiting the Honda after a few years… far from finding an out-dated machine, I was pleasantly surprised at how fresh it felt. Testament to just how brilliant the original concept.
It feels like it's hewn from solid and yet it's one of the lightest bikes in its class. I love the low-down power-delivery of that single-cam engine that's way, WAY better than any other 250F at seeking out and finding grip. I love the way the bike handles – it's well-balanced, well-suspended, well braked and quick turning yet immensely stable at speed (a classic Honda trait). And most of all I loved the build quality which seems to have continued to push on up – above and beyond what other manufacturers are turning out right now.
To manage all that and still be the cheapest bike in its class takes some doing. But it's why we wanted to remind you about the forgotten enduro bike, and award the Honda CRF250X the accolade of being best budget enduro bike available in Britain. If you're looking at buying a new 250 four-stroke, it REALLY needs to be on your list!
Thanks to: The Mick Extance Off-Road Experience for the loan of the bike. Mick's enduro/MX/trials and desert training courses are run throughout the year where you can try out a CRF250X for yourself. Contact him on 07809 464050 www.mickextanceoffroad.com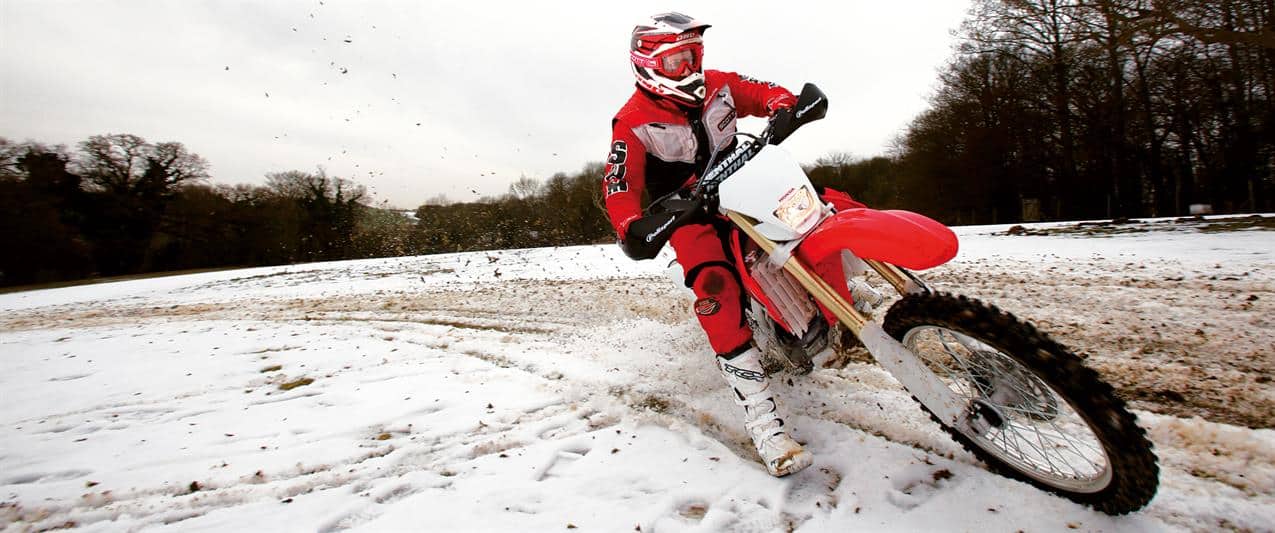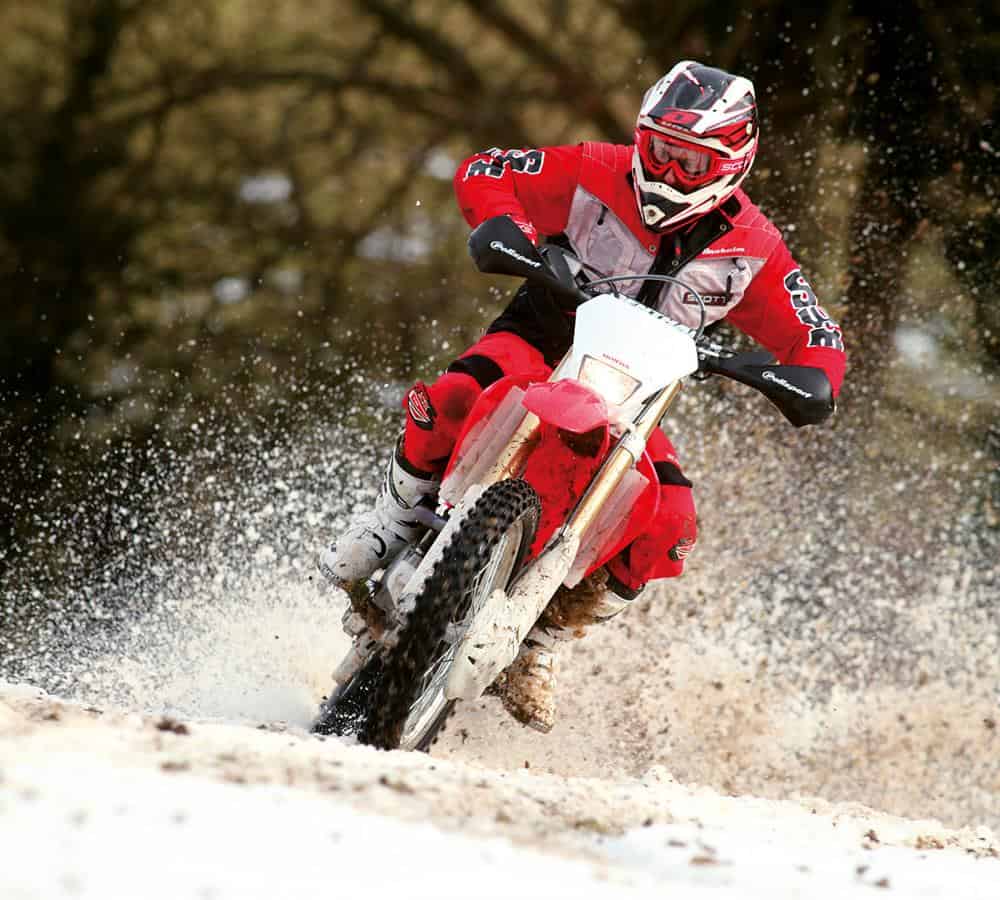 Honda CRF250X
Price: £5600 (in 2004, we cannot take responsibility for CRF250Xs gaining 'Classic' status)
Engine: SOHC, 4-valve, dual-start 4T
Displacement: 249.4cc
Bore/stroke: 78×52.2mm
Frame: Alloy beam
Transmission: 5-speed
Wheelbase: 1481mm
Seat height: 950mm
Fuel capacity: 8.3L
Weight: 114kg (tested, wet)
Contact: www.honda.co.uk/motorcycles