The 250 thumper class has been dominated by KTM in recent years, but what else is out there to choose from? Husky's TXC 250 and Yamaha's WR250F are two alternatives to 'Orange Source'…
You could be forgiven for thinking that the ONLY manufacturer building enduro bikes at the moment is KTM. Their bikes are everywhere you look – at the races, on the trails, in showrooms up and down the land and filling up the pages of this very magazine.
There's good reason for that of course. Not only does KTM build easily the largest and most comprehensive range of enduro bikes (from 125 two-strokes to 690cc four-strokes and all stops in between), but they also dominate both the sport of enduro and the European (off-road) sales charts. Those facts are empirically proven and inextricably linked. When the product is good then you win races and that in turn creates a demand for your product.
It's a simple formula: get the product right, then prove its capabilities to the customer by taking it racing, and sure enough the sales will come. All the manufacturers know this and have experience of it working in the past. Cast your minds back to the early Eighties, back then it was Kawasaki that ruled the roost and you couldn't move for green KDXs. Then in the late Eighties and very early Nineties Husky dominated first with their two-strokes and then with their new breed of super thumpers. In the mid Nineties Honda was strong in the sport with both the CRs and XRs hogging the sales figures. Yamaha owned the mid-to-late Nineties as customers switched from their two-strokes to their four-stroke WR-F models and so began the recent four-stroke revolution. And latterly of course KTM have been on top since about 2000 onwards – albeit at various times Yamaha have run them close.
This test however is deliberately not about KTM or their products, it's about two of the alternative bikes that are out there in the marketplace trading blows with the Austrian manufacturer and attempting to turn customers away from surfing the orange tide. One is a fabulous all-rounder that's been well proven over the years – not just for its abilities as a racer and trailie, but also in terms of reliability and resale value. Yep, Yamaha's WR250F has proven itself to be the ultimate survivor in the 250 thumper class.
The other bike is much newer, more single-minded, more tantalising a prospect, yet few people know about it and chances are that even fewer will ever own one. Husqvarna's TXC250 is in our opinion the coolest little machine ever to wear the modern Husky crown logo.
Evo Sticks
Yamaha's WR250F is the latest evolution of their long-standing 250 enduro thumper that's been around for the past decade, but has slowly evolved year by year into the high quality machine we see today.
I do quite like that about the Japanese manufacturers; whether by design or necessity these days, the Japanese tend to extend the model life of their bikes by continuously refining and evolving the product. That's generally good news for customers as it solidifies the resale value of secondhand models, and maintains a good supply of spares for second and third owners.
Though I ought to point out that whilst the current machine hasn't changed significantly in the past five years, it has changed compared with earlier models. The engine and chassis have both been replaced during the WR's term – it now sports a beautiful brushed aluminium frame – not to mention modern high quality plastics, suspension, brakes etc, so it's more a case of Trigger's Broom – you know the score 'been using the same broom for years… mind you it's had four new heads and three new handles in that time.'
What you see here might have that generic Yamaha look that was embodied in the design of the earliest WR-Fs more than a decade ago, but it's clearly not the same machine. Today's bike is considerably better…
…and considerably more expensive. And here's the rub. One of the reasons Yamaha's 250F isn't selling in the same sort of numbers as it used to, is purely down to its price. A few years back when the recession properly kicked in, Yamaha UK took the forthright decision to raise the price of all its products to try and stay profitable.
It was an interesting tactic, not universally admired by customers, nor adopted by other importers – or at least, not to the same degree. That pushed the price of a WR up to – and over – the crucial seven grand mark (most people saw that as a lot of money to pay for a 250). Actually, let's be honest, it was a hike too far for many of their customers (especially when the bike hadn't changed all that much in the recent past) and that no doubt cost Yamaha market share – though in fairness to Yamaha, part of that is the VAT element (that's risen to 20percent), and most manufacturers' products are within a few hundred pounds of the WR's £7299 (at the time of publishing).
However, Yamaha used the price hike as an opportunity to push their product further upmarket. If like me you're old enough to remember the days when Yamaha was a relatively cheap and cheerful brand, then think again. They have firmly and quite categorically repositioned themselves within the marketplace as a high-end manufacturer. And I agree, it better suits their modern products which are nothing like the old machines. You can't compare an old WR-F with one of the new bikes, they're like chalk and, um… marble. This bike is considerably better built, better specified and better finished than the early machines. It needs to be, for seven grand…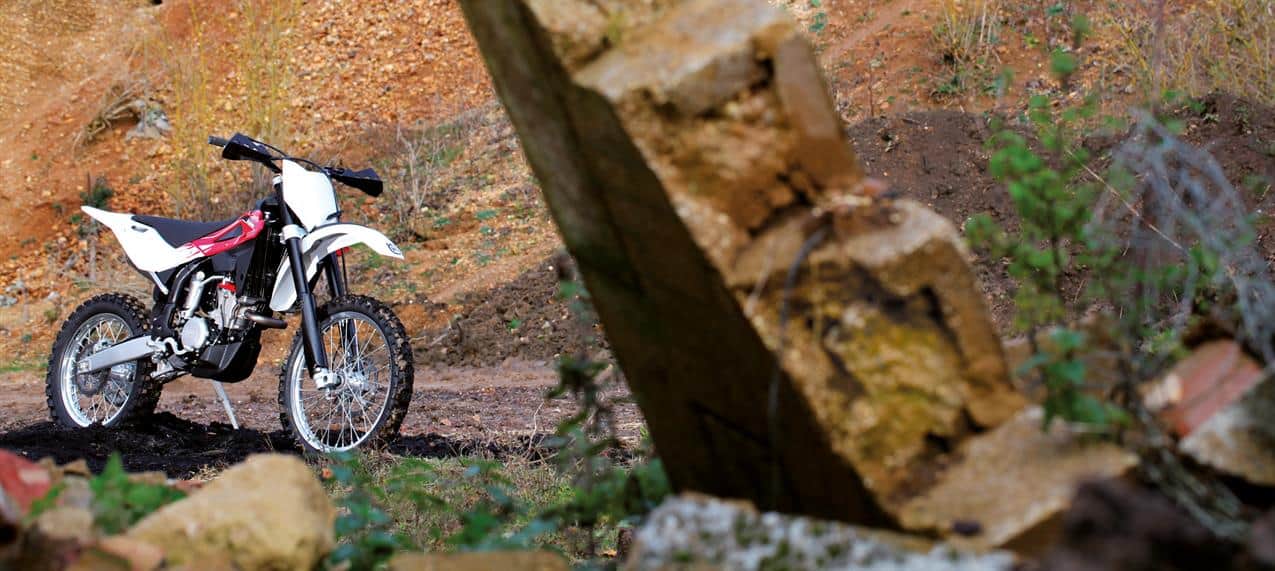 Cross 'n' Go
Whilst the Yamaha has the 250F 'all-rounder' market pretty well covered… at the opposite end of the spectrum lies Husqvarna's TXC250; a riotous, stripped-to-the-bone thoroughbred cross-country racer with a double shot of pure excitement coursing through its veins.
When we flew to Italy to test the 2013 Huskys, this particular machine was Barni's pick of the bunch. It's a 250 cross-country model that features the enduro engine but in the tauter MX chassis. It still has the enduro's flywheel and generator (though quite plainly not the lights), and it has the MX ignition and fuelling along with the MXer's firmer (and higher spec) suspension.
Despite the fact that it carries less equipment than the enduro bike (no dials, headlight or tail-light), it'll still set you back exactly the same money as the enduro bike (£6875 at the time), or in other words about a 'one-er' short of that magical 7k mark.
Unlike the Yamaha there's no brushed-aluminium alloy beam frame for your seven big ones, but you do get a snazzy red cambox cover(!), and it does manage to look seriously cool in that sexy Italian way.
It's interesting that this year both Husqvarna and Yamaha have gone for that high-line, minimal bodywork look. Despite looking completely different from one another, both bikes share a certain design style that emphasises their narrowness and makes them appear smaller and lighter than their predecessors. In fact both bikes are fairly light weight: the Husky undercuts the Yam by a kilo (117.7kg compared with 118.7kg, weighed full of fuel), though of course it doesn't have the weight of any road equipment.
What it does have is one of the sweetest performing engines of any Husqvarna we've ridden! Fed this year by a new – and utterly flawless – Keihin fuel-injection system (whereas the Yam still runs a carburettor), it starts on the button, fuels impressively and revs like the throttle butterfly has stuck wide open.
Perhaps that's down to the new four-valve cylinder head (fitted to all 2013 Huskys) that's been lifted straight off last year's TC250 MXer. Or maybe it's due to the smaller, lighter piston and different cam timing on this year's bikes. Whatever it is, it endows the Husky with a fruityness and performance that's totally addictive, and just makes you want to get on the bike and wring its neck.
Plenty of small-bore Huskies in the past have exhibited this free-revving nature, but none of them have been this well focussed, this fast and yet so well behaved at low throttle openings.
Matter of fact the TCX felt quite un-Husky like in the fact that it exhibited none of those things we might otherwise have excused as 'character' on previous Italian machinery. On the contrary you could jump onto the TXC, it would fire up instantly without any whirring or odd noises, and it would run superbly – hot or cold, low revs or high – then when you'd finished thrashing it, it'd sit there ticking over perfectly.
But there's so much more to admire about this hybrid machine than just that glorious rev-tastic engine. The 250 Husky chassis has always been a standout performer in its class. Arguably just about as nimble as the class-leading KTM, it nevertheless maintains Husqvarna's high levels of stability and composure when the going gets rough or choppy. There's a linkage-actuated rear-shock of course, but the TXC is distinguished by the fact that it gets the MX bike's suspension (albeit on enduro settings), which include a linear-rate rear spring and closed cartridge forks.
The result is an impressively firm, yet reassuringly compliant chassis that just begs to be thrown into turns and powered out on an open throttle. Just the way you want to ride a 250 thumper like this. The firmness of the damping keeps the bike from wallowing in muddy corners like some 250Fs do, but it comes at the cost of a degree of compliance. The Yamaha is much better in this respect; you can trail ride it feet-up at walking pace, all the while the front suspension is feeding-back exactly what the front end is doing, and it'll plonk along quite happily through trials-ey sections where the supple front suspension helps you feel for grip.

Not so the Husky, which needs to attack bumps and hazards at speed in order for its suspension to work efficiently and feedback the relevant information to the rider. But when you do, the Husky feels so on the money, and so willing to translate rider input into actions that you can't believe what your sensations are telling you. Flat corners, bumpy corners, any kind of corner, the TXC soaks it up with ease and keeps the bike on an even keel.
Trials-ey stuff – whilst possible on the TXC – is much trickier than on the Yam not least because the Husky's much taller first gear and revvy engine mean you have to work so much harder on your clutch control. On the other hand, show them both a fast set of turns and it's the Husky that'll emerge in front.
That's not to say that the Yamaha's suspension is wallowy, it isn't – in fact it's set-up perfectly for a broad mix of terrain, speed and rider abilities, and it really does know how to play its role of all-rounder just perfectly. But whilst the Yamaha is impressively stable through the turns (a feature of all WR-Fs), it can't quite match the Husky for sorting out the bumps and continuing to drive forwards with the same degree of urgency. The TXC also offers a much greater level of feedback than the WRF at higher speeds – as you might expect.
In fact this is one of the things that most impressed us about the TXC. Some racers still look down upon 250 four-strokes as glorified 'trailbikes', but the simple fact is that the TXC will give them a wake-up call. Its lean, purposeful and aggressive, yet it's also one of the easiest bikes to ride fast thanks to perfect fuelling and that glorious little engine which sounds like a jet fighter on afterburn. Bury the throttle and just enjoy the staccato sound of a piston at high amplitude doing its thang.
I've always enjoyed racing 250F's – they're ridiculously easy to ride fast since they're light enough to chuck around and spend less time fishtailing than more powerful bikes. That in turn lets you be much more liberal with the throttle and doesn't tire you out as fast. And here's another little benefit. The Husky's engine is so small and narrow that it'll never get caught on deep ruts. Compare the slender Husky bashplate with that of the WR-F and you won't believe the difference. The TXC is not only narrower than most other four-strokes, it's considerably narrower than a lot of two strokes too, never mind a fat two-stroke expansion chamber!
That said there's much to admire about the timeless WRF – it's a slightly different kind of ride, but it'll doubtless appeal to plenty of people. Like the Husky the WR-F has a superb riding position, that we know from experience works as well for racing as it does for long hours on the trail. Thanks to the beam chassis, the fuel tank sits lower on the Yamaha than on the Husky and it doesn't have the TXC's weird lumpiness around the filler cap – which just looks odd. The seat is both narrow yet broadly supportive at the same time and the braceless bars and bar-pad lend the bike a quality feel, despite a lack of handguards!
One thing we couldn't work out though… The bar-pad logo said AHAMAY as if it was meant to be viewed in a rear-view mirror. Weird.
As ever the Yamaha's strengths are delivered in broader brush strokes. It has a solid, polished feel that's not just in evidence in the build quality and design (we like the convenience of the side-hinging airbox door, the huuuuge footpegs and the proper working sidestand), but it also shines through when you ride it. There's the solid build that pervades the whole bike, the lovely plush suspension, superb Nissin brakes that offer amazing feel, and an engine that's as reliable as a wet British summer. And no doubt there will be those among you that prefer to own a carb-fed bike than a fuel injected one.
But here I have to make the point that this brand new bike felt slightly flatter and less powerful than WR-Fs we've had in the past. Maybe it's because our test bike was box fresh and not yet run-in, or maybe it's something deeper and less obvious (like a restriction in the exhaust or throttle perhaps), whatever it was it definitely didn't have quite the peppiness nor performance we've come to love and respect out of the WR250F motor, and it was certainly quieter than the Husky – though there's nothing new there.
Putting aside the engine for a moment because I don't want to jump to any conclusion on this score without further investigation into the issue, I think there's a place for a bike like the WR-F which has a far broader appeal than the much more purposeful and single-minded TXC Husky.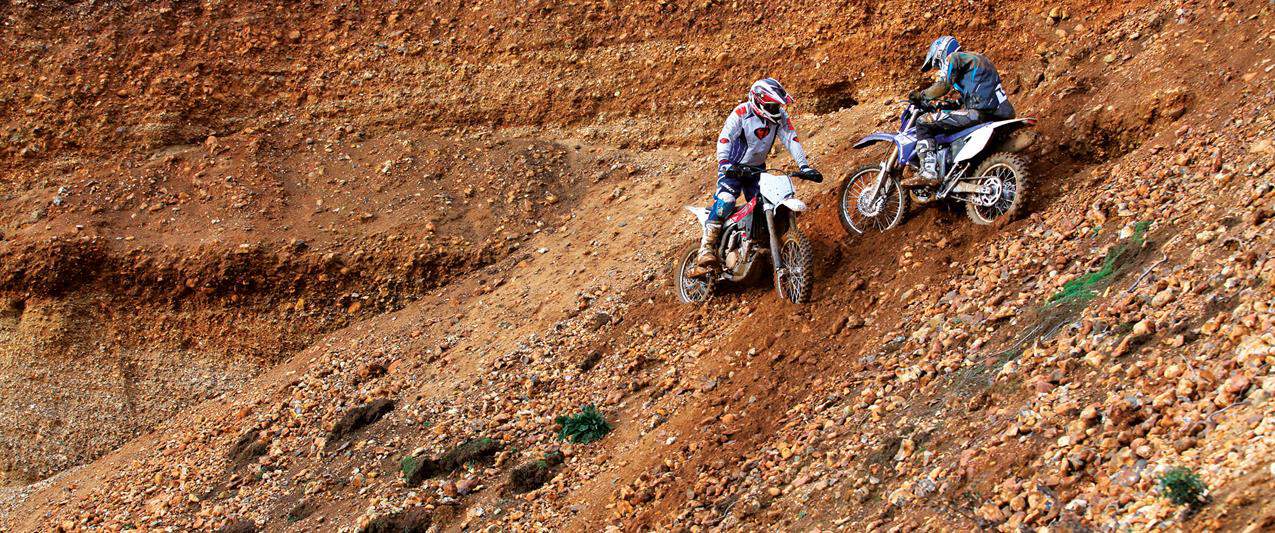 Not everyone wants or needs their dirtbike to have instant power and the sort of performance offered by the Husky (or the KTM 250EXC-F for that matter). Some people choose a 250 thumper precisely because it's a capacity that ought to be more rideable than much of today's competition-derived machinery. And as the 250F class has evolved to extract the maximum performance out of the machinery, so the bikes have become – to a certain degree at least – much more extreme.
Yamaha's WR250F is the kind of bike that'll let you ride slow or fast in any kind of terrain and it'll never struggle to get you to the end of a trail nor let you down mid-race. It's steadfastly dependable, beautifully put together and despite that pricetag, the sensible buy.
On the other hand….. the TCX is the sort of bike that'll wake you up early from a great night's sleep because you'll be so excited about riding it. Let me say straight away that this is the best modern Husky I've ridden in ages. Not just best because of its ballsy performance or brilliant chassis – quite a few have offered those attributes. Nope this one is the best because it offers all that performance WITHOUT suffering any of the hideous coughs, jerkiness, poor starting, erratic running or indeed ANY kind of issues with the fuelling at all. Snap the throttle shut and it returns to a steady idle… So un-Husky-like!
So you get all that sexy Huskyness we love and admire, without any of the annoying little hang-ups that we hate. Oh and it's not orange and black it's a sexy mix of red and white. Tempted…….?