Sometimes the old ways are the best. Yamaha's Tenere and BMW's Sertao are big trailies in the traditional sense, going big on single cylinder motors and small on electronic fripperies. But which one's best?
Not everyone wants 130bhp and the computing power of Bill Gates' fridge from their adventure bike. When it comes to travel less can be more, and the low running costs and simplicity of a single cylinder motor count for a lot when you're trotting around the globe. Take this theory a step further and air-cooling means there's less to go wrong and no rads to damage. Fuel injection may come with the benefit of automatic recalibration for altitude (and in some cases poor fuel) but I've never fixed troublesome EFI by hitting it with the blunt end of a screwdriver. I have with a carb.
However, there's also something to be said for running a new bike – there's a 'smoothness' in the controls, making their use so efficient; a tightness in every joint that is pleasantly reassuring; and, hopefully, a level of reliability which means you don't ride every mile questioning whether you heard a strange noise from the top-end or if that clunking sound is something important! The problem is, in the UK at least, you simply can't buy a new air-cooled, carb-fed big trailie. So whaddaya do? You buy the next best thing…
Old Skool?
It might sound a little daft calling brand new bikes 'old skool', but that's essentially what the XT660Z Tenere (named after a large expanse of nothingness) and G650GS Sertao (named after another large expanse of nothingness) – or at least their motors – have become. They're a halfway house between the miniaturised, technology-laden lumps currently grabbing headlines and the 'traction engine' chuggers of yesteryear.
The 652cc, dry-sumped, DOHC, (originally) Rotax motor in the BeeEm really needs no introduction here. It's seen service in so many models over the years (and not just BMWs if we count the variant in the old Aprilia Pegaso) that we've detailed its lifeline many times before. It's a tough old beast, a little grumbly in that old skool thumper way, but incredibly well proven.
Yamaha's SOHC, 660cc single might not be quite so long in the tooth nor have been so well-used, though its lineage can be traced back to the old, five-valve, XTZ660. The bottom-end is similar to that of the '90s machine, the top-end being updated with fuel injection and the switch to four valves. Since its inception back in 2004 the Japanese factory have slotted it into the 660X streetmoto, the 660R trailie and the MT03 city bike. (Coincidentally, Aprilia have used THIS lump in a Pegaso too – the mid-to-late Noughties Trail and Strada models.)
Like the 650, it's also incredibly robust – something you get a hint at simply by looking at the size of the thing. There doesn't seem to be much concession to weight saving, instead Yamaha have built plenty of metal into the engine. Nuclear reactors are less well shrouded! But then this thing will outlive uranium-238. It's built tough.
New Metal
Before pulling on a crash helmet or turning a key, the first job was to rid the footpegs of their rubber cleats in order to elicit some semblance of grip from the horribly skinny parts hiding beneath. Trying to 'weight' these cursed chunks of rubber, even when seated, can send your foot slipping from its perch, and they're near-as-dammit lethal when standing through water crossings. With them gone, what you're left with are two slivers of steel which just about suffice if you spend your time sat in the saddle, but their narrow dimensions mean they try to burrow into the sole of your foot like some kind of hideous ferrous parasite if you spend the day stood up navigating endless dirtroads on your travels. Both bikes come with typical 'big thumper' vibes though neither is so bad that you need the cleats to prevent your feet from going to sleep. We'd fit some proper dirtbike pegs for an increase in both comfort and grip…
You may have noticed that our Tenere came fitted with a few extras. 'It's the Touring version', explained the man from Yam. This means you get 30L ally-clad plastic panniers along with handguards; a centrestand; and a protective 'tankpad' as standard. Once you've learnt the procedure for fitting the boxes it's relatively straightforward and they stayed rattle-free for the 20 minutes we kept them in place. But as we didn't have 30-litres of stuff to carry with us they soon found home in the van!
Another reason to ditch the boxes was that, like most side-mounted luggage, it made climbing aboard the Tenere unnecessarily awkward. The 660's seat is reasonably tall and with the panniers in place it took the kind of graceful flexibility exhibited by Darcey Bussell or the devil-may-care high kicking of Eric Cantona to swing an MX boot over the perch. Once aboard you'll also notice that the seat is quite wide and flat, which exaggerates the height through spreading your legs apart. With the suspension settled I could get both feet flat on the floor- if you're much under six foot you'll probably struggle.
The Sertao's seat feels lower than the Yam's and, back in the office reading the specifications, I found it hard to believe that there's (supposedly) only 5mm between them. This could be due to the narrower profile but given that there's much less legroom on the GS, and its pegs aren't much higher than the XT's, it does seem like an anomaly on the spec sheets. It's not overly cramped, but the Tenere provides a much more relaxed, straighter legged, seating position. In fact, the 660 is quite dirtbikey in its ergos, whereas the GS takes a bit of getting used to. (Note: On this bike the stock BMW bars had been swapped for much stronger braceless items which had already improved the riding position.)
Of course, this is how the GS works for lanky ol' me, and anyone lacking-in-leg or short in confidence will find the Sertao a less intimidating prospect than the Yam. The addition of the optional taller seat (900mm) would certainly improve the G-GS experience for taller riders, though it would also sacrifice the ability to easily take a steadying dab in favour of a more comfortable ride.
Speaking of options, the Sertao comes with heated grips, an ally sumpguard, handguards (not fitted to our bike), ABS and a tall screen as standard. That means that the only options the factory need offer are a power socket and an alarm, as everything else (luggage, tinted screen, different seat etc) can be ordered and bolted-on at the dealership.
So the BMW aces the Yam in terms of standard 'equipment', but it's the Yamaha that looks nicer finished. The cockpit detailing is neater; there's a digi speedo rather than an analogue unit; and the paint on the tank cover more lustrous, conspiring to convince you that what is a relatively 'budget' machine (certainly in terms of the components used) isn't as cut-priced as you might think. Then you heave-in the Yamaha's heavy cable-operated clutch and a crack appears in the facade…
The BMW would score higher were it not for details such as the large section of black plastic stretching over the dummy tank looking, well, cheap. And while both bikes make heavy use of pressed steel rather than machined aluminium, BMW haven't disguised it quite as well as the Japanese factory…
New South Wales
Given the right tyres and some confident riding, both of these bikes are capable of tackling far more challenging terrain than their spec sheets would suggest. But we're not out to prove that point – not least because the Yam is wearing the 'wrong' tyres for anything too tough and the importers asked if it could come back in one-piece and without an airbox full of peat bog… this time! Please!
As adventure bikes they're designed to live-out their lives on far-flung roads comparable with South Wales' fire-trails, and so that's where we thought we'd spend our test time. With a blazing sun, whirling wind turbines and endless pine trees, if we squinted hard enough we could convinced ourselves we were in southern Europe, rather than a stone's throw from the south Wales coast.
A stark contrast between the two bikes appears almost as soon as we pull away. The BMW's fuelling is wonderfully smooth, to the point that you'd swear it was on a CV carb, whilst the Yamaha hasn't completely lost the jerkiness which afflicted the earliest examples of its 660 motor.
As speeds increase the throttle response feels more direct than on the Sertao, lending it a more sporting feel, though it doesn't make up for the unrefined low speed fuelling. What's more, the motor doesn't possess deep reserves of bottom-end drive, and when you combine this with that slightly 'hit 'n' miss' delivery and a heavy clutch it makes slow speed riding more awkward than it should be – not something that inspires confidence for technical riding, such as negotiating a washout in the trail; heading off-piste around a fallen tree; or even turning around in a filling station – especially given the seat height and the top-heavy chassis (this last point being largely due to that whopping 26L tank). By comparison, walking pace manoeuvring and nadgery going is a doddle on the 650, with its smooth throttle response, far lower C-of-G, and less towering seat. From beginner to expert, being able to take a quick dab is immensely reassuring.
It's when wafting along dirt roads at a reasonable clip, kicking plumes of dust into the warm summer air, that the Yamaha is really in its element. The midrange is the motor's strong suit and it gives the Tenere the kind of unhurried feel that allows you to enjoy simply being out in the wilderness on a bike as much as actually 'riding' the thing.
The G-GS exhibits a similar trait, though thanks to its oft-criticised gearchange – that feels like you're trying to cram a square block into a round hole – keeping up a pace takes a little more planning, not to mention scaring the local wildlife with every 'kerlunk'…!
Neither bike is endowed with a blistering top-end – peak power is much more concentrated around the upper midrange in the style of most late 20th century singles – and the delivery is such that they either rev through the power or (likely thanks to a hefty flywheel/crank mass) dig in and drive rather than spinning-up and sliding wide. Such traction-finding drive makes short work of hillclimbs too, and when the summer rains fall on that amazingly gripless tarmac they use on the Continent you'll definitely be thankful for those thudding power pulses. Who needs fancy-pants electronic traction control, eh?
Olde Worlde
When the surface does turn slippery (in this case from dust rather than mud) the BMW's soft suspension pushes the tyres into the dirt and generates grip front and rear. On an unpredictable surface, where a couple of inches either way can be the difference between concrete-hard dirt or deep shifting shale, being able to feel
Sitting further up its stroke, on tip-toes compared to the slouching Sertao, the Tenere's set-up doesn't offer quite the same degree of feel and, especially when combined with a semi block-pattern tyre, this is most noticeable through the loose corners, where it skates across the surface that bit more readily. On slower bends you can muscle the 660 through, whereas on faster turns it takes more forethought to plant the lighter front-end and not to run wide.
Add-in a few big bumps and the Yam soon acquits itself. Both bikes wear some pretty basic suspension, though the damping on the XT is that bit more suited to a 200kg machine and it doesn't bottom-out as readily as the GS, nor rebound as swiftly. Sertao riders better watch for hitting washouts and drainage culverts or face the clang of metal on metal, with a simultaneous jarring through your wrists. At least there's preload adjustment front and rear on both machines, so the problem won't be hugely exacerbated by your luggage.
Braking is one area where the GS and XT are fairly evenly matched. Both are kitted out with sliding twin-piston calipers, and where the XT edges it in terms of outright power – thanks to a twin-disc set-up – the BMW claws it back by coming with ABS as standard (switched off on our bike for off-road use). Neither will blow you away with their performance on tarmac, especially with a pillion or a load of kit plonked on the back, but there's an abundance of feel on the dirt. You'll be glad of that when a leathery-faced local in a beat-up Fiat meets you head-on round that mountain trail…
As we didn't drop either machine we can only speculate at their robustness and, allowing for such components as spindly forks and basic shocks taking a battering, both look like they'd withstand some knocks. Tip them over and the bodywork may suffer some scuffs but we'd rather that than holed rads and crushed exhausts any day, and hauling them back upright shouldn't be too awkward thanks to large rear grab handles on both bikes. There's even a tow hook on the front of the Tenere to help you extract it from a monsoon mudhole. Not something you'll use often, or maybe ever. A gimmick, perhaps? But still something which shows the factory have thought about how you could use your XT.
Naturally, we didn't bury the bikes in a bottomless bog, we took them to the kinds of places you might expect your travels to lead you. The fast-paced fire-trails took us to 'where does that go?' singletrack, 'how deep's that?' water crossings, and 'how will I turn this thing around here?' rutted lanes. Neither bike shone so much brighter than the other that it was a whitewash. It's a close-run thing…
New Money
Both bikes offer the shove of a traditional big single, only the sensation has been dulled by having to haul such heft. They're not too far shy of litre-bike weight yet produce less than half the power. Which means they'll cruise forever at autoroute speeds but won't get there in a hurry, nor have much more to give when they do. These are bikes for taking the long way there; for checking out those nadgery backroads and scenic lanes, rather than 'I'm just popping down to Marrakech, I'll be back by teatime' intercontinental blasts.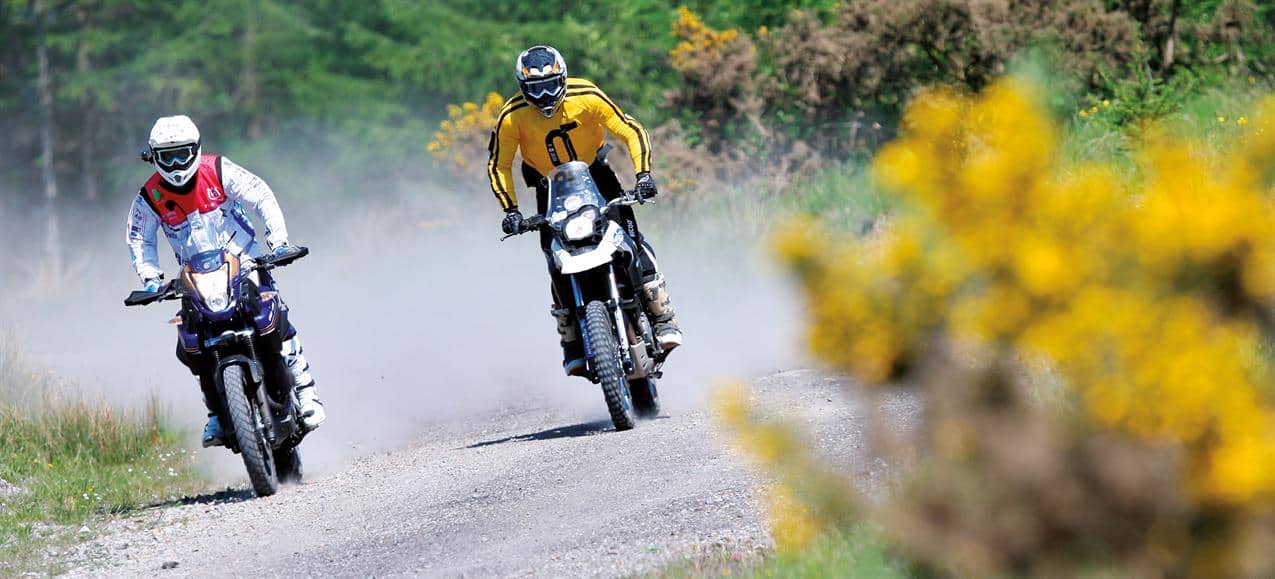 So which would I choose? Well… My immediate answer, based purely on the riding experience, would be the Yam. Perhaps if the BMW's riding position was better suited to my size it would appeal more, because it is incredibly easy to ride and the motor comes across as more characterful than the Tenere's. But despite the fuelling and the top-heavy chassis, the Yamaha feels much more of a cohesive package, and a proper 'tourer' that I could ride for mile after mile, especially with the fuel range that whopping tank affords.
If nothing else, it's far better looking than the GS. The engineering is nothing to get excited about – there's not one single part to get giddy over – but Yamaha gave the bike a look which is funky and still fresh five years after it was released. And I'm a big advocate of the theory that you should never buy a bike that you don't like the look of when it's parked in your garage, or viewed across a pub carpark.
Of course, price is a big issue and given their low-tech design and long production runs (the Sertao model may not be that old but the design and components aren't too far removed from the original F650) you'd expect these bikes to be bargain money. They aren't. The Yamaha was originally launched before the brand's price 'restructuring' and we remember a time when certain dealers were flogging them for £5k. The bike you see here is not far off eight. That said, without the bolt-ons a standard Tenere will set you back £6999 (at the time of publishing in 2013), saving you £750, and costing just £304 more than the Sertao… But it still isn't straightforward, as you have to consider that the BM already comes with a sumpguard, ABS, heated grips, etc as standard, and that 300 quid could buy you a higher seat (£162) and a fair chunk of insurance premium.
Factor all of that in and the decision isn't quite so clear-cut. But, for me, the Yam still does it. Because of this pair of 'old at heart' machines, it feels the most modern…
Thanks to: Si and Llel Pavey www.offroadskills.com for their help (and hospitality), and to Simon Belton at Yamaha UK www.yamaha-motor.eu
Yamaha XT660Z Touring (standard)
Engine: SOHC, fuel injected, dry-sump, single
Displacement: 660cc
Bore & stroke: 100 x 84mm
Gearbox: 5-speed
Frame: Steel-tube diamond
Front susp: Conventional fork
Rear susp: Monoshock, preload adj
Front brake: Dual 298mm discs, twin-piston calipers
Seat height: 865mm
Wheelsize: 21/17in
Fuel capacity: 23L
Weight: 215kg (208.5kg) fuelled, claimed
Contact: Yamaha UK on 01932 358000 www.yamaha-motor.eu/uk
BMW G650GS Sertao
Engine: DOHC, fuel injected, dry-sump, single
Displacement: 652cc
Bore & stroke: 100 x 83mm
Gearbox: 5-speed
Frame: Steel bridge-type, separate subframe
Front susp: 41mm conventional fork
Rear susp: Monoshock, proload/rebound adj
Front brake: 300mm disc, twin-piston caliper
Seat height: 860mm (900mm option)
Wheelsize: 21/17in
Fuel capacity: 14L
Weight: 193kg fuelled, claimed
Contact: BMW UK on 0800 777155 www.bmw-motorrad.co.uk