What do you do when KTM stop making your favourite model? Clive Hoy from Tri-County Bike Shop built his own of course… Taking a 350EXC-F, giving it a dollop of extra torque and turning it into a 400EXC-F!
They say that perfection is achieved, not when there is nothing more to add, but when there is nothing left to take away. Not sure about that…. Because if I won the lottery tomorrow there'd be a Maserati GranTurismo S parked on my drive. Actually… as I live in a little Victorian terrace in London, my house doesn't actually have a drive, so I guess I'd need a bigger house first, but then I'd definitely get the Maser. And you know what would make it even better…? Absolutely nothing! Because – my friends – perfection can't be improved upon.
I tell my girlfriend the same thing whenever she looks in the mirror and complains her bum's too big or her boobs are too small. Because to me she's perfect already. And I feel the same way about KTM's 350EXC-F – it looks right, it feels right, it is right. Perfect in every detail – nothing more to add here.
KTM spent a long time developing their 350 (in all its guises), they knew what they wanted to achieve from each model variant and they made it happen. And from the very first time I slung a leg over the EXC version at the launch in Italy last year (having ridden the SX and XC models and not really liked 'em at all), I knew they had built the perfect dirtbike – for me at any rate.
For a middleweight machine it's got an amazingly agile feel about it (more like a big 250 than a small 400) and it's that lack of weight – and crank weight – that underpins its lithe handling. It's got incredible hook-up too, because KTM cleverly designed the motor in such a way that power doesn't arrive too early nor too viciously causing it to break traction. Instead there's a whole slew of power available further up the rev range for you to choose from. Though you do have to feed it a full nosebag of rpm to extract the ponies from its relatively modest corral.
Nevertheless, thanks to the wonderful free-revving midrange that arrives early, builds performance in an instant, and revs on up like Ian Paisley, the 350 feels much less cumbersome than your average 400 or 450cc machine, and much more similar in fact, to a quarter-litre thumper. Say what you like about revvy motors, but it allows small displacements to produce large amounts of power, and – in the 350EXC's case – lets you decide between surfing the engine's modest torque or unleashing its mean horsepower.
For me that endows the 350EXC with the ultimate blend of ingredients for a modern four-stroke dirt bike – light weight, great handling, excellent power delivery and good looks – in that order. Like I said… Perfect!
Almost Perfect
But you know what… some oddballs prefer Ferraris to Maseratis, some guys like their girls surgically enhanced, and I guess some people don't appreciate the 350's ingenious subtlety. These guys long for the willing torque of the now-defunct 400EXC. According to these people, you CAN improve on perfection…
That's why Clive Hoy at Tri-County Bike Shop in Berkshire has built himself a '400EXC', using a new 350 as the starting point – is he mad? Apparently not, and he's got a track record of improving on stock machinery to confirm it.
We tested the amazing 310EXC back in 2010, against a Husky TE310, Clive built that bike out of a new 250EXC-F – and we absolutely LOVED it, it was just incredible to ride – so smooth and powerful for what still felt more-or-less like a quarter-litre thumper. Or how about the 350XC-F he converted to trail trim – taking what was essentially a ragged-edged-racer (with way too vicious a power delivery), and turning it into a respectable byway basher.
Well this is his latest creation – a '400EXC-F' designed for riders who want the light weight, low-fat dynamics of the new 350 motor, but prefer the extra shot of the double-espresso 400… And of course, can afford to have what they want!
Let's not downplay that last point, because a new 350EXC-F will set you back the best part of seven grand, add to that the engine tuning work that's been carried out to this particular machine, and a couple of the bolt-on bits you'll want to fit, and I doubt you'll see much change from nine big ones. And that's before you take into account the suspension work and the orange rash of aftermarket inflammation that Clive's added to his.
Of course if you're not so flush but you still fancy a 'new-style' 400 you can probably track down a secondhand 350 – they've been out for nearly a year – and you'll probably save yourself the best part of a grand doing it that way. And though I doubt a 350 will be tired yet, this work will ensure the engine feels like new again!
On the other hand as I get older I come across more and more riders for whom money isn't really the issue, so much as finding the time to ride their bikes. These guys drive cars that cost 50-70k plus (and in many cases an awful lot more), they spend thousands of pounds going on holiday, taking golf lessons, joining a club, learning to fly, buying horses, purchasing exotic carbon-framed road cycles, racing their classic cars, track-daying their Italian roadbikes, filling their cellars with fine wine, or equipping their houses with uber-expensive stereos. Why shouldn't they buy themselves a purpose-built dirtbike that costs £8 or £9k?
When you have a busy lifestyle and time – rather than money – is the limiting factor, it makes sense to cram the maximum amount of enjoyment into the few hours that you actually spend in the saddle. Part of that is having the exact bike you want and if that means you fancy a nine grand dirtbike, then why the hell not! Relatively speaking dirt bikes are still one of the very cheapest forms of motorsport available, and besides… it's still a small cost compared with purchasing a matched pair of Purdey shotguns.
Perfect Ten?
So what work has Clive carried out to his bike? Well (aside from the billet clutch cover) from the bottom-end down, it's pretty much all stock (KTM built the 350 good and strong so it's capable of handling plenty more power than the EXC puts out), but just for good measure Clive stripped the bottom end and made sure the crank was perfectly balanced. From the rod upwards is where all the changes have taken place.
By his own admission Clive didn't have as much time as he'd have liked to carry out all the work he intended to do on this machine. Part of that was because he wanted to get it finished and into our hands so we could get it tested (what a gent). That meant some of the work being contracted out. Clive fitted the Vertex over-size piston kit himself – it's a straightforward replacement slug, barrel and gasket set (with a 2mm larger piston – up from 88mm to 90mm, taking it out to an actual 365cc), but he got the gas-flowing work done out of house because of a lack of time. The fuel-injection needed no alteration (or setting up, interestingly), and though Clive would have preferred to fit a full Ti Akrapovic system, he made do with just a Ti muffler in order to keep costs down (ahem).
What he did do however was to send off the forks to the guys at MCT. Darren & Keith are ex-WP suspension gurus and they elected to increase the air gap from 110mm to 135mm and added slightly heavier fork oil (7.5wt instead of 5wt), then they simply adjusted the clickers to their preferred settings – leaving the valving and spring rates as stock.
Whilst the suspension was away being fettled, Clive took the opportunity to raid the KTM Power Parts Catalogue for a set of machined yokes with an adjustable 19-21mm offset, and a whole bunch of orange geegaws. Personally I don't much go for this kind of detailing. As far as I'm concerned unless there's a sound reason for having orange covers on the brake and clutch master cylinders, I can't really see the point. But then Clive is a mechanical magpie so he likes his bikes to look as bling as possible. And as he points out, 'when the parts are sat in glass cases in our showroom people never buy them. But when riders see them fitted to a bike they end up wanting them'. Fair enough.
The other accessories Clive's fitted include PivotPegz (awesome), a Lithium battery (less than half the weight of stock), flexi levers, handguards, rad braces (very strong), rear disc guard, PHDS dampened bar-mounts (couldn't feel 'em), chainsaver, silicon hoses (don't like the colour), hotgrips, RaceFX gear and brake lever, a fuel sock (in the neck of the tank), a billet clutch case cover, a radiator fan (useful for trail riding) and a Scott's steering damper.
Clive fits a fan to pretty much all his bikes as he points out there's generally lots of sitting around on the trail and the bikes don't particularly like running hot. It only came on once during the entire three days of testing, but I guess that's a reflection that we never sat still for more than five minutes…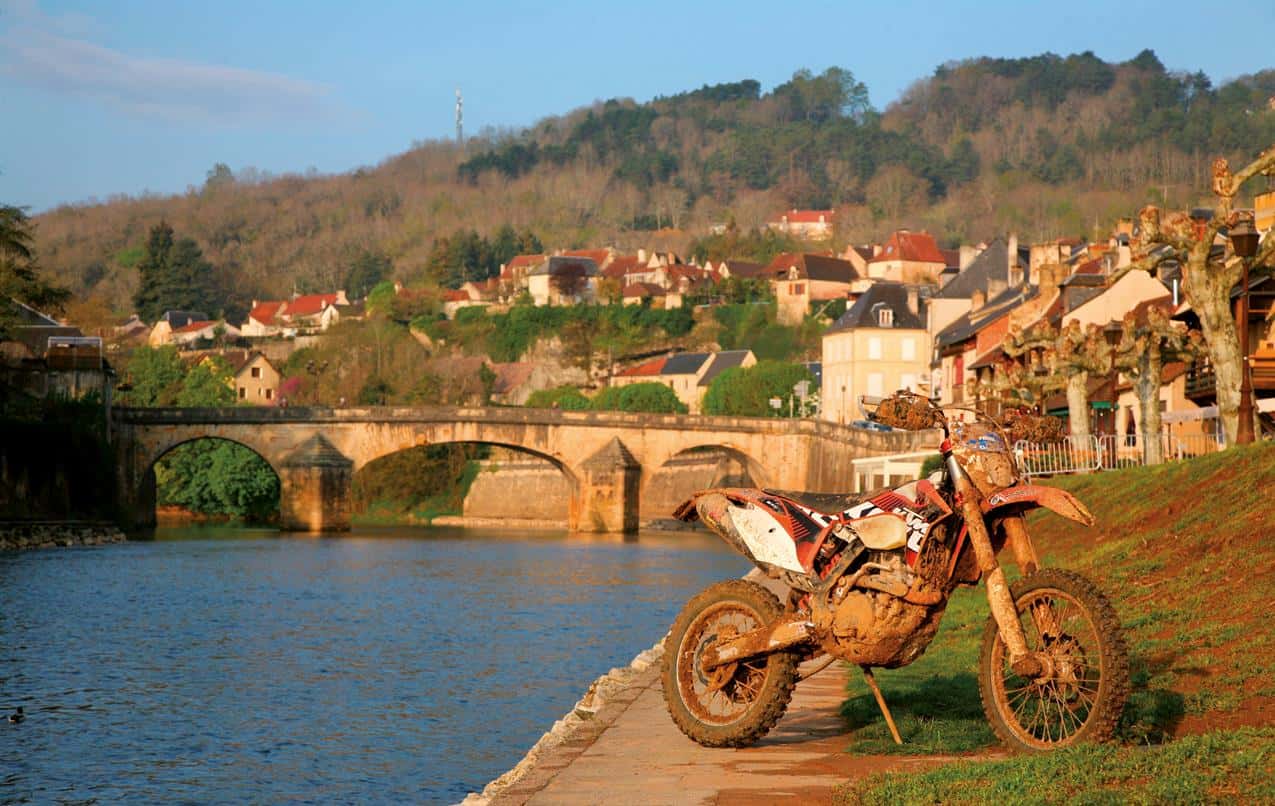 Perfect Weather
We certainly figured it was gonna' be hot where we'd arranged to take the bike down to southern France for two solid days testing in Burgundy. As guests of the Grappe de Cyrano two-day enduro organised by the Sud Ouest Moto Club in the beautiful Dordogne region of south-western France, we'd figured without rainstorms, lightning, deep mud and freezing conditions. With up to ten hours each day spent in the saddle, our bike was going to get a thorough workout in the worst of winter conditions and at race pace. The only alterations we made to the machine were to slip-in a set of Dunlop mousses, change the rear MX tyre for an FIM approved enduro hoop, and tip the handlebars forwards slightly (my preference).
It was drizzling steadily as we pulled away from the startline in Bergerac at 07.30am on the first day to begin 450km of high-speed mainly single-track riding. I'd figured (wrongly as it turned out) that much of the going would be rocky, but although there were some rocky passages to contend with, for the most part the single track comprised deep mud, clay, chalk and rich red loam. Slippery doesn't even begin to describe it.
Knowing how much I like the stock 350, I wasn't really sure I was going to enjoy the bigger-bore bike all that much. In the old days bikes fitted with hop-up kits always had some god-awful characteristics that made them harder to ride – a heavy throttle, a cammy on/off delivery or simply too much power for their own good. Not this one though. Within minutes of getting going I realised I was dealing with an altogether different entity. The fuel injection was smooth and seamless and made for a super-light throttle action, the standard 12.3:1 compression ratio was unchanged, so the bike didn't stop dead the second you shut the throttle, and the additional torque made riding the slop a whole lot more relaxing. I was impressed…
Of course it's still a four-stroke, so the mud sticks to it and bakes on and adds a good 10 kilos to the weight. And the front pushes slightly in the sloppy corners when the throttle is shut, but given the conditions we were riding in I couldn't really have asked for a nicer handling machine. Where the two-strokes were all spinning-up and fishtailing, then having to chop their throttles to establish grip, the midweight KTM thumper just poured its power onto the ground like a jug of fresh cream being tipped over a warm tart-tatin.
Thanks to the additional torque from the newly engorged motor I could leave the KTM a gear higher than I expected, and hold onto that gear for longer. And all the while the motor continued to pull seamlessly from bottom to top without ever once coughing or spluttering.
Inevitably that meant the '400' f elt a touch less revvy than the stock 350 and in that sense also marginally bigger. It's only a perception really, because the bike weighs the same as a stock 350, nevertheless you don't quite get that same deft feeling of lightness about the power delivery that you do from the 350. The best way I can describe it is like the feeling you get when you add a flywheel weight to a two-stroke – the amount of power doesn't change but the delivery becomes less aggressive and more drawn out.
That's what this kit does to the 350, it tames its youthful exuberance slightly and adds a measure of wisdom and experience. As bizarre as that might sound, it's the best way I have of describing the transformation of the power. Like most over-bores this one doesn't feel any more powerful, but it does feel quite a bit more torquey to ride and that allows you to be gentler on the throttle when you need to be.
Not that this event allowed you to be gentle on the throttle for very long. Time constraints and the amount of ground we had to cover meant that the bike was continuously being worked through the gears and revved hard along the straights to try and stay on schedule. Clive had judged the gearing absolutely perfectly and on the faster (and drier) trails I was frequently working the bike along in top gear, but in the deep mud it was a matter of revving it hard in the lower gears to make any sort of progress, as it simply wouldn't pull the taller gears in the deep slop.
In that sense the '400' felt less like one of the more powerful KTM thumpers and much more like a smaller-bore machine. It may have been given a slug of extra torque but occasionally it was best to resort to a large handful of throttle and just nail it.
Where I did notice the additional grunt was in the exit to the corners, where you could happily slide the back end of the bike around using only the throttle. Whilst this is certainly possible on the 350 depending upon ground conditions, you generally have to lean forwards to unweight the rear, but with the '400' it was just a matter of steering it on the throttle and hanging on.
Perfect Storm
Make no mistake, Day one was seriously physical – made all the more so by the fact that most of the day was ridden without goggles. No amount of double-glazed lenses or roll-offs were gonna' deal with the amount of muddy water that was thrown at us that day.
Before the event I'd wondered whether I would end up badly fatigued on a thumper when the majority of the field were riding lightweight two-strokes. But in retrospect I needn't have worried. The '400' is such an easy bike to control, and so gentle on the body that if anything it probably worked in my favour.
No doubt the subtly re-worked suspension partly accounts for this. It's rare we borrow a bike and don't feel the need to play with the clickers during a long test like this, but that's exactly what happened with this bike. We never touched either the forks or the shock. We simply didn't need to.
That's because as stock, the 350's suspension is superb, and the clever adjustments carried out by the guys at MCT have ensured Clive's bike is bang on the money. The bike tracks the ground brilliantly, and is soft enough at either end to really feel for grip in treacherous going. Yet on the harder, drier trails of day two there was still plenty of depth of stroke to cope with firm hits – especially rocks dislodged onto the track in front of you that you don't spot until the very last minute. I hit a couple of these each day and although the bike was knocked off line, it thankfully stayed upright.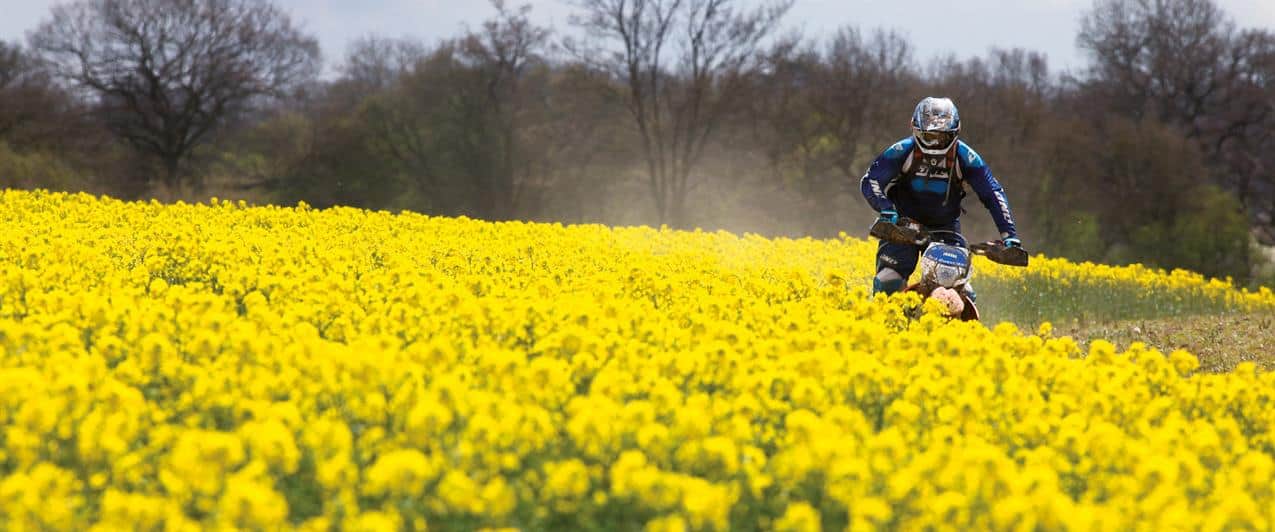 Suspension this good really has to be felt to be believed. No matter how I describe it you can only get the measure of it when you ride the bike. Despite hitting every obstacle as fast as possible (God bless mousses) I never once felt either end bottom out, yet a tell-tale on one of the fork legs revealed the bike was using up all its travel. That's the way suspension ought to be…
The KTM also has a comfortable seat, and though there wasn't much opportunity to sit down, at least when I did so on the road I didn't get that horrible numb-bum feeling that you do on so many other bikes. I must admit I couldn't feel the damping effects of the PHDS (handlebar damping system) Clive had fitted – to me the bars felt no different to conventionally mounted ones, but the Pivot-Pegs are a godsend. Fit them to your bike and don't even question why. They are the business.
One of the great things about the '400' was how easy it was to reel-in other riders. Because of the great traction provided by this motor, if ever I found myself dropping back, it was only a question of being a bit more brave with the loud handle. I'm not exaggerating this at all, the power delivery is so linear and so easy to utilise, that whenever there was a short straight you could immediately use it to close right up behind the lead rider. Awesome.
It also used significantly less fuel than the two-strokes I was riding with. In fact when the going was fast and we missed our refuelling point and had to ride a double-session, all three strokers ran out of gas, yet the KTM still had nearly half a tank left. By itself I don't think that's a reason to own one, but it's nice to know that the fuelling costs with a bike like this are relatively modest.
By the end of day one we'd covered 260km in the worst weather imaginable, the KTM had never missed a beat and I couldn't have been happier about how it was riding. In fact I was looking forward to getting back on it and doing it all again on day two. That evening we ate at 10.30pm and staggered into bed after midnight.
Perfect Day
Up early for the start of day two, after a hearty breakfast consisting of a tiny yoghurt and a black coffee, I was all set for the second part of the Grappe! It was disappointing to find it was still raining as we set off, but the forecast was 'mainly dry' and with a freshly cleaned set of goggles that had spent the night cuddling up to the radiator, I was really looking forward to getting going.
Once again the petrol station revealed a huge discrepancy between the bikes: 6.3 litres for the 250 two-strokes whereas I could barely cram a further three litres into mine, and once fuelled up we were straight into the first of the day's trails. This time they weren't as muddy as the day before and although there'd been plenty of overnight rain, the sandy soils around Montignac (where we'd overnighted) meant that the tracks were drier, easier and a whole lot faster.
Day two started in a rush. It was great to be able to use the '400's' power rather than the torque and as we pushed on towards the first checkpoint I really let the KTM rip. Everything's just so easy and seamless on this bike, even when you're revving it hard. In fact like all good machinery the faster you go the better it all works, though you do notice the additional weight (of a four-stroke) as you up the pace. It's easy to go fast but it's harder to stop and turn than a two-stroke and occasionally that can catch you out if a corner tightens up on you.
I was pleased to discover that the 400 had lost none of the 350's peppy top-end surge tho', that hurtles into view once you get the motor singing a happy song, but you need to watch out for the front end rising off the ground in the first three gears when you're using it like this.
At the first of the optional hillclimbs the '400' thundered up without issue, whilst none of the two-strokes made it to the top without stopping and pushing. It wasn't so much a power issue as the way the '400' puts its power to the ground. Still… I was smugger than Simon Cowell's accountant that I had made it up in one go. And the 400 was proving to be even better in the dry than it had been in the slop the day before.
As we sped down fast single-track, through woodland and along stony trails the '400' just worked its magic over every type of terrain. For certain it was slightly slower to get turned than the two-strokes and on the descents the lighter bikes had the advantage, but when the trail opened up or there were stony, bumpy hills to climb, the thumper just put its power down and left them for dead. I can't remember ever riding a middleweight four-stroke that gave me so much fun as this one did.
By the time we arrived back in Bergerac at the final extreme special test, the crowd watching the race had swelled to a couple of thousand people. Music was blaring from a giant rig, the Tannoy was blasting out a constant stream of babble and the team celebrated another finish by inveigling ourselves into the Ipone hospitality suite and stuffing our faces with all their free food and wine.
'Perfection' I thought to myself, as I sat there with a stupid grin on my face watching the final races unfold in the slowly setting sun. The perfect bike for the perfect enduro. But was it more perfect than a stock 350 would have been…? I'll let you decide…
Tri-County Bike Shop KTM '400'EXC-F
If you fancy testing out a version of this bike for yourself then give him a call on 01344 424282 or email him at sales@tricountybikeshop.co.uk. Clive occasionally runs trail riding days out of his shop in Wokingham in Berkshire, and might even let you have a brief spin on his bike on the lanes. Alternatively, if you own or fancy owning an overbored '400' conversion then the cost of the work including parts and labour is about £1000-1100 all-in (depending on specification), including a service. Gas flowing is extra, but is highly recommended in order to make the most of the kit's benefits. They do a variety of other modified bikes including a 250EXC to 310 conversion which according to Clive is the best combination of lightness and power you can get. Call him for more details of his conversions, and don't forget to tell him RUST sent you!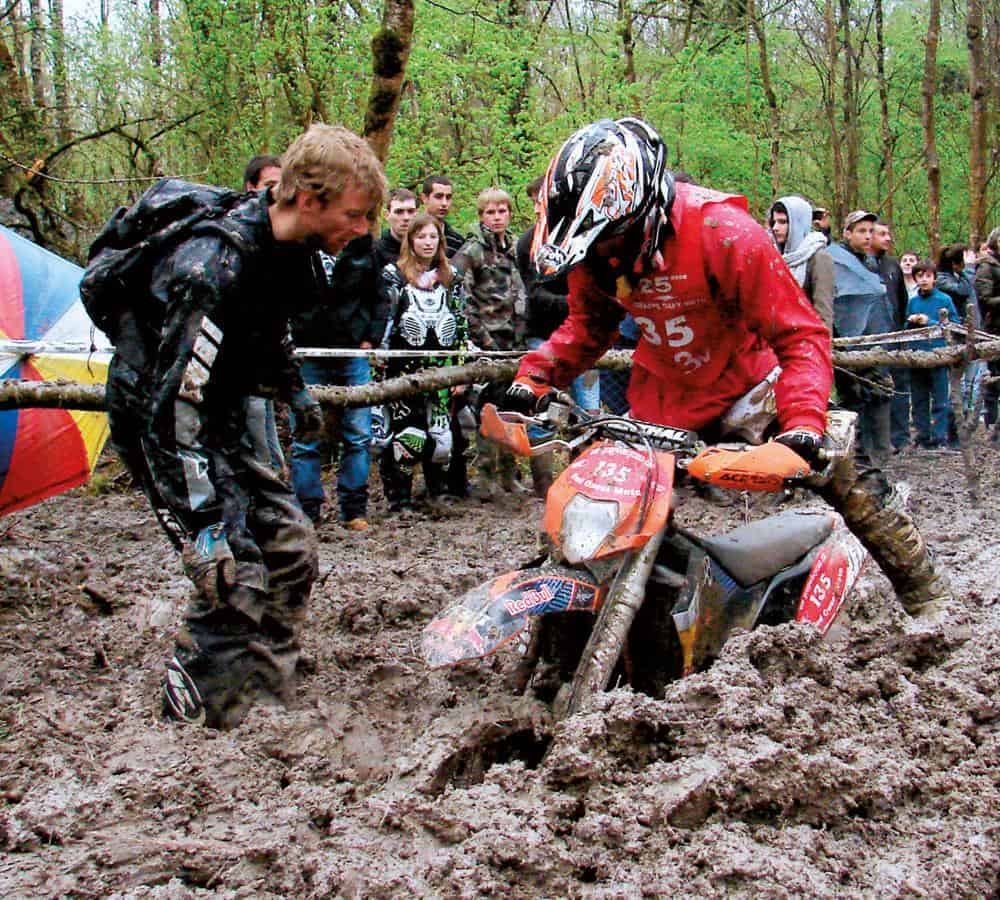 Grappe de Cyrano
(The Grape of Cyrano, as in 'de Bergerac')
Now in its 31st year 'the Grap' as it's known, is one of a series of 'enduro classics' t hat take place in different regions of France. Typically French, these 'classics' are a wonderful way of celebrating the sport of enduro whilst attracting visitors to the fabulous scenery, terrain and gastronomy that the region has to offer. With 600+ riders, ten separate and distinct special tests, giant lunch stops (where hot food and alcoholic drink are provided), optional hard routes, cheering spectators, mini motocrosses, extreme tests, hillclimbs, incredible single-track terrain, and an awesome super-final complete with numerous other attractions, it's hard to find a bad word to say about them.
Not surprisingly these events are always over-subscribed, quite pricey to enter (€290 – though that does include two lunches, an evening meal at signing on and the gala dinner/prizegiving afterwards, and a souvenir T-shirt), and there's a bit of extra bureaucracy involved – compared with a British event – at the signing-on and scrutineering stage. Plus you'll need an assistance crew to help with your refuelling and energy needs. But that's a small price to pay to experience some of the most incredible riding and enduro tests you'll ever get chance to tackle.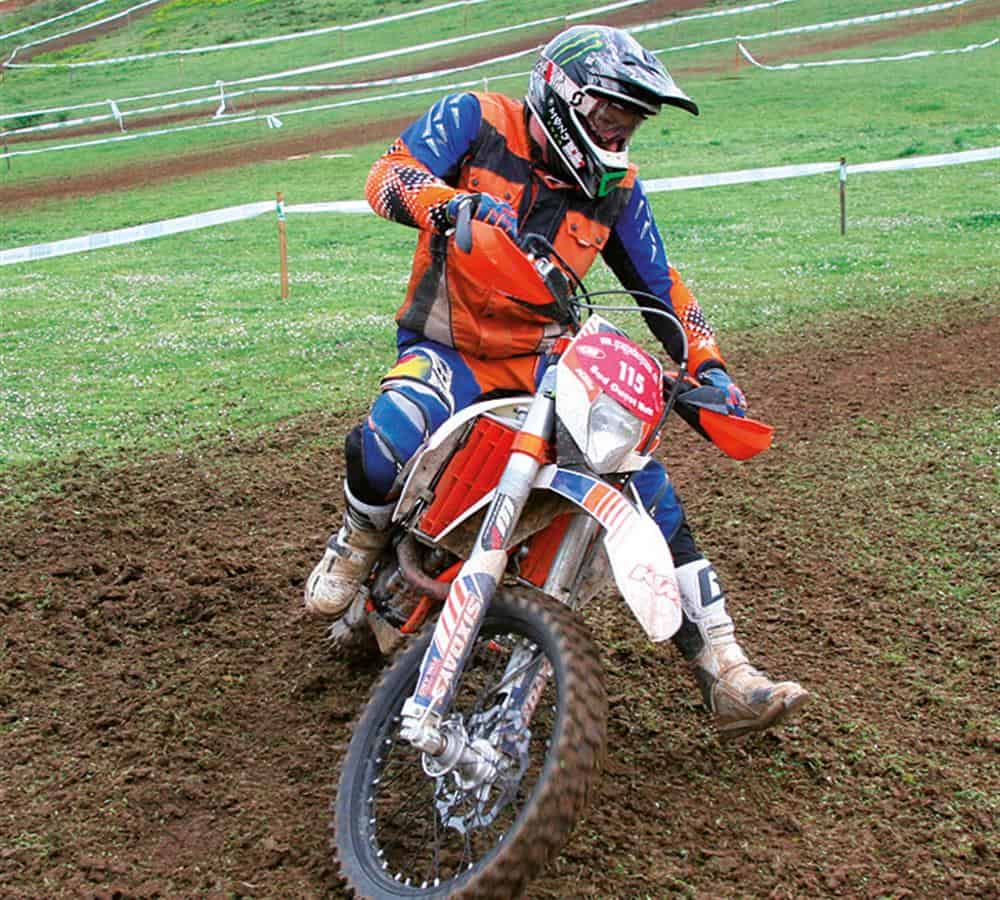 Make no mistake the standard of riding is fairly high – even at the 'wobblers' end of the entry, the riders are pretty much all Clubmen A standard, and the courses are never easy. That said, a good proficient UK clubman rider could expect to complete the course and stay on time providing they're physically fit. The hardest thing to cope with is not the extreme elements of the course (which can always be bypassed), as much as surviving the long days in the saddle. You can easily be riding for eight or more hours a day, but I guarantee the reward in terms of satisfaction when you complete the event will stay with you for a long time.
As well as organising these 'classic enduros', the clubs use them as a rallying cry to help promote our sport to a much wider audience and incorporate it into the everyday fabric of the region. There are articles in the local and national press, local TV gets in on the act, there's lots of coverage in dirtbike titles around the world, and the local economy definitely gets a hug from all the additional trade. Not just from the influx of visitors – though that in itself is very important – but also because the hundreds of helpers, marshals, organisers and officials, all need feeding and overnight accommodation. Plus there are thousands of meals served during the event, all of which are sourced locally. It's a very French way of doing things, and we could do worse than follow their example.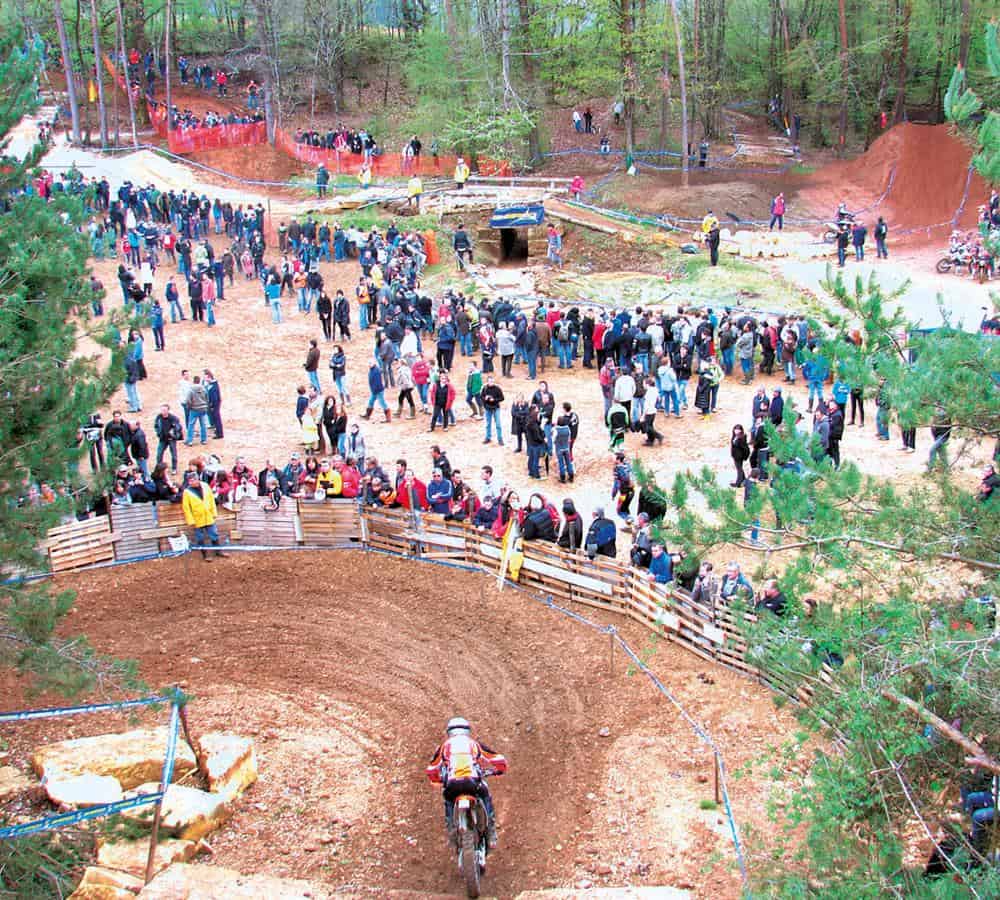 More than that though, by making it a sporting event that families can come and enjoy for free, it helps to promote two wheels to a new generation of spectators and also ensures that dirtbiking remains firmly entrenched in the social fabric of the region. That allows the sport the oxygen of publicity and helps to ensure that over-zealous politicians and eco-mentalists don't over-regulate. Furthermore the Grappe's tagline: Esprit Nature (Spirit of Nature) is a none-too-subtle way of suggesting that motor-sport and nature can (and must) co-exist.
And in the same way that shooting birds out of the sky is termed 'conservation' and relies on farmers rearing birds in a rural habitat, it's essential that dirtbikers (and clubs) respect their environment in order that both can continue to co-exist for years to come. To that end the organising club have become part of a national organisation entitled: sports and sustainable development, and have taken the argument to a national level… 2018 is the 31st Grappe to be run and it takes place on the 27-29 April 2018. You can contact them for more details at www.grappedecyrano.com
Thanks to: Clive at Tri-County Bike Shop for the loan of his bike for an epic overseas adventure (01344 424282), and Mark at Dunlop for arranging a set of mousses. Also a huge thanks to Augustin de Chassey for all his amazing help in organising our trip and accommodation, and for keeping up a healthy pace for the entire two days. And thanks also to the grappe de Cyrano club for organising and running one of the best enduros in the world! www.grappedecyrano.com