For 2013 Husaberg have abandoned their radical high-crank, 70-degree engines and instead, fitted their bikes with the very latest KTM motors. Is this just a case of badge-engineering or are there deeper forces at work here? Rust Sports went to Spain for the 2013 model launch to ride the bikes and find out…
Ever since news broke about a week before we were due to ride the 2013 Husabergs, that parent company KTM had elected to abandon development of the unique high-crank motor, in favour of equipping them with the current range of KTM four-stroke engines, the forums had been awash with outrage. Every Berg-loving keyboard warrior from Alaska to Zimbabwe went on-line to castigate KTM, and voice their opinion on the matter. Facebook pages are no exception… '0% Husability' claimed one naysayer, 'Just a KTM painted blue' claimed another. And I must admit I was one of the sceptics questioning the rationale behind such a momentous decision. Not surprising really, as five years ago I was one of the journalists that had sat in the press conference back in 2007 when the whole concept of high-crank Bergs were first revealed, and had stared open-mouthed at this radical new design of engine. At first appearance it looked weird… would people really go for such an unconventional-looking dirtbike? I mean the bike buying public had already said 'Nein Danke' to BMW's radical G450X, so it was definitely a brave decision on Husaberg's part to dispense with conventionality and go off on their own tangent. But the concept proved sound; the bikes handled like much smaller and lighter machines and Husaberg sold every single one they manufactured. So why change a good thing I wondered…?
Blue Elephant It was the elephant in the room at the 2013 press conference; the unanswered question on everyone's lips. We sat for nearly 45mins whilst Husaberg employees (read KTM employees wearing blue shirts), explained away the changes for 2013. Up till that point the KTM brand name hadn't even been mentioned… Not once. In fact they'd gone to great lengths to avoid saying the name – even going so far as to term it an 'alternative brand of bike'! Finally one of the hacks could stand it no longer. He stood up and asked Husaberg directly why they were dressing up one brand of bike and calling it by two different names? You could hear the collective sighs of relief as every journalist thought to themselves 'YESSSS. TFFT! Glad he said it, not me'. And then the floodgates opened… Though not just floods of questions as it turned out…. there were floods of tears too, (metaphorically speaking). Turns out, all is not quite as rosy in the Orange camp as everyone had thought. So here's the back-story. No-one is immune from this global economic slump, not even a manufacturing powerhouse and brand leader like KTM. Sales of dirt bikes are down, profits are melting away, belts are being tightened to their final notch. In such adverse economic conditions how could parent compant KTM justify manufacturing a second range of bikes involving such small numbers? How many are we talking about? Well last year barely 6000 Husabergs rolled off the Mattighofen production line. In peeing terms that's barely even a dribble. Husaberg spokesman Joachi Saur was blunt as he summed up the situation they faced: 'To make a 70-degree engine you need numbers, but the numbers don't exist anymore. The only way to survive commercially in this hard economic environment is to build this way…'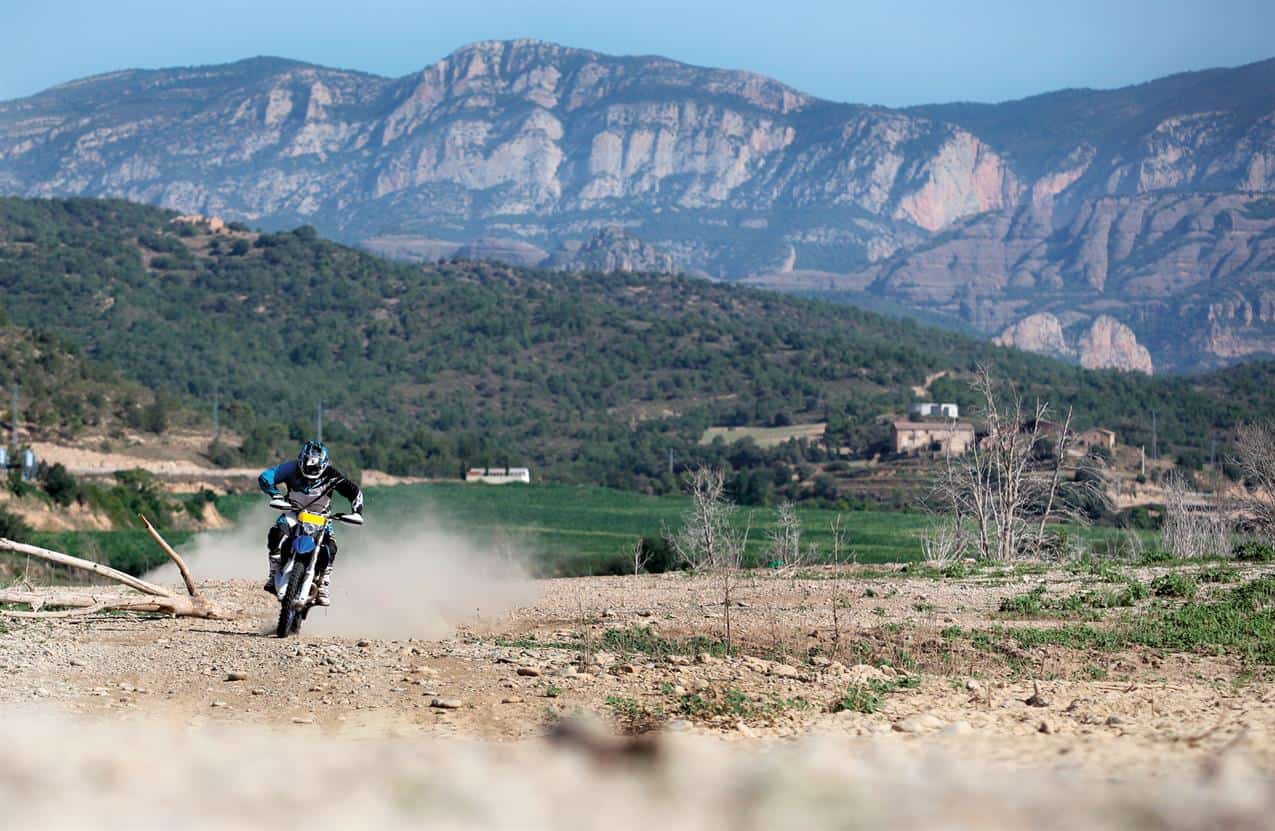 Moving On So there it is, straight from the horse's mouth, they can't justify it. They can't afford it. They can't even afford to develop the existing bike, let alone its replacement. And the solution was obvious. Simplify production, consolidate the two brands into one homogenous bike with distinctive features for each brand, and take advantages of economies of scale. Then the crunch… It was revealed that last year a meeting took place involving KTM top brass, where the question being asked was not 'do we stick with the existing style of engine?' No siree… it was: 'Husaberg… Yes, or No?' Bearing in mind how close we'd come to losing a whole brand of bikes from our sport, and the consequent loss of choice, of profile, of our sport's very existence in terms of viability (and visibility) – I realised we'd got off very lightly indeed. So Husaberg survived, but the compromise was that the old engines didn't. Bad news for the brand? From a marketing point of view I guess anything which makes them less distinct might prove to be an issue. Berg's problem will be to convince customers that the bikes differ sufficiently enough from KTMs – which they do – to warrant customer recognition as a separate brand. On the other hand, from the point of view of dynamics, and improvements to the individual models (notwithstanding the need to ensure the brand's very survival), I'm convinced they made the right decision. For instance… great though that old high-crank motor was, it was considerably heavier than the very latest generation of KTM engines. And here's the proof: the NEW 450 Berg engine weighs 2kg LESS than the old 70-degree motor (that's JUST the engine!). It's a huge saving in terms of dynamics and – claims KTM – more than makes up for the lack of high-crank effect. And secondly, well…. the fact is not everyone liked the look of those radical forward slanted engines. I mean as dirt riders we might like to portray a certain image to our neighbours that what we do is 'kinda radical dude', but when it comes to embracing change, we are a conservative bunch of old Hectors at heart. Sure… some of the former Husaberg individuality has fallen victim to the changes – those high mounted airboxes were helpful when it came to wading depth, but then again no-one's gonna' miss the constant induction roar that accompanied every ride. From customer feedback, this was one of the most complained about features of the old Bergs. The new bikes are better packaged too, the high crank engines were tall and the rearward facing exhaust heated up the fuel and air, robbing the bike of power. The new KTM engines are smaller and conventionally laid out, which generates far fewer problems (and has greater universal appeal). A reduction in oscillating mass and lower centre of gravity are no bad things either. Oh and unlike on the high-crankers, you can now retro-fit a kickstart to the four-stroke Bergs. It's not really a big deal but doubtless some owners will be happy with that…
Plus Ca Changes So are there many differences between the 2013 Bergs and the KTMs? Of course! Despite KTM's requirement to significantly reduce manufacturing costs between 'competing brands', they've been careful to ensure that the Husaberg brand hasn't become TOO diluted. In fact there are actually a few quite marked differences between the two makes of bike. For the last few years Husaberg has been positioned as Matighofen's premium brand, and just like they did when they introduced the (KTM-engined) two-stroke models, so they've stuck to a formula of giving the new 4T Bergs uprated suspension, machined triple clamps, larger fuel tanks, unique plastics, a high-tech airbox-cum-subframe and a bashplate. And of course they're blue! Naturally they still look quite a bit like KTMs and ride a lot like KTMs – no surprises there – but they do feel different enough to be considered an alternative to the orange brand. The frames and engines are to all intents and purposes identical now between brands AND between models (both 2T & 4T – though there are marginal differences in geometry with the 125). That means a return to a traditional cro-moly steel backbone frame with a single downtube that splits into a double cradle. A single frame design across both brands is not only less costly and simpler to produce but – claim Husaberg – there are gains to be made in both stability and traction with the new chassis. But whereas the KTM uses an alloy subframe to support the rider, Husaberg have stuck with their more futuristic GRP-reinforced plastic-moulded version, that incorporates the airbox, battery box and underseat unit in a complex three-part moulding. They claim that it's virtually indestructible – in extensive testing they've never managed to break one yet – but even if you do it's possible to order each of the three separate sections individually. Aside from greater strength and flexibility, one of the advantages of using a 'plastic' subframe is that they've been able to incorporate handholds (for lifting up the bike) in precisely the right position. I got a freak chance to use these on the launch test when a bike I was riding, somehow inadvertently(!) ended up in a lake (it's a long story), and I can confirm that the handholds work extremely well (ahem). Husaberg have also returned to a traditional double-bolt seat mounting (Japanese style), rather than a single bolt system that has become the norm – I'm sure lots of people will like that. And just like on a KTM, the airfilter can easily be changed within 20sec without using tools. Excellent. At the front end of the bike, the Berg features lightweight CNC machined triple-clamps. According to Husaberg, the triple clamps are one of the most important aspects affecting a bike's 'feel'. I wasn't quite sure exactly what they meant by this. I mean, sure… if you adjust the offset then that alters the geometry and thus the handling. I get that and I can feel that, but I think Husaberg were claiming that simply switching over to forged and machined clamps (rather than the cast ones you get on KTMs) improves the bike's feel. They also claim that the new-shaped lower triple clamp is not only 50g lighter than before, but offers a better feel in corners… I'm not certain I agree with this claim (or can notice it, at any rate) but hey, machined triple clamps look sexy and are far stronger… Gripped by the lovely black anodised triple clamps are a completely new set of closed-cartridge fork (the same as you get on the KTM Six Days model, but of course they are standard equipment on the Berg, and lighter than last year's ones). The science says that these new four-chamber (4CS) forks are more consistent in use – suffering less cavitation than other forks. Quite possibly, though it was difficult to tell in the 40-degree heat we were riding in, as the rider that was more prone to fade than the forks! One thing you WILL notice is that both compression and rebound adjusters are now located on top of the forks – and offer a greater range of adjustability via their respective plastic clickers (no tools needed): compression on the left, rebound on the right. The thing you need to know about these fork legs is that internally they are more or less identical to one another. In other words unlike Kawasaki's new system whereby one fork leg contains the damping and the other contains the spring etc, the Berg's forks BOTH contain BOTH elements of damping and springing. But only one of these elements is adjustable in either fork leg. In other words if you decide to adjust the amount of compression damping, all you are doing is changing it in ONE fork leg; likewise the rebound damping only adjusts the other fork leg. Husaberg claims this system works perfectly well (though it sounds a bit strange to us), and that changes made to either of the fork legs simply adjusts the front end feel as a whole. Fair enough. Couple of other points worth making: there are no special tools needed to change the springs in the new forks (which is good), and now the forks use a new special high-performance 4W oil imported from Japan, which is the same spec as Kayaba use in their forks (which sounds costly). At the rear there's a new generation of cast alloy swingarm that's 300g lighter than before, yet now offers even greater torsional stiffness and a more centrally located shock. That shock – a WP part of course – is now 7mm longer on the stroke, which adds up to more sensitivity and increased bottoming resistance we're told. There are also Japanese DID rims front and rear (KTM use Excel), Michelin intermediate tyres, and what are claimed to be weight-saving nipples! Make of that what you will. But it doesn't end there…. New Brembo brakes for 2013 provide easier bleeding and less seal wear. New radiators are made from a slightly more flexible alloy for increased crash resistance, all four-bangers have an electric fan and the silencers now offer more volume for less noise without compromising performance. Larger fuel tanks are a Husaberg tradition. So is the fact that despite the large capacity they never feel intrusive – not like on my old 501. I really don't know how they manage to package the fuel in a way that it doesn't interfere with your riding. But they do. This year the two-stroke models can carry up to 10.7L whilst the less-thirsty four-strokes make do with 9.5L. This is a real boon as it gives you peace of mind both when racing and trailriding. Of course you don't have to brim the tank if you don't want to, but the option's there. To try and distance the blue bikes from their orange counterparts, not least in terms of looks, Husaberg has developed a unique range of plastics for the 2013 Berg. There's a broader and stronger new front fender designed to be more stable at speed, newly shaped rad-panels and side-panels which flow back into a nicely shaped rear fender. I've gotta' say the looks have grown on me this year (always a good sign), as at first I wasn't too sure about it. But it's one of those bikes that looks far more handsome in the metal than it comes across in any of the pictures – though editor Barni reckons it reminds him of an old Sherco! I also like the fact that the rad-panels and side-panels have their graphics already moulded in. So no more curly graphics at the end of the season, just a bike that stays looking smart throughout its life. The second or third owner will appreciate that. Of course if you want to customise your bike with your own brand of curly or peeling graphics, there's nothing to stop you doing so… As far as the two-strokes are concerned there's also a new lighter clutch on the 250 and 300 models with less lever force required for operation, whilst a new carbon-petalled V-Force reed valve offers extra durability. Oh and one other thing two-stroke owners will be pleased about is that for 2013 the electric-starters have been given extra power for easier starting. Now the bikes start instantly the second you push the button instead of churning for a second or two like the old ones did. Still no starter on the 125 tho! Hop on board the bikes and it's KTM all the way – just like it has been for the past few years. Ever since KTM took control of the brand, Bergs have used KTM equipment in the cockpit area, and the super-light feel of the clutch and throttle along with a fantastic bend of braceless bars, make for a fatigue-free ride – for your hands at least! The modern style of bikes is that you perch right up high on their backs like a jockey riding short stirrups, and you particularly notice this feeling with the new Bergs. I'm sure the riding position and peg/seat/bar ratio is identical to a KTM but somehow you notice it more on the Bergs. The flat seat means that when you sit down you can place your bum anywhere on the saddle and still be able to move about. As far as ergos go, it's about perfect. Suspension-wise, you notice the slight extra firmness of the 4CS forks, but it's all relative – the suspension action is still smooth and extremely compliant, even if the standard setting is just towards the firmer side of 'supple'. I adjusted the clickers on a couple of machines, and sure enough just a couple of clicks less compression softens up the front end noticeably. It's hard to draw any notable conclusions about the suspension when the terrain you're testing on is so different to what we get back home. I will say this though, the bikes handle amazingly well. They track the ground and dispense with bumps in a way that almost completely eliminates any headshake or nasty surprises. I never once fell off any of the Bergs at the launch, because they simply don't get out of shape. I like that in a bike…
TE125 It was interesting riding with the Yanks at the launch to discover that they don't get the 125 imported into the US (nor the 450 for that matter!) I can't understand why, because for me the 125 is the ultimate fun bike. Husaberg say it's important that they continue to build a 125 in order to offer junior riders something light, easy and fun to start racing on. I agree with that, but would suggest that it doesn't ONLY apply to junior riders. Pretty much anyone can and will have fun on the TE125. It only really requires that you recalibrate your brain to think about revving a bike hard again, perhaps like you used to do when you first started riding. The TE125 is a spectacularly fun bike to ride – no matter what your age – and it's purely down to a lack of crankshaft inertia, which makes it feel super-light compared with every other machine in the range. You can launch it, stunt it and do all manner of crazy things with the bike without feeling in any way intimidated by it (though you do notice the slightly sharper steering – read less stability – on faster sections of the course!) Nevertheless if I were racing hare and hounds in a typical tight and twisty British series it's the bike I would choose to do it on. It's so light you simply carry enormous corner speed through every turn without destroying the berm, and crucially without depleting your own reserves of energy. You might imagine it would be hard work to coax the 125 up some of the power-sapping sandy inclines we had at the test track, but in fact that wasn't the case at all. Because of its modest amounts of power, it finds grip where more torquey machines spin their tyres – and that in turn translates to forward momentum. But more than that, the 125 is so light and manoeuvrable that you ride everywhere feet up, leaning forward over the bars and that gives you so much control that you're virtually never stuck for grip. I'm always amazed at the sort of obstacles you can coax a 125 up as long as you're prepared to give it a go and keep some revs dialled in. In fact of all these bikes it was the one I was MOST inclined to point up a stupidly steep hill and just have a crack at it. Whether you believe the slightly larger tank and suspension upgrades (over the KTM) are worth the extra cost, is up to you, but given the speed at which a 125 can drink fuel when it's on the gas and revving all the time, personally I'd opt for the greater range offered by the Berg.
FE250 Joining the 125 in the E1 category is a 250 four-stroke (a first for Husaberg) powered by KTM's class-leading revvy little twin-cam motor. I'm a massive fan of this engine and for me the Berg felt like a well-balanced machine with just the right mixture of power and manoeuvrability, though not all the other hacks agreed on this point. Some felt it was too soft (in terms of power delivery) to be considered a true enduro bike, and would probably be more at home on the trail. I know what they meant because after riding the 350, 450 or 501, the 250 does feel slightly anaemic by comparison, but I suspect this is one of those 'impressions' that comes from having all the bikes on hand at once. Of course the 250 offers less torque than the bigger bikes, and less wheelspin, and requires less effort, and that means less fatigue and… Well you get the picture. On the special test you could really exploit its sky-high rev ceiling to make pretty fast progress through the dusty corners, and then on the enduro loop well it was just happy trundling along like a trailbike. For me it was the bike's manoeuvrability that gave it star quality among this bunch. I love the fact that unlike the bigger four-strokes the 250 changes direction absurdly easily, and has much less engine braking – so that when you trail the throttle into a loose-surface corner, it doesn't want to tuck the front end all the time. But whatever your feelings about how powerful you like your trail/race bike, there's no denying that the FE250 really works, and it retains that compact feel which puts you at ease and makes riding it a doddle. It didn't feel quite as revvy to me as the KTM 250 4T has felt in the past, but it's the exact same motor so maybe it just needed to loosen up a little. You could argue that Husaberg didn't necessarily need a 250 four-stroke in their range (traditionally Bergs have always been about BIG power), but I can see why they have thought to include it. It's all about rider choice… and I can see a lot of riders (perhaps less experienced ones) who might have been put off Bergs in the past because of their weight and performance, opting for the new lightweight 250! FE350 What can you say about the new 350 KTM twin-cam powered bikes that hasn't already been said before in this magazine and countless others? It's the ultimate blend of performance and agility. A bike with no peers except the KTM 350EXC. It's the best four-stroke of this bunch, and depending upon your preference (two-stroke or four), perhaps the best Husaberg full stop. Nuff said…..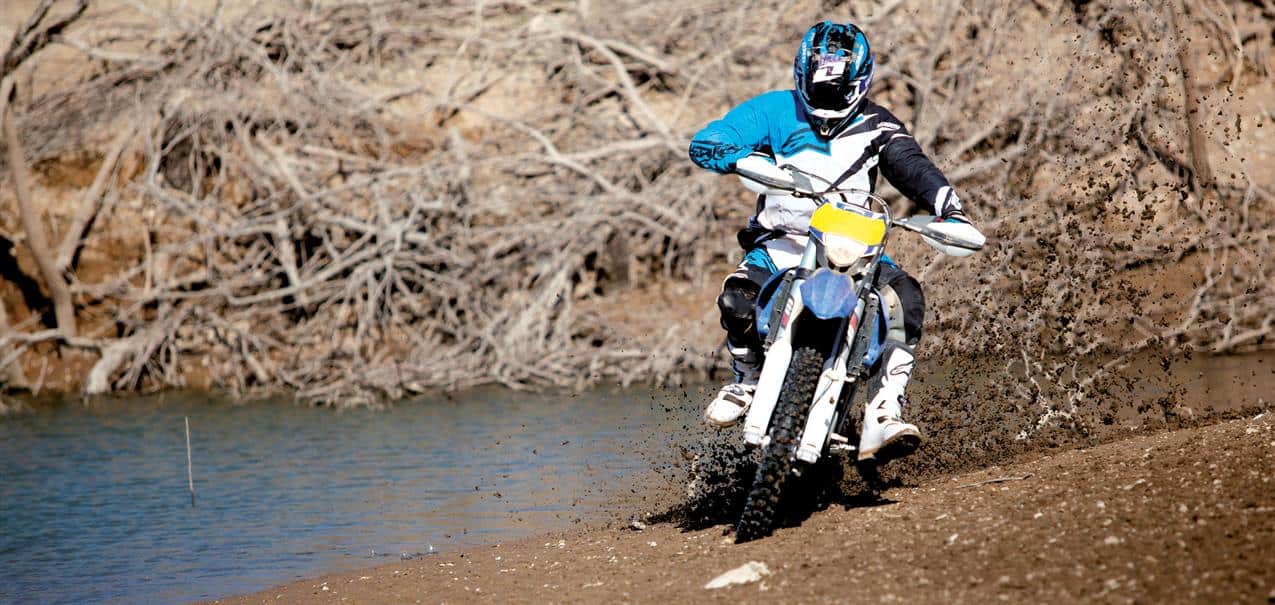 TE250/300 Yep, I know they're different bikes the 250 and 300, but for the sake of this comparison they're only slightly different, with the 300 offering a tad more torque and top-end than is really necessary, and the 250 being blessed with a touch more manouvrability. In the past I've written that the 300 Berg is probably the bike I would buy for trailriding on, and I've got no reason to challenge that remark. Absurdly easy to use, the 300 is sooooo docile at low revs it doesn't feel like the powerhouse it really is. That said you can definitely come unstuck if you mess with it, as it has a surge of top-end that can really make your eyes water. For me then the 250 is the slightly better all-rounder, if only because it thrills you more and frightens you less. Hopping off the 300 straight onto the 250 I thought I might notice a slight lack of torque but really whilst there is a difference it's barely enough to get excited about. The 250 on the other hand does feel a touch more controllable when you begin to use that power and marginally lighter. They're both good bikes however and choosing between them is gonna' be difficult. But if it helps make your choice any easier Husaberg told us that the 300 is now their biggest-selling model. That must tell you something…
FE450 I was amazed at how smooth, torquey and easy to ride the new 450 Berg is – not what I expected at all. On the special test it leapt out of the corners with controllable wheelspin and had enormous speed down the straights. Yet it wasn't that hard to turn either once you settled it into a corner. I loved the way it ate up the straights, blasted up the hills and drifted out of the turns, but we were riding in hot and dusty conditions, not the mud and slop of a typical British event. Interestingly even in the tight lines and baked dry ruts of the enduro loop the 450 didn't seem a handful at all though it was only running on low throttle openings because of the tightness of the track. In these conditions its effortless torque ensured it rolled up the hills barely breaking traction, but there was nowhere on the enduro loop (other than the special test) where you needed to rev the 450. Having ridden it I can definitely make a case for the new 450 as a lovely mellow, yet extremely rapid trailie, but as a racebike well you've gotta be able and willing to boss it about for a few hours otherwise you're simply not making use of its enormous potential and would be better off buying the 350… FE501 This year marks a return of the famous Husaberg FE501 – a name synonymous with the brand. I owned one back in 1998 and vowed I'd never have another. On the special test the new 501 took a fair bit of turning to get it into the corner, and on the exit when you opened the throttle hard like you could on the 450 it just reared up in front of you and scared you witless. For all this madness I can quite see why some people love its effortless performance – it feels like a 450 on steroids – but as a serious dirtbike it's just too damn powerful to be able to exploit. Even knighter has been finding that this year. So if you're a big bike fan, my advice is to opt for the 450 and enjoy the rest of your life… True Blue So that's the lowdown on the 2013 Bergs – a range that in my humble opinion doubles up our riding pleasure. Sure I'll miss the quirkiness of the high-crank engines, but not as much as I would miss the Husaberg brand if it were to disappear completely. So really Husaberg fans (and particularly keyboard warriors), it's time to get over yourselves, embrace the changes that really have improved the bikes no end, and celebrate the fact that Husaberg survives and prospers. Then go out and spend your hard-earned on one. Because if you don't… you might not have a choice of orange or blue next year!