Team HRC Boss Katsumi Yamazaki doesn't just have a Dakar-winning bike to develop. It has to be good enough to beat the competition. And KTM and Yamaha aren't about to go down without a fight…
'My goal is for us to become the world's number one off-road team. Being #1 doesn't just mean we have all the experts on our team, it means we are open with each other. This means we share information with everybody on the team. If someone is in trouble, we help them. This kind of open team is the ideal off-road team. From the outside, it may look like confusion, but actually there is order in the chaos, not to mention a great atmosphere. I think that is what makes a team number one… it's the same for MotoGP or F1 racing.'
Team HRC Boss, Katsumi Yamakazi
KTM's Clockwork Orange
Last year KTM just snuck home… in the top FIVE positions baby! But while that makes it sound like an orange-wash, in reality it was anything but… And KTM know it. Yamaha and Husqvarna had them on the ropes for a while, and were it not for navigational and bovine misfortunes, would have been there right to the end.
KTM also know that both Yamaha and Honda have grown considerably stronger since last year – Yamaha by way of poaching Cyril Despres, Honda by dint of development dollars. So the Mattighofen factory know that they have to come back this year the strongest they've ever been; with new, faster, more robust kit.
And so they've been developing an all new bike for 2014. The days of their hybrid racer – a 450 motor in the old 690 rally chassis – are over. That bike – originally designed for the wide open spaces of Africa – has been replaced by a smaller, more agile machine better suited to the different challenges of South America.
Their new chassis still relies on a rally-specific trellis frame but it's just that little bit smaller overall. KTM are unique in taking this route and their solution creates a lower bike, with a lower centre of gravity and with custom solutions like a frame-top airbox. It's got bivouac-friendly mechanic-ing written all over it. It's also said to have a longer than average rear shock – again maybe something KTM have perfected through years of experience.
The motor is still a SOHC unit and based on a combination of their enduro and MX platforms. However, unlike previous Dakar KTMs, it does at last have fuel injection. With Yamaha and now Honda using DOHC units (as Husqvarna used in 2013) it remains to be seen if their old-school motor will have the necessary cojones.
Word is KTM were later than the opposition in readying their new bike and it's not as thoroughly tested as the opposition machines. Nor has it yet been a winner, unlike the new Honda which ran away with both the recent Morocco and Merzouga Rallies.
KTM have also, tragically, just lost one-third of their A-team with the recent death of Kurt Caselli at the Baja 1000. That leaves just Marc Coma and Ruben Faria in the Red Bull colours. It's uncertain whether they'll find a substitute (or want to) in the short time before the race begins.
Time will tell how much KTM's approach is correct – with the rally becoming increasingly more technical and less flat-out (where their trellis chassis has excelled), the advantages of the custom-made frame are becoming reduced. But one thing's for sure… they won't give up their winning streak without a fight.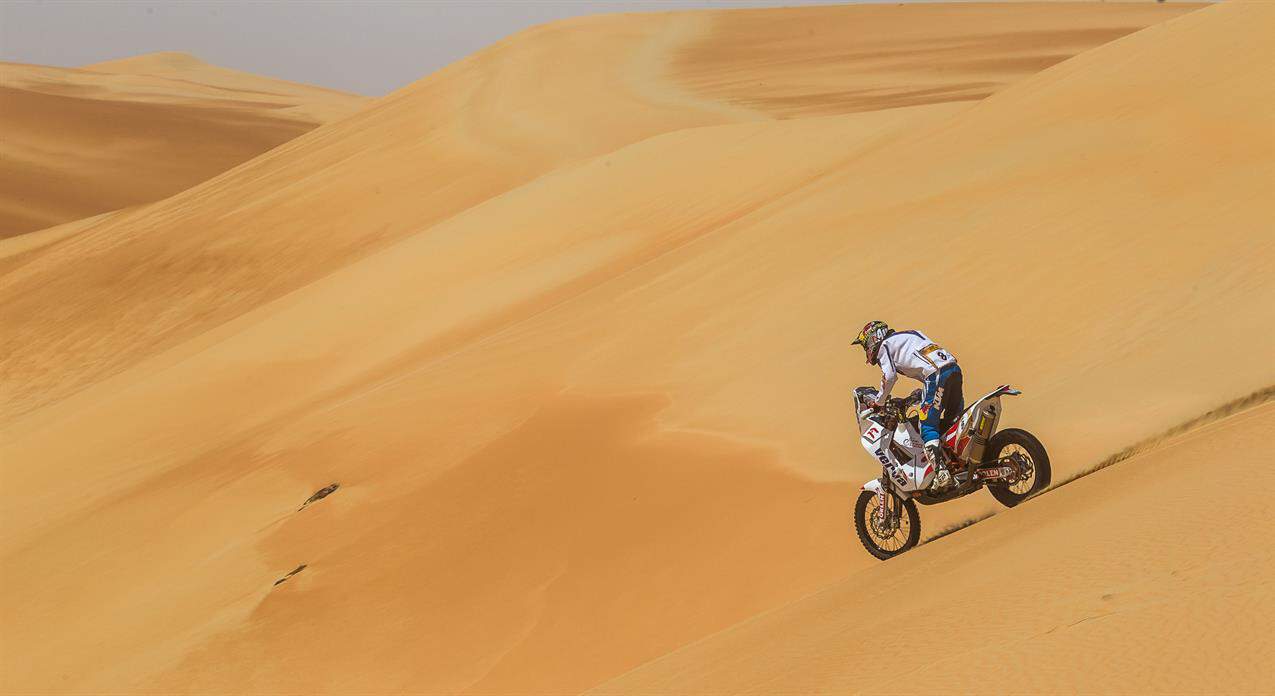 Yamaha's French Fancy
Yamaha's big change for 2014 is Cyril Despres. Five times a Dakar winner, and current title holder, he's worth untold hours and euros in machine development. Not that Yamaha are sending Despres into battle unarmed. Their weapon of choice (built by Yamaha Motor France and not a true factory weapon) is their reverse-headed motor from the latest YZ450F motocrosser, suitably modified for rallying use. And when we say 'modified' we mean one-off workshop engineering solutions; like a swingarm extended by about two-inches in a cut-and-shut fashion, and modified Kayaba suspension (rather than the likes of factory WP 52mm/Trax at KTM). And it means using stuff like Acerbis-supplied fuel tanks.
Cyril's arrival has made for a few changes though. Aside from changing key personnel, Cyril's customised the bike more to his tastes with a new slimmer fairing and with a transparent top section (like the Honda and new KTM); and with more fuel being carried in central and rear tanks. In fact Cyril's looking to carry a little extra fuel over last year's set-up to ensure he doesn't run-out. Thanks to its reverse-head design Yamaha's MX bike already carries its airbox immediately behind the headstock which works wonders for keeping the air filter cleaner for longer, helping keep power optimal and minimizing engine wear over the course of a long race.
Yamaha's squad has been divided into two distinct teams (an A and a B team if you like) built around their star rider, Cyril. Cyril's supporting rider is team-mate Mickael Metge. In African races he'd have been known as a 'water carrier', but his job is to assist Cyril to win. The B-team features Olivier Pain and Franz Verhoeven in a separate Yamaha squad. Such clear delineation may well help achieve Yamaha's goal (where Honda's flying wing of five super-talents might end up focussing on an internal fight [first rule of racing… beat your team-mate]). But with Yamaha the mission is clear… it's all about Cyril.
Going the Distance
One of the biggest factors coming to the fore with the recent 450cc ruling is engine longevity. A lot is being asked of these 450 motors (ridden by factory riders) and it's virtually unheard of for a single engine to go the distance The latest rules allow that while you can make as many top end refreshes as you like, the moment you substitute the bottom end (crankcases etc) then you'll incur time penalties. The first engine change costs 15 minutes; a second change costs 45 minutes and after that – resources allowing – it's two hours penalties for each engine swap you make.
In 2013 Honda required only one engine swap in the whole rally. KTM meanwhile changed the motors of Despres, Lopez, Pedrero and Grabham. And given that Cyril Despres' winning margin at the 2013 Dakar was just 10:43 minutes then you can see a 15 minute penalty can easily make the difference between winning and losing. It certainly cost Chaleco Lopez his runner-up place when he had to change his motor for the very last day. No question, all the top teams will have been working on making their engines as tough and reliable as possible.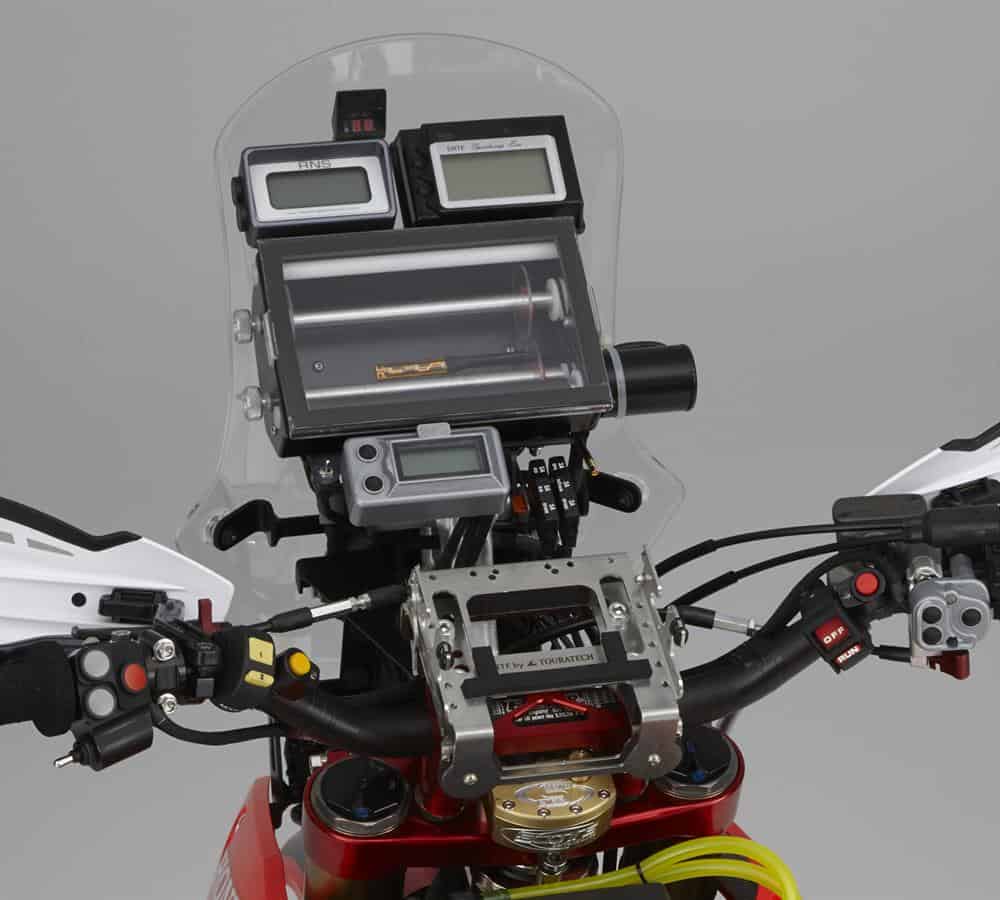 Navigation
Make no mistake the top 15 riders are all fast enough to win the Dakar. The problem is that only two of them (have thus far) proven they can ride consistently fast AND navigate accurately at the same time: Cyril Despres and Marc Coma.
For the rest of them, a day win is tantamount to accepting the poisoned chalice. They take the glory in the evening, then the following morning they're first off the block and riding virgin trail. That means holding a course with no man in front, no tyre tracks to guide them in times of indecision. They then face the agonising choice of sacrificing two-minutes off their day time to have the comfort of the second rider alongside (the top riders set off one every two-minutes) or plough on and hope they don't take a wrong turn. Take a wrong turn and you may lose a few minutes, but you might alternatively lose the whole rally (as happened to Olivier Pain last year). It's enough to give you nightmares and in rallying this is the difference between winners and also-rans…
Going into this rally Cyril Despres' is openly saying the rally's outcome is going to be determined principally on this factor. Cyril reckons he can navigate effectively and he says, so can Coma. Of the rest he's rather less certain…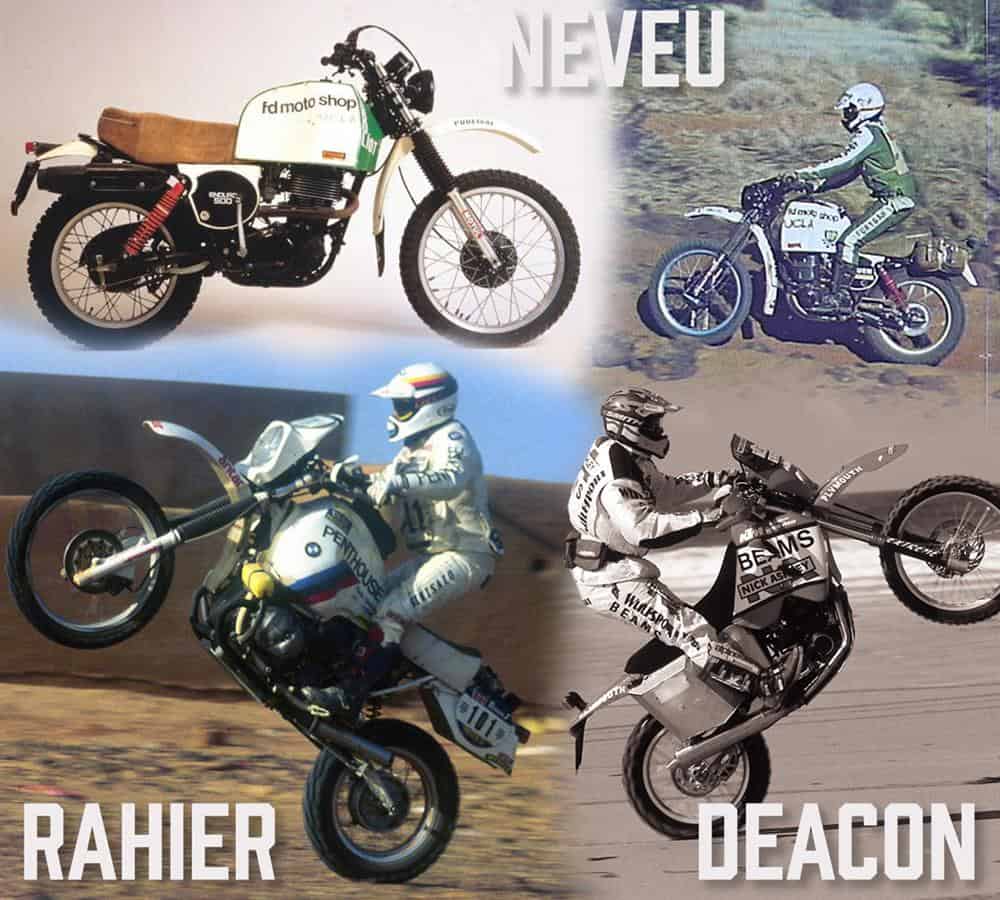 Dakar Bike Evolution (a potted history)
The Dakar started back in 1979 with a bunch of Frenchmen riding a hotch-potch collection of modified trail bikes across the Sahara. A young man named Cyril Neveu won, riding his own privately-entered Yamaha XT500 the 5500km from Paris to Dakar (in Senegal) in 16 days. He'd customised his XT by way of welding a whole new top section onto the fuel tank to make a hefty 32-litre vessel, so he could make the required 500km between refuels.
Other modifications were to strengthen the frame (and subframe), upgrade the suspension and customise the seat to allow for the fabrication of racks to carry spares and survival equipment. This made for a fairly hefty rig pushing around 180-200 kilos with all of the 35bhp that the low-powered trailies mustered… Getting to the finish back then was indeed victory in itself. To get there first was just icing on the cake.
Of course given the extensive media coverage of the early races, it didn't take long for the factories to take an interest. Within seven years (and at the head of what was a runaway arms-race) BMW had taken over with serious works-backed kit. Gaston Rahier's 1986 winning bike was a cool 1043cc boxer twin making 75bhp and weighing a hefty 230 kilos once the gallumphing 60 litre fuel tank was brimmed.
It was no longer an achievement just to arrive in Dakar, now you had to cross the finish line at 110mph, maybe a little sideways, smoking a Camel (or Lucky Strike or Marlboro). Of course big bikes and big speeds upped the danger quota a good few notches, but regardless of the death and destruction it caused, the big bike era would last right up until the end of the 1990s.
The big bike era for the Dakar ended with the end of the century, marked tragically by the death of the UK's foremost desert racer, John Deacon, killed while racing the BMW R900RR in the Pharaoh's Rally of 2001.
Subsequent to that came the re-emergence of the big singles (which had already proven more nimble and so quicker point-to-point than the outgoing twins). BMW led the early years, the late Richard Sainct being the man to beat on his BMW F650RR – a 700cc 75bhp 168 kilo beast. These were lighter and less thirsty machines too, necessitating only 45 litres of fuel compared to the 60+ of the litre bikes.
A decade later KTM had taken control of the rally as most other manufacturers pulled-out, but on paper their ultimate African Dakar racer looks remarkably similar to the much earlier BMW. The KTM 660RR of 2008 produced 65bhp with a 162 kilo weight and 48 litre fuel capacity.
It took a new continent – forced by civil unrest in the African desert regions – to bring another change to the Dakar bike. For 2010, the second year in South America, the Elite class featured a 450cc limit. Primarily designed to reduce speeds (and improve safety) whilst tempting back the other manufacturers, smaller bikes allowed the creation of more technically challenging courses. The 450 rule brought back BMW/Husqvarna, Gas Gas, Sherco, Yamaha, Beta and Honda (among others).
And having buried the big bikes once and for all, the 450 rule also brings us back to a more wieldy machine. The TE449-based Husky racer of 2011 for example, weighed in at 137 kilos with a fuel capacity of 30 litres – enough to make the maximum 250km between refuels today. In fact such are the changes in the Dakar as it now is – with more enduro-like terrain, more fuel stops and more teams – that the factory racers can now be based upon motocrossers!