For 2013 the Husqvarna technicians have given their 250 and 310 enduro thumpers more power. How? By putting their heads together…
If there were a checklist of things that you want from a small-bore four-stroke racer, then Husky's 'X-Lite' TE250 seemed to leave one box unticked. It had the diminutive twin-cam engine. It had the light weight. And it certainly had the sweet-handling chassis – boy, what a chassis. But whilst that miniscule motor loved to rev, this didn't translate to class-leading power – and it lacked the over-rev of its Austrian opposition. Which is something the Varese factory looked to change for 2013…
In order to extract more 'ooomph' from their 250 motor, and its bored-out brethren the TE310, they've gone all 'Wurzel Gummidge' and fitted a different head – the same top-end as that used on last year's TC250 MXer. And to mark this change they've also renamed the bikes. So for '13 the TE250 becomes the TE250R, and the 310 the 310R. And what does the 'R' stand for..?
'It's half for Racing, and half for Redhead', explained Husky's head of marketing and sales, Max Kalbfell, as he listed the changes in the technical briefing. The more pedantic might point out that the head is more of a silvery-grey – it's the cam cover that's been coloured bright red – and it's not the first time Husky have painted them either, even the current 449 is a 'redhead'. But we'll let that slide…
It's All in Your Head
The new cam's now feature greater lift and different timing than before, allowing the head to flow more air-fuel. The valves are the same size as last year's bike, however they're now steel rather than titanium (for increased longevity) and are arranged in the more traditional manner, as opposed to the radial layout on the outgoing motor. This necessitated a new piston, so that the cutouts in the crown match the new valve layout.
These changes equate to a claimed increase in power and torque of eight percent in the 250R, and five percent more top-end bhp in the 310. Torque is up a claimed eight percent. Are these changes really that noticeable? Well…
Straight off, the 250's power curve feels incredibly similar to the old model's. Not much bottom-end, building quickly into a fit mid-range and a reasonable top-end, which still seems to sign-off quicker than its EXC rival. And there's that super-quick revvy feel too. But in terms of character, it's still very much the same lump. However, whilst the power gains aren't vast, you can notice a difference. Whereas before the TE could catch you out with being in the wrong gear with slightly too few revs, now your gear selection isn't QUITE so crucial. Sure, if you're looking for quick test times then you still need to be precise, only now it isn't a disaster if you carry just a trifle less speed and revs than you ought to.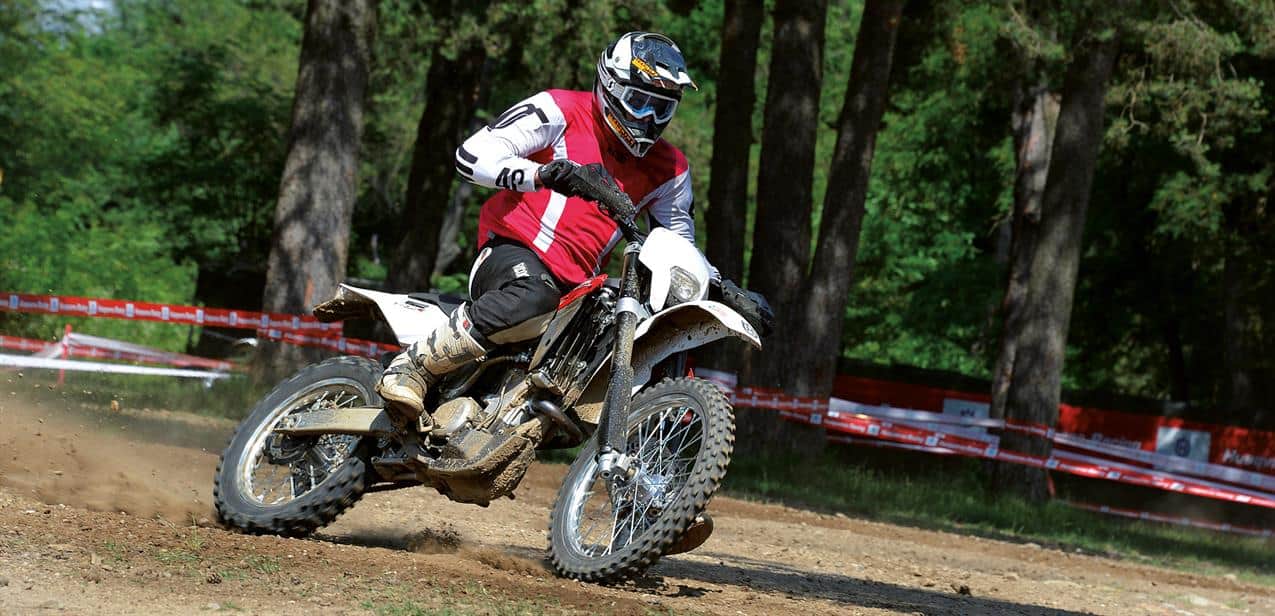 This was highlighted on a tight track which gave just a couple of chances to really stretch the TE's legs. Instead a special test which constantly looped back-n-forth, with a very bumpy wooded section, kept you working hard.
Between the trees it was easy to get caught out by the hard-packed bumps, jumping from one and losing momentum by crashing into the face of another. When this happened you didn't need to drop a cog – simply give it a bit more gas and the engine picked-up and dragged you out of trouble, rather than bogging down with a dispiriting 'bwwoooar'.
Naturally, with 53cc more and the extra dollop of torque this increased displacement brings, the 310R does the exact same thing. The E2-bike gives you a greater margin for error, and you can certainly be a little more relaxed in your riding style. Thrashing the three-ten does take a bit more effort, and there's no doubt that its extra grunt makes it feel a bigger bike. Could I feel a difference between this and the 2012? Not without riding them back-to-back.
Cross Headed
It's not just the 250/310's cylinder head that's changed, because the fuel injection system is new too. Gone is the Mikuni system, and with it the need for a hotstart lever. The bikes' slight bottom-end hesitation has disappeared as well. (Incidentally, this was attributed to the use of a four-hole injector gushing fuel into the motor rather than spraying in a fine mist. A 12-hole injector – from your local Husky dealer – is apparently the hot ticket for improving the old system.) Keihin now supply the induction set-up, and Husqvarna have straightened the inlet tract, and reworked the airbox trumpet, to complement it.
Not only does the Keihin system give better throttle response but it also allows you to easily remap the fuelling. One option is the accessory 'GET' programmable ECU that allows you to play with it yourself. Alternatively, you can ask your dealer to use their HST (Husqvarna Special Tool) to 'reflash' it with the TXC machine's mapping. What's that? Well…
Husky aficionados should be familiar with the moniker, as a small number of these bikes were bought into the country a few years back. For everyone else, the TXC is the cross-country model in the Varese range, built predominantly for, and built with input from, the US market. It uses the enduro engine, with its lighting generator (and therefore a heavier bottom-end than the motocrosser) but featuring more aggressive ignition/fuelling. This is slotted into the TC chassis, with its different shock (the spring is a linear-rate part rather than progressive as on the TEs) and closed-cartridge forks, but with an 18in rear wheel. You don't get lights, or a speedo (just a low fuel warning light and an EFI fault light). Instead what you have is a great closed-course machine!
The more responsive mapping really makes the most of the bike's new top-end hardware. It's aggressive without being hard work – this is a quarter-litre four-stroke, after all – and when you open the taps it really pulls hard.
The suspension lends the chassis an equally 'race-ready' feel. Firmer than the TE's, it gives you the confidence to push harder through rough sections. Our test track featured a section of awkwardly spaced humps, some you could jump, others you simply had to ride through. The TXC gave you the confidence to hit every last one of them that little bit harder, jumped more predictably and took outta shape landings without complaint. At the same time it remained stable, without the 'skittery' feeling you can get running firm MX suspension on REAL off-road terrain, and ploughed through a small section of whoops like they weren't there.
The only downside I could find, was that the firmer set-up didn't dive into corners quite so much and therefore the TXC took slightly more effort to get turned on the tight corners of the special test track. And once some eejit had watered the apex of every rutted, rooted turn, then it lit-up a little easier than the softer TE version. But that's a small price to pay, because for me, the combined the rideability of an enduro 250 with the snap of an MXer. And for XC racing, rather than slip-sliding around a traditional enduro course, the firmer suspension would likely prove less tiring too. The whole bike felt racy, without being too hard-edged. It's a great package.
Head Set
Going back to the TEs, and chassis-wise they're largely the same as in 2012. Naturally, there's revised graphics, plus the switchgear on both sides of the bars is new and more compact (with a simple starter button on the right, and everything else on the left), and the clocks include an 'hour meter' function to show how long the motor's done. Oh, and although it's not strictly a chassis change, they've fitted a magnetic sump-plug to the bottom of the engine, so you no longer have to pull-off an oil line to drain the oil. But that is more or less it.
And that's just fine. The 250 and 310 turn amazingly quickly, yet remain stable at speed. Which was reassuring when hard on the gas, climbing between two chainlink fences on a very narrow rough track. If it was going to get out of shape anywhere, this was it. As we crested the hill, the front wheel skipped off the bumps without flicking from side-to-side, or if you were carrying a little more speed both wheels would leave the ground. Still the bike tracked straight, giving you the confidence to stay on the gas.
Faster riders criticised the Kayaba shock for its progressive spring. On the whole, I found it fine and it really only misbehaved on the rough whoops, where it seemed to kick off each bump more than I'd expect. Fortunately it's not a big job to change a spring if you didn't get on with it.
Another stand-out feature of the Husky chassis are the Brembo brakes, which they manage to get absolutely bang-on on almost every bike we ride. Great lever pressure; brilliant feel and plenty of stopping power: they really are top notch. So there were no worries about blasting down a stony hill, towards a third gear right-hand turn, flat-out because I knew that lap after lap I'd be able to get the bike slowed in time.
Head to Head
Giving the 250 and 310 a little extra oomph has certainly done them no harm, and whilst we could recommend a well set-up three-ten as a great alternative to spending raceday hanging onto a big 450, the new head has benefited the quarter-litre bike the most. It'll take a shoot-out to see if it really has got the match of the class leading EXC-F, though there's no doubting that it's fitter than before so when we get the two together it's got the potential to be a great scrap.
Bike of the launch for me, however, was the TXC250. Small and nimble, with an aggressive edge that's tempered by the fact it's a 250 thumper: it that feels best when ridden hard. And everything's in place to allow you to do just that. As a racebike, it's got every box ticked…
Thanks to Dave Plummer at Husqvarna UK www.husqvarna-motorcycles.co.uk for all of his help.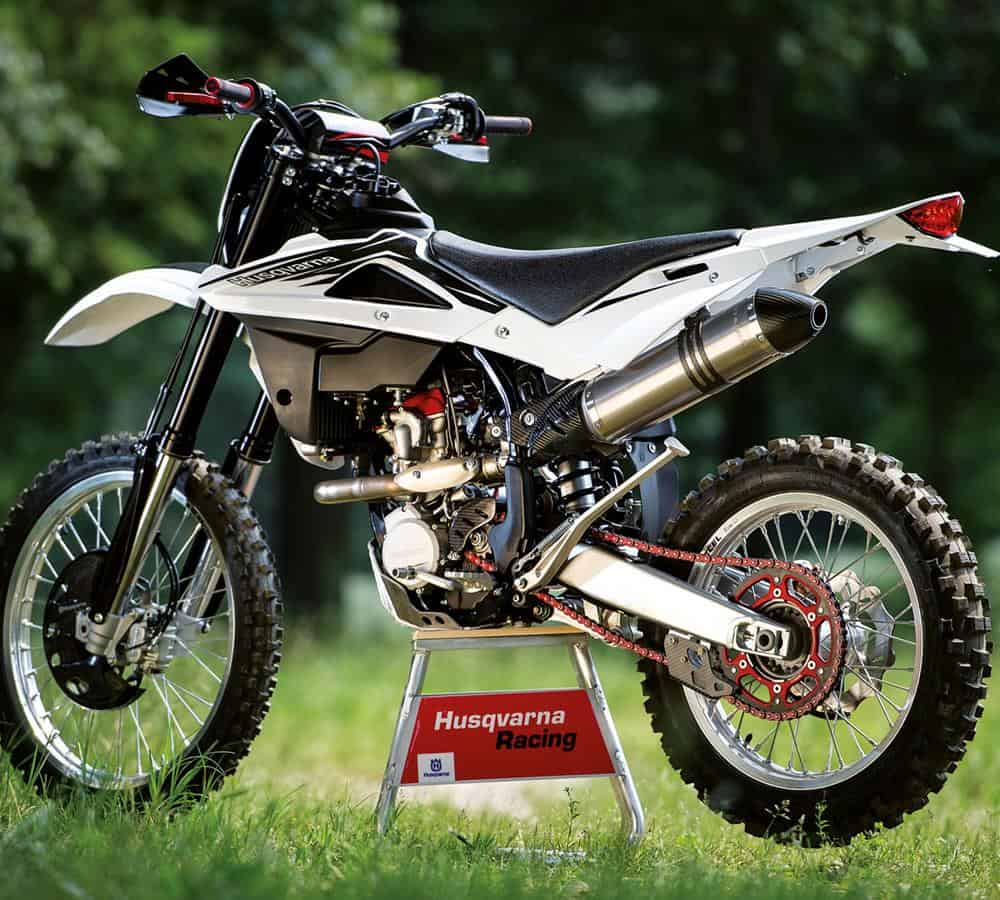 On Your Head
Husqvarna have also added to their accessories list this year, with an updated range of official bolt-ons to modify your TE or WR. White 'n' black graphics give the bikes a subtle look, whilst you can reintroduce a little colour with a red chain and Supersprox rear sprocket, or anodised levers. A gripper seat with 'Husqvarna' spelt out along its length is an interesting look!
On a performance note, there's a carbon-capped Leo Vince titanium silencer, plus the GET reprogrammable ECU that you can adjust yourself without the need for dealer input. If you can't quite stretch to that then you can buy a 'mode switch', to alter the ignition curve for either full power or a softer delivery. Finally, various carbon or aluminium guards are available, plus machined, black anodised, triple clamps with adjustable geometry.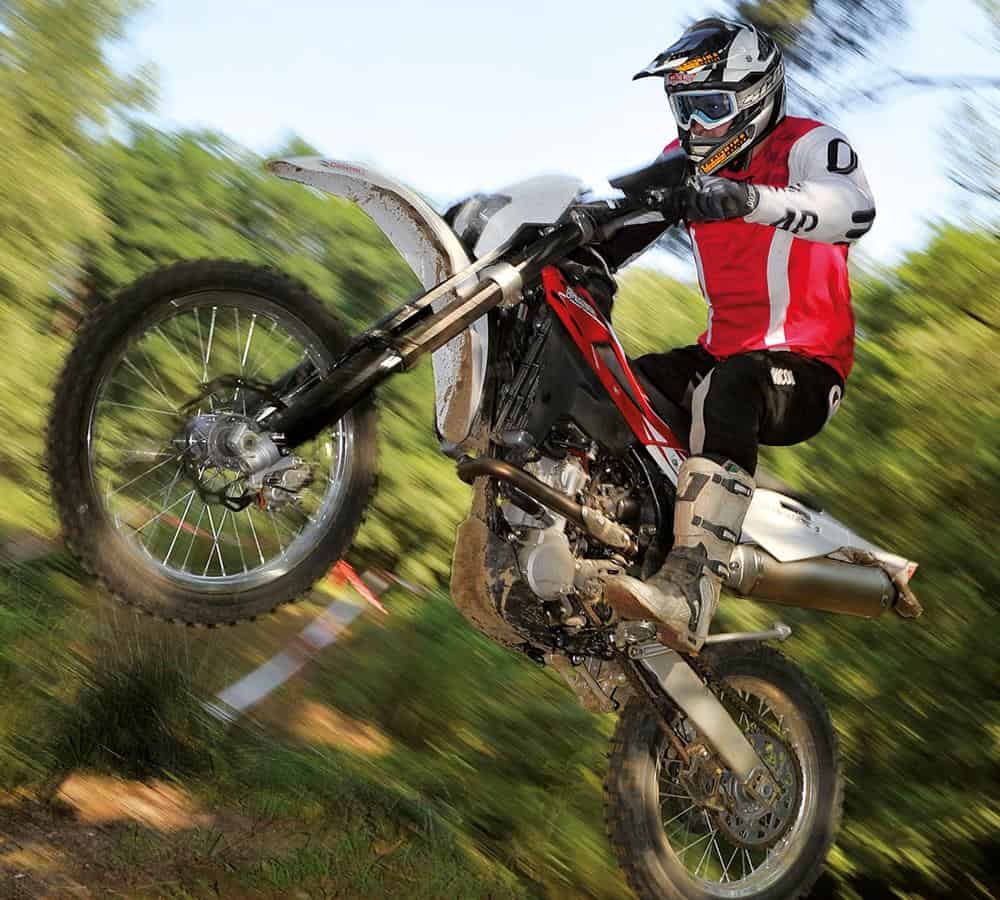 Head Rest
Aside from such 'across-the-range' changes as new graphics, new black grips (a real improvement over the outgoing items) and a barpad, nothing's really changed on the other Husky enduro models. Which means the WR125 remains a great little screamer, and a good choice for those who love the purity of riding a 125 or a looking for a first race bike. The other two-smokes? Well, the WR250 is largely the same as it was at the turn of the century, and the 300 is only for the criminally insane. Old skool 2T peaky power delivery and the most awkward kickstarts in the known world, whilst Gas Gas and KTM have continually refined their two-strokes to make them as easy-to-use as possible, mean that even Husky acknowledge their E2 and E3 strokers' limited appeal – as was the case last year, the WR250 and 300 are available to order only. Rumours abound that Husqvarna are working on a new breed of two-stroke, and they can't come soon enough.
The 449 has that super-smooth, refined and powerful motor, and a stable chassis which makes it a good choice as a trailie (assuming the lanes you ride aren't too technical) or a rally bike – whether for the UK or the deserts. I can't recommend it as a racer, tho'…