Gas Gas' brand new 250cc Cami has been priced to sell. Just over four grand buys you a smart little trailie with electric-start and the off-roading heritage and chassis know-how of this famous little Spanish brand. We wanted to know more…
One of the biggest problems with bikes built to sell below any given pricing point is that they invariably betray their budget-build with obvious signs of cost-cutting. Whether that be in terms of quality of the individual components in terms of basic suspension units, cut price braking systems, cheap chains, or – more commonly – by the absence of those subtle little extras like frame guards, hand guards, sumpguard etc that finish off a tidy off-roader; ultimately cost-savings have to come from somewhere.
All too often this shows up in terms of the finish and build-quality of the machine: whether that be low-grade plastics, outdated engines or cheap steel bars and swingarm etc, these are all commonplace at this pricing point. But all credit to Gas Gas, despite their new 250cc four-stroke Cami trailbike retailing at the bargain price of £4299 (plus on the road charges at the time of going to press), on first appearance I have to say it not only looks and feels like a more expensive machine, but it's a pretty homogenous looking product too.
There are braceless alloy bars for the rider to hold onto with a nice set of Trail Tech digital dials to read; a sumpguard to protect the lower frame rails, Polisport handguards to keep the wind off your gloves and items like the alloy pegs, stylish exhaust and alloy radiators (each rad with its own compact cooling fan) all look to be of a decent quality. But delve underneath and you will find a rather skinny looking shock-absorber branded R16V (the same as the forks), an inexpensive Dell'Orto carburettor, a cable clutch, AJP brakes and no frameguards to protect that deep fire-engine-red paintwork from getting scuffed by your boots. Like I said, at this price… something has to give.
Not that anyone is likely to feel short-changed by the Gas Gas Cami. On the contrary I'm actually quite amazed at what you're getting for your money. Sure a few of the components aren't the high-end industry leaders, and yes the suspension can feel a little budget at times, but if you want top quality componentry then you'd better be prepared to front for it. At £4299 this bike costs just 60 percent of what you'd pay for an equivalent sized KTM 250EXC-F, so you need to decide where your priorities lie…
Suspension aside – and I'll come to that in a minute – the Cami has an integrity of build that's a far cry from any Gas Gas of old. In fact it manages to feel both incredibly solid and yet commendably light at the same time, which is a great trick to pull off. It's also a bit of a novelty in this class… especially at this price.
There was a time when a Gas Gas speedo drive wouldn't last the journey from dealer showroom to outside. They were for 'cosmetic purposes only', and never, ever survived our tests. Well I've got news for you… This one did, and what's more the lovely Trail Tech dials look and function brilliantly – subtly tilted back to keep them out of the sunlight, they don't wobble; nor does the headlight surround… and nor did anything else for that matter. This bike is amazingly well screwed together.
Yet despite the granite build quality, on RUST's an-atomically calibrated digital scales(!), the Gas Gas weighed in at a very laudable 122kg. That's a few kilos heavier than an equivalent enduro bike, but a good bit lighter than all its trailbike opposition. Yes remember the Cami is a trailbike not an enduro mount adapted for the lanes. It may share a good few components with its enduro brethren, but it's been built for trailriding. That means it sits a little lower (seat height 940mm, measured), and its engine is not quite so feisty or cammy ('scuse the pun) as a typical enduro bike, all of which makes it much more pleasant to ride on the lanes.
Ni Hao
Recognise the Cami's liquid-cooled engine…? It's the exact same smooth and torquey, SOHC, Chinese-built lump found in the AJP PR5 which we reviewed in our sub-4K trailies test three months ago – albeit in this guise fitted with a kickstart (as well as electric-starting), and a carbie in place of the AJP's EFi set-up.
Of course that phrase 'Chinese-built' conjures up all kinds of horror-stories in people's minds, but it really shouldn't. In just a few short years, Chinese engineering has made the equivalent leaps of progress that European engineering took a century to achieve – albeit they came to it rather late! These days a decent Chinese-built motor feels every bit as sturdy as a European powerplant. And this engine is no exception. It's smooth, quiet, relatively powerful, nicely finished off and oil tight. Oh and it even looks nice in profile. Now that is a first.
I like the way this engine delivers its performance too. It's an intriguing mix of old-school torquiness, but in a modern revvy style. That's to say it feels like a cross between something like an XR250R from the 90s, and a modern-ish Husky TE250 thumper. It's happy to be revved and spools up reasonably quickly in the modern fashion, but actually it's tuned mainly for torque so you don't need to thrash it in order to find the power. That said if you do rev it, it will respond… it doesn't go all flat at the top like some motors.
Sure, it's not the most powerful of lumps, but it's by no means the flattest of 'em either. It has sufficient performance to keep you entertained and will eat up the trail miles at a respectable lick without having to work it hard. The gearing is spot on as well: just perfect for a mix of road and trail. If you live up in the mountains or only ride sheep trails you might want to gear it down a tooth on the front, but otherwise I like the fact that on the road you're not constantly flogging it through stupidly short gears to get up to 50-60mph.
With barely 60 miles on the clock, ours still felt reasonably tight, nevertheless it's got plenty of punch available for a trail 250, I'd estimate it has in the region of about 20-22hp (measured at the rear wheel about the same as an XR250) or in other words… a claimed 30hp! That means that as well as fairly brisk performance, you can expect reasonable economy out of it too, with the bike returning a comfortable 65mpg! I'd probably just add that the humble little Dell'Orto carburetted nicely all day, through all sorts of atrocious conditions, though it does require you to crack-open the throttle just a touch when starting.
Damp Start
You won't be surprised to learn that it was raining when we first set out on to the sodden trails of southern England. In fact given the amount of precipitation that had fallen in the previous weeks, I'd dispensed with my body armour and instead taken the precaution of wearing a buoyancy aid under my jacket.
All Gassers now have their choke cable up on the left handlebar, which makes it easy to adjust the amount of choke once on the move, though, it still feels strange using your left thumb to push the starter button which is located on the Cami's excellent instrument cluster. That's a Gasser anomaly I'm afraid.
It took a good few minutes for the engine to warm up properly and a couple of lanes for me to do the same. Like a lot of trailies, the Cami has slightly low-set bars and I had to stop to adjust them forwards (and upwards slightly) in their clamps. Once done, the riding position felt ideal – though a set of bar risers would probably help if you're 6ft or over….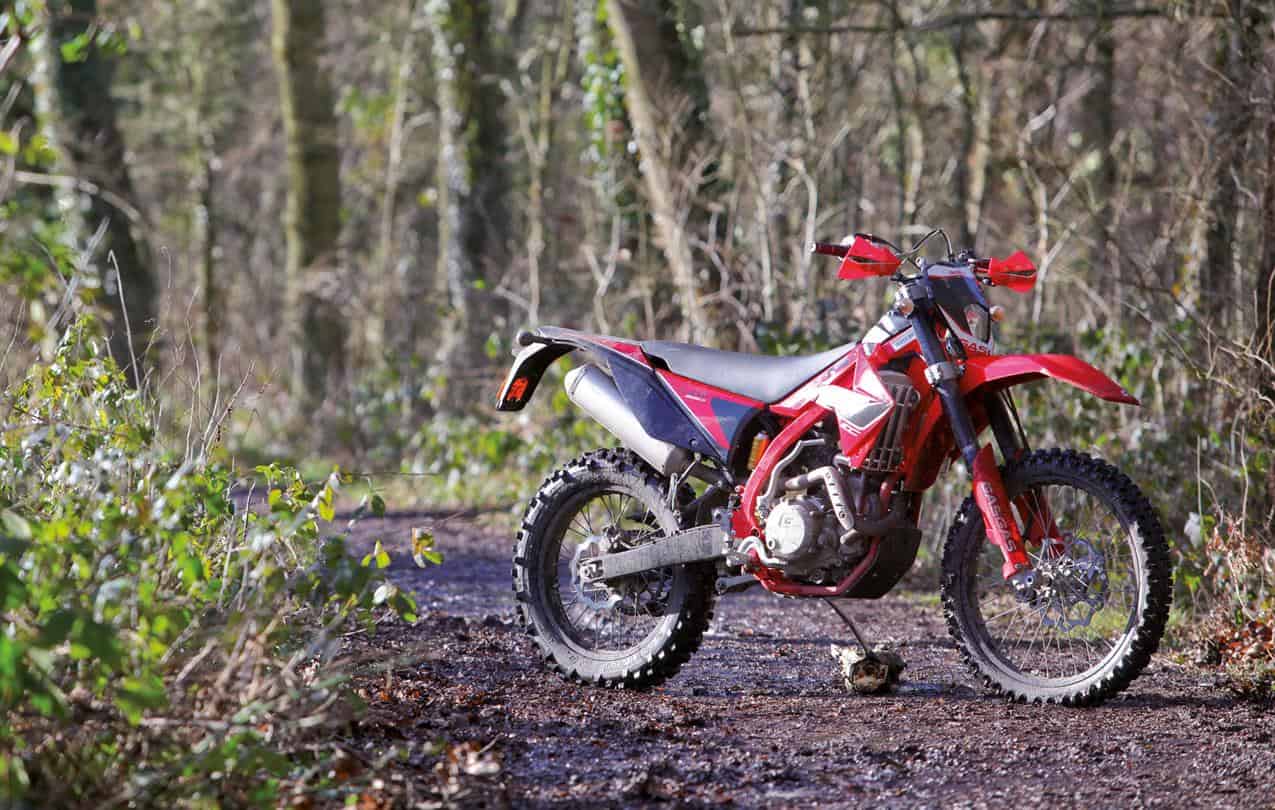 Unlike some trailbikes the Cami's pegs are set quite high (which I like) which delivers plenty of clearance for your boots when riding in ruts, and you can tell the Gasser's dirt bike heritage because items like the brake and gear lever are placed to work in a standing position, as well as when you're seated.
I was amazed to discover the first couple of lanes weren't too soggy, and apart from a few deep puddles to splash through, we had no problem getting down them. It was a different story when we came to the numerous fords on this route though. The first was fine, the Cami waded through the water without as much as a cough. But at the next one the depth gauge registered 4.5ft and that's well above the Cami's bars, let alone my waterproof socks…
Circumnavigating the ford allowed us to try out a few miles of highway riding and once again I'm duty bound to say I was mightily impressed with the Gasser's civility. It has that nice planted feel of a typical trailbike, and feels equally at home on tarmac as it does on dirt. That to me is the sign of a great trailie: all too often trail bikes are biased one way or another (towards street or dirt), but the Cami felt like a genuine 50/50 dual-sport machine.
Back on the lanes and the pace was picking up a little – allowing me to stretch the cable and work the suspension properly. I confess when I bounced the bike up and down in the RUST workshop prior to setting-off, it felt like both ends were soggier than a Somerset cow. But once on the trail, the forks and shock coped superbly with all manner of bumps, roots, and square-edged potholes (of which there were many), never once bottoming out or causing any concerns for the rider.
I should make the point however, that as good as the Cami's suspension felt (and I was pleasantly surprised by the feel of it), it wasn't quite as sophisticated nor as compliant as an enduro set-up. I don't mean measured in terms of firmness, nor the control it affords the bike, but in terms of the plushness of the damping. It was basically a bit less subtle and a touch more crude. It worked fine and it took care of all the big holes and any drop-offs we encountered, but it isn't what you'd call remarkable…. just simple and effective.
That's really to be expected with a bike of this price and I want to emphasise that the suspension wasn't in any way suspect, or even compromised. It felt fine. It just didn't blow me away, that's all. On a scale of one to ten it was a decent 6.5. No complaints.
No complaints about the rest of the riding experience either. There was nothing here to worry an experienced rider, nor still a trail riding novice. The seat was pretty firm, and the steering lock not quite as broad as I might've hoped, but all things considered this is a great fun little trailie.
It's easy to feed in the power from a standstill so that you get maximum grip from the off without the risk of stalling (or fighting wheelspin). And likewise it's simple to keep it pointing in the right direction even in muddy ruts where the lovely chuggy little engine helps the bike find tons of grip even when the lanes are at their soggiest. There's never a need to slip the clutch to keep the engine churning in the meaty part of its torque, just work the throttle a little and the Cami rewards with a brisk and entertaining kind of ride. When you do need a different gear, the change is reasonably light (but firm), likewise the clutch and the brakes are well weighted and very effective.
The price is right
To be honest you have to keep reminding yourself that this is a four grand bike sitting in a seven grand marketplace and really ought to be judged in that context. Riding in the company of four other enduro bikes all of which cost £6.5-7.5k when new, you can't help but be impressed by the thoroughness of the job that Gas Gas has done on the Cami, and how competent it feels. It never felt outclassed or outpaced (though we weren't hurrying), and aside from the fact that lifting the front end over puddles requires a serious tug on the bars rather than just a handful of throttle, there wasn't a lot to choose between them – suspension aside.
One of the things I most love about trail riding is how it takes you into the back of beyond of places you thought you knew. I grew up in this part of rural Berkshire where we were riding, and figured I knew the area pretty well, but when you're out on the trail there's always lovely little gems hidden away, waiting to be discovered. Stuff like historic houses, ancient woodland or picturesque lakes, little villages with traditional village greens, thatched cottages, great little country pubs to try out and even things like ostriches and llamas running around the fields. I kid you not.
I love looking at the houses too – wherever you look there are architectural treasures hidden in the depths of the countryside set along ancient lanes: old houses dating back four or five hundred years, and modern and futuristic glass boxes. Who'd have thought that a simple trailbike could take you back in time… and forwards into the future like that? And one of the most pleasing things about the Cami when you're riding in a heavily populated rural area like this is that its exhaust note is nicely muted, so that no-one really notices you until you've whooshed passed their front door. That's a real bonus.
I liked the Cami's stability on the trail too… It was a sensible blend of geometry that was quick enough to let you switch ruts with impunity, yet stable enough to hold a chosen line through the squelchy mud when you needed to.
Throughout the day it grew steadily on me, so that when we swapped bikes later in the afternoon, I was happy enough to spend just a few minutes on an enduro bike before opting to get back onto the Cami. Yes, the enduro bike felt quicker and its suspension was plusher. But down these lanes there was no need to go any quicker than the Cami would take you. And anyway, none of us found that the Cami was holding us up.
There was a decent mixture of lanes to choose from: most were squelchy, though some were pretty fast and open. But all were wet in places and the Cami showed no sign of suffering from water ingress.
Through the mud and along the waterlogged lanes the Cami plodded on without hurling huge amounts of roost at the scenery (or your mates), and it was only when crossing over a fallen log did we notice its marginally less ground clearance compared with an enduro bike. Of course that means getting your feet down is easier, and the Cami always felt like an easy bike to ride, whatever the terrain. It never got stuck, never caused us to crash and nothing broke or stopped working.
That said, there were a few little niggles that it's worth bringing to your attention. The kickstarter knuckle just touches your right boot when you ride, and the sidestand does the same with the heel of your left one. And talking of the sidestand, it's about four inches too short. Take a look at the static pictures and you'll see what I'm getting at. The Cami really doesn't like starting in gear either, oh and you have to pull in the clutch to engage the starter (it's a trailbike thing).
By the end of our ride the IRIS chain was starting to rattle, so you'd probably want to keep an eye on the tension, or else swap it for something like a DID. Same goes for the clutch free-play at the lever which slowly disappeared as the engine warmed up in the slippery conditions. No problems, as long as you remember to keep an eye on it, and adjust it as you go along.
I must say, none of these things was a deal-breaker for me and certainly wouldn't put me off owning this bike. On the contrary I was thoroughly impressed by how well it performed and how much fun it offered for a fraction of the price of a modern enduro bike.
And that's really the whole point of the Cami. It's a brand new dirt bike at a fraction of the price of a KTM or Yamaha (a six-tenths fraction). It can do their job equally as well on the trail for considerably less outlay, and an awful lot more people can lay their hands on four grand, than seven.
Sure, if you like to race or you're a proper petrolhead who's prepared to take a risk on a pre-owned machine, then four grand will get you a well-used enduro bike that's a couple of years old, offering better performance than the Cami. But for those riders that want or prefer a trail bike, then this thing seems like a bargain.
One of the guys I was riding with asked me if I'd have a Cami over the Honda CRF250L and my answer was unambiguous… For commuting? No, I'd take the Honda over the Gasser. But if it was a genuine trailbike I wanted, then the Cami wins the battle hands down. It's a better green laner than the Honda, and is not far off the Honda's brilliance on tarmac.
Sure the Honda has a superb engine that's top-of-the-form in this class, but overall it's 20kg (40lb) heavier than this baby and on the lanes that makes it much more of a handful.
If you can endure and overcome the 'Cami'-Knickers jibes and mickey-taking which all your trail buddies will aim at you, then underneath it all you will find a decent, modern trailbike that's frankly a bargain at this price. Really it's you who should be doing the laughing… All the way to the bank!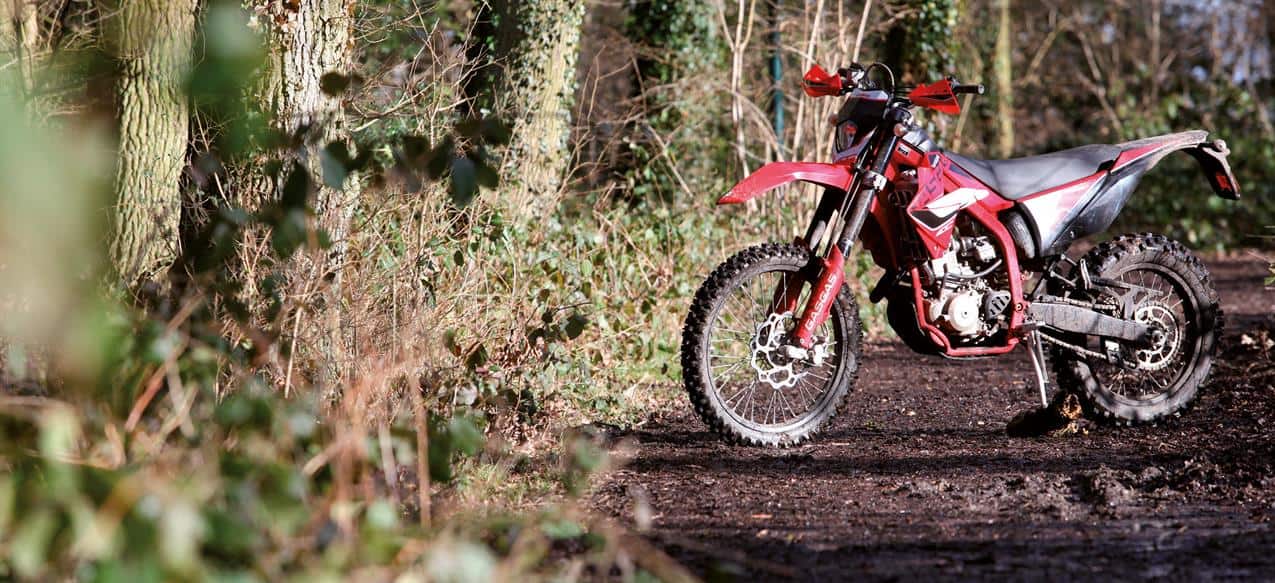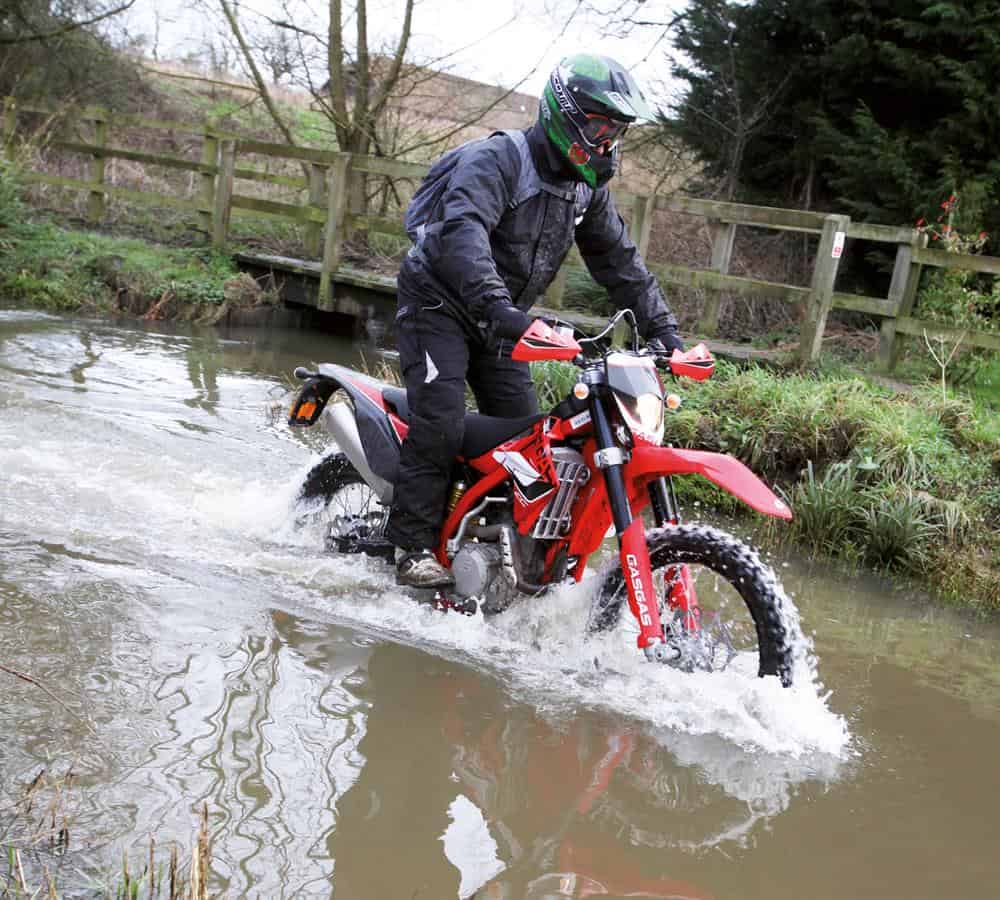 Second Opinion: Alex Waters
My first impressions of the Cami in the metal were back at the Expo in January. The smart looking trailie with its red livery certainly looked the part on the Gas Gas stand. Fast-forward a couple of months to a damp lane in Berkshire and it's time to see whether it goes as well as it looks. Si has been singing its praises all morning and I am keen to see how it performs compared to the Honda and AJP I rode back in December in similar and equally damp conditions. We swap bikes, it fires up immediately and we're off.
The gearbox feels good as I change up through the cogs and the carbed 250 unit chugs along nicely with a smooth, predictable spread of power, very similar to the AJP PR5 but without the slightly harsh induction noise of the fuel injected Portuguese machine, and a little more urgency than the silky smooth Honda. The handling is more than a match for the power despite the budget suspension components.
The little Cami changes direction nicely and the soft set-up soaks up the smaller bumps like a traillie should. The controls are all nicely positioned with the gear lever set slightly forward and a nice light clutch action. Conditions were wet but that didn't seem to faze the Cami until I repeatedly hit an extremely large series of puddles for the purposes of a photo and the motor stuttered momentarily. Even then after a slight initial reluctance it was good to go and it probably wouldn't be expected to deal with this level of abuse on a typical day's trail riding anyway.
Overall it feels like a quality package for the money so I guess the real question is how does it compare to the competition? In some was it was a shame we couldn't test all three bikes back to back; but the Cami simply wasn't available at the time of the original shootout.
Positioned in between the Honda and the AJP in the sense that it's a genuine 50/50 trailie compared with the Honda's 60/40 road orientation and the AJP's 70/30 off-road bent; it isn't quite as refined as the Honda and doesn't quite have the off-road ability of the PR5. Or put another way… it's more refined than the AJP and more off-roadable than the Honda.
So it all comes down to personal preference. They're all fantastic value at around the 4k mark new, and each one goes to prove that you don't need a 7k bike to go and have fun in the dirt. I'm not going to pick a winner here because it depends upon your own personal requirements for your trail needs. But I will just say that if you're in the market for a genuine trailie, the Gasser's particular blend of dirt/trail/tarmac suitability seems to have all the bases well and truly covered…