Gas Gas EC250 v KTM 250EXC v Beta RR250
You guys love your 250 two-strokes. And we do too… What more excuse do we need for a RUST shootout?
I've got a hundred reasons to like 250cc two-stroke enduros. Actually, according to the spec list I've got 101.9 reasons. That's how many kilos KTM say their 250EXC weighs. And to me that's what these bikes are all about. No four-stroke has really got close to that 100-kilo mark as yet. Two-strokes do lightness properly and when it comes to racing, lightness is a fundamental attribute all bikes need.
Then there are probably another 40 good reasons to like 250cc two-strokes. That's approximately the amount of horsepower these bikes each make. And 40hp loosely corralled in a hundred-kilo chassis sure makes for a good deal of performance. We had a long day testing these 250 smokers and we had a few longish straights to stretch them out on, but none of the test team could recall holding any of the three test bikes flat out at any time. Fast and light. That's what I'm saying.
Testing, Very Testing
Before I come on to the subject of the one bike that's very obviously missing from this test (250 Sherco), a little bit about the test itself. At a new test venue in the Cotswolds we have assembled three 2014 bikes and five riders – ranging in age from 24-47, and ranging in experience from sportsman to a championship level BEC rider who's bike is one of the test specimens. The location has both an MX element and an enduro loop with motocross doubles (for the talented), whoops, berms and plenty of speed jumps set across a former sand quarry. To one side there's a brilliant loop through woods with a fabulous flowing track that links both parts of the course. The winter rains means there's no dust in the quarry but in the woods the flooding creates the effect of a Mississippi swamp enduro. In places the water is so deep it's coming over the top of our boots even when standing on the pegs. Three out of the five testers will be soaked through before the end of the day. No drowned bikes though.
So where was the Sherco? Where indeed? Despite numerous requests to the UK importers to make a bike available for this test, it simply wasn't forthcoming. What were they afraid of? We have no idea, but we never gave up trying. A few days before the test when they still hadn't made up their minds, we spoke to various dealers and even went so far as to put a request out on Facebook for any private owners who might like to come and join us and bring along their bike. Unfortunately it all came to nought.
No matter… Because what we have here are the three leading protagonists in this class and the three best-sellers (we didn't include the Husky because of its similarity to the KTM). The bikes should be well-known to nearly all. The KTM 250EXC is the class benchmark. It's been at the top of its game for as long as it's been in production. Refined year on year, the formula has barely changed and yet it's as competitive in enduro today as it was when it was first launched. The most significant update in recent years? Probably the electric start (more about which later).
Pitched against it is the latest Gas Gas EC250 Racing. Like the KTM it's virtually as old as grandfather's axe – and still as sharp and effective at slicing through the trees. There's a revised frame, new shock unit and a fair few new details but it's still the Gas Gas we know and love. It is though the Racing version, so up-specced in terms of components and as tester Barni put it, 'adorned with every last sticker they had in the factory.' Stickers aside, we like the looks of the Gassers this year and the graphics actually complement the bike's fine appearance.
Third dog in the fight is the Beta 250RR. Typically Italian, it's managed to out-bling even the go-faster-striped Spanish machine and easily out-swanks the naturally-conservative Austrian. Phil, our young MX tester (complete with racing numbers on his shirt), is drawn by shiny, pretty things, and the shiny hubs (from British-firm Talon) and red-anodised forks immediately caught his eye. This example was not entirely standard however, this being BEC racer Lee Edmondson's bike. But even without the shiny gee-gaws the Beta has lots to please the eye – even if it is the least adventurous of these three in terms of styling.
Setting the Standard
KTM have to some degree, become the Honda of enduro. It's the bike you get on and instinctively everything feels right. It's not necessarily right, or the only way of doing things, it's just that seeing as seven out of ten of us owns a KTM, then collectively the KTM's standard set-up has come to feel the norm. With a high seat, the highest here by 10mm (over an inch taller than the Beta) thanks to the PDS set-up, wide flat bars and narrow through the mid section, it's the one we all feel most familiar with.
This particular 250EXC was a little frisky too. Starting it up you sensed it immediately. The exhaust note being that little bit more raspy – almost high pitched – you knew that it was going to be a sporty ride. Being jetted just a little lean for the day translated into a light throttle action, an immediate enthusiastic response and the kind of willingness to race that had our true sportsman Alex on his guard.
It wasn't crazy-power though, there was still a lot of control, but with so much so soon you didn't find too much call for much more than mid-range power. Three or four gears of 'BRAAAP' and that was enough. You needed to be cooling it again for the next corner. Probably on a fire road you'd find out more about the top end.
It felt so right, though. The suspension was plush without needing to be soft; the brakes combined awesome stopping power with great feel. It danced around the tracks with a lovely lightness too. Barni commented that maybe a little too lightly, and he had a point. For the likes of Alex, this quick-spiritedness was off-putting. So there would be places the others felt stronger; but overall taking into consideration a whole lap, mixing the motocross with the trail, with gingerly easing through the water to attempting to carve some serious curves between the trees, the KTM was the best balanced.
Berm Bashing Beta
Beta have set out to do things differently. Two figures on their spec sheet alert you to this. The seat height: a useful 30mm lower than the KTM, and the ground clearance, an incredible 35mm lower. The other dynamic – you can't actually find in the spec – is the motor's power delivery. Here the Beta was the opposite of the orange flier. Where the KTM was raspy and revvy, the Beta was mellow and torquey. If like Alex, you find KTM's 250EXC just a little too much of a handful, Beta might just have the antidote.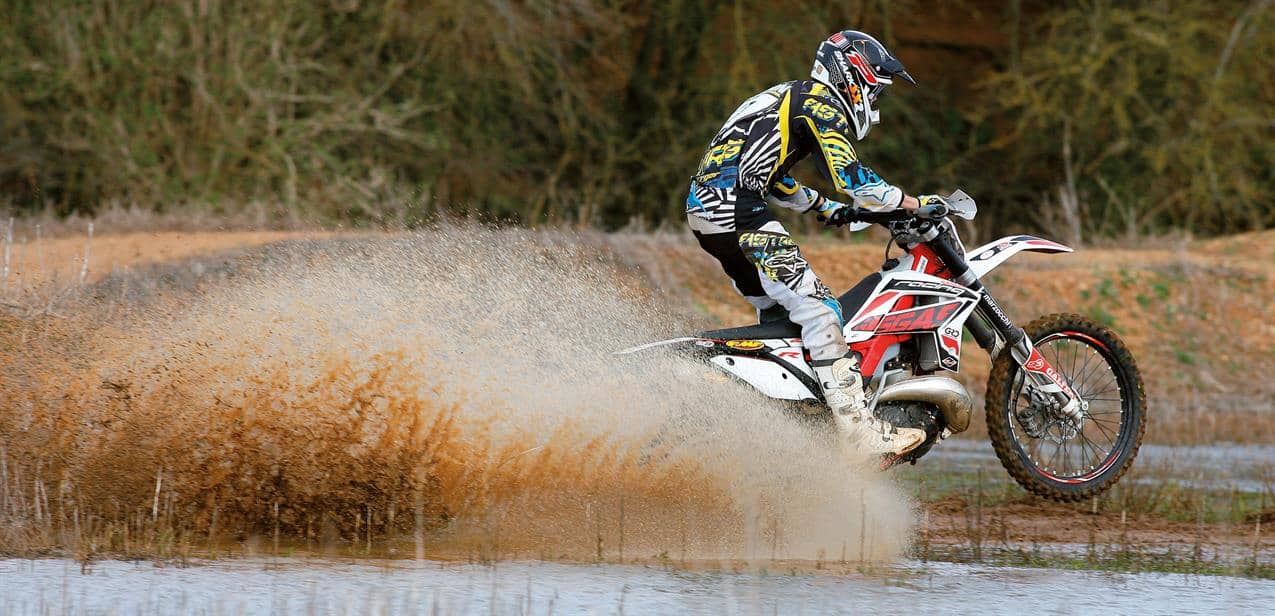 There were two power modes on the Beta, on a handlebar switch. The more gentle of the two was almost too gentle; seriously suppressing the engine's desire to rev, you'd run out of straight before it had even got into its powerband. Flipped to the second position – with the racier mapping – it was spot on though. Again, it was nothing like the KTM, instead reaching deep within itself and pouring on the torque like thick syrup.
James said it felt more like a 300 than a 250 and I know what he meant. This was a 250 with a lot of flywheel or a fat set of jets, or probably both. All the same it didn't want for speed, it was doing the numbers, just in way not typical in this class.
The handling wasn't quite so agreeable. To be fair to Beta this was riding on Lee Ed's personal set-up and it's one we feel might be very much his own. That said, an American supercrosser would probably feel right at home with it. Because Lee sets his bike up with the back end riding really low, with about a third more static sag than usual.
His damping rates feel unique too, like there's a lot of damping – especially on the rebound. To the point that for the rest of us it felt to be too much, the back end packing down after repeated bumps. At the front end, our young lad Phil, who was jumping these bikes everywhere, was finding the lack of rebound in the rear spring was affecting the attitude of how the Beta flew. It would take a nose-high attitude to flight as the rear refused to spring up after take off. Meanwhile, while the forks were good at absorbing the big hits, they lacked the subtlety in the first third of the stroke to deal with the little stuff.
Of course Lee (the bike's owner) is about twice as fast than any of us at RUST, so who are we to argue? But having sampled many varied bikes (and set-ups) we can at least identify this is a unique one. And not one most of us would choose.
Lee was right in one aspect though, this set-up will work well in certain tests, probably grass (cross) tests rather the enduro tests. A low centre of gravity in a grass test is a winning advantage. It's like a grass tracker or speedway bike – engine slung real low – and this aids it in the corners. Not so much getting into the corners, but once there, if there's a little rut or berm, it means the Beta will rail it. But potentially at a cost elsewhere?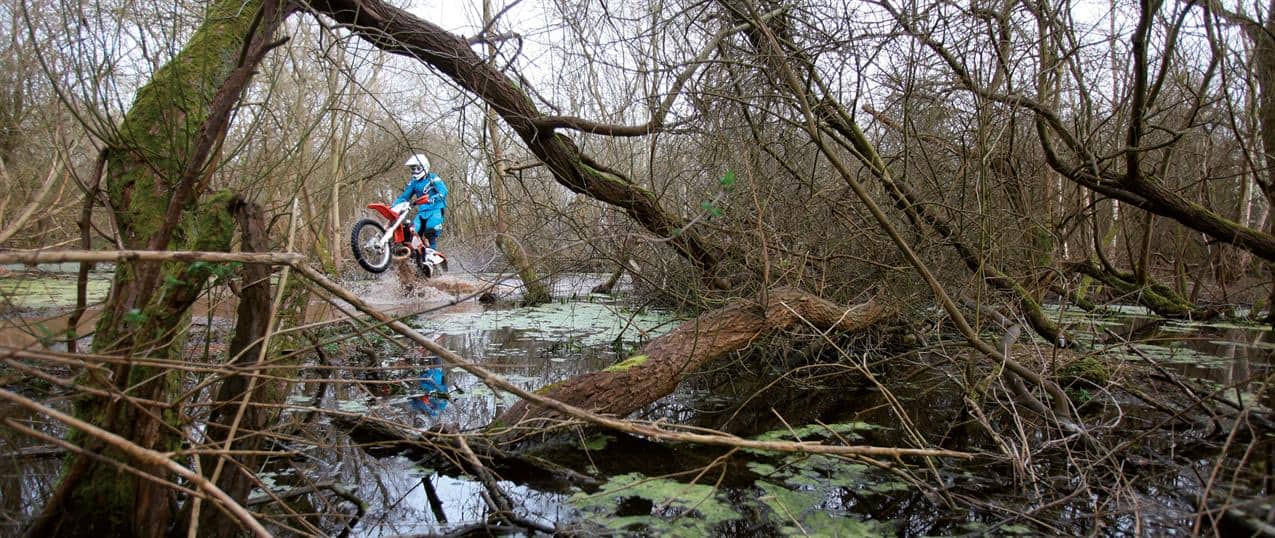 The handling and the damping on the suspension wasn't helped by the Beta having the hardest saddle our testers have experienced in a long while. A true blue racer (like Lee) won't have a problem with this (having tried the odd EWC bike we've discovered that mahogany seems to be the seat of choice for a fair few world champions), but for mixed work this is hard going. And when the suspension isn't absorbing the bumps and the landings like you'd want it to, the rider ends up taking an element of punishment.
It's the nature of testing of course, level playing fields are so hard to find. For our testers on this day… Lee's suspension set-up just wasn't working for us and we're sure had we got to try a stock example we'd have been a lot happier. As it was the motor still found a way to get its message across. It found a willing suitor in Barni, who appreciated the depth of its soul, the fact that even with a long lazy pull to just three-quarter throttle there was still enough power to make for fast speeds and probably quick times. Over a long day in the saddle the Beta's easier-going motor might make up the disadvantage of the slightly clumsier suspension compared with the KTM. Possibly…
Clubman, where art thou?
Barni looked positively offended by the sticker count on the stock Gas Gas. A month ago The Publisher was waxing lyrical about the new look so who's right? We'll let you decide on that score. Perhaps Gas Gas really wanted to telegraph the fact that this is their racing-spec model. Of course there wasn't much wrong with the colour-ways introduced for the 2013 model year, in plain red or white it's a good look, so whether the Gasser needs the go-faster stripes is clearly a matter of opinion.
The test bike also came with a full complement of indicators, mudguard extender and number plate. Happily we found these could be unbolted and stored within five minutes – their quick-detach nature indicative that somewhere in GG R&D there's at least one man not wearing red skinny jeans and mirror-lens Ray Bans.
For all the eye-catching looks, the Gasser's nature remains firmly conservative, as it has always been. If the KTM was the rev hound here, the Beta the mellow torquer, then the Gasser was a proper blend of the two. The FMF pipe gives depth to the exhaust note and a good dose of torque to the motor, but the pick-up was just that bit more eager than the Beta, but not too eager. Alex, feeling on the edge of his comfort zone with these biggish two-strokes said he enjoyed the Gasser the most, of the three as it made him feel the most 'comfortable'.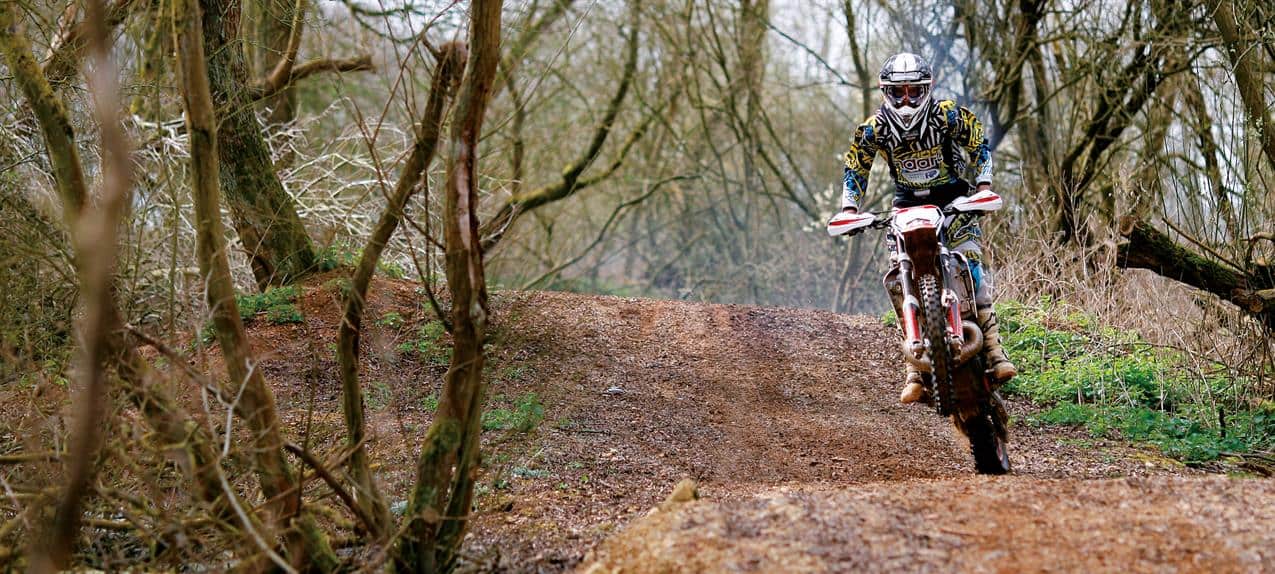 This fact as Barni commented, has been Gas Gas's calling card for as long as he can remember. Gassers he said, give a rider a racy feeling, but without the sense of beating the living daylights out of them. Proper clubman tackle is what he called it.
Alex also offered up the observation that the handling was entirely neutral. Not a word I'd immediately pick given how quickly it changes direction, but in this company, quite accurate. The KTM was snapping into the corners, the Beta wasn't really turning until it was actually in the corner, whilst the Gas Gas trod the middle ground. It feels like the rake and trail are slightly more relaxed than the KTM, and compared with the Austrian bike this translates into a slight sense of remoteness about the front end, that you're not quite getting all your weight over the front end the way you can on the KTM. But overall it gets the job done well… yes, in a neutral fashion.
The choice of standard handlebars wasn't quite so well chosen at Gas Gas HQ. Phil thought they were narrower than the others and more swept back, where the KTM's are more contemporary – quite flat, quite straight. Barni said they felt too far forward (in relation to the rest of the bike), as well as a 'weird' bend, but regardless, the consensus was that not one of us felt the stock braced bars were quite right for us. Although this would be a simple thing to change.
The Gasser also copped some flak over its electric start. It's a large, ugly brute of a starter motor and it's really messed up the aesthetic of what had been an attractive motor (on the left hand side at least). Connected to a button on the left bar (of all places) it was a bit in and out when it came to operating effectively, sometimes making a funny noise. That said, it was still working at the end of the day… whilst the KTM's had gone silent after a crimped wire caused the fuse to blow!
On balance then the Gasser's got a very agreeable blend of motor and chassis: Being somewhere in between the KTM and Beta. It's sharp, but not quite as finely focused as the KTM, and it's forgiving, but not quite as lazy as the Beta. And the suspension, with an unlikely combination of Marzocchi forks and Reiger shock (working through a linkage), actually felt just ideal. Firm but not harsh, and plush but not soggy.
3-2-1
The Beta wasn't stock, but it was still great fun to ride and race. That doesn't stop it placing third though. Yes, it might have placed higher with a stock set-up, but we can't be sure. And for certain none of us could rate it above the other two on the day. We appreciate Beta's boldness in taking their own direction though. There's some merit in having a lower bike with a torquier motor, it's possibly a winning formula that will suit certain riders. But on the day, with a BEC-racer-specific set-up, it wasn't doing it for us.
The Gas Gas gets a solid second place, which it has done for most years as far as we can recall. Odd thing is we thought it would do better. On recent tests the EC250 Racing has shown up well, felt racier than ever, and recent improvements in build quality and specification have helped it maintain level-pegging with the KTM in many aspects. Yet on this test it came up just a fraction short. A good bike all the same, there's no denying that.
So, the KTM aces it again. Everything considered, it just felt the most alive, the most light on its toes, to have the plushest suspension and the, er… handiest handling. Too much for Alex, but for the rest of us it was too easy to enjoy, too simple to push the hardest, and too much of an all-round package to ignore. Even if it was jetted too lean, and even if we did have to kickstart it for half the day. It is still the class act, in a class that exudes…class.
Thanks: Big thanks to KTM UK, to Edmondson Racing 01543 450150 (cheers Derrick) and to Gas Gas Enduro UK (Clements Moto Ltd via Tri-County) for supplying the bikes – top job one and all. Huge thanks to James French for allowing us use of his private test track – and for letting us have a go on his 500EXC! Thanks to Phil Burton for reminding us just how old (fat) and slow we've become. Thanks to Lee Edmondson and Alan Hambridge for being there with the vans and the tools to make sure we had all three bikes running, with the handlebars and levers set just so, and for not laughing at us (to our faces at least).
www.tricountymotorcycles.co.uk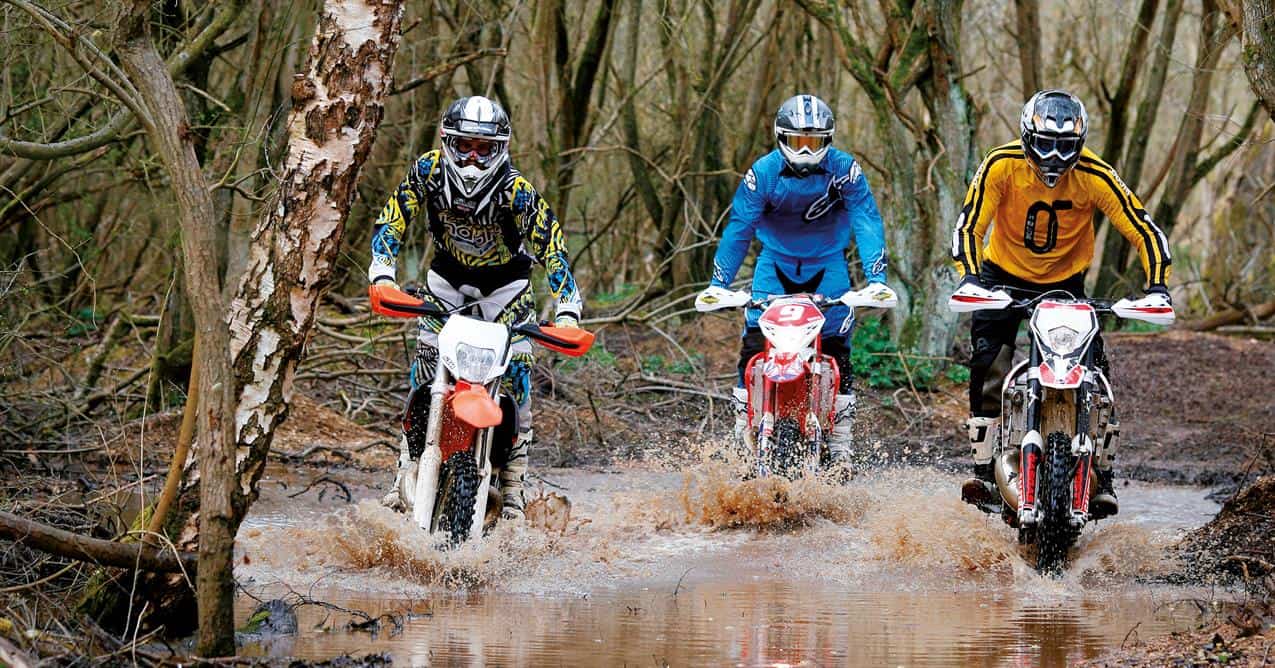 Second Opinion: James 'Barni' Barnicoat
Phewee! A 250 two-stroke shootout was always going to be a fun-filled day full of on-the-pipe adrenaline rushes, out-of-powerband pratfalls, raucous laughter and rorty exhausts. Chuck in some fast 'n' dry hardpack, slow(er) 'n' wet woodland, and riders ranging from Championship to Sportsman, and you're guaranteed a brilliant day. We had a blast.
A return to the RUST shootouts of the good ol' days, things got off to a slightly iffy start when I forgot the all-important cakes and certain importers forgot to send their bike..! Still, after a brief moan and a few choice words about the lack of French Fancies (see what I did there..?) we got down to the serious business of falling in puddles, roosting each other, and clocking up as many laps as our dubious fitness and battered bodies allowed. Then having a breather and doing it all again. It's not rocket science, but it does allow you to get a darn good handle on what you like about each machine, where its foibles lay, and which you'd buy if you were in the market for a new quarter-litre enduro smoker. So what would I have?
Orange
It's hard to argue against the KTM. I like the tall-in-height, short-in-length feel to the chassis which makes it seem as if you're perched on top and really dominating the ride. The light yet precise steering is excellent, if a little nervous at times, and the brakes – not always to my tastes on EXCs – were absolutely spot-on this time.
And the motor? The motor is an absolute doozy. Ordinarily there's a real tractability to the EXC's bottom-end that allows you to lug your way through tough or technical going rather than using the top-end. This one came Ready to Rip, meaning it made immediate power at any point in the rev range. In amongst the trees this necessitated a taller gear or a dab of clutch to modulate the punchy power, though on the open tracks you could give the super-light throttle a cheeky tweak and just hang on tight. Then, diving back into the woods, the supple WP suspension smoothed out the small bumps and soaked up the landings from the bigger jumps. Lovely.
White
Aside from a rather weird bend of bars, there's not much I disliked about the Gas Gas. That said, it didn't really stand out for me, either. Easy and efficient to ride, if you rely on a stopwatch rather than the seats of your pants then it's arguably right up there. The handling's predictable; the brakes are top notch; and the motor makes more than enough power to get you going very quickly without scary you witless. It's always been a fantastic clubman racer and it still is. But for me it just lacks the X-Factor of the orange bikes.
Red
The Beta was the oddball. Set up to work for Championship-class racer Lee Edmondson, and the way he has his rear suspension set (feeling quite low, with lots of rebound damping) dominated the ride and the riding impression. To me, it made the bike seem longer than normal, with a slightly wooden feeling to the shock. And the front brake, whilst powerful, felt just a bit wooden too.
That's the complaints over with, because despite the funky set-up I actually liked the Italian machine. The firm forks willed me to hit things harder and faster, and the bike felt stable when pushed. Which was just as well, because the motor is incredibly deceptive – smooth and tractable, with a deeper note than the rasping opposition. Riding the Beta you don't hang onto gears and thrash it, you feed it another gear at two-thirds throttle and it surges forward on its mid-range torque. It's this feature which, in my mind, elevates the Beta to second place behind the KTM. And, just like the shootouts of old, that's at odds with what everyone else was thinking.
Happy days…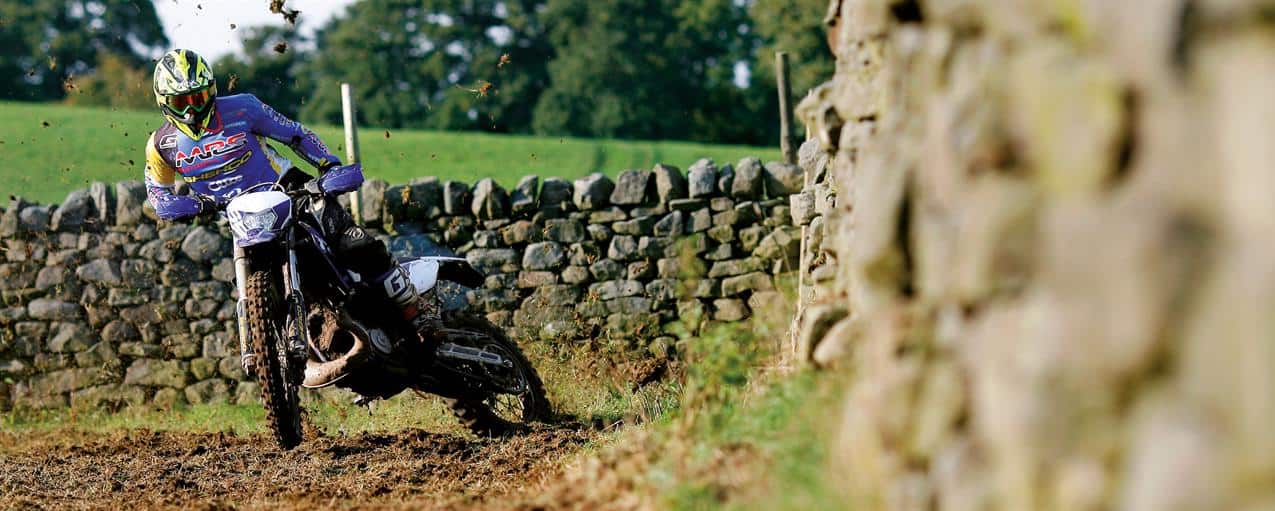 Apologies for Absence
As shoot-outs go, three bikes isn't exactly playing with a full hand. But as you can imagine, it wasn't for the want of trying. Those not represented were:
Husqvarna TE250 – Husqvarna UK don't have one of these on fleet, instead they have a 300, which wouldn't be like for like. A customer-supplied bike nearly made it to the test, nearly…
TM 250EN – TM's are coming into the UK 'to order' only, so there was no test bike available. Unless you can arrange a test on a customer's bike or find a rare example in a dealer then you'd be buying sight-unseen. A shame because uniquely, this is the only bike in class with an aluminium beam frame. From a previous test on a 2013 model we know it's a cracking bike, too, as TM have mellowed the engine over recent years, making it less peaky. It's quite the weapon now.
Sherco 250SE-R – Another bike we tried to move heaven and earth to have on test. But unfortunately the importers wouldn't supply. Big shame as our original test on this model was marred by a misbehaving power-valve (and knackered tyre!) and consequently we were super keen to see if this bike really can measure up to the KTM. A test for another day, perhaps?