It's ten years since Sherco started building enduro bikes, and only now have they launched into the two-stroke arena with the 250SEF-R.
Jon Bentman took a ride on their quarter-litre machine to see if the
slow-burn approach has paid off…
Compare, if you will, Sherco's enduro development with that of the new Husqvarnas. Husky have brought to market a 13-bike range, all pulled together in barely seven months. That's some kind of a record. But then we're not exactly talking R&D of all-new machinery, just a little tweaking and swapping around of parts here and there, applying a new look and re-arranging spec on existing kit. If you were feeling uncharitable you might call it 'window dressing'…
For Sherco it's a very different story. It's taken the French/Spanish firm a good decade to arrive at where they are now, with essentially a six-bike range (depending on whether you want to call up-spec'd 'R' versions separate models), and it's only this year they've got around to finally adding their two two-stroke models to significantly broaden their offering. 'Steady away' is clearly the firm's mantra, although they were able to cage that in slightly more positive terms: 'We gradually advance, without mis-steps, without unnecessary flashes of brilliance, but effectively. Sherco manages its own development and strategy.'
And Sherco have been very savvy with their development. Sure, some of the early bikes have required a few 'finishing touches' where the quality control slipped a little, though we can't remember anything TOO onerous. Since their first model – the 450i of 2004 – they've gathered pace and each year they're getting that much closer to the leading edge of enduro competition.
That competitiveness is something that has become really obvious this year, with Jeremy Tarroux winning the last day of the EWC E1 season on his 250SEF-R and with Fabien Planet placing the new 300SE-R two-stroke second in the EWC E3 in Greece. Wins and podiums in EWC are the hardest to earn anywhere, so respect to Sherco, for they are indeed a growing force.
Blue Meanies
We didn't attend the 2014 launch in France earlier this year, but we know Sherco most certainly put on a show of force. Despite the economic conditions they've been growing their business, sales are growing year-on-year and this is reflected by their representation in 50 countries. In their home market (France) they've got a network of 60 dealers!
Against that they're ensuring their product stays leading edge. They've already won much praise for the 250i/300i (SEF and SEF-R) four-stroke models (including here in RUST) but they've not left those models alone. The 250i this year gets a new bore and stroke ('long stroke', say Sherco) and the engine reaches a higher rev-ceiling (13,500rpm). The 300i has a new flywheel, revisions to the crank (and bearings), bigger inlet valves and revised fuel-injection (which had felt near-on perfect before). Plus both get new waterpumps, a little tweak to the gearboxes, and new Trail Tech speedo units and revised shock settings. A full test is coming soon…
At the French launch Sherco also raised the curtain just a little bit on their new 450i. It'll be a DOHC motor (the current one is incredibly similar to the old KTM SOHC 'RFS' motor) and Sherco promise it'll be with us in 2014. We note their commentary on this model refers to rally on more than one occasion, which, it would seem, is increasingly the spiritual home of the 450 enduro model…
Blue Smoke
And that brings us to the new two-strokes. Sherco has recognised, like so many, that two-strokes remain the bedrock in enduro. That's probably because the ease and relative cheapness of ongoing engine maintenance sits so much better with the privateer racer – which is 99 percent of all racers. Two-strokes also work well in a broad scope of events, from extreme to cross-country, so there's plenty of life in them yet.
Sherco say they came to the two-stroke enduro with a couple of key targets in mind: they wanted to see theirs come with more bottom-end plonk ('plonk' being our word, but it's an adjective we're sure the French would agree with) and with a good helping of torque right across the rev range.
For all that, they've hit the same formula that's worked for everyone else these last 20 years. The basic dimensions are the same as all the other 250cc two-strokes out there: 66.4mm x 72mm bore and stroke, respectively. The 300 is the completely 'square' 72 x 72mm that is again common to so many. Of course, it has the requisite V-Force reed valve, the six-speed gearbox and the Japanese Kokusan ignition/electronics.
Where we find that they've trod a different path is on the electric start, which instead of being placed on top of the engine cases sits below, surprisingly snugly under the crankcase and in front of the transmission. Only Beta do similar on their RR250/300. It's actually quite neatly integrated and the protection it needs comes from a polyethylene bashplate. Sherco say that locating the starter here helps lower the centre of gravity (we're sure it does, but how much effect that has we're not so sure). And because they've left off the kickstart altogether there's no real weight penalty.
There's a different take on the powervalve too. Sherco's design is something of a guillotine type (how very French). Older readers might remember Suzuki's RGV250 roadbike of the early 1990s had a guillotine type powervalve – they work well, just don't let them run out of adjustment (at which point they fall onto the piston, probably at about 9000rpm, causing all kinds of carnage).
Blue Blood
If you've ridden other 250cc two-stroke enduros the Sherco will feel pretty familiar, there's almost no adjustment to be made. Okay, maybe you've got to get used to the colour – a rich deep blue with sharp yellow 'Sherco' logo. But that's about all. And this being the up-specced R version, there's familiarity again with the (linkage) WP suspension too. Even the brakes are known territory, being Brembo. Break a brake lever (as our rider Gethin did) and a KTM one pops straight on. Handy.
So you can drop it into gear and head off like you've been riding it for years. It is different, certainly, but not massively so. There are no quirky one-off aspects that define the Sherco, it's simply known technology well executed.
And certainly it has a slightly different rev characteristic. In accordance with Sherco's aim of finding more low-end and more torque, if anything it feels to rev that little bit slower, a little more controllably than say a KTM 250EXC, like it has more weight on the end of the crank. Put it in 'traction mode' (via the handlebar-mounted dual map option switch, which alters both the ignition curve and the exhaust valve actuation) and the Sherco becomes the proverbial tractor. There's no mistaking the two curves and you'll only use the traction one in real snotty conditions.
It was a warm day for the time of year, probably around 20ºC, and the carburation wasn't ideal. It felt way too rich, not being overly keen to rev-out, and after a few minutes of woods riding it felt to load-up on the throttle. (The kind of feeling that would lead you to whip the clutch in and give a handful to clear the unburned hydrocarbons.) This was running was confirmed when we handed the bike over to Gethin Humphries for the photoshoot. Despite him giving it a good thrashing there's not a single shot which doesn't have a smokey blue haze lingering in the background.
Earlier that day, when the air was cooler and less dense, it probably ran a lot crisper. Actually, to be sure, we checked in with one of our friends who attended the French launch and he confirmed that, jetted correctly, the 250SE-R was smooth, easy to handle but still powerful. He thought the engine had a lot of potential – and this from a guy who used to ride motocross to an international standard.
The rich jetting might have disguised the true nature of the motor, but from this first test it feels clubman perfect. The power comes in hard enough when you want, but it never felt to be TOO hard. We'd like to be more exact on the mechanics here, but the technical documents we could access had very little to say on the matter. We did find a graph that plotted the powervalve's actuation and that seemed to indicate that the 'valve stays closed until at least 4000rpm then progressively opens so as to be open wide at around 6-6500rpm, which seemed to accord with the riding impression.
If there was any disappointment it was the feeling that it wasn't ready to rev-out properly when the straights opened up (we dare say with the jetting set correctly you'd get that back). So the Sherco felt lively enough to promote nimble skippy-type riding, where you ride the front high on banks or float it over ditches, but not so snappy as to be a handful. Real nice.
As said previously, there's no mistaking when the mapping is in traction mode. It's almost impossible to ride it aggressively in this mode – the powervalve must simply stay closed – but the effect when riding in slick conditions is seriously impressive. On a rocky muddy climb we were able to labour the motor almost to a stall, sat right back on the rear mudguard looking every inch the epitome of a far-from-fit rider – and the Sherco simply winched itself up the climb, refusing to stall. That's a handy attribute! And we like the fact the switch is there on the handlebars, ready to swap the map on the fly rather than having to fiddle under the seat for a connector or head to the parts department to purchase an 'accessory' first.
Fire Control
There were no gripes about the chassis either. The riding position, and the relationship between bars, seat, and pegs etc, feels instantly familiar. Stood or sat, it was a comfortable ride. The WP suspension ran over roots as happily as it absorbed deep whoops with hidden rocks. And the handling was oh-so precise. The 250 doesn't feel tall, nor short, and the connectivity between the rider and that front wheel is spot on – it goes exactly where you point it. Despite running a pair of well-worn tyres it found ample grip and ruts weren't an issue – it never felt like it was trying to climb out of them when you didn't want it to.
On Fire
No question, the new two-stroke Sherco is a quality offering. There's plenty to like, and the (easily sorted) jetting aside, little to dislike. As any heating engineer will tell you, an orange flame isn't good – the best burn comes from a blue flame. Whether the same applies to 250 2Ts, I reckon it'll take a proper RUST shootout to tell. We'll see…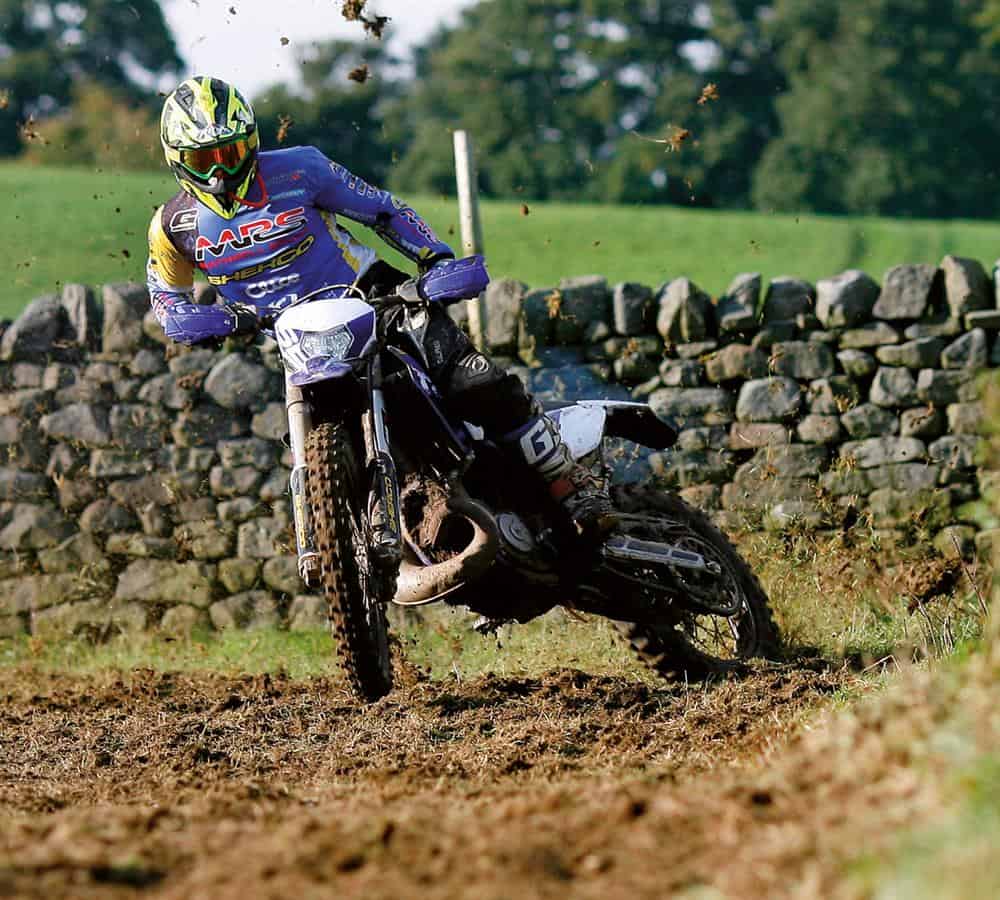 Sherco 250SE-R
Price: £6850 (in 2014)
Engine: Liquid-cooled, reed valve, elec start, two-stroke with powervalve
Displacement: 249.3cc
Bore & stroke: 66.4 x 72mm
Carburetion: Keihin PWK 36mm
Gearbox: Six speed, hydraulically actuated clutch
Frame: Chro-mo steel, semi-perimeter type
Front susp: WP 48mm USD forks
Rear susp: WP monoshock with linkage
Front brake: 260mm disc, Brembo twin piston caliper
Wheelbase: 1480mm
Seat height: 950mm
Ground clearance: 355mm
Fuel capacity: 9.5 litres
Contact: 01423 772885 www.mrsltd.co.uk
Fire Starter
We spoke to Sherco's CEO, Marc Teissier, about their enduro ethos…
RUST: What is your strategy for enduro?
MT: We have completed our range so as to maintain our place among the major players in the market. We started with a 450cc four-stroke. Then we worked on the 250cc four-stroke, which gave birth to the 300cc version, which has since become our main seller. Now we present two new machines based on a two-stroke engine, a 250 and a 300. We have not, however, abandoned the 450cc four-stroke and we'll be unveiling the new model at the Milan show in November.
RUST: How would you summarise your racing programme?
MT: We are more and more committed to the enduro world championship and we follow in our footsteps from trials, where our reputation is very strong for several years, with several world titles in the junior class. We are very happy with our results this year, finding the podium in E1 in Portugal with Anthony Boissiere then a win in France with Jeremy Tarroux. In E3 Fabien Planet was twice on the podium with the new 300SE-R. And with the Australian Jessica Gardiner we had many podium finishes in the women's title followed by the outright women's win at the ISDE, on the 300SEF-R. Now with David Knight in extreme enduro we start another exciting chapter.
RUST: What is your greatest satisfaction?
MT: I'd say our level of technical presentation, which in some areas, such as injection, is higher than exists elsewhere in the market today. This is the result of a true internal development. I am also very proud to have a successful team in all specialties, be it mechanical, production, research and marketing… This is what allows us to be very close to our users.