2014: Beta had been around for over a century, but their latest venture into enduro was only just a decade old. 'Just' ten years maybe – but boy oh boy, had they got the game figured!
Hot and exhausted, with minutes to go before hopping in the minibus to get back to Rome airport there was just one more job to do: two final laps of the test course on Beta's 350RR. I'd ridden it earlier, for the photos, and being that was at the beginning of the day I was then neither warmed-up, nor 'in the zone' and most certainly barely able to loft a sweetly-controlled wheelie just as the photographer wanted. Riding it now was unlikely to be a fair test either given that I was coming to the other end of my riding day – the sad, elbows-hanging, more-sat-than-stood, pissy end.
But holy cow – forget rest, forget sleep – the 350RR can really perk a rider up. Man, it just lives for revs and around the grass test section of the course that was just what the doctor ordered. Hey, when you're too tired to change up a gear, why not just hang onto the gear you've got and let it rev to the moon? It even sounds cool. Yep, four corners into the lap, I'm wide awake.
Then with a cheeky spring over a bank the course dives into the woods section chasing a tight little trail through the trees, where it pays to be mindful of the rocks and roots. Yet here too, the 350RR was excelling, it feels so light, I've got my head over the bars and the wee motor is singing – it feels singularly accurate. I throw in the second lap without thinking, not wearied but rejuvenated and I finish the lap with as much of a flourish as I can manage, wheel-spinning manically down a short gravel road before skidding to a halt at the turn into the service area. I come to a rest bathed of sweat, I'm puffing a fair bit, but there's a mile-wide smile behind that chin guard. So that's the Beta 350RR, is it? Rock on!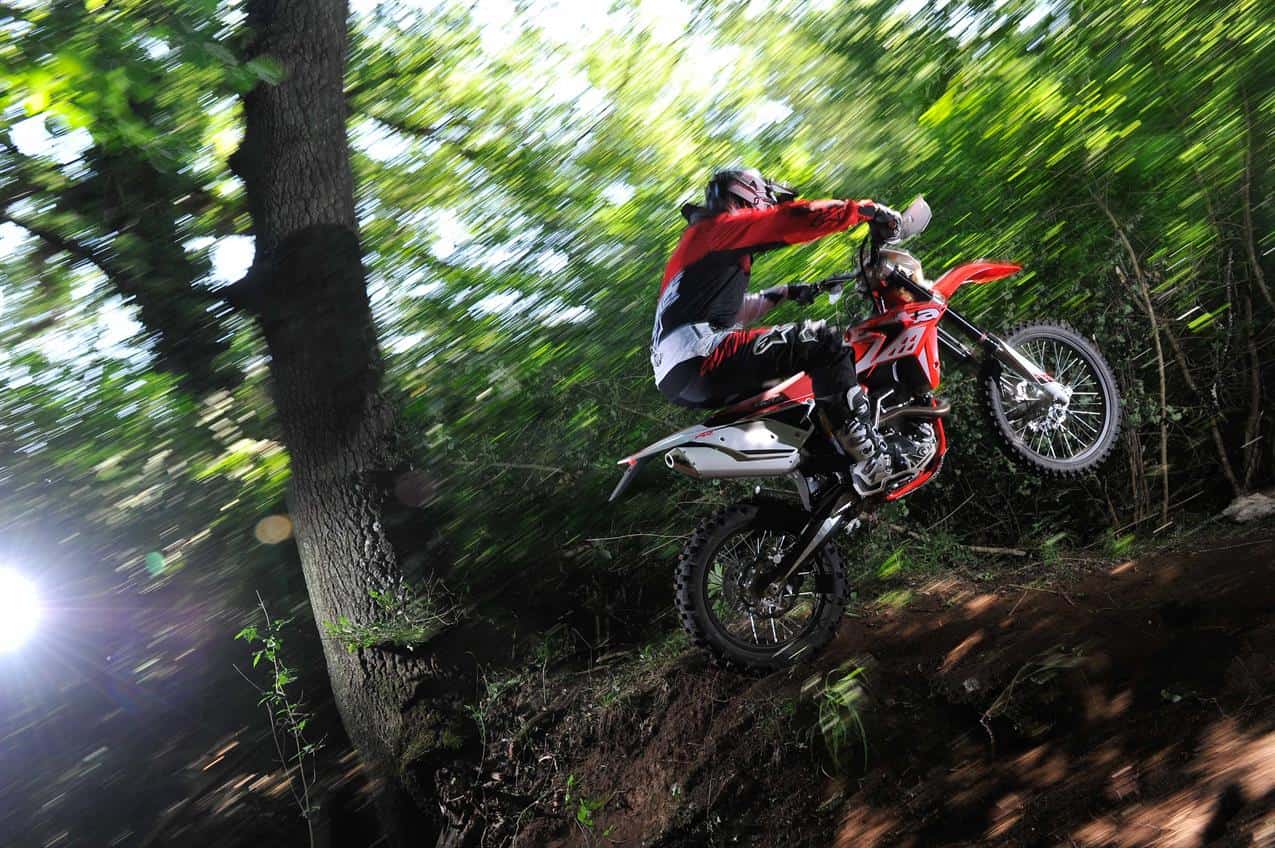 OLD HANDS
Beta, I knew, have been around a while. But 110 years! Now that was news to me (to you too?). Yep, it turns out Beta's early days were all about bicycles, as is the story with many motorcycle firms, with the internal combustion engine bit not being added until post-WWII, picking up on the trend for small commuter scooters and mopeds for the common worker. Only as the 1960s turned into the 70s and that same worker could now afford a small car so the firm had to reinvent itself again. So commuter machines were cut back while competition dirt bikes – crossers and enduros – grew. Until the Japanese muscled into the game, with (for us enduro types) PEs, ITs and whatnots. Forcing Beta to withdraw from that market.
So in terms of recent history what do we know Beta for? Yeah, trials. That was until 2006 when the latest boss – a great grandson of the original boss – decided that it was high time his firm made bikes again to meet his passion, enduro. And so with motors borrowed (well, bought) from KTM (to whom Beta was in turn was selling 50cc two-strokes for their minicycles) Beta were back.
It's worth contemplating the family ownership a little longer. Old Great-Grand-Papa Bianchi started the firm in 1904. So you can count in two world wars, not to mention repeat boom and bust economic cycles, and – yes – some wayward domestic politics all successfully weathered, and all with the Bianchi family still the owners and controllers. By comparison, KTM (for example) look rather Gianni-come-lately.
Beta have then kept their scale modest, perhaps better to weather any storm. Today, from their manufacturing base in Florence, they have a staff number of 120 employees producing around 10-12,000 motorcycles (that's scooters, enduros and trials, around 30 models in all). Smallish, but certainly dynamic – since designing their own four-stroke enduro motor in 2010 they've added two-strokes (in 2012) and have expanded the enduro line-up to a pretty comprehensive six-bike range. World enduro championships might be a little beyond their resources for now but that doesn't mean they're not competitive, with team rider Luis Correia jumping on the podium three times this year in EWC E3 (currently placed fourth overall) and brothers Ben and Dan Hemingway doing a sterling job in international extreme enduros.
AND SO FOR 2014…
Having made two new two-strokes for the 2013 model year there was a fair chance this year would be a year of consolidation at Beta – you just can't expect small firms to come up with new stuff year-in year-out. And this is what Beta have done. The R&D guys took the time to explain they worked with customer feedback so as to refine their products, taking their commendably reliable machines and giving them that little tweak to make them even better.
Criticised for having soft suspension – could that be their trials history bearing through? – this year Beta have looked in detail at their suspension units. Made by Sachs (not a name we immediately associate with leading edge components) for 2014 the spec has been upgraded with tighter tolerances between the fork sliders and the bushes while the cartridge rod has been modified too to allow a more precision flow of oil through the shim stack. The rebound adjuster is also modified while the oil viscosity has increased. Accordingly the shims have been changed. Upshot, say Beta, is less friction and a plusher, firmer action meaning more high-speed stability and better suitability to racing.
The Sachs shock now comes with stiffer springs both for the four- and two-strokes while compression damping has been increased and more adjustability is afforded to the rebound damping.
Meanwhile with the aid of computer modeling Beta have optimised their frame, paying attention to joins, welds and bracing to ensure less stress and greater longevity.
For the two-strokes there's a bigger 9.5 litre fuel tank, and it's translucent as well. For those riders who stray far from the van, or pick-up, a much welcomed modification. All models also get a new stiffer front fender, also offering more protection for the rider. And the seat base is made stiffer to reduce wear. A new heat treatment also gives the brake discs more durability.
In fact there are quite a few mods that speak of practical everyday experience, where Beta are trying to make sure they deliver to their customers the most durable reliable bikes they can. So the two-strokes have a new muffler-to-pipe connection which reduces wear. The two-stroke engines gain an oil level screw in the engine case and the power valves now have a better seal. The 350RR gets a new piston with a new profile and position of holes for lubrication. The gearboxes in the four-strokes have also seen a change to the heat treatment and the shift drums have been modded to make gear changing even more precise. And there's a new countershaft too. A few little things that make up for a more satisfactory owner experience. Which is even more commendable given that Beta already have a good reputation for reliability and build quality.
Beta are even hot on quality control. Every engine is bench tested before it enters the production line and at the end of that line every bike is dynamically tested for actuation of the brakes, clutch etc.
And given the planning and detail put into this launch – Beta located us at a 1000 year old abbey in Tuscany (albeit our converted farm house apartments were only 200 years old…) – you can see the pride and the personal attachment this firm has with their product. Quality is important beginning to end as Frank Schroeder, their 29-years-in-the-job export manager attested – when you're a firm the size of Beta one small fault in your product could end in financial ruin. So Beta make every bike to their highest of standards.
And so to the ride impressions. Be aware these are ride impressions. Given a tight schedule and photos to be shot, there was only so much time to sample each model. The course was not long, just five minutes to charge through a grass test and into a brief section of woodland. You couldn't hang any bike fully-out in sixth, we couldn't bog them in deep sand or wedge them in killer mud ruts. Six bikes briefly tested, twice each.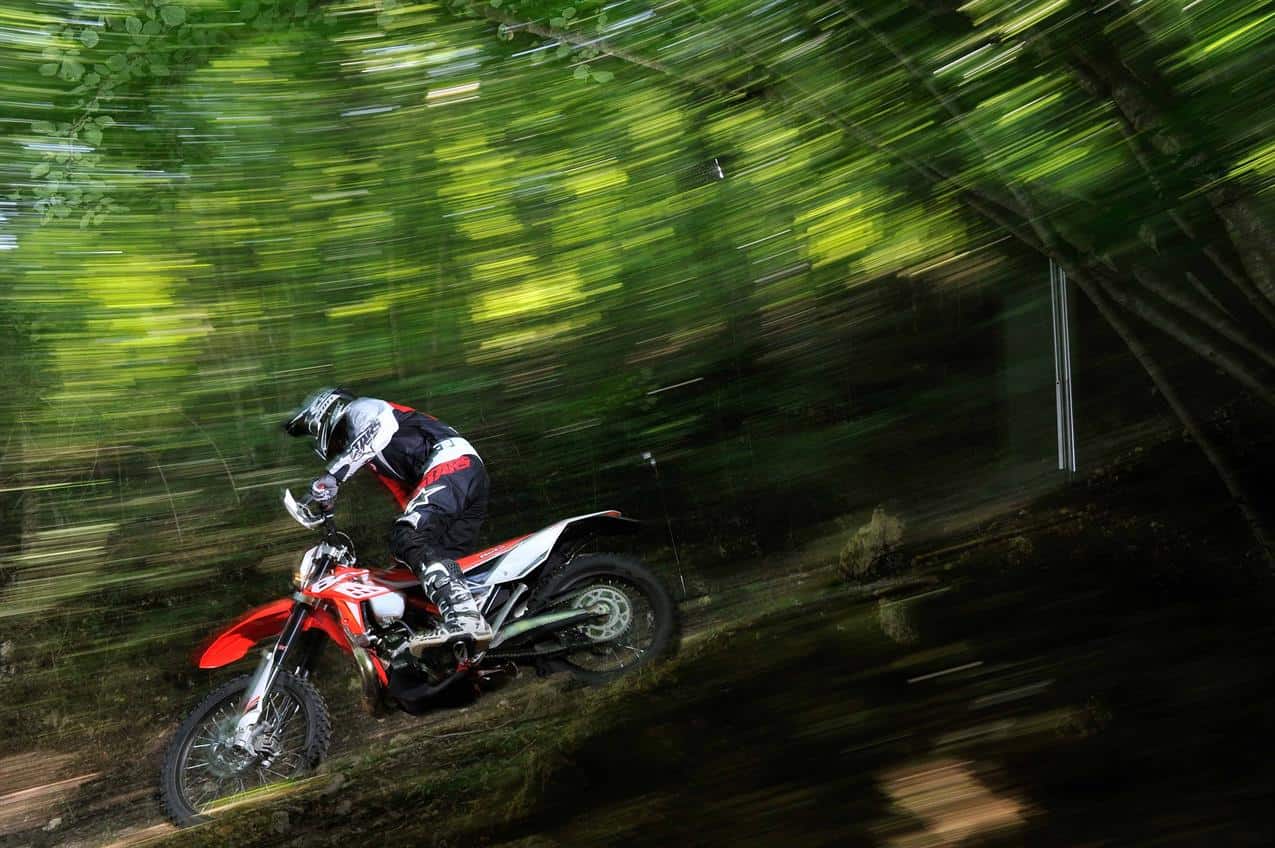 THE BIKES
250RR
Two-stroke racers are becoming the bulk of the market in most countries these days, especially where riders need manageable, affordable and competitive machinery – and stuff you can work on at home. Four-strokes – especially fuel-injected four-strokes – can be problematic and costly but two-strokes abiding by the time-honoured KISS principle keep us very happy. Being such an important segment Beta arrived last year with all-new kit that's impressed right off the start – even winning a US magazine's Bike of the Year award.
Riding Beta's two-stroke 250RR I'm struck by the fact it feels so sorted, already. Everything works like a long-standing well-developed model. I also note it feels lowish to the ground. It feels lower than the PDS-equipped KTM equivalent and it feels lower than the Beta four-strokes. It doesn't feel so low it'll be an issue with ground clearance, just low enough for easy footing through bogs or pushing on hills. Low – in a good way.
The Beta two-strokes come with dual ignition maps, but you need to buy the switch to swap between the two (as a factory accessory), so the stock map on the 250 is the power-up one. As against the soft one, which means the power comes in pretty hard and fast. Being a 250 it's not unmanageable, but you do need to keep the location of the power band in mind. If you had one word to describe this bike: frisky.
300RR
There's same dual map issue here, but with the 300RR Beta has chosen the soft map as the standard one. Correspondingly the 300RR was the torquey beast, albeit with some real clout later in the rev band, when you were ready to unleash it.
Noticeably both two-strokes felt better than the four-strokes on the grass test given that ridden over the trampled grass they were less inclined to fold the front on the apex of the corners (or going in, ahem). This is probably in part because there's less engine braking loading up the front end, but also probably because you tended to ride the two-strokes differently, being less inclined to pin the front end down under braking and firing out – instead using wider lines and riding on torque in higher gears, using just a little clutch slipping here and there to liven things up if needed.
Both two-strokes felt good. Light as they should. Unfussy as they should. Doing everything effortlessly. Compared to KTMs – but without the benefit of a back-to-back test – the Betas felt that little bit less peaky and that little bit closer to the ground. You can see why the Hemingway brothers have got on so well with them in extreme enduro
498RR
A proper good full-bore E3 four-stroke, this one. Made how they should be, with fairly soft but exquisitely purposeful power. A good 500 is often easier to ride than a 450 and that feels to be the case here. You can get lazy with the gears, lazy with the power and it'll still go anywhere anytime. For a big bore this is a ridiculously easy bike to ride and it could suit open-terrain trail riders down to the ground.
The handling was also stress-free for a big-un. With Sachs suspension you're anticipating something of a budget ride (after all most manufacturers who spec these also spec an upgraded model with 'better' suspension components) but around the short five-minute course we had there wasn't anything to bitch about. This was the same with all the bikes. Those used to bespoke specialist-fettled kit might of course find exception, but for many this stuff will feel good enough.
450RR
This feels to be a very good 450. Where KTM's 450EXC has felt to become a little too championship-focused (does it say 'Expert' on your race licence?) the 450RR feels to have that little less snap, it's more mellow, like a 500. It isn't – jump on the 498RR to find that out – but it does deliver its power with just that little more control. That could even be down to the Beta's fueling. KTM has gone fully FI (on four-strokes) now, but Beta are holding onto their carbs for as long as emissions regulations will allow them, and maybe this is why – a carb allows a wonderfully progressive throttle take-up. It's a boggy kind of power, ideal for enduro. That is, given a suitably fit rider – a 450 racer it still is, so it pays to be fit and strong.
400RR
The 400RR is one cool set of wheels. A few other manufacturers (and riders, for that matter) could do with remembering just how good the ride is with this capacity. It's a soft-450, a big-250. Where the 350cc capacity lends itself to fairly revvy power deliveries the 400 holds onto a torquey almost 450-like power. On the 400RR you could hit the throttle that little harder than you did on the 450RR without fear of explosive force, but you wouldn't have to be so keenly in the right part of the powerband as you would on a 350RR. The way I would call it, for a long distance enduro I'd pick the 400RR every time. For a local three-hour race, the 350RR. Beta are being pretty diligent offering a 400 as well as a 350 and riding them they are definitely offering us the luxury of two very distinct choices.
350RR
I'd like to see a proper head-to-head with the 350s (KTM and Beta). Beta's offering is very good indeed and seemed to offer a very racy middleweight package that is bang on the money. Yes you need to rev it but it would take a real lazy rider to completely miss the revvy bits. And the way the 350RR scythed through the grass test and through the woods – what you're losing in keeping half a mind on gear selection you're gaining in the freedom that the 350RR's nipping handily through the corners and down the trails allows. The 350RR is a bit of work, but light work and it makes you feel alive, encourages you to be racer, to bring your A game in a cool not over-committing way. A great clubman racer.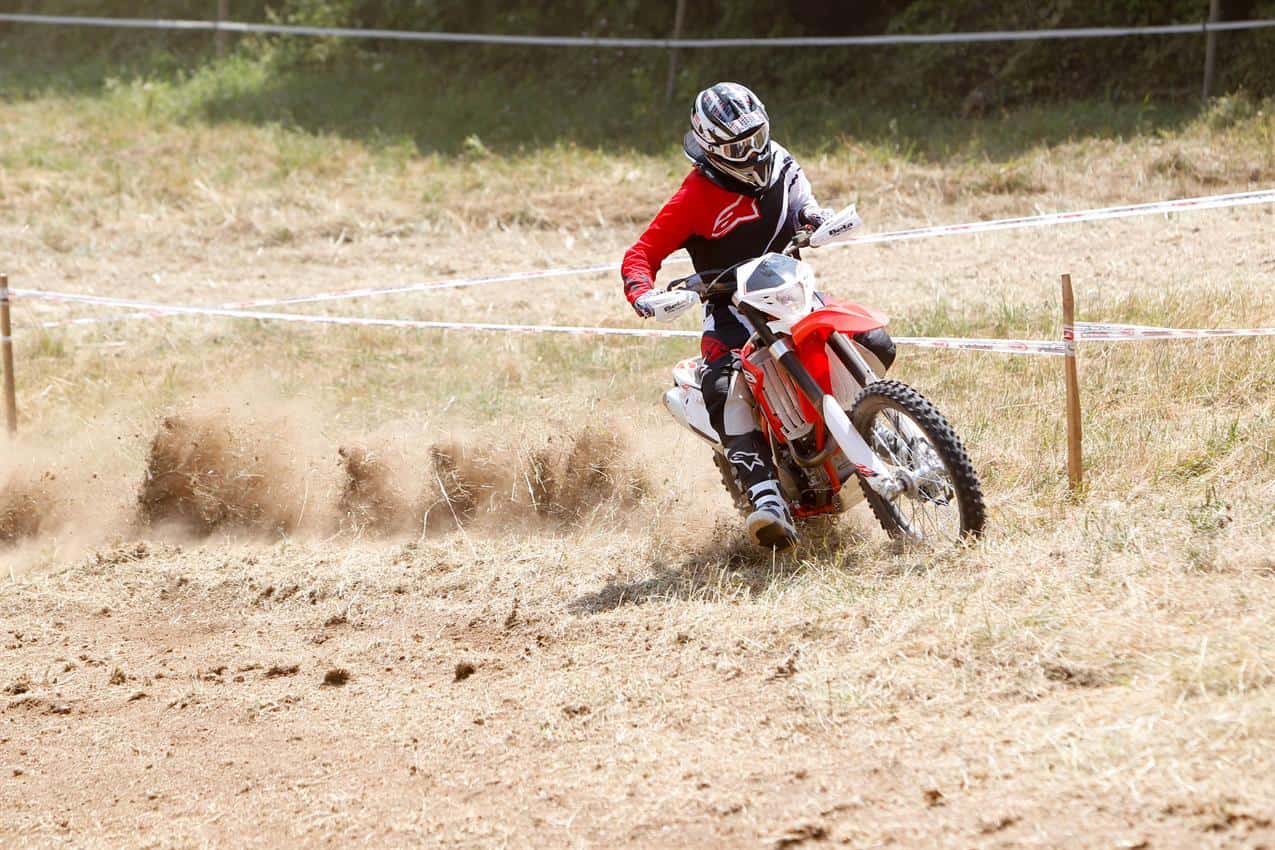 GOOD STUFF
The Betas impressed. So many of us won't have had a chance to ride these before but with this test I can say there's nothing to fear, they're right up there with all the other European brands – a quality offering. If they felt in anyway unique it was probably the straight and low bend of the stock handlebars that give a lightly different feel, but otherwise the slim hard flat seats, the narrow frames, the light hydraulic clutches, the neat little speedometer and mini-computers, they all felt to be exactly on a par with the competition.
If there was a unique selling point it's probably Beta's attitude itself. It's a small, studious company and with an eye for detail and for conservatism – carb over fuel injection, always the back-up of a kick start, and flawless power delivery over headlining peak power – they're hitting the enduro market bang on. Nicely done.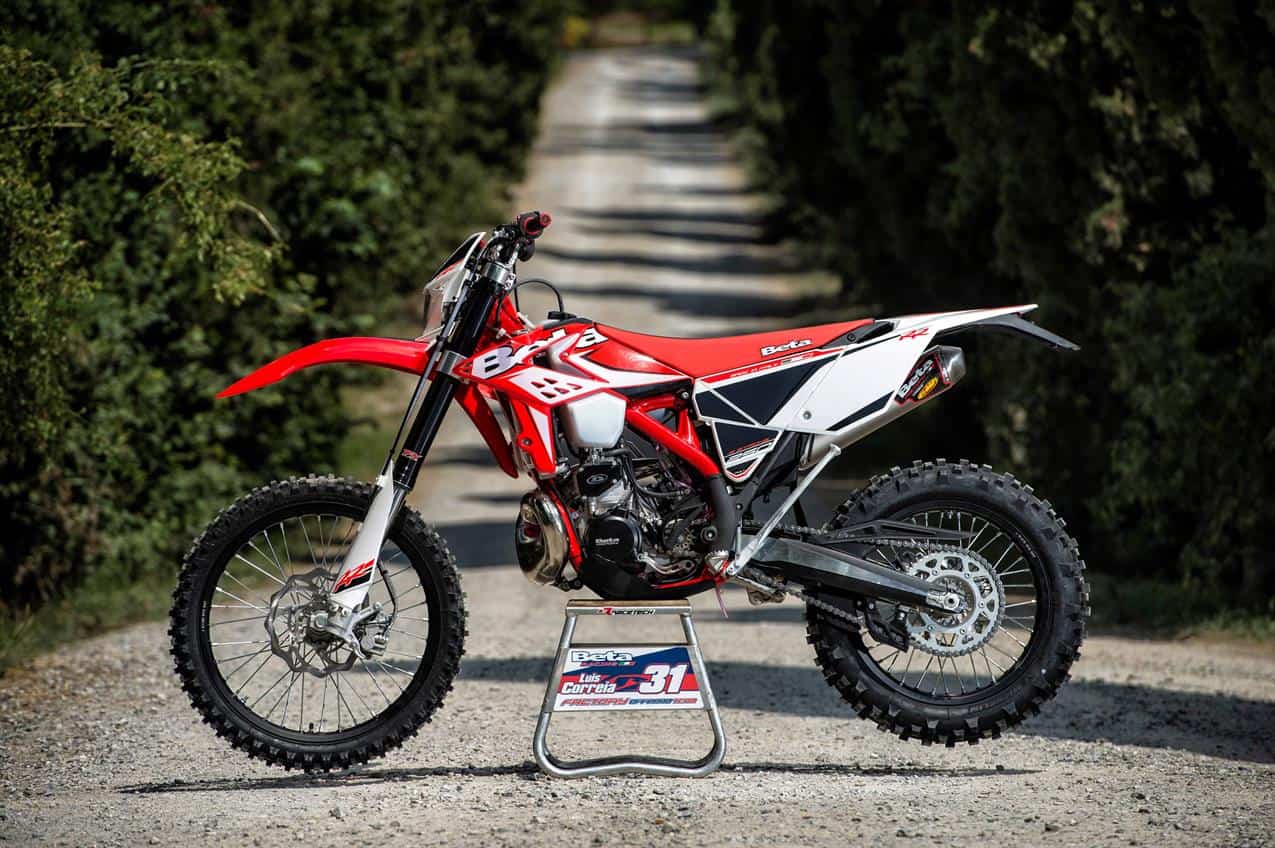 SPECIFICATIONS
2014 Beta four-strokes
Engine: Liquid cooled DOHC four-valve single cylinder four-stroke
Displacement: 349.1cc, 398cc, 449.39cc, 497.94cc
Bore & stroke: 88×57.4mm, 95×56.2mm, 95×63.4mm, 100×63.4mm
Gearbox: 6-speed, hydraulic wet multiplate clutch
Frame: Molybdenum steel double cradle
Front suspension: Sachs 48mm USD fork
Rear suspension: Sachs monoshock with progressive link
Front brake: 260mm disc, twin piston caliper
Rear brake: 240mm disc with single piston caliper
Seat height: 940mm
Ground clearance: 320mm
Fuel capacity: 8.0-litres
Weight: 350/400: 113.0kg, 450/498: 113.5kg
2014 Beta two-strokes
Engine: Liquid cooled single cylinder two-stroke
Displacement: 249cc, 293.1cc,
Bore & stroke: 66.4x72mm, 72x72mm
Gearbox: 6-speed, hydraulic wet multiplate clutch
Frame: Molybdenum steel double cradle
Front suspension: Sachs 48mm USD fork
Rear suspension: Sachs monoshock with progressive link
Front brake: 260mm disc, twin piston caliper
Rear brake: 240mm disc with single piston caliper
Seat height: 930mm
Ground clearance: 320mm
Fuel capacity: 9.5-litres
Weight: 104.0kg, 450/498: 113.5kg