When a 250F is not enough and a 350 just a bit too much… Two manufacturers now make dedicated 300cc thumpers. Rust Sports put them head-to-head…
We have before us the brand new-for-2014 Sherco 300SEF-R and sitting alongside it, Gas Gas' new EC300F Racing. Two mid-size, four-stroke enduro bikes that aim to break down the traditional 250/450 capacity classes, and replace them with a one-size-fits-all light-middleweight bruiser.
When you get down to the nitty-gritty a 300cc four-stroke has got a lot going for it. It's light, tractable, revvy and manouvrable like an E1 bike, but it offers up more midrange punch, and a bit more slam for those situations that demand it. But you needn't take our word for it… David Knight's last two weapons of choice have been 300cc thumpers (Honda and Sherco), chosen over the explosive power of a 250/300cc two-stroke or a ballsy 450. If a 300 4T has got enough to satisfy the mighty Knighter, then trust us when we say you don't NEED anything bigger…
Lookin' Good
Both bikes we've met before, individually. And for 2014 both have had some serious revisions. The Gas Gas has a new chassis that's carved a whole two kilos off its weight. The Sherco comes with revised engine architecture, that offers a slightly longer stroke than before – a format successfully proven by KTM with their long-stroked 250EXC-F. Both have enough 'new' in their spec to warrant fresh interest.
The Gas Gas's new perimeter chassis is still chrome-molybdenum, but while it is 2kg lighter it is apparently re-engineered to be more stable while also being 'tight and manageable'. It also features a Dutch-made Reiger shock, which like many things Dutch comes with questionable taste (this being the matter of the purple colour of the anodising). The forks are well-proven Marzocchi Shiver USD units in 48mm diameter. Gas Gas have also stuck with their excellent Nissin brakes, Galfer discs, not forgetting the black Excel rims and black coated spokes. Spec to match the best.
Sherco similarly use a semi-perimeter steel frame (the backbone of the frame is single tube for half-length before splitting into two deep section beams) again in chrome-molybdenum. At each end Sherco employ WP suspension units, with brakes by Brembo, and rims by DID. Again, top drawer.
Viewed independently the Sherco looks the smaller, narrower, trimmer machine (in part thanks to its slightly more compact engine), and parking them side-by side, there's just the merest impression that the Sherco cuts a marginally finer line. This is backed up by the spec sheets: Sherco wheelbase/seat height 1480/950mm, Gas Gas wheelbase/seat height 1490/950mm. These compare with the KTM 350EXC which measures 1482/970mm.
Colour aside, the big difference comes in the engine room. Gas Gas borrow their powerplant from Yamaha's warhorse 250F, boosted by way of an Italian-made Athena big-bore kit (it's got a 6mm bigger piston) that stretches capacity out to 290cc. The WR-F motor has been with us since 2001 (with the odd update here and there) and that means it's still got the five-speed gearbox and well-proven 'Genesis' five-valve cylinder head. Obviously the big bore kit gives it a boost, but it's curious to note that while Yamaha's WR works off a 39mm Keihin carburettor, Gas Gas have opted to fit a smaller 37mm Keihin to the bigger motor.
The Sherco motor is more youthful by comparison. Born in 2008 as a 250, it grew into a 300 in 2010. The 300 capacity comes by way of an 8mm over-bore – allowing the Sherco a 13.68cc capacity advantage over the Gas Gas – coming in at 303.68cc. Fuelling is provided by a (comparatively) whopping 42mm-body fuel injection unit from American firm Synerject (who have a European base in Toulouse, not far from Sherco in Nimes).
Tweaks to the motor for this year include revised ignition, modified injection and a new flywheel for reduced inertia. The motor has a few design similarities to the twin-cam Yamaha, but it makes do with just four-valves in its cylinder head. But it is the work that Sherco have done to minimise the overall dimensions and mass of this motor that affords the 300SEF-R the biggest advantage over its opposition here: namely its light weight.
If one stat stood out over all others on the Sherco spec sheet it's the claimed dry weight. At just 102kg it compares favourably to a 250cc two-stroke and is a good deal lighter than the 108kg Gas Gas claim for their 300, and for that matter lighter than KTM claim for their 350EXC (at 107.2kg). To be fair to the manufacturers the ongoing emissions legislation has made creating a properly light homologated enduro machine increasingly difficult. The 100kg mark is what we'd like all our bikes to weigh in at (which gets us back to where we were in the late 1970s riding air-cooled two-strokes), so it's top marks to Sherco for making the biggest advance for a long while on that goal. You've got to be thinking, that there's probably a Sherco sitting in KTM's R&D workshop in Mattighofen right now, as the orange engineers work out how they can better it.
Field Trip
Our midwinter test was a flood of impressions (very much the operative term of late). Jump on the Sherco and it feels every inch the slim and lightweight modern racer that it is. The bodywork and modern ergos really help with the sense of narrowness. Press the button and it fires up instantly, the reduced flywheel inertia immediately noticeable as the motor revs up amazingly quickly making short staccato 'Brap, Brap sounds as you twist the throttle.
Conversely on the Gas Gas it's two buttons – no, three – before we can get started. The first is the 'mains switch', just as on the Yamaha WR-F, positioned next to the speedo console. Then there's the manual choke button on the carb (assuming the fuel's on), and finally the starter button, which – oh the complexity for such simple minds – is located on the left handlebar (fortunately it's green – for go – there's a red button to stop). The Gas Gas comes to life as easily as the Sherco but the exhaust positively booms (hey, did someone leave the baffle out?) and there's quantifiably more bass as the Gasser's motor warms with a slower, more deliberate rev-up.
Again there's a subtle generation gap coming to light as your prepare to roll, with the Gasser's clutch being old school cable, the Sherco's is a modern Magura hydraulically operated unit. And it's at this point that everything starts to diverge. Take off on the Sherco and it springs forwards like a greyhound. It's keen to get going and you'll be kicking through the gears real sharpish just to take the edge off the acceleration. Credit to Sherco though, the fuel injection can be bogged without coughing to a stall. So the blue wonder feels light, nimble and gazelle-like between your calves and you'll find it a doddle to pick a neat, accurate line as you flick between the trees.
Meanwhile on the Gas Gas it's a slightly different story. It's more of a loping bloodhound by comparison. In fact it reminded me a bit of the feel of a 400F, with a real sense of shove at the bottom-end as it takes up on the merest throttle input – it's actually quite abrupt. And this is matched to quite different steering responses. Compared with the Sherco, the bars feel heavier, the front tyre a bit more planted, and generally the bike seems keener to find wide open fast tracks rather than skipping on its toes through the woods.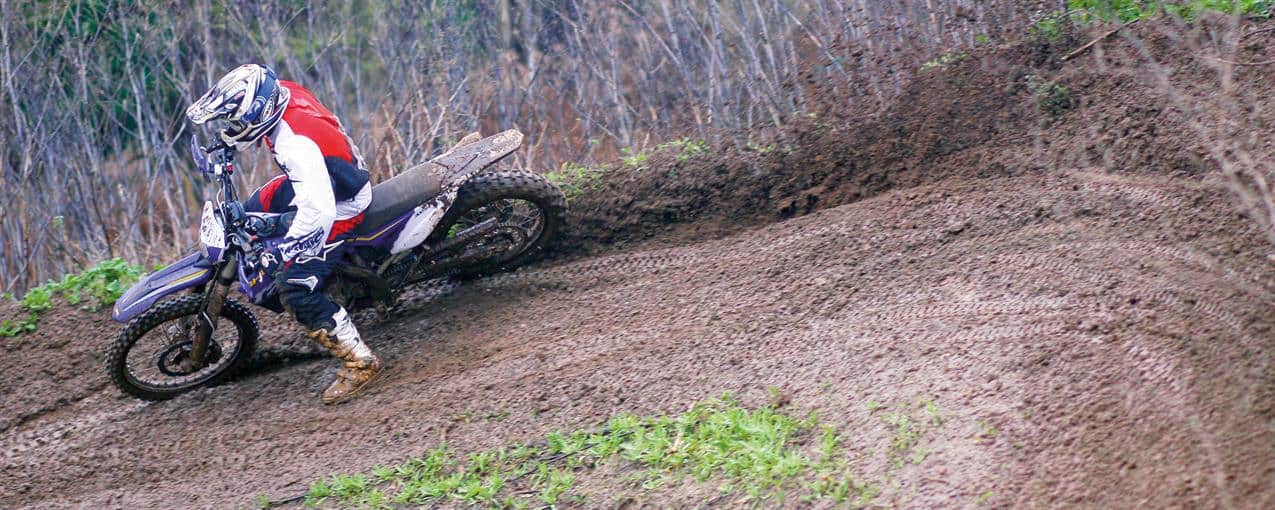 All of which makes the Gas Gas feel like the bigger bike of the two and certainly it's slightly harder work threading it through tight trees. And despite the Gasser's modern glad rags there's this sense that the Gasser is effectively 'dad dancing' where the Sherco, with all the cockiness of youth, can do the real street dance thang. 'Generationally they feel quite different…
However, in that age old way that experience often counts for more than sheer youthful exuberance, as the first impressions fade you start to build a proper picture of what each machine can offer. We had Chris Hockey, 'our tame racing driver' and championship-class rider on hand to turn a few quick laps on both bikes. And his feedback was illuminating.
'In some respects a light, nimble, free-revving bike – like the Sherco – is actually more difficult to ride in certain conditions', claimed Chris. 'It definitely has its advantages, but I don't know whether it might catch out the less-experienced rider. I certainly felt more puffed-out after riding the Sherco than I did on the Gasser, even though the Gasser was the heavier bike.
'The Gas Gas doesn't look old and when you sit on it, it doesn't feel old either. It's quite narrow through the frame, but you can't get away from that Yamaha motor being a heavy old engine – with the bulky electric start and stuff. I'm not saying it feels like an old bike, but in the company of the modern Sherco – which is lighter even than the KTM – it does feel a bit more dated. If we had a whole range of bikes here, though I'm sure it wouldn't feel so heavy.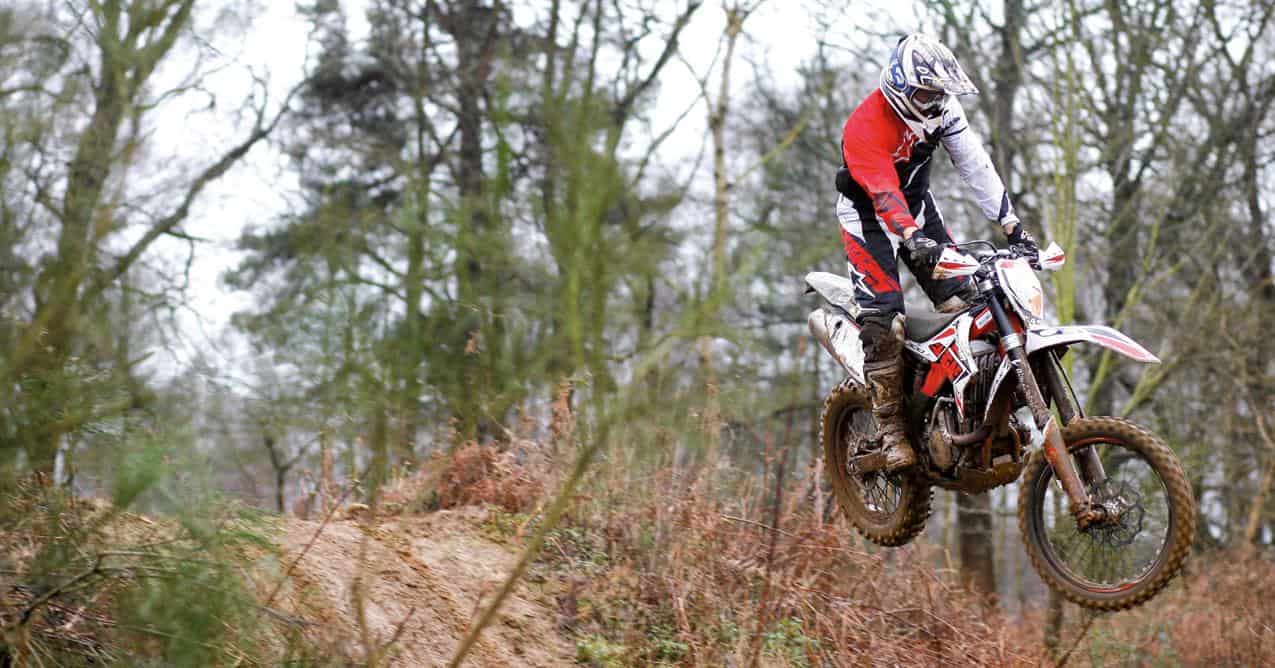 'But around the motocross track part of the course I felt much safer on the Gasser. It's more planted. I wasn't jumping as far with it and it wasn't pulling me out of the corners as quickly, but it felt more stable on the landings, and as safe as houses on the bumps and that's really important for the clubman level rider. Whereas on the Sherco I was definitely quicker, but I felt at any time that the front might flick or tuck, or I might be snatched off the bike. It was real edgy! And, as I said, when I came in after doing laps on it, I was that puffed… Whereas on the Gas Gas I was entirely relaxed.'
Hmmm, not surprisingly our respective feedback related directly to the differing geometry of the two bikes. The Sherco portrayed the quick exacting capabilities of a steep steering-angle, whilst the Gas Gas had that lovely lazy dependability of a more traditional enduro bike: just sit back and pour on the coals. Yet such is the adaptability of any rider, that soon enough you will adapt to either the Sherco's twitchiness in the fast stuff, or the Gasser's rock-solid dependability in all conditions.
What to make of it
Gas Gas have certainly made the most of what the old WR-F unit can offer, and what adaptive engineering can produce. Big bore kits on small bore motors typically make for engines with punchy bottom-to-mid but limited top end. And you can definitely feel that with the EC300F Racing, it pulls aggressively off the bottom but then plateaus. All of which keeps the clubman rider in the safe zone, but could ultimately frustrate the competitive expert.
Gas Gas has also been diligent in keeping the 300's weight in a competitive range, comparable to the KTM, and the ergos are bang up to date. Oh, and despite the oddball colour, the Reiger shock works brilliantly and the Marzocchi forks performed well in this test. Albeit these were not the ideal conditions to conclusively test suspension.
Sherco meanwhile deserve considerable praise for advancing four-stroke technology. Their 300 is the bigger-bore of the two here and yet through advanced electronics and fuel injection (and motor-technologies) they've created a unit that feels much revvier – like a traditional 250 – as well as one that pushes past the usual performance limitations of the 300 architecture and revs-out like an F1 race car. This motor absolutely sings.
Chris Hockey might have been unnerved by the Sherco's almost flighty nature, but compared to a two-stroke, it isn't half bad. In time he'd probably warm to it. You can sense Sherco's trials background though, it does the slow technical stuff better than the fast hairy stuff. It would be awesome for a slogging type event in tricky, heavy conditions, whereas the Gasser likes the fast going of a flat-out race.
So picking an overall winner actually isn't so easy. It's even less easy if we broaden our range of references. For instance do you actually need a 300, over a 250 thumper for example? And there are a lot more of those to choose from.
A season ago we tested the full range of 2013 Gassers in Spain and in super-tricky conditions the one bike that shone out was their humble EC250F Racing (using the standard WR250F motor). Somehow that machine scaled – with ease – climbs that saw the seemingly more adept two-stroke EC300 spin-up or loop-out. It happens over and over in dirt biking – often less is more.
But on the other hand I really like these 300Fs, maybe more than 350Fs, as they do combine the best of what I like in a 250F with just a little more kick-in-the-pants, but not too much. In my heart the Sherco 300 could lift my rider rating from clubman to expert; my head is less sure however, and as an over-40s rider, I wonder if I wouldn't be better off riding the more genial Gasser.
But a season ago we also tested the 2013 Sherco 300SEF-R in warm dry conditions in Wales and that bike – that whole ride – just blew our socks off. Sherco's 250/300i motor is a stand-out new generation unit. And the chassis is a finely crafted match. If we had only one word to describe the Sherco – and that's a tall order – we'd go with innovative. And to quote another famous French automotive brand, it is this use of 'creative technologie' that's making them at this point in time, the most exciting name in enduro.
So we can't say one's a racer and one's a trail bike, or one's a clubman bike and one's an expert machine, because clearly both bikes can perform at all different levels, and can't be defined in such simplistic terms. But what we can say is that whilst the Gas Gas offers the best of existing technology, in a sure-footed and traditional package and at a price that's £250 cheaper, the Sherco is definitely the more exiting of the two to ride.
Yes in some ways, as Chris Hockey correctly pointed out, it's the more demanding to ride – it asks more of the rider – but in return it offers up the prospect of even greater enjoyment, right on the ragged edge. With the Sherco… every ride is an adventure to be savoured; whereas the Gas Gas feels like it might not thrill you as much in the short term, but it will reward you in the long-term. It's a bike that's as easy to ride at the end of the day, as it is when you first start out fresh on a morning.
Ultimately your purchase decision might be influenced by more considerations besides – like dealer network, spares prices, maybe even colour preference. And while yes, we'd say the Sherco is faster point to point and a real firebrand in the special tests, over the full-length of a long day the Gas Gas could well reel it back in. As ever, you've got to be as questioning of yourself and your abilities, as you are of the machinery.
One thing's for sure, we see it time and again – so many riders are over-biked. For putting the fun back into your riding, it's true that smaller bikes rock. And the 300s rock the hardest!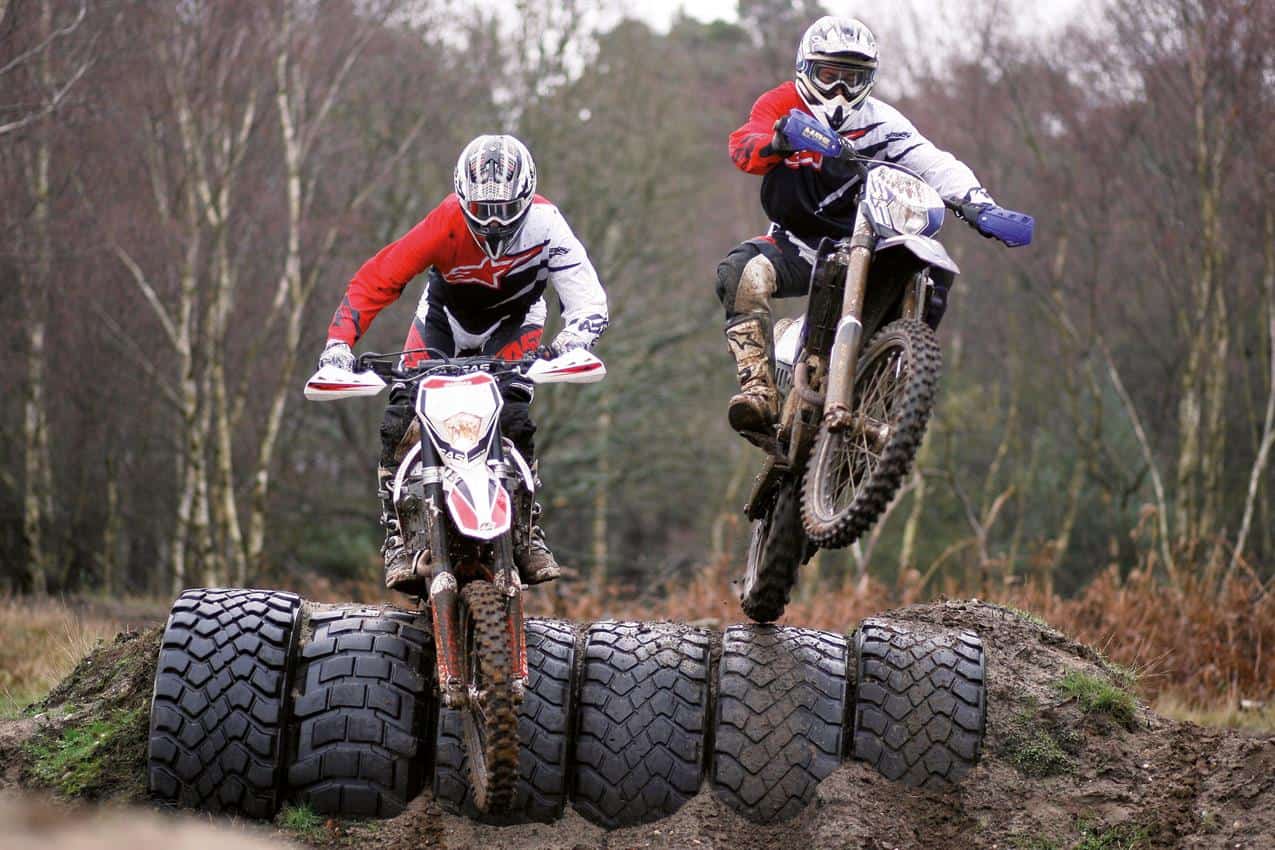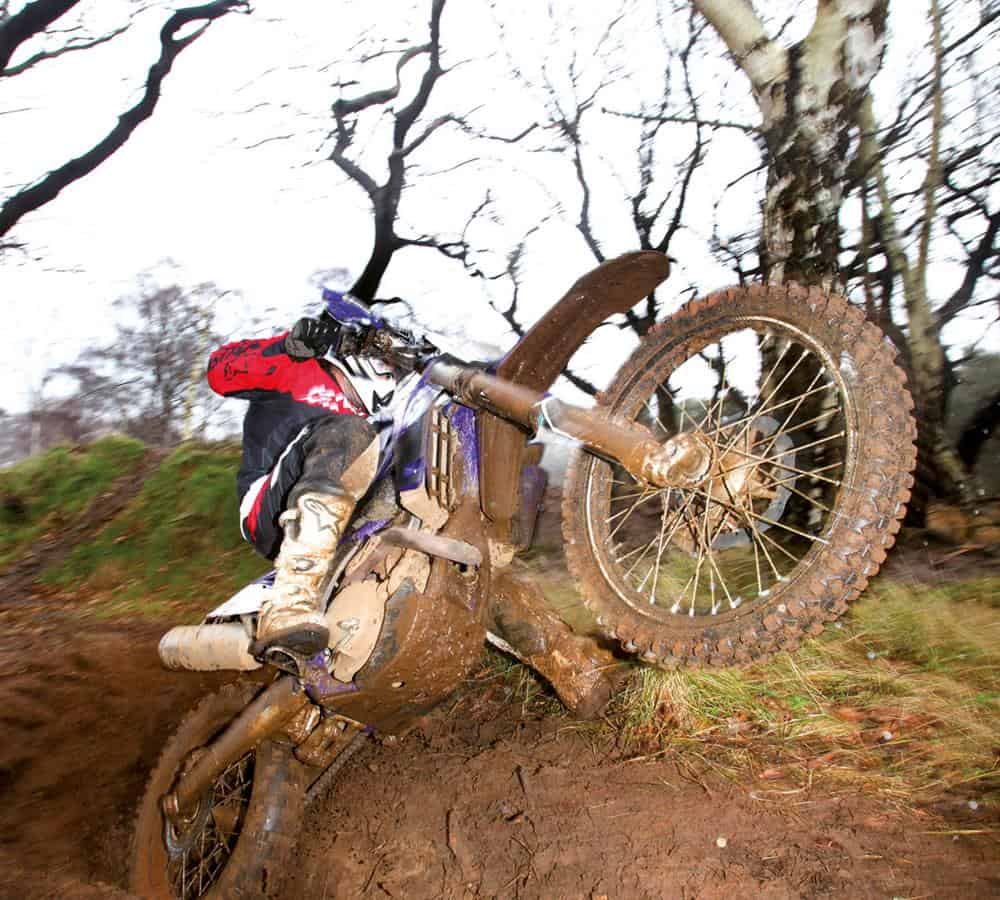 SPECIFICATION
2014 SHERCO 300 SEF-R
Price: £7450 (in 2014)
Engine: Liquid-cooled, electric start, four-stroke single
Displacement: 303.68cc
Bore & stroke: 84 x 54.8mm
Transmission: Six speed
Frame: Semi perimeter chro-mo steel
Front susp: WP 48mm USD forks
Rear susp: WP shock with linkage
Front brake: 260mm disc, Brembo twin-piston caliper
Seat height: 950mm
Fuel capacity: 8.5L
Weight: 102kg (dry, claimed)
2014 GAS GAS EC300F RACING
Price: £7199 (in 2014)
Engine: Liquid-cooled, electric & kick start, four-stroke single
Displacement: 290cc
Bore & stroke: 83 x 53.6mm
Transmission: Five speed
Frame: Perimeter chro-mo steel
Front susp: Marzocchi 48mm USD forks
Rear susp: Reiger shock with linkage
Front brake: 260mm disc, Nissin twin-piston caliper
Seat height: 950mm
Fuel capacity: 8.2L
Weight: 108kg (dry, claimed)
WHAT'S NEW FOR 2014
GAS GAS EC300F RACING
* New frame, 2kg lighter
* Bigger fuel tank
* Reiger shock
* Marzocchi forks
* Gas Gas own handlebars
* Excel rims
SHERCO 300SEF-R
* New Synerject fuel injection (42mm throttle body)
* New cylinder head with 30mm steel intake valve
* New ignition system, reduced inertia flywheel
* New water pump impeller
* Strengthened engine cases
* Gearbox optimised with less moving parts
* Trail Tech speedo/computer