Picking your next bike is never easy. What best suits your abilities, your local terrain? Even for BEC champ Tom Sagar it's the same conundrum. So for Sagar, in mid-January 2014, it came down to this: 350EXC-F or 450EXC?
It's mid-January, the rain has stopped momentarily. Tom Sagar is riding through some Suffolk woods. Fast. Actually damn fast. He hoves into view completely sideways, his KTM then rears up on the rear wheel and he skips – in the most brutal manner imaginable – over a set of deep whoops before pinning the front wheel under the brakes and burying the bike deep into a berm. Next second he's hitting full gas and exploding off down the following straight.
There's no trophy to be won, no championship points at stake, this is Tom riding for Tom – trying to decide which of the two bikes he's brought along with him will best suit his needs in 2014. It's a tough call, KTM's 350 has proven itself to be every bit as quick in competition as a 450, even if it can't quite match that bike's ultimate power. But when you have a rider of Tom's ability, then maybe the extra brutality of the 450 can make the difference. That's what he's here to find out. Stopwatch at the ready…
Of course at the top level of British enduro the clock is always ticking – even in the off-season. Sagar won his 2013 title by the narrowest of margins over rival Jamie McCanney, and he knows that if he is to secure a fourth outright title then he needs to work even harder. His championship season has effectively already started. The first race is nine weeks away, but unless he's putting in the work now, come March 8 it'll be too late.
And so Sagar is bashing out the hard laps on both bikes. Looking to see if there might be any advantage in riding one machine over the other.
'For this year I fancied a bit of a change,' explains Tom. 'I've ridden 450s for a lot of years now, since 2008, whether it be a Honda, Suzuki or KTM and so I fancied something a bit lighter, a bit more nimble, something to make things a little easier for me in terms of the BEC.'
And so – accepting that this is a choice of KTM machinery only, for the last week or so, Sagar has been busy riding his 450EXC back-to-back with a 350EXC-F. This is the final test. Decision day…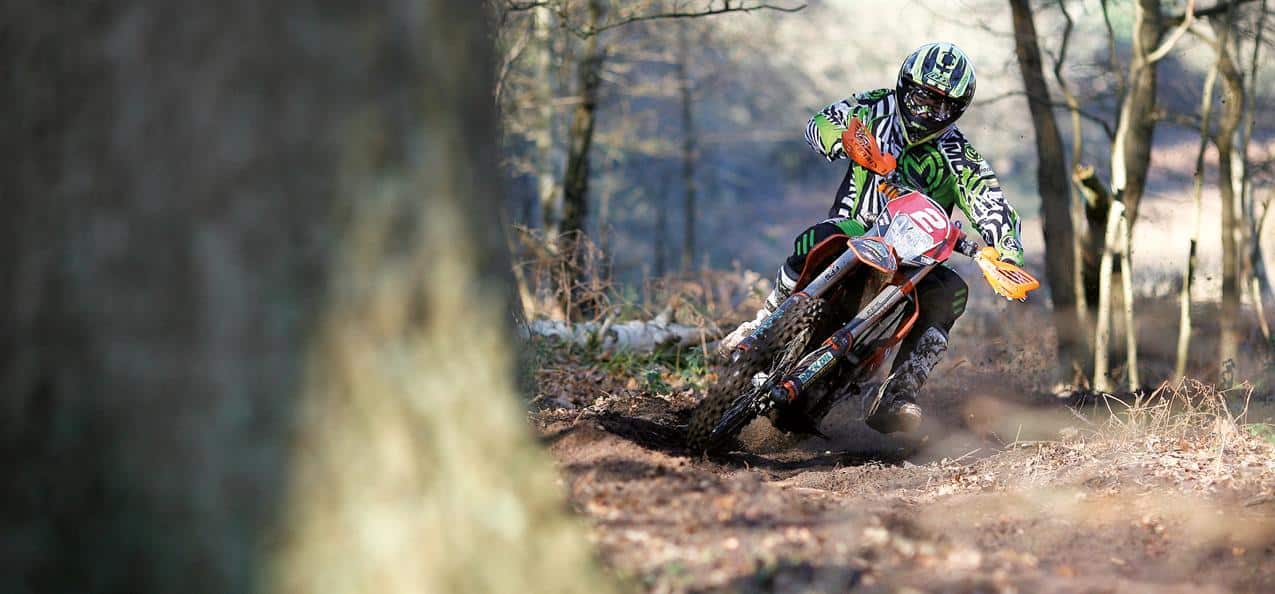 Two Bikes, One decision
Testing race machinery is quite different to magazine testing. For us, we're picking up on nuances in character, traits that owners will enjoy, hopefully the odd practicality, maybe little technical advances that say, yes, this is the best of its type at this time in the market, as well as putting the bike through its paces. For Sagar, testing is about seeing how a bike works at the very limit of his – and its – abilities; seeing which bike will reward him with what might just be hundredths of a second saved. Sometimes that's all the difference between winning and losing.
'The starting point is still the same though' he admits. 'Like everybody I'm looking for a bike that's easy to ride, usually that alone can make you faster', says Sagar. 'So with the 350 feeling so much lighter than the 450, then in a Welsh forest it is undoubtedly the better bike. It's lighter, revvier, more like a two-stroke and so easier to get out of trouble. Whereas the 450 is ideal for riding in Eastern or Southern centre venues, like the Natterjack – places where it's sandier. There the 450 is so easy to ride around in high gears, you don't have to work it, you can be a passenger and get the bike to the finish.
'There's so much difference between the two bikes, that in so many places you'll find you'd want one of these bikes and for different going, the other one works best. So until they make a 400 that has the torque of a 450 but has the top end and weight of a 350 then you've got to make a decision.'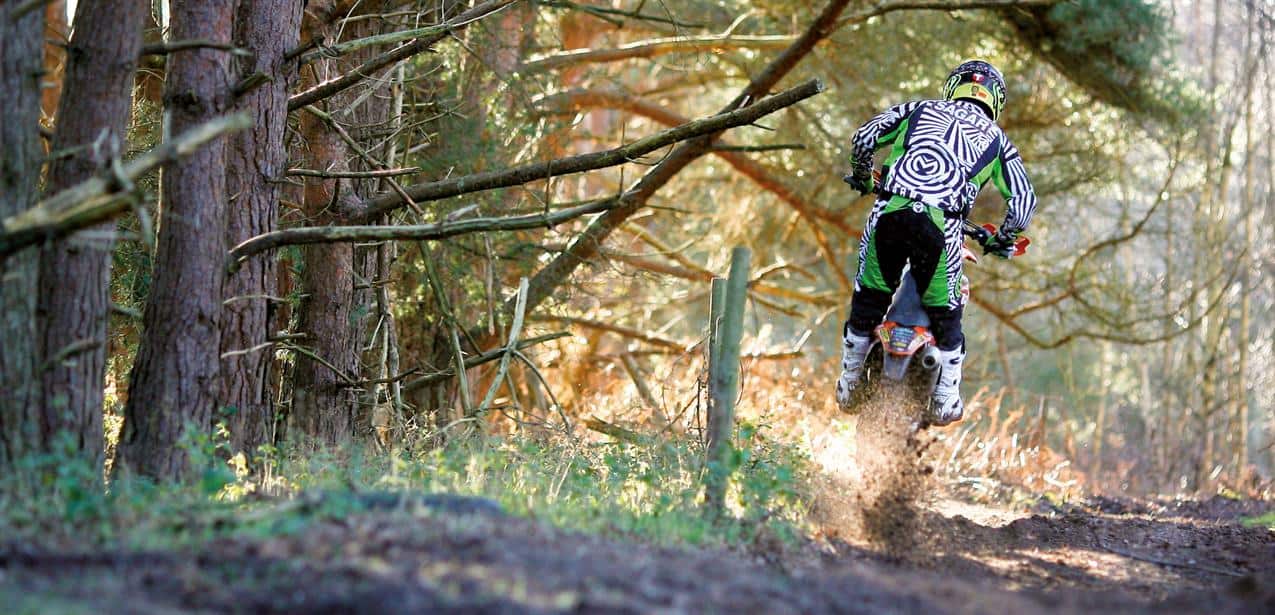 Back to the Future
Of course KTM used to make a 400, as did Husqvarna, Yamaha, even Suzuki. And even today Beta uniquely offer both a 350 and a 400 for riders who prefer the feel of one over the other. And as we discovered in a recent test, these offer two quite different personalities.
Those old 400s were pretty good too, offering a great blend of power and prowess and were pretty much ideal capacity racers… until the FIM came along with the new 450cc limit and introduced the E1-2-3 classes. 50cc doesn't sound much, but it's changed the nature of the bike and for so many clubman has created what is a poor match to their capabilities – especially given the type of terrain found in the UK. For parts of America and Australia with more open, faster, terrain the 450s are pretty much perfect. But in the tighter confines of European racing it's not so clear cut. It's interesting to hear a top racer yearn for such a model though.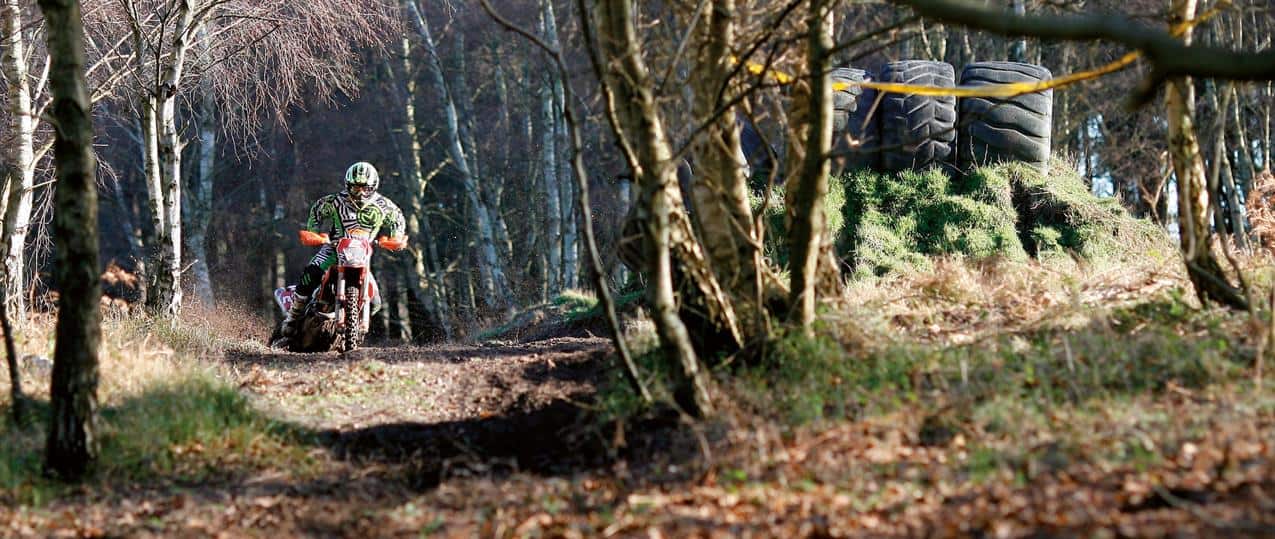 The Acid Test
Part one of Sagar's decision making took place in Wales, as Tom explains. 'We went to a quarry, quite a steep one, like a rocky enduro test you'd find in a European round. Quite steep hills with steep descents. Power is a useful thing to have there, especially instant power to make those climbs, and here I found that the 350 was very flat from the bottom compared with a 450, so you had to make sure you were in the right gear every time.
'In fact I quickly realised that the 350 is much nearer to the 250 than the 450. Every time I turned a corner it was flat for an instant and then the bike would take off. When that happens you create a lot of wheelspin, the back end loses traction, so I was having to ride it very, very hard.
'As soon as I got on the 450 I could feel the instant response. Yes, it's a bit heavier, but I could put it where I wanted and it would explode out of the corners. The 350 you were always working hard, having to flow between corners, as opposed to accelerating between them. I could recognise the 350 was less physical to ride as its lighter, but in some respects it's harder to ride because you have to ride it harder.'
For part two of Tom's testing he headed up to the sand-based motocross/enduro course at Chris 'Kiwi' Hockey's test track in Suffolk where he was due to be doing some teaching. It's a very different type of environment.
'The motocross track is very fast and flowing. It suited the 350 as you didn't have to be quite as precise. You could haul into a corner and it would still get around, not a problem. And being so light and flickable I could ride it a bit more ragged – letting the bike do what it wanted to – and just rev the arse out of it!
But as soon as I got on the 450, with the extra weight and power, I had to be much more precise coming into the corners. But then as soon as I was in the corner and the bike was settled in the rut, I could let the bike have it and it would simply take off. These two bikes ask for two very different ways of riding. You'd go through the corner faster on the 350 but the final exit speed might not be as quick. On the 450 you'd have a slower entry speed but then you could come out so much quicker.'
This was borne out by Sagar's test times, which were very even – just split-seconds in it – although consistently in favour of the 450. And those times were also notably consistently quicker than Kiwi or Sagar's practice mate Mark Roberts, both of whom rode the 350. In fact Tom's championship-winning edge was quite obvious. Kiwi is a nine-time centre champion and knows his motocross track like the back of his hand and yet on Tom's first pass, Sagar was only 0.1s off Kiwi's time (riding the 350). Jumping on his 450 he then punched a clean three-second hole in Kiwi's best. That's skill and using the 450 to best advantage.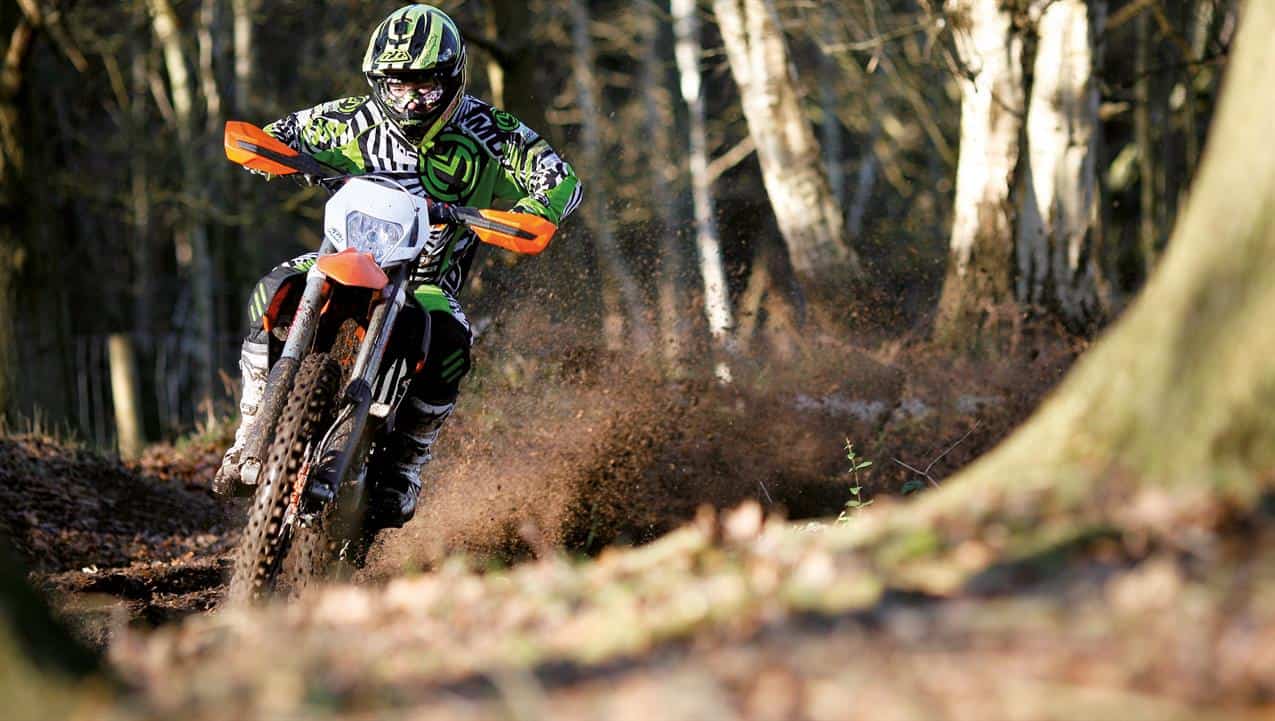 The final test was the enduro loop: traditional tight woods going with plenty of deep whoops, roots and ruts. 350 going all the way?
'Actually, no! The times were again very similar. The 350 again felt a lot lighter diving between the trees, but again you needed to ride it that bit harder through the corners. Meanwhile the 450 was just so responsive, I could leave it in third gear (any nice tall gear!) and let the bike pull the whole time, almost like you are not going very fast – but you are covering a lot of ground.'
Back-to-back Sagar put in a 3.00 minute lap on the 350 followed by a 2.59 lap on the 450. But the 450 had more to give, Sagar applied attack mode to the 450 and that made the difference, a 2.56. Every time, the 450 won.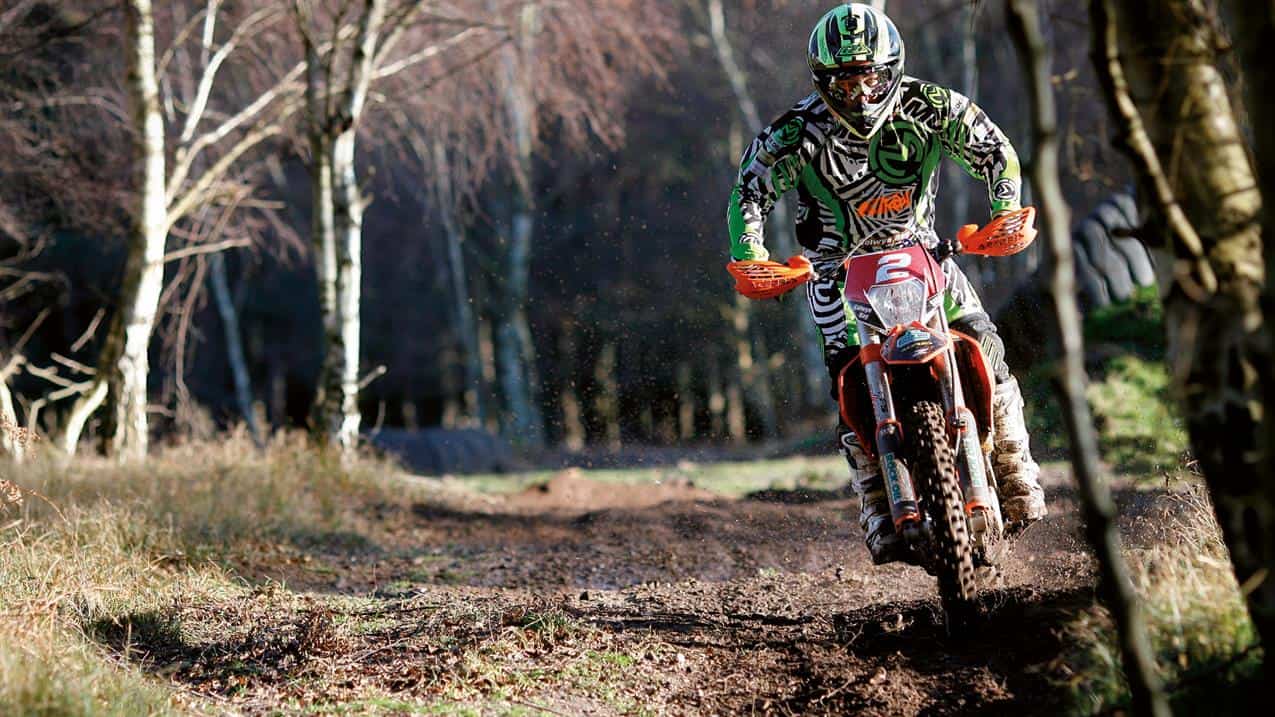 Work Harder
'I look back at what I've done here and I think quite possibly that what I was doing was looking for an easy way out. Rather than trying a little harder, training a little harder to make the most of the 450, I think I was hoping the 350 would get me the same results, or better, with less effort. But at a championship level I guess that doesn't work, or simply it doesn't work for me. I can see for a lighter rider, maybe with different techniques, the 350 is the right answer.'
Sagar highlighted the lack of 350s in the EWC E2 class. They're not totally outclassed, after all Cristobal Guerrero managed to take second overall in the EWC E2s in 2012, but his single round win could not defeat champion Pela Renet's seven (on the Husaberg FE450). Ivan Cervantes tried the 350 route in 2013 and while on his home ground in Spain he could snatch a double win, again in the long haul the might of the 450s won out.
'The 450s are not easy to ride, that's for sure', explains Tom. 'But if you can master them then they'll get you the results. So for me it's definitely a 450 again, but this time with more training, working a lot harder, getting fitter. You need bike fitness to ride any bike, but you need additional physical fitness to ride the 450.
'And one other thing I want to add. I can't get past the fact that the 450 is a big time race bike. It's not a trail bike, it's the real deal. Truly an incredible piece of kit.'
So Tom's made his choice. His daily ride this year is gonna' be the big, brutish 450. It's not what we would have chosen, but then we're not British Enduro Champion. Whereas… Tom is!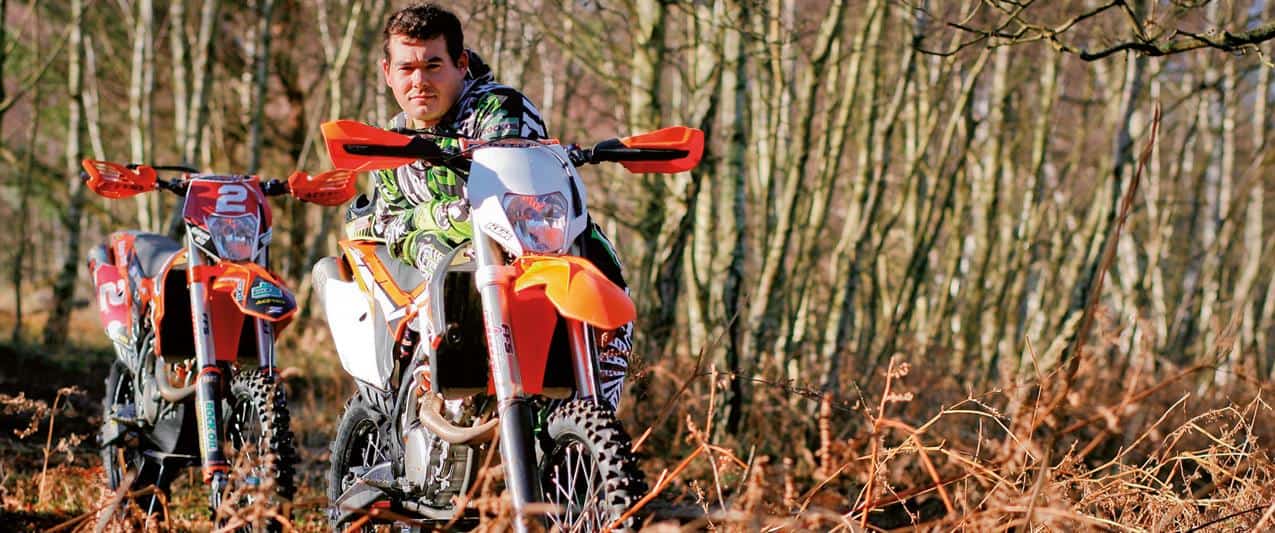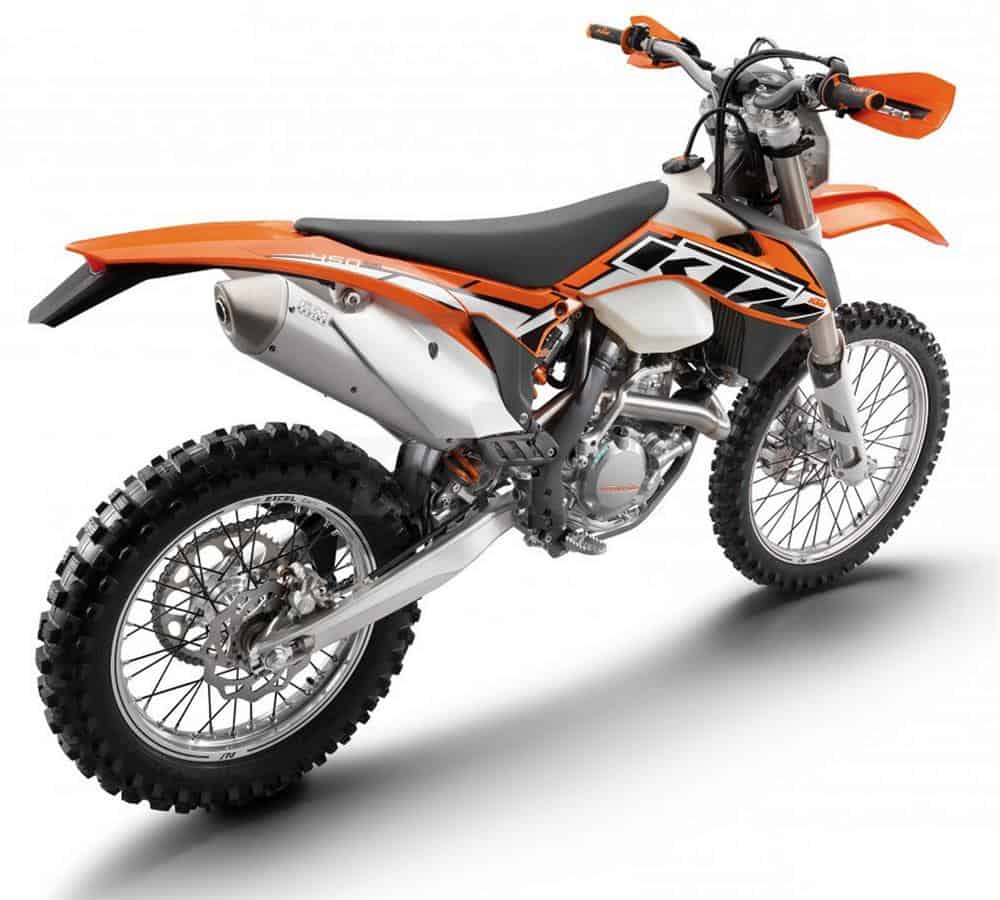 2014 KTM 450EXC
Price: £7349 (in 2014)
Engine: Liquid-cooled, electric start, four-stroke single
Displacement: 449.3cc
Bore & stroke: 95 x 63.4mm
Transmission: Six speed
Frame: Central tube frame chro-mo steel
Front susp: WP 48mm USD forks
Rear susp: WP shock with linkage
Front brake: 260mm disc, Brembo twin-piston caliper
Seat height: 970mm
Fuel capacity: 9L
Weight: 111kg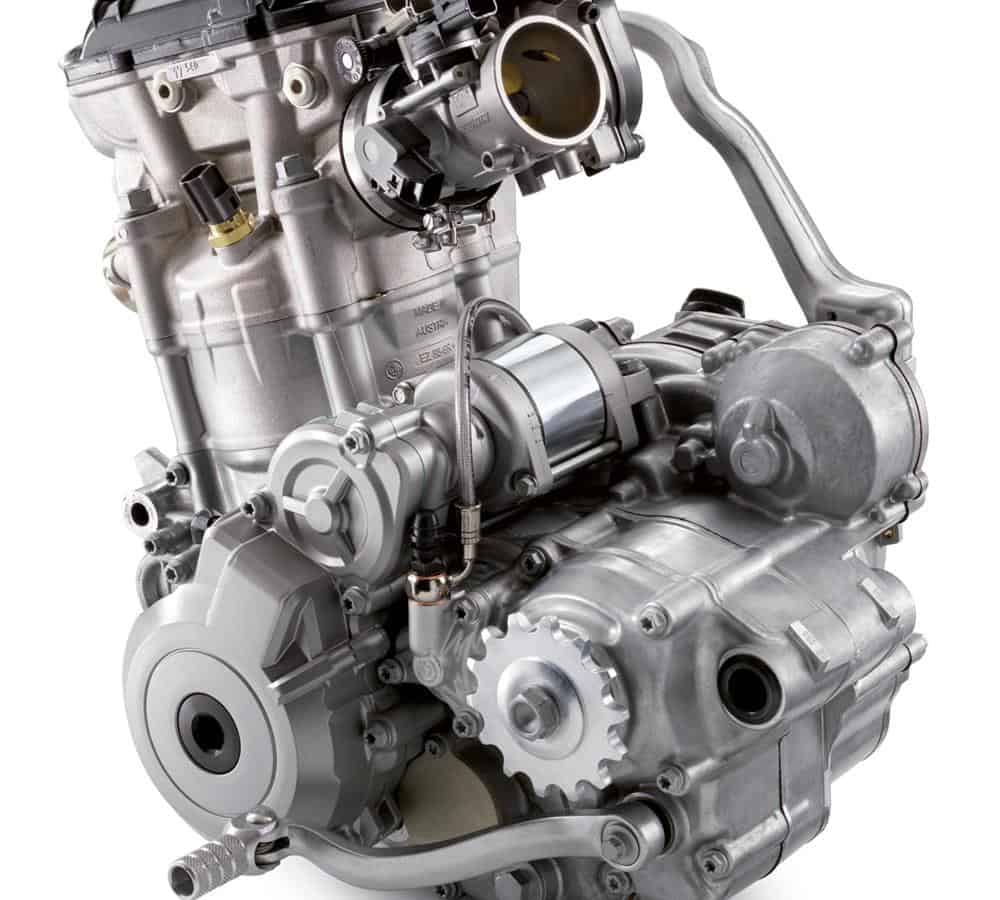 2014 KTM 350EXC-F
Price: £7249 (in 2014)
Engine: Liquid-cooled, electric & kick start, four-stroke single
Displacement: 349.7cc
Bore & stroke: 88 x 57.5mm
Transmission: Six speed
Frame: Central tube frame chro-mo steel
Front susp: WP 48mm USD forks
Rear susp: WP shock with linkage
Front brake: 260mm disc, Brembo twin-piston caliper
Seat height: 970mm
Fuel capacity: 9L
Weight: 107.2kg
Second Opinions
The 450cc E2 racer is quite possibly the 500GP bike of today. Just like when 180bhp 500cc V4 two-strokes used to sort the men from the boys of road racing, so a 450cc E2 sorts the enduro pack. It's not whether you can ride one, it's whether you can truly race them. Sagar can, Knighter can, and there is an elite in EWC who can too. For the rest of us, even at top centre level, it's a tall ask.
Mark Roberts, Championship level BEC racer: 'If I was fresh and just doing tests I'd like to ride the 450, but riding six hours a day and then going into a test – I think it would be too much for me. It's just a big heavy bike and it's got that much power riding it all day your arms are going to be knackered and you'll feel the weight. I just don't think I'm ready for a 450 yet!
'Riding the 350 you have to ride it like a big 250F. You need to keep it up in the revs to get it to pull, it's a totally different way of riding. Ideally in a bike I'd like to have the bottom end pull of the 450 with the lightness of the 350 and the manageability of the 350, but you're not going to get it.
Chris 'Kiwi' Hockey, Eastern Centre Leg-end: 'On the 350 it feels like a 250, it doesn't matter about the rut or the corner, you just get in there and get on the gas again and let the back wheel drive the front around. Doing that on the 450 it feels like you're pushing the front some place it doesn't want to go. That's the difference really… you can throw the 350 around more, it's easier to ride on the edge. On the 450 you have to be more precise on the right line, in the slot, on the berm – or else you crash, the heaviness of it overpowers you!
'Watching Tom, as he's such a good trials rider he's able to be so precise, and he's a big bloke too so he can muscle the 450. He can be precise with the line and forceful on the power to propel him out of the corner so much harder than the 350. So there's no benefit for him stepping down to the 350.'
Tom Sagar, 2008, 2011 & 2013 BEC champion: 'The 450 works for me, but the 350 is such a very good clubman bike that I wouldn't expect a clubman or sportsman level racer to go out and buy a 450. I'm always saying that people over-bike themselves, the 350 hits the mark, why go any bigger if you don't have to?'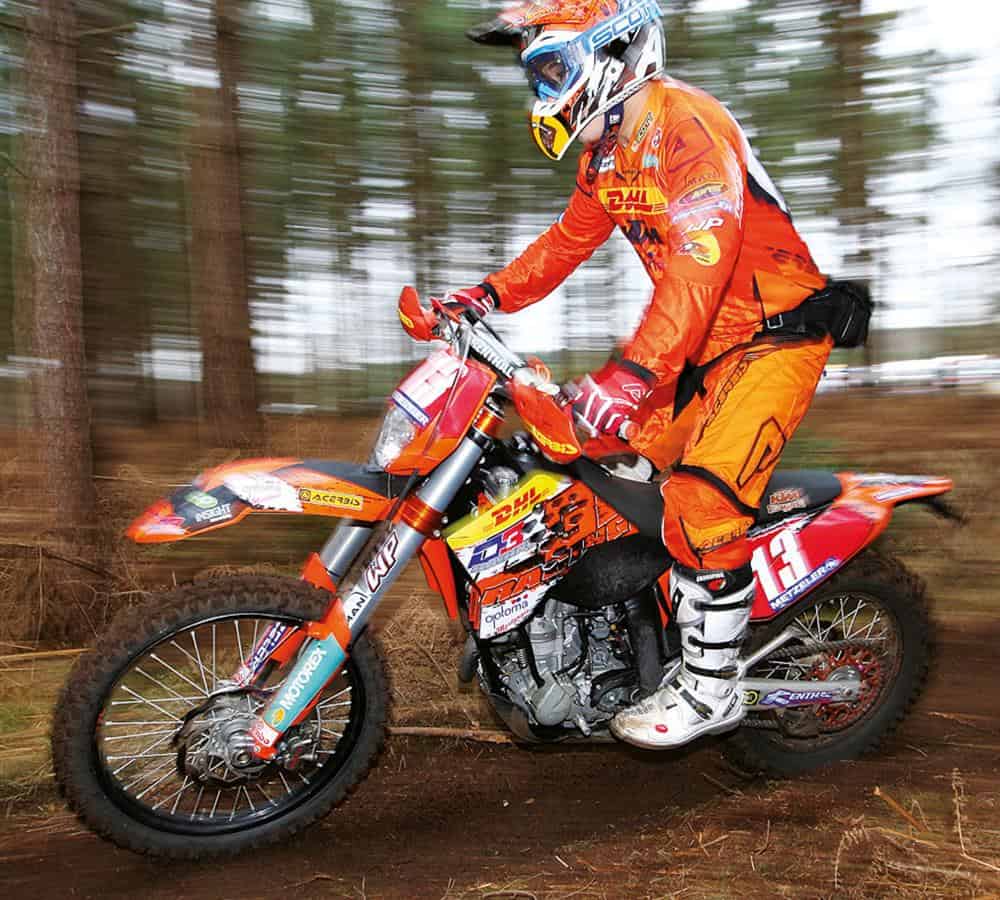 Your Next Bike
Tom Sagar's top tips to buying the right bike for you
• You are the start and end point. You need to appraise your abilities first and foremost (and be honest!).
• You can then adjust that assessment according to your height, weight and age – some bikes you'll plain not fit or get on with.
• Assess the kind of riding you do. For trail riding you don't want a revvy race bike, if you ride technical trialsy stuff, a 450 will be tough work.
• How much do you want to work on the bike? Many of the Japanese bikes have longer service life on engine parts and survive very well on wash-and-go levels of maintenance. European racers need fettling.
• Four-stroke or two-stroke? Four-strokes suit trail riding much better and are smoother and easier on the road (and don't need constant rejetting). Two-strokes make great racers, being light and easy and cheap-ish when it comes to the constant maintenance racing calls for.
• Do your homework – many older Japanese bikes have only five-speed gearboxes which can leave them short-geared if you do a lot of road work or fire roads. A good six-speed box can really make a difference.
• Do consider 500s! If you ride easy trails or open farmland the 500s are actually relatively easy to manage (more than a 450) and so make a relaxing enjoyable ride and for rally type events are so good they're almost cheating…
• Dealer support – think about who's going to help you when you need specialist servicing or fault diagnosis. A solid local dealer is worth his weight in gold and can make the difference between months of riding a breakdown-liability and having a great bike today.
• A cheap old-stock motocrosser, even a 250F, is no enduro or trail bike. It'll need hundreds spent on it in conversion and even then it'll be compromised – leave that kind of thing to the championship class riders.
• Resist the 'bigger is better' mentality. Dirt bikes are nothing like road bikes, different rules apply. If you're that self-conscious just take the capacity stickers off the panels. From a distance no one can tell a 250F from a 450F…