2014: A 450cc enduro – alloy frame included – for four grand (British Pounds), new. Awesome. The catch – its Chinese made. But this is 2014 and these days we know Chinese manufacturing is a lot more sophisticated than it used to be. So is the 450RX a legitimate bargain?
We'll tell you a good bit first. This motor is a good 'un. It's an SOHC unit, carb fed, making a claimed 43hp (with the Yoshimura pipe as fitted to this test bike). There are a lot of modern aspects to this bike, but the motor's power delivery is firmly old school. And that means it's real nice. It pulls from the bottom and on a wave of torque it surges forwards like a 450 should. Hooking up the gears it was soon too fast for the trails we were riding, so we skipped over to a bit of tarmac – and the speedo was showing 80mph with the speed still building. That power claim seems pretty honest.
And another good bit – obviously you can't go riding too hard with a strong motor like this if the suspension doesn't work. But it does work. Again in an old school fashion. It was on the soft side but commendably plush, sitting mostly in what felt like the mid-stroke. So it wasn't performing quite like modern WP or Kayaba, but actually it was more than competent. We even launched off a few jumps and it didn't land like a sack of spuds, there were no loud cracks, the fork seals didn't suddenly blow out, the chain didn't snap.
And one last good bit for now. It handled. That alloy beam frame – now we're not sure if it's CRF or YZ copy – looks a treat (with neat welding) and gave the 450RX a good sense of security and integrity where (for our tastes) the odd-ball Pirelli rally-spec tyres (well worn) would have otherwise had us seriously spooked.
So this Chinese-made WK450RX, it's not bad. Not bad at all.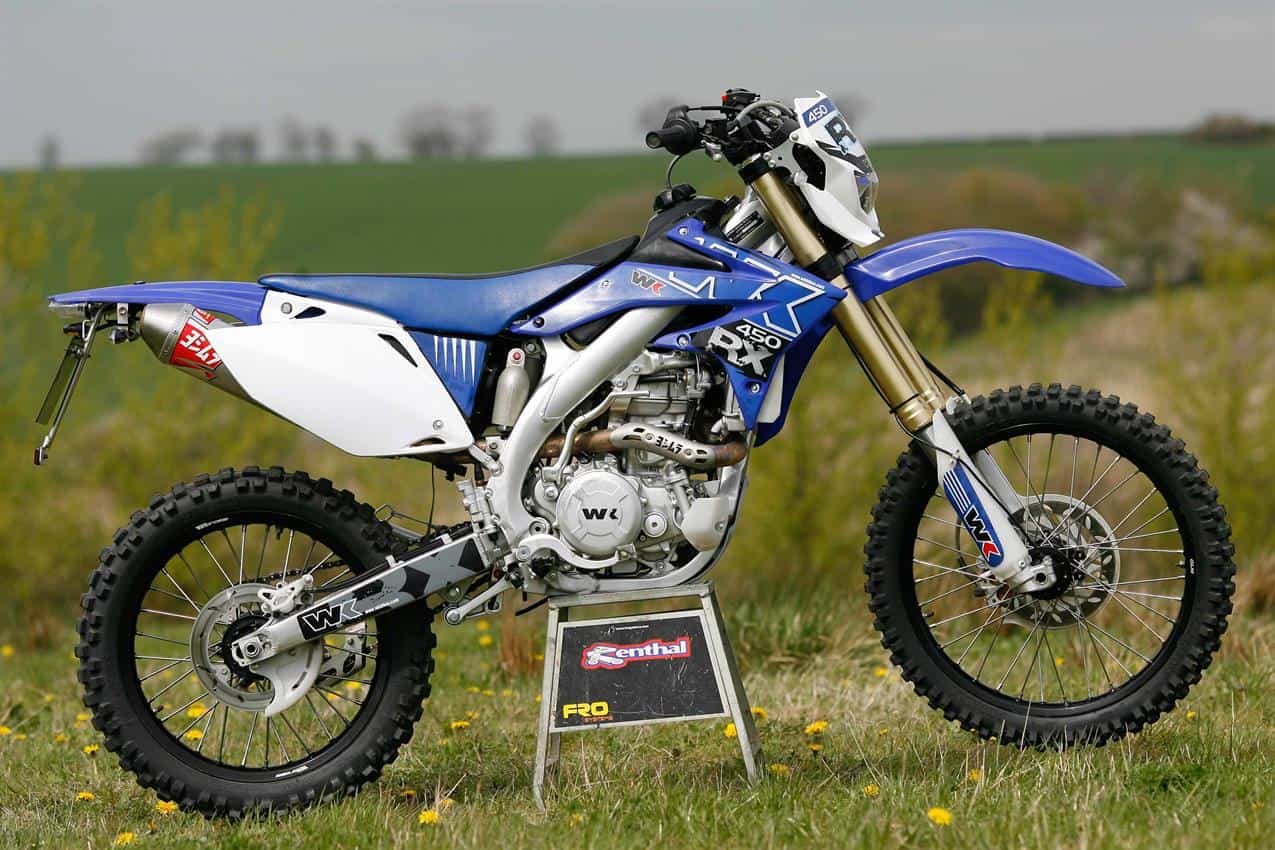 TROLLS
Before this test we did something of a Google search to figure out what we had here. Typically Google gave us a lot of not much worth and even more of zero value. As ever the forums and chat rooms have been onto the 450RX for some time despite very few examples yet being in circulation to see or test. And as ever the trolls were out, between – rudely, even savagely – admonishing new members for minor social indiscretions (their job in life, it seems), they were killing the 450RX with the usual bigoted 'it's not Japanese' accusations. To even consider buying a bike such as the 450RX is tantamount to insanity, the trolls were not so much suggesting as dictating. Online we have one strange society, that's for sure.
Of course, we can't totally sack the trolls, the Chinese bike manufacturers did pretty much got off on the wrong foot when they made so many of those cheap and shonky minibikes back around a decade ago. Few of us can forget those mini-motocross-paddock bike things with knock-off C90 motors and super-annoying open pipes. It didn't help that they were adopted so widely by the UK's loutish fraternity – you know, the hoody teens with a total contempt for the law, who rode these annoying little bikes everywhere, anytime and without helmets (writes Shocked of Weighbridge). Did we lose some land access, did we see green lanes closed because of their behaviour? Maybe. Maybe not. Certainly those little bikes bikes did the UK bike scene no favours. Fortunately all these years later most have been scraped for if those minibikes were anything the were (fortunately) disposable.
And fortunately, too, the Chinese bike market has moved on. Looking at the bike in hand, the road bike market already knows the WK brand well given they've established over recent years a decent range of scooters and small commuter bikes that have undercut the European and Japanese brands significantly while being actually pretty decent tackle. Not always an exact match on performance and quality with the establishment, but far more durable than those products of old. And WK have more recently moved into the middleweight category, too. Last June they even made their debut at the Isle of Man TT and with their 650cc mini-twins racer were lapping at 109mph – nobody was laughing or making jibes then, least not the Japanese manufacturers.
So WK – in fact a British company that connects with the Chinese manufacturers, cherry picking the models that it repackages (with the WK brand) to our requirements – have made good progress. They sold something like 1500 units last year and they're supporting that with around £1.5 million worth of spares backup. And WK is sibling to a bigger company – Quadzilla Quads – which with 13 years in the business has attained respectability in the UK bike industry.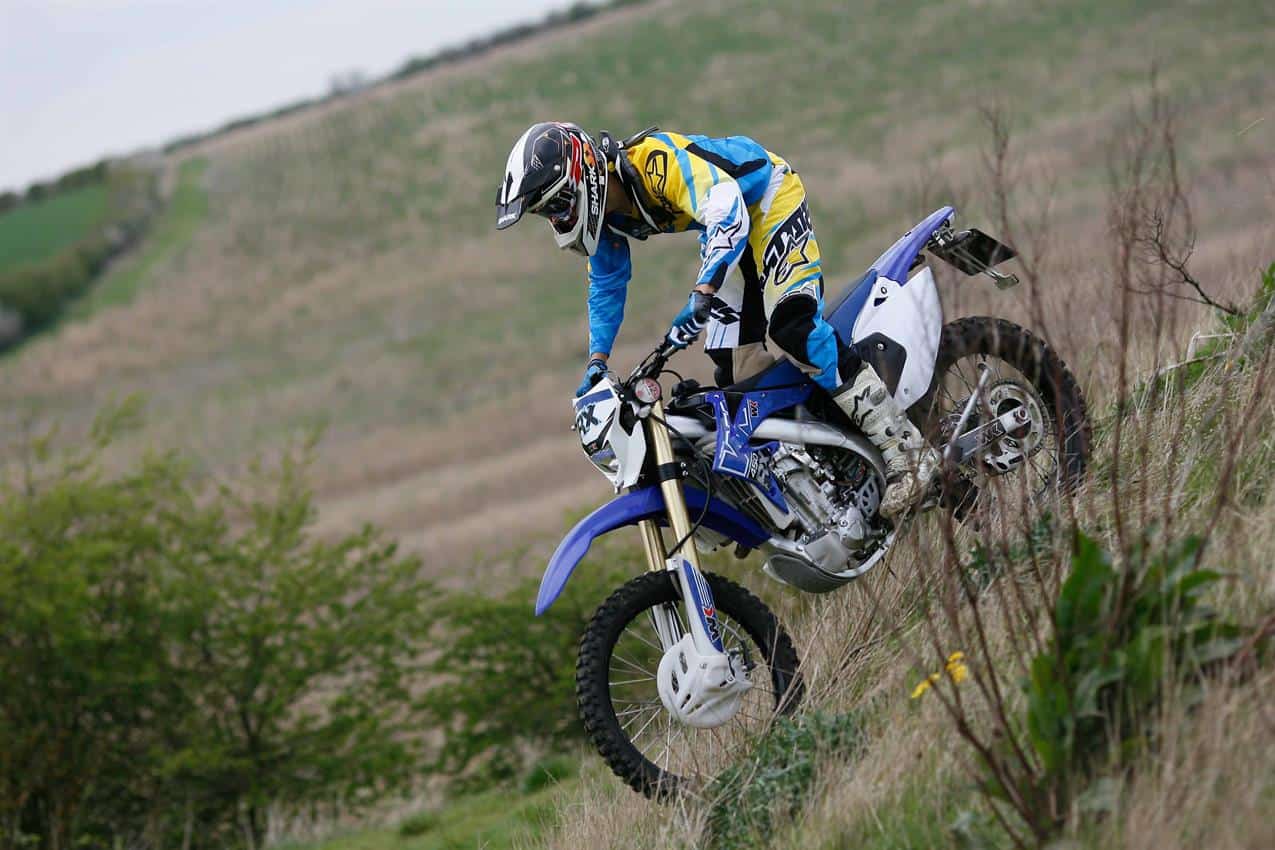 THE 450RX
The 450RX is then the start of a further venture for WK, this time into the dirt bike market. The 450RX comes from a manufacturer known as the Asiawing Motors Company, but as said the final spec is determined by the British WK team (a modern trend it seems). And with Sales Manager Henry Maplethorpe being a regular motocross competitor (currently racing a 2014 Honda CRF450R), there's a very keen handle on that specification, Henry making sure key components like hubs (CNC machined!), brakes etc met with European expectations – and standards. The bikes do then meet with EU homologation requirements while the manufacturer back in China is ISO9001: 2000 approved. They may not have the clout of the establishment but you can see they're making every effort to be a quality offering.
That the 450RX does look so much alike the CRFs and YZ/WRs of this world, even quite close-up, reflects this approach to quality. There's still a sense of early days though – oh, and a reflection in the fact that this is a bike with a retail price of £4k not £7k. So while the frame looks spot-on for a Honda CRF unit, the engine – you can see – has slightly clunkier design, the crankcases being that bit bigger, the engine covers being a bit less sleek, and of course it's a conventional SOHC unit not the Unicam of the Honda or DOHC of the Yamaha. And we noticed on this example the engine paint was already peeling. Not that we should be too damning on that account, heck, Ducati only recently started making their engine paint stay stuck after years of scabbiness!
Some parts delight – we were impressed to find billet alloy triple clamps and the footrest and foot levers all looked good quality – while some parts were under-par – like the huge and awkwardly angled steel side stand. But if there was one area we really felt let down then that was the handlebars and controls. There's been a good try here, spec'ing ally fatbars, but the bend doesn't feel right and the grips are the cheapest most plasticky you could imagine, while the brake and clutch levers have a (too big) commuter road bike feel about them. Yet we can to some degree forgive the bike these parts, after all even when we buy a KTM so many of us will swap the stock equipment for our favourite bend of Renthals, with soft grips, hand guards and maybe even flexible levers. And if we are willing to do that with a £7k bike we should be equally willing with this £4k one.
SURPRISINGLY GOOD
If you go to WK's website you'll note the published spec there claims a horrendous power figure of something like 22kW – barely 30bhp. That is the figure for the bike in full homologation mode. Just as with every other enduro bike on the market, these days you need to effectively restrict the bike to get it through the legislators' tests. WK have to this effect sorted a deal with Yoshimura to supply a competition exhaust for the bike (cost, about £500) to regain full performance (for off-road use only, you understand). With the exhaust in place and with carb rejetted the power figure jumps to a respectable 43bhp and torque's 42.5Nm (at 6500rpm) as measured on WK's local (Lincolnshire) dyno.
Unfortunately for us on this test, the rejetting wasn't entirely successful and the 450RX was prone to spit occasionally on low rev, sometimes cutting out altogether. We had a fiddle with the tickover to overcome this but it seemed to improve during the day probably on account the atmospherics changed dramatically during the course of the day. We'd still say a little more attention was definitely needed here. Given the Yoshi pipe is too loud for green lane riding (although not excessively loud) it could be a quietening insert might just create the right amount of back pressure to sort the carburation.
Notwithstanding, the 450EX started readily off the electric and kick starts (there's an ignition key, plus speedo and a fair complement of switchgear) and once you cleared that spit-cough off the very bottom it pulled clean and strong. The motor works well and so does the gearbox, the five ratios select clean and precisely. And clutchlessly – which was just as well as the pull at the lever was on the heavy side. Again, this isn't unusual in this class and can be remedied either by altering the leverage ratio on the actuating arm or fitting an hydraulic unit.
We might as well deal with another negative while we're about it – the seat foam is too soft. Henry said there was a choice of hard or soft foam and, based on feedback from the public at the NEC, they chose soft. But it's too soft by a long way – a shame because the shape is just fine. And dare we say again, we couldn't find comfort with the handlebar set-up. Taller riders will probably want a taller bend, or maybe a riser kit, normal guys will just want a different bend. We shouldn't be surprised but it's amazing how much this one detail can affect your response to a bike.
Past that small issue everything improves. The motor is a lovely torque-meister and so the five gears become nice and long and you can really enjoy driving this plot. With the integrity of the frame it can be charged over rutted fields with only the usual wary eye for danger. The brakes worked fine and when it came to cornering it was again good (in fact given the tyres it was doing surprisingly well). The handling is helped, possibly, by the suspension sitting comparatively lower than say on a KTM – we were put in mind of the Beta we tested last issue – and so it was easy to sit comfortably over the bike and push it into the ground, letting the rear spin up a little under power. As said, the suspension felt to be on the soft end of the spectrum but not too soft.
Certainly we were able to subject the test bike to a fairly rigorous day's testing. From thrashing it along to near top speed on the road, to our man Phil launching it over some fairly hefty jumps, and plenty in between. We ran a thorough day and nothing fell off, nothing broke, nothing stopped working – the internet trolls would be very disappointed.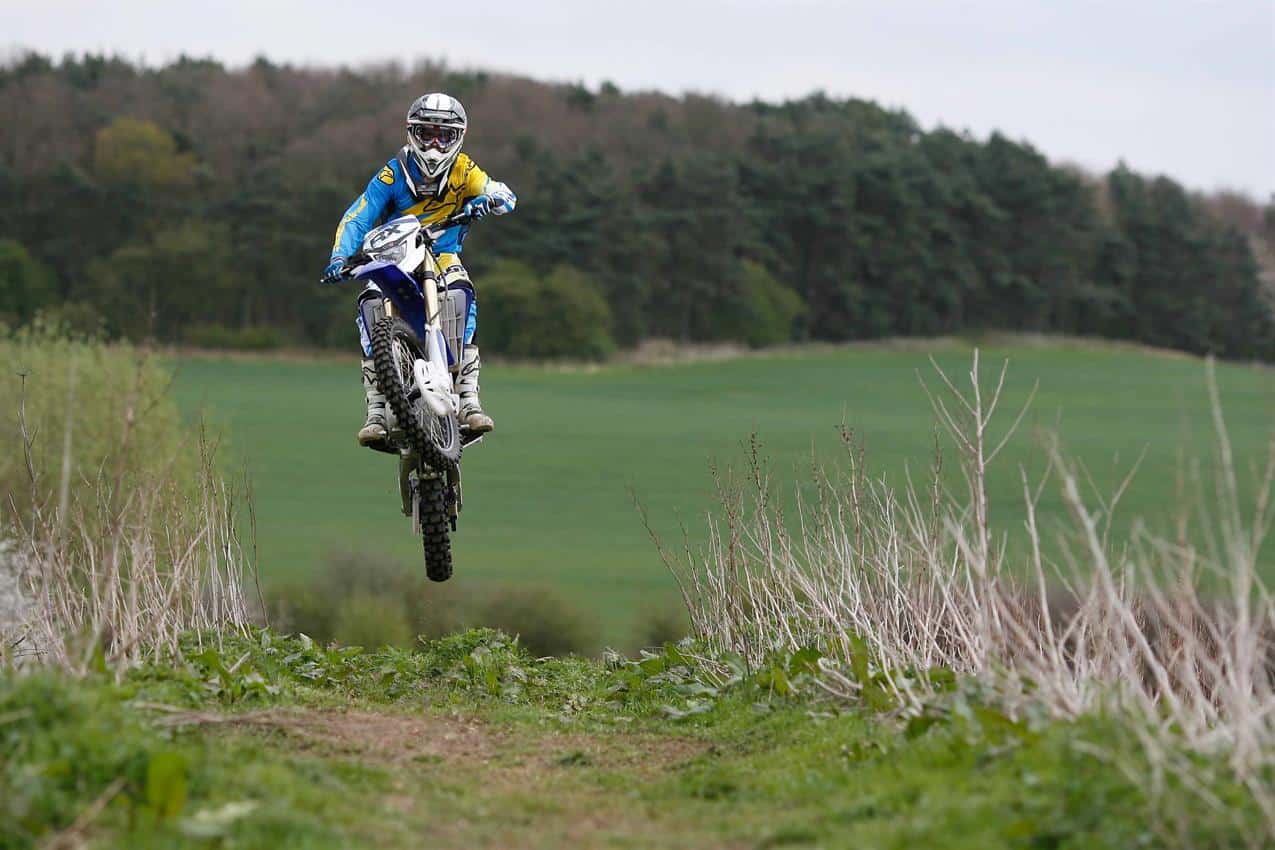 LOOKOUT AJP?
By the end of the day we realised our biggest criticism was really the flaking engine paint on the engine cases. The other matters could mostly be dealt with by reference to the usual aftermarket sources. We guess you could remove the engine covers and either remove the paint entirely (and run bare metal – polished if you prefer) or repaint them yourself – speak to a long term Ducati owner to find what works there.
And handlebar, grips and levers aside its clear the Chinese have a pretty good handle on what an enduro bike should be – by the simple expedient of having having studied and copied the Japanese. This was of course what the Japanese did back in their early days, copying British and European designs. The next step will be the Chinese developing their own ideas. But as an exercise in copying go, the WK team have done well, the bike works.
Of course we can see that the WK is not going to be competitive (yet) against the Japanese or European in enduro competition – it can't measure up to a 450EXC, not by a long shot. Instead we can see it going toe-to-toe with the AJPs of this world. A racer – no, not yet – but as a trail bike (with appropriately quiet exhaust) yes it stands to be very effective. And being a full-sized 450cc trail bike it's actually pretty unique to the sector and may just be the bike a fair few guys have been waiting for. There's added incentive to purchase too, with the offer to include a set of supermoto wheels and tyres for just another £100, which adds to the bike's versatility. Good for the workday commute, good for the weekend green lane ride too – just like trail bikes have always been.
BUY?
So it's well made, fully homologated (unlike the current crop of Japanese enduros) and it looks as if it will compare favourably well to the existing trail bike alternatives. Backed by a UK company with 13 years in the business, with an established dealer network, there's some security there too and with proper spares backup promised it's less of a gamble on purchase than the trolls might think.
The decision to purchase is a personal one. There's no point asking us journalists – we've less disposable income than your average benefit claimant, we're not even in the market for anything north of £1500. However, it's clear that build quality with Chinese motorcycles has come a long way over the last decade – no more levers made from cheese – and your investment is safer than it once was, although it's too early to know what the residuals will be like. And we anticipate by spending a few quid more you can make the 450RX even better. Only with every quid you spend you're getting closer to the cost of a KTM. And we haven't yet considered the second hand market. As always there's a lot of competition for your money. But the news, based on a day's ride, is this WK is so much better than you might have thought!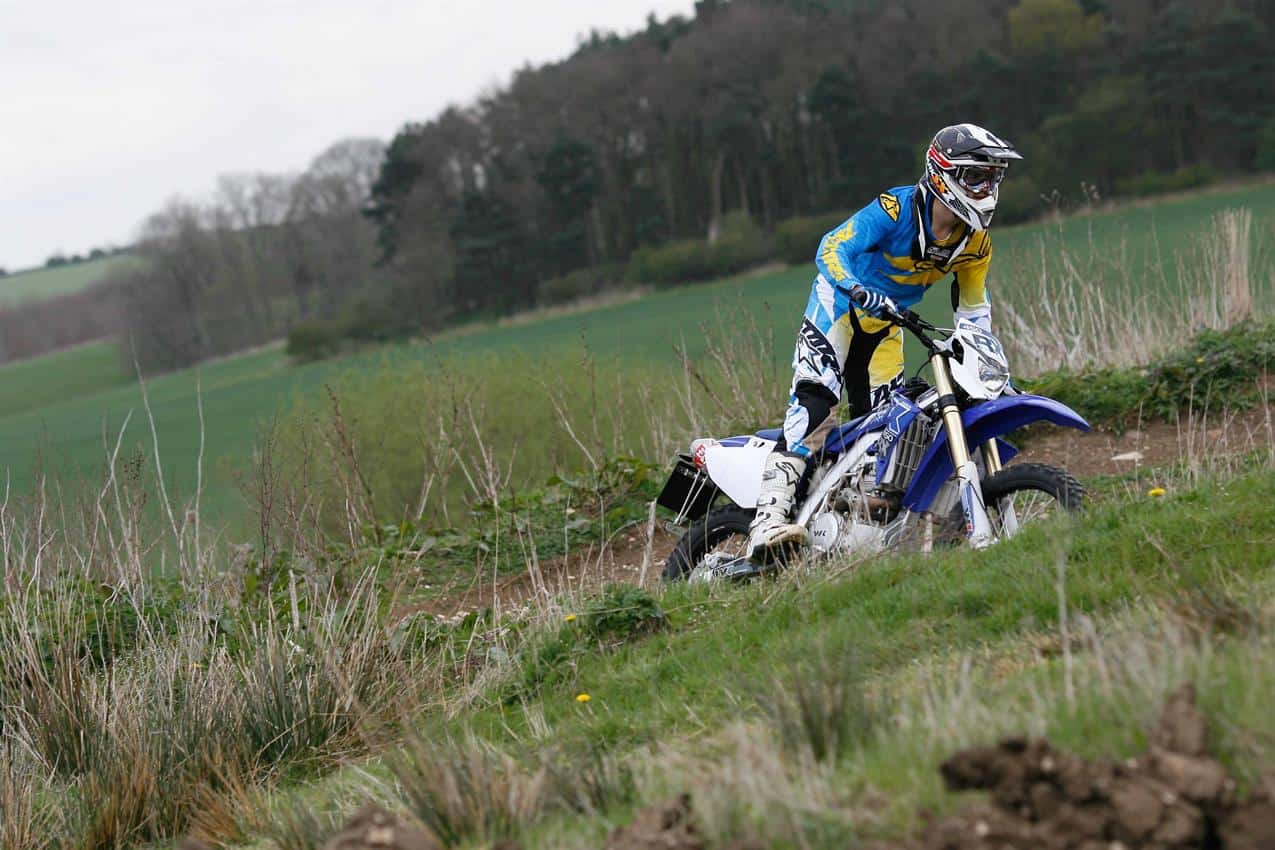 SPECIFICATION
WK 450RX
Price: £3899 or £3999 with supermoto wheels
Engine: Liquid cooled SOHC single cylinder four-stroke
Displacement: 449cc
Bore & stroke: 96 x 62.1mm
Carburation: Carburettor not identified
Gearbox: Five speed, wet multiplate clutch
Starting: Electric and kick
Frame: Aluminium, beam type
Front suspension: 47mm USD forks with rebound and compression damping adjustment
Rear suspension: Single shock with preload and rebound damping adjustment
Front brake: 240mm disc, twin piston caliper
Wheelbase: 1505mm
Seat height: 960mm
Ground clearance: 330mm
Fuel capacity: 8.5 litres
Weight: 117kg (claimed dry weight)
Optional extras: 17" supermoto wheels, alloy radiator braces, alloy skid plate, alloy rear rack
Contact: www.wkbikes.com 01507 522900