2014: Yamaha had updated their then four-year-old Super Ténéré. Not for them an upgrade to a near-superbike spec motor, no, instead they were tempting us with a new and useful electronics package. Jon Bentman went to the launch on Italy's Amalfi Coast and actually found a lot to like…
THIS MODERN incarnation of the Super Ténéré has been with us since 2010 – it's been due a tweak or two. Given the rate of change with Adventure models by certain European brands we might also add it could actually do with a bloody good dose of nitrous oxide. But we'll not say that, after all do we really need 150hp to go adventuring? Heck, back at the beginning (in modern terms) with BMW's R80G/S a mere 50hp was considered more than enough.
You can, apparently, have too much of a good thing. We found this out with this new 2014 model by switching off the traction control to find out what 112bhp feels like let loose on the dirt, no holds barred. And it feels mental, that's what it feels like. Full gas creates never ending wheelspin and you can skid into huge drifts, if you have the skill, or set yourself up for a massive highside, if you haven't. Most of us tend toward the latter scenario.
And let's put this into context – when Stephane Peterhansel won his last motorcycle Dakar in 1998 on the forerunner of the original Super Ténéré that was a bike that produced a claimed 80bhp. So do us mortals need our super-adventures to make 150bhp? We do not. Do we even need 112bhp? Again, probably not. Yamaha have used their heads, not gone crazy on the power and by way of some first class traction control given us the means to handle what they have supplied.
Such discussion hopefully puts into context Yamaha's position. The motor update here is slight (a rise of 2hp over the 2013 model) and while in such comparison the Super Ténéré's 112hp might look a bit piffling, we could easily argue that is still more than enough for the job.
In fact the whole bike is definitely fit for purpose. It's all too easy to be dismissive – given the overwhelming propaganda – but fact is Yamaha, with their Super Ténéré history reaching back to 1989, know this sector as well as BMW and in the current model they have a very strong performer. Chasing along the fantastic chicanery of a cliff-edge road along the Amalfi Coast the Super Ténéré (in ZE spec – a new slightly up-spec option by way of electronically adjustable suspension) was excitingly dynamic, happily scraping both pegs as flew between rock face and cliff-edge, super secure, flicking left and right like a 165-kilo super sports rather than the 265-kilo adventure tourer that it is. And earlier when playing around in the dirt – and once we'd totally disabled the traction control – yes, we found 112hp is more than enough to make your heart truly race. On balance you're probably best served leaving the TCS traction control on – in position two for off-road – for the Yamaha has got the stomp to launch you into the forest canopy if you get too cocky.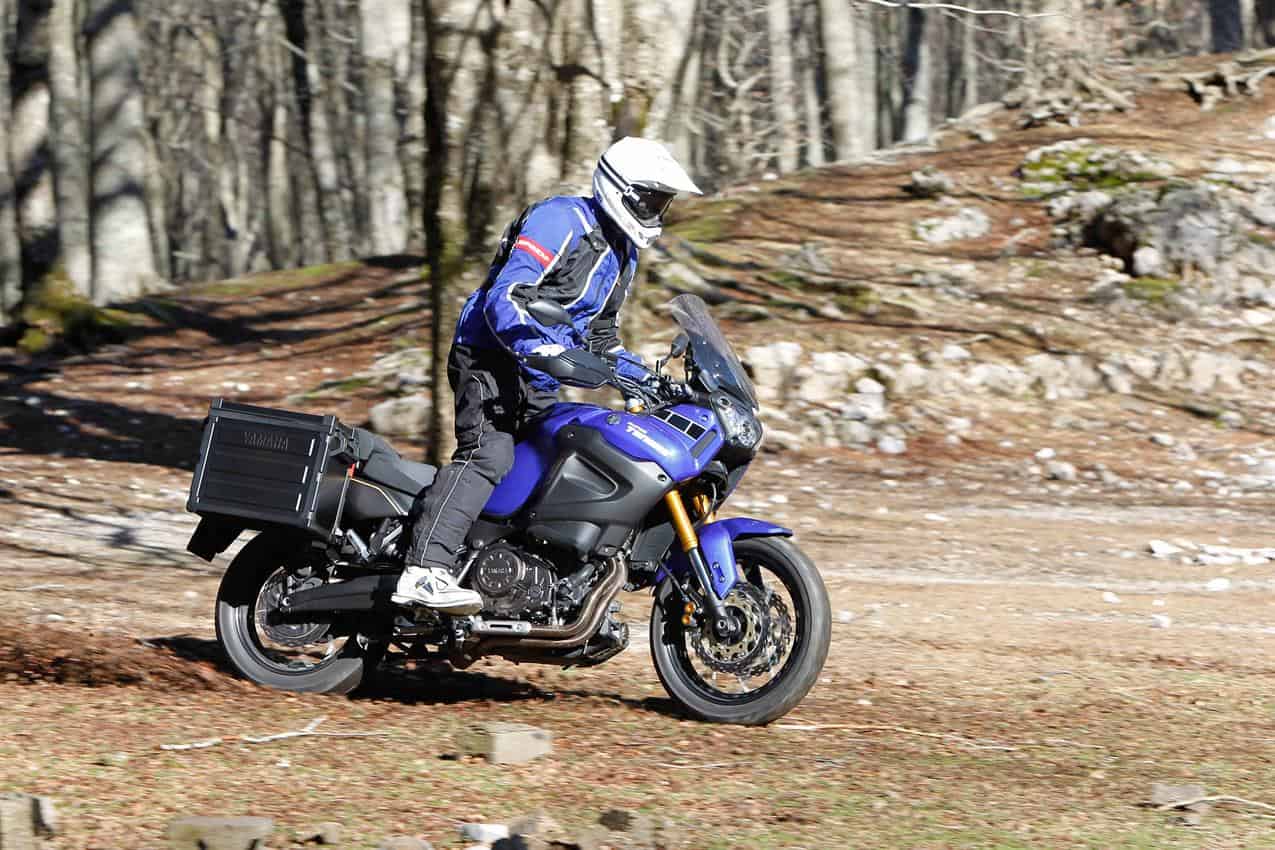 DOUBLE THE FUN?
So yes, for 2014 Yamaha have allowed us two versions of the Super Ténéré. There's a base 'Z' model, much like the 2013 model only a little more powerful (that 2hp) and gently updated and now 4kg lighter. Then there's an all whistles and bells 'ZE' with the same updates as the Z only with added electronically adjustable suspension and heated grips! Check out the panels for the full run-down of updates and spec.
One thing is for certain, Yamaha have certainly taken the sensible route. The motor's been retuned for extra civility as well as for added character. The riding package has been optimised to give the most accommodating, comfortable adventure package possible. And the electronically adjustable suspension brings hassle- and tool-free flexibility in set-up, thereby bringing the Super Ténéré that much closer to the GS in terms of spec. Not that the Yamaha is lacking for rider aids, with TCS traction control, ABS and D-mode engine mapping options it is a sophisticated player.
AND IT GETS BETTER
It gets better, but first a tech 'blip' to alert you to – riding the revised Super Ténéré the very first sensation was, sadly, that of disappointment. That's on account Yamaha, in looking to take the edge off the power delivery for riding in tricky urban environments, have gone a little too far in 'refining' their 'town' engine mapping (within D-mode). The intrusion of various electronic overrides now makes for a very unsatisfying mushy response to the throttle – even the throttle action itself feels strangely disconnected. Fortunately – although there's no fix as such for that – you can side-step the matter by putting the D-mode into 'sport'. Conventional throttle and engine response is resumed. And yes while the response in this mode is keen it doesn't make for a lurchy ride, it's fine. So before you test ride the Super Ténéré make sure it's in sport mode.
Anomaly dealt with, let's continue – and the feedback keeps improving. Yamaha have taken their own route on the electronically controlled suspension and by explicitly separating the preload and damping adjustments and then sub-dividing the three main damping settings of soft, standard and hard a further seven times, they've given the rider in total 48 possible settings. The differences in comfort and handling in three main divisions are easily detected and even in the course of this short test we were able to use all three to good effect, using soft on the potholed town roads, standard on most of the rest of the roads and when off-road, and hard when pushing-on over the smoothly surfaced coast roads. The further incremental adjustments of +/–3 (the seventh option there being 0) will need a longer assessment to get the hang of.
The new screen works well too. Admittedly we did no motorway work and it was left in the lowest of settings, but the speeds did get up and there was no detectable detriment to the wind flow. Of course, the best compliment you can pay any screen is that you didn't notice it. The fact that the screen now adjusts quickly and without tools is a significant user benefit.The seat's quickly adjustable to two set heights and while many of the riders were very happy with the lower position (845mm), the higher setting (870mm) better suited this rider (6'0" tall). The seat's nicely level too, not sloping like some.
Initial off-road riding impressions are dominated by the feel of the Super Ténéré being a little too wide through the mid section, which means it's not so easy to grip the frame with your knees. And this is compounded by the exhaust interfering with your left calf when leaning back. But ignore it, after a little familiarisation this is soon forgotten and the over-riding impression is the big Yamaha feels easily manageable, in fact it's a big ball of fun. It's nicely balanced and can be trials ridden to a standstill, feet-up full-lock turns are easy with no jolts or snatches coming from the transmission (which now has two additional dampers for extra smooth delivery). The motor plods nicely. But alternatively you can feed in a handful of throttle for a burst of acceleration which the TCS traction control will suitably moderate for you, allowing nice bite size chunks of wheelspin. It does dirt hooligan, and while we can't say this test properly explored the Super Ténéré's off-road capabilities, it feels dirt ready, there's no sense of top-heaviness and the responses are correct for those that know dirt bikes. Experienced riders will no doubt sport evil grins within minutes of riding one.
The ABS can't be switched off – an omission really – but it still worked well enough off-road in the admittedly limited testing we did. It'll probably be best to get to know its limitations thoroughly before you barrel down a slippery hillside. There's also this trick, which we didn't have the time to familiarise ourselves with during the test, where if you use the rear brake first it acts independent of the ABS – meaning you can lock it if you so wish. Use the front brake first and you have full ABS. In practice, and we've heard this from those who ride them, this means you can ride with the safety net of ABS full-time only to, in an instant, over-ride it and get back to non-ABS responses. Neat!
Back on the tarmac, again flicking through some real tight and twisty roads, the Super Ténéré feels commendably light on its feet. It's well-planted but equally it can really carve the corners. Checking the tyres (Bridgestone Battlewings) we noticed the rear is a 150-section – quite a deal slimmer that the current 1200GS's 170-section – and we're pretty sure that goes a long way to speeding up the Yamaha's turn rate. A narrower section tyre can often be a lot more positive off-road too. Again, Yamaha has admirably resisted the desire to over-spec the bike and stuck with what works.
CHOICES
This was but a short one-day test. Not really long enough to properly evaluate a model of this sort, so our findings are not conclusive. But we can say this is a very enjoyable bike to ride (just don't select 'town' on the D-mode) and if the GS never existed we'd be applauding Yamaha for their fine work. It has plenty of positive attributes that deserve commendation. The handling is very good, especially considering the bulk. The comfort felt fundamentally good (it'll take a proper ride to assess the seat's padding) and the motor is pretty damn good too. It's got go and it's got character – maybe not quite as much as a GS, but bags more than the likes of Honda Crosstourer. And it is enjoyable to ride; great going either fast or slow on the road and it has the off-road chops, feeling adept and secure in the loose stuff – and matching the GS in key aspects like ground clearance and suspension travel. It is, honestly, a very good bike.
It is though, sitting in the same price bracket as a GS. At £12,799 for the Super Ténéré ZE you could alternatively buy a water boxer albeit you'll need to spend on additional BMW factory options to match the specs. Regardless, it's a difficult comparison to avoid – and given the GS is an all new comprehensive update while this is, in all honesty, a four-year-old design lightly warmed over then, no question, Yamaha has a hard job winning sales in this sector.
Maybe it's a question of how much don't you want a GS. There'll be plenty who won't want to follow the herd and while the KTM is exciting, the orange offering too – by way of being too much sport, too much massive power – may not fulfill the criteria of the discerning adventurer. Yamaha have, we'd wager, been savvy by not engaging BMW in a blow-for-blow battle. The Super Ténéré is a good bike clearly made by a team of engineers who do know what's what and so have stuck to their game. You've picked up on our enthusiasm, haven't you? Yes, it's thoroughly worthy of a test ride. Chances are, like us, you'll come away impressed. Loving the blue…
SPECIFICATION
YAMAHA SUPER TÉNÉRÉ XT1200ZE
Engine: Liquid-cooled forward-inclined DOHC twin-cylinder four-stroke
Bore & Stroke: 98 x 79.5mm
Capacity: 1199cc
Compression ratio: 11.0:1
Claimed power: 112hp @ 7250rpm
Claimed torque: 117Nm @ 6000rpm
Fueling: fuel injection
Transmission: Six speed, wet multi-plate clutch, shaft drive
Frame: Steel tube backbone
Front suspension: 43mm USD KYB, 190mm travel
Rear suspension: Monoshock, KYB, 190mm travel
Front tyre: 110/80-19V
Rear tyre: 150/70-17V
Front brake: twin 310mm discs
Rear brake: 282mm disc
Wheelbase: 1540mm
Ground clearance: 190mm
Seat height: 845/870mm
Fuel capacity: 23 litres
Claimed weight: 265kg (fully fueled)