SUZUKI V-Strom 650XT
Suzuki's V-Strom 650 has been a best seller for over a decade. But it was only in 2015, 11 years after its arrival, that the 'sport enduro tourer' has at last been spec'd with wire-wheels and bash plate. Like a proper adventure bike – or is it?
What a peach of a job – there's nothing like the sting of hailstones on your neck, snow freezing between goggles and helmet aperture, wheels skidding gently as the slush on the road gets too deep… Hmm, there's something wrong there. Ahh yes, of course, this is reality. Yeah, bike testing really can be work, and what's the deadline on the copy? Oh, that soon?! But fair play to Suzuki GB, with the choice of launch location between Sardinia and Western Ireland (in February!) – they chose Ireland, evidently. Cynicism and discomfort aside, a good choice.
So take a look, here's Suzuki's V-Strom 650XT. You may know the V-Strom from public service films such as 'Hey, is that a middleweight sport enduro tourer?' and the sequel 'I gotta get me a comfortable adventure tourer – with ABS'. The V-Strom has been with us since 2004 and until the 2012 revamp that was an eight-year model run with precisely zero changes year-on-year, except for colour. You'd think in that time it would lose popularity, but Suzuki confirm the V-Strom 650 has consistently been one of their best selling models. Seems the mix of lightish weight, decent performance and go-anywhere anytime versatility has been a hit the world over. KTM might be shouting out the superiority of their 150hp rocketship 1290 Adventure, BMW's mighty R1200GS Adventure remains the Adventure über-statement, but in reality it seems a humble 65hp vee-twin workhorse is just fine by a significant number of riders.
Of course we've not seen the V-Strom 650 cluttering up too many green lanes, nor making dramatic high-speed swoops over the Erg Chebbi, but until now it didn't – in all truth – quite have the full adventure spec. Cast wheels simply don't look the part and remain a worry anytime you're chasing rocky off-road trails. But now, with the XT – well, hey-hey ain't this cool: wire-spoke wheels, alloy bash plate and crash bars all as standard. Welcome to the dark side, 'Wee-Strom'!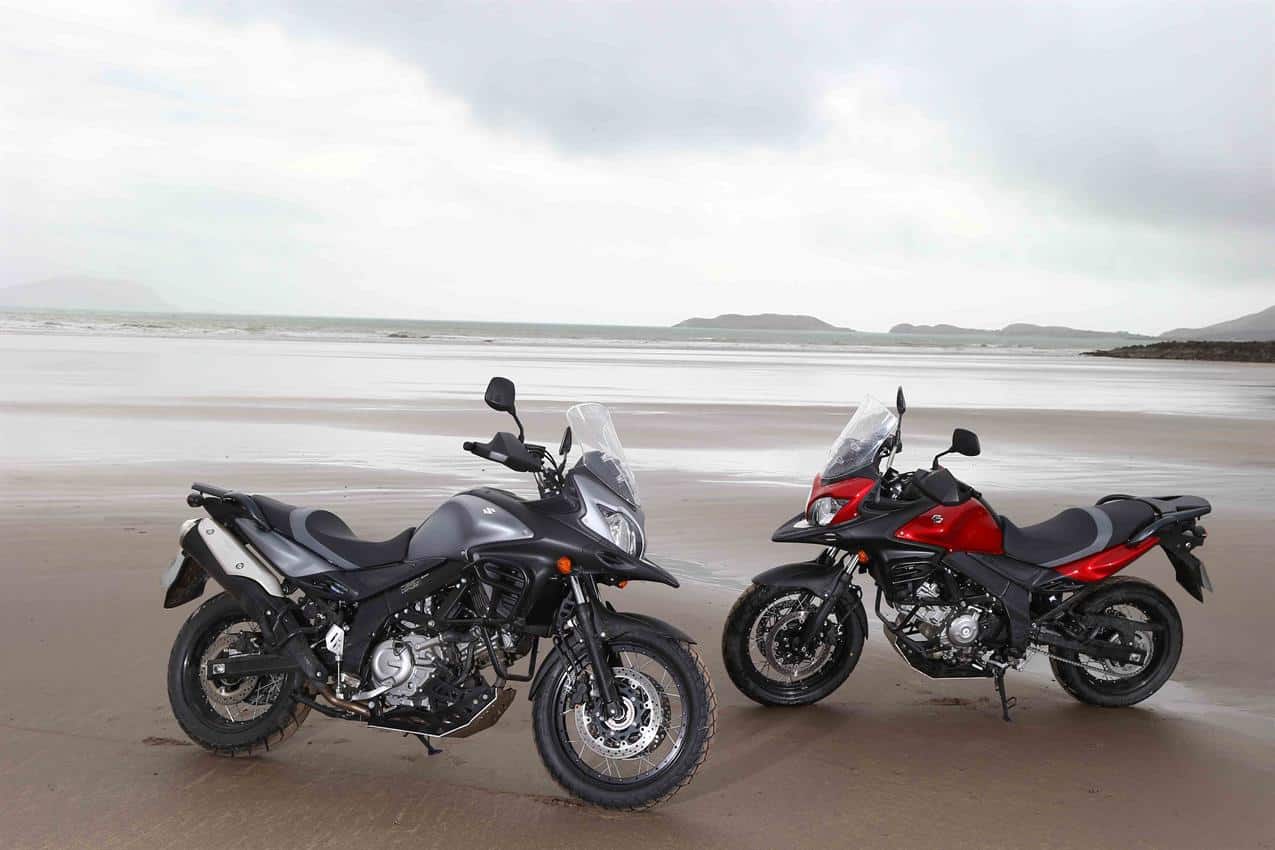 V-STROM HISTORY IN 100 WORDS
Let's go back to the beginning, we do need to. The start date is then 1999, with the SV650 naked-roadster thing and its sibling with the clip-ons and half-fairing. The V-Strom 650 appeared five years later, taking ostensibly the same motor (by then well-proven both in terms of performance and bulletproof reliability) placing it in a surprisingly up-spec alloy beam frame, then adding slightly longer (not so up-spec) suspension, a 19"-17" wheel combination, a sizable 22-litre tank, high bars and a fairing. It wasn't the prettiest looking thing you ever did see, but as Suzuki suggested in their scattergun marketing, it was kind of a sport-enduro-tourer do-all machine.
The enduro bit has been viewed with some suspicion here in the UK, but then we ride in thigh-deep mud for ten months of the year, but elsewhere – where the soil dries and they have mile upon mile of unmade road – you could find V-Strom 650s sporting town-and-country tyres kicking up the dust and even sliding the corners as they powered over the world's gravel-roads. It has for many been a de facto adventure bike.
Okay, we're over the 100 word limit for this potted history, but we'll continue. So over the years, bliss – Suzuki have had a surprising bestseller on their hands and so (as you do) they haven't messed with it. After all it was fuel-injected from the start, so no immediate emissions issues there, and at 194kg (dry), while heavyish, it was quite acceptable given the use and terrain it was shown.
When the revamp did come in 2012, it was on the surface more of a restyle, for the performance didn't change, neither did the weight, and if you read the spec sheet nothing looks different. But in fact the motor had been significantly revised, this was now the same spec as the new Gladius model and so featured new cam profiles for more mid-to-low punch. The valve springs were now single springs, not double, apparently reducing mechanical noise. A redesigned crankshaft and primary drive again reduced noise and enhanced smooth running. There was a thicker clutch cover reducing mechanical noise still further (you can see these were again noise emissions regulations being dealt with), then Suzuki added a liquid-cooled oil cooler while the clutch actuating mechanism changed to cam type.
The motor was, significantly, now even more economical and this allowed for a reduction in the tank size to 20-litres and while some owners bemoaned that change, it did allow a narrower width through the mid-section of the bike, which us dirt bikers know is very useful when it comes to riding off-road. The new bodywork was far swoopier than of old, almost making the V-Strom look sexy (yeah, almost) but dynamically it was an upgrade to the suspension – now much firmer – that together with the more sprightly motor helped breathe new life into the old formula. All this topped off with a new instrument set which was suitably up to date, with extra functions including two trips, fuel consumption, ambient temperature and clock. Ooh, nearly forgot, the 2012 model also heralded the fitting of ABS to the V-Strom's braking system.
The 2012 revamp is important to us, then, as it sets the V-Strom up for this latest development – into a proper adventure bike.
HELLO XT!
So here we are in 2015 and shockingly 11 years after its introduction the V-Strom 650 finally gets a proper adventure up-spec. Actually, given the 'Adventure' accessory pack Suzuki have marketed with the existing model, we've already been very close to full-spec. But with the XT we're getting the essentials in the base model.
Suzuki list the differences as the wire-spoked wheels, alloy sump guard, crash (or rather, less bleakly named 'accessory') bars, injection-moulded hand guards and the, er, 'beak' that projects under the headlights. Not the longest list of modifications and if we're honest the only real new – and significant – mods there are the wheels.
The wheels speak of authenticity, though, being essentialwhen it comes to real adventure bike spec. Cast wheels are just fine, but when it comes to slamming into rocks, deflecting off tree roots, absorbing the percussion of corrugated gravel roads, then you can't argue with the strength and practicality of a traditional wire-spoked wheel. Made by DID, the spokes lace into the rims via two central raised flanges, so allowing the fitment of tubeless tyres (in this instance Bridgestone Trail Wings). Smartly finished they are too, the anodised black rims offset by the 32 gleaming polished steel spokes with fancy paired lacing – certainly fit for purpose.
The other mods? The alloy sump guard is also an adventure-must, and is vital on a bike like this with its alloy beam frame (very nice too) but no lower frame rails – and not only the exhaust but the oil filter projecting proudly out the front of the engine. The guard is a three-piece unit but looks substantial enough. The 'accessory' bars we've seen before (within Suzuki's accessory packs), and given the almost inevitable topple-overs in off-road they are essential kit, too. The hand guards will deflect rain and the cold breeze but have limited scope as real bush or crash protection. As for the beak (and this one is truly bird-like), well, that's a tip of the hat to Suzuki's brief dalliance in the Dakar Rally, back in 1987 when no lesser god than double world motocross champion Gaston Rahier competed on a modified Marlboro-backed DR750 ('Dr Big' as most know them) – complete with beak.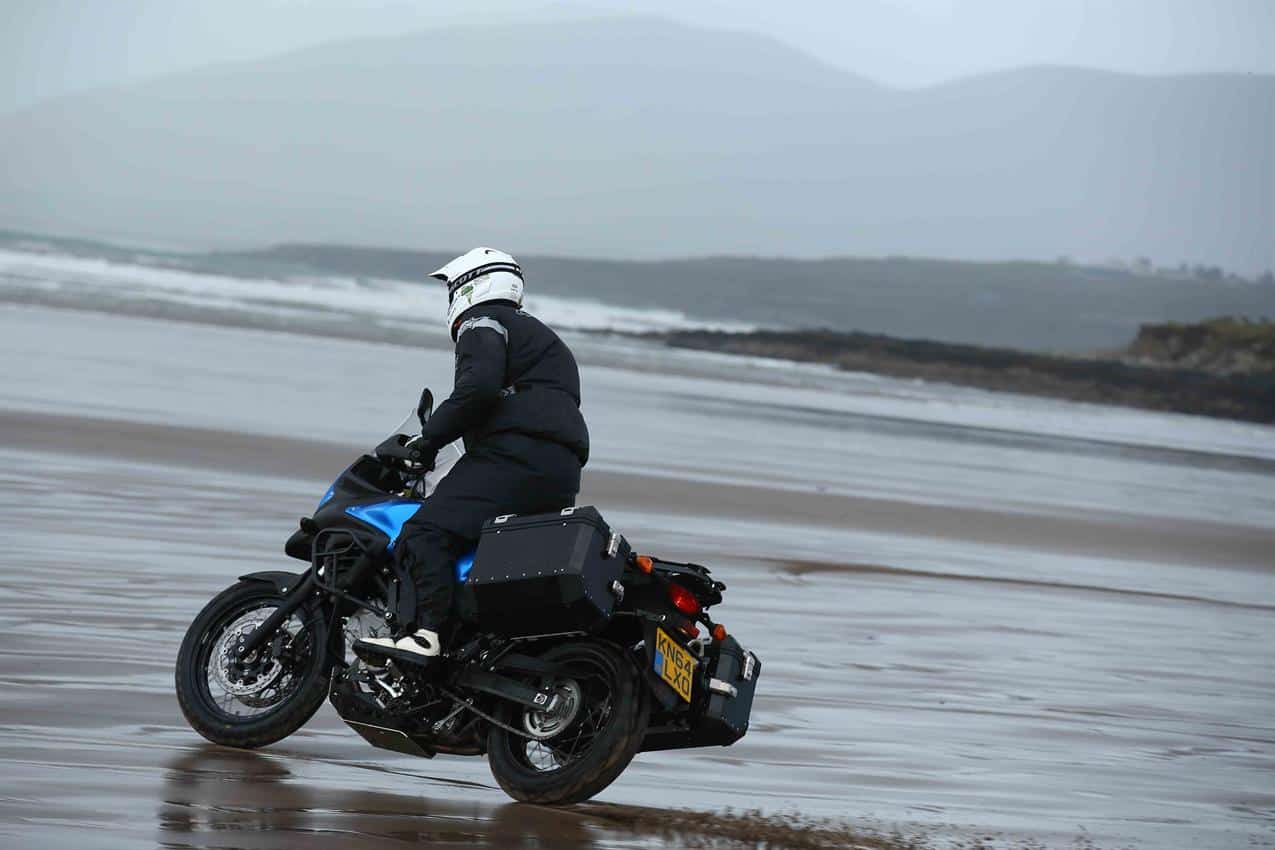 ON THE ROAD
You can tell why the V-Strom 650 has been so popular almost the moment you start riding. It's a very easy bike to operate, and with a real duality in both low and high-speed capability it's a strong performer all the way. The vee-twin motor has become a classic, it's torquey when compared to equal-capacity three and four-cylinder alternatives, but it also has a free-revving top end. Anywhere between 0 and 115mph it's performing sweetly, whether you want fast or slow. The motor creates minimal vibrations and even the gearbox is super-slick, no fuss. You can chunter the motor down to 1500rpm in fifth gear (of six), probably about 20-25mph, and it will pick up from there with not so much as a cough (try that with your 650-single). Equally, batting along at 9-10,000rpm through the gears it's easy to get a serious bit of speed going. Incidentally, the motorway cruising speed of 70mph equated to 5200rpm in sixth gear – that may sound busy, but the vee-twin motor begs to deceive, it actually feels quite relaxed.
Our test route was a loop known as the Ring of Kerry, about 110 miles of roads and lanes that wend around the edge of a rocky outcrop of south western Ireland that reaches bravely into the North Atlantic. Actually we took a diversion off that route for a bit, along the Gap of Dunloe, to find even more dramatic and challenging roads, these being the narrowest lanes through the harshest of valleys with plenty of grass and shingle under tyre to catch out the unwary. A wintery gale then added hailstones then snow into the mix, adding to the sense of adventure.
While the riding wasn't super-challenging, this was certainly adventure terrain of sorts being so stunning, and given the gale-force winds and the precipitation this was a wild environment to venture through. Most bikes would be okay through this, if we're honest, but the XT still shone, for it asks so little of the rider. The riding position is suitably upright and relaxed, the fairing does a fair job of deflecting the worst of the elements and with a steady-away 65hp on tap the power isn't menacing. You can relax and simply take in the wonder of the location.
The feel of the bike is more 'taut' than expected. This is apparently an improvement over the earlier model, and its noticeable that the XT doesn't pitch about on under-damped under-sprung long travel suspension. It stays firm, allowing as much 'attack' as you want to apply without getting wayward. The suspension is mid-spec in adventure terms. It's made by Kayaba which is a positive in the first instance. The forks are 43mm RWU units, the rear is monoshock. Travel at 150/159mm respectively is in the middle ground between road and trail; for example a Yamaha XT660Z Ténéré offers 210/200mm while a BMW F800GS has 230/215mm, whereas the new breed of road-only 'adventurers' like Yamaha's Tracer MT-09 sits on 137/130mm. So the suspension is mid-length and commendably firm and yet fairly plush in road use. However it is adjustable for preload only, with screw-in adjusters on the fork top and what looks suspiciously like a knob stolen from a GS BMW for easy adjustment (by hand) on the shock.
The fairing is pretty decent. It's missing the instant adjustability on screen height/angle as found on the V-Strom 1000, but given five minutes with an allen key you've got a range of 42mm of adjustment. I left it as standard (too cold to fiddle with tools) and for the speeds we were doing it was just fine. The seat is pretty decent too. It's apparently better than the old seat, and it certainly feels nice and firm – especially appreciated off-road – but I did get a little uncomfortable after about the 100 mile mark (despite stops). That said I get uncomfortable on most bikes at that distance, maybe I'm just a bit soft.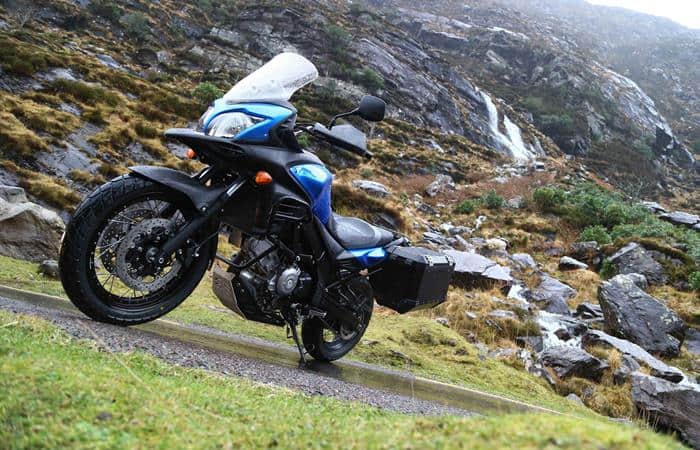 AND OFF-ROAD
Now this test didn't afford much in the way of off-road testing. But there was some at least (in fact still more than a lot of adventure launches allow). So at one point we took off down a lane and ended up on a beach. The first section was all rocks, boulders and pebbles (wet of course) and despite first reservations the XT rode them sweetly enough, all feet-up, very much like any trail bike. Then we hit firm sand and we could play at skids. Again it was pleasing stuff, you could get your weight forward enough and the bars were high and wide enough for a regular off-road standing position to be adopted so you could steer from the front in a traditional way. The gearing was road-high, though, and I noticed I was doing most of my play in first gear, trying skids (you know, power slides) in second gear called for more commitment in terms of speed and technique and you could tell greater damage would result if you made a mistake.
We crossed a very shallow stream at one point, no real issue there, but if you're used to wheelying off banks and popping the front for the far bank (enduro style) that's not so easy to do with the XT. Like most bigger adventure bikes there's just too much weight and not enough instant snap to do that, so you need to adopt a more pedestrian crossing technique. The suspension wasn't sacking-out, but in reality we weren't doing too much to test it. At the very least the XT was riding as well as any middle-to-big adventure bike in the conditions, and as much as when road-riding it was proving very easy to get on with and quite confidence inspiring.
The foot pegs are well placed – not too far forward as you can find with road bikes – but, alas, of a road type. A set of serrated type (with inset rubbers) would have been the better call. Likewise the gear change lever is a non-folding type and just a little too exposed for practicality (when ridden off-road). The handlebars are unbraced and of a bend that looks susceptible to bending given a fair drop so will probably want bracing or changing if you're getting serious with off-road riding. The tyres are essentially cut-slicks but they didn't do so bad on the rocks and sand all things considered. So in all, for serious work you'd want to implement a few up-specs.
Regarding the wheel sizing, we think Suzuki have taken the right approach in choosing the 19" front. You may recall that other middleweight adventure twin, the Honda Transalp, started out with a 21" front before downsizing to the 19-incher at its last revamp. There's something to be said for this size wheel, it works far better on the tarmac, allows for the safety of the tubeless tyre but has enough bite and capability to go decently off-road – not exactly to Dakar-winning speeds, but plenty good enough. For 98% of owners this is probably the best spec.
Ultimately the V-Strom XT's off-roading will be limited by its ground clearance. At 175mm this is not very much – a lot less than (say) the Yamaha XT660Z Ténéré's 260mm. The difference is in the suspension travel – the Ténéré offering 9-inches (in old money) to the V-Strom XT's 6-inches. So yes, for green lane riding you could find easier bikes to ride. Given the serious ruts many green lanes suffer (can I point accusingly at those nutters with their super-aggressive modified 4x4s, and winches? I really want to…) the V-Strom XT is going to struggle, even with wire spoke wheels, knobblies and a bash plate. But on less-abused, better-maintained green lanes it'll be as much fun as any bigger adventure bike and should cope well. It's actually quite cool that it doesn't look as aggressive or imposing as some bikes do and it's suitably quiet, so it shouldn't cause any offence.
DEFINE: ADVENTURE BIKE
Of course, how highly you might rate the V-Strom XT depends on how you view adventure bikes. They can of course be anything you want them to be. If we're talking Nathan Millward (recently featured in RUST), then arguably his Honda CT110 postie bike is an adventure bike. If you were me in Canada riding the BMW GS Trophy last September then we're talking nothing less than a top-spec BMW R1200GS complete with oodles of crash protection and knobblies.
So the V-Strom XT pitches somewhere in the middle. It's a seriously accomplished all-round performer and ultimately does exactly what an adventure bike should – offer you a low-stress platform from which to observe the world. There are bigger, faster adventure bikes, but if we're honest with ourselves we'll concede most of the additional benefits they boast are non-essential – more about bragging rights than real-world practicalities. There are also lighter, more agile adventure bikes, but as much of adventure isn't about racing around like a Dakar hero – we're simply riding un-made roads, not Hawkstone Park – then how much of their mile-high seat heights and enduro-spec wheels etc do we really need? The XT does, then, tread the middle ground. And that's quite a brave thing to do, for it doesn't write headlines.
What is even more creditable is that the buying public have been responding – which surely must be poking a pointed one up the rear-ends of the marketing types who extoll 'more' and 'bigger' as better. Plenty of people are clearly quite prepared to say '68hp is enough for my purposes' – and all power to them. How many have been patiently waiting for the XT's adventure upgrades remains to be seen, but here at TBM we certainly feel the need to applaud Suzuki for making it. If you serious analyse what you need in an overlanding round-the-world adventure bike the V-Strom XT pretty much fits the bill. Comfort, capability, reliability – it's all there. Only now when tarmac turns to gravel you can really cut loose, or at least enjoy the road-less-travelled even more comfortably and confidently.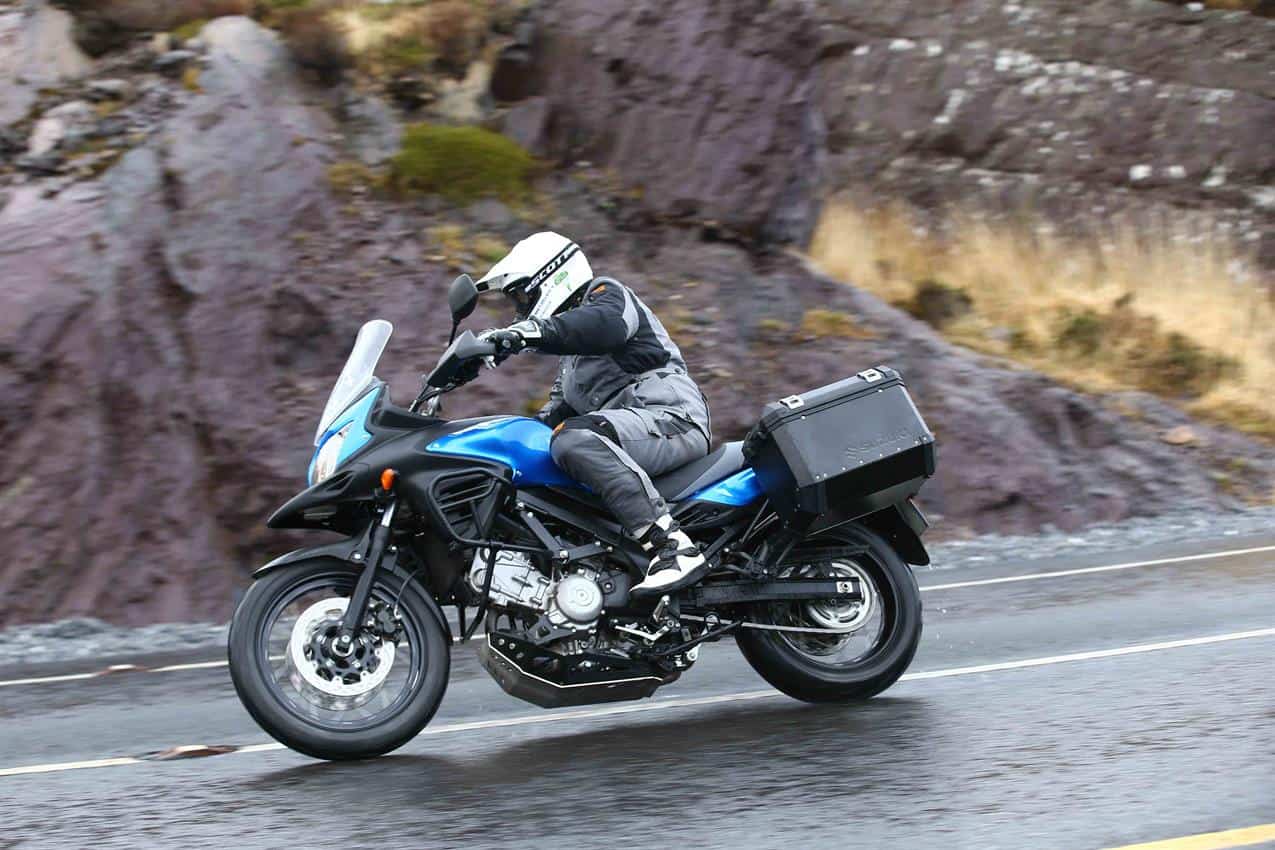 2016 SUZUKI V-STROM 650 XT
TECHNICAL SPECIFICATION
Engine 645cc, 90º V-twin, liquid-cooled, DOHC
Power 68bhp @ 8,800rpm
Torque 60Nm @ 6,400rpm
Transmission Six-speed, chain final drive
Fueling Fuel injection
Chassis Aluminium twin spar frame
Suspension Front: Kayaba telescopic forks, 43mm, 150mm travel
Rear: Swingarm, Kayaba monoshock, 159mm travel
Brakes Front: Twin 310mm discs, Tokico calipers,, ABS
Rear: Single 260mm disc, Tokico caliper, ABS
Tyres Front: Bridgestone Battle Wing 110/80R19M/C (59H), tubeless
Rear: Bridgestone Battle Wing 150/70R17M/C (69H), tubeless
Dimensions
Wheelbase 1560mm
Width 835mm
Height 1405mm
Seat height 835mm
Ground clearance 175mm
Weight (wet) 215kg
Fuel capacity 20 litres
Colour Metallic Triton Blue, Candy Daring Red, Metallic Mat Fibroin Grey, Pearl Bracing White
Price £7499 (UK – 2016)