WHATEVER HAPPENED TO THE KTM 690 ADVENTURE?
The obvious successor to the 640 Adventure model and the bike that never was. We look back at the 640 Adventure and ask is the 690 Adventure about to launch…?
It's the question we hear again and again – and we constantly ask of KTM: when is the 690 Adventure coming? We've only been waiting eight years, surely it must be due some day soon? Of course KTM's answer is always the same… there will be no 690 Adventure.
And that's a curious stance. Adventure motorcycling has never been more popular than it is today, the internet is awash with round-the-world-on-a-motorcycle blogs. There are countless tour companies who'll guide you on a little desert-seeking adventure down Marrakech-way and – if you've got the money – take you all the way east to Ulaanbaatar.
And yet KTM – always the most innovative and adventurous of manufacturers – refuse to make us a mid-size production adventure bike. And that's all the more galling because that's exactly what they did do for the decade from 1997-2007. How fondly we remember the KTM 640 Adventure, and how richly we covet the remaining examples (we're talking premium values as a second-hand purchase).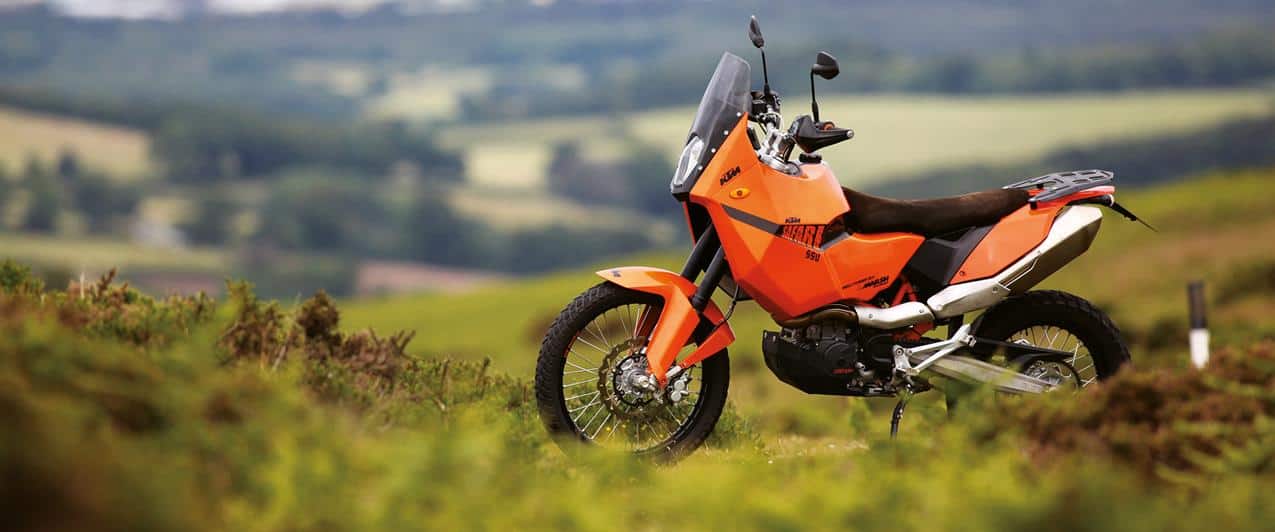 Where It All Began
Okay, let's turn the clock back to 1997. We're only three-to-four years after Stefan Pierer's acquisition of the ailing Austrian marque. There's a new impetus, new money, and KTM are developing new machines. In enduro the GS models have now become EXCs, there's been a first dip of the orange toe into the road bike market with the Duke, and now KTM are adapting their water-cooled four-stroke single, the LC4 – formerly a big-bore enduro engine – to trail and adventure duties.
The LC4 motor was already ten years old in 1997. Having first seen service as a 'Hard Enduro' powerplant ist competition heritage was extended in to rally-raid use. Heinz Kinigadner had been campaigning a rally version in the Paris-Dakar and while he'd taken the odd stage win he confessed his (world championship winning) motocross background didn't give him the ideal temperament to last the full distance. In fact, from his seven Dakar starts he didn't finish one. Full Gasssss! There had been some successes mind, including victory in the 1993 Atlas Rally and in the 1994 Pharaohs Rally.
By 1997 then the LC4 was well developed. Certainly KTM had ridden it hard into some of the toughest arenas, and so when they chose to enter the adventure market – still called 'big trailies' at that time – they delivered a machine that was way more rugged than had previously been offered. Bear in mind we're at a time that is over a decade after the height of the first Paris-Dakar replica fad, when the likes of Yamaha's XT600 Ténéré and Honda's XL600M had brought long travel suspension and super-size fuel tanks to high streets all over Europe. KTM followed in the spirit of those machines, but brought its own unique added-extra – the no-compromise competition-based motor. 'Only the essentials' was KTM's claim at the time. The Adventure wasn't a toy, wasn't a road bike in fancy look-at-me clothes, this was – KTM said – a bike for the hardcore enthusiast.
And that hardcore nature was evident to even the most casual of observers. With 280/330mm of suspension travel and a lofty 930mm seat height this was pukka enduro-rally spec. Those were 50mm WP forks, and the wheels – yes, proper 21/18in sizes – were built to take hard knocks. It had all the look and much of the spec of the proper rally bikes but with road-adventure modifications. That meant an electric start; a much heavier subframe to take not just a pillion but luggage too (load capacity is listed as 220kg); and of course instruments: mirrors, indicators (even a 12v outlet on the dash, ready to power a GPS) – all of that stuff requiring a higher spec 200W alternator.
But the four-valve, SOHC, single cylinder motor was still based on that original race engine and that meant that despite the addition of a balancer shaft, it still vibrated like a jackhammer. Such vibration could have been seen as a weakness, but in fact the motor was built strong, with a roller bearing crank, needle bearings to the con-rod and bronze bushings through the top end. Oil capacity was a healthy 2.1-litres and with two Eaton oil pumps this meant oil changes could be extended to 5000km (3000 miles), and many owners would extend that! The competition origins of the motor weren't totally hidden, like many hi-compression singles it struggled to pull cleanly below 3000rpm and would need to be wrung out to 8000rpm to find max power (the red line is 10,000rpm), around 49hp, which with a wide-ratio five-speed box would be about 105mph – if the vibes hadn't defeated you by then.
Ready to Roam
If KTM's enduros were ready to race, the big 640 was certainly ready to adventure. The giant tank – with 700km range – was perhaps the biggest attraction for many. But as well as that KTM's neat fairing that integrated with the tank addressed that second issue for overland travellers – a decent screen (wind on the head and chest becoming tiresome after months in the saddle). The wheel sizes and quality were enduro spec too, even the stock tyres were a good match for overlanding. It was simply a matter of adding touring cases or bags, plugging in the GPS and probably strapping down a seat softening device (sheepskin or air-seat) and off you go. Albeit after you'd spent a couple of nights working through every fastener with thread-lock.
Below left we have some strategically leaked 'spy' shots…
With the design being based on KTM's rally bike it's no surprise a few did become rally racers too, some masquerading as 660Rs, KTM's official factory-built rally machines. The rally bikes used bored and stroked versions of the 625cc motor and made a healthy 65hp so were considerably more energetic. There were plenty of other mods besides, not least the three fuel tanks which gave a monstrous 11.6 gallon capacity, requiring further strengthening of the sub-frame. The geometry was slightly altered too – probably for more stability in the dunes – and a steering damper helps.The 660R in fact only registered the one Dakar win, in 2001 with Fabrizio Meoni, but it's a special one for KTM as it was their first – and they've not been beaten since. The 660R are rare beasts by the way, KTM making around 40 each year and a fair few were destroyed in the deserts.
The 690
You can see how the introduction of the 690 in 2007 dealt with so many issues. Given that the 640 powerplant was by then, essentially a 20-year-old engine it was well overdue for replacement. KTM also needed the latest emissions requirements to be dealt with at the same time. So the fuel-injected 690 motor did the double, offering 66hp (that's 660R power), a useful six-speed gearbox, cleaned up emissions and – at last – release from those crippling vibrations.
The curious issue, though, is the 690 has only ever been delivered in trail bike trim – listed under 'enduro' not 'travel' in the KTM catalogue, and so only with a modest 12-litre fuel tank. It's also only ever been delivered with trail-spec suspension, with just 250mm of travel front and rear (not the full 300mm/12in spec of the old Adventure), which has meant a more modest 280mm ground clearance (which could have been worse if the frame had been a conventional twin-loop design rather than the trellis type that's been adopted).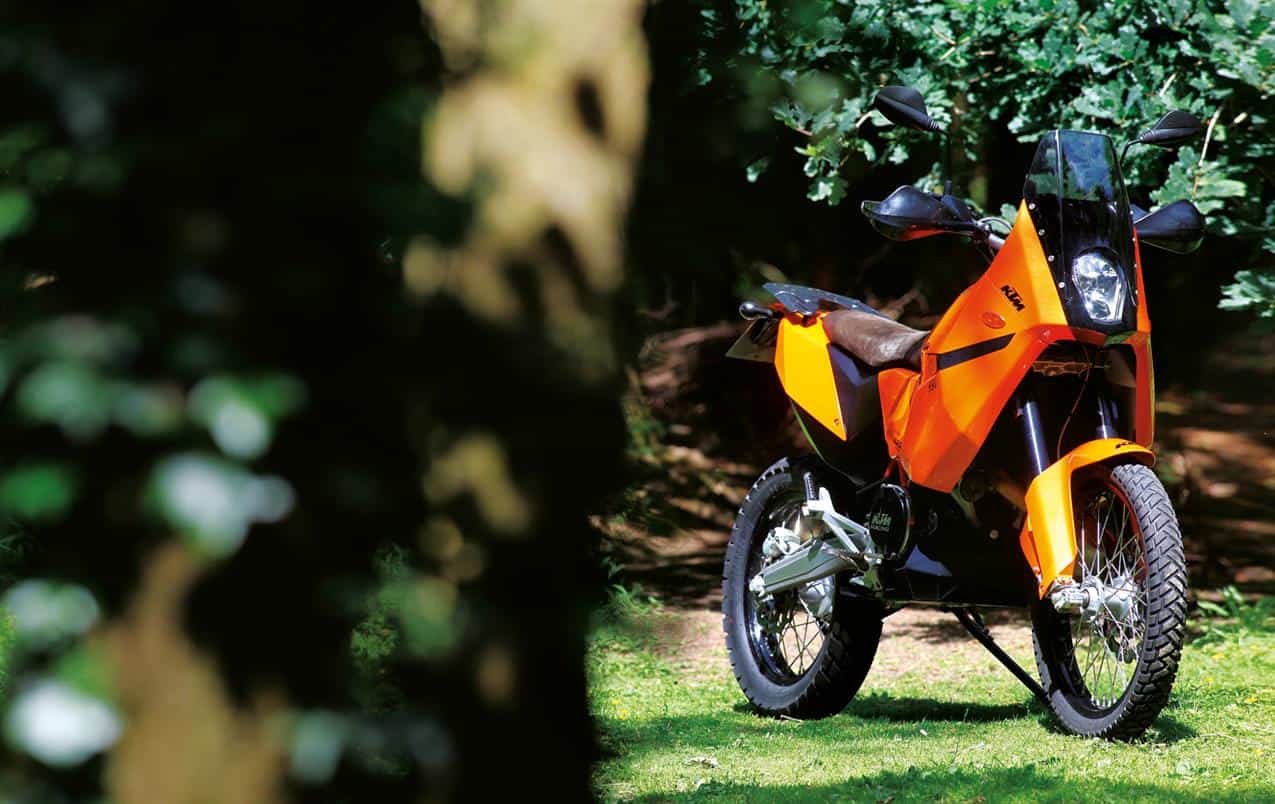 And despite repeated requests from customers, dealers and magazines alike, KTM has consistently refused to upgrade the 690 to full adventure spec. Today if you want a single-cylinder mid-size KTM adventure bike then it's the aftermarket you turn to – which seems strangely at odds with Austria's ethos of marketing 'Hard Parts' to existing customers. With the fuel tank now under the seat (very BMW!) the after-marketeers use clip-on tanks (typically 2 x 5-litres) in the conventional top-of-the-frame position to stretch total capacity to 22-odd litres. You'll need to be speaking to the same crew for a fairing too. Best example of such stuff are the excellent British-made Rally Raid kits, only you'll need around £750 for the tank kits, plus another £1500 for the fairing. That's right £2250 or thereabouts, then add £7799 for your 690R. So you can understand why certain individuals really want to see KTM to build a 690 Adventure.
Will there be one?
So here's the crux of the matter. Can we expect KTM to ever produce a 690 Adventure? Despite asking this question of them four times a year for the last eight years, we asked the guys in Mattighofen once again to address this conundrum. KTM's off-road product manager Jochi Sauer was uncharacteristically quiet on the subject, but we caught up with KTM's public relations manager Thomas Kuttruf and he had this to say.
'KTM's current LC4 strategy and model line up is based on two different chassis-fuel tank-airbox platforms. Street (Duke) and Offroad (Enduro-SMCR). A proper 690 Adventure would require a third platform layout to achieve the combination for a powerful, off-road capable long distance machine (big fuel tank). Considering the effective market figures and sales volume to be expected, this huge effort to create an all-new LC4 package, unfortunately, can't be justified.'
And there the matter lay until in February this year the internet came alive – and not for the first time – with 690 Adventure speculation. The difference this time being a selection of 'spy shots'. Hopefully, like us, you're pretty sceptical about so-called spy shots. For instance in this example our spy was able to arrange himself nicely for a low-level shot of a cornering 690 development machine, then jump into a car to snap a neat tracking shot (where car and bike travel in tandem) before hanging around for an evening shot of the bike, while also being present for a convenient KTM and BMW F800GS double shot. Even MI5 can't maintain that level of surveillance undetected.
Anyway, the 'spy shots' or factory leaked images as we like to call them are significant. For if you study them you'll notice almost immediately this bike has the third platform layout exactly as Kuttruf alluded to. That is not a trellis frame as appears on the 690 but a kind of hybrid trellis-spine arrangement. And with that front down tube there's an obvious mounting point for a big fuel tank. The underslung exhaust is also another design element we often see on adventure models – leaving more space for the big tank. There's also something fishy about the subframe. As we know, on the 690 the subframe is also the under-seat fuel tank. But that's not so evident here – it seems slimmer – and we have to ask why the temporary little fuel tank on the top tube of the frame?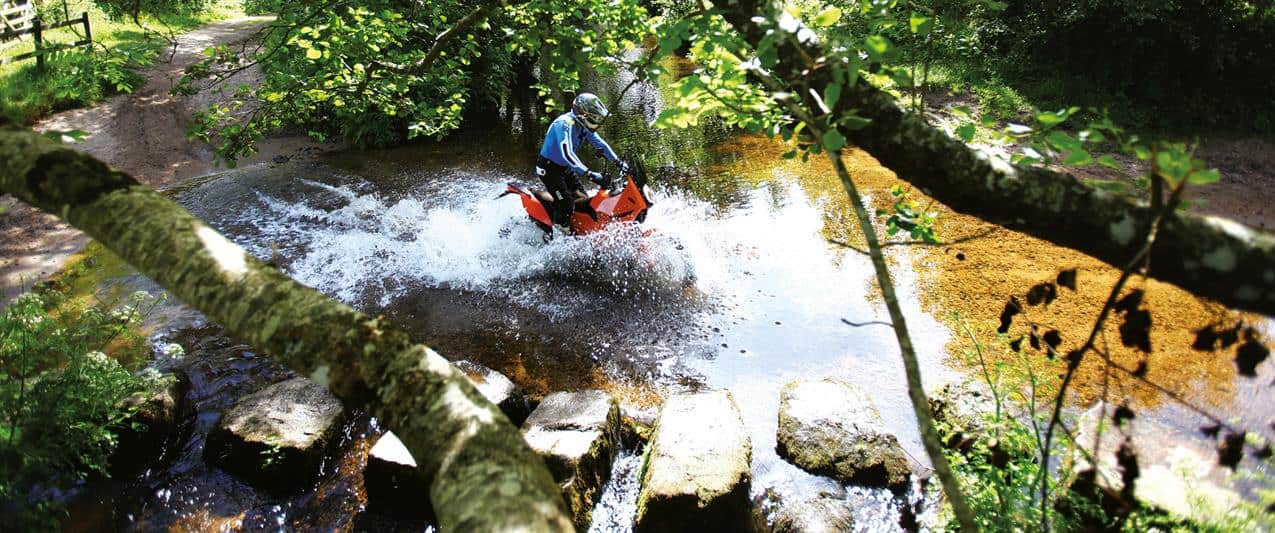 We can study the images in ever greater detail, but two elements of significance can be drawn from the wider picture. Firstly, KTM are evidently riding the bike back-to-back with a BMW F800GS – an adventure bike of some note, probably the benchmark for this sub-1000cc category. And secondly, if we study the corner shot what do we notice? Look beyond the bike and we'll notice the Austrian countryside is in full bloom – which would put the time of the photograph back to probably summer 2014.
Put all that together and what can we deduce? Well nothing for certain, but you could be forgiven for thinking that KTM are in fact developing a new single-cylinder adventure model and given the timeframe evident here we can properly expect it to arrive this year!
Of course they can deny that a 690 Adventure is coming because we're asking the wrong question. Maybe we should ask, 'are you developing a new single-cylinder adventure model?' Because maybe this machine won't be called a 690, but instead a 675, a 695, or a 705?
And when you look at the bigger (global) picture: Honda and KTM are at war. They've been in a bitter battle in Moto3, with a fair bit of mud slinging, and that's spilled over into a battle in the Dakar. And we all saw the prototype 1000cc twin-cylinder adventure bike Honda's taken to every international bike show this winter. Can you imagine KTM taking that kind of grandstanding lying down? No, that's not in their nature. So be ready… there's almost certainly a new KTM / Husqvarna single-cylinder adventure bike on the way… And if anyone asks, you read it here first, in RUST!
To read the full feature click on one of the links below…
Read full article in RUST – Issue 7 or download as a pdf here