Yamaha – just quietly – have a new two-stroke enduro. You might recognize it. 'Old dog new tricks' comes to mind, but actually Yamaha have done a more through job on this bike than you might have imagined…
OLD, NEW BORROWED & BLUE
Yamaha sure are hitting a purple patch right now. Wrapping up the 2015 MXGP title was something special, that's a nice bit of silverware to slot alongside Jorge Lorenzo's MotoGP crown – and to win the two most prestigious motorcycle racing titles in the same year, that kind of says something. And to back that up, Jeremy Martin's second (consecutive) AMA 250cc motocross title proves their 250 and 450cc four-stroke motocrossers are the cream of the crop at this time.
But that's motocross, not enduro. Only to be fair, Yamaha are coming good here, as well. Their new WR250F, launched in 2015, shares so much with the YZ250F and is without doubt a very competitive machine and has certainly set the E1 class alight. Then there's a new WR450F for this year and that's quite something, too, it just needs a rider of equal stature – being the big powerful beast that it is.
Whether any of that has any relevance to this test we're not so sure but certainly Yamaha are looking increasingly 'on message' so any time they do anything we need to take notice. So when we hear that – of all things – they have a new 250cc two-stroke enduro coming into the European market, then we need to check it out, ASAP.
Only it's not exactly a 'new' 250cc two-stroke, and not quite a full-fat WR either. And actually, for the record, it's been 18 years since Yamaha last sold an enduro specific two-stroke, the 1998 WR250 being the last. This new WR has nothing to do with that bike, understandably, instead it's another chapter in the continuing story of the long-standing YZ250.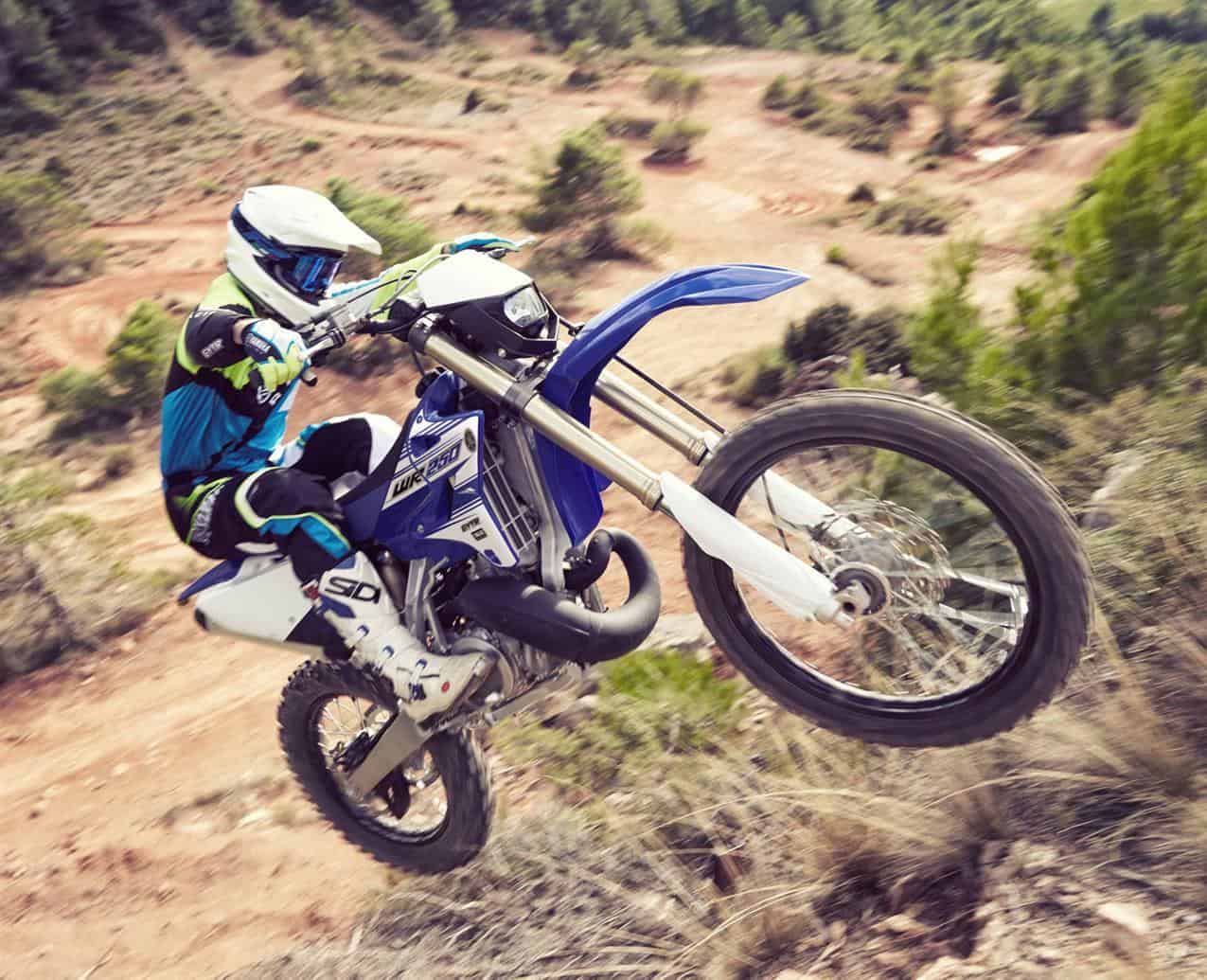 OLD IS THE NEW NEW
When we say long-standing we can call the YZ over a decade old, for it was near enough 2005 when it was last significantly updated – but we guess it suits the old saying, "if it ain't broke don't fix it!" There again, given the recent revisions to the plastics and graphics this new YZ-based WR250 actually looks surprisingly contemporary, and with the black rims it would fool all but the keenest of enthusiasts into thinking it was a brand new design.
Stage one of the WR's build came last year when Yamaha USA converted the standard YZ250 to cross-country specification. A wide-ratio gearbox to suit open tracks, then changes to the engine tune effectively softened the power, while the suspension was re-valved and finally an 18" rear fitted to suit the off-road use and appropriate range of tyres. The finished article was renamed the YZ250X and it became a pretty popular choice for the blue powered enduro and cross-country enthusiasts Stateside. Yamaha Europe have essentially taken that unit and – stage two – added a lighting kit, plus speedo and a few other items to homologate it for European enduro use.
So while the basics of this new WR250 are not too dissimilar to the 2005 YZ250, alloy frame included, you've got to hand it to Yamaha (in Japan, USA and Europe!), they've done a mighty fine job of creating an incredibly modern and aggressive looking bike. The black wheels, blue and carbon hand guards, black carbon headlight all help to create a really trick looking bit of kit.
By the way, the new LED headlight is something that has been around for a while on road bikes, but until now has not made it to off-road production lines. And it helps the new WR because its low energy requirement means Yamaha don't have to spec a more powerful, and power-absorbing, generator or lighting coil. Yet, in use, the low beam 'running' LED was brilliant when we left the open trails and rode into the relative darkness under tightly-knit evergreen forest. It ever so nicely enhanced the roots and ruts laid out in front of me.
Counterpoint to that, the biggest downfall (aesthetically at least) was the hideously large metal number plate holder which would be my first thing to replace on the bike. Not only does it look bad, I would say it could cause an injury in a fall.
A USER-FRIENDLY YZ?
In detail, there have been no less than 13 changes to the YZ250 to turn the capable motocross machine in to a woodland weapon. For starters the engine has been altered with a reduced compression ratio from 8.9 to 7.9:1. In layman's terms, that equates to a more mellow power delivery. Yamaha also altered the exhaust port timing and revised the power valve to have a longer opening and so make smoother power. The timing on the WR250's CDI unit has also been adjusted to help produce a more enduro style power curve. Finally, the exhaust has been modified to match the engine changes and is now narrower (both vertically and horizontally) to enhance torque and to help stay out of harm's way. All the changes are designed to make the power more user-friendly and tamer for the slower and more technical enduro pace.
I rode the WR on a multitude of terrain types on offer at the Yamaha Off-Road Experience, run by enduro legend Geraint Jones and his son Dylan (himself an ISDE gold medalist and Team GB team rider). And what a multitude of terrain that was! Pure unadulterated enduro heaven. Llanidloes, in deepest Wales, is very famous for its enduro heritage. Every year the British Enduro Championship hosts a round in the Hafren forest and more notably the 2008 Enduro World Championship GP of Wales was held at the Jones' farm complex. Pretty much every local you speak to loves bikes. Llanidloes/Rhayader area is to UK enduro what the Isle of Man is to proper road racing. There is everything from woodland trails, forest fire roads and technical special tests.
Dylan Jones pictured below left…
You can always count on Yamaha to provide a very comfortable and rideable chassis. I'll hold my hands up to being a big KTM fan, but as soon as I set off on the WR250 I felt at home and knew exactly what was going to happen next. It's a little different to the KTM, it's not the light-switch-fast tight-turning type of machine, but the upside is that tracks true and stable through the faster trails. The stock suspension felt perfect for a day up the mountains; I'm close to your average weight rider (80 kilos, 175lbs) and I never once felt as though it was too soft, which often is the case with stock enduro bikes. The stock handlebars were a good bend as well, and I liked the sleek-designed wraparound hand guards. I'm often wanting to change those items right out the crate but the boys in blue sure do know how to build a great handling bike, with the right ergonomics.
In fact the WR250 took me back to my youth motocross days. It's the kind of two- stroke machine you have to ride like a, er, two-stroke! Like an old school two-stroke that is. Early on in the day we decided that it was running a little too rich on its base settings, feeling as though someone had left the choke half on – the blue smoke which followed me around said the same. Maybe that was something to do with its American birthplace, but after we lowered the needle to the main jet to lean it up, the WR became a much more usable bike. Still, that being said, you couldn't afford to just tootle around all day or else you'd end up in one smoky mess and more than likely with a fouled plug. Not an experience I can recall with a modern KTM or any other modern European enduro for that matter.
Ah yes, and unlike all the modern European enduros – it's kickstart only. Of course two-strokes aren't difficult to start so the need for e-start isn't pressing and of course no e-start makes the bike lighter and simpler, too. So do we miss it? Mostly no, until the time when we stall on the hill, with the kickstart facing the hill, then we do! But given the likely range of use this bike will be put to, it can carry the omission pretty well okay.
STRONG IN THE FAST STUFF
So it was, naturally, on the quicker going where the WR250's strengths really came in to play. It's comparable to KTM's 250XC on power – not too little and not too much. While I'd love to tell you it is the bog-hopping WR you are probably hoping for, I'd personally say, despite the WR designation, the spirit of this bike is still in the cross-country racer that Yamaha USA intended it to be. The power delivery is still best in the mid to top-end range, lacking a little grunt off the bottom. This bike is screaming out for a weighted flywheel but sadly Yamaha Europe never fitted one, of course that doesn't mean you can't fit one yourself (GYTR, Yamaha's performance offshoot, list one – for a princely £206).
The gearbox has been modified, too, in essence becoming a wide-ratio box with altered 3rd, 4th and 5th gears. I found I was able to near enough leave the WR in third whilst navigating most of the trails we rode. Only on the fire roads did I ever touch fifth gear. It's not perfect though, climbing up a shaley hill, I found there was too much of a jump between second and third gear, meaning I had to be more circumspect on gear choice and the speed that choice necessitated. But going back to my previous comment, a flywheel weight would vastly improve the situation.
One other European addition to the WR is the removable side stand, handy for enduro work, and handy that you can unbolt it for a bit of motocross play (more of which later). The change to the 18″ rear is a must, of course, for when you hit the rocky stuff. That little bit of extra tyre makes all the difference, especially if you're planning on running tubes over mousses. While the WR is incredibly tooled up considering only a slight price increase against the YZ, I think the one thing this bike is missing is a skid plate.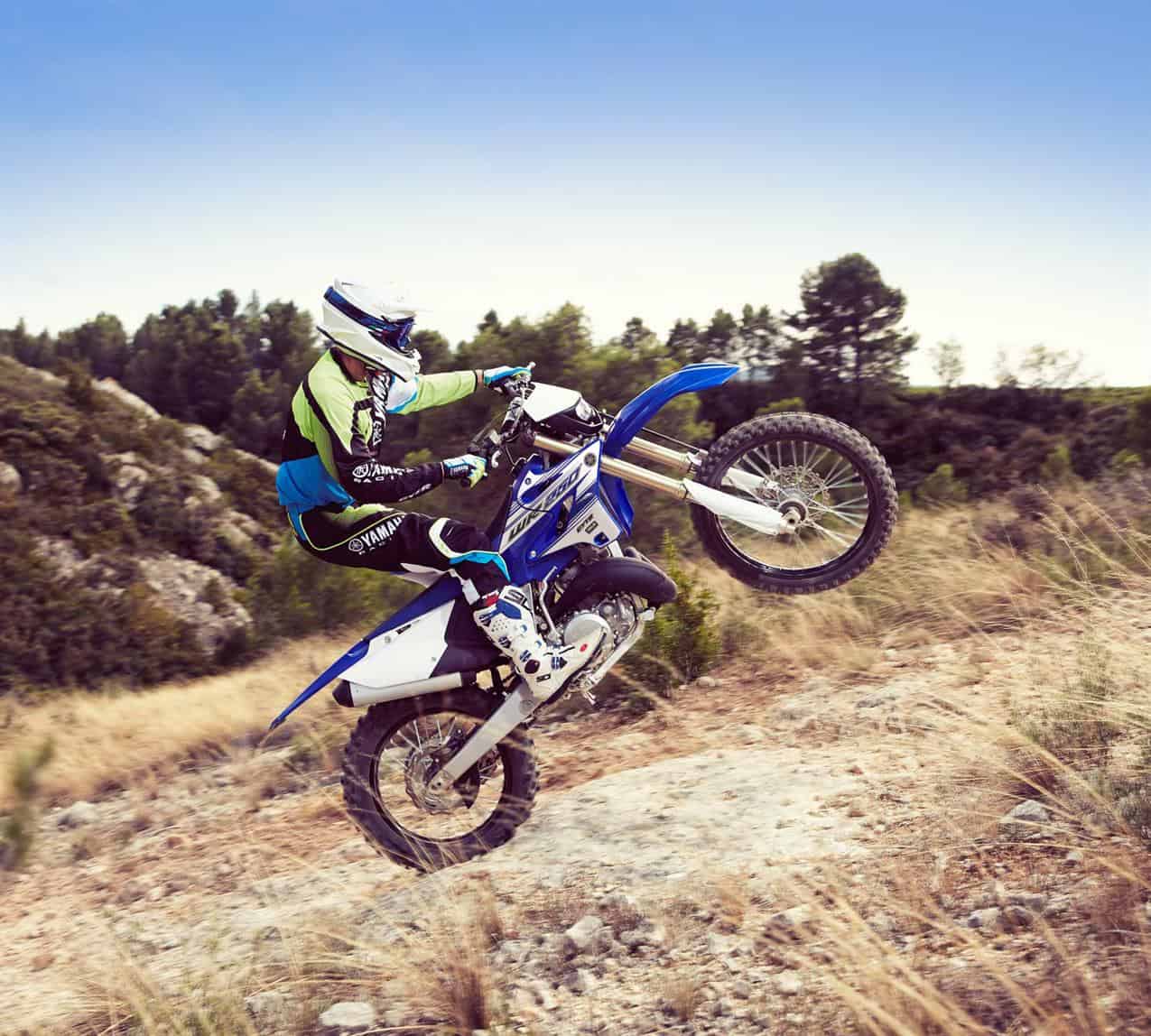 IT'S A DO-IT-ALL
Yamaha have done a mighty fine job of adapting their motocross machine to suit off-road. Yes, it's not quite a full-on enduro but this arguably no bad thing. The standard YZ250 can be quite the beast, even on a motocross track, whereas I'd suggest the softened power of the WR would actually better suit a lot of clubman motocross riders. Now you wouldn't dream of taking a 250EXC to a motocross – the enduro-supple suspension just doesn't suit modern motocross tracks, but the WR would, I suspect, do it in style. It'll do cross-country racing (especially faster open type) really well, too. The stable steering geometry of the YZ-chassis really suits flat-out stuff. And for faster expert-level enduro riders it's a good match too. It's a brilliant do-it-all machine in this sense. Okay, with its old school two-stroke (keep it lit) nature, maybe this isn't the ideal trail riding tool, but its scoring points at the fast end of the spectrum – and it stands to find a niche that for once KTM haven't yet filled. Yep, if you're a keenly competitive kind of rider, the WR250 is smiles all around. Good job Yamaha!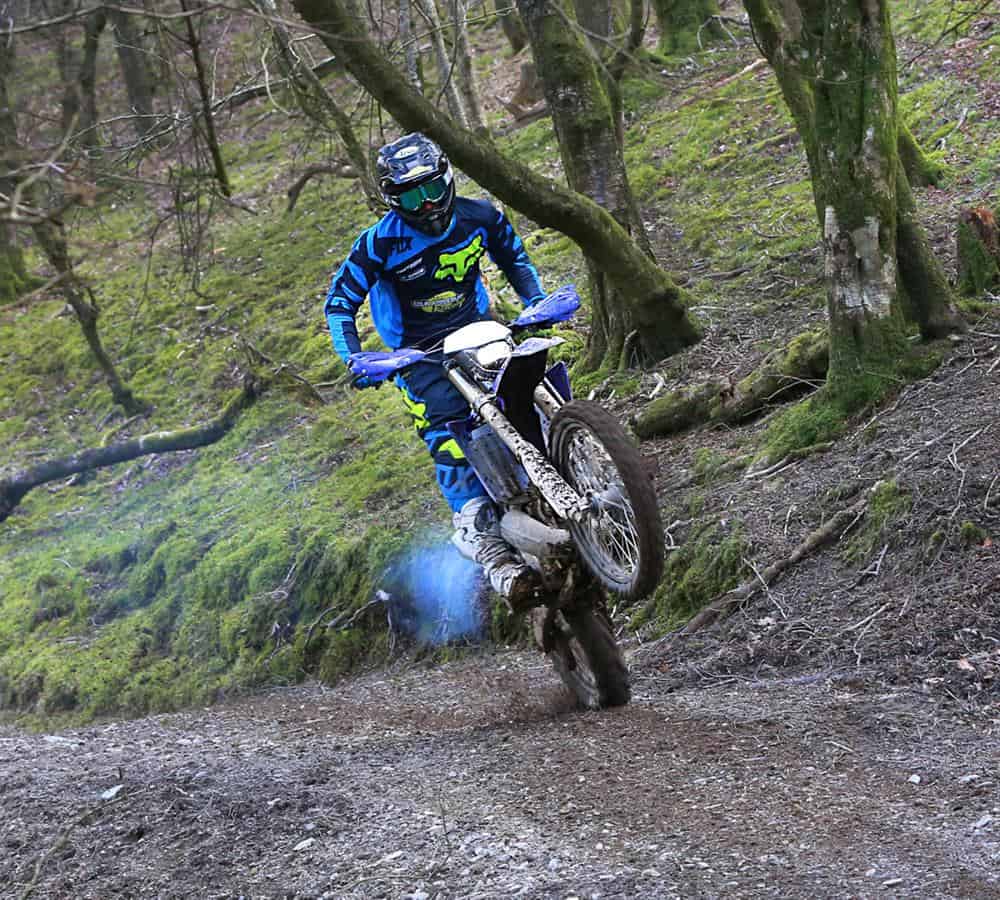 SPECIFICATION
Yamaha WR250
Engine: Type liquid-cooled single-cylinder two-stroke
Capacity: 249cc
Bore x stroke: 66.4 x 72.0mm
Compression ratio: 7.9:1
Ignition: CDI
Carburation: Keihin PWK38
Transmission: Wide ratio five speed
Frame: Aluminium cradle type
Forks: 48mm KYB AOS, 300mm travel
Shock: KYB Monocross, 315mm travel
Front brake: 250mm disc, Nissin twin-piston caliper
Rear brake: 245mm disc, Nissin caliper
Front tyre: 90/90-21 Metzeler 6 Days Extreme
Rear tyre: 110/100-18 Metzeler 6 Days Extreme
Wheelbase: 1446mm
Seat height: 976mm
Fuel capacity: 8 litres
Weight: (YZ250 103kg, WR N/A)
Price: £6749 (When article was published)
YAMAHA WR250
What's hot
It's a racer – the faster the better!
Light & simple
Surprisingly modern looking
Best YZ to enduro conversion yet
What's not
Still a bit of a handful for clubman riders
No electric start
Lacks refinement – doesn't like 'slow'
Taillight bracket from hell