Ever wondered what a modern BMW R1200GS (waterboxer) would feel like stripped down to the bare bones? Would it be adventure heaven or hell? RUST editor JB was one of the first men on the planet to find out…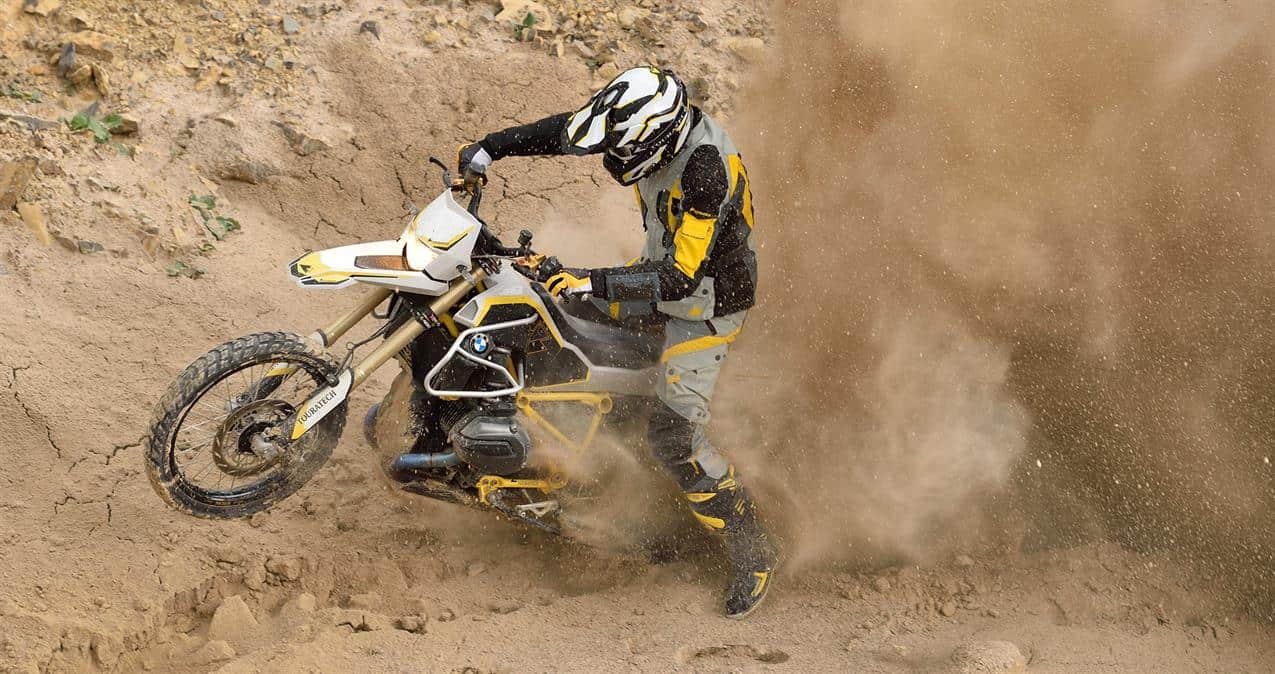 What does a 125hp sub-200kg adventure-enduro bike feel like? Potent, in a word. Certainly something to be treated with respect. Which wasn't exactly what I allowed Touratech's R 1200 GS Rambler on first initiation. A quick blip of the throttle in the small car park didn't prompt a cheeky little wheelie so much as a fairly lusty lunge – sudden and violent enough to be a whisker away from inducing whisky throttle. About a kilometre later the Rambler's power and mass was again embarrassing as I realised that trying to slow this beast down from speed, on loose pea-shingle, while riding on Metzeler Karoo 3s, was not an easy task. It kind of slides across the surface – there's none of that digging in you get with proper knobblies – it was a job not to skitter clean off the trail and into the rock field that bordered it. Which wouldn't have been a clever idea, obviously. Clearly, for a bike like this you need to adjust your base settings.
LUCKY MAN
I certainly am a lucky man, having been invited to join Touratech's CEO Herbert Schwarz (and his team) for a week riding in the Azores – on the (then) yet to be unveiled Touratech R 1200 GS Rambler. Of course I'd arrived pretty much blind, not knowing a thing about the bike or the mission (half shake-down test, half filming gig). My only instruction being to pack my own crash helmet (and a few clothes, of course) – everything else Touratech would sort.
Herbert had in fact two Ramblers with him (the only two, of course) one resplendent in his own (Touratech) corporate colours of yellow/black/grey – which it made perfect sense for him to ride – and a second in BMW Motorsport colours, which was my bike for the week. With no fact sheet at the time, it took a while to gather the technical behind the bike, let alone the ethos.
What was immediately tantalizing about the bike was the tie-in with BMW Motorrad (hence the Motorsport colours), this being something of a joint project – it turns outs out the BMW bosses were as curious as Herbert to find out what a modern K50 GS might be like if stripped to the minimum – a modern day HP2 if you like (the HP2 dates back to 2004). So while it was essentially a technical project by Touratech it was made with some input and interest from the Munich massive – prompting imaginings of a proper production model to come…
199
That was Travis Pastrana's AMA race number wasn't it? Well, it was also the target weight for the Rambler project – could the Touratech team create a K50-based adventure-enduro, fuelled, ready-to-go, that weighed under 200-kilos? Long story short, that's exactly what they have done. But not by the most obvious means.
For a start the base of the Rambler actually isn't an R 1200 GS, it's an R 1200 R roadster, chosen on account it runs telescopic forks – not Telelever – and the design team were adamant they wanted conventional (USD) forks for this high-performance project. Taking the R-route also meant a cleaner start point for a lot of other matters, too, including losing unwanted bracketry etc (the R runs without a fairing). So it's an R motor as well (which is very close to the GS in any case) but mated to a GS shaft drive. Incidentally the wheels aren't standard GS, these are bespoke jobs, with 21" front and 17" rear rims.
There was clearly a blank-paper (or blue sky, if you prefer) start point for this bike, which must have been refreshing for the design team at TT-3D (Touratech's specialist design facility) and you can see that freedom reflected in design solutions such as the self-supporting 16.2-litre aluminium fuel tank which doubles as the sub-frame that carries the enduro style saddle and rear mudguard arrangement. While behind the headstock there's a bespoke carbon-fibre reinforced plastic airbox, all made much smaller and sleeker as would befit an enduro bike. As the Rambler's never intended for series production, the design team could go as extreme as they liked. And after spending most of their year working on adventure-touring projects, you can imagine they went full-tilt!
EASY NOW…
It must have taken me at least a day, maybe two, to get to grips with the power of the Rambler. One aspect of the bike being a prototype is you are sampling it in its most raw form. The bike had come straight from the design studio, via the workshop, and so was far from fettled. This meant the 125hp was being delivered without a complete electronic package. I wouldn't say it was devoid of rider aids, but it was running on the basics, so when you twisted the throttle you were getting pretty much 100% of the potential power.
This meant the power came in with a hit like no production bike you'll ever ride. At first this made for some neck-snapping wheelie-inducing acceleration, particularly in the lower gears. That was on the tarmac, off-road this simple spelt wheelspin, massive wheelspin. With time (ie learning to twist the throttle a little less and a little slower), and with a little judicious clutch slipping to ease the transitions, we got this situation under-control, but certainly in shedding 50 kilos from the weight of a GS, that waterboxer really is unshackled. It's already considered a great motor, but like this, it seriously breathes fire – something the one-off Akrapovic (in Titanium) exhaust struggled to silence. Yeah, there's bark and bite with the Rambler.
The handling was more than good. The geometry comes from standard BMW, so it should be fine, but with fettled F 800 GS Adventure forks and a special shock (both by Touratech Suspension) the Rambler rides that bit higher that usual for a GS. On the Tarmac, riding on the Karoo 3s, this was just fine, being so much lighter than a GS you could flick it around much easier (we had an R1200 GS along for comparison) and it was a hoot in the twisties.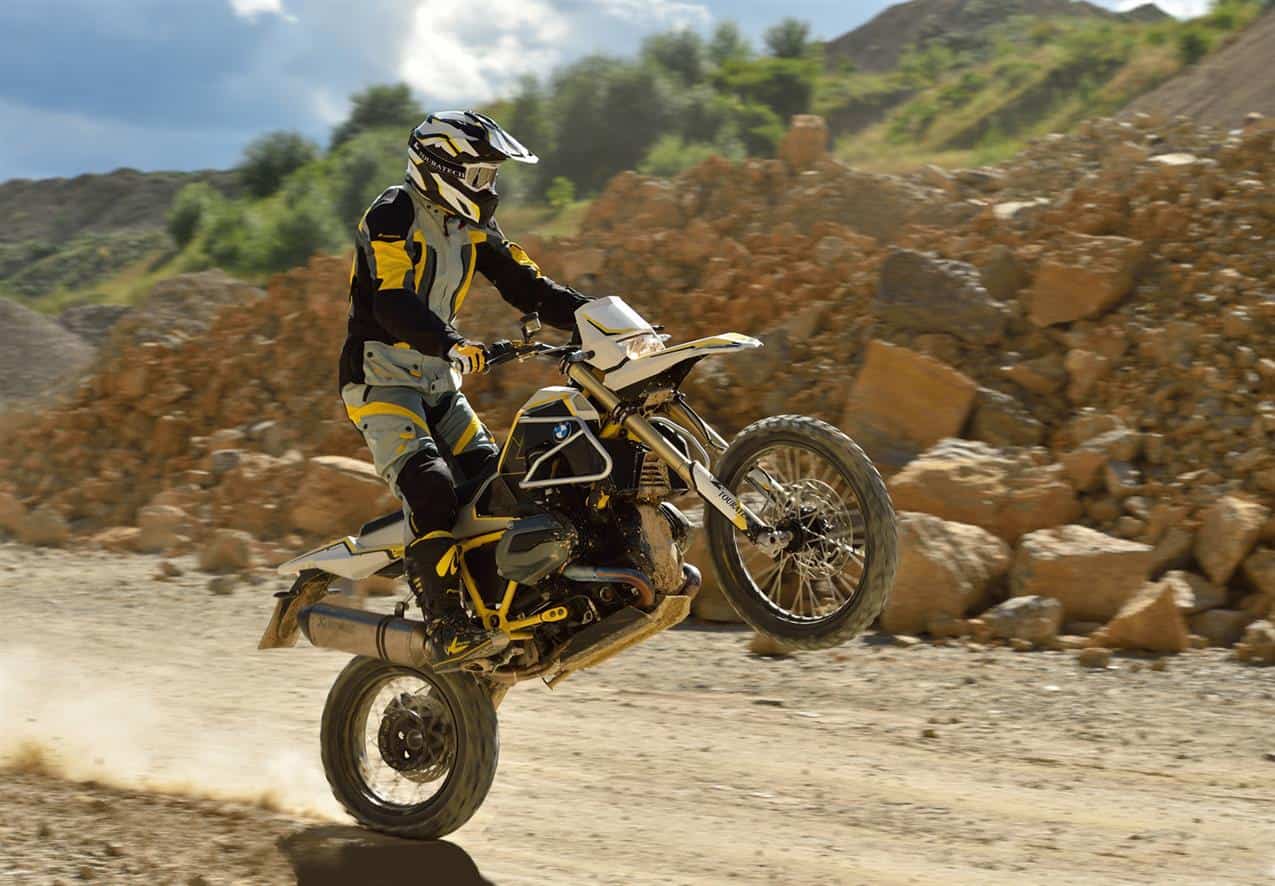 Off-road the handling remained precise, while the weight reduction made the Rambler that much more light-footed. We went through one very tight single-track (in fact a mountainbike trail) up a valley and the Rambler just flew up. It wasn't until having to walk back down and rescue the following standard R 1200 GS that it was evident the trail was perhaps a mite 'technical'. Taking over control of that bike and charging it up the remainder of the trail I was suddenly struck how much more difficult this was on a standard type machine and at one point where the trail got loose, where the Rambler had skipped lightly over, the GS nearly buried itself, pitching me over the bars – only a big handful of throttle saved the situation.
There are some caveats, here. The suspension setup on the Rambler had been a best guess by the guys at Touratech Suspension, not having worked on a bike like this before – and having no time for testing. As it was, for me, it was too firm, possibly over sprung and too firm on the damping, too. Quite possibly an ideal setup for super-fast rally racing – with a pro rider who cares not for his wellbeing – but for trail speed riding we needed more movement. Likewise in the dirt, proper knobblies – say Michelin Deserts – would be a much better match, whether in soft going or on gravel for that matter. Only on the Tarmac, with the power the way it is, you'd have to be mighty careful on those knobblies – it would be too easy to spin up and slide off.
The USD forks also limited the steering lock – not such an issue for rally competition, but not so good for trail work. But this is a common issue with USD forks on any brand of machine. Oh, and the brakes – I wasn't entirely convinced the single disc set-up was enough for stopping from higher speeds. But then there's only so much energy you can push through a 21×2.15 tyre, so maybe it's the correct fitting.
The ergos were a mixed package. The fuel-tank-seat arrangement is properly enduro-slim and makes for a narrow mid-section so you can grip the bike with your knees like a regular enduro bike. As well the slimmer profile behind the headstock (where the airbox resides) makes it easier to shift your weight front (and back) much more than you can on a GS. These matched with some Raptor Titanium footpegs gave a superior setup for 'active' riding. Both Ramblers, however, were set-up with handlebars that were too narrow and probably too low, making for a sometimes awkward lean forward, only without the sense of bracing as you get with traditional enduro bars. A minor issue, but when you're wrestling 125hp it can become a major one…!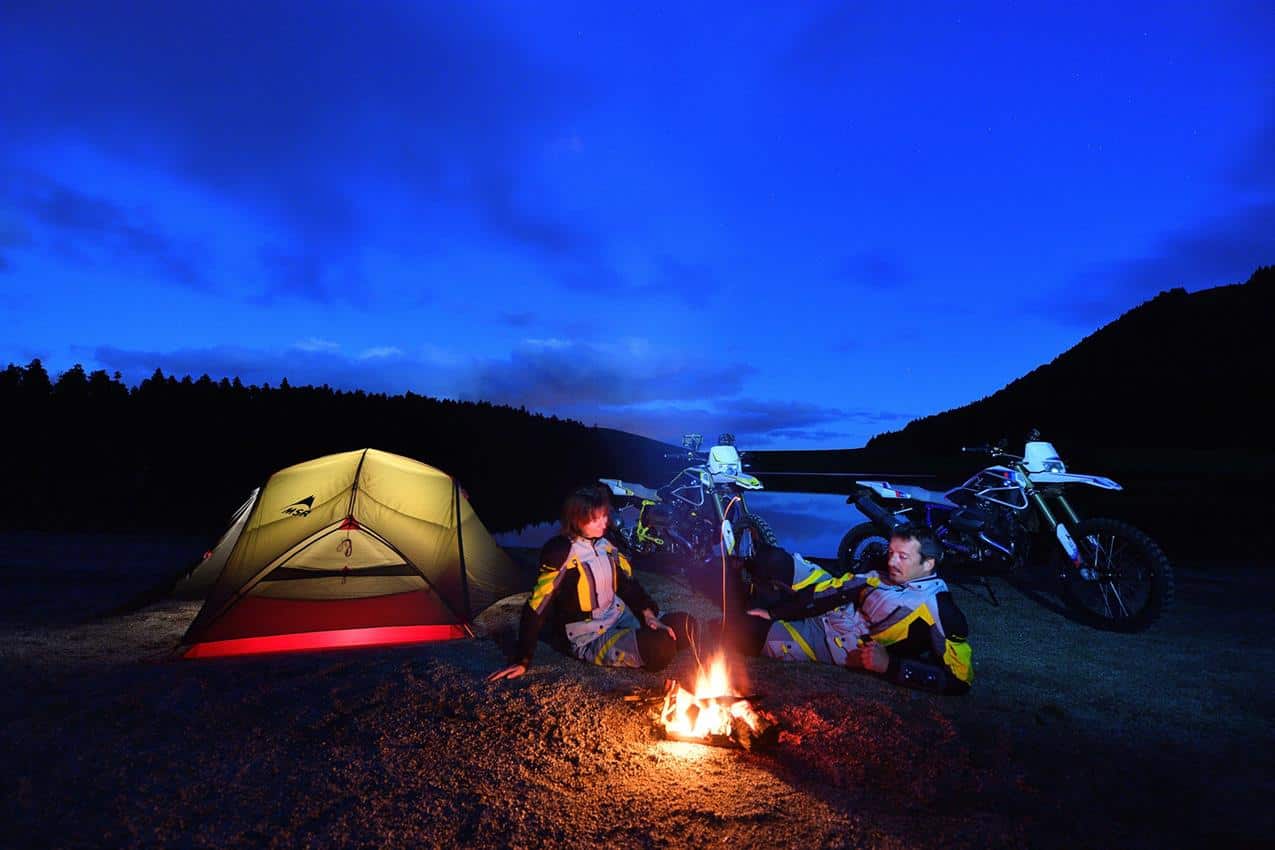 AND THE VERDICT?
The verdict already? Okay, I promised the editorial team I'd keep this story short. Anyway, a week and over 700km later, did I like or loathe the Rambler? Well, after a heart-pumping start, we did kind of settle down so that by the end of the week riding the Rambler was second nature. The lightness is very obvious, as is the power. But increasingly you come to appreciate the bike's simplicity. That enduro headlight might make night riding a bit hit-and-miss (we had a couple of late finishes) but there's a joy in the pared-back simplicity of an enduro. The whole bike is uncluttered, very singular in its focus, and that's very obvious when you jump back on a GS with all its whistles and bells.
But what I really liked was the Rambler made trail riding just that little bit freer than it might be on a GS. Where the going gets technical the Rambler has that extra 25% of dirt-capability, so you can carry on riding, just chillin' to the environment. Of course, it has an evil alter-ego – release its full potential and you could fly along off-road trails at the most improbable speeds. But heck, that really is the Dark Side – there was a reason the Dakar Rally stopped with the unlimited machines…
Yeah, call me a heretic, but if I had a Rambler, just as if I had an HP2, I'd be fitting it with panniers (slim ones, mind) and using its potential not to go fast, but to go deep (fnar fnar!). Adventure bikes have become increasingly complicated as power outputs have risen and electronic rider aids have been installed to rescue the riders from the implications of that. Plus there's been that incessant desire to accessorise with every last add-on. Big, heavy and complicated is what they've become. There's certainly space for a simplified, yet capable, machine such as this. Sometimes less is more…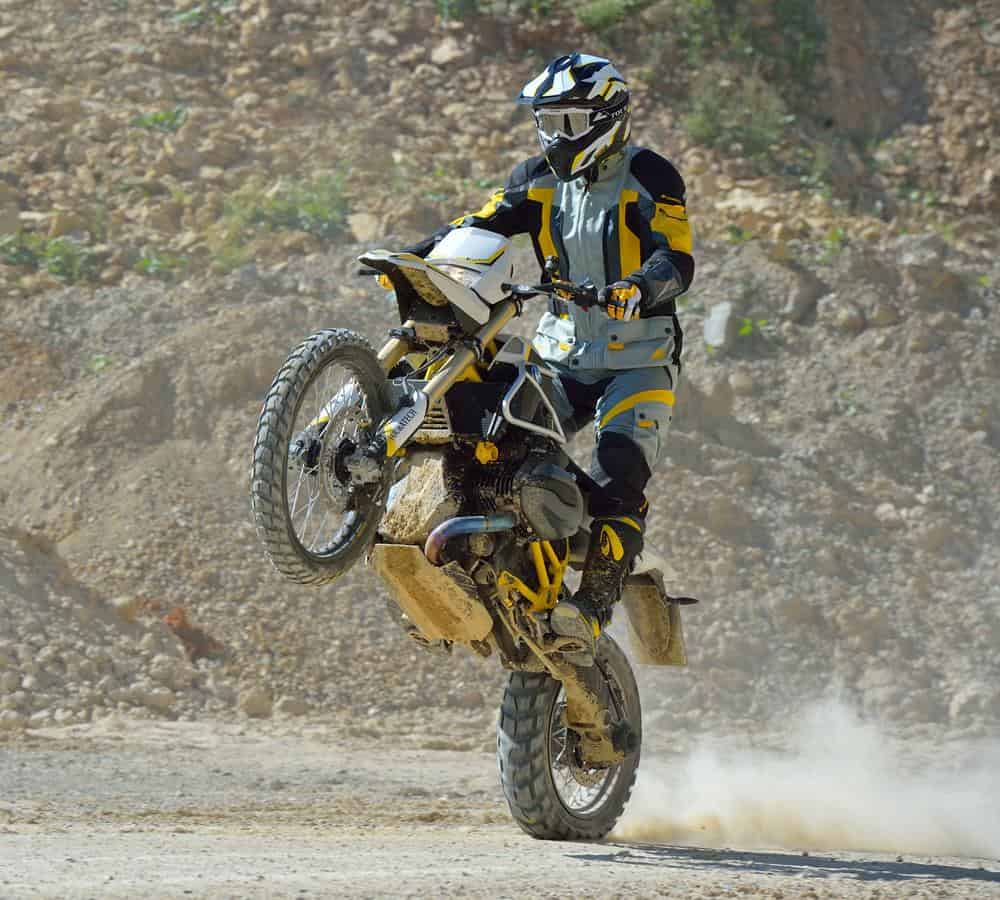 HOW TOURATECH MADE THE RAMBLER
• Airbox: carbon fibre reinforced plastic with original air filter (Touratech / TT-3D)
• Tank: aluminium, lowered side walls, with partially load-bearing sub-frame function capacity approx. 16.2 l (Touratech / TT-3D)
• Fuel pump: in separate plastic tank (1.8 l) beneath the main tank
• Seat: enduro rally seat made from PU foam (Touratech / TT-3D)
• Frame: BMW R 1200 R, strengthened with unnecessary mounting brackets removed
* Engine: BMW R 1200 R matched to an R 1200 GS shaft drive
• Handlebar & fittings: Magura TX handlebar, very light high-performance radial-pump master cylinders for clutch and brake (Magura HC3)
• Triple clamp: custom-made by XTRIG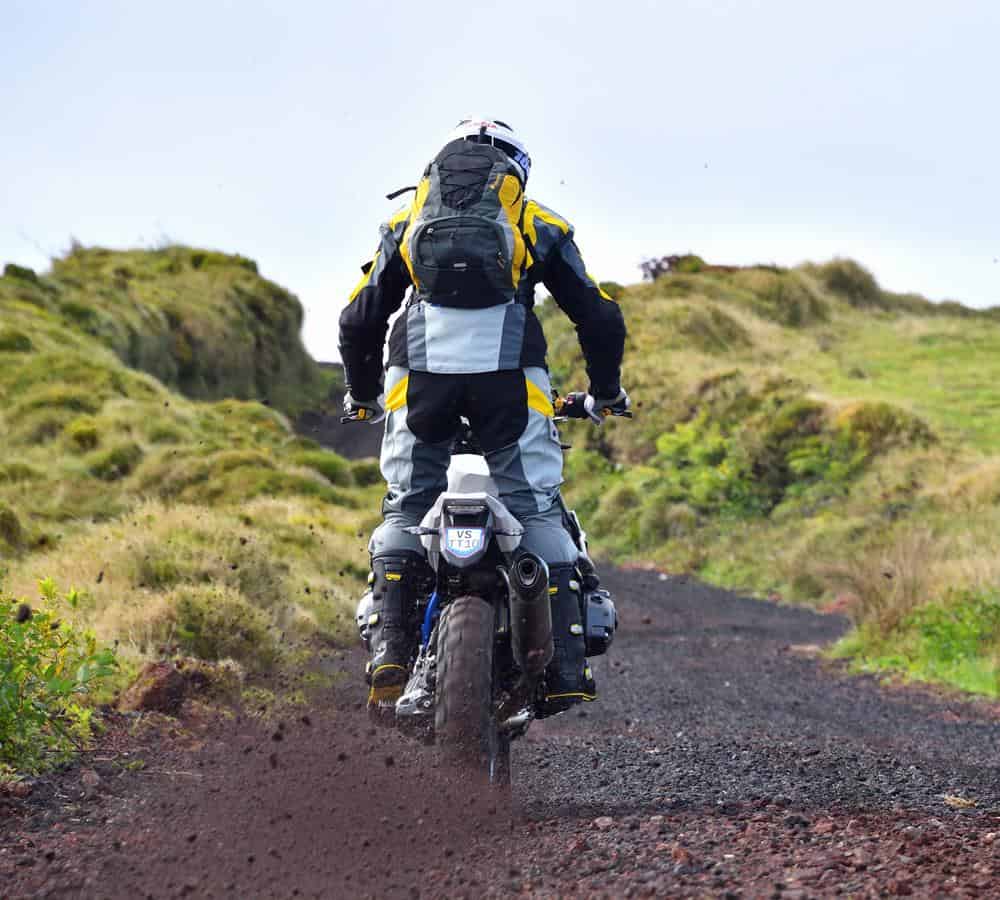 • Stem: aluminium tube construction (Touratech)
• Brakes: front: 1 x 300mm brake disc; rear: 1 x 276mm brake disc
• Brake lines: braided steel hose (Stahlflex)
• Bracket fork protector / brake hose guide: aluminium (Touratech)
• Bracket for number plate, rear light / indicators: plastic parts (Touratech / TT-3D)
• Rear light: BMW R nineT kit
• Main headlight: BMW G 450 X kit
• Indicators: BMW R 1200 GS
• Enduro exhaust system: titanium and carbon fibre reinforced plastic, custom-made by Akrapovič
• Rear silencer bracket: aluminium (Touratech)
• Battery: lithium-ion 12 V, 4.6 Ah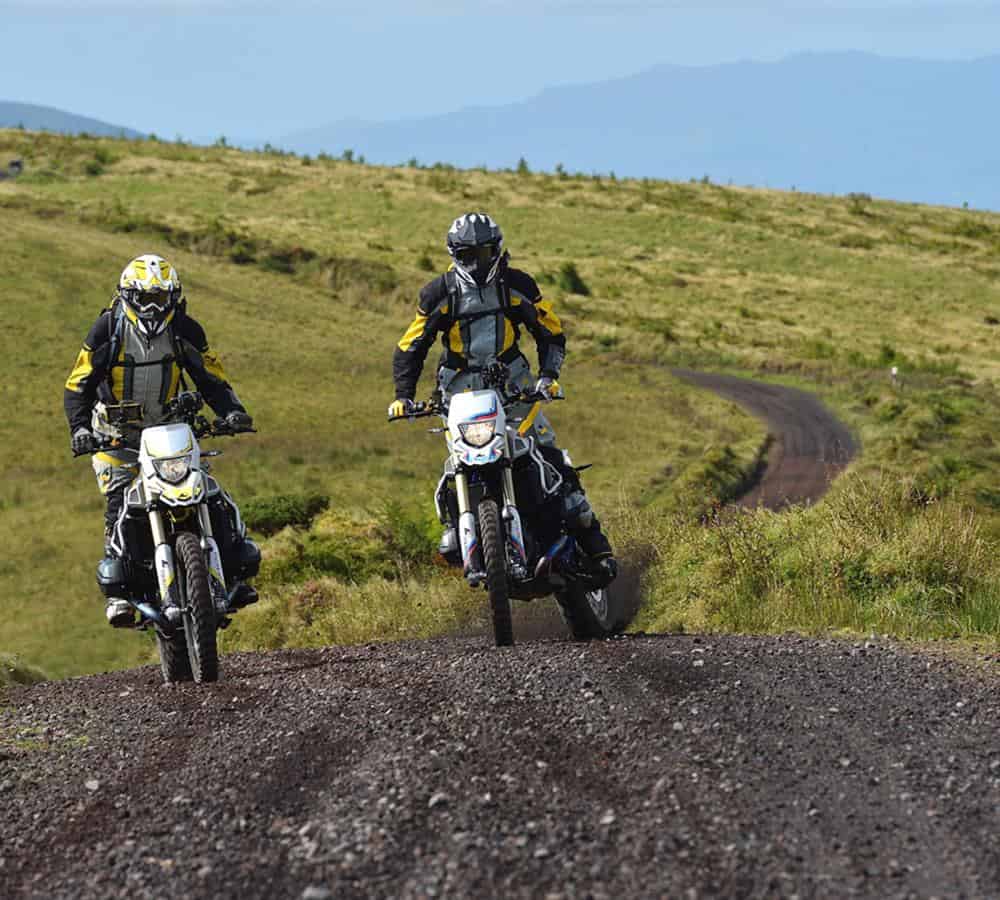 • Rear fairing: carbon fibre reinforced plastic (Touratech / TT-3D)
• Wheels: rugged Haan Excel rims (custom-made) with Metzler Karoo 3 tyres; front: 21 x 2.15 with 90/90 R21, rear: 17 x 4.24 with 150/70 R17.
• Skid plate: carbon fibre reinforced plastic (Touratech / TT-3D)
• Sport mudguard: carbon fibre reinforced plastic (Touratech / TT-3D)
• Suspension: rear shock absorber custom-made by Touratech Suspension (Extreme type with 200mm travel)
• Forks: Original BMW F 800 GS Adventure fork with Touratech Suspension Extreme cartridge kit (230mm travel)
• Foot peg assembly: Raptor Titanium foot pegs, aluminium bracket and heel guard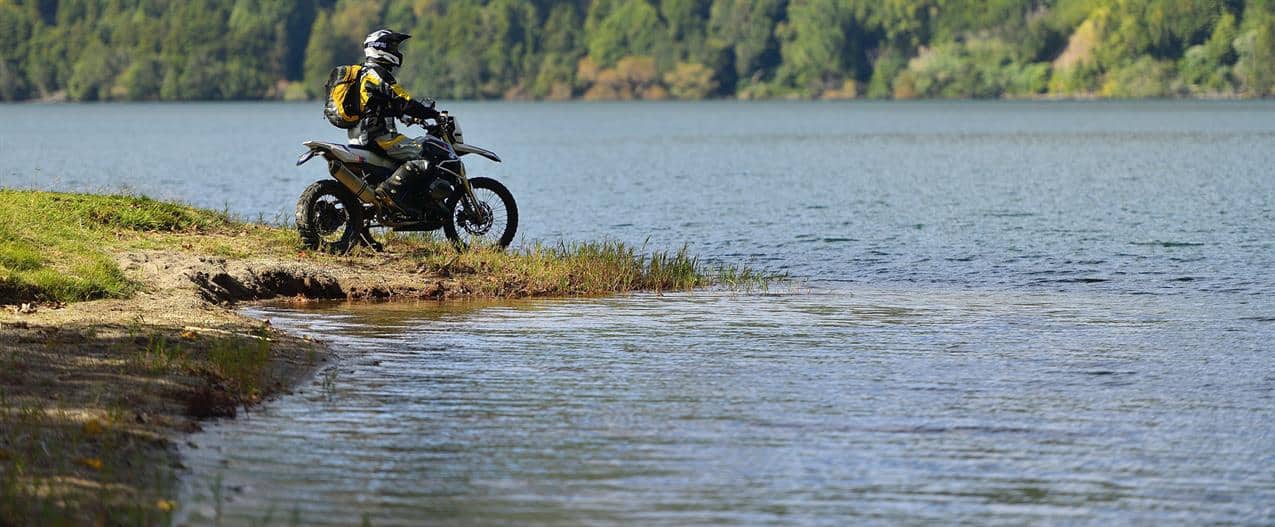 If you want to see more about the Touratech trip to the Azores and loads more pictures, you can download the Touratech BMW R1200GS Rambler issue right here…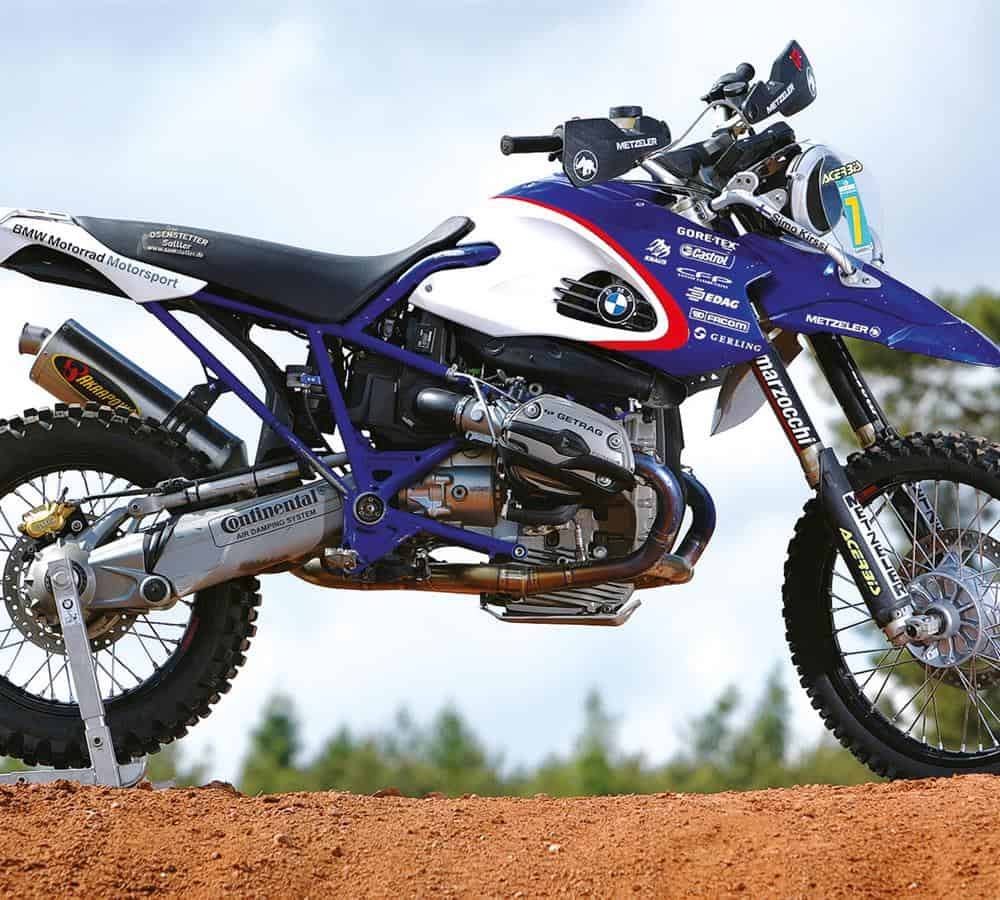 BMW built their own version of this bike in 2005 in the form of the HP2 Enduro, which was the winner of the Koenigsklasse at the '07 Erzberg Rodeo in the capable hands of the Flying Finn, Simo Kirssi… To read about this now-classic bike, Go to the "Metal' section and find it under Adventure… or click the link https://rustsports.com/metal/bmw-hp2-factory-racer_1736.html