HECK, but the Sherco 300SEF-R is one handsome bike. Gotta love the restraint in the solid blue bodywork with just the gentlest of flouro-yellow highlights. You've got to love the sleek lines, too. Nothing pokes out (of place), every aspect looks like its been considered over and over by the designers. There again, this is now the seventh year for this model so the design has been considered and consolidated over and over. And far from Old Father Time pulling the 300 SEF-R down, the little blue racer has only got better and better. Better enough to make outright world champion. It doesn't get much better than that.
I first tested the 300 SEF-R back in 2013, just after they'd 'long-stroked' the engine (changing the bore and stroke from 84×52.2mm to 84×54.8mm) and swapped to proper keyless ignition. I didn't know that much about the 300's history at that point, except understanding it had debuted in 2010, but that bike impressed nonetheless. It was a Factory edition with WP (rather than Sachs) suspension, so it had a pretty top shelf spec; and boy could it scream, it sounded like an F1 racecar when you chased the 13,500rpm redline. Went like the wind, but would dive between the trees like a jackrabbit. I loved it.
These days even the 300 SEF-R base model gets the WP suspension as OEM, and it needs to, to stay competitive such is the quality in standard machines now. And actually this 2017 looks remarkably close to that 2013 Factory example, for not so much has changed apart from a few styling licks. Although, to be fair, not much needed changing in any case. Of course there have been updates, you're just hard pressed to see them.
Apparently the plastics are a new formula, being dual-compound with in-mould graphics, and if we're fair, yeah they look sharper. And while the frame looks as it always has, it has apparently been strengthened, as has the monoshock linkage by way of improved bearings and a switch up to 14mm diameter pins. The translucent fuel tank has grown for this year, from 8.2 to 9.7 litres, which we won't complain about. While inside the gearbox the transmission has been strengthened while the oil circulation has been improved, for an extended service life. The seat looks to be a different shape, too, something of a banana, dipping in the middle, not the level benches we've typically favoured in recent seasons.
So not much to mention, but plenty to report. This is how it shaped up:
ENGINE
There's no kickstart (never has been) so it's reassuring that the Sherco starts so well on the button. And despite riding in freezing temperatures the battery didn't suffer despite lots of stopping and starting over the two days of riding. Likewise there's no drag on the (hydraulic) clutch, which works seamlessly too. This was a near-new bike with just a few hours on the hour meter so we did find the gearbox a little reluctant to shift up at times, needing a firm boot to engage the next gear, but at least that six-speed box has a ratio for every occasion. It can seem a little short-geared – reaching sixth gear real fast if you short shift – but that is until you realise you're typically riding on no more than half throttle. That rev ceiling is a long way up.
The engine response is, as before, quite linear. There's no discernable bottom end punch and the transitions from there to the mid to the top-end feels step-less. That's fine, but in the wet and slippery Welsh going I'd have to say a bit of extra punch off the bottom might have helped, particularly as going for the full-rev F1 experience didn't feel entirely comfortable in the slippery conditions. Again that kind of power is great for dry grass tests, mid-summer, but it's not entirely right for winter extreme. But then this is a fighting-300cc four-stroke, what would you expect?
We were testing the Sherco against a 2016 Yamaha WR250F and you could feel the extra push of the 300, especially in the mid-range (where the WR felt a bit weak, by comparison), but it's still a stretched out delivery, lacking the punch of bigger bikes. Actually it's great for clubman riders as there are no surprises and you've plenty of time and leeway on what power you want to dial in, you have some leeway on gear choice too as it will pull low revs and chug, if not exactly with stomp. But, for sure, championship level riders will be riding this bike fully-pinned at all times if they're to make the times they need.
HANDLING
This is a small bike, it feels smaller that the WR250F even. It's just so slim, and it feels short front-to-back, even though the wheelbase is almost identical to the latest KTMs. It's light too, just 102kg, and its been that weight for many years –whereas KTM have only just started to replicate that level of minimalism in their four-strokes this year. So, being small and light, it's very easy to boss. As well the geometry seems still be to biased toward quick steering (although word is there was a subtle geometry change for 2017 – probably favouring a little more stability), so it's very easy to fling around in the woods. On higher-speed going it felt fine. The geometry is probably spot-on. But we did find an issue or two…
SUSPENSION
Ah yes, the handling was great but the suspension – not so much. In fact it felt just fine initially, with our reservations being restricted to taking it easy over the wet slippery rocks we encountered, where the grip just didn't feel entirely secure. That was our assessment until we rode the WR250F over the same trail. Here the Yamaha was nowhere near as nervous feeling, tracking over the rocks neatly and comfortably, and certainly you felt confident in riding that same terrain faster on the Yamaha.
Here it was handy to have a few second opinions to fall back on; and being in the company of three riders with at least 15 British championships between them we had some fairly reliable feedback. As well, we were able to swap between the Sherco, the Yamaha and a Sherco 450SEF-R to help us identify just where the 300SEF-R was not quite right. Of course you can never be certain about these things, but two days riding is much more than you'll get at a launch test and three top riders to discuss it over with is one hell of a luxury, too.
So, at first we were all set to blame the forks. Probably lacking enough damping in the first third of the stroke, we thought, which meant the forks might be falling through into the mid-stroke and riding on the firmer damping settings, hence getting a harsher ride in the rocks. But then riding the 300SEF-R over flattish flowing terrain the forks proved just fine, there the Sherco was spot-on.
Instead the judgement came down to the shock. The rear, it seems, rides a touch high and the damping settings seemed to keep the rear high, either due to having too much compression damping or not enough rebound damping – and so the rear was pushing the front. On the 450SEF-R, the rear setup had already been modified, to run lower, and that made that bike so much more secure and planted.
Now, maybe you could dial all this out by reducing the sag, or by twiddling with the damping adjusters (given the luxury of time), but certainly there's room for improvement here on the stock setup. When a 'school bike' (the WR250F) with 200 hours on it and with standard suspension (albeit decent Kayaba kit) outperforms a new machine, there's some work to be done. Not much, but with fine tuning it could be better, maybe even sublime.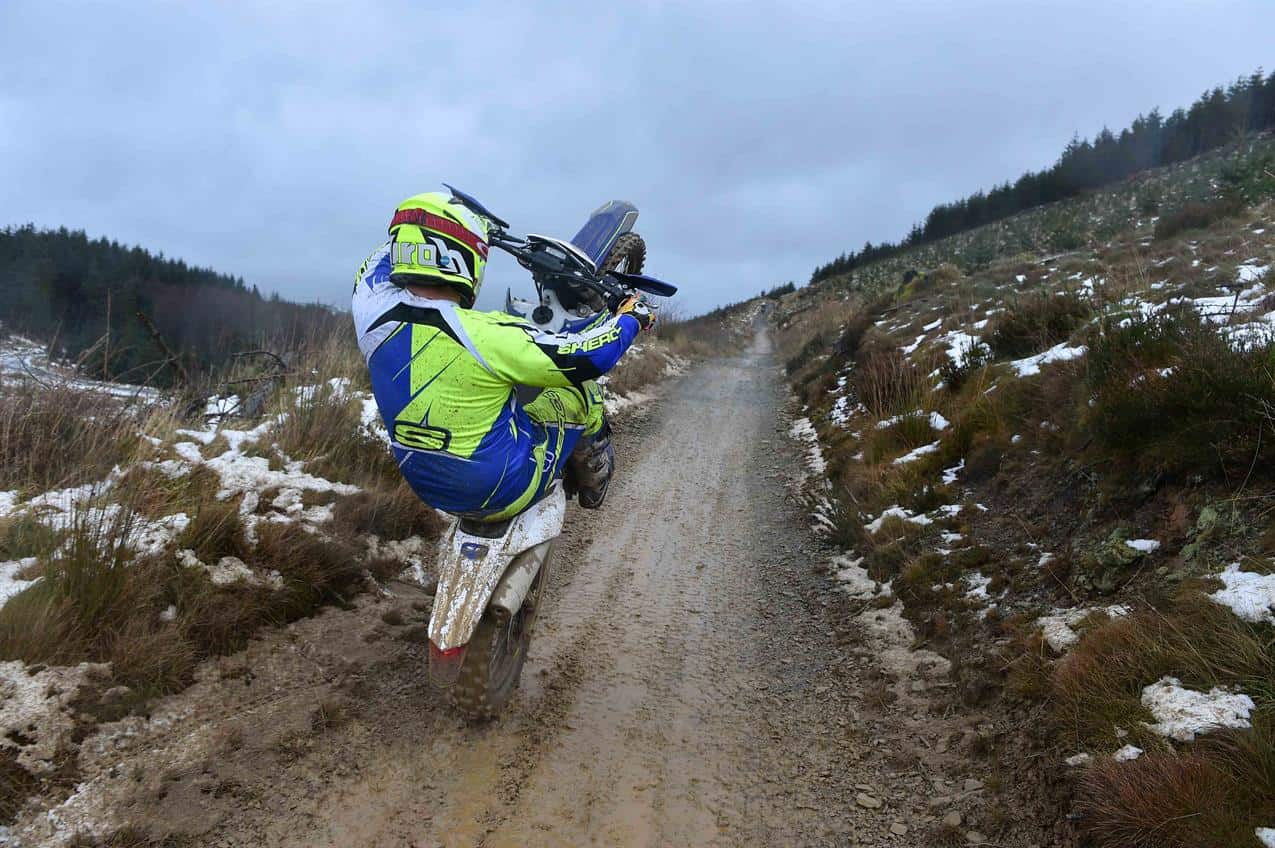 ERGOS
The bars felt too low, but then I'm probably too tall, being 6'0" – all bars feel too low to me! I should probably have chosen the forward bar mount to make more space for myself, but again, it's about finding the time. The seat felt low, too. That banana shape – dipping in the middle – might make getting your feet down easier, but the downside of that is there's a greater distance to transition from standing to seated. A taller, flatter seat would be our pick there.
But those reservations aside, it's all good. Footpegs are good, brake and gear levers spot on. Same around the handlebars. There's simplicity there; no key, just a start button and a neat thumb switch beneath that to swap from the standard power delivery to a traction mode. A simple switch for lights on or off, too. Neat handguards. And an easy-to-read speedo/computer unit.
OTHER STUFF
There's not much reason to mention the brakes these days. Both Nissin and, in this case, Brembo have the job nailed – and on this lightweight they're not stressed.
The exhaust note is both tuneful and suitably suppressed, more of a howl than a bark. No complaints.
There's a decent sidestand by the way. It folds very neatly away and sits the bike in a comfortable repose. Well designed.
Those who rider longer races will appreciate the bigger fuel tank – certainly there's no downside to it, the bike's still super-slim. While the plastics seem very high quality. In all, the bike has a super high quality fit and finish. It looks every inch the precision instrument it is.
CONCLUSION
The Sherco 300 SEF-R remains an awesome bike, just as it was in 2013 when I first tested it. It is a little bit of enduro clubman heaven. Clearly it's a bit of world championship heaven too, although Matt Phillips must have thrashed the wee 304cc motor mercilessly throughout the season to take the title. Just as on a 250cc four-stroke, you can't be lazy if you want to make the speed.
It is almost perfect. Only our reservations over the setup of the shock, and that smallest desire for just a little more low-to-mid hit, stops us marking it so. No question, we'd love to know how Matt Phillips had his set-up…
What's really neat about the Sherco 300 SEF-R, though, is that it feels so right. The size is right and the performance is right; you gel with the bike very quickly, you know what to expect from the bike and what's expected of you. It is also very close to a 250cc four-stroke experience, whereas say KTM's 350EXC-F is very much midway between the 250s and the 450s. Riding the 350EXC-F isn't so natural in that sense, thrash it like a 250 and its almost too fast, try and use the torque like on a 450 and its not quick enough. You've got to get your head around it. But this Sherco 300 motor, much like the SWM 300RR (and the Husky TE310R of old), you instinctively get. Rev it and it goes, rev it hard and it flies. There's something so very right in that.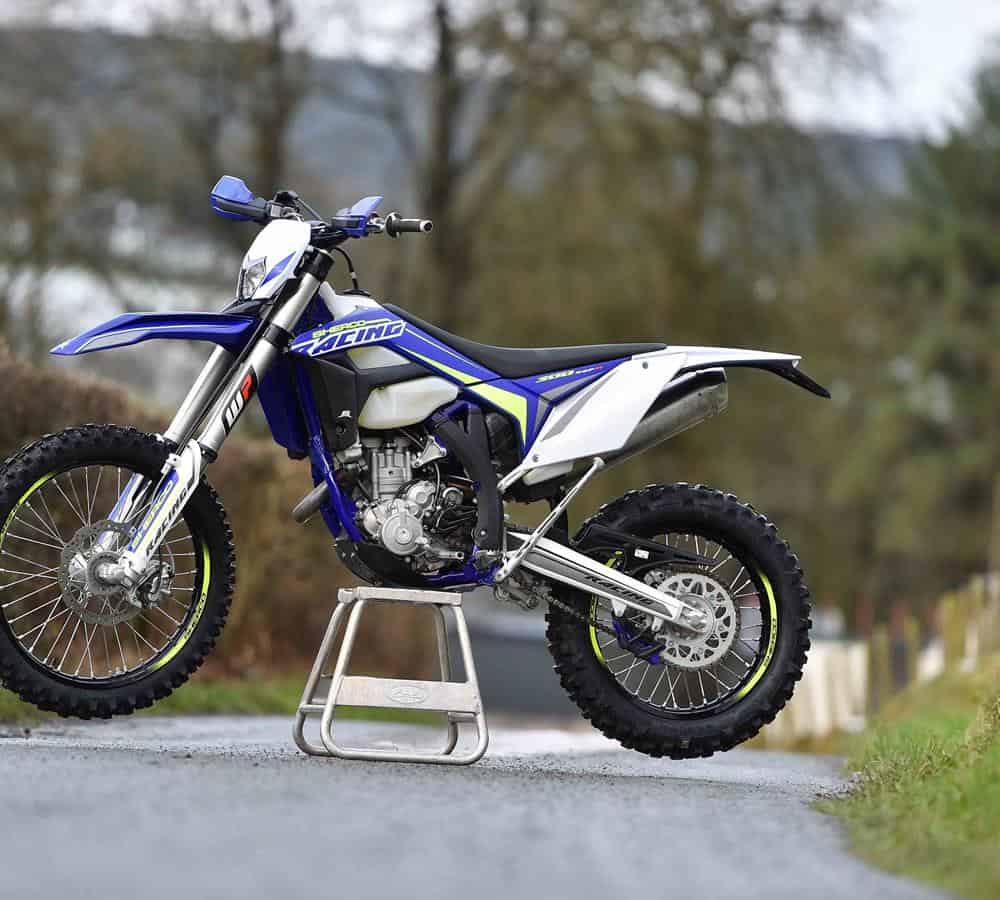 SPECIFICATION
2017 SHERCO 300 SEF-R
Engine: Liquid-cooled, electric start, four-stroke single
Displacement: 303.68cc
Bore & stroke: 84 x 54.8mm
Transmission: Six speed
Frame: Semi perimeter chro-mo steel
Front susp: WP 48mm open chamber USD forks
Rear susp: WP shock with linkage
Front brake: 260mm disc, Brembo twin-piston caliper
Seat height: 950mm
Fuel capacity: 9.7 l
Weight: 102kg