The rebirth of KTM's cool 690 Enduro R is a good thing. We need biggish single-cylinder trail bikes in this adventure bike dominated world – you know, they're a section of the market, and a type of riding, that deserves more respect…
There is no doubt; the KTM 690 Enduro R is a quality product. It's a little basic here and there if you're used to plotting around on modern adventure bikes – there's no TFT screen, precious little luggage capacity (let alone pillion potential), but as a modern rendition of the traditional 650cc-single trail bike it's very good indeed.
Of course there wasn't much wrong with the old 690 Enduro R, but the new one brings a much smoother motor, a little more go and a few little extras, like Quickshifter+, like cornering ABS and traction control (MTC), and the latest suspension from WP, all of which thoroughly modernize the ride. But essentially – and this is super-important – what we're talking about is real world trail capability. It's a dirt bike first and foremost and a very good one at that.
So while electronics etc are the buzz, we should concentrate instead on one number – 146. That's kilogrammes. Now that's no ground-breaking number, pretty much what a Suzuki DR650 used to weigh and is apparently more than what the fine old Honda XR650R used to be, but in an increasingly obese world that number means this is a real deal trail bike (by random comparison a BMW G650GS is 175kg). So it's considerably heavier than say a 500EXC, but in the right ball park to take on pretty technical trails while not being a two-man job should you fall over and need to lift it back up. You see, you can add all the baubles you like, but eventually life comes down to a few home truths and in the dirt bike world weight is the start and end of all discussions.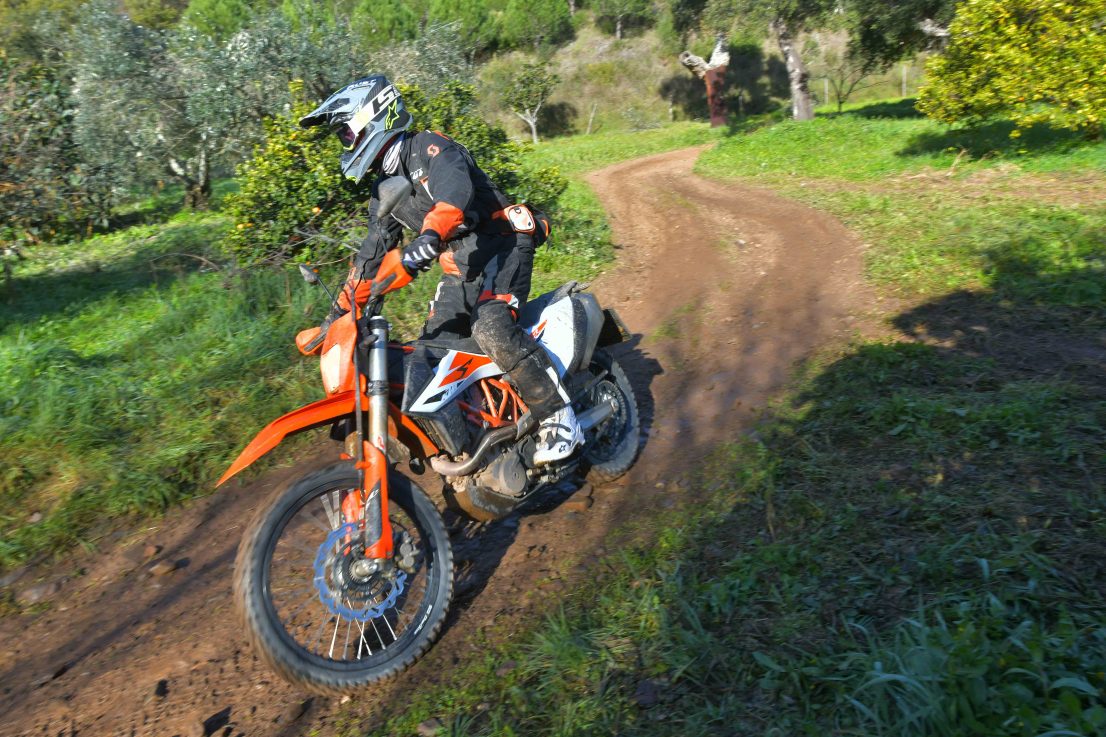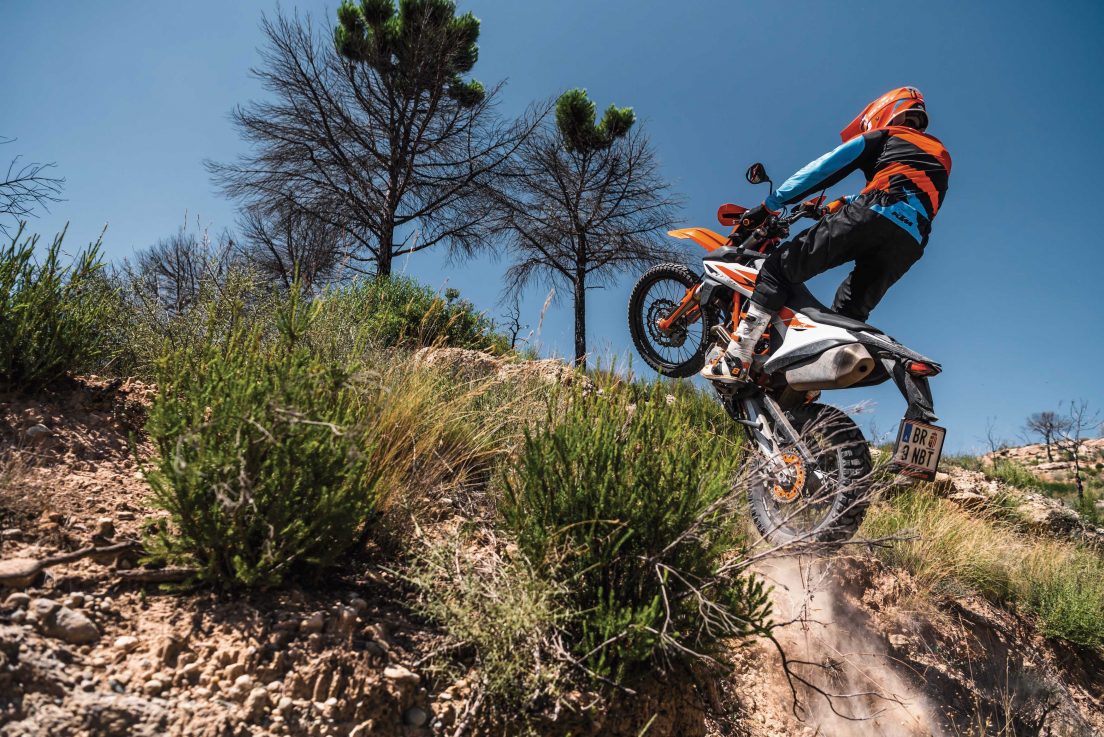 THE NEW
So, the story here is that after a two year absence KTM have brought back the much-loved 690 Enduro R. It was an odd absence seeing as in the interim there's always been available the Husqvarna FE701, which is pretty much a 690 Enduro R dressed in bridal white. The old 690 Enduro R (2008-16) came with an older LC4 motor which was no longer emissions compliant so it had to go. But the FE701 immediately stepped in with the latest Euro4 compliant LC4 motor so we're not quite sure why KTM didn't do the same and keep the 690 Enduro R alive.
A quick word on the new motor – it also powers (deep breath) the KTM 690 Duke, the Husky 701Supermoto, Vitpilen 701 and Svartpilen 701, as well as the FE701 – and now of course the 690 Enduro R and SMC R. In all that's seven models serviced by the one motor, which is clever economizing (cross-platform engineering even). What's impressive, though, is there's little sense of compromise – it works well in each application.
But coming back to 2019, the new 690 Enduro R has to be better, and apparently it has to be better even than the FE701 (defying Husky's positioning as being the premium brand out of Mattighofen). So this 2019 690 Enduro R comes with some exclusive kit of all of its own that is over and above what's offered on the FE701. Yes, it's the same 105x80mm SOHC 74hp single, with two balancer shafts (which do a brilliant job of smoothing what could otherwise be a seriously lumpy-throbby motor) as found in the FE701 but with the addition of Quickshifter+ and a traction control electronics package. There's also cornering-sensitive ABS and electronic rider modes which offer the option of street or off-road bias.
As well, the chassis package has been tuned up. This is a new frame, the most significant aspect being it's slimmer through the headstock area which allows a tighter turning circle – which again is indicative of real world dirt bike thinking. The bodywork is slimmer too, while now offering a fuel tank (still rear mounted in its own self-supporting subframe) that's 1.5 litres bigger than before – and 0.5-litres bigger than the FE701. And as said, the suspension is now WP Xplor spec (EXC riders will recognise these) and that rear shock benefits from a linkage still (whereas EXCs are PDS of course). Significantly KTM have stuck with the 250mm of travel front and rear (as before), and not chased Husky's FE701 extended 275mm setup. And the significance of that? Well, immediately it means the seat height stays at a manageable 910mm, whereas the FE701 sits up at 950mm (while ground clearance is only compromised by 10mm).
In all, KTM say the new Enduro R is 65% new. New yes, but with a strong link to the previous models. This is no reimagining, no blue-sky job, just straightforward evolution, which frankly is the best way (less bugs) and sits well with KTM's theme of always steadily improving. At the launch, the KTM team took us through a potted history, from the first LC4 in 1987, to the first 625 Adventure in 1996 through to the first 690 Enduro R in 2008, not to forget the update to 'ride-by-wire' throttle control in 2012. You get the idea – a long history.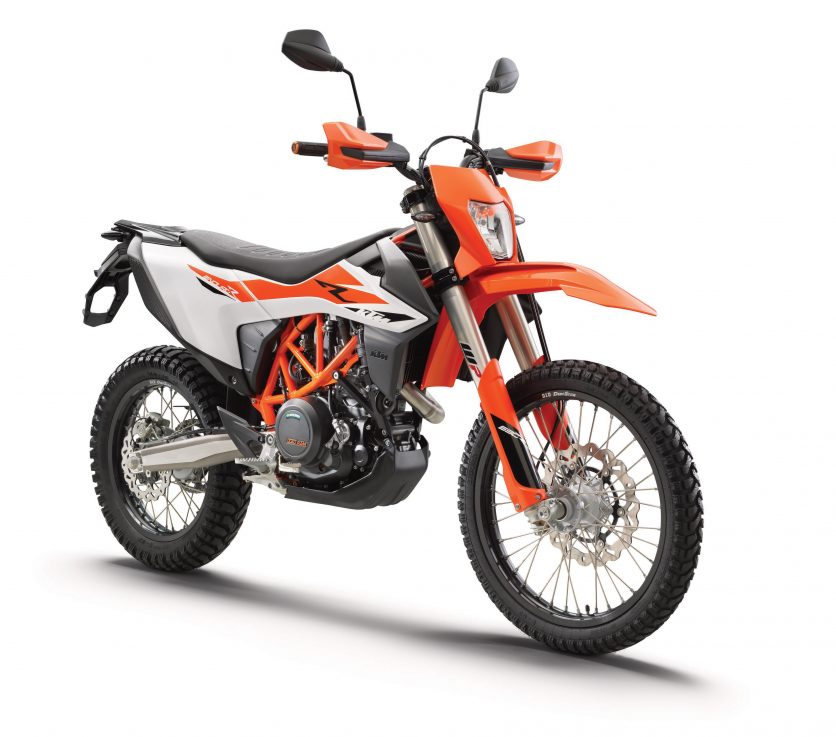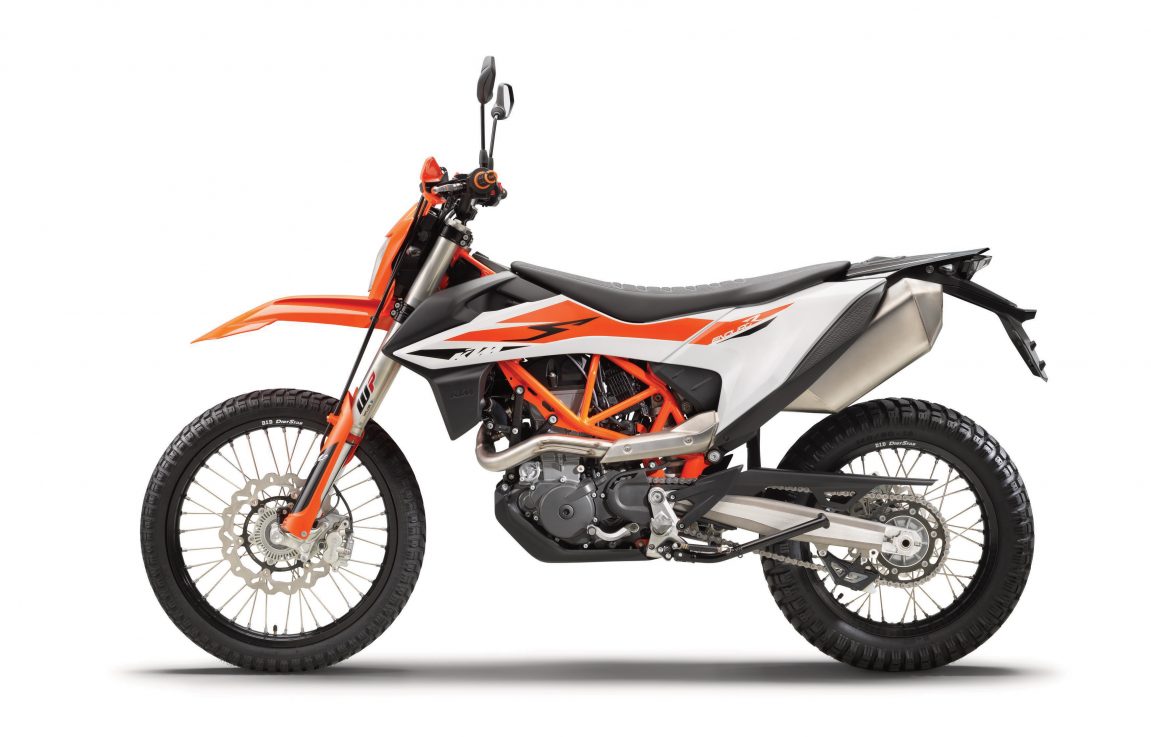 THE RIDE
So enough of the tech, the background. What about the ride? Yeah, immediately you are struck by just how smooth this motor is, especially given its high state of tune – 74hp. Decades ago you couldn't make a 650/690 single do this, it would have broken your leg off to start it and the compression would have made the rear lock on over-run if you clumsily down-shifted too early. It would have been a bit of an animal. The Honda XR650R for example, which made circa 60hp, was considered pretty lairy (although loveable) – so to add nearly 25% more poke while vastly improving the bike's civility is certainly a good example of the wonders of modern engineering.
So how does that 74hp feel? Very nice actually. Not at all peaky with an incredible flexibility – and I noticed less of that low-rev judder that you typically get when you make big capacity singles chug. You could putter along or you could rev it out like a Dakar racer making up for lost time. It's a surprisingly amenable motor and whatever your mood it'll meet you there.
So yes, it's smooth, to the point it almost doesn't feel like a single. But as well we've got a slipper clutch (as does the FE701) and that too is adding to the ease of use, you can change down early for a corner – too early – and the 690 Enduro R won't bite you. And that gear shifting, with Quickshifter+ is pretty damn slick. We're used to quickshifters in a road race context – and of course it's now found on adventure heavyweights like BMW's R 1200/1250GSs – but it's a surprise to find it on a humble trail bike. Yet it's a worthwhile addition, particularly as it still operates neatly even at low engine revs. The more you play with it, the more you enjoy it. One small word of warning, on slack downshifts it did sometimes find false neutrals – which can be a sweat if you're relying on the engine breaking at that exact moment – so it paid top use a firm boot on those downshifts.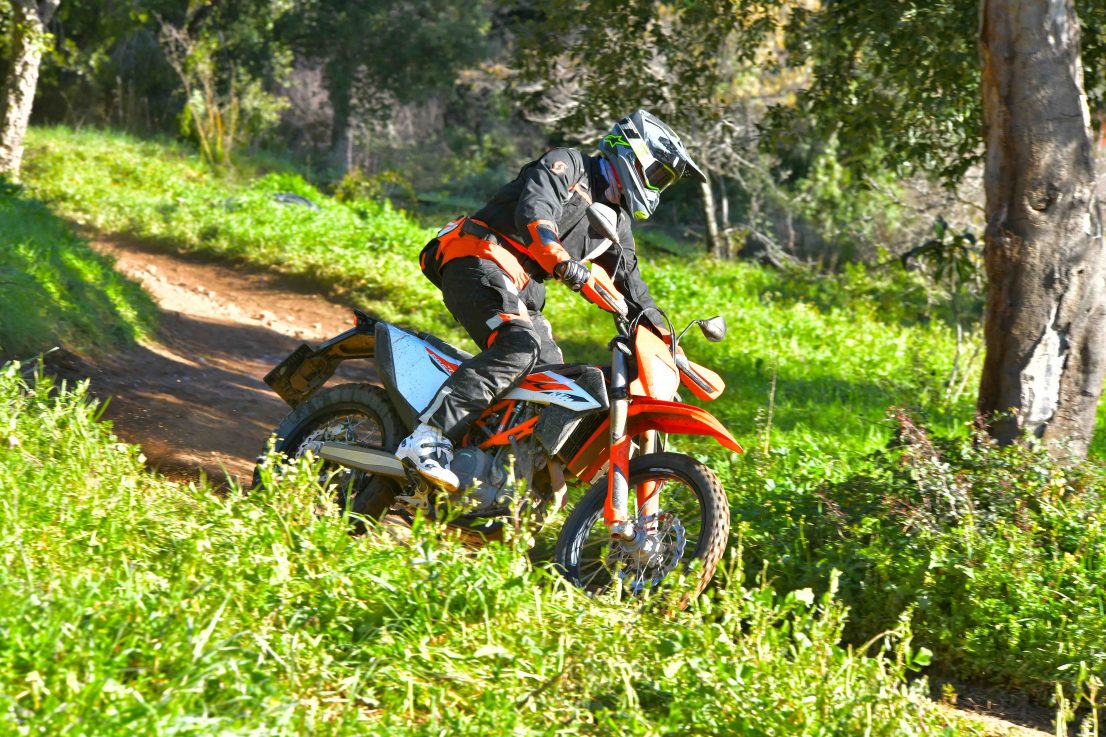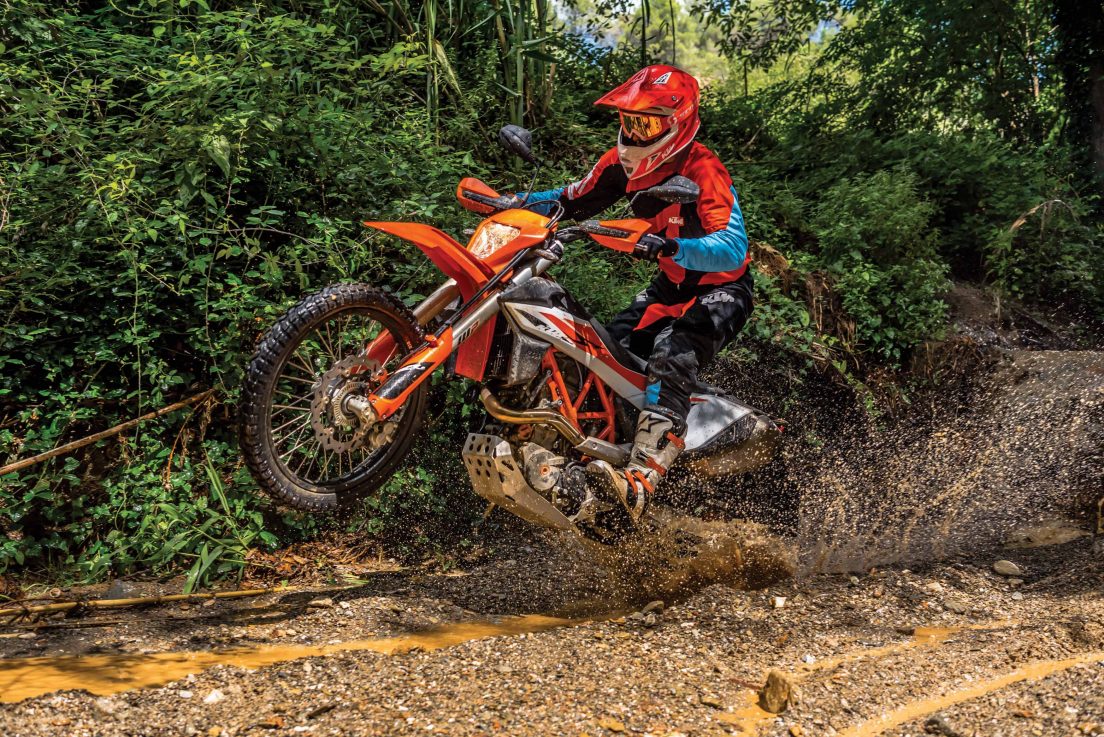 XPLOR-ING
We could have done with some more woods type riding to see if first gear goes low enough for plodding, which it just about does, but the good news is that in sixth gear the 690 Enduro R cruises quite comfortably at highway limits. If you've ever ridden say an old LC4 640 at 70mph along a motorway you'll know pain, you'll know vibration, you'll know the meaning of endurance – this bike is light years away from that experience. It's almost magic carpet smooth.
The traction control is a boon as well. Now we've seen TC on enduros already and we know they're good for slick conditions but useless in sand. And that goes the same here. Only TC on the 690 Enduro R is even more worthwhile as with 74hp things can get a bit wayward. As it was, with TC engaged in off-road mode you could powerslide out of corners about as wildly as you'd want, kind of like 25º of opposite lock, not a degree more. So it took the stress away of overdoing those skids. It made you (look) a better rider.
Meanwhile I liked the KTM Xplor suspension. Maybe some super-fast jocks out there will point to its limitations (or not) but for me I liked that it gave an absolute sense of security when bombing along the rocky trails. It absorbed the hits from the rocks that I really should have avoided with never a kick from the shock, never a jar through the forks, and at the same time lent a sense of accuracy to the steering and handling. So you could march on if that's your bag, while there was enough comfort, enough plushness, to slip easily over small slow stuff. I've read reports in the past criticising the front end behavior of the 690 Enduro R, but on this test everything felt very normal, very easy.
The brakes I'm not so certain about. They certainly worked, but they didn't feel eye-popping strong – maybe I should have grabbed the front brake lever hard every time and let the ABS sort out the mess – but I struggle to ride like that, I like things smooth. The rear brake I was also struggling to get a feel for. That could have been a lack of feel given I was wearing brand new Alpinestar Tech 10s, which I'm unfamiliar with, but to me I wasn't feeling like I was getting an easy-lock up which you often want to back into tighter corners. Now that said, the more ragged I rode the 690 Enduro R the better it responded. It takes a whipping quite nicely. In all the (Brembo) brakes didn't overly impress but didn't surprise either, if you understand. They tick the box for sure.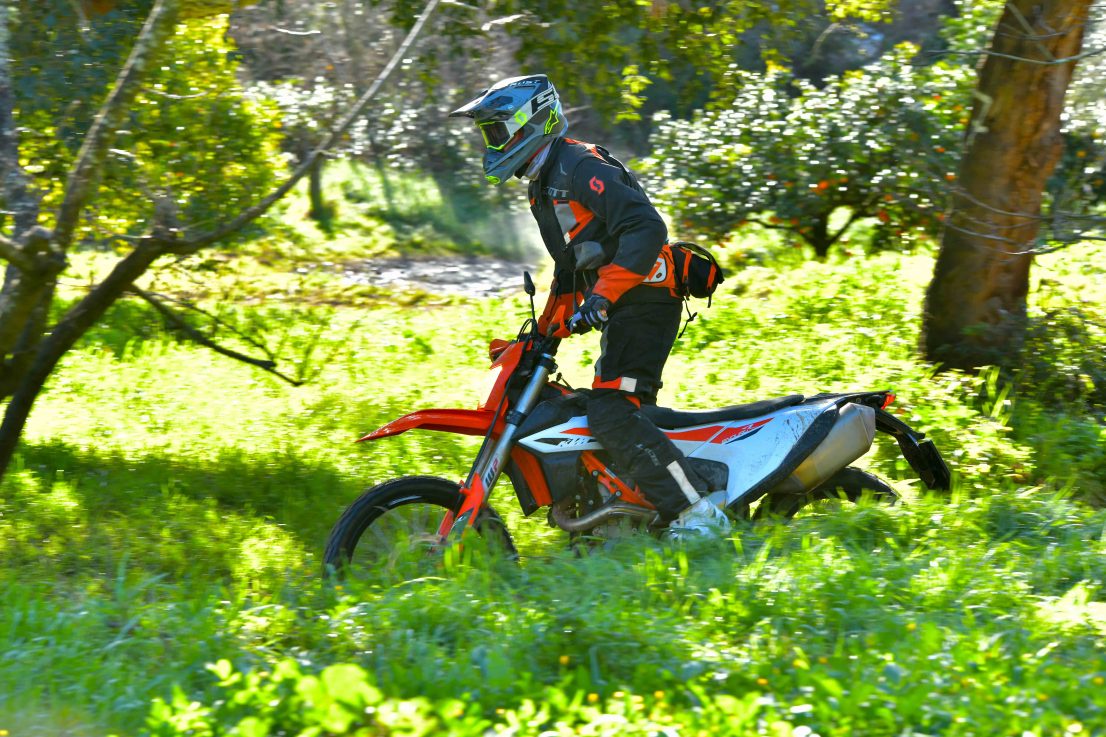 THE BITS
Where the 690 Enduro R is lacking is in rider-pandering baubles. As said, there's no TFT screen, just a humble enduro speedo there. One of the KTM bods explained this was because they wanted to stick to the stripped-back enduro ethos. A big TFT screen would lend bulk and clutter to the front of the bike, ruining both the aesthetic and the handling (because of the weight). So the wee speedo fits the remit – after all, you're meant to watching the trail not the TV.
There is a USB port tucked in under the bars, though, and you can imagine you'd connect this to your smartphone not so much for charging but because being a cheapskate you're using the phone, not a GPS, for navigation. Should KTM have positioned a 12v socket as well? Not sure. By the way, you swap between the ride modes and traction control and ABS by a simple press of a button or two on the handlebar and speedo unit, it's quite simple.
A quick word on fuel economy. Seeing as we rode only a short distance on this launch we've got no measure on this. KTM quote a rate of 3.96l/100km. For those who don't use that kind of a metric this translates into 25km/litre or 70mpg. Which sounds like a best, not an average. And for fuel range this means a best of 335km/210 miles to a tankful. Now that's not quite super-tour brilliant, but for this kind of a bike, good enough – to be safe you'd be looking to refuel around the 250km/150 mile mark.
Tyres for this test were Continental TKC80s – quite worn after two weeks battle, but plenty good enough for the conditions. No argument there. However, the standard fitment will be Mitas E07s, which are a little more 50/50 – which depending on your intended riding is either good or bad.
I'm getting bored now, but yes there are mirrors that work and hand guards. And the handlebars (fat bar type) you could move forward and back in four positions. Even the triple clamps are adjustable, say KTM, set at 24mm offset with an option to sharpen up to 22mm. The lighting looks adequate – not tested of course. I'll stop there.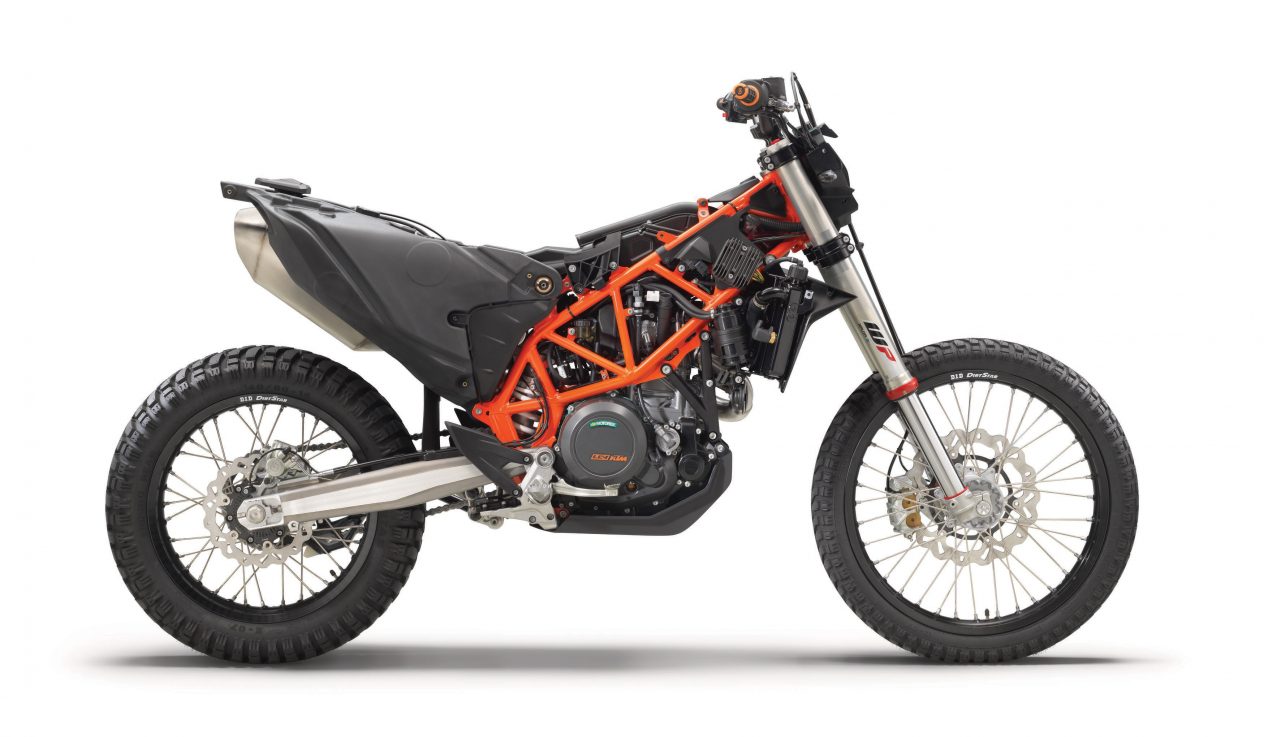 TRAIL OR ADVENTURE?
So I gotta say I loved the KTM 690 Enduro R. I definitely have a soft spot for this kind of 650-690cc single cylinder trail bike (I've been a big fan of the Honda XR650R, Yamaha Ténéré 660 and Husqvarna Terra 650) – they really work in that sweet spot between enduro and adventure. Where you want to ride further but still over technical terrain, and really don't fancy hauling a lumbering 1200. Trails like those in Moab, Utah that we rode in November are just made for bikes like the 690 Enduro R – you're not sweating the refuel in your enduro bike, not in pain as that enduro skitters along the highway on sketchy knobblies, not in mortal fear of lowing 275 kilos of 1200 super-adv over a three-foot drop off.
There are a lot of trails that suit the KTM 690 Enduro R then. Be it Trans American/European Trails or the super-technical end of BDRs. But as well, this bike suits the modern work-life balance. We have to face it; precious few of us can escape for the weeks, months, years that go into the Big Rides. At best we can sneak a long weekend (the big holidays are taken up by family vacations), so a trail bike long weekend with just the bike, some Giant Loop soft bags (other brands are available) and a mini-tent and sleeping bag (or hey, a B&B/motel) fit the bill. And here the 690 Enduro R is the ideal bike. Sporty enough to pick some challenging trails, long legged enough to get you there and back, and never a liability. And given you make a decent job of bike security (thieves love a dirt bike) it can be re-used as a commuter too, especially in the summer months.
That brings us to the last word: cost. Yep, not cheap. £9599 in the UK (€10,799 in Europe) puts it perilously close to bigger adventure alternatives. Dudes say 690cc for this much or 790-1000-1200cc for this little bit more – you can find bigger bangs for a few more bucks. But that's missing the point. It's about smiles per mile. And product integrity, too.
That price puts it above the Husky FE701 (at £8799). But the price hike probably reflects the additional tech – the quickshifter and the TC/ABS options etc. Is the KTM really £800 better than the Husky, then? That's hard to say. Just as relevant is do you prefer white or orange? Both are great.
The 690 Enduro R is a quality, niche machine that delivers a great deal of rider satisfaction, especially given the parameters we exist in. We have to get our heads around that – and the fact it plain costs a lot of money to build these things. It's the modern world. So yes, I'm rating the KTM 690 Enduro R very highly. Great bike and every inch what a modern 650-single trail bike should be. And yes, I would very much like to own one…
2019 KTM 690 ENDURO R
SPECIFICATION
Engine: liquid cooled SOHC four-valve single cylinder four-stroke
Displacement: 690cc
Bore & stroke: 105.0 x 80mm
Max Power: 55kW (74bhp) @ 8000rpm
Max Torque: 73.5Nm @ 6500rpm
Fueling: EFI
Starter: Electric
Transmission: Six-speed gearbox, wet multiplate slipper clutch
Frame: chrome-moly tubular space frame
Front suspension: 48mm WP Xplor USD forks, 250mm travel
Rear suspension: WP Xplor monoshock with Pro-Lever system, 250mm travel
Wheels / Tyres: 90/90-21, 140/80-18 Mitas E07
Brakes: Front disc Brembo 300mm twin-piston caliper, Rear disc 240mm single piston caliper
Seat height: 910mm
Wheelbase: 1502mm
Ground clearance: 270mm
Weight: 146kg (dry) or 159.4kg (fully fuelled)
Fuel capacity: 13.5 l
Contact: www.ktm.com
UK price: £9599
EU price: €10,799
US price: $11,699