Wow, what a bike!
Not because it can rip through deserts at berserk speeds, but because of everything else that it does. Two weeks riding motorways, back roads and green lanes has shown this bike is super-versatile.
Words: Jon Bentman
Images: JB, Too Fast Media, KTM 
I'm torn. There's this story that I could tell you about just how fantastically dynamic the 790 Adventure R is. How it makes you a better rider, flatters you, and allows you to ride like the dirt biking hero you always dreamt you'd be. But I think you know that one already.
I think instead the bigger story is just how docile, how loveable, how so-damn-easy the 790 Adventure R is to get along with. It is the ultimate quiet-tour machine, ideal for the newbie rider – A2 licence possibly dispensed with – ready to step up to a real adventure bike and make first tentative steps into off-road touring. For it is that utterly amenable bike as much as it is the angry, potent dune-jumping desert racer that it's so often depicted to be. And this quiet story is, I'm sure, the one that needs to be told.
Anyway, in the interests of maintaining your attention, I'll tell the story right now in little chunks, times-10, easily digestible, as these things must be in this world of diminishing attention spans.
So without further ado…
1. A PARALLEL TWIN
Let's just think about this. The 790 is not a vee-twin, it's a parallel twin, just like BMW's F 800/850 GS. And that's important because elementary comprehension of engine technology tells us that most probably a parallel twin is going to be a fair bit cheaper to develop and build – and maintain – than a vee-twin. There's just the one cylinder head, the one paired cylinder block, one cam chain, two camshafts – that has to be more economic to produce than all the duplication a vee-twin requires. The parallel layout doesn't create issues with front wheel travel either (as an L-twin can) and altogether it's a more compact unit and so better mass centralized – and easier to design the rest of the bike around.
Vee-twins are lovely things but they 're not without their complexities and costs – and sadly there have been stories of adventure riders on KTM's big advs falling victim to some horrendous mechanical maladies while venturing into the wild world. Yep, breakdowns are great ice breakers – adventure riders say this is typically when their adventure truly starts – but expensive engine rebuilds can equally end a trip. So a nice parallel twin with tried and tested tech and generous service intervals (9000 miles / 15,000km for the 790) – you want that in a RTW adventure bike.
That KTM has managed to eek 95hp from their 799cc unit with the long-distance service schedule is a fair feat of engineering (note the 790 Duke is tuned to 105hp). It's cool that they've also setup the crank at 285º so as to create the same feel as their 75º vee-twins.
All told there's a lot of sense in making the 790 a parallel twin.
2. PANNIER TANKS
Finding a place for the fuel on a motorcycle is never straightforward and while generally most opt for placing it above the engine, in front of the rider, over the years we've seen all manner of alternative solutions applied. BMW resorted to under seat tanks on the F800GS. On their latest F850GS they've reverted to placing the tank back above the engine, maybe to bring the seat height down, only the problem there is when you brim a 23-litre tank you end up with a lot of weight very high – which makes it heavy to steer. Honda's Africa Twin Adventure Sports has the same issue – ride the AS together with the standard AT and the standard bike with the smaller tank is noticeably easier to operate.
With the 790 Adventure R, the pannier tanks offer a decent 20 litres, but by placing much of that low down in front of the rider's feet, they substantially lower the bike's centre of gravity and that makes the effort in steering the bike that much less. And it makes the bike less stressful to push around, too, as the weight is concentrated lower and nearer to the line between the two wheel axles – which for newer or smaller riders is a great help.
We might worry that we'll hole those tanks in a crash, but I can't see KTM having not addressed that matter, making them super crash proof, and anyway in all probability a crash that'll put a hole in one of the fuel panniers is likely to have done a whole lot worse to you – a holed tank will be the least of your worries. You know, let's not think about that!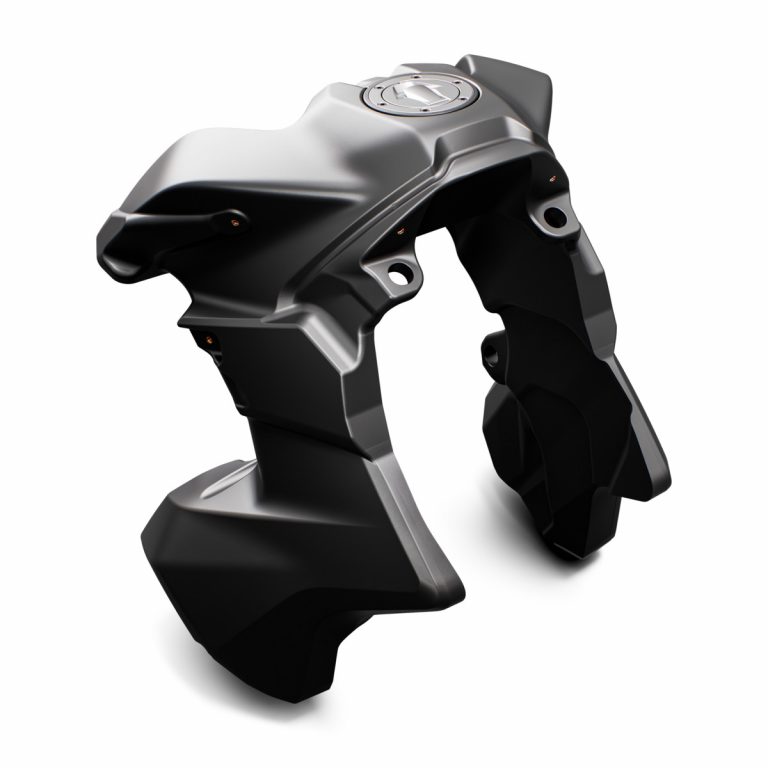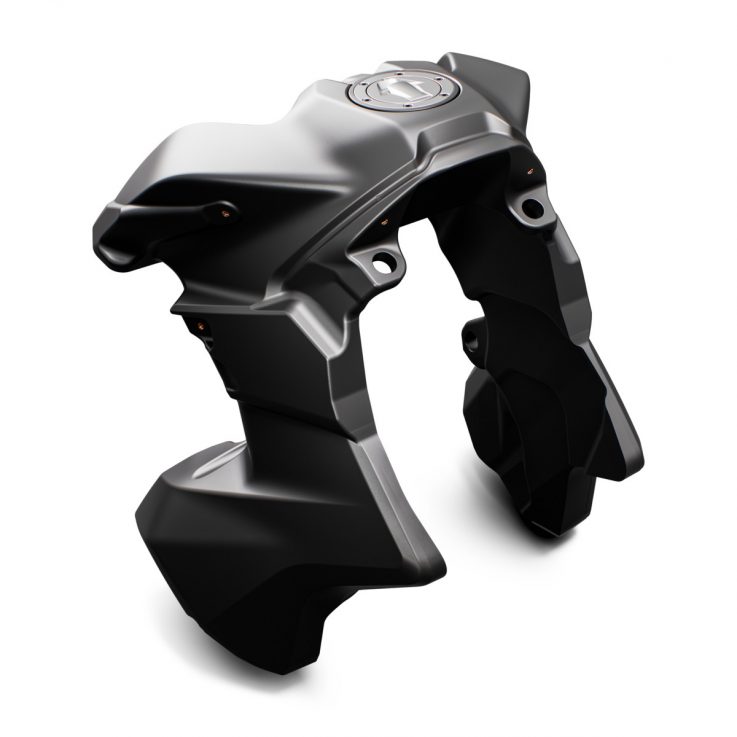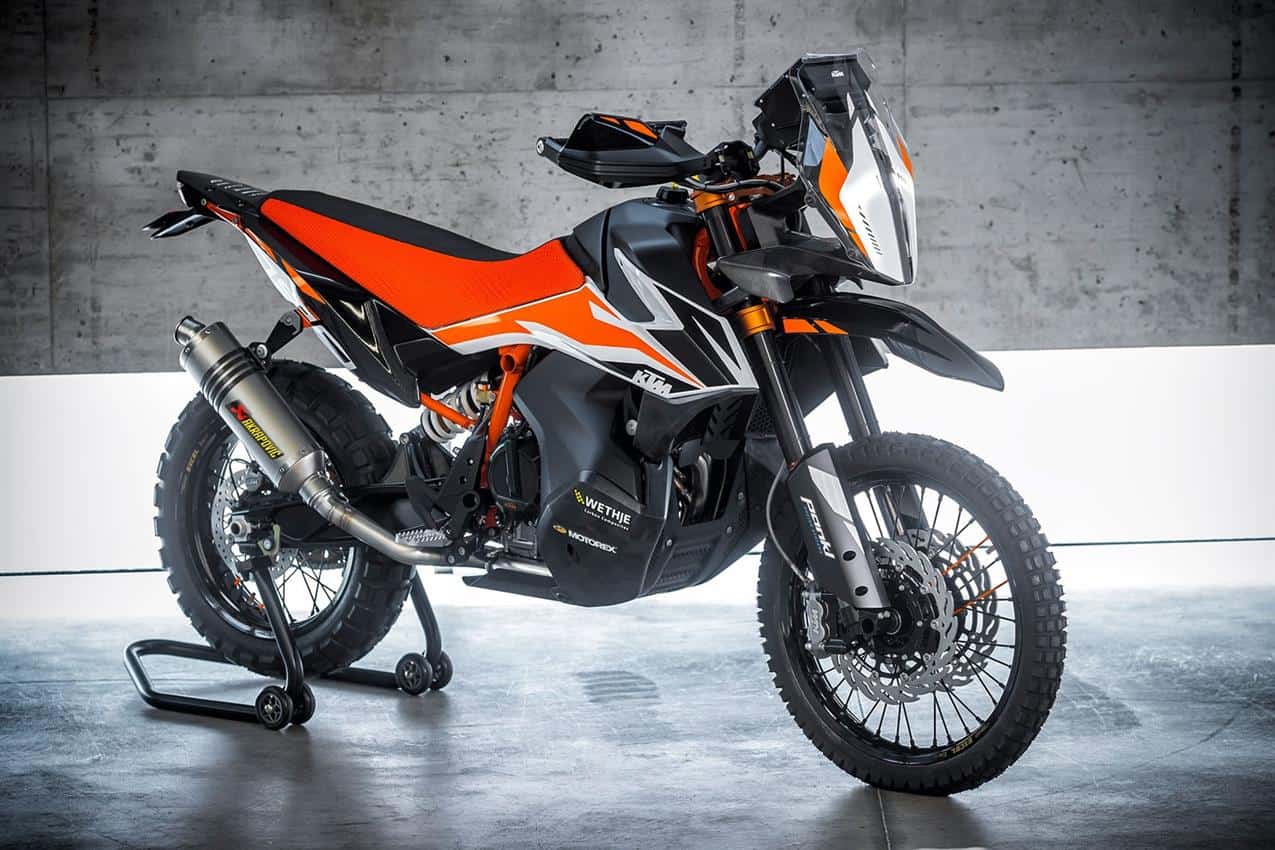 3. IT'S NIPPY
Sure this R model is all about going off-road, probably at speed. But that hasn't come at the expense of day-to-day highway practicality and joy in use. First impressions riding the 790 Adventure R on the road was just how nippy it is (having just stepped off the 1290 Adventure R).
We could do some math there: the 1290 makes 158hp and weighs 217kg (claimed, dry) whereas the 790 makes 95hp and weighs 189kg. So the 1290 has a power to weight ratio equating to 0.728hp per kilo, while the 790's is 0.503. Hmm, you'd think the 1290 would stomp the 790 then. Only I suspect the computer on the 1290 seriously holds back on those 160-odd horses – it knows unfettered access will land you in a whole heap of trouble. In all probability much of the time the 1290 is only dishing out circa 100-120hp. And this means in general riding the 790 is able to pace itself much closer to the 1290's performance than you'd think.
But it's not wild, just nicely peppy. And with a ride position that feels not unlike a motocrosser, where you feel like you sit on the bike, not in, it's almost a playful experience. And – I'm sure I'll be saying this a hundred times over – it feels controllable. Placed on the motorway and directed toward Chez JB the 790 cruised at the same speeds as the 1290. 80-85mph is easily sustainable, the wee screen does a good job of deflecting windblast and the engine isn't straining or buzzing doing that. It's a happy speed for the 790.
Ooh, and the gearbox – I liked that too. Light and quick shifting – that is after I had disabled the Quickshifter+. Boy, that's one thing I didn't like. Maybe it's cool for road racers, but for idling along it's too eager. If you so much as inadvertently stroke it with your toe it cuts the ignition, so you get this sudden jerking action. I tried to educate my toes to either be faster moving or more sensitive, but the toes refused, gear changes with Quickshifter+ remained an uncoordinated series of lurches and lunges. Electronic aid disabled, everything smoothed out.
4. SMOOTH OPERATOR
Talking of smooth, a real surprise was just how relaxing the 790 Adventure R was riding around on slower B roads, and into the wee lanes. You can ride this bike slow like you might ride say a Royal Enfield Himalayan and it'll potter along just sweet-as, it does not get choked up or petulant. I spent a long day on back roads (with green lanes in between) and the 790 was civil the whole way. Civil and utterly relaxing, it's not a caged tiger, instead pure pussycat – and that is important. World travel is not about rush. Nor should be a week's adventure motorcycling holiday, it's about taking it all in, appreciating the natural world, gently and confidently navigating through the backcountry. KTM's hired 'professional riders' might enjoy leaping hundreds of feet off Saharan dunes but they're missing out on the bigger story. Fortunately the 790 Adventure R is with us on this one, slow is just fine.
5. SWEET HANDLING
Needless to say the 790 Adventure R handles as well on the road as it does on the dirt. That's not always a given, especially with a 21" front and knobbly tyres (in this instance Metzeler Karoo 3s). But the Adventure R was so natural sweeping around the lanes I completely forgot about that 21-incher, thinking I was on a 19" hoop, it felt so secure. Equally the suspension felt nicely plush. Nothing bothered us. And besides, with ABS back up you don't have to fear the front wheel lock-up that you'll often get when braking hard with an enduro bike on the road. The suspension is quality too. Beefy enduro-spec 48mm upside down WP forks and PDS (linkless) shock – both are awesome spec. I have to admit whatever settings it came with I rode with, whether on road or dirt, it works on both. The 240mm of travel allows plenty of ground clearance, too, so there was never a thought given to catching the sump. It's gold standard.
6. WATCH THE RUTS
Not everything is so accomplished. While the 790 Adventure R was awesome on Welsh gravel, when riding Kentish green lanes – all overgrown and rutted out by 4x4s doing their stupid winter runs (allow me my prejudice – honestly, if those guys want to winch themselves through saturated trails then the least they can do is to grade the tracks afterward, ready for the Spring) – sorry, where was I? Ah yes, the 790 Adventure R was little better in these confined conditions than any other big adventure bike. Probably the limit as to what's capable in these conditions stops at say a KTM 690 Enduro, after that anything bigger takes some manhandling.
As it was, the 790 could not deny its bulk – 189kg plus 20 litres of fuel, say 220kg – and on Karoos, not enduro/rally nobblies, it would get carried downwards on any dampish off-cambers, down into the ruts. You could feel the front sliding away. Where it was dry you could, to be fair, ride more dynamically and ride into the banks like they were berms and do some stylish riding, but when things got wet and rutted you were back to standard adv style, being slow and deliberate. So there is a place for the 690 Enduro R – the 790 is great but it can't perform physics-defying miracles.
7. THE MODES
I liked the modes, as in rider modes. Standard street mode is just great on the road, works perfectly. Off-road mode is perfect for off-road, you can feel the throttle response soften immediately and for tooling along being respectful to other countryside users it's spot on. Rally mode is for racing, the 790 really growls in this mode – it's not the mode for green laning with nervous hikers on the trail. Traction control can also be dialed up or down, although for gentle country riding and on green lanes I wasn't sliding at all – I'd save the flashy power sliding for somewhere more appropriate. I also quickly got used to KTM's mode-adjusting switch block, finding it quick and easy to navigate through the various computer functions. TFT screens really have opened up the world of electronic aids and made it much easier to know exactly what aids you're riding with.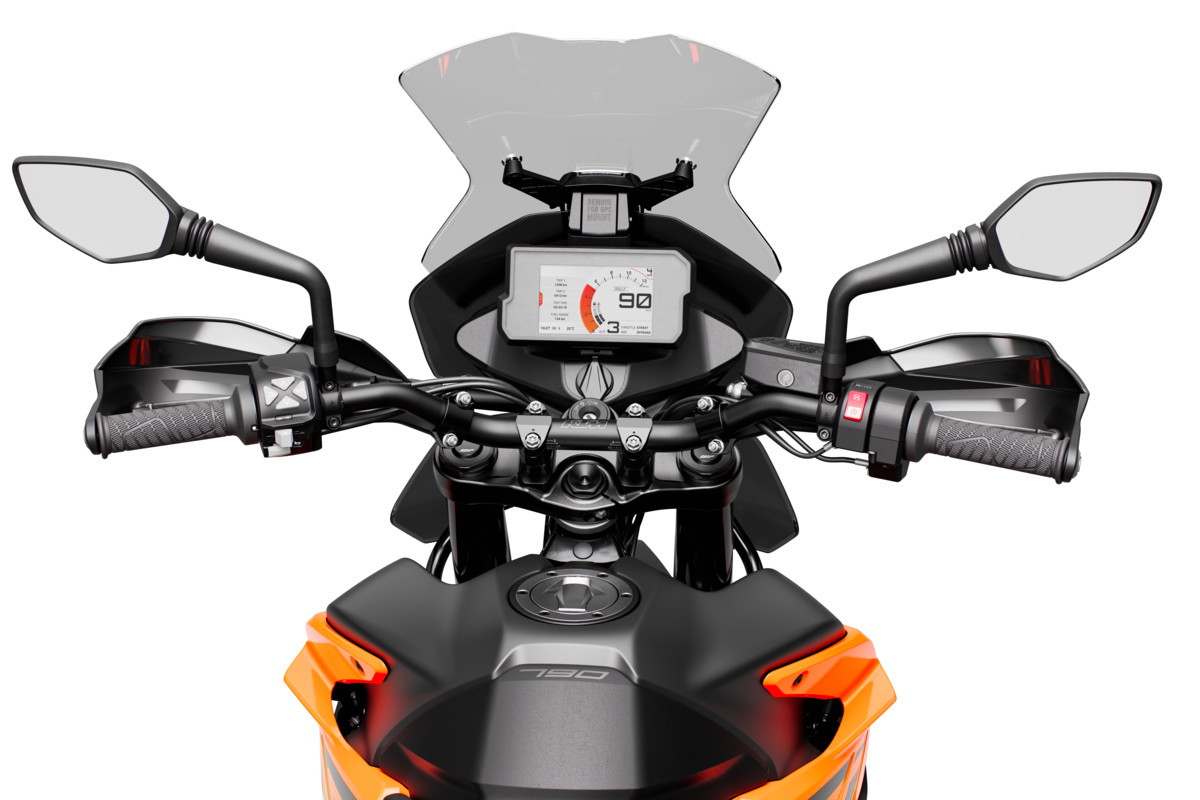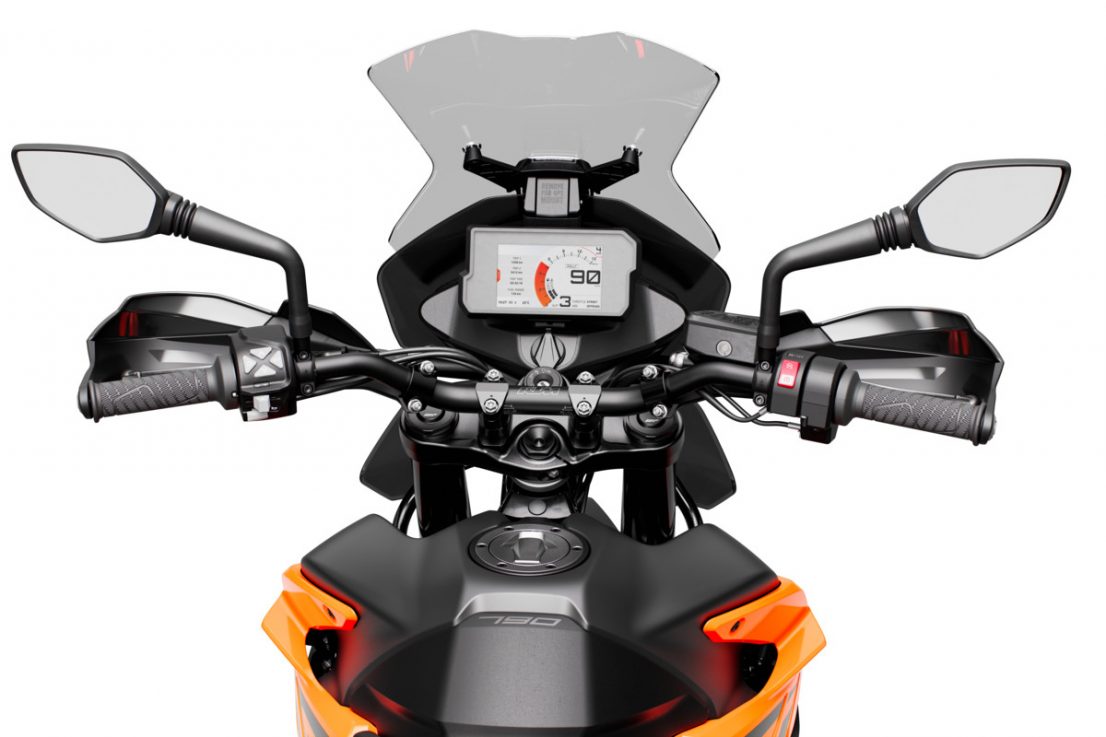 8. PROPER DETAILS
KTM's long history in dirt bikes means they don't forget the details. The front brake and clutch levers are both properly adjustable, for span as well as activation point. The gear lever has the folding tip, the rear brake lever sits just right when you're stood – and these are real dirt bike levers made for the job. The handlebars are dirt bike spec, too. For faster off-road riding they're probably just about in the right place for that semi-crouch semi-standing attack position. But for guys who like to ease along at 15mph down shared-use tracks – they may like to add a set of risers (an easy find in KTM's hard parts listing). Equally the grab rails found off the pillion seat do a good job of doubling-up for strapping down bags and the like. I did however miss the centrestand. Rally race teams use paddock stands, but adventure riders don't as a rule have team of techs to tend to their bikes, we need centrestands! But to end on a high note: we like the ease of access to the battery and air filter (under the seat – 1190 owners will like this having to strip fairings to access theirs).
9. DECENT ECONOMY & RANGE
So, looking at my fuel receipts, the 790 turned in between 60 and 63mpg across its refills, which isn't bad for a bike of its size, approaching that which a BMW F800 does. Mostly I was riding gently so a steady or minimum of 65mpg would have been better, but this bike is still quite the performance machine so this isn't bad. What's good is that economy combined with the 20-litre tank means you've got a range of say 260 miles (430 kilometres) to bone dry, probably even more if you can ride slow – and that's a decent adventure range. So no faffing trying to source and fit a bigger tank!
10. ADV FOR ONE, OR TWO?
So is the 790 Adventure R the do-it-all adv, the one and only adv you'll ever need? Is it a replacement as much for the 1290 Adventure R as the now to-be-discontinued 1090? And is it so fly as to make the 690 Enduro R redundant? Answer: No, to all of that.
The 690 Enduro R is safe. It's that much lighter, that much of a completely different type of bike, and that good at what it does that the 790 Adventure R is no competitor. The 690 has that enduro bike feel and capability, as the name implies. For technical trails it's the next best thing to a competition enduro bike. The 790 Adventure R is a weapon but the 690 would still whip its ass in the technical stuff.
Is it doing the 1290 Adventure R out of a job? Again, No. In adventure world you still need two-seaters and this is half of what the 1200cc machines are about.
The 790 is more the single-seater. Unless your other half is slim, small and incredibly forgiving you'll get no thanks for taking them on an extended tour on the 790. And loaded down with all the luggage for two – the 790 fast loses its appeal. No, we need big bikes for the big-ass fully-loaded missions.
It is, though, a damn good replacement for the 1090 Adventure R. Which I'm kind of sorry to report as that's the one KTM adv that I really liked, being that much lighter than the 1290 and so nice to ride on and off-road. The 1090 will probably now join the 1190 in the realms of great secondhand adv buys, but the fact is the 790 sits so much more centrally placed between the 690 and the 1290, whereas the 1090 was that much closer to the 1290 in every way. With the 790, KTM has a better balance to their adv offerings with clear positioning for each, enduro/trail, adventure/rally and adventure/tour. Albeit each share that same spirit of 'race', being potent packages within their relative segments.
The wrap is the KTM 790 Adventure R is every bit as good as the reports and the chatter suggest it is. The motor is great, with a lovely feel, sporty when you want it to be, gentle when you're feeling chilled. The chassis is tops too, those pannier tanks contribute to making it a sweet-easy ride, while the suspension is long-legged and quality through and through. And the tech – I really do hope time bears me out on this – but I like that this is a humble parallel twin not a fancy pants vee-twin.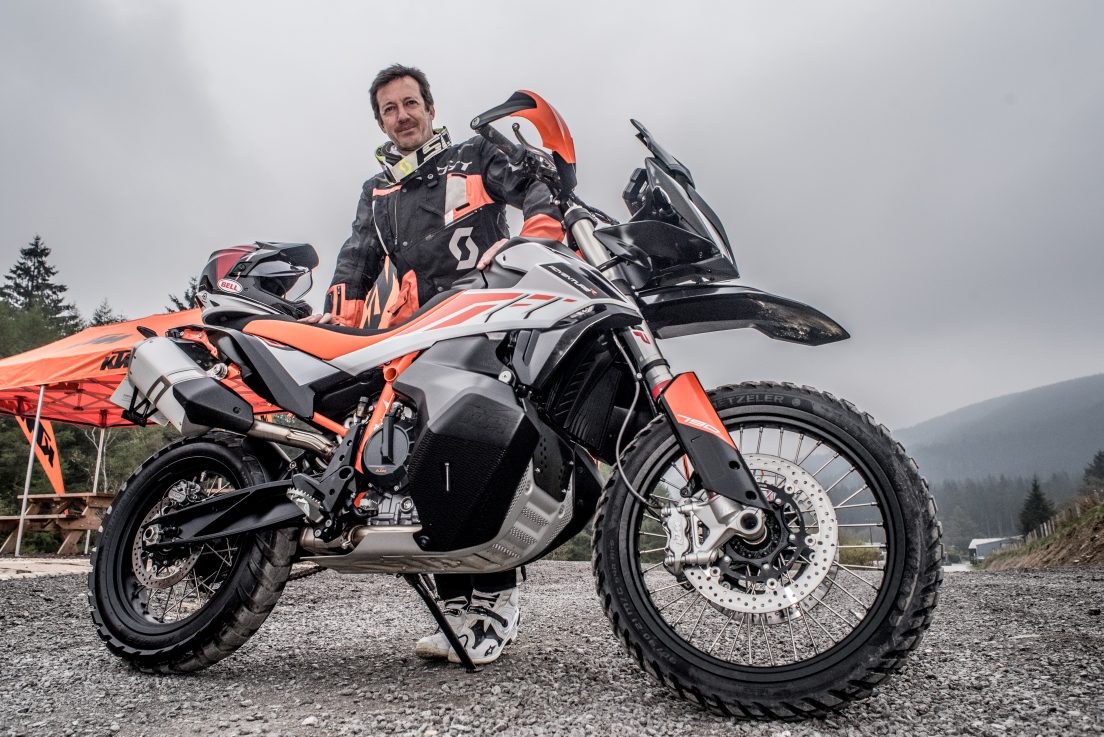 The buzz has been all about its standout high-speeds off-road performance. The more impressive story is that you can ride the 790 Adventure R in that way, but actually it's equally a great bike for the 'quieter' rider, you could ride around the world on this bike at a gentle potter and just have the best time.
And as well – we all read the online threads – people are asking should I buy this bike, is it as good as they say? Well, it's early days, but I've been impressed by the response of the new owners, almost to a man/woman they're delighted with their purchase and saying 'yes, buy!' You know, you can't go near an adv forum or meeting/gathering without reading or hearing '790 this that or the other' – this bike really has capture adv imaginations. But it's for good reason, it is a great bike. And for KTM's competition, that's one serious issue…